Chicago Colleges:

Orange Bowl
February, 6, 2013
2/06/13
2:44
PM CT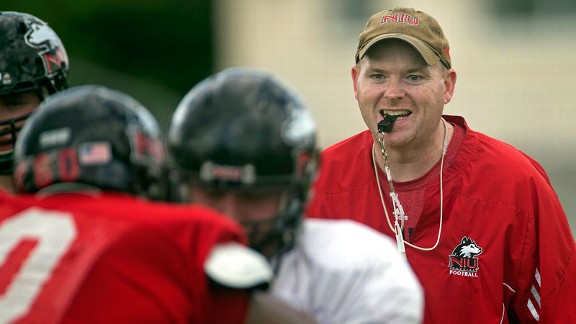 AP Photo/J Pat CarterNIU coach Rod Carey hasn't seen things slow down since the Orange Bowl.
The media attention around
Northern Illinois
coach Rod Carey has eased up since the Huskies' appearance in the Orange Bowl last month, but it doesn't mean Carey has been left with nothing to do.
As someone who was only made the team's head coach in December, Carey has found plenty of tasks to keep him busy.
"People have asked me, 'Has it slowed down for you?'" Carey said by phone on Tuesday. "It's actually picked up quickly after the bowl game. We had to put together a staff and finish off recruiting. It's actually more busy than before. It doesn't seem that way from the outside."
January, 2, 2013
1/02/13
12:14
AM CT
It wasn't exactly the easy win so many predicted, but Florida State's size and speed advantage helped the Seminoles outlast upstart Northern Illinois
31-10
to win their first Orange Bowl since 1996.
Record-setting NIU quarterback
Jordan Lynch
found no room to work, and Florida State's dominant defense showed few flaws in its first game without departed coordinator Mark Stoops, while
EJ Manuel
accounted for 321 yards of offense and two touchdowns to lead the Seminoles.


It was over when:
Xavier Rhodes
forced a fumble from
Da'Ron Brown
on a second-down run with 11:15 left to play in the game. Northern Illinois had just converted a fourth-and-1 and was driving in hopes of cutting FSU's lead to seven, but the fumble was the dagger that ended any hopes of an upset. The play was reviewed, but officials ruled the ball was coming out of Brown's grip before his knee hit the ground, and the Seminoles quickly capitalized on the turnover with a
Lonnie Pryor
touchdown.
Game ball goes to:
Pryor. The senior fullback has toiled in the shadows for four years at Florida State, earning immense respect within the locker room but relatively little fanfare outside it. Tuesday's game was different. While the rest of the FSU running game struggled, Pryor was brilliant. He opened the scoring with a 60-yard touchdown run -- the longest of his career -- and put the icing on the cake with his 37-yard touchdown after NIU's fourth-quarter fumble.
Turning point:
There were plenty, but NIU's two turnovers were killer. The fumble by Brown was the last straw, but a third-quarter interception by
Terrence Brooks
squelched another promising Huskies drive. Brooks picked off Lynch at the FSU 13-yard line to protect a slim seven-point lead.
Stat of the game:
Lynch entered the game as one of the most dynamic offensive players in college football, but he found out yards are far tougher to come by against Florida State. Coming into the game, Lynch had racked up 1,771 rushing yards -- fourth most in the nation -- and was averaging 6.5 yards per carry. But
Christian Jones
,
Telvin Smith
,
Vince Williams
and the FSU linebacking corps was exceptional, hitting him repeatedly and giving him nowhere to run. Lynch had bragged earlier in the week that NIU planned to wear FSU down late, but the opposite was true, and the junior quarterback finished with just 44 yards rushing on 23 carries, while completing just 36 percent of his throws.
Unsung hero:
It's tough to call Manuel an unsung hero, but in a season in which he's earned just as much criticism as praise -- and maybe more -- he wrapped up a five-year career at Florida State with a solid performance. Manuel completed 27 of 39 passes for 296 yards through the air and added another 26 rushing with a touchdown. He missed a few passes -- something his critics will be happy to note -- but he connected on far more. When the FSU offense needed him, he made the throws he had to make. Manuel never lived up to his immense promise at FSU, but he was surely a very good quarterback, and he ends his career as an Orange Bowl champion and winner of four straight bowl games.
What it means:
Northern Illinois shrugged off the legions of doubters and proved an unexpectedly competitive opponent, but in the end, Lynch and the Huskies simply didn't have enough to make a late charge. For Florida State, it was yet another inconsistent performance in a season that has been filled with them. But it was also the school's first BCS win in 12 years, and it marked just the second time in program history that FSU has won 12 games in a season.
December, 28, 2012
12/28/12
10:13
PM CT
MIAMI --
Jordan Lynch
grew up playing tailback, still runs like one and detests sliding.
He lives with three offensive linemen at Northern Illinois because their personalities click. One of his former college coaches says Lynch can play in the NFL … as a safety. His current coach likens Lynch to Tim Tebow, whose status as a quarterback is debated more than the fiscal cliff. His Northern Illinois bio lists Steve Prefontaine, the legendary distance runner from Oregon, as an athlete Lynch admires.
No wonder Lynch had such a tough time selling himself as a quarterback coming of high school.
The man who's third in the nation in total offense (4,733 yards), set four NCAA records and led Northern Illinois to the Discover Orange Bowl plays for the only college team that pursued him as a signal-caller. In fact, NIU was the only team to offer a scholarship to Lynch, who committed the summer after his junior year. While many of Lynch's milestones can be attributed to his legs, his success as a passer -- 24 touchdowns against only five interceptions, 152.98 quarterback rating (25th nationally) -- cannot be dismissed.
Read the entire story.
December, 6, 2012
12/06/12
1:19
PM CT
Northern Illinois junior quarterback Jordan Lynch said Thursday the Huskies are using critics who say they can't defeat Florida State in the Orange Bowl as motivation.
Lynch and the Huskies made the improbable run to the Orange Bowl by winning their last 12 games of the season, including defeating Kent State in the MAC title game, and finishing within the top 16 in the BCS standings -- ahead of the Big Ten and Big East champions.
Read the entire story.
December, 3, 2012
12/03/12
11:58
AM CT
Northern Illinois, which became the first MAC school to earn a BCS berth, has announced it will offer free Orange Bowl tickets to students who can get to Miami for the Jan. 1 game against Florida State.
Read the entire story.
December, 3, 2012
12/03/12
9:42
AM CT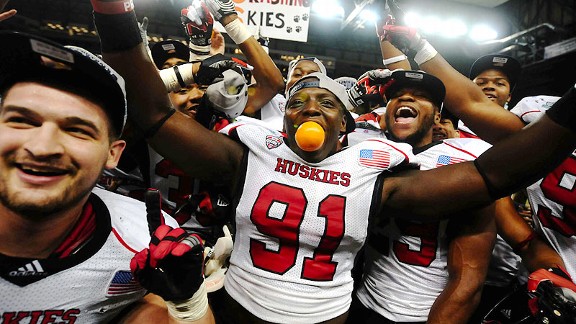 Andrew Weber/US Presswire
Northern Illinois, the beneficiary of a BCS rule designed to allow access for schools from non-automatic qualifying conferences, caused much consternation by its selection to the Discover Orange Bowl. But try telling the Huskies they don't belong.
Read the story here
.
December, 2, 2012
12/02/12
5:12
PM CT
Mid-American champion Northern Illinois has busted the BCS and will play Florida State in the Orange Bowl, sources told ESPN.
Read the entire story.