Chicago Colleges:

Pat Connaughton
March, 17, 2012
3/17/12
12:40
AM CT
GREENSBORO, N.C. -- Quick thoughts from 10th-seeded Xavier's
67-63 victory
over No. 7 seed Notre Dame:


Overview:
The Duke loss preceding this game will be talked about for quite a while. But so will the ending to this one.
Xavier guard
Tu Holloway
's game-winning bank shot with 22 seconds left at Greensboro Coliseum -- followed by a lane-violation call on Notre Dame in the final seconds -- capped a down-to-the-wire, adrenaline-pumping affair.
It finished in odd fashion. With 2.8 seconds left and Xavier leading 65-63, Notre Dame's
Eric Atkins
went to the line for a 1-and-1 and a chance to tie it. But as he made the first, teammate
Jerian Grant
was called for a lane violation when he left his position behind the 3-point arc too early as he ran in for a rebound.
Mike Stuart, a member of the three-man officiating crew that worked the game, said in a prepared statement about the call: "The rule is that anyone outside the 3-point arc is under the same restrictions as the free throw shooter. They cannot penetrate the arc until the ball hits the rim, in which case No. 22 [Grant] was clearly way down in the lane before the ball ever hit. It's an obvious violation, by the rule."
(A similiar call was made at a key moment during top-seeded Syracuse's 72-65 victory over UNC Asheville during the second round of the East Regional on Thursday.)
The call gave the ball back to Xavier, and on the ensuing inbounds pass, Notre Dame's
Pat Connaughton
was whistled for an intentional foul when he grabbed
Dezmine Wells
' jersey. Wells hit both free throws to seal the victory.
Turning point:
Notre Dame led by as many as 10 points in the second half, but with 7 minutes, 3 seconds left, Holloway capped a 13-3 Xavier run with a jumper to knot the score at 51-all. Counting that bucket, Holloway scored eight of his team's next 10 points, taking back the lead, 59-58, with 3:23 left when he stole the ball and scored at the other end.
Key player:
Holloway had another great game, finishing with 25 points on 10-for-15 shooting.
Key stat:
Notre Dame was 4-for-9 from the free throw line; Xavier was 18-for-27.
Miscellaneous:
Xavier is one of only eight schools that have made at least seven consecutive NCAA tournament appearances. ... This marked the third straight trip to the tournament for the Irish.
What's next:
No. 10 seed Xavier will face 15th-seeded Lehigh -- which upset No. 2 seed Duke earlier Friday -- on Sunday for the right to advance to the South Region semifinals in Atlanta.
February, 19, 2012
2/19/12
11:37
AM CT
PHILADELPHIA – After his team beat Syracuse, handing the Orange their first loss of the season, Mike Brey challenged his players to believe in the unbelievable – that Notre Dame, a team without its best scorer and relying on a freshman and sophomore in the backcourt, wasn't just a fluke; that the Irish were something special.
And those crazy kids bought it.
They looked around the room, at a ragtag group that counted just two guys with any significant experience; that in November lost by 20 to Gonzaga and in December by 7 to Maryland, and they gobbled the bait like greedy guppies.
Sometimes seeing is not believing.
Sometimes you believe and then you see.
The Irish have risen from their early wake to storm to a second-place spot in the Big East, using that Syracuse victory as a catapult to what is now an eight-game win streak after Notre Dame rallied to beat Villanova,
74-70 in overtime
.
Notre Dame was picked to finish ninth in the league. And that was before Tim Abromaitis blew out his knee. Yet with the Big East tournament a little more than two weeks away, the Irish are sitting extremely pretty at 11-3, tied with Marquette but owning the tiebreaker after a 76-59 spanking of the Golden Eagles on Feb. 4.
"We do believe we're special, we really do,'' said
Pat Connaughton
, a freshman who throws 94-mph fastballs for the Irish baseball team and drained seven 3-pointers for the hoops squad against Villanova.
And in this particular Big East season, a little self-confidence can go a long way. On Saturday, the Irish needed to come from a 16-point halftime deficit and a first-half hole that once ballooned as large as 20 to beat a team that has won just four league games this season and was down two starters.
Earlier in the day, Louisville, which took Syracuse to the brink on Monday and is 7-1 in its past eight games, needed overtime to dispatch DePaul, a team that has won just twice in 2012.
Toss aside Syracuse at the top and the difference between 2 and 16 is as thin and flimsy as a Jay Wright pocket square.
[+] Enlarge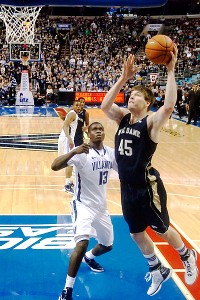 Cal Sport Media via AP ImagesJack Cooley had 18 points and 13 rebounds as Notre Dame got past Villanova in overtime.
Connecticut last season became the first team to win five games in five nights to capture the league tournament.
Who'd take the odds that lightning couldn't strike again this year?
"Confidence is the difference-maker in this league,'' Brey said. "It's razor-thin stuff.''
No one would call Notre Dame a great team. The Irish's margin of victory is a flimsy 4.6 points. They don't rebound particularly well. Their players are not more talented than Villanova's. If anything, the Wildcats hold the advantage in beefy player resumes.
Yet there was Notre Dame, down 20, getting smoked on the boards, shooting terribly and looking like it was up 20. No hung heads, no grimaces or pouting.
Maybe, in part, at least, is because the Irish figure they've been playing with house money all season. Abromaitis was supposed to be the guy. The senior averaged 15.4 points a year ago and would, with
Jack Cooley
, give Notre Dame a formidable inside-outside presence.
When he was injured, there wasn't so much dejection as there was rampant confusion.
"We practiced with him all summer and all fall,'' Connaughton said. "And then when we had to play without him, we were like, 'Oh, am I supposed to shoot this?''
Brey had been through it before, forced to regroup after losing Luke Harangody two years ago, which helped him at least to keep his head on straight.
His players relied on him, but more they relied on each other. These guys genuinely like one another, Connaughton said, and that comfort helped fuel a trust on the court.
It was evident against the Wildcats. While the inexperienced Cats were blowing their lead, jacking up bad shots and making few of them – Villanova made all of just four field goals in the second half before
Maurice Sutton
somehow tipped in a fifth at the regulation buzzer to force overtime – the Irish were passing and searching, giving up one OK look for a better one. They used a late 13-4 run to send the game into overtime.
And then, with the Irish up 68-65 in the final minute of overtime,
Scott Martin
found Connaughton, who sunk his seventh from beyond the arc to cement the victory.
Notre Dame made 25 field goals in the game.
The Irish dished out assists on 17 of them.
"It's not just the margin for error that's so small; it's the margin for success,'' Wright said. "If you look at their numbers, they're not that impressive, but what is impressive is how they execute. They know their roles extremely well and they know who they are and who makes the plays. They believe in what they're doing.''
And these days believing is carrying the day.
"Jeremy Lin and the Irish,'' Brey laughed. "Believe it."
February, 4, 2012
2/04/12
7:30
PM CT
SOUTH BEND, Ind. -- Its best player out for the season, its morale deflated by a 20-point loss at Gonzaga in its first road test, a Notre Dame team that flopped against every name opponent it faced through the season's first month had a hard time envisioning itself as a player in the Big East with conference play quickly approaching.
"Maybe
deep
, deep down, but I mean, deep in there," Irish forward
Jack Cooley
confessed Saturday. "We just always gotta keep faith and just see what was gonna happen. We knew something had to change and hoped something clicked, and it did. It really did."
The transformation of Notre Dame from Big East afterthought to conference contender was never on display more than in its 76-59 thrashing of Marquette at the Joyce Center, the Irish's fourth straight win ending the Golden Eagles' seven-game winning streak.
The Irish entered Big East play a little more than a month ago with an 8-5 record, three double-digit losses and no
Tim Abromaitis
, a preseason all-conference pick who tore the ACL in his right knee in late November. Flash forward to the first weekend of February and here they are, 15-8 overall, 7-3 in conference play and just a half-game behind Georgetown and Marquette for second place in the Big East.
Less than three months after Mike Brey wondered if his players could improve enough "in the back of my mind, to get to the NIT," the 12th-year coach has not shied away from double-bye talk in next month's Big East tournament.
"I mentioned it to them a little bit as far as standings and what that means, and certainly that's something we're staring at, man. That's been good to us," Brey said, adding, "Obviously if you finish in the top four, you're in. You're an NCAA tournament team. We got seven wins. We got a lot of good wins in that left column in the league, as far as an NCAA-tournament résumé."
Among them: A Jan. 7 double-overtime win at then-No. 10 Louisville, a rout of then-undefeated and No. 1 Syracuse two weeks later and a strenuous victory at then-No. 19 Connecticut last Sunday.
Then came Saturday's performance in a contest that -- for the first 20 minutes, at least -- seemed destined to be another burn-it-out, tempo-turning test of mental endurance against a far more athletic squad.
The more eager Irish, however, broke a 30-26 game wide open in the second half.
[+] Enlarge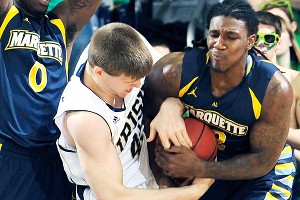 AP Photo/Joe RaymondJack Cooley and Notre Dame scrapped past Marquette on Saturday, boosting their NCAA tourney hopes.
They jacked up 3s from all corners, hitting 8-of-13 in the second half and forcing Marquette coach Buzz Williams to call timeout after timeout -- three in a 2-minute, 54-second stretch late in the second half.
No matter. Notre Dame utilized an 18-2 run during a nearly six-minute stretch, including 14 unanswered points to effectively put the game away.
"I thought [the score] was always teetering back and forth early in the second half," Williams said. "I then tried to keep it close by calling [a lot] of timeouts. I was just trying to keep it in contention, but they just continued to beat us off the bounce. We were scrambling around and that's why they had 22 assists. A lot of those 28 makes were uncontested shots. Eleven of the 23 shots were 3s, so that tells you they force rotation a lot."
Indeed, Brey said afterward he thinks he fields the best passing team in the country. He said sophomore off-guard
Jerian Grant
(12 points, eight assists) is the fastest player in the Big East. And, like everyone else, he lavished praise on the maturity of
Pat Connaughton
, whose 95-mph heat on the baseball diamond will remain the sidebar if he continues to deliver like he did on Saturday.
The 6-foot-5 Connaughton had game highs of 23 points and 11 rebounds, connecting on 9-of-12 field goal attempts and shooting 5-for-8 from downtown.
His monster rejection of
Junior Cadougan
closed the first half, and his slam with less than two minutes in the game punctuated the rookie's most complete performance.
"Anybody that stands on that mound, he stands on that mound, he's got the game on his shoulders -- there's a psyche there that maybe other freshmen can't have," Brey said of Connaughton. "He's had the game on his backside many, many times. So lining up a 3 to put you up six, or make big free throws, I think that's where it converts over. But people are still surprised, our opponents in the league, how athletic he is. The way he rebounded today in there, he blocked some shots, he was just flying all over the place."
The scene at the final horn hardly resembled that of Notre Dame's last game here, the court-storming stunner over Syracuse two weeks ago. Brey and his players simply walked to the student section, exchanging several high-fives before heading back to their locker room, a national ranking likely awaiting them Monday.
Those NIT hopes Brey envisioned not too long ago are now a distant memory, a carrot he knew better than to verbally share with his young team. Now, the self-proclaimed "loosest coach in America," the three- and potentially four-time conference coach of the year, will have to ready a young group that has grown faster than he expected, one he said he can refer to as "men" the next time they gather.
"I'll tell you one thing, we got a heck of a strong résumé," Brey said. "Our résumé is very strong with what we've done. And it's exciting to think about, that that's possible for this team after where we were. But I think our guys are very focused on showing up on Selection Sunday. And God bless them, they should be. Because they have put us in this position with their kind of focus and business-like approach, to go get it."
February, 4, 2012
2/04/12
7:29
PM CT
SOUTH BEND, Ind. -- Here's a quick look at Notre Dame's
76-59 win
over No. 15 Marquette:
How it happened:
Notre Dame broke a tight game wide open in the second half behind an 18-2 stretch that featured 14 unanswered points. The Irish hit 8 of 13 3-point attempts in the final 20 minutes, leading to Marquette timeout after Marquette timeout. The Irish, seemingly left for dead after
Tim Abromaitis
tore an ACL in November, have now won four straight games to improve to 7-3 in the Big East, a half-game out of second place behind Marquette and Georgetown, which are both 8-3. The Golden Eagles had their seven-game winning streak snapped in ugly fashion.


Stat of the game:
This game was won behind the arc, where Notre Dame shot 11 of 23 and Marquette made just 2 of 13 attempts. Notre Dame hit three straight 3-point attempts during one point late in the second half, effectively closing the door on Marquette.
Star of the game:
Freshman
Pat Connaughton
was hot all afternoon, finishing with a game-high 23 points off 9 of 12 shooting. Connaughton hit 5 of 8 3-point attempts and caused trouble for Marquette the entire game.
What's next:
Marquette has a quick Midwest turnaround Monday at DePaul, where the Golden Eagles will try to get back on track. Notre Dame looks to continue its winning ways Wednesday at West Virginia, where the Irish's four-game winning streak will be put to the test.
January, 21, 2012
1/21/12
9:53
PM CT
SOUTH BEND, Ind. — The montage had stopped playing Friday night in the hotel, but something was still gnawing at
Eric Atkins
.
Notre Dame coach Mike Brey showed his players a roughly five-minute video clip of the Irish's history against teams ranked No. 1 by The Associated Press: the infamous snapping of UCLA's 88-game winning streak from 1974, the more recent knocking off of North Carolina nearly 25 years ago — seven in all, and six in this building.
Nearly 24 hours later, after seemingly most of the 9,149 in attendance rushed the Joyce Center court to celebrate a game that was never really as close as its
67-58 final score
would indicate, Atkins and the Irish were able to boast about another milestone for Brey, this time because of a victory over top-ranked and previously unbeaten Syracuse in which they led from start to finish.
"I actually remember saying after the video that there were no Coach Brey teams in there," the point guard said, "but I feel great that we can add that to his résumé."
Told of the reaction, Brey cracked: "That's awesome."
Brey was able to circumvent the chaos, but his players soaked it all in.
Scott Martin
followed the biggest guy he could find for the safest route off the court.
Pat Connaughton
was hoisted up by one of his friends from the stands. Atkins somehow ended up in the middle of it all.
"I was making sure Syracuse got off," Brey said. "Our guys were in the middle of it, which was awesome."
The 12th-year Notre Dame coach found himself amid the smaller remaining crowd 12 minutes after the final horn, when he came out for his radio interview.
But by then, the noise had died down considerably from the 40 previous minutes of action on the floor, which began thus for the Irish offensively:
Connaughton hits an open 3 outside the elbow.

Atkins hits an open 3 in front of the Syracuse bench with the shot clock winding down.

Jack Cooley lays it in inside.

Connaughton hits another 3, prompting Syracuse coach Jim Boeheim to call a timeout 2 minutes, 40 seconds into the game.
The Irish, who entered the night 14th in the Big East in 3-point shooting, made their first three 3-pointers. The Orange, whose biggest deficit at any point this season had been eight at North Carolina State, trailed 11-2.
The shots kept dropping for Notre Dame, which made 8 of 16 from downtown, including 6 of 10 in the first half. They kept clanking for Syracuse, which made just 18 of 53 field goal attempts for the night, starting with an awful 8-of-28 performance in a first half that saw the Irish lead by as many as 18.
[+] Enlarge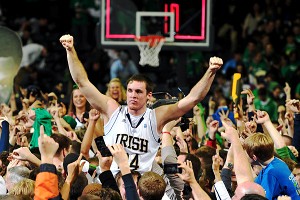 Matt Cashore/US PresswirePat Connaughton (7 points, 7 rebounds) gets a lift from the crowd after Notre Dame's upset.
"I wasn't surprised at how we started the game," Atkins said. "We were either gonna start really hot or really cold. We started hot — good.
"When we were up 18, that's when you would look up, and we're like, 'Oh wow, that is surprising.' "
Many of those 3-pointers came with less than 10 seconds on the shot clock, a product of the burn offense Brey often runs, an offense that kept his players in a rhythm while nursing a big lead.
"You know what's helpful? Because we play a slower tempo on offense, I've never felt that those guys feel kind of we're holding the ball," Brey said. "It's part of our arsenal to be very patient. We burn the clock and then score. If you never did it before, and then you're sitting on it, I think it can take away some confidence and you're looking over your shoulder. But it's something we've done for a while, so I think they feel that this is how we play."
Even more helpful — especially with Orange 7-footer
Fab Melo
not making the trip for undisclosed reasons — was the inside presence of the 6-9, 248-pound Cooley, who made Irish offensive possessions feel like an eternity by creating second chances and pounding the overmatched
C.J. Fair
(6-8, 212) inside.
Cooley finished with game highs of 17 points and 10 rebounds, six of those boards offensive. The Irish outrebounded the Orange 38-25.
"Cooley was able to get the ball inside and score," Boeheim said. "We just could not make shots to get back in the game. I have to give Notre Dame a lot of credit for that."
The Irish actually endured a 7-minute, 18-second stretch in the second half without scoring, during which Syracuse mounted a 9-0 run.
But Cooley's monster jam on a fast break with 5:17 left put the lead back to double digits at 52-42, re-energizing the building and helping to set up the eventual court-storming.
Cooley burst from the sea of revelers and barreled his way up the tunnel toward his locker room eight minutes after the victory, screaming "Here we go!" to anyone and everyone in sight.
His coach, the one who can now join Digger Phelps in claiming to have knocked off a No. 1 team in this building, hopes it's only a sign of things to come.
"To be part of that history of beating No. 1s, I'm very proud of that," Brey said. "But I'm more proud for our guys. This is a great memory for them. Now, winning 10 league games and getting an NCAA bid — that's a better memory, so we're gonna keep pushing buttons on that."