Chicago Colleges:

Phil Parker
December, 20, 2012
12/20/12
2:01
PM CT
Paying top dollar for assistant coaches has become an issue in the Big Ten lately. Bret Bielema cited his inability to pay and retain assistants at Wisconsin as a major reason why he left for Arkansas. Purdue made a bigger commitment to its overall staff salary when it hired Darrell Hazell to replace Danny Hope.
How do the Big Ten teams stack up when it comes to salaries for assistants? Luckily, USA Today has
just compiled a database
looking at what every FBS program pays its staffs. The study found that the average major college football assistant
now makes $200,000 per year
, a number that is on the rise. According to USA Today, pay for assistants rose 10 percent from last year and is up 29 percent from 2009, the latter of which is higher than the increase in salary for head coaches during that time period.
Here is what Big Ten teams spent on their staffs in 2012, not including the head coach (Note: Because Northwestern and Penn State are not subject to the same state open-records laws as other schools, their information was not available):
Ohio State: $3.29 million
Michigan: $2.93 million
Illinois: $2.3 million
Michigan State $2.2 million
Nebraska: $2.15 million
Iowa: $2.1 million
Minnesota: $2.1 million
Indiana: $2 million
Wisconsin $1.77 million
Purdue: $1.61 million
As you can see, Wisconsin was near the bottom of the pack in the Big Ten. Purdue has given Hazell a pool of $2.1 million for assistant coaches, which would put the Boilermakers right about the average for league schools. Ohio State and Michigan are the two richest schools and have not surprisingly made the biggest commitment to salaries. When you add in Urban Meyer's salary, the Buckeyes are paying nearly $7.6 million per year in football salaries. You get what you pay for, I guess, as Ohio State went 12-0.
While the Big Ten's median salary pool for assistants was just over $2 million in 2012, the median in the SEC was around $2.5 million. According to USA Today, the SEC paid its assistants an average of $315,000, the most in the nation. The Big 12 was second at just under $290,000.
LSU is spending more than $4 million on assistants, while Alabama is doling out more than $3.8 million on assistants. Auburn ($3.77 million), Tennessee ($2.98 million), Florida ($2.89 million), Georgia ($2.77 million) and Texas A&M ($2.68 million) also far outspent most Big Ten schools, while Arkansas ($2.56 million in 2012) is making a larger commitment to assistant pay under Bielema.
Finally, here's a look at the top-paid coordinators in the Big Ten among the 10 schools whose information was available via public records:
Luke Fickell, co-defensive coordinator, Ohio State: $761,000
Greg Mattison, defensive coordinator, Michigan: $758,900
Al Borges, offensive coordinator, Michigan: $658,300
Pat Narduzzi, defensive coordinator, Michigan State: $501,700
Tom Herman, offensive coordinator, Ohio State: $456,000
Everett Withers, co-defensive coordinator, Ohio State: $456,000
Tim Banks, defensive coordinator, Illinois: $400,000
Chris Beatty, co-offensive coordinator, Illinois: $400,000
Billy Gonzales, co-offensive coordinator, Illinois: $400,000
Tim Beck, offensive coordinator, Nebraska: $372,300
Tracy Claeys, defensive coordinator, Minnesota: $340,000
Matt Limegrover, offensive coordinator, Minnesota: $335,000
Greg Davis, offensive coordinator, Iowa: $325,000
Dan Roushar, offensive coordinator, Michigan State: $307,000
Mike Ekeler, co-defensive coordinator, Indiana: $306,600
Doug Mallory, co-defensive coordinator, Indiana: $306,600
Phil Parker, defensive coordinator, Iowa: $301,500
John Papuchis, defensive coordinator, Nebraska: $300,000
Gary Nord, offensive coordinator, Purdue: $275,000
Chris Ash, defensive coordinator, Wisconsin: $267,050
Matt Canada, offensive coordinator, Wisconsin: $265,000
Seth Littrell, offensive coordinator, Indiana: $255,500
Tim Tibesar, defensive coordinator, Purdue: $250,000
Fickell, Borges and Mattison are three of 18 assistants nationwide who earned at least $600,000 in 2012, according to the study. There were 14 assistants paid that much last season and nine in 2010. Ohio State offensive line coach Ed Warinner is the highest paid position coach in the league, at a salary of $357,800.
May, 21, 2012
5/21/12
2:10
PM CT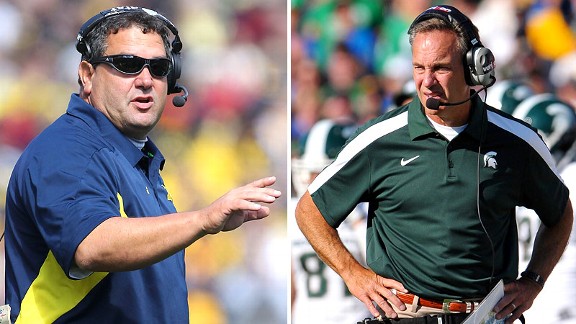 Getty Images, US PresswireBrady Hoke and the Wolverines square off against Mark Dantonio and the Spartans on Oct. 20.
During the course of spring practice, Big Ten bloggers Adam Rittenberg and Brian Bennett visited 11 of the 12 league schools, getting an up-close look at the players and coaches who will shape the 2012 season.
Now it's time for them to share their thoughts on what they saw and learned this spring, and you can follow along as they exchange emails. Check out the Leaders Division exchange here. They now turn their focus to the Legends Division.
Adam Rittenberg:
Let's take a look at what I believe to be the stronger division in 2012. You spent a lot of time in the Mitten State last month, and while you didn't gorge yourself like you did in America's Dairyland, you got the money quote of spring ball from
Michigan State coach Mark Dantonio
, who said, "We're laying in the weeds. We've beat Michigan the last four years. So where's the threat?" How spicy is the Michigan State-Michigan rivalry getting, and how good do you think these two teams will be this season after visiting both campuses?
Brian Bennett:
Oh, there was some serious gorging going on at Zingerman's in Ann Arbor and Sparty's in East Lansing. Good thing there's only one spring practice session per year.
Anyway, I went into the spring thinking Michigan and Michigan State were the two strongest teams in the league, and I didn't see anything to change my opinion. While the Wolverines are more focused on Ohio State and even Alabama, they know they have to end their losing streak against Michigan State. And the Spartans take serious pride in that four-game run while bristling at all the offseason accolades thrown toward Brady Hoke's team. Oct. 20 can't come soon enough, as far as I'm concerned.
If the two teams played right now, I'd definitely take Michigan State. Dantonio has done a terrific job of developing depth on both lines and all over the defense. There's not a deeper team in the Big Ten, and the Spartans' physical play has given Michigan fits. The Wolverines still need to figure some things out in the trenches, especially on the defensive line, but that's one area where Hoke and defensive coordinator Greg Mattison excel. I believe these two teams will be neck and neck all year for the Legends title.
Of course, there's another team lurking in the division, and that's Nebraska. You went to Lincoln this spring, and it sounded like
the Cornhuskers are feeling mighty ambitious this season
. Do they have the necessary tools to back up their lofty goals?
Adam Rittenberg:
It was interesting to see a team openly discuss the national title, Brian, especially in a league like the Big Ten. Huskers safety
P.J. Smith
even went so far as to say a Big Ten title and a Rose Bowl championship would be "kind of disappointing." That's bold. Nebraska would have to skip a step or two to reach that point, but I can see where the confidence stems from. There's a greater comfort level between players and coaches in Lincoln, and also between the coaches and what they face in the Big Ten. Offensive coordinator Tim Beck was candid about the difficulty of preparing for so many new opponents, particularly since Nebraska's offensive and defensive systems are a little different from what we see in the rest of the league.
Quarterback
Taylor Martinez
received good marks from the coaches, and his focus on footwork could translate into a more consistent passing attack. Beck certainly wants to be a bit more balanced, and Nebraska returns pretty much everyone at wide receiver and tight end. We often hear the cliche that it's all about the quarterback, but it holds true with Nebraska. If Martinez actually makes strides as a passer -- he'll be operating in the same offense as the starter for the first time in his high school or college career -- the Huskers will put up points this fall. But after watching Martinez last season, it's fair to have some doubts about No. 3.
The defense expects to exploit a schematic advantage we heard a lot about last season but didn't see much on Saturdays. I like coordinator John Papuchis, and Bo Pelini made two good staff additions in D-line coach Rick Kaczenski and secondary coach Terry Joseph. They're all about details and accountability, and they believe they'll be able to replace star power with greater depth in certain areas. Nebraska also should be strong in special teams. Do the Huskers have a unit better than Michigan State's defense? Not right now. But Nebraska could end up being the division's most complete team by season's end.
Getting back to Michigan State and Michigan. Both teams lose tremendous leaders from 2011 (Kirk Cousins, Mike Martin, Jerel Worthy, Joel Foreman, David Molk, Ryan Van Bergen). Who do you see filling those roles this year?
Brian Bennett:
That's a good question, and one that will have to be answered this summer. For Michigan State,
Andrew Maxwell
impressed me as a guy who can lead in a similar way as Cousins did; he'll just have to play well at quarterback and battle through adversity. The Spartans have some seniors on defense who can lead, like
Anthony Rashad White
and
Johnny Adams
, but they also have some highly respected juniors in
Max Bullough
and
William Gholston
.
But they are replacing some very valuable leaders, just as Michigan is doing.
Denard Robinson
has worked on becoming more vocal and sounded like a different guy in interviews this spring. There's no question he has the respect of his teammates.
Craig Roh
and
Jordan Kovacs
seem like natural leaders on defense, and offensive tackle
Taylor Lewan
says he wants to take on that role as well. But leadership can't be forced, and it remains to be seen if either team can find such strong captains as guys like Cousins and Martin were.
[+] Enlarge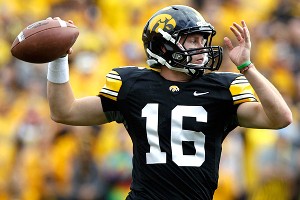 AP Photo/Charlie NeibergallIowa quarterback James Vandenberg threw for 3,022 yards and 25 touchdowns last season.
Speaking of question marks, I feel like Iowa and Northwestern are two of the bigger mystery teams in the league. Both have talent and potentially potent offenses, but they'll also need some players on defense to rise up out of the shadows. What did you take out of your visits to Iowa City and Evanston this spring?
Adam Rittenberg:
Let's start off with Iowa, which underwent some major changes this spring with a new offensive coordinator (Greg Davis), a position coach promoted to defensive coordinator (Phil Parker) and several more assistants shuffling, arriving or being promoted. The players seemed to embrace the changes, and coach Kirk Ferentz basically said the team needed a fresh start even though he didn't want to lose his previous coordinators. There's a lot of excitement about Davis' offense, which will be more up-tempo than what we've seen in the past from Iowa. Quarterback
James Vandenberg
really seems to get it, but will he have enough weapons around him to execute? The running back curse struck again this spring with
Jordan Canzeri
's ACL injury. Iowa needs young and/or unproven players to step up there, and wide receiver isn't a deep group. It'll be a big summer for
Keenan Davis
.
The feeling I had coming out of Evanston is that Northwestern will be a younger team but potentially a better one. The Wildcats say goodbye to an accomplished senior class that featured some outstanding players like quarterback
Dan Persa
. But was it the most talented group? I don't think so. Northwestern has improved its recruiting efforts in recent years, and the team could begin seeing the benefits this year. There are a lot of new faces at spots like defensive back and defensive line. I was impressed with cornerback
Nick VanHoose
and end
Deonte Gibson
. The wide receiving corps should be one of the Big Ten's best, even if Kyle Prater isn't eligible until 2013. The Wildcats might not have many familiar names at receiver, but they boast incredible depth there. This team still has question marks -- secondary, pass rush, running back, quarterback -- but the talent level is getting a bit better.
Neither of us made it up to Minneapolis this spring, but we both talked with Gophers players and coaches. What was your sense of the second spring under coach Jerry Kill?
Brian Bennett:
We swear it's nothing personal, Gophers fans. Both of us would have enjoyed a trip to the Twin Cities, but the schedule just didn't work out.
Anyway, I did sense more confidence from the Minnesota players and coaches we interviewed. That's not surprising, given that it's the second year for Kill's staff and more familiarity almost always brings a better comfort level.
MarQueis Gray
really started to come on late last season and appears to have made strides as a passer. He could be one of the league's top playmakers this year. Overall, the Gophers look to have a little more talent this year, thanks to some junior college imports, youngsters who got experience last year and
Troy Stoudermire
coming back at cornerback. The defense should have more speed, though it remains undersized. The big question for me is who will emerge as weapons alongside Gray, especially at receiver.
But I think that, with a manageable nonconference schedule, Minnesota has a chance to win five or more games this year and it will be much more competitive in Big Ten play than it was early last season. The Legends Division looks more balanced top to bottom than the Leaders and should be fun to follow all year.
TOP 25 SCOREBOARD
Saturday, 12/20
Monday, 12/22
Tuesday, 12/23
Wednesday, 12/24
Friday, 12/26
Saturday, 12/27
Monday, 12/29
Tuesday, 12/30
Wednesday, 12/31
Thursday, 1/1
Friday, 1/2
Saturday, 1/3
Sunday, 1/4
Monday, 1/12