Chicago Colleges:

Philadelphia 76ers
April, 26, 2012
4/26/12
6:40
PM CT
Xavier Silas will never forget the 40-hour span of his life between Tuesday morning and Wednesday evening.
Silas awoke in Arizona at 6 a.m. on Tuesday to a phone call offering him a spot on Philadelphia 76ers' roster for the remainder of the season. By 10 a.m., he was on a flight to join the team in Milwaukee. Finally on Wednesday night, he made his NBA debut, scoring five points on 2-of-5 shooting in 19 minutes in a 76ers' win over the Milwaukee Bucks.
[+] Enlarge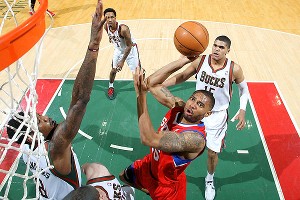 Gary Dineen/Getty ImagesXavier Silas realized his NBA dream on Wednesday night.
"It's all happened so fast," Silas said by phone just hours prior to Wednesday's game. "I didn't really get to feel anything. I got the call at 6 a.m. (Tuesday), and I was on a flight at 10. All I can feel is happiness right now. I'm probably the happiest person ever."
It's a moment Silas has had to wait patiently for since finishing his collegiate career at Northern Illinois last season, but he never lost faith would happen.
Silas was not selected in the 2011 NBA draft, but he was contacted by the 76ers just seconds after the draft ended. His plan was to wait out the NBA lockout while working out in the United States, but he ended up signing a contract in September to play in France. He returned home in December for the 76ers' training camp, but didn't make their NBA roster and went to play for the Maine Red Claws, the 76ers' NBA Development League affiliate.
Silas averaged 9.8 points, 3.0 rebounds and 1.5 assist in 39 games for the Red Claws. He also shot .401 from the floor, .295 from 3-point range and .787 from the free-throw line. His final game with them was on April 7, and he had returned to Scottsdale, Ariz. to train.
"We've always stayed positive with everything, just had faith in myself and the journey," said Silas, who is the son of former NBA player James Silas. "That's all we were doing. We never lost in what we were doing."
But as monumental as Silas anticipated his NBA debut to be on Wednesday, he deemed it just the beginning.
"My goal wasn't just to be in the NBA, but to be successful in the NBA," Silas said. "We still have some work to do."
June, 28, 2011
6/28/11
8:07
PM CT
The NBA is all Xavier Silas has sought since he was a child.
[+] Enlarge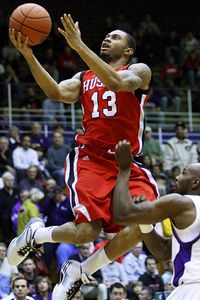 AP Photo/Nam Y. HuhNorthern Illinois' Xavier Silas scored 22 points per a game as a senior.
Silas, the son of former NBA player James Silas, grew up around the game. He played high school and college basketball, but the NBA is what he knows best.
That's why Silas, a former Northern Illinois guard, is willing to gamble with his basketball career this summer for a chance to play in the NBA next season. After going undrafted last week, Silas was asked by the Philadelphia 76ers to pass on any overseas offers and wait to attend their veteran training camp whenever the league resolves its collective bargaining agreement.
The players and the owners could strike a deal at any time, but many believe a lockout is looming and it could roll into the season. For Silas, it would mean a long wait to participate in a training camp where there is no guarantee he will be given an NBA contract.
It is a risk he's willing to take.
"You have to put faith in them," said Silas, a 6-foot-5 guard who averaged 22.3 points as a senior. "I think you have to put a lot of faith in your game, too. It's been like a few days [since the draft], but I'm sure I'll be passing up [overseas] deals, nice lucrative deals. I'll have to have confidence in my game, but at the same I do."
Silas' confidence has never waned throughout the draft process. He is as sure today he can play in the NBA as he's ever been. Of course, the NBA draft didn't play out as he hoped. Heading into the draft, Silas was sure he would be among the 60 players selected.
"I was waiting for a few teams to call my name," Silas said. "The draft was so crazy with all the Europeans being drafted. A lot of people who expected to get drafted didn't get drafted. It was one of those things that it didn't go how you thought it would be.
"It's all about the journey and staying true to your plan and the goal. The goal is to play in the NBA. Not just play in the NBA, but contribute there and have some accolades in the NBA. That's what the goal is. That's still what I'm trying to do."
Silas believes the 76ers will give him that opportunity.
"I didn't have time to be disappointed or upset [about the draft,]" Silas said. "Sacramento's 60th pick was still on the screen when Philly called me and wanted me 100 percent to come into camp. They said, 'We don't want you to go to Europe. We want you to come in our training camp 100 percent because we need a 2 [guard.]
"I know they like my game. I know I'm going to play my game. I know everything is going to work out. I'm just happy everything is on track."
Until training camp, Silas will continue to work on his game in Austin, Texas training with former Northern Illinois assistant Sundance Wicks.
When his chances come, he'll be ready.
"You have to believe in yourself and your game," Silas said. "Knowing what I can do, you can't really get too disappointed. When you get into training camp, it'll all show.
"It's all about finality. You can get there all different types of ways. It's not about draft night. If it was about draft night, the league wouldn't be what it is today."
TOP 25 SCOREBOARD
Friday, 8/29
Thursday, 8/28
Saturday, 8/30
Sunday, 8/31
TOP PERFORMERS