Chicago Colleges:

Phillip Dorsett
November, 6, 2012
11/06/12
9:00
AM CT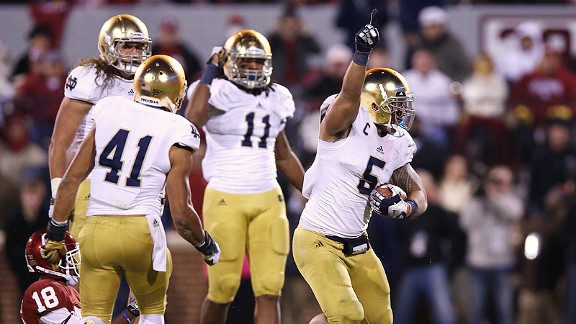 Matthew EmmonsManti Te'o's fourth-quarter pick against Oklahoma is just one of many plays that broke in the Irish's favor this season.
"I am a great believer in luck, and I find the harder I work, the more I have of it." -- Thomas Jefferson
What better way to start off a post on election day than with a quote from one of our nation's Founding Fathers?
One that is true, I might add.
A football team does not get to 9-0 on the back of luck, as Brian Kelly re-iterated Sunday.
"Most of the time you're making your luck, and you're playing through some rough spots," Kelly said. "I've never had a team that won because it was lucky. But I've had many teams that were fortunate because they were good football teams and they found a way to win, if that makes sense. Does that make sense?"
Yes, though it's tough to explain how Notre Dame won a game Saturday after losing the turnover margin 3-0, after what some would call a phantom pass interference call on a key fourth-down fourth-quarter play, and certainly after a dooming 33-yard field goal sailed wide right -- after the officials
did not penalize the Irish for having two players on the field who wore the same jersey number (No. 2s
Bennett Jackson
and
Chris Brown
)
.
The simple fact is that the Irish have won every game they have played. They have done more than enough in tough situations to earn those victories, ones that probably don't come in years past, and certainly not during last year's remarkably unlucky campaign.
(Is it a coincidence, as
Pittsburgh Post-Gazette reporter Sam Werner pointed out
, that Notre Dame outscored Pitt 23-6 Saturday after the stadium played the Rudy theme song at the 14:06 mark of the fourth quarter? … OK, probably.)
In any event, here's a look at just how close this perfect season is to being imperfect, with a similar break shown from last year to illustrate some of the differences.
As Jerry Seinfeld says, these things usually have a way of evening out.
Sept. 8 versus Purdue, 20-17 win
: On third-and-6 from his own 49,
Tommy Rees
tried to call a timeout, then took the snap after the play clock had expired. Delay of game was not called, Rees hit
John Goodman
near the Irish sideline for 10 yards, and Notre Dame ended up capping the drive with a game-winning field goal with seven seconds left.
2011 equivalent
:
Dayne Crist
marching the Irish downfield on the season's first drive against USF, only to have a Jonas Gray goal-line fumble get returned all the way back, changing the course of the game and setting an ominous tone for the season.
Oct. 6 versus Miami (in Chicago), 41-3 win
: OK, so this had no effect on the game's outcome. But if
Phillip Dorsett
catches either of the deep balls thrown to him on the Hurricanes' first drive of the game, he scores. The complexion of this contest is forever changed then, though there is simply no way the Irish don't still overpower and wear down Miami en route to win No. 5.
2011 equivalent
: If we're going by passing plays, then it's hard to overlook Michigan marching 80 yards in three plays over 28 seconds in Week 2 against the Irish last season, completing a 17-point fourth quarter comeback en route to a BCS-bowl season.
Oct. 13 versus Stanford, 20-13 win (OT)
: Where do we begin? We can skip the mis-spotted ball the officials gave the Cardinal in the fourth quarter, since they converted on the ensuing third-down play. But how about the whistle that coach David Shaw said was blown from the crowd, causing his players to let up while
Matthias Farley
tackled
Stepfan Taylor
for a seven-yard loss on third-and-2. That drive ended in a field goal to make it 13-10, and the Irish forced overtime on the next drive. (For my money, kudos to Farley for playing through, phantom whistle or not.) Then, of course, there's the game-ending goal-line stand. Was the whistle blown too soon? Does it matter? It's hard to imagine Taylor crossing the goal line any way since he was surrounded by seemingly the entire Notre Dame defense. And you can't overturn a call like that. And that would have just sent the game into double-overtime any way, with no guarantees either way. (I still contend that the Irish got jilted on
Everett Golson
's third fumble of that game, as he looked to have stepped out of bounds before losing it.)
2011 equivalent
: Notre Dame about to complete a 17-0 comeback against USC before a Crist goal-line fumble gets returned the other way for a touchdown, crushing any remaining BCS-bowl dreams in the seventh game of the season.
Oct. 27 at Oklahoma, 30-13 win
:
Manti Te'o
made a diving interception with Notre Dame up seven in the fourth quarter, a play that was upheld. Based on the initial Twitter reaction, I'm guessing that Oklahoma fans are probably still complaining about this one, but it's tough to overturn. And, well, the Irish were winning at the time and there's no guarantee that the Sooners would have mounted another scoring drive that game against that defense.
2011 equivalent
: Notre Dame sacking Florida State five times, holding the Seminoles to 1.4 yards per rush, scoring a defensive touchdown, holding a 14-0 second-half lead … and still losing the Champs Sports Bowl.
October, 31, 2012
10/31/12
1:00
PM CT
Avoid the traps, noises and every other cliche spouted about your favorite undefeated team. Here are a few treats to hold you over until Notre Dame takes the field again Saturday:

Haunted house
: Is it still USC? Notre Dame won its last contest there, and the Trojans dropped another home game last year, with tough test there against Oregon before they host the Irish in the regular-season finale. It's not what it once was, but the Los Angeles Coliseum is all that will likely stand between the Irish and a perfect regular season.
The Exorcist(s)
: No teams owned Notre Dame coming into this season the way Michigan and Stanford had recently. The Irish then put
Denard Robinson
through the worst birthday of his life, forcing him into five turnovers in a prime-time win. And three weeks later they bridged the gap with a Cardinal team that had physically manhandled them recently by stopping
Stepfan Taylor
four times inside the 5-yard line to preserve an overtime victory.
Paranormal activity
: Miami's
Phillip Dorsett
dropped not one but two sure-fire touchdown passes on the opening drive against Notre Dame on Oct. 6 in Chicago. How do you explain that?
Witchcraft
: BYU quarterback
Riley Nelson
's comments following after missing
Cody Hoffman
late in the fourth quarter of an eventual 17-14 loss at Notre Dame: "That throw will probably haunt me until I die." Irish coach Brian Kelly's remarks after the win made his team 7-0: "You just need to find ways to win. That's who we are. Embrace who you are, is what I'm saying. Our football team, they believe they're going to win. There's no question they believe they're going to win." Tough to find simple logic in all of that.
Jason Voorhees
: Suspended from the opener? OK. No preseason reps or starting job? Whatever. Booed by his own classmates? Ha! Put
Tommy Rees
in at any time, any place. No matter to the junior, who has rescued the Irish three times this season, delivering clutch throws against Purdue, Michigan and Stanford and starting against BYU (and Miami). He's not going anywhere.