Chicago Colleges:

pinstripe bowl 2013
December, 30, 2013
12/30/13
9:00
AM CT
By
Matthew Ehalt
| ESPNChicago.com
NEW YORK -- As the
Notre Dame
football team prepares to replace several key defensive starters and install a new defensive coordinator this offseason, former defensive coordinator Bob Diaco's words about filling those voids stand out to sophomore corner
KeiVarae Russell
.
"He [said it's] like it's baking the cake. Instead of putting the sugar you put the spice in," Russell said. "It's still going to turn out to be a cake. It's going to be a different taste of it."
Notre Dame's players and coach are expecting that cake will taste quite good next season.
[+] Enlarge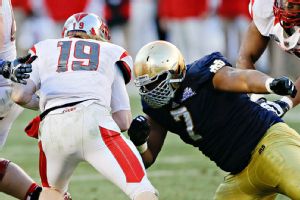 AP Photo/Frank Franklin IINotre Dame could lose defensive lineman Stephon Tuitt to the 2014 NFL draft.
As Notre Dame readies to bring in a new defensive coordinator and potentially replace six starters from Saturday's
29-16 win over Rutgers
in the New Era Pinstripe Bowl at Yankee Stadium in the Bronx, N.Y., the Fighting Irish are optimistic they won't miss a beat defensively next season.
Notre Dame coach Brian Kelly said the team has its new defensive coordinator in place,
reported to be Jets linebackers coach Brian VanGorder
, and an announcement will be coming soon as the contract had not been finalized as of Saturday. VanGorder will replace Diaco, who left prior to the bowl game to become the head coach at UConn.
"We're going to have a lot of really good players coming back, I feel really confident in that," Kelly said. "[I'm] really excited about the prospects next year defensively in the guys we got coming back."
Notre Dame's defense shined against Rutgers, forcing four interceptions and holding the Scarlet Knights to just 236 total yards. More than half of the starters from that game, though, might not be back next season. Defensive lineman
Kona Schwenke
, linebackers
Prince Shembo
,
Dan Fox
and
Carlo Calabrese
, and cornerback
Bennett Jackson
all started their final game for Notre Dame.
Junior defensive lineman
Stephon Tuitt
also started against Rutgers and could skip his final season and declare for the draft. If he does, he will join senior defensive tackle
Louis Nix III
, who did not play against Rutgers after undergoing season-ending surgery but signed with an agent to forgo his final year of eligibility.
"He'll now focus on making that decision. We've had a couple of conversations. He knows all the information," Kelly said of Tuitt. "My job is to provide him with all the information about the decisions that he's about to make. I'm pretty certain he'll make his decision here very, very soon."
As he looks to next season, Kelly likes the core group of defensive players, and believes the team will benefit if it's able to achieve more continuity. Notre Dame started 19 different players on defense this year, as freshman safety
Max Redfield
made his first career start in the Pinstripe Bowl.
Kelly specifically mentioned Russell, who had an interception against Rutgers, and sophomore linebacker
Jarron Jones
as two players the defense can build around next season. Russell is confident he can be a major player for the new defensive coordinator and be a cornerstone for the defense next season.
"I personally believe I'm going to be the best corner next year in the country," Russell said. "This game shows me the development I had from the start of last year and from the beginning of the year to where I've progressed. My man-to-man skills have gotten a lot better throughout the year. Sky's the limit for me. This shows I can really be the best corner in the country, it just takes a lot of work to do that, and this offseason I'm going to work on all my assets."
December, 28, 2013
12/28/13
7:16
PM CT
NEW YORK -- Notre Dame finished a disappointing season with a win Saturday at Yankee Stadium. For
Tommy Rees
, it was a fitting end to an up-and-down career.
[+] Enlarge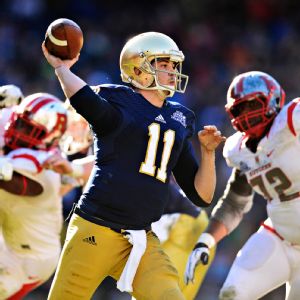 Joe Camporeale/USA TODAY SportsTommy Rees threw for 319 yards in his final game at Notre Dame.
The senior quarterback completed 27 of 47 passes for 319 yards, leading the Fighting Irish to a 29-16 win over Rutgers in the fourth-annual New Era Pinstripe Bowl.
"Hats off to Rutgers for playing a great game, but I'm really proud of the way we persevered and were able to pull it out," Rees said.
It certainly wasn't pretty. The heavily favored Fighting Irish mounted long drive after long drive but repeatedly had to settle for field goals. They racked up 258 more yards of offense (494-236) and nearly twice as many first downs (31-16) as the Scarlet Knights, but the game was tied at halftime and Notre Dame led by only three points with under nine minutes remaining in the fourth quarter.
That's when Rees engineered the game-clinching drive, leading his team 79 yards in 10 plays -- capped off by a three-yard touchdown run by
Tarean Folston
-- to put away Rutgers.
At this time last year, Notre Dame was preparing to play Alabama in the BCS National Championship on Jan. 7. This year, Notre Dame's season ended three days after Christmas, with a record of 9-4 and thoughts of what might have been.
"A good year that could have been a great year," Notre Dame coach Brian Kelly said when asked to assess this season. "Some really good victories. ... A couple of missed opportunities in some games where we very easily could have been a team that's looking at double-digit wins, and that's where we want to be every year."
Kelly's comments -- and the fact that they don't sound outlandish -- show just how far Notre Dame has come in his first four years at the helm. Kelly's 37 wins tie him with Lou Holtz and Dan Devine for the most by a Notre Dame coach in his first four seasons.
Correspondingly, Notre Dame's current senior class finished with 37 wins -- the most since the Class of 1994.
That group includes wide receiver
TJ Jones
, who had 1,042 receiving yards and nine touchdowns on the season entering the Pinstripe Bowl. Jones had five receptions for 66 yards against Rutgers plus four carries for 16 yards and a touchdown. The five catches moved him into second place on Notre Dame's career receptions list with 181.
And Jones came back in the game despite suffering a second-degree shoulder sprain.
"I wasn't gonna be done for the day -- not with my last game in a Notre Dame uniform," Jones said. "I had to come back and contribute."
That class also includes Rees, who wasn't even supposed to be Notre Dame's starting quarterback this season. He stepped in due to injury his freshman year and started 12 games as a sophomore but lost the job to freshman
Everett Golson
as a junior and figured to play behind Golson as a senior -- until Golson was suspended for academic reasons.
Rees stepped in again and ended up throwing for 3,257 yards with 27 touchdowns and 13 interceptions -- becoming only the third Notre Dame quarterback to throw for 3,000 yards in a season.
His erratic play over the years might have infuriated Notre Dame fans at times, and Rees was far from perfect against Rutgers; in fact, an offensive lineman,
Zack Martin
, won the game's MVP award.
But numbers don't lie. Rees finished his career third in school history in passing yards (7,670) and second in touchdown passes (61) and joined Tom Clements, Joe Montana, Tony Rice and Rick Mirer as the only Notre Dame quarterbacks with two bowl game victories as a starter.
"I'm a Tommy Rees fan for life," Kelly said. "He's gonna go keep chasing that football dream. He's gonna play in the East-West Shrine Game, and he'll keep trying to play the game as long as he can. But I told him he's got a bright future as a graduate assistant for Brian Kelly any time."
The last time Notre Dame played at Yankee Stadium was three years ago -- a 27-3 win over Army. A freshman named Tommy Rees, making just the second start of his college career, completed 13 of 20 passes for 213 yards with one touchdown and one interception. Afterward, the wide-eyed freshman gushed about being given Derek Jeter's locker in the Yankees clubhouse.
Three years later, Rees looked and sounded like a different person.
"To be honest, I'm not as emotional as I thought I'd be after my last game," he said. "I'm just really enjoying the moment."
Asked to evaluate his just-completed collegiate career, Rees politely declined.
"I'll let you guys [in the media] judge that," Rees said. "As long as I've got the respect and the commitment from my teammates and coaches, that's all that's ever mattered to me. I know I can leave here with my chin held high. I love the game of football. It's pretty special to start at quarterback at Notre Dame, and that's something I'll hold with me for the rest of my life."
Say what you want about Tommy Rees, but he finished on a high note.
December, 28, 2013
12/28/13
4:04
PM CT
Notre Dame finally pulled away from Rutgers to escape Yankee Stadium with a 29-16 win Saturday in the New Era Pinstripe Bowl. Here's how it went down:


It was over when: Tarean Folston punched it in from three yards out with 3:38 remaining to make it 26-16 and give Notre Dame some much-needed breathing room. Redshirt senior Dan Fox picked off Rutgers quarterback Chas Dodd on the ensuing drive to effectively seal the game. Kyle Brindza added a 49-yard field goal to make it 29-16.
Game ball goes to: Folston was named the starter by coach Brian Kelly earlier this week. Before the game, Kelly issued a statement saying that George Atkinson III (and cornerback Jalen Brown) would not play due to a violation of team rules, which Atkinson tweeted (and then deleted) was him texting during a team meal. In any event, Folston took advantage of Atkinson's absence and might have gained the front-runner status for the starting running back job heading into next season. He capped his rookie year with 73 yards and a touchdown on 17 carries, adding three catches for 21 yards. Kudos to Cam McDaniel for being his reliable self, as he had 17 carries for 80 yards and added three catches for 29 yards. The duo did this behind an offensive line missing its three regular interior starters.
Stat of the game: Pick your poison: Notre Dame completely outdid Rutgers in first downs (31-16), total yards (494-236), takeaways (4-1) and time of possession (38:16-21:44). It is hard to imagine how the Scarlet Knights managed to stay in this game for so long (19-16 with four minutes left).
Unsung hero: Brindza connected on 5 of 6 field goal attempts on what was an uneven surface, helping Notre Dame put up points whenever its offense could not punch it in. That was two field goals clear of the Irish's bowl game record. Credit to TJ Jones for catching five balls for 66 yards and carrying it four times for 16 yards and a touchdown in his college finale as well. (Oh, and let's not overlook Louis Nix, who is injured and has signed with an agent, meaning he could not travel with the team. That did not stop him from providing terrific Twitter commentary throughout the afternoon.)
What it means for Notre Dame: Let's just say the Irish had a lot more to lose in this one than they had to gain. But they can exit 2013 with a 9-4 record, their second-best mark since 2006. From an optimist's perspective, this is probably what was expected outside of the program when starting quarterback Everett Golson got suspended from school in May and once the injuries kept mounting as the season progressed. Stephon Tuitt's NFL decision will play a huge role in determining preseason expectations for this team, but getting Golson and many offensive weapons back will be huge for a program that has yet to really turn the corner offensively in four years under Kelly.
What it means for Rutgers: Goodbye American Athletic Conference, hello Big Ten. The Scarlet Knights had some opportunities to make this game a lot more interesting, but a number of questionable calls prevented them from gaining some much-needed momentum in this game, which in turn prevented them from gaining some positive momentum going into their new conference. First, coach Kyle Flood elected to decline an offside penalty on an 18-yard field goal by Kyle Federico, passing on an opportunity to go for a short touchdown in a game with little to lose and few touchdown opportunities to be gained. Later, the Scarlet Knights ran a halfback pass from the Irish 20 with Justin Goodwin, who tossed an interception to KeiVarae Russell. Michigan State made a similar mistake against the Irish earlier this year, and that one also was picked, a game-turning play in what turned out to be the Spartans' lone loss this season.
To watch the trophy presentation of the New Era Pinstripe Bowl, click here.
December, 12, 2013
12/12/13
9:00
AM CT
Kyle Flood was answering a question about his depleted staff on Tuesday when Brian Kelly chipped in a few minutes later with his unsolicited take.
[+] Enlarge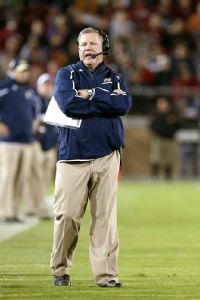 Kelley L Cox/USA TODAY SportsDespite losing both coordinators, the Irish are in good hands with Brian Kelly.
"And just to add on to Kyle's situations with his staff," the Notre Dame coach said at Yankee Stadium. "I just want to let him know he's got too many staff members. When I was at Cincinnati, we had three staff members and we coached in the bowl game against Western Michigan, so you've got way too many. And we won that game, so I think he's fine. I don't think you have to worry about him having not enough coaches."
At this rate, it would be easy to say that the concerns now fall on Kelly, who lost his second coordinator to a head-coaching job in an eight-day span Wednesday when Bob Diaco
accepted the UConn post
. That came in the wake of Chuck Martin
packing his bags for Miami (Ohio)
. The moves hamstring the Irish staff as it readies for Rutgers on Dec. 28's New Era Pinstripe Bowl, and as it gears up for the mad dash to national signing day in the 39 days following the 2013 finale.
The initial reaction across players and fans, per routine, was overreaction. Tweets
decrying Diaco
for looking out
for himself
were soon deleted, eventually giving way to
more
and
more
congratulatory remarks for a man whose next career step was only a matter of time.
Make no mistake, this is far from the situation that is taking place in Piscataway, N.J., where Flood, the second-year head coach,
let go of three assistants
after an underwhelming 6-6 campaign. The Scarlet Knights step into the Big Ten next season. And this is far from the case that Kelly was referencing in that bowl press conference, as he had just taken the Cincinnati job and had only three of his Central Michigan assistants with him by the time the Bearcats faced, and defeated, Western Michigan in the International Bowl nearly seven years ago.
"It certainly creates a little bit of a challenge," Flood said of Rutgers' situation, "but I'm confident that people are put in positions where they can be successful, and that's really my job as the head football coach, to make sure we got a coach assigned at every position and in all three phases and the coordinator role."
Kelly's challenge is considerably smaller. This is Notre Dame, after all.
Initial reaction among recruits speaks to that
, with most youngsters recognizing that much of what they were promised remains in place so long as Kelly is at the forefront. If Diaco does not bring along other Irish assistants with him to Storrs, Conn., Kelly will have a much easier time filling the holes on his staff. Kerry Cooks, let's not forget, has also been the co-defensive coordinator these past two years, and he will probably take on Diaco's responsibilities for (at least) the rest of the month.
The fact this Notre Dame team went 8-4 and had its top two assistants get hired to run their own shows speaks volumes about where the program is now. Jimbo Fisher lost seven assistants in a season that ended with Florida State winning the Orange Bowl, and the Seminoles have turned out oh-so fine in the year since. This is a good problem to have,
and as IrishIllustrated's Pete Sampson said
, one coordinator leaving right after the other could trigger an eventful race back to South Bend to occupy Kelly's office whenever he should depart.
That's down the road. For now, the calendar has 19 days remaining in a year that began with a letdown against Alabama in the national title game and will likely end with a win against Rutgers -- with plenty of embarrassment (Manti Te'o, Everett Golson) and departures (
Gunner Kiel
, two receivers) sandwiched in-between.
As they did in this past year, the Irish will enter 2014 hoping to close whatever gap remains toward a national title. And while
Jameis Winston
isn't walking through that door, the two most important elements of that chase, Kelly and Golson, still are.
December, 9, 2013
12/09/13
8:00
AM CT
SOUTH BEND, Ind. -- Brian Kelly likely spoke for a lot of people when he said that Louis Nix in New York would be "cool." But the gregarious redshirt junior will not be in the Bronx to face Rutgers with his Notre Dame teammates after signing with an agent.
Kelly made it clear Sunday that he was not involved in the agent conversations with Nix, whose decision to go to the NFL was expected, but just maybe not
this
soon.
"There's a lot of factors that are involved there," Kelly said. "I think the most important choice he made was coming to Notre Dame and getting his degree. The rest of those, you know what I mean, they're splitting hairs. We'll find out, right? You're taking a gamble no matter what. But the most important decisions he had to make, I thought he got them right. That was coming to Notre Dame, getting his degree. I think he hit a home run on those."
Nix would have missed the New Era Pinstripe Bowl anyway because of surgery to repair a meniscus tear in his left knee, which kept him out of the Irish's last two games.
The 6-foot-3, 342-pound nose guard is expected to graduate this month with a degree in film, television and theatre. He
reportedly signed with Todd France and Brian Ayrault
.
"He had an injury and wouldn't be able to play. He did what was best for him," left tackle
Zack Martin
said. "Wish him all the best of luck. He's a great player and know he's going to do great things."
Notes
Stephon Tuitt
remains undecided about his Notre Dame future, Kelly said. … Left guard
Chris Watt
's MCL sprain will keep him out of his final Notre Dame game. … Kelly will visit Everett Golson on Monday in the quarterback's Myrtle Beach, S.C., home. Golson may visit his girlfriend in New York around Christmas and could meet the team there, provided he pays his own way. … Mike Denbrock is the offensive coordinator and Kelly will coach the quarterbacks with Chuck Martin off to become head coach at Miami (Ohio), but Kelly remains undecided on how he will handle Martin's vacant position moving forward, saying any new hire would come after the bowl game.
December, 8, 2013
12/08/13
9:40
PM CT
Dec. 28, noon ET, Bronx, N.Y. (ESPN)
RUTGERS SCARLET KNIGHTS BREAKDOWN
[+] Enlarge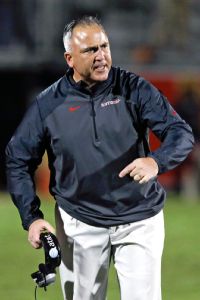 AP Photo/John RaouxKyle Flood hopes to finish his second season at Rutgers on a positive note.
Kyle Flood will get a chance to rewrite the ending to what has been a disappointing second season at Rutgers. The Scarlet Knights routed USF in the regular-season finale Saturday to snap a three-game losing streak and clinch bowl eligibility. Awaiting the future Big Ten school in the New Era Pinstripe Bowl? Future partial ACC member Notre Dame, in a bowl that just happens to feature Big Ten and ACC ties moving forward.
The Scarlet Knights clinched a share of the Big East title last season and looked in position to achieve similar success in their final year in the American Athletic Conference after a 4-1 start, with the only loss coming in overtime at Fresno State in the season opener.
But they dropped five of their next six games before winning Saturday, with
Chas Dodd
starting the final two contests at quarterback in place of
Gary Nova
. Dodd was mediocre in a loss at UConn before turning a strong outing on senior day, and he received a great performance from his defense.
But that was an outlier in a season that ended up costing coordinator Dave Cohen his job on Sunday. Rutgers surrendered 50-plus points three different times, and 40-plus points five times. The post-Christmas matchup with the Irish will be the program's final tune-up before it moves on to the Big Ten next season, and though AD Julie Hermann gave Flood a vote of confidence, Rutgers has shown little sign this season that it is ready for the step up in competition.

vs.

NOTRE DAME FIGHTING IRISH BREAKDOWN
An 8-4 season was not what Notre Dame had in mind after running the table in the regular season in 2012. But the Irish are hoping that the New Era Pinstripe Bowl can give their senior class a chance to go out on a high note.
[+] Enlarge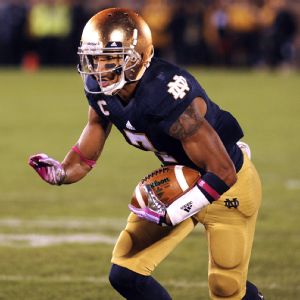 AP Photo/Joe RaymondT.J. Jones and the Fighting Irish will try to put a winning spin on what turned out to be a somewhat disappointing season.
The winningest senior class in nearly two decades is credited in large part with helping turn the program around, making eight-win seasons such as this one a bigger disappointment than they had been. And despite losing four games, the class helped Notre Dame win some notable contests this season.
The Irish were the only team to beat Michigan State in the regular season. Their victory over Arizona State grew more impressive by the week. So, too, did their victory over USC, as they missed
Tommy Rees
for much of the second half because of injury, but their defense stepped up to shut out the Trojans over the game's final 30 minutes. It was Notre Dame's third victory over its rival in the teams' past four meetings.
The biggest steps back for Notre Dame this season came from the running game and defense. The backfield wasn't consistently productive and the defense missed four starters from last year much more than initially anticipated. Season-ending injuries to
Louis Nix
,
Jarrett Grace
and
Ben Councell
did not help, and
Stephon Tuitt
and
Sheldon Day
were rarely healthy at the same time as Nix, rendering the defensive line thin.
Still, with the return of suspended quarterback Everett Golson imminent, a victory in the New Era Pinstripe Bowl could initiate some momentum toward a promising future.