Chicago Colleges:

Porter Moser
June, 17, 2013
6/17/13
4:37
PM CT
Porter Moser had to put together an entire staff when he was hired as Loyola coach in 2011, and he's at it again in 2013.
Moser confirmed Monday he has lost all three of his assistant coaches to other positions.
Rick Malnati left the program in April after two seasons to become a high school coach again. Malnati will be the varsity boys basketball coach at Fenwick High School in Oak Park, Ill. Malnati was previously the varsity boys basketball coach at New Trier High School in Winnetka, Ill.
Armon Gates recently left Loyola to be an assistant coach for Northwestern coach
Chris Collins
. Gates' hiring is expected to be announced by Northwestern soon. Gates spent two years with Moser.
Jason Gardner also recently departed Loyola to be an assistant coach for Memphis coach Josh Pastner, who Gardner played with at Arizona. Gardner had been given his first college coaching position with Moser and was at Loyola for two seasons.
"I was called for permission to talk to Armon in one hour, and the next hour I was called for permission to talk to Jason," Moser said on Monday. "That's just part of the business. I'm happy for everybody. I hope this is a reflection that I hire good people. It's a positive reflection on who we're hiring. People are looking at our program. They're high-character people. I'm going to miss them. I'm going to miss going through the day-to-day grind with those guys.
"We were really trying to resurrect this program. I'm 100 percent sure that I'm going to hire guys with that same vision. I wanted high-energy, high-character guys that can recruit and coach and relate to people. I'm not going away from what I hired before. Obviously, it's always a challenge when you lose an assistant. I'm going to hire a great staff again."
Moser said no one has been officially hired yet, but he already is in the process of adding to his staff.
According to a source, Daniyal Robinson is expected to join Loyola's staff and be reunited with Moser. Robinson was an assistant coach to Moser from 2003-2007 at Illinois State. Robinson has spent the past three seasons as assistant coach at the University of Houston.
June, 17, 2013
6/17/13
3:44
PM CT
Northwestern
first-year coach Chris Collins is set to hire Armon Gates as the final assistant to his staff, according to a source.
Gates has spent the past two seasons as an assistant to Loyola coach Porter Moser. He was also an assistant coach at TCU and Kent State and a graduate assistant at Western Kentucky.
Northwestern is expected to announce the hiring of Gates once he is cleared through a background check, according to the source.
Moser said Monday that Collins was receiving a quality coach, recruiter and person.
"I think Armon is a rising star," Moser said. "He did a great job for me the two years he was here. He's a high-energy guy, a high-character guy. He was a good friend as well as a good colleague. I wish him all the best. Chris is getting a good one. Northwestern is getting a good person and good coach."
Gates is from the Chicago area and played at Hillcrest High School in Country Club Hills, Ill. He played at Kent State and earned his master's degree from the school in 2007.
Gates will complete Collins' staff. Collins previously announced the hiring of assistant coaches Brian James and Patrick Baldwin. Tavaras Hardy recently left Northwestern's staff to take an assistant position at Georgetown.
August, 16, 2012
8/16/12
8:17
PM CT
CHICAGO -- Loyola's style of basketball was often difficult to watch during Ramblers coach Porter Moser's first season.
[+] Enlarge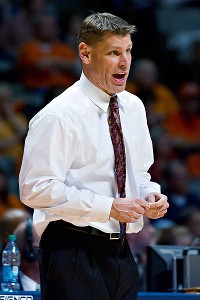 Icon SMIComing off a 7-23 debut season at Loyola, Porter Moser has just two seniors on the roster.
The Ramblers played slow, and they played sloppy mostly due to inexperience and lack of depth at point guard. They ranked 329th in the country with 62.7 possessions per game and 243rd with 14.4 turnovers per game.
The Ramblers plan to display a completely different pace of basketball during their four-game exhibition tour in Italy, which began this week.
The 24-second shot clock will certainly force Loyola to play faster, but its two new point guards will be just as vital to the quickened pace. With the addition of junior Cully Payne, who sat out last season after transferring from Iowa, and touted freshman Jeff White, who played at Peoria Manual, Loyola is hopeful its point-guard play will be a strength this season.
"I think we'll be quicker," said Loyola senior forward
Ben Averkamp
, who averaged 15.4 points and 7.1 rebounds last season. "I think you'll see we've be able to get up and down a lot more. We can run two point guards."
Payne is excited just to get back to playing competitive basketball. He played five games in the 2010-2011 season at Iowa due to an injury and sat out all of last season.
"I think more than anything it helps me as a person," said Payne, who started 32 games for Iowa as a freshman. "I'm happy when I'm on the court. I love it. It's kind of what I do. I'm just excited."
Because Loyola is implementing two new point guards and seven newcomers total with Payne, six freshmen and one junior-college transfer, the Ramblers' trip to Italy couldn't have come at a better time. Loyola had 10 practices leading up to its departure and will play four teams in four cities over a two-week span in Italy.
Loyola defeated the Italy All-Stars in Rome on Tuesday and will play Pallacanestro Bassano del Grappa in Bassano del Grappa on Saturday, Zepa Marostica in Treviso on Aug. 20 and Legnano Basket in Como on Aug. 22.
"I have no doubt the talent level has risen in our program, but still half the team is freshmen," said Moser, whose team went 7-23 last season. "These practices are invaluable."
Averkamp gets Loyola will be young, but he's optimistic the Ramblers will be much improved for his senior season. He and
Jordan Hicks
are the team's only seniors.
"I understand they're young and have a lot being thrown at them, but in the same respect for Cully and I and especially Jordan, who has been here five years -- he's been through everything -- we see an importance to this year," Averkamp said. "Hopefully, this trip to Italy springboards us for the year."
June, 27, 2012
6/27/12
1:41
PM CT
Loyola announced the addition of Tallahassee junior college combo guard Kody Williams to its roster for next season.
Williams, who was born in Chicago and is the cousin of Chicago basketball legend Mark Aguirre, averaged 4.6 points, 4.5 assists and 1.0 steals last season. Williams also played one season at Southern Mississippi.
"Kody gives us toughness and athleticism at the guard spot," Loyola coach Porter Moser said in a statement. "He can play the one, two or three spots and brings collegiate experience to our program having been at both Southern Mississippi and Tallahassee Community College. Kody is a long, athletic player who can be a great defensive stopper for us."
Williams joins Loyola's recruiting class of forwards
Nick Osborne
(Muncie, Ind.), Matt O'Leary (Terre Haute, Ind.) and
Tanner Williams
(Orion, Ill.), center
Jeremy King
(Houston) and guards
Jeff White
(Peoria, Ill.) and
Devon Turk
(Houston). Former Iowa point guard Cully Payne will also be eligible next season.
February, 10, 2012
2/10/12
8:42
PM CT
Porter Moser had a feeling his first year at Loyola would be a rocky one.
He was wrong.
It's been worse. For the season to be considered rocky, the Ramblers would have needed some ups to go with their downs. Loyola is winless in the Horizon League at 0-13. It hasn't won since Dec. 22 and is 5-18 overall.
"It's not a lot of ups," Moser said heading into Saturday's game with crosstown rival UIC.
[+] Enlarge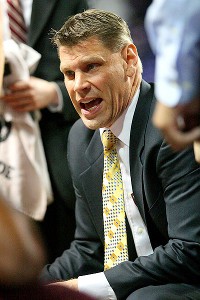 Scott Sewell/US PresswirePorter Moser's Ramblers have yet to win a game in the Horizon League.
Moser recognized when he took the job Loyola's roster had holes. To make the situation worse, Courtney Stanley, who was expected to start at point guard, was lost for the season with a ACL tear in September, and Jordan Hicks, another expected starter, had an offseason setback while returning from his second consecutive broken foot injury. Hicks didn't play his first game until Dec. 19 and is only now starting to get back into a rhythm.
The Ramblers' luck hasn't improved as the season has unfolded either. Starters Ben Averkamp, Joe Crisman and Walt Gibler have all missed multiple games due to injury. Crisman, alone, has had a concussion, a high ankle sprain, a shoulder blade contusion and a broken left hand.
Moser admitted the season has been trying for him and his players, but he hasn't lost sight of the ultimate goal. And if he needs any reminding of it, his old boss, Saint Louis coach Rick Majerus, helps with that.
"He keeps on reminding me it's a journey," Moser said. "He's all about the long haul. Too many coaches try to come in and shortcut things whether it's with recruiting or winning games. I look at Year 5 at Saint Louis, and they're hovering around the top of the Atlantic 10 and will probably get a NCAA tournament bid. It takes time.
"I didn't have any illusions of grandeur that it was going to come all this year. I'm obviously extremely disappointed. I have a fire in my belly to win. That's what you want, but I'm not disconcerted. I think that's a big difference. I know where we're going with this program."
Moser doesn't think this year's team is that far off either. The Ramblers lost to Youngstown State in overtime and played within six points of Butler and Wright State.
Despite the difficult season, Moser has stressed to his players they still have a chance to finish the year strong.
"Obviously, we're not going to win the league," Moser said. "This whole week we talked about what do we want out of these last few weeks. Are we going to be a team that packs it in?
"You can't dwell on what's transpired. You can only learn and try to get better. That's our only option."
October, 14, 2011
10/14/11
4:18
PM CT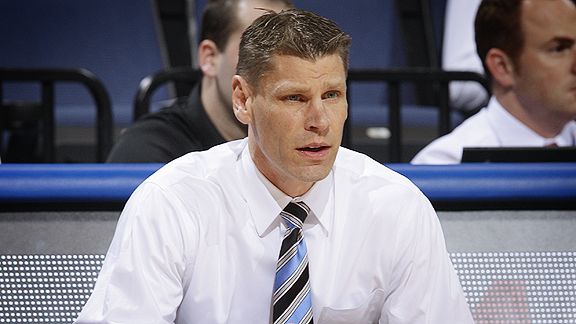 AP Photo/Jeff RobersonPorter Moser is enthused by the improvements Loyola is making to its facilities.
CHICAGO -- Porter Moser was curious to get a closer look at Loyola's campus while the school was still narrowing its coaching candidates in late March.
Moser was in the Chicago area recruiting as an assistant coach for Saint Louis, and he decided to swing by Loyola's campus in Rogers Park. Before embarking on a self-guided walking tour, he threw on a Chicago Cubs cap and lowered it to hide his identity, just in case.
Moser hadn't been to Loyola before. He used to come close when traveling on Sheridan Road to nearby Loyola Park when he played at Benet Academy in high school. He wasn't sure what he was going to find when he actually stepped onto campus.
Within minutes, Moser was sold. He was sold not only that Loyola was the place for him, but also the place for future recruits.
"I said, 'Holy [bleep], to myself," Moser said on a recent afternoon over lunch. "I had no idea this was here. I had no idea it was on the lake.
"We've had 40 unofficial visits since I've had the job. I would almost say 100 percent say, 'I can't believe this campus is this nice.' I said the same thing. With the success the Horizon [League] is having; I can talk about the Jesuit education; I thought all the pieces were coming together. I thought the facilities were a cherry on the sundae for me."
When it comes to Loyola's campus construction and Gentile Central renovation, Moser is like a 6-year-old who knows Christmas is approaching. As he walks the campus, he points out each new facility.
When he gets to the $26 million Norville Center, he's even more eager to show the state-of-the-art weight room, training room and team locker room. It wasn't completely finished yet, but he was especially proud of his team room, which will include theatre seats for his players, a flat-screen television to review games and dry-erase boards covering nearly wall. It was like a teaching playground for him.
Since being hired in April, Moser has enjoyed a nice start to his Loyola tenure. Outside of hiring Michael Lewis as an assistant coach and then quickly losing him to Butler, Moser has plenty of reasons to smile. He's added Iowa transfer point guard Cully Payne and DePaul transfer forward Devin Hill to his roster. He also received commitments from four Class of 2012 players and one 2013 recruit. One 2012 recruit has since de-committed, but still is considering Loyola.
Payne was Moser's biggest haul. Payne started at Iowa as a freshman and sat out last season with an injury. Moser heard Payne was leaving Iowa just as he was being hired at Loyola.
"I didn't even hold a press conference yet, and I was calling [to make sure Payne got] his release from Iowa," Moser said. "There were so many things that made it a good fit. I inherited one player from Illinois. I certainly wanted to make a statement that I wanted an Illinois kid. Everyone knows Cully here. Then, he's that leadership position, that experience. Everything was a fit. No brainer."
As good as Moser feels now, this season may bring him down. Moser wouldn't go as far as saying it, but the Ramblers are likely on the verge of a rebuilding season.
Loyola does return junior 6-8 forward Ben Averkamp, who has the makings of a Horizon League star. He averaged 12 points, 5.3 rebounds, 1.5 assists, 0.7 steals and 1.6 blocks last season.
All Moser has asked of Averkamp is to be meaner.
"He's the kind of son you want to marry your daughter," Moser said. "But it's okay when you step on those courts to have some nastiness, some toughness. You can be a nasty, hard-playing, physical SOB on the court, and you can be a high-character kid off the court."
Senior 6-8 forward Walt Gibler will also provide Loyola with another skilled big man.
Outside of that, Moser is dealing with an inexperienced team. He had planned to start senior Courtney Stanley at point guard, but he is now out for the season with a knee injury. Loyola's only remaining point guard on the roster is sophomore Denzel Brito, who averaged eight minutes last season.
Senior guard Jordan Hicks is also still working his way back from injury. He averaged 11.7 points in nine games last season before breaking his foot.
Freshman guard Joe Crisman and sophomore guard Chim Kadima will also be relied on in the backcourt.
With an unproven point guard, little depth and a schedule that includes DePaul, Illinois and Kansas State and seven of its first nine games on the road, Moser is careful about placing this season's expectations.
"When you have a coaching change, you know what the fans want," Moser said. "You know they're looking for any hope to grasp on. You see some coaches take over programs, and they're selling the biggest rainbow you've ever seen with what's going to happen.
"I've been there, done that. I've taken over two last-place program. We turned it pretty quickly at Little Rock. Illinois State was a little harder. I understand how these people are craving it. I have to have a fine line be able not build in false hope and let them totally be upbeat about the direction.
"The culture is changing. We have some pieces to the puzzle, but we need some other pieces."
April, 6, 2011
4/06/11
4:51
PM CT
CHICAGO -- Porter Moser believed he was destined for another chance in his coaching career after he was fired by Illinois State in 2007.
After spending the past four years on Rick Majerus' staff at Saint Louis, Moser believes he finally found the position he was meant for. On Wednesday, Moser was introduced as Loyola's new coach at a press conference on the school's campus.
Read the entire story
.
April, 3, 2011
4/03/11
2:54
PM CT
CHICAGO -- Former Illinois State coach Porter Moser will be named Loyola's men's basketball coach this week, according to multiple sources.
Read the entire story
.