Chicago Colleges:

Quentin Davie
October, 10, 2010
10/10/10
12:13
AM CT
EVANSTON, Ill. -- When you live on the edge, sometimes you fall off it.
Northwestern fell off it on Saturday, losing 20-17 against Purdue at Ryan Field in Evanston.
All season long, the Wildcats found ways to pull out the tightest of games. The year began with a 23-21 win over Vanderbilt, and it's been the same story nearly every week. They nipped Central Michigan 30-25. They barely survived Minnesota last week, 29-28.
[+] Enlarge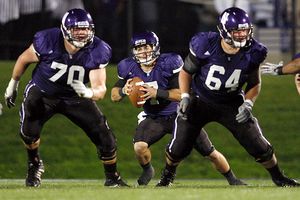 Jerry Lai/US PresswireDan Persa and the Wildcats suffered their first loss of the season on Saturday.
A play here, a play there, and Northwestern could have lost all three of those games. On Saturday, those plays went against the Wildcats.
The Cardiac 'Cats finally met their demise.
"Obviously disappointed in the loss," said Northwestern coach Pat Fitzgerald, whose team could have gone 6-0 for the first time since 1962. "We had plenty of opportunities to win that football game."
Creating opportunities hasn't been the problem for the Wildcats this season. It's been converting them. In each of their narrow wins, they had plenty of chances to put room between themselves and their opponents and failed to do so.
Last week, it was two interceptions in the red zone. This week against Purdue, Northwestern again put itself in a position to win, and win by a few scores. Again, the Wildcats weren't able to come through.
Two missed field goals -- one blocked, one wide right -- were costly. Northwestern fumbled one kick return and two punt returns. Purdue recovered one of those fumbles on the Wildcats' 24-yard line and capitalized
with a field goal. Northwestern was also 8-of-18 on third downs.
Despite all their missed chances, Northwestern still was given a final one to pull off the victory. After Purdue took its 20-17 lead, Northwestern got the ball back on its 29-yard line with 3:54 remaining, and Wildcats junior quarterback
Dan Persa
began orchestrating another late drive.
Northwestern moved the ball all the way to Purdue's 25-yard line. From there, junior running back
Jacob Schmidt
looked as if he might save the Wildcats again when he rushed up the right sideline for a 21-yard gain. The celebration would be short-lived, as holding was called and the ball was brought back. Two plays later, Stefan Demos missed a 45-yard field-goal attempt.
"When the drive came down, we were ready to go," Northwestern junior wide receiver
Jeremy Ebert
said. "That's kind of like bred in you here. That's what we do, and we came up short tonight."
Northwestern's frustration was vented by senior linebacker Quentin Davie in the game's final minute. After running backward to take time off the clock, Purdue quarterback John Henry took a knee to end a third-down play. Davie came up to Henry and shoved him to the ground, resulting in a 15-yard personal foul and allowing Purdue to end the game with another knee.
"Honestly, I didn't see it," Fitzgerald said. "All I saw was the flag go up, so obviously it was a poor decision our on part to be able to do that. We had a couple timeouts left. We were obviously going to have them punt the ball, hopefully, and have a chance to get the ball back. It's disappointing."
Life only gets harder for Northwestern here on. After facing six opponents with a combined 12-22 record so far, their future opponents are Michigan State, Indiana, Penn State, Iowa, Illinois and Wisconsin.
The good thing for Northwestern is its bye week comes at a perfect time. The Wildcats have two weeks to prepare for Michigan State and re-examine themselves for the season's final push.
"I'm disappointed that we lost," Fitzgerald said. "If you want to start pointing our fingers at a lot of 'one little things', we can do that all night. That's not what we do around here. We're going to focus on the whole picture. We're going to try to find a way to get better and try to find a way to improve."
When the game's final seconds rolled off the clock Saturday night, Davie turned to his teammates and told them to remember that moment.
"It's a bad feeling," Davie said. "It's a bad taste we have in our mouths. As they were taking a knee, we were telling each other to remember this feeling because we don't want to feel this again."
September, 24, 2010
9/24/10
4:41
PM CT
[+] Enlarge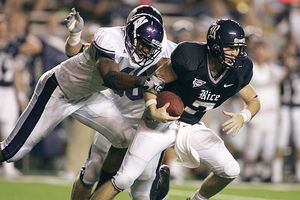 Brett Davis/US PresswireQuentin Davie has drawn the attention of NFL scouts, and one reason is his improved preparation.
EVANSTON, Ill. -- Mary Davie-Younger has witnessed -- as have many watching Northwestern football this season -- her son Quentin Davie come into his own this season.
She sees the senior linebacker running down quarterbacks, running backs and wide receivers all over the field. Her emotions skyrocketed every time he picked off a pass. Both mother and son were about to lose it when he returned his first career interception for a touchdown in last week's win over Rice.
"He was just yelling on the sideline," Northwestern senior Corbin Bryant said. "I've heard him yell, but not that much."
To Davie-Younger, though, it's more than just seeing Davie mature throughout his life -- Davie also got engaged on Mother's Day. She's felt a change in him.
"It's an instinct," she said. "It's a motherly instinct. I feel it in him when I'm around him. He's just determined to seize.
"I just knew it was coming, and I could tell he was committed and wanted it so bad. He's always been that type of kid if he works hard, he makes it happen."
Davie's defensive development isn't a complete surprise. He had always been someone Northwestern coach Pat Fitzgerald had high hopes for, and Davie began moving from potential to production as a junior. He had three sacks and two forced fumbles against Miami of Ohio. He had nine tackles, 1.5 tackles for a loss, one sack, one forced fumble and one pass breakup against Purdue. He had nine more tackles against Minnesota.
Then, there was the Outback Bowl. He had been impressive during spurts of the regular season, but he put it all together against Auburn. He came up with nine tackles, 2.5 tackles for a loss, one sack and one pass breakup. He was acknowledged as an honorable mention selection on ESPN.com's All-Big Ten Bowl Team, and his performance pushed him into first on the team with 90 tackles for the season.
The difference for Davie in the Outback Bowl compared to his other games was he didn't have to think. He was just playing.
"I talked to the football gods before that game," Davie said. "It was like, 'Just fly around.' I just ran around. It was fun. I did my job and good things happened."
Davie credited his preparation for that. He used to study film and Northwestern's opponents only as much as it was mandatory, but he never took it completely serious. It didn't add up until last season that understanding his past mistakes, his past successes and his opponents' tendencies would benefit him come Saturday.
As his numbers reflected last season, he began to realize as the season progressed that the more time he spent in the film room, the more productive he would be that week.
"When I prepared and watched a team nonstop, it translated to the game," Davie said. "I was able to go out there and perform and not think at all. It was just second nature out there, just running around the field. Earlier in the season, I would say I was getting bugs out. I was not studying the film as much as I should have."
Heading into his final season, consistency was the key word for Davie. His motivation was to show he could be that dominant linebacker game after game.
So far, he's achieved that. He's had a team-best 20 tackles, 1.5 for a loss, three interceptions and five pass deflections.
NFL scouts have taken notice, too. ESPN's Mel Kiper Jr. called Davie Northwestern's best NFL prospect. Fitzgerald has also been hearing from NFL teams.
"He's one heck of an athlete," Fitzgerald said. "He's a long-range guy. I know as the NFL scouts come by the 3-4 defenses are just drooling over him. That's the length they're looking for."
Davie has heard the hype, and he likes it, but he also not trying to get too far ahead of himself.
"It's an exciting time in my life," Davie said. "Every time I hear NFL prospect or something like that, it kind of lights me up and kind of burns a fire in me. I don't let it take over my life. It's one of those things that you have to do a job before you can obtain it."
Davie-Younger always envisioned Davie succeeding in whatever he chose to do. If it's playing in the NFL, she'll be a proud mother.
"Oh, gosh," she said. "I couldn't even describe my emotions that I would have. It's just something that a parent dreams of even in Little League. 'My son is going to be in the NFL. My son is going to be in the NBA.' His dream is becoming a reality. I'm happy and count my blessings."
September, 20, 2010
9/20/10
11:58
AM CT
Northwestern senior linebacker Quentin Davie was named the Big Ten Defensive Player of the Week.

Davie had a game-high 10 tackles, 1.5 tackles for loss and returned an interception for a touchdown in the Wildcats' 30-13 win over Rice on Saturday.

Davie leads Northwestern with 20 tackles and three interceptions on the season.
August, 20, 2010
8/20/10
10:14
PM CT
Editor's note: Northwestern's practice is not open to the public.

If the Navy is going to protect Northwestern linebacker Quentin Davie's freedom, the least he feels he can do is entertain them with some football for a few hours.

The Wildcats will hold their final off-campus practice on Constitution Field at Great Lakes Naval Station in Great Lakes, Ill. on Monday from 10 a.m. to noon. Following practice, which is not open to the public, Northwestern's players will have lunch with sailors.

"That'll be pretty cool," Davie said after Friday's practice in Kenosha, Wis. "They said there will be a lot of soldiers watching us. It'll be cool to meet those guys and have them cheering for us. It's great to have those people protecting us every day. We definitely want to show a lot of respect to them for protecting our country."

The Great Lakes Naval Station isn't foreign to football itself. The station's former team, the Great Lake Bluejackets, was among the premier college football teams during World War I and World War II. They won the Rose Bowl in 1919 and knocked off an undefeated Notre Dame team in 1943. The Bluejackets finished No. 6 in the nation in 1943. Northwestern was also a former opponent of theirs.

Northwestern will also honor the military on Heroes Day during its home game against Illinois State on Sept. 11. All military members and public safety officials and their families are given free admission for the game.

August, 17, 2010
8/17/10
3:18
PM CT
[+] Enlarge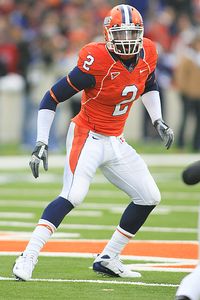 Chuck Rydlewski/Icon SMIAfter being injured last season, much is expected from Martez Wilson this year.
Illinois junior Martez Wilson and Northwestern senior Quentin Davie were named to the Butkus Award watch list on Tuesday.
The award, which is named after former Illinois linebacker Dick Butkus, is given to the nation's top linebacker. Fifty-one players were named to the watch list.
Wilson, who is 6-4 and 250 pounds, was also named to the list last season before suffering a herniated disc in Illinois' season-opener against Missouri. He sat out the rest of the season. As a sophomore, he recorded 73 tackles and 5.5 tackles for a loss.
"Having Martez back there is a big, big plus and big bonus," Illinois coach Ron Zook recently said. "Injuries are part of the game, but when you lose a guy like Martez who was clearly the leader of the defense in the first game that made a big, big difference. He's back. He's excited."
Illinois linebackers Dana Howard and
Kevin Hardy
won the award in 1993 and 1994.
Davie, who is 6-4 and 230 pounds, had a team-best 90 tackles and a 11.5 tackles for a loss last season. He was especially impressive in the Outback Bowl with nine tackles, 2.5 tackles for a loss and a pass breakup.
"I talked to the football gods before that game," Davie recently said. "It was like just fly around. I just ran around. It was fun. I did my job and good things happened. It was kind of a catalyst for this season. I kind of look back to that game and wonder why didn't I play like that the whole year. This year I'm sure I'll be flying around like that every game."