Chicago Colleges:

Raheem Mostert
November, 19, 2014
11/19/14
7:00
AM CT
It's cold in Big Ten country.
1. Several of the country's football conferences dabble in cold temperatures, but none face the elements quite like the Big Ten. The league's two biggest games last week were
snow-covered events
. Temperatures dipped into the mid-teens Tuesday night in six of the seven cities that will host Big Ten games this Saturday. As the season's first arctic blast visits the northern half of the country, it's time we consider weather as a playoff committee consideration.
After his team beat Minnesota by a touchdown in freezing temperatures, Urban Meyer challenged any playoff contender to visit Minneapolis in November and fare as well. If the selection committee is going to consider injuries and hot streaks and other factors the BCS computers of yore didn't, shouldn't bad weather be on that list as well? Rain storms, lightning delays and bitter cold days can affect games. Not every team has to deal with the elements. If we're going to credit teams for whom they play, it makes sense to do the same for where they play.
2. Ohio State moved up two spots in this week's College Football Playoff rankings to No. 6, jumping an idle Baylor team and Arizona State, which lost to Oregon State. The Buckeyes are in a good position now if they win the Big Ten championship, but there's a growing consensus that
Wisconsin won't make that easy
if both teams wind up in Indianapolis next month. If the Badgers continue their recent success, they'll provide an
interesting test case
for the selection committee when picking the New Year's Day bowls or potentially even the playoff teams. Wisconsin has two damning losses on their schedule, but appear to be a different team in November. Will the committee judge them more on their body of work or the way they're playing now?
3. And now for a different kind of semifinalist, the
Biletnikoff
and
Mackey
Award, given to the nation's best wide receiver and tight end, respectively, released their lists of semifinalists this week. We were reminded there aren't many pass-catching stars in the Big Ten. Minnesota tight end Maxx Williams -- who is tied for the national lead with seven receiving touchdowns -- was the only conference player to make either list. Michigan State's Tony Lippett has the stats to stack up with his counterparts from other leagues, but doesn't carry the same national profile.
Some of the lack of attention in the passing game is, of course, a result of an unprecedented year of dominant running backs in the Big Ten. The Doak Walker committee releases its semifinalist group late Wednesday morning. As many as five Big Ten backs -- Gordon, Ameer Abdullah, Tevin Coleman, David Cobb and Jeremy Langford -- have a legitimate claim to be on that list.
East Division
Urban Meyer
avoided several attempts to stump for a playoff spot
at Ohio State during a news conference this week.
Michigan State is in
good shape to play on New Year's Day
after moving up another spot in the playoff rankings.
Brady Hoke
doesn't regret giving Frank Clark a second chance
at Michigan despite Clark's failure to make good on it.
A new documentary attempts to
sift through the nuance
of the Sandusky scandal and all it affected in Happy Valley.
Rutgers is bowl eligible. Where are the Scarlet Knights
most likely to be spending their postseason
?
Despite the losses, Indiana fans should enjoy
Tevin Coleman's special season
while he's still around.
Maryland submitted plans this week to build a
$155 million indoor practice facility
.
West Division
Melvin Gordon isn't the first member of this Badgers team to
set a rushing record
at Camp Randall Stadium.
There are
more questions than answers
for Nebraska after a tough loss last weekend.
Jerry Kill
likes where his team is sitting
as it heads into the final two weeks of the regular season.
Wide receiver Derrick Willies
wants back in
at Iowa, but he'll have to wait for Kirk Ferentz to decide.
With a bowl berth on the line, Northwestern players are fighting to
keep their football family alive
.
Purdue's Raheem Mostert is a
cold-weather convert
as his career in West Lafayette winds to a close.
Illinois fans think Will Muschamp can be
their savior as a defensive coordinator
. Wishful thinking?
October, 31, 2014
10/31/14
7:00
AM CT
Happy Halloween. Let's get your Friday started with three questions that may have slipped through the cracks -- until now -- about Week 10 in the Big Ten.
Can Austin Appleby keep it going this week against Nebraska?
Sure. While the Cornhuskers rank third nationally in limiting opponents to a 48.1-percent completion rate, Appleby can look for high percentage throws to speedy backs
Akeem Hunt
and the
do-it-all
Raheem Mostert
. They've combined to catch 40 passes this year. Miami burned Nebraska in September with a similar style. It's a good formula for a talented, young quarterback such as Appleby, whose 83.4 QBR index ranks seventh nationally and leads the Big Ten. Since taking over for
Danny Etling
, the 6-foot-5 sophomore has completed 66.3 percent of his throws and led the Boilermankers to 35.7 points per game. With what we saw from the Nebraska defense last week against Rutgers, reason exists to believe that Appleby can have another good day.
Have we seen the last of Maryland's feel-good story for this season?
The Terps' fast start took a dramatic turn for the worse last week at Wisconsin. Maryland's quarterbacks have been beaten up. Its running game was non-existent in Madison. The turnovers are starting to mount -- with nine in the past three games -- and it faces two of the Big Ten's top defensive units next in Penn State, a
familiar foe
to coach Randy Edsall, and, after a bye, Michigan State. Maryland looks like it's a year or two away from a breakthrough. It has recruited athletes such as
William Likely
and
Stefon Diggs
, plenty capable of changing games against Big Ten competition, but the infrastructure is not yet strong enough. It's conceivable, despite five wins in its first seven games, that Maryland will still be in search of a bowl eligibility-clincher in the regular-season finale on Nov. 29 against Rutgers.
Is Illinois on track to salvage its season?
The easy answer is no. The Fighting Illini scored a lot of points behind
Wes Lunt
, now injured, early in the season, and it hasn't been the same since
Reilly O'Toole
took over this month. Before its upset win over Minnesota last week, Illinois had lost four of five games, including a clunker at home to Purdue. But suddenly, the Boilermakers look much better. Illinois was competitive in losing at Wisconsin, and it punched Minnesota in the mouth, capitalizing on three turnovers and four sacks. Don't expect Illinois to win Saturday at Ohio State for the
first time in seven years
, but if it can continue to build on last week, a bowl appearance is not out of the question with a closing stretch at home against Iowa and Penn State and a visit to Northwestern.
East Division
West Division
October, 30, 2014
10/30/14
3:00
PM CT
When simply
picking the games
doesn't cut it, the Big Ten blog crew takes it to another level. For some bolder, more specific predictions for the opening weekend of what could be an unforgettable November, we hit the roundtable.
Adam Rittenberg:
Purdue will pace Nebraska well into the second half.


This isn't a knock on the Huskers, who are quietly putting together a very solid, and refreshingly drama-free, season. But Purdue's offense is hitting its stride behind quarterback
Austin Appleby
, speed backs
Akeem Hunt
and
Raheem Mostert
and a much-improved offensive line. The Boilers have had two weeks to prepare and face a Nebraska defense that still has too many technical breakdowns for my liking. This will be a track meet for two, maybe three quarters -- thinking 28-24 Nebraska at halftime -- before
Ameer Abdullah
and Nebraska pull away in the fourth.
Mitch Sherman:
Wisconsin will make its biggest statement yet.


The Badgers served notice to the rest of the West last week with a 52-7 win over Maryland that they've turned a corner. Still, it was one game. It was at home, and we've seen previous flashes from Wisconsin. But with most of the attention focused on the exploits of
Melvin Gordon
and uncertainty at QB, the Wisconsin defense has built a résumé as the Big Ten's best. Now, with
Joel Stave
back in command, the Badgers will streamroll Rutgers, beat up at QB and elsewhere after trips to Ohio State and Nebraska, and enter the final four weeks as the favorite in the West despite that ugly Northwestern loss.
Brian Bennett:
Northwestern and Iowa will head to overtime. Again.


Just like last year in Iowa City, the Wildcats and Hawkeyes will play to a draw in regulation. They're similar teams, with good defenses and running games but who struggle to score at times.
Justin Jackson
and
Mark Weisman
will each find the end zone twice as the teams go into overtime tied at 20. Northwestern makes one more play in the second extra period to win it.
Austin Ward:
Tevin Coleman
will be held in check.


The Indiana tailback wasn't getting all that much support from the passing game even when
Nate Sudfeld
was healthy and that didn't slow him down even against stout rush defenses. But with the attack even more one-dimensional now, his string of 100-yard outings is going to come to an end on the road against Michigan and a defense allowing just 3.1 yards per carry. That's about the only thing the Wolverines do well at this point, and any chance of salvaging something positive out of this season for Brady Hoke's club will require coming out inspired to take care of Indiana. That's yet another sign of how bad things are at Michigan, but there is a talented, proud defense waiting for a chance to do something nobody else has done yet this season.
Dan Murphy:
Ohio State hits 60 points for the second time this season.


Any chances of the Buckeyes looking ahead to the Michigan State next weekend were knocked out after the close call in Happy Valley.
J.T. Barrett
will be back in his comfort zone at home and looking to pick a part the Fighting Illini defense. Ohio State hung 66 points on Kent State earlier this year. While Saturday might not be quite as big of a blowout, the Buckeyes will get to 60 for the second year in a row against Illinois.
Josh Moyer:
Penn State hits its highest rushing total of the Big Ten season.


OK, maybe this is a bit of a gamble considering that left tackle
Donovan Smith
-- the only returning starter on the line this season -- suffered an injury Saturday, and his status is unknown against Maryland. But the Nittany Lions fared better than I expected against Ohio State, and the offensive line has a much easier test against the Terrapins. Only 17 teams in the nation are faring worse in run defense than than the Terps, so we should see a healthy dose of Penn State speedsters
Bill Belton
and
Akeel Lynch
. James Franklin has vowed to keep running the ball, and I think that strategy finally pays off this weekend.
June, 11, 2014
6/11/14
11:00
AM CT
If you tried to clap, you'd miss your hands.
June, 3, 2014
6/03/14
11:00
AM CT
May, 19, 2014
5/19/14
11:00
AM CT
Seven more to go and
Stanley
sticks around for another year.
May, 2, 2014
5/02/14
4:30
PM CT
Happy Derby weekend. Brian Bennett has already started his. Me? I might get a jump on Cinco de Mayo on Dos de Mayo.
Some people like to follow us
on Twitter
.
Inbox revealed in 3 ... 2 ... 1 ...

Chris from Bellport, N.Y., writes:
Adam, I saw a projection for Michigan this year of 8-4, which seems reasonable at this point based on the unanswered questions remaining for the team. My question is everyone looks at the three tough road games as three potential losses. I think if they can win one of Ohio or MSU they could go 2-1 in those, but what about the fact that they don't have Wisconsin, Iowa, or Nebraska on the schedule this year? Is that cause for a little more optimism, not having the potential top three in the west on the schedule?
Adam Rittenberg:
It could be, Chris, but Michigan shouldn't look past anyone on its schedule. I know Michigan owns Minnesota, but the Gophers should give the Wolverines a better game Sept. 27 when they visit Ann Arbor. Michigan needed miracle plays to beat Northwestern the past two seasons. Indiana gave the Wolverines' defense all sorts of problems last season at the Big House. Don't get me wrong: Michigan's season likely hinges on those three road games. But just because Michigan beats Michigan State or Ohio State doesn't mean it's guaranteed to sweep the other nine contests. Fifteen years ago? Sure. But those days are over.
---

Jack from Champaign, Ill., writes:
In your last mailbag, you answered a question about [Tim] Beckman's latest recruit and talked how he needs to end his bowl drought with Illinois. However, what if this ends up being a surprisingly stellar recruiting year in which the Illini go 5-7? Obviously I know we're not talking about a top-10 recruiting class, but in general a very strong one, above the ones in recent years. Would that be enough to buy Beckman an extra year, or is that all that matters for him at this point?
Adam Rittenberg:
This scenario would put athletic director Mike Thomas in a tough spot. Some Illini fans have wanted Tim Beckman gone from the middle of his first season. Attendance has been poor and enthusiasm remains tepid. It's really not that hard to make bowl games in this environment, and three consecutive seasons without a bowl would make it tough for Beckman to return. Remember that Ron Zook's teams still made bowls -- and won them -- in his final two years. Recruiting definitely plays a part and Thomas wants to see his hire work out, but there could be too much external pressure for a change.
---

Tom from Fort Worth, Texas, writes:
Hypothetical question or pipe dream, but nonetheless I will ask: Say Rutgers comes into the Big Ten and surprises a few teams and wins more than expected this coming season. Does the perception of the Big Ten go down or does Rutgers gain more respect?
Adam Rittenberg:
Tom, not to dodge your question, but it really depends on what happens around the league. Conference perception really depends on what's happening at the top, not the middle, where Rutgers would presumably be if it surprises some teams. Are the Big Ten's elite teams beating top teams from other leagues in nonconference play or in bowls? Is a Big Ten team reaching the playoff or winning the national title? Those are more important factors. So if Rutgers prevents Michigan State or Ohio State from reaching the playoff, some will say it points to a weak Big Ten. But if the Big Ten performs well in nonleague games and bowls, and if Rutgers happens to finish 8-4 with a nice win or two, it enhances the perception of both the conference and Rutgers.
---

PurdueMan from Chicago writes:
Adam, Mitch Sherman's
Purdue spring wrap
article states that Purdue will win a Big Ten game. I'm not so sure. The team I saw at the spring game was essentially the same team I saw the second half of the season with the exception that the defense did tackle better, but they were playing the Purdue offense, so ... Did you see Purdue's spring game and enough other teams to make a good comparison to how far my Boilers are still behind? I saw a little MSU, not that I expect Purdue to be as good as them, and was reminded at what football can look like.
Adam Rittenberg:
Chin up, PurdueMan. The Boilers will be better in 2014. I watched a practice this spring and take more from those workouts than spring games, which are often misleading and overblown by fans. Don't get me wrong; there are concerns, from depth along the offensive line to linebacker to certain spots in the secondary. Purdue was a mess last season, and it's hard to fix all those problems in one offseason. But I see more cohesion on offense and multiple options at running back (
Raheem Mostert
,
Akeem Hunt
) and wide receiver. The defensive line could be a strength, as tackle
Ra'Zahn Howard
has a chance to be one of the league's surprise players. I also get the sense Purdue had no team chemistry last season. Things have changed. As quarterback
Austin Appleby
told me
, "The guys that aren't all about it are getting suffocated by us. Those guys eliminate themselves."
---
rtXC from Denison, Texas, writes:
After the SEC's "groundbreaking" announcement to
stay at eight conference games
and have each of its teams play one team from the Power 5, would you like to see the other conferences band together and make a stand? Other than certain SEC-ACC rivalries and current contracts for future games, how about the four conferences band together and abstain from scheduling SEC teams in the future?
Adam Rittenberg:
It would be interesting to see this, rtXC, after the current contracts expire. Several playoffs would be competed by then, so we would have a better idea if the SEC's model helped, hurt or didn't impact itself or other leagues. It comes down to how united these other leagues would be in their opposition to the SEC's model. The Pac-12 coaches seem pretty ticked, but I don't know if other leagues would care enough to band together in this way. Maybe if one of their champions is shut out of the playoff in favor of a SEC division runner-up, things would change.
April, 30, 2014
4/30/14
5:00
PM CT
What's on your mind?
rtXC from Denison, Texas, writes: Hey, Brian, love the blog! After the SEC's "groundbreaking" announcement to stay at eight conference games and have each of its teams play one team from the Power 5, would you like to see the other conferences band together and make a stand? Other than certain SEC-ACC rivalries and current contracts for future games, how about the four conferences band together and abstain from scheduling SEC teams in the future? That'd surely solve things, eh?
[+] Enlarge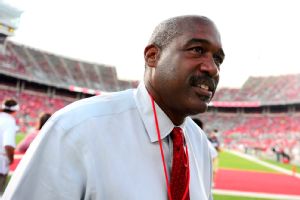 Andrew Weber/USA TODAY SportsOhio State AD Gene Smith says the SEC's decision puts the onus on a strong nonconference schedule.
Brian Bennett:
It would make scheduling all but impossible for the SEC, but I don't think other leagues are as outraged over the decision by the SEC to stay at eight games as many fans are. I talked to Ohio State athletic director Gene Smith earlier this week and asked him if he had an opinion on the SEC's decision. Here's what he said:
"No, not really. I don't know about my colleagues in the league, but I think when you look at different conferences, they have to do what they have to do based on their makeup, based on their geography and their fan base. Whether they go nine or eight games, that's really based on who they are. I really don't have a preference and would not want to even try and direct how those conferences should go. They're living in it, they're working in it, they know their travel issues and all that stuff, so for someone outside to project, I just don't think that's right."
Smith did add that the SEC's decision "will ultimately depend on what they're doing in the nonconference. Because their in-conference strength of schedule, the majority of the time, is going to be pretty good. But when you leave four games to the nonconference part of your schedule, you've got to make sure you're able to get who you need to get in order to make that overall schedule strength good."
Translation: SEC teams had better not shy away from playing strong teams in the nonconference, and they'd better hope the teams they schedule years in advance are actually good when the games arrive (see Ohio State's conundrum with the Cal series). Ultimately, the best way to get some uniformity in conference games is not some sort of boycott. It's having the playoff selection committee send a strong message about strength of schedule in its choices for the four-team event.
---
Eric from Iowa writes:
Give the so called "Big 5" conferences more power, eh? More power to create their own rules on things like stipends, medical coverage, family travel benefits, recruiting, etc? ... I'm not going to pretend those conferences aren't already the big money makers of college football, but giving them the autonomy to make these rules for themselves vs. a poor old little MAC school who already struggles to keep up ... proof that the Central Michigans are in place to provide home games for Michigan and MSU, and that's pretty much it.
Bennett: Well, how is that really any different? The Central Michigans of the world are in no way, shape or form on the same playing field right now as the Michigans and Michigan States anyway. The money gap is huge and will continue growing. I think there's an honest desire from the power conferences to give back more to the players (in part, sure, because they're afraid a court or legislature will force them to do so if they don't act first), and if all that's holding them back are mid- and low-major schools that can't afford it, then there need to be different rules in place.
---
Tony from Auburn Hills, Mich., writes:
When Darrell Hazell was announced as head coach for Purdue, everyone assumed he would be bringing that TresselBall that he carried to Kent State, even though Purdue has been a spread team since Joe Tiller brought it to the league. Then the season happened and, well, none of us is really sure what identity the offense was supposed to have. But in
the Q&A from last week's lunch links
, Hazell said he thinks they'll be a spread team this season. So was this really his plan from the beginning, or is this a change out of pure necessity due to poor recruiting and awful play from the O-line?
Bennett: Hazell has always preached physicality and a strong running game as his base philosophy, so hearing him talk about the spread was surprising -- though as Ohio State showed the past two seasons, the two aren't always mutually exclusive. You're right, Tony, in that Purdue had zero identity last season (or maybe I should say it's identity was a zero) on offense or defense, and the coaching staff might have misread the talents of the players. With an offensive line that's not close to being dominant and speedsters such as Akeem Hunt and Raheem Mostert, the spread might be a better use of the Boilers' current talent, much of which was recruited for a spread system, after all. The smartest coaches adapt their system to the players they have, not the other way around.
---
John C. from Princeton Jct., N.J., writes:
Been a lifelong RU football fan. Have the Knights winning three games this year. May steal one or two more. The athletic department is a mess. And it seems every week it gets worse. Coach Kyle Flood (nice man) plays not to lose. Watch the games, and you will see it. This lack of "killer instinct" has to overflow to the players. I can give multiple examples. What do you think?
Bennett: I don't know about a lack of a killer instinct, but Flood and predecessor Greg Schiano certainly seemed to play a conservative style -- especially on offense. Perhaps that will change with Ralph Friedgen calling the plays, but we shall see. It's not like that type of style would be out of step in the Big Ten, after all. There's no doubt that the Scarlet Knights' inaugural Big Ten schedule is very difficult, and out-of-league games at Washington State and at Navy are no gimmes by any stretch. I think Rutgers will win more than three games, but 5-7 might be a reasonable accomplishment against that slate.
---
Bran Stark from Winterfell writes:
Penny-for-your-thought type of question, Brian ... Iowa clearly has the "easiest" conference schedule of the three preseason favorites of the B1G's West. Next, Wiscy gets Big Red at home and finally my Huskers have to travel to Iowa City, Madison, and East Lansing, coming in at the hardest of the three favorites. If memory serves me correctly, Bo Pelini hasn't lost to any B1G teams twice in a row, and only the terrible Longhorns have notched that feat against him. How much, if at all, do you think the fact that the last time Nebraska played all three of those home teams it ended with losses will have on the team? Mind you, some of those losses came in grand fashion.
Bennett: Thanks for taking time out of your busy warging schedule to write in, Bran. ("Game of Thrones" nerd alert). That's an interesting stat on Pelini, but I'm not sure that history has any bearing on the future. Teams just change too much from year to year for the past season to be a huge factor. And remember the Huskers needed some major comebacks in games against Northwestern, Ohio State and Michigan State to avoid back-to-back losses. The schedule, though, is definitely worth noting. Nebraska clearly got the toughest draw of the three teams you mentioned. Based on returning talent alone, I would make the Huskers the West Division favorite by a nostril. The schedule could end up keeping them out of Indianapolis. Truly worthy championship teams can overcome it, though.
April, 7, 2014
4/07/14
2:30
PM CT
Michigan's defense controlled play throughout the spring game Saturday at Michigan Stadium, echoing a theme throughout most of the league that day.
Several Big Ten squads held scrimmages or open practices, and the defenses had the edge in most of them. The offenses stepped up in a few, and several quarterbacks appear to be separating themselves.
Let's recap the weekend scrimmages. (Note: Scrimmages that were closed to the media and had no available statistics.)
WISCONSIN

Despite a new-look front seven and several position changes, Wisconsin's defense dominated Saturday's scrimmage. Cornerbacks
Sojourn Shelton
and
Darius Hillary
both had good days against an undermanned receiving corps, and coach Gary Andersen called the quarterback play very average. "We have a long way to go in the throw game, and that's disappointing," Andersen said. "If we want to be a good team, we have to figure that out." The defense also shined against the run, even against top backs
Melvin Gordon
and
Corey Clement
.
PURDUE

Technically, the
Boilers' offense won Saturday's jersey scrimmage
at Ross-Ade Stadium. But the defense looked stronger for much of the day, recording seven sacks and two takeaways. Unofficially, five Boilers recorded sacks, including two from tackle
Michael Rouse
III, who finished with three tackles for loss. Coach Darrell Hazell said of the defensive line, "They played in the [offensive] backfield."
Top quarterbacks
Danny Etling
and
Austin Appleby
struggled, combining to complete 21 of 42 passes for 205 yards with a touchdown (Etling) and an interception (Appleby). Running back
Raheem Mostert
highlighted the offense with 134 yards and two touchdowns on only nine carries. Mostert is making a strong push this spring to be Purdue's No. 1 running back.
MINNESOTA

The Gophers' defense loses top performers
Ra'Shede Hageman
and
Brock Vereen
from last fall's unit, but it controlled play on Saturday. Minnesota's D held the offense without a point on its first seven possessions in the scrimmage. Safety
Cedric Thompson
had an excellent interception off a deflection on the first drive. The offense picked it up later in the scrimmage, as quarterback
Mitch Leidner
found
KJ Maye
for a 50-yard touchdown strike, and both Leidner and
Berkley Edwards
had long touchdown runs.
NEBRASKA
Here's one offense that flexed its muscles on Saturday after being subdued earlier in the week. Quarterback
Tommy Armstrong Jr.
had an "efficient" performance, according to coach Bo Pelini, as he continues to look like the team's top signal-caller. Armstrong ran for two touchdowns. Sophomore
Terrell Newby
received a lot of work at running back as
Ameer Abdullah
sat out, and receiver
Jordan Westerkamp
turned a short pass into a long gain. Defensive tackle
Aaron Curry
left the field with a neck injury, but Pelini thinks he'll be fine.
MICHIGAN STATE

The offense
recorded a 27-25 win
against the defense in MSU's first spring jersey scrimmage, as quarterback
Connor Cook
completed 15 of 21 passes for 187 yards with two touchdowns and an interception. Wide receiver
DeAnthony Arnett
, who has been relatively quiet since transferring from Tennessee, had five receptions for 67 yards and a touchdown.
Tyler O'Connor
, competing for the backup quarterback job, had a good day (10-for-15 passing, 132 yards, TD).
After allowing a touchdown on the opening possession, the defense forced four consecutive stops. Standouts included safety
Kurtis Drummond
(six tackles, 1 TFL, interception), end
Shilique Calhoun
(two sacks) and linebacker
Chris Frey
, an early enrollee, who had two sacks and three tackles for loss.
ILLINOIS

The Illini had their second off-site practice of the spring, traveling to Sacred Heart-Griffin High School in Springfield for a controlled scrimmage on Friday night. Quarterback
Wes Lunt
continues to look like Illinois' starter. According to
Rivals.com's Doug Buchson
, Lunt completed his first 14 pass attempts against the second-string defense for about 250 yards and two touchdowns. Freshman wideout
Mike Dudek
continues his strong spring, and receiver
Geronimo Allison
had a 45-yard touchdown catch from Lunt.
Defensive linemen
Kenny Nelson
and
DeJazz Woods
stood out against the second-team offensive line, consistently penetrating the backfield. Cornerback
Caleb Day
also looked good.
RUTGERS

The most important thing coming out of Rutgers' first spring scrimmage was
some clarity at quarterback
, as
Gary Nova
,
Mike Bimonte
and
Chris Laviano
all worked with the first-team offense. Although a rash of injuries made it tough to get a true gauge, Bimonte had the best day, leading two touchdown drives. Coach Kyle Flood said all three signal-callers will continue to work with the top offense. Flood singled out defensive linemen
Darius Hamilton
and
Kemoko Turay
for their play during the scrimmage.
NORTHWESTERN

Like several other Big Ten teams, Northwestern can't have full-blown scrimmages because of its injury situation. But the Wildcats had their top units match up for stretches of Saturday's practice on the lakefront.
Trevor Siemian
entered the spring as the No. 1 quarterback and appears to be ending it the same way. Siemian looked sharp on his first series, completing all three of his attempts. Dropped passes were a problem for much of the day, but wide receiver
Kyle Prater
, a USC transfer who has battled injuries for much of his career, had a one-handed grab on a pass from
Zack Oliver
. Cornerback
Matt Harris
and safety Kyle Queiro both made plays for the defense.
OHIO STATE
The Buckeyes invited students inside the Woody Hayes Athletic Center for Saturday's practice, creating some
cool scenes
. Several young players stood out, namely cornerback
Eli Apple
, who had two interceptions and a big hit. Running back
Curtis Samuel
, an early enrollee, also sparked the crowd with a 50-yard touchdown run. Linebacker has been an area of concern for Ohio State, but
Darron Lee
and
Chris Worley
both made some plays on the outside.
Ezekiel Elliott
is looking more like Ohio State's top running back, as he showed his size and versatility during the practice.
March, 31, 2014
3/31/14
11:00
AM CT
College basketball season is over in the state of Michigan, but
the party continues
in Wisconsin.
Ready for some spring football links? Here ya go ...
March, 3, 2014
3/03/14
11:00
AM CT
Alright, alright, alright ...
February, 26, 2014
2/26/14
1:00
PM CT
Spring practice is off and running in the Big Ten, as Michigan took the field Tuesday and Northwestern followed on Wednesday. We're taking snapshots of where each team stands at each position group.
We've already discussed the quarterbacks -- and will have much more on the way -- so the series begins with the running backs.

Illinois:
The Illini are in a bit better shape here than they were the past two springs, as veterans
Josh Ferguson
and
Donovonn Young
both return. Ferguson averaged 5.5 yards per carry and added 50 receptions for 535 yards as the primary playmaker for Illinois' revamped offense. Young added 376 yards on 93 carries. The Illini are looking for others behind the top two, and Dami Ayoola is back with the team after being dismissed in September for a rules violation.

Indiana:
Tevin Coleman
quietly put together a superb sophomore season and leads the Hoosiers' running backs in 2014. Coleman provides big-play ability after averaging 7.3 yards per carry with 12 touchdowns on only 131 attempts in 2013. Indiana loses
Stephen Houston
but brings back veteran
D'Angelo Roberts
, who will play behind Coleman. Younger players such as sophomore
Laray Smith
could get a look here.

Iowa:
Not only did the Hawkeyes toss AIRBHG to the side and get through the season without any major injurie, but they bring back everyone for 2014. Senior
Mark Weisman
leads the contingent after rushing for 975 yards and eight touchdowns last fall.
Jordan Canzeri
came on strong late in the season and is showing no effects from his ACL tear in 2012. Veteran
Damon Bullock
also returns to the mix, and Iowa has talented younger backs such as
LeShun Daniels Jr.
at its disposal. Good situation here.

Maryland:
The Terrapins wide receivers tend to get more attention, but the team also returns its top three running backs from 2013 in
Brandon Ross
,
Albert Reid
and
Jacquille Veii
. Maryland also regains the services of Wes Brown, who finished second on the team in rushing as a freshman in 2012 before
being suspended for all of last season
.
Joe Riddle
is back in the fold as well. The group brings different strengths, from power (Brown) to speed (Veii) to a mixture of both (Ross, Reid).

Michigan:
Sophomore
Derrick Green
enters the spring as the frontrunner to be Michigan's lead back, although coach Brady Hoke wants to ramp up competition everywhere. The Wolverines struggled to consistently run between the tackles, but the 240-pound Green could change things. Hoke also is excited about another sophomore,
De'Veon Smith
. Michigan moved
Ross Douglas
from cornerback to running back, and
Justice Hayes
and
Wyatt Shallman
also are in the mix. "We've got more depth," Hoke said.

Michigan State:
Things look much more promising than they did last spring, when the Spartans ended the session with a linebacker (
Riley Bullough
) as their top back.
Jeremy Langford
emerged as a very solid option during the season, rushing for 1,422 yards and 18 touchdowns. He's back as the clear-cut starter, and
Nick Hill
also returns. It will be interesting to see if
Gerald Holmes
makes a push, or whether
Delton Williams
remains on offense.

Minnesota:
Here's another team that finds itself in very good shape at running back entering the spring.
David Cobb
leads the group after rushing for 1,202 yards and seven touchdowns as a sophomore. Veterans
Donnell Kirkwood
and
Rodrick Williams Jr
. are still around, and highly touted redshirt freshman
Berkley Edwards
will take the field after missing last fall because of knee and ankle injuries. Perhaps the best news will come in the summer as decorated recruit
Jeff Jones
arrives.

Nebraska:
Notice a theme here? Nebraska is yet another Big Ten squad that can feel very good about its running backs entering the spring.
Ameer Abdullah
elected to bypass the NFL draft for one final season at Nebraska, where he led the Big Ten with 1,690 yards on 281 carries as a junior. Abdullah will contend for national awards in the fall.
Imani Cross
, who rushed for 10 touchdowns last year, is one of the nation's top backups.
Terrell Newby
and others add depth behind the top two.

Northwestern:
Top back
Venric Mark
(ankle) will miss spring practice following surgery, and reserve
Stephen Buckley
(knee) also is rehabbing, but Northwestern has no reason to panic.
Treyvon Green
, who filled in well for Mark last season with 736 rushing yards, will get much of the work.
Warren Long
also is in the mix after appearing in seven games as a true freshman. Northwestern also loaded up at running back in recruiting to solidify the position for years to come.

Ohio State:
This will be a position to watch in the spring as Ohio State must replace
Carlos Hyde
, who was nearly unstoppable during Big Ten play last fall. Veteran
Jordan Hall
also departs, and
Rod Smith
will be the veteran of the group despite only 83 career carries. The Buckeyes have some talented young backs, from
Dontre Wilson
, who saw significant playing time last fall, to
Bri'onte Dunn
,
Ezekiel Elliott
and
Warren Ball
. Keep an eye on Elliott, who averaged 8.7 yards per carry in limited work last season but could emerge this spring.

Penn State:
If it feels like
Zach Zwinak
and
Bill Belton
have been competing for carries forever at Penn State, it's because they have. Zwinak and Belton have been part of Penn State's running back rotation for the past two seasons and enter another competition this spring with talented sophomore
Akeel Lynch
, who rushed for 358 yards on only 60 carries last season. It will be interesting to see how much Lynch can push Zwinak and Belton in the team's first spring under a new coaching staff. Penn State has depth issues at several positions, but running back isn't one of them.

Purdue:
The Boilers finished 122nd nationally in rushing offense last season, so the fact all of their running backs return might not spark mass celebration. Senior
Akeem Hunt
leads the group after recording 123 of the team's 319 rushing attempts in 2013. Other veterans
Brandon Cottom
and
Raheem Mostert
also are back, along with younger ball-carries such as
Dayln Dawkins
and three backs --
Keyante Green
,
David Yancey
and
Keith Byars II
-- who redshirted last fall and could have much bigger roles.

Rutgers:
Here's yet another team that returns basically its entire stable of running backs for spring ball.
Paul James
is the name to watch, as he rushed for 573 yards in the first four games last season before suffering a leg injury. James' health is a concern for Rutgers, which could also turn to
Justin Goodwin
, who showed some flashes following James' injury.
Savon Huggins
, who entered last season as the starter before losing ground, is in the mix as he looks to re-establish himself on the depth chart.

Wisconsin:
How many teams can lose a 1,400-yard rusher and still claim to have the best running back group in the Big Ten?
James White
is gone, but Wisconsin remains in very good shape in the backfield.
Melvin Gordon
bypassed the NFL draft for another year in Madison after rushing for 1,609 yards and 12 touchdowns on only 206 carries. Gordon should move into more of a featured role beginning this spring, although he'll be pushed by
Corey Clement
, who had 547 yards and seven touchdowns on only 67 carries.
Jeff Lewis
provides another option behind the top two.