Chicago Colleges:

Randy Walker
October, 24, 2012
10/24/12
2:00
PM CT
Northwestern used to know exactly what it was on offense.
The Wildcats based their spread attack on accurate, dual-threat passers, a precise short-to-midrange throw game, elite slot receivers and a bit of option sprinkled in. They had their problems, like translating yards to points in the red zone, identifying a featured running back and moving the ball in short-yardage situations. But the offense almost always produced, and three-and-outs were rare. Northwestern ranked in the top 25 nationally in third-down efficiency in each of the past five seasons.
There have been different dynamics this season. Northwestern has its first elite back since Tyrell Sutton in
Venric Mark
, who ranks 18th nationally in rushing and fifth in all-purpose yards. The Wildcats are much stronger in the red zone, particularly on the ground, ranking sixth nationally in efficiency (94 percent) with 19 touchdowns in 31 chances. But they've also slipped dramatically in passing, ranking last in the Big Ten and 110th nationally (172.7 ypg) despite boasting what coach Pat Fitzgerald called the deepest receiving corps in recent memory. The team completion percentage has slipped to 62.6 -- OK for most teams, but not stellar for Northwestern. The Wildcats have attacked downfield much more, while their midrange game seems to have disappeared. Northwestern has slipped to 45th nationally in third-down efficiency.
[+] Enlarge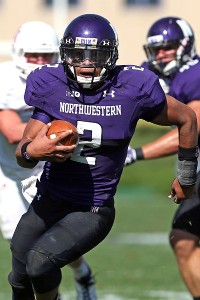 Jonathan Daniel/Getty ImagesKain Colter (2) and the Northwestern offense are still searching for an identity.
The biggest change is a quarterback rotation --
Kain Colter
and
Trevor Siemian
-- that clicked early this season but has seemed disjointed the last three weeks, as Northwestern has gone 1-2. Most troubling is the spike in three-and-outs -- six against Penn State (loss), four against Minnesota (win) and 10 last Saturday in a 29-28 loss to Nebraska.
Northwestern's offense isn't what it used to be. What it is exactly remains a mystery, even to key players.
"That's the problem that we're facing, we don't have an identity," Colter told ESPN.com on Wednesday. "We really need to develop that with the play calling and find out what we're going to do. Once we finally establish that identity, I feel like teams are going to have to start game-planning to stop us, rather than us trying to game plan and change things and do that for them."
What should the identity be?
"We've been running the ball really well, especially with the option," Colter said. "Having both Venric and I back there, that's a threat. It's hard for defenses to stop. And at some point in there, there also needs to be Trev in the game and I'm at receiver. I don't know what our identity is, but I feel like we definitely need to establish our running game and our option, and then be able to throw and make plays in the passing game, too."
Offensive coordinator Mick McCall adheres to the philosophy of players, formations, plays. He shapes his plans around the strengths of his players.
But Northwestern's approach against Nebraska was a bit of a head-scratcher. Colter had given the Huskers all sorts of trouble in last year's
28-25 win in Lincoln
. But Siemian played most of last Saturday's game, as Nebraska loaded up to take away the run and pressed Northwestern's receivers, resulting in numerous shots down the field. It worked on a 26-yard touchdown strike from Siemian to
Tony Jones
, but Siemian connected on just 15 of 35 attempts.
Northwestern went 5-for-20 on third down, continuing a troubling trend. Colter had 14 rushes for 35 yards and attempted just two passes, while spending most of the game at slot receiver.
"I don't think that was the game plan, but I'm not the one back there calling the plays," Colter said. "I'm just going where they put me. We did have success last year and obviously got that W. Some things have changed this year, I guess, and I'm going where the coaches tell me [to go]."
Colter noted that Northwestern's improved rushing this season has, at times, taken the place of the high-percentage pass game, which the coaches viewed as runs in the past.
"[Former Northwestern coach Randy Walker] used to say all the time the deep ball, the go route, the fade, is going to be executed 12 to 15 percent of the time, and that's what we were [against Nebraska]," Fitzgerald said. "We've just got to come up with better solutions and better answers in-game when some things aren't working. That's on us as coaches, obviously."
The quarterback rotation has been a different challenge for the Wildcats, who have used multiple quarterbacks in the past but typically because one gets injured. Siemian has attempted more than twice as many passes (162) as Colter (80), while Colter has 88 rushing attempts to Siemian's 17. Colter went 10-for-10 passing in the Minnesota game, but never attacked downfield. Siemian, meanwhile, took the field on several obvious third-and-long passing situations and completed just 1 of 7 attempts against the Gophers.
A potential concern is whether Northwestern tips its hand depending which signal-caller is in the game.
"I believe I can throw the ball," Colter said. "I've proved that throughout my time here. If I get that opportunity, I'm going to try and do it. I definitely have a lot to improve on as far as passing and so on, but I feel like I'm more than capable. I don't feel like we need to be predictable as far as when I'm in the game, we're going to run the ball. I feel like we've got to keep defenses on their toes."
Despite the offensive issues, Northwestern remains 6-2, still alive in the Legends Division race. But the clock is ticking to find an identity, eliminate the three-and-outs and feature its playmakers as much as possible.
Colter and his teammates hope to show Iowa who they really are Saturday at Ryan Field.
"We're definitely working on what works best for us, and sticking to that, having our offensive foundation," he said. "We'll see how it goes this week. Hopefully, we can go out there, get a W and change things around, regain momentum as we head into some crucial weeks of the season."
February, 23, 2012
2/23/12
9:55
AM CT
Adonis Smith
's decision to transfer from Northwestern might not mean much come September.
But his exit adds to the questions surrounding a position that hasn't provided enough definitive answers in the past few seasons.
Smith appeared in 17 games the past two seasons, racking up 462 rush yards and three touchdowns. He might have evolved into the Wildcats' featured back, but he also might have been a career backup. It's tough to tell. Coach Pat Fitzgerald announced Smith's departure Wednesday.
[+] Enlarge

Jerry Lai/US PRESSWIRERunning back Adonis Smith has decided to transfer from Northwestern.

"We're disappointed to see Adonis leave Northwestern," Fitzgerald said in a statement. "He is an outstanding young man and we wish him nothing but the best in his future endeavors."
Wildcats fans will forget about Smith if, say,
Mike Trumpy
returns from a torn ACL and surges as the starter. Or if true freshman Malin Jones emerges in preseason camp. Or if
Treyvon Green
builds on a freshman season in which he rushed for 362 yards and four touchdowns.
But if Northwestern can't identify a featured back and fails to generate a consistent rushing attack in 2012, Smith's name likely will be brought up.
While a struggling defense should be coach Pat Fitzgerald's top priority in the offseason, running back shouldn't be too far down his checklist. Northwestern's offense has made strides under Fitzgerald's watch, producing a steady stream of quarterbacks and wide receivers in recent years. But the running back position, once a program strong point, has declined.
Fitzgerald's predecessor at Northwestern, the late Randy Walker, left an indelible mark on the position he played in college. Walker had a 1,000-yard rusher in 25 of his 30 seasons in coaching, including each of his final four seasons as Northwestern's head coach (2002-05). Northwestern produced a 1,000-yard rusher in five of Walker's final six seasons.
But since Tyrell Sutton finished with exactly 1,000 yards in 2006, Fitzgerald's first season as Wildcats coach, Northwestern has failed to produce a 1,000-yard rusher.
Here are the team's leading rushers the past five seasons:
2007: Sutton, 451 yards

2008: Sutton, 890 yards

2009: Arby Fields, 302 yards

2010: Trumpy, 530 yards

2011: Kain Colter, 654 yards
Colter, by the way, plays quarterback for the Wildcats. Fields transferred following a disappointing 2010 season when he struggled to hang onto the ball or a favorable spot on the depth chart.
Why can't Northwestern produce featured backs anymore? An offense rooted in high-percentage passes and accurate quarterbacks has something to do with it. But the Wildcats have run the spread since 2000, and it didn't stop them from producing standout backs under Walker.
Northwestern has run the ball better as a team the past two seasons, rising from 95th nationally in rushing in 2009 to 58th in 2010 and 45th in 2011. But the team had a league-low 3.8 yards-per-carry average last fall.
Jones, the team's first commit in the 2012 recruiting class, could be the answer, much like Sutton was in 2005, when he captured Big Ten Freshman of the Year honors. Perhaps Trumpy bounces back from injury or Green takes steps in his development. Maybe a committee system is the best approach.
If not, you might hear some grumbling about Adonis Smith in September.
October, 28, 2011
10/28/11
12:08
PM CT
One of the big misconceptions about Pat Fitzgerald is he took over a Northwestern program falling apart at the seams.
Yes, Fitzgerald became Northwestern's coach at a very difficult time after the sudden death of Randy Walker in June 2006. Yes, the 31-year-old wasn't ready for the job. But Northwestern had won six or more games in each of Walker's final three seasons, reaching two bowls and going 14-10 in Big Ten play. This wasn't the train wreck that Gary Barnett inherited and, thanks to players like Fitzgerald, brought out of the depths.
Fitzgerald deserves a ton of credit for stabilizing the program after an unexpected tragedy. He upgraded things in 2008 with a 9-4 campaign and followed with two more postseason appearances, making team history by making three consecutive bowl games.
[+] Enlarge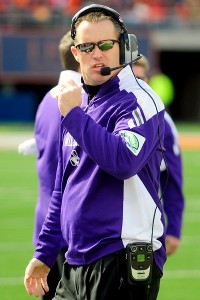 Reid Compton/US PresswirePat Fitzgerald made team history by making three consecutive bowl games, but Northwestern's win totals have dropped each season since 2008.
But Northwestern's wins total has declined since 2008, going to eight in 2009 and seven in 2010. This season has been a major disappointment, and, barring a late turnaround, the Wildcats won't make a bowl game. It's a significant step back for the program -- and for a coach who had been universally labeled as on the rise.
For Fitzgerald to turn things around -- and get Northwestern back to and beyond the good-but-not-great seasons it had for most of the past decade -- he must shape the program in his image. The most successful programs reflect their head coaches.
It's hard to say Northwestern completely reflects Pat Fitzgerald.
While many of his core values have been transmitted to the players, the bottom line is this: Fitzgerald is a former two-time National Defensive Player of the Year and a College Football Hall of Fame linebacker who coaches a team that has been anywhere from mediocre to poor on defense.
It doesn't add up.
Northwestern's identity under Fitzgerald is still a lot like it was under Walker. That's not entirely a bad thing. Walker's teams never gave up and won a bunch of close games. Until recently, Fitzgerald's teams also had excelled in close games.
Under Walker, Northwestern played many close, chaotic contests and relied on its dynamic spread offense. Walker was an offensive-minded coach, a former running back who mass-produced 1,000-yard rushers in Evanston.
Under Fitzgerald, Northwestern has continued to find itself in wild, back-and-forth games. It still relies on its offense, and produces strong quarterbacks like C.J. Bacher, Mike Kafka and
Dan Persa
.
Under Walker, Northwestern's defense struggled mightily, ranking no higher than 68th nationally and 81st or worse in six of seven seasons.
Under Fitzgerald, Northwestern's defense hasn't been quite as porous, ranking in the top 50 nationally in both 2008 and 2009. But the Wildcats slipped to 97th last year and currently rank 92nd.
The defensive decline has been dramatic this season, as Northwestern already has surrendered 20 plays of 30 yards or longer, the most of any Big Ten team. Although the secondary has been a major weakness, Northwestern hasn't generated much of a pass rush (11 sacks). The linebacker position, a strength under Walker and during Fitzgerald's early years, has underperformed the last year and a half.
Fitzgerald has attributed the defense's struggles to a few very bad plays in each game. Cornerback Demetrius Dugar said after a Week 7 loss to Iowa that
defensive backs weren't always sure whether they were in man or zone coverage
.
"When those breakdowns in communication have happened this year, they have been disastrous," Fitzgerald said after the Iowa game. "It starts with us as coaches. Why are they confused?"
Fitzgerald has remained mostly optimistic publicly, but the defensive struggles have to be eating him up. It's not like he doesn't know what a good defense looks like. As a player, he led great defenses at Northwestern in 1995 and 1996.
Most FBS coaches take on a CEO role, and Fitzgerald is no exception. But the defense must be his primary focus the rest of this year and into a crucial offseason. From the scheme to the coaches to the players to recruiting, everything should be evaluated. While overall recruiting has been on the uptick at Northwestern, player development on defense has to be a concern after the past year and a half.
Fitzgerald has succeeded in continuing what Walker started. But to get Northwestern back on track and on a sustainable path to success, his teams need to be playing how he did.
TOP 25 SCOREBOARD
Thursday, 8/28
Friday, 8/29
Saturday, 8/30
Sunday, 8/31