Chicago Colleges:

Rashad Lawrence
May, 12, 2014
May 12
10:30
AM CT
Thirty Big Ten players heard their names called
during the 2014 NFL draft, but many others received phone calls immediately after the event. The undrafted free-agent carousel is spinning, and players from around the Big Ten are hopping aboard.
Unlike the draft, the UDFA list is somewhat fluid, and other players could get picked up later today or in the coming days. To reiterate:
This is not the final list
.
Here's what we know right now from various announcements and media reports:

ILLINOIS
LB Jonathan Brown, Arizona Cardinals
WR Ryan Lankford, Miami Dolphins
TE Evan Wilson, Dallas Cowboys
Notes:
Illini OT Corey Lewis, who battled knee injuries throughout his career, told Steve Greenberg that
several teams are interested in him
if he's cleared by doctors.

INDIANA
WR Kofi Hughes, Washington Redskins
RB Stephen Houston, New England Patriots
Notes
: S Greg Heban has a tryout with Chicago.

IOWA
LB James Morris, New England Patriots
OT Brett Van Sloten, Baltimore Ravens
G Conor Boffeli, Minnesota Vikings
WR Don Shumpert, Chicago Bears
LS Casey Kreiter, Dallas Cowboys

MARYLAND
LB Marcus Whitfield, Jacksonville Jaguars
CB Isaac Goins, Miami Dolphins

MICHIGAN
LB Cam Gordon, New England Patriots
S Thomas Gordon, New York Giants
Notes:
RB Fitzgerald Toussaint (Baltimore), DT Jibreel Black (Pittsburgh), LS Jareth Glanda (New Orleans) and DT Quinton Washington (Oakland)
will have tryouts
.

MICHIGAN STATE
LB Denicos Allen, Carolina Panthers
S Isaiah Lewis, Cincinnati Bengals
T/G Dan France, Cincinnati Bengals
WR Bennie Fowler, Denver Broncos
LB Max Bullough, Houston Texans
DT Tyler Hoover, Indianapolis Colts
DT Micajah Reynolds, New Orleans Saints
OL Fou Fonoti, San Francisco 49ers
Notes:
LB Kyler Elsworth has a tryout scheduled with Washington.

MINNESOTA
LB Aaron Hill, St. Louis Rams

NEBRASKA
QB Taylor Martinez, Philadelphia Eagles
OT Brent Qvale, New York Jets
CB Mohammed Seisay, Detroit Lions
DE Jason Ankrah, Houston Texans
C Cole Pensick, Kansas City Chiefs
OT Jeremiah Sirles, San Diego Chargers
Notes:
CB Ciante Evans has yet to sign but will do so soon. DB Andrew Green
has a tryout with the Miami Dolphins
.

NORTHWESTERN
WR Kain Colter, Minnesota Vikings
K Jeff Budzien, Jacksonville Jaguars
WR Rashad Lawrence, Washington Redskins
DE Tyler Scott, Minnesota Vikings

OHIO STATE
S C.J. Barnett, New York Giants
K Drew Basil, Atlanta Falcons
WR Corey Brown, Carolina Panthers
G Andrew Norwell, Carolina Panthers
G Marcus Hall, Indianapolis Colts
WR Chris Fields, Washington Redskins

PENN STATE
OT Garry Gilliam, Seattle Seahawks
LB Glenn Carson, Arizona Cardinals
S Malcolm Willis, San Diego Chargers
Notes:
OT Adam Gress will
have a tryout with the Pittsburgh Steelers
.

PURDUE
DE Greg Latta, Denver Broncos
S Rob Henry, Oakland Raiders
G Devin Smith, San Diego Chargers
DT Bruce Gaston Jr., Arizona Cardinals
Notes:
P Cody Webster will have a tryout with Pittsburgh.

RUTGERS
WR Brandon Coleman, New Orleans Saints
WR Quron Pratt, Philadelphia Eagles
LB Jamal Merrell, Tennessee Titans
DE Marcus Thompson, Miami Dolphins
S Jeremy Deering, New England Patriots
Notes:
According to
Dan Duggan
, DE Jamil Merrell (Bears) and G Antwan Lowery (Baltimore) will have tryouts.

WISCONSIN
G/T Ryan Groy, Chicago Bears
TE Jacob Pedersen Atlanta Falcons
TE Brian Wozniak, Atlanta Falcons
DE Ethan Hemer, Pittsburgh Steelers
Quick thoughts:
Martinez's future as an NFL quarterback has been heavily scrutinized, but Chip Kelly's Eagles are a fascinating destination for him. Whether he plays quarterback or another position like safety, Kelly will explore ways to use Martinez's speed. ... The large Michigan State contingent is still a bit startling. The Spartans dominated the Big Ten, beat Stanford in the Rose Bowl, use pro-style systems on both sides of the ball and had just one player drafted. Bullough, Allen and Lewis all were multiple All-Big Ten selections but will have to continue their careers through the UDFA route. ... Colter certainly
looked like a draft pick during Senior Bowl practices
in January, but that was before his ankle surgery and his role in leading the unionization push at Northwestern. I tend to think the injury impacted his status more, but NFL teams have been known to shy away from so-called locker-room lawyers. ... Other Big Ten standouts like Jonathan Brown, Morris and Pedersen were surprisingly not drafted. Morris should be a great fit in New England. ... Coleman's decision to leave Rutgers early looks questionable now that he didn't get drafted.
October, 3, 2013
10/03/13
11:00
AM CT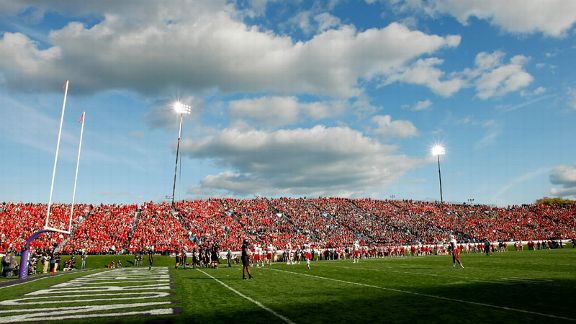 AP Photo/Scott Boehm
Paul Schatz grew up about a mile from Northwestern's football stadium and attended his first game there as an 11-year-old when the Wildcats played Rice.
Schatz remembers two things clearly from that game: out-hustling other kids to catch the ball on an extra point and having plenty of room to roam.
"As a kid, you could just run on the bleachers across sections until you found your area," said Schatz, who's now a data analyst at the school. "Then you could spread out, lean back on the row behind you and put your feet up on the row in front of you. There would be other people maybe 20 feet away with their own similar area."
Alan Goldstein graduated from Northwestern in 1991. During his undergraduate days, he said, students would leave and re-enter games just by showing their IDs. They staged marshmallow fights in the stands to stay entertained. Since one of the parking lots was virtually empty, fraternities would take their grills and coolers out there to tailgate.
"The games were secondary to everything else going on because we had no fans outside of the few kids and alumni who showed up," said Goldstein, who now lives in Los Angeles and is involved in the alumni group there. "There was one team in Chicago back then, and it was in South Bend. Nobody cared about us."
Northwestern has clearly come a long way since those days in the 1980s and early '90s. But the school is still only cautiously optimistic that, when ESPN's "College GameDay" rolls into Evanston for this week's game against No. 4 Ohio State, it can present a bona fide big-time college football atmosphere. The Wildcats have often struggled to create a true home-field advantage like many of their Big Ten peers enjoy.
"I can tell you for a fact that it will be different than any years in the past," said Ryan Chenault, Northwestern's assistant athletic director for marketing. "A large amount of tickets have gone to Northwestern-friendly groups. Hopefully, that will translate to what we want it to be on Saturday night."
Chenault is part of a team of administrators who have worked hard at improving the overall experience at Ryan Field. They have a lot of obstacles to overcome.
As a private school with an undergraduate enrollment of about 8,000, Northwestern has the smallest alumni base in the Big Ten, and those alumni are scattered all over the country. The team competes for attention in the crowded sports market of Chicago, a hub for many other Big Ten schools' fans. Nearly a quarter-century of football irrelevance beginning in the early 1970s meant that few fans who grew up in that era chose to root for the Wildcats.
[+] Enlarge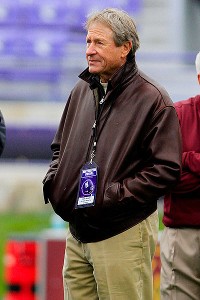 Chuck Rydlewski/Icon SMIGary Barnett was the first coach to stem the tide of Northwestern's Ryan Field being overrun by opposing fans.
It wasn't until Gary Barnett revived the program in the mid-1990s that people started showing up to games. The 1995 Rose Bowl season spurred major renovations to the stadium which debuted in 1997, when the facility's name changed from Dyche Stadium to Ryan Field.
""It went from nothing to at least something," said Schatz, who has had season tickets since 1993.
Still, keeping the stands full or even close to it has remained a challenge. In 2009, Northwestern averaged 24,190 fans per game at Ryan Field, which has a capacity of just over 47,000. The number has climbed, as the team averaged 35,697 last season and through three home games this year, the Wildcats have drawn an average of 34,629. That ranks No. 72 in the FBS.
This summer, an Athlon survey ranked Ryan Field as the worst of 12 home atmospheres in the Big Ten, saying that "much like Duke or Vanderbilt, this venue struggles to match the rabid intensity of bigger more powerful athletic departments."
When Northwestern has attracted large crowds, the visiting fans usually are a big reason why. Nebraska's Sea of Red
took over the stands last year
and was so loud that the Wildcats' offense went to a silent count in the second half -- at home. The team practiced using the silent count this week, just in case Ohio State fans pull off a similar invasion.
"They probably have more alumni in Chicago than we do from a pure numbers standpoint," Northwestern coach Pat Fitzgerald said of Ohio State. "But I'm expecting a very pro- and solid homefield advantage for us."
The school took measures in the offseason to help ensure there's more purple than scarlet and gray in the seats on Saturday. It sent notices to more than 100,000 alumni, offering them the chance to buy tickets to this game, which is homecoming. That was the first time alumni were given the opportunity to buy tickets ahead of the general public.
"The response was huge," Chenault said. "We sold double the amount of tickets than we ever have through the alumni association. We had always worked with them, but never to this magnitude."
Northwestern also placed limits on the amount of extra seats current season-ticket holders could purchase, hoping to curb people from selling those extras to Ohio State fans. While the school does not release sales figures, Chenault said the season-ticket base is at an all-time high and twice what it was in 2009. Only a couple of thousand tickets to this game were made available to the general public.
This follows an aggressive marketing campaign launched in 2010 in which Northwestern branded itself as "Chicago's Big Ten team" and started targeting sales calls to fans in and around the city, even those who went to different league schools.
"Maybe they root for their alma mater, but for the other six games, they slowly become Northwestern fans," Chenault said. "It's kind of hard to stand out in Chicago."
The gameday atmosphere has noticeably improved, and it helps that Fitzgerald has the program on a roll. The Wildcats won 10 games last year and captured their first bowl victory since 1948. Fitzgerald, who starred at linebacker for the school from 1993-96, laughed when I asked him how the crowd support for the team had changed since he was a young player.
"Night and day, my friend, night and day," he said. "It's been terrific, the change in the climate here and our fans, and not only the way they've supported us here but in the bowl experiences we've had. At our opening game in Berkeley (against California), the fan support was amazing. There's a ton of positive momentum, the city has really embraced us and we've just got to continue to do our part."
Saturday will bring one of the most anticipated home games in Northwestern's history. Many tickets on the secondary market are being offered for upwards of $200. "GameDay" makes its first visit to Evanston since 1995, though the show did originate from Wrigley Field for the 2010 game there between Northwestern and Illinois.
"A lot of guys in my class, that was our vision," senior receiver
Rashad Lawrence
said. "Our vision was to come here and basically change the program around."
It's something that would have been hard to envision 20 years ago.
"Evanston is not a big college football town," Schatz said. "To have ESPN's 'GameDay' here for a sold-out national game, it is a little hard to believe. It's good to have the program be rewarded like this."
August, 30, 2013
8/30/13
4:20
PM CT
EVANSTON, Ill. -- Northwestern's preparations for its first football game of the season have been part high school and part preschool.
First, the preschool part. As they condition their bodies for Saturday's late kickoff at California (9:30 p.m. Central time), Northwestern players have nap time built into their game-week itineraries. Yes, the 'Cat naps are back.
"This nap we're getting in midday helps a lot," senior quarterback
Kain Colter
said. "I've actually liked it."
Coach
Pat Fitzgerald started the mandatory naps last season
before a mid-afternoon kickoff against Nebraska, grumbling at the time, "This is what I get paid to do? Great, nap time. Seriously? It's pathetic."
But the naps, which take place in the early to mid afternoon after meetings and a light lifting session, are an important part of getting players' body clocks right for a late kickoff on the West Coast. It sounds funny, but the Big Ten's road struggles against the Pac-12 are no joke.
Pac-12 stadiums recently have been graveyards
for Big Ten teams, which have dropped 20 of the past 25 true road games against Pac-12 opponents.
Northwestern is one of three Big Ten teams traveling to Pac-12 country this season. In Week 3, Wisconsin visits Arizona State and Ohio State visits Cal. The Wisconsin-Arizona State game also kicks off at 9:30 p.m. Madison time. Badgers coach Gary Andersen is taking his players to the desert two days before the game to help with the adjustment.
After practicing at 4 p.m. during most of preseason camp, Northwestern started practices at 9 p.m. this week. Players weren't required to come to the facility until late morning, and they had most of the afternoon to relax before dinner and pre-practice meetings.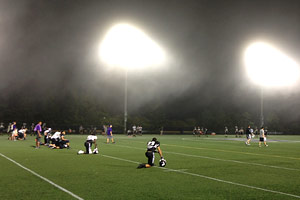 Adam Rittenberg/ESPNNorthwestern has prepped for its 9:30 p.m. Central time kick at California by practicing at night.
"Some people don't like the midday naps," Colter said. "Maybe they're up watching TV. It's really about just getting off your feet and getting some time away from football. They don't want us to be burned out.
"For me, I'm definitely getting my nap in."
The late practices have a "Friday Night Lights" feel to them, according to wide receiver
Rashad Lawrence
. Fitzgerald moved game-week workouts to the school's lacrosse/soccer field on campus along Lake Michigan, partly because of the superior lighting there but also to create another adjustment for players.
Wednesday night, a bus scheduled to take players from the football complex to the on-campus field didn't show, sending assistant coaches and support staffers scrambling for their cars. Minutes later, a caravan of cars and trucks carrying players and honking their horns --
"Varsity Blues" style
-- streamed into the parking lot.
"It's high school, Hank!" Fitzgerald said to defensive coordinator Mike Hankwitz.
Linebacker
Collin Ellis
assured Fitzgerald that he had his teammates wear their helmets in his pickup.
"Who's giving me money for gas?" one player jokingly asked the coaches.
The team's first night practice, on Monday, featured some hiccups, mainly because of the sweltering heat sweeping through the Midwest. Tuesday night's workout was much crisper.
To create a California feel, a speaker next to the field blared the sound of lapping waves (Cal's stadium, for the record, is nowhere near the ocean). The weather cooperated Wednesday night, as Northwestern practiced in Bay Area-like temperatures with fog rolling in off the lake.
"I feel real comfortable," Lawrence said. "I feel like I'm on West Coast time right now. I don't have a sense of what the time is during the day. I just know my body is ready to go at a certain time. That's optimal game time for us."
The toughest adjustment for Northwestern players this week might be the easiest for most college students: stay up late. Fitzgerald asked players to stay up until 1 a.m. or 2 a.m. to prepare for the late kickoff.
Northwestern normally practices in the morning, and players arrive at the complex before 7 a.m. After Tuesday's practice, Lawrence went to bed at 1:30 a.m. Tuesday. Normally, he'll be zonked out by 9 p.m.
" To make that switch and force the body to stay up for a little longer so you get a longer night's rest, it's kind of different," he said. "We tried to find ways to stay up later."
Lawrence did so by playing cards with housemates
Ibraheim Campbell
,
Jimmy Hall
and
Mike Eshun
. Colter, who interned at Goldman Sachs this summer, read a book about consulting.
Fitzgerald said the adjustments for players would have been more dramatic if they went straight from morning practices to evening ones. Northwestern also benefits from having no classes until Sept. 24.
"If we were in school, this would be a major problem," Fitzgerald said. "We might have to go out [to California] a day earlier. With us not being in school, it gives us the opportunity to have flexibility in our routine."
Fitzgerald and other Northwestern officials
weren't pleased when the Cal kickoff time was announced
, noting the late return to campus and the impact on Week 2 prep. It would be worse, Fitzgerald said, if Northwestern practiced on Sunday.
The team will conduct an injury check as soon as it returns early Sunday. Players then will be excused the rest of the day. Coaches will work until 3 p.m.
"I'm excited for the night game, I'm excited that it's a late game," Colter said. "The only thing I'm not looking forward to is the flight back, but hopefully we'll get a little bit of sleep."
And a win.
February, 26, 2013
2/26/13
9:00
AM CT
Big Ten spring football in February? You had better believe it. Northwestern will be the first Big Ten squad to hit the practice field this spring, holding the first of 15 workouts Wednesday in Evanston. It's the first time in recent memory that a Big Ten team has started spring ball in February. Northwestern is still riding high following a 10-3 season that culminated with a Gator Bowl win -- its first postseason victory since the 1949 Rose Bowl -- and a No. 17 ranking in the final AP Poll.
The next obvious step is a run for a Big Ten title, and Northwestern returns most of its core pieces from the 2012 team.
Several likely starters are out for the spring
, but there's plenty of work to do before the spring game on April 13.
ESPN.com caught up with Wildcats head coach Pat Fitzgerald to discuss spring ball.
Why are you starting spring practice so early this season?
Pat Fitzgerald:
Number one, our academic calendar allows us to split spring practice up into two segments. A year ago, we did six practices prior to finals and spring break and nine practices after. We really felt after doing some quality-control work on it, that moving nine practices prior to finals and spring break had the potential to be more beneficial to all of our young men. From a lifting standpoint, a preparation standpoint for next fall, it gives them an extended summer phase of workouts. Number two, if a young man were to get injured in spring ball, with the bulk of [the practices] being in winter quarter, there's a higher likelihood they'll be cleared and ready to go for summer workouts. The last aspect of it is I wanted to get us back to playing football earlier. I really felt we've got positive momentum going. And obviously there's a benefit to our coaching staff, who can get out on the road recruiting a little bit earlier.
[+] Enlarge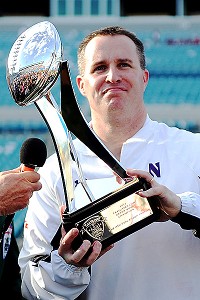 Melina Vastola/USA TODAY SportsIs there more success in store for Northwestern and coach Pat Fitzgerald ? He said he'll have his fastest team ever in 2013.
There are a lot of good vibes still there from the bowl win and the season. Is that something you can carry over, or do you tell the guys it's a new season, forget about it?
PF:
You always learn from the past but look forward. We're very proud of what we accomplished, but this is a new team and a new dynamic. The new chemistry is being formed through our 'Winning Edge' workouts, and we're going to roll right into spring practice and hopefully be able to carry over that momentum. We ran our typical gauntlet of conditioning after our first workout, and our guys just absolutely crushed it. I walked into the staff room afterward and said, 'This is as focused and as disciplined a group as we've had.' Now it's our job to put them in the right position as a coaching staff to continue to develop that chemistry and mental toughness.
Like everybody in the country, you're back to being 0-0, and we're in this young stage of our team. I want to get an exposure to find out who we are and what can we do well with a lot of the younger guys we worked with a lot in bowl practice.
What is the next step when you have so many core guys back from a 10-win team?
PF:
The next step is you start back over. The way we look at it is this is a completely new team. The pieces that are no longer part of our program are always going to be significant losses. We've got to find young men who are going to fill those roles and do it the way they're capable of. What does that mean? What are their strengths? What we've done in the past is spend a lot of time studying things and looking at cutups and going over all kinds of things as coaches, and then going through spring practice and saying, 'Well, Joe or Demetrius, that's not his strength. We're not going to want to do that in the fall.'
We're now doing a lot of our research on what we want to do schematically and technically and fundamentally, what we want to do from a Football 101 standpoint, and get that taught here in the first couple weeks. Then we want to take the last two weeks of spring ball and say, 'Alright, this is what we do well. Let's go work on that.' We're tying to get more information from our guys, especially what we do well with this group. And we're not going to have it all answered because a lot of our guys coming back aren't participating in spring ball.
You played two quarterbacks [Kain Colter and Trevor Siemian] last year. Does that work well for you, or is there another phase for those guys to evolve?
PF:
The ability for those guys to evolve with big-picture things will probably be more in the fall than right now in spring. We'll do some things conceptually that will build upon what we did a year ago, but it will also be a little bit limited based on our depth and who is practicing on offense. We're only going to be able to go as far as we can get the Football 101 accomplished. That's the bigger-picture goal this spring, to develop our young players, similar to what we did a year ago, which helped us have great success. We take the car apart and start to build it all over again with the new pieces.
How comfortable are you with Kain and Trevor and the way they played last year? A lot of coaches would rather play one guy.
PF:
I believe we have two quarterbacks who can lead us to a Big Ten championship based on what I've seen them do. I think both young men are as good as anybody in the country. There's very good quarterback play in this conference, and those guys are very competitive. They both have a terrific skill set, a terrific attitude. They're outstanding leaders. They're both unselfish. Both have the capability to make plays in the moment to their strengths to lead us to a championship.
January, 1, 2013
1/01/13
4:59
PM CT
The streak is over and the monkey is gone. Northwestern finally can celebrate a bowl win.
The Wildcats claimed their first postseason victory in 64 years after
downing Mississippi State
in the TaxSlayer.com Gator Bowl. Although the game didn't go as planned for either squad, Northwestern rode opportunistic defense (17 points off turnovers) and a big third quarter from Trevor Siemian to its first bowl win since the 1949 Rose. Surprisingly, there was little drama as Northwestern's defense clamped down.
Let's take a look at how it went down:


It was over when:
Mississippi State quarterback
Tyler Russell
threw his fourth interception, a wounded duck on third-and-10, and Northwestern's
Nick VanHoose
returned the ball inside the red zone with 9:54 to play. Northwestern led by only seven at the time but scored three plays later to take a 14-point lead with 8:10 left. To truly seal the win, Wildcats defensive lineman
Deonte Gibson
dropped Russell on fourth-and-20 with 1:42 left.
Game ball goes to:
Northwestern defensive ends
Quentin Williams
and
Tyler Scott
. Both of the Wildcats' top edge rushers stepped up in the bowl win. Williams set the tone for the game with an interception returned for a touchdown on the third play from scrimmage. He also had a sack and two tackles for loss, while Scott dropped Russell twice in the win.
Stat of the game:
Both teams entered the game among the nation's best at taking care of the ball, but things changed in Jacksonville. The Wildcats and Bulldogs combined for seven turnovers, including three first-half interceptions by Mississippi State's Russell, who threw four picks after throwing just six in the regular season. Northwestern came in with just 12 giveaways, tied for sixth-fewest nationally, while Mississippi State had 13 giveaways (tied for ninth). Both teams ranked in the top 10 in turnover margin but looked sloppy with the ball.
Stat of the game II:
Third-down efficiency played a huge part in the game, and Northwestern had a significant edge there. The Wildcats moved the chains 10 times on 19 third-down opportunities. The biggest conversion came with the game tied in the third quarter, when Siemian made a tough throw on the run to
Rashad Lawrence
to convert a third-and-10 in Wildcats territory. Northwestern scored the go-ahead touchdown three plays later. Mississippi State, meanwhile, was a mess on third down, converting just 1 of 11 chances.
Unsung hero:
Northwestern freshman superback (tight end)
Dan Vitale
. Mississippi State's defense did a good job taking away
Venric Mark
and
Kain Colter
, but Vitale, a freshman, gashed the Bulldogs for seven receptions and 82 yards. He provided the receiving threat Northwestern needed against a good Bulldogs secondary.
What Northwestern learned:
It can win a bowl game, for starters. After several near misses (2008 Alamo, 2010 Outback), Northwestern finally got over the hump in the postseason. Pat Fitzgerald and his staff did a masterful job coaching a young team not predicted to do much to just the school's third 10-win season. After blowing three fourth-quarter leads in Big Ten play, Northwestern made enough plays on both sides of the ball to hold off the mistake-prone Bulldogs. Northwestern needed this win to legitimize its program and should be right in the Legends division mix next fall, as most key players return.
What Mississippi State learned:
Russell can be rattled. The junior turned in a record-setting season for the Bulldogs but had a miserable performance in the bowl, completing only 12 of 28 passes for 106 yards with two touchdowns and the four picks. Mississippi State wins with discipline and Russell didn't have enough of it with the football. The Bulldogs played without star cornerback
Johnthan Banks
for most of the second half, and his absence showed. After a 7-0 start, Mississippi State had an extremely disappointing finish and lacked any decent wins on its résumé.
March, 13, 2012
3/13/12
8:52
AM CT
Northwestern stuck by
Christian Jones
during a tough time, and that perseverance is shaping up as a mutually beneficial decision.
Jones was a highly-regarded wide receiver prospect out of Houston who had several scholarship offers after his junior year of high school, including ones from Arkansas, Texas Tech and other BCS programs. But during spring practice before his senior year, he tore his right ACL in a one-on-one drill.
[+] Enlarge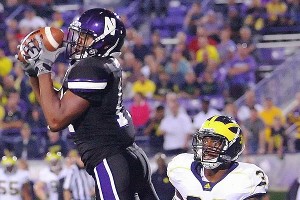 Dennis Wierzbicki/US PresswireWildcats receiver Christian Jones had his best game last season against Michigan. Can he excel in 2012?
"The coaches told me I should hold back and not do too much, but my competitive nature wouldn't let me," he said. "I ran a circle route a little too hard, and came out of my break really fast. My knee just popped out of place. It was bad."
Bad enough that it scared most of the big schools away from recruiting Jones. Many pulled their scholarship offers off the table. But not Northwestern.
"They told me they'd always hold up their end of the deal even if somebody got injured," Jone said. "That really stuck with me."
So Jones committed to the Wildcats that summer and then made a speedy recovery, playing his senior season just five months after his ACL surgery. Though he didn't produce at a high level that year, he arrived in Evanston feeling 100 percent healthy, and he made an immediate impact on the field as a true freshman in 2011.
The 6-foot-3, 225-pounder earned a starting job midway through the season and finished the year with 16 catches for 195 yards. That included a 39-yard grab versus Michigan.
This spring, Jones is looking to become a much bigger contributor. He has moved inside to the slot receiver position, which
Jeremy Ebert
held down the past two years. Ebert had over 2,000 yards receiving and 19 touchdowns the last two seasons combined, so his graduation leaves a large void in the offense. Someone has to pick up the slack; perhaps that someone will be Jones, who's still learning the finer points of the game.
"I've developed more as a technical receiver," he said. "I realized last year that everything isn't based off speed and athleticism. You have to be better at your technique then they are, so I'm working on becoming a better route runner, a better cutter and more of a student of the game.
"[Moving inside], I actually have to learn how to read defenses now and how to play on the fly."
Jones should have plenty of company at the receiver spot, with
Demetrius Fields
,
Rashad Lawrence
and
Tony Jones
among the veterans returning. USC transfer
Kyle Prater
is scheduled to enroll later this month and go through some late spring practices as he awaits word from the NCAA whether he can play the 2012 season for Northwestern.
"As a whole, we want to be greatly respected as receivers," Jones said. "I think we'll spread the ball out a lot more this season. We all have a great passion and a great feel for the game. Kyle has a great mind and a great build, and I think he'll fit into our group well."
Jones has been a good fit so far with Northwestern and vice versa. Loyalty has its rewards.
March, 6, 2012
3/06/12
10:17
AM CT
We're nearing the conclusion of our series looking at two departing stars players from each Big Ten team whose shoes need to be filled this spring. Today we focus the lens on Northwestern, which started spring drills over the weekend. We already know that
Kain Colter
is the top choice to replace the large void left by quarterback
Dan Persa
, so we'll take a look at two other spots.
[+] Enlarge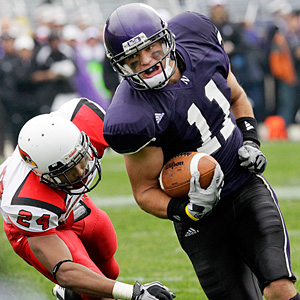 AP Photo/Charles Rex ArbogastJeremy Ebert accounted for 137 receptions and 2,013 receiving yards for Northwestern over the past two seasons.
BIG SHOES TO FILL: Jeremy Ebert, WR
Why:
Ebert was the Wildcats' leading receiver and one of the best in the Big Ten each of the past two seasons. He caught 75 passes for 1,060 yards and 11 touchdowns in 2011.
Replacement candidates:
Christian Jones
(6-3, 225, Soph.);
Demetrius Fields
(6-0, 210, Sr.);
Tony Jones
(6-0, 185, Soph);
Rashad Lawrence
(6-2, 185, Jr.); Kyle Prater (6-5, 215, Soph-Tr).
The skinny:
The big X-factor here is Prater, the USC transfer who is hoping to gain immediate eligibility for this season. He will enroll March 26 and will have to wait for an NCAA ruling this summer. Christian Jones played in all 13 games last year as a true freshman, catching 16 passes for 195 yards. He's got the physical tools to be a No. 1 receiver. Fields had a career-best seven catches in the Meineke Car Care Bowl of Texas, perhaps signaling he's ready to take off. Tony Jones sat out last year because of injury but has a lot of speed. Northwestern has a lot of depth here, but can anyone produce at a consistently high level like Ebert?
BIG SHOES TO FILL: Brian Peters, S
Why:
Peters was one of the leaders of the Wildcats' defense, a three-year starter who had 92 tackles and five interceptions last season. He was a first-team All-Big Ten selection by the media.
Replacement candidates:
Hunter Bates
(5-10, 180, Sr.);
Jared Carpenter
(6-0, 205, Sr.);
Davion Fleming
(5-10, 200, Jr.);
Matt Carpenter
(6-2, 200, R-Fr.);
Jimmy Hall
(6-2, 205, Soph.); Terrance Brown, (6-1, 195, incoming freshman); Traveon Henry (6-1, 200, incoming freshman); Joseph Jones (6-1, 200, incoming freshman).
The skinny:
Bates has learned as Peters' backup and should be ready to challenge for a starting spot this spring, though he struggled at times in 2011. Jared Carpenter served as the backup at the other safety spot, which will be manned by sophomore
Ibraheim Campbell
, but Carpenter is injured and won't go through spring drills. Fleming and Hall are promising athletes who just need more experience. Defensive back in general is a concern for the Wildcats this spring after a subpar 2011 on pass defense and the loss of both Peters and top cornerback
Jordan Mabin
. Several young players could earn playing time with strong performances in practice.
September, 17, 2010
9/17/10
2:44
PM CT
EVANSTON, Ill. –
Rashad Lawrence
and
Venric Mark
have so far shared nearly every Northwestern football experience together.
Both are freshmen. Both are wide receivers. Both played in their first college game against Vanderbilt. Both made their first career catch against Illinois State. Both were late to a meeting earlier this week, and both had to run eight gassers (sideline-to-sideline sprints).
"They take meetings very seriously around here," Mark said. "I was late. Lesson learned."
The lessons have been coming non-stop for Mark and Lawrence since they arrived to campus in August for fall camp, and they've been handling them. Both showed promised in their own way during camp. Mark is a 5-8 speedster, and Lawrence is more of the prototypical receiver at 6-2, and Northwestern coach Pat Fitzgerald decided he could use both in the Wildcats' offense as freshmen.
As much as Northwestern has thrown at them in the past month, Fitzgerald has also tried not to overwhelm them. They played sparingly against Vanderbilt and had their roles increased against Illinois State.
"I wasn't very good at swim lessons back at Carl Sandburg [High School,]" Fitzgerald said after Saturday's game. "They kind of just threw me in the deep end and said, 'Swim.' I guess I'm a little scarred from that, so I don't believe in throwing those guys in the deep end too fast too soon. Bring them along a little bit, let them get their experiences and grow from them. I definitely saw Venric play faster today and Rashad play faster."
Against Illinois State, the pair showed why Fitzgerald is optimistic about their futures.
First, Lawrence stepped up. On a post-concept route in the first quarter, Lawrence saw the defense was playing in a Cover 2, turned his route into a fade and quarterback
Dan Persa
connected with him on a 50-yard play up the left sideline.
"It felt great getting my first catch out of the way," Lawrence said. "It was a great first catch. I should have scored, but I let the corner back tackle me. I'll work on that."
Mark followed with his first catch in the third quarter. Backup quarterback
Evan Watkins
located Mark running across the middle of the field. The ball was slightly underthrown, and Mark dove for it and pulled it in for a 21-yard catch.
"I was pumped up the rest of the game," Mark said. "That's the game of football. You always want the ball in your hands. That's the type of player I am."
Now as they head into their third game, their expectations are for more.
"I feel like I'm getting a feel for the way the games are going, the speed," Lawrence said. "I'm feeling way more comfortable than coming into the camp. The first game I got the first-game jitters out. Then last game, I got my first catch. I feel I'm just focusing, ready to step in and ready to go full speed and cut it loose."
Saturday's game against Rice has a special meaning to Mark. It will be a homecoming for him as he's from Tomball, Texas, a suburb of Houston, and went to high school 15 minutes from Rice.
"I'm pumped," Mark said. "I'm of course going to have family and friends there. I just have to stay focused. That's always going to be a distraction. I can't get too high, too low. You got to play to the level of football that it's supposed to be played at.
"I wouldn't say there's extra pressure. I'm going to be pumped, though. ... When the lights go on, I just need to release."
TOP 25 SCOREBOARD
Saturday, 9/20
Thursday, 9/18
TOP PERFORMERS
M. Gordon Wisconsin - RB
13 car, 253 yds, 5 tds