Chicago Colleges:

Robert Woods
December, 17, 2012
12/17/12
8:13
PM CT
SOUTH BEND, Ind. -- Yolanda Phillips often had to remind the second of her two kids,
KeiVarae Russell
, of who the parent was in their family. And despite having another son, Keith -- who is four years older than KeiVarare -- Phillips and the rest of the family couldn't help but refer to her second-born as "Little Man" ever since he was an infant.
"He's always been outgoing," Phillips said. "He's always been something else. Wherever we go, he's always going to talk to everybody, always holding me up. He's always been an outgoing person."
Little Man has grown up fast in six short months at Notre Dame, going from running back recruit to emergency starting cornerback following
Lo Wood
's camp Achilles tear, and emerging as an integral piece for the nation's No. 1 scoring defense along the way.
[+] Enlarge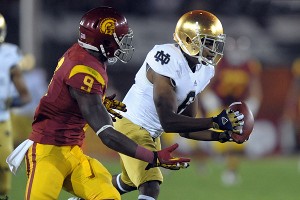 Kirby Lee/USA TODAY SportsCornerback KeiVarae Russell has adjusted to life as a starter quickly for Notre Dame.
Russell's tests have come big and small with the Irish, from a blown assignment in a season-opening rout of Navy to challenging the acclaimed aerial attacks of Oklahoma and USC in primetime road contests.
Asked if he still felt like a freshman, the fast-talking, always-smiling Russell quipped: "I wasn't a freshman after the first game, what you mean?"
Russell starred at cornerback for Mariner (Wash.) as a prep junior and cameoed at safety as a senior, though running the ball was his forte. Upon arriving to Notre Dame, his late-summer switch to the other side of the ball surprised all but one person.
"When he got to high school he wanted to step away and play offense," said his grandfather, Sylvester Phillips, every bit as gregarious as Russell. "I'd always tell him: '
Man
, you need to be on defense!' So when he went to Notre Dame and the coaches saw the same thing I saw, that he could be on defense, we just laughed about it."
Phillips' first game came Sept. 22 against Michigan, his birthday weekend. Russell made the trip worthwhile by recording his first career interception. Just three weeks earlier, Russell had been reeling a bit after surrendering the first opponent touchdown of the season, in Dublin.
Cornerback
Bennett Jackson
, captain
Manti Te'o
and position coach Kerry Cooks laughed at him afterward, telling the rookie, in plain terms, to pick his head up and get over it. He blitzed on, acting instead of thinking, a formula that had served him well as a prep student.
Then, Russell did everything from starring for coach John Ondriezek's team on the field to ascending to student-council president and dining with special-needs students off it.
"One of my first comments to him as a ninth-grader was that you're a person that will make a difference in others' lives -- you have that ability, you have those opportunities," Ondriezek recalled telling Russell. "And there are a lot of people that have that opportunity to be successful, but they never are because they don't possess that drive and commitment and desire to succeed that he has."
For Martin Luther King Day during his senior year, Russell was invited to nearby Voyager Middle School as its featured guest speaker.
He told Ondriezek that he was nervous. Coach told the senior to treat the occasion like another game. By the time it ended, Russell was receiving a standing ovation from his younger peers.
"Once he gets started, once that first word comes out, he speaks so well, so fluent," Phillips, his grandfather, said. "He listens. He answers the questions and says what he wants to say. Even every game, he'll tell you he's nervous, he's got jitterbugs and everything. But once the game starts, it's over."
Russell is more to the point: It is arrogance, and it is a necessity at defensive back, freshman or not.
His message during the regular-season finale against USC's dynamic duo of
Marqise Lee
and
Robert Woods
illustrates that.
"I looked to both of them in the eyes and said: 'I'm going to beat you guys. I don't care if you're ranked No. 1 and 2 in the country,' " Russell said.
"I had to grow up real soon, real quick, and I learned that," he said. "You can't use the excuse of being a freshman. Once you get to college football, age is nothing. … When I first got here I was making excuses. Like during camp, I was like: OK, this is my first year. But I grew out of that real soon.
"I was like: They offered me a scholarship for a reason. I was one of the best in the country, so I've got to show why."
November, 23, 2012
11/23/12
2:53
PM CT
SOUTH BEND, Ind. -- Talk about going on the defensive.
The biggest task Saturday for the nation's No. 1 team is stopping the nation's top receiving duo, and a pair of former offensive players are the guys Notre Dame will again be counting on to deliver one last regular-season stand.
Corners
Bennett Jackson
and
KeiVarae Russell
joined the Irish at receiver and running back, respectively. Together they have shored up what was the biggest defensive question mark entering this perfect campaign, resulting in the nation's top scoring unit (10.09 ppg).
Yes, USC's quarterback will be making his first career start. And he
has not been shy about wanting to make a first impression
. But the moxie of
Max Wittek
likely derives from the guys he will be throwing to.
Marqise Lee
is the nation's top receiver (107 catches for 1,605 yards).
Robert Woods
isn't too shabby himself, and if this year's numbers can't prove that (66 for 721), last year's certainly can (111 for 1,292).
"There is only one football, so it just seems like he's gotten more of the catches, whether by design or not," Notre Dame coach Brian Kelly said of Lee. "Either one of those guys can beat you by themselves. The numbers just have gone his way this year."
Or, as Jackson put it bluntly: "USC's receiving corps is on another level."
For the Irish, keeping the points down is more important than keeping the stats in line, as evidenced by their Oct. 27 win at Oklahoma, which had a 356-yard passer and a 181-yard receiver but managed just one touchdown.
The key? As Kelly said earlier this week when asked about defending big-play wideouts: tackle, tackle, tackle, tackle and tackle.
Notre Dame, according to ESPN Stats & Information, has just 55 missed tackles this season, the third-fewest among BCS schools. Irish opponents have completed just 7 of 41 pass attempts of 20 or more yards, resulting in one touchdown and four picks.
"You get a feel for it," Jackson said. "You let them get their few little short routes and then if they keep running, then eventually they're going to jump one. But I feel like as we get close to the goal line, we become more confident that they're not going to score. The space becomes more limited, and at the end of the day those short routes aren't going to be what wins the game.
"Big plays are game-changers. Those two guys did a great job running past the defense and getting the ball behind the defense. If we keep them in front of us and make our tackles, we'll be fine in the secondary."
The Oklahoma game, like most, was
Manti Te'o
's time to shine, with the Heisman candidate notching 11 tackles and a game-sealing pick. But Russell and Jackson were the team's next two-highest tacklers, with nine and eight, respectively.
Fewer swings and misses on the defensive side should test the 19-year-old Wittek's patience as USC drives down the field.
When that happens, Notre Dame's last line of defense will be in its most comfortable position.
"They're going to throw it up," Jackson said. "They're going to let their guys make plays, and it's going to be down to the guys back there to win the battle for the ball."
November, 23, 2012
11/23/12
2:52
PM CT
As always, hats off to the folks from ESPN Stats & Information, along with both schools' sports information departments, for these tidbits.
Notre Dame has allowed a touchdown on 6.7 percent of its opponents' possessions, the lowest percentage in the nation. Red zone defense has been key for the Irish, allowing a touchdown on 24.1 percent of their opponents' red zone drives, the lowest percentage for any FBS team in the past eight seasons. Overall, Notre Dame's opponents have seven touchdowns and five turnovers in 29 red zone possessions.
USC has scored a touchdown on 64.6 percent of its red-zone possessions, 39th in the nation. The Trojans have scored a touchdown on 29.2 percent of their goal-to-go rushes, tied for 86th nationally. Notre Dame has allowed one touchdown and minus-31 rushing yards on 18 goal-to-go rushes. Every other team in the nation has allowed at least three such touchdowns.
Notre Dame is the only team that has not allowed a touchdown drive longer than 75 yards. Every other FBS team has allowed at least two.
The Irish have allowed 14 plays of 25 yards or more, tied for second-fewest nationally. They have allowed one 25-yard touchdown, tied with Florida and Alabama for the fewest in the country.
Everett Golson has completed 70.8 percent of his passes thrown 10 yards or longer in his past two games after completing 44 percent of those throws in his first eight games. Four different receivers have at least two catches on a throw of that distance over the past two weeks. T.J. Jones has six catches on seven targets.
Marqise Lee has more receiving yards (821) in his last four games than 52 FBS teams during that time span. Lee has gained more yards after the catch (837) this season than any player from a BCS school and leads the nation with eight 100-yard receiving games. Notre Dame's opponents are averaging 68.4 yards after the catch per game and have allowed just one player to gain 100 yards in a game this season (Jalen Saunders, Oklahoma). Lee has five more catches and 264 more receiving yards than the Irish's entire receiving corps. Lee has gained at least 100 yards receiving in eight of his 11 games, including five straight dating back to a victory over Colorado. Notre Dame has not a 100-yard receiving game from a receiver this season.
Robert Woods entered the season on the Biletnikoff Watch List after leading USC with 111 catches and 1,292 receiving yards last season. But Lee has emerged as USC's clear No. 1 receiver, gaining more yards after the catch (837) than Woods has total yards (721). Woods is not getting downfield with the same consistency as last season, as he has 12 catches and four touchdowns on 31 pass attempts thrown 15 yards or longer downfield. Last season, he had 20 such catches and seven touchdowns on 42 pass attempts of that distance.
USC is averaging 160.5 rushing yards per game and has gained 10 or more yards on 16.6 percent of its rush attempts. Curtis McNeal has filled in nicely for an injured Silas Redd, gaining 324 yards in USC's past two games. He will face a Notre Dame defense that has allowed just three running backs to rush for 80 or more yards this season.
October, 22, 2011
10/22/11
9:53
PM CT
SOUTH BEND, Ind. — Is it too early to start booking reservations for Disney World?
Notre Dame's BCS bowl hopes went up in flames Saturday night in a
31-17 loss
to USC, its ninth loss to the Trojans in the past 10 meetings.


Three second-half turnovers doomed the Irish, who were trying to mount a comeback from an early 17-0 deficit. The Trojans moved the ball efficiently against the Irish defense throughout the evening, hitting star wideout
Robert Woods
when it needed to and rushing for more than 200 yards.
The Irish's four-game winning streak came to an end, as they fell to 4-3. Five games remain, but the Champs Sports Bowl in Orlando, Fla., is looking more and more like a reality for a Notre Dame team that entered the season with BCS-bowl aspirations.
Be sure to keep it here for reaction and postgame analysis.
October, 12, 2011
10/12/11
10:00
AM CT
Bold prediction:
Notre Dame will lose a game between now and Nov. 26 at Stanford.
This is bold in the sense that the Irish will likely be favored in all five of their games before their trip to Palo Alto, Calif. Despite how Notre Dame has played the past four weeks, the fact remains that the Irish tripped over themselves twice to open the season and nearly did the same Week 4 at Pitt. Give the Irish credit for not folding after an 0-2 start, but there are still few real breaks remaining in the schedule, and you can be sure Notre Dame will get each team's best shot from here on out.
[+] Enlarge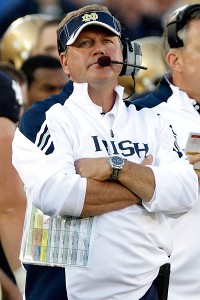 John Gress/Getty ImagesBrian Kelly and Notre Dame will likely be favored in every game until the season finale at Stanford.
What to look forward to:
Can this offense sustain its momentum?
Notre Dame has eclipsed the 500-yard mark in four of its first six games, including its last two. The Irish haven't turned the ball over in either of their past two games, either. And they have added another threat under center in the mobile
Andrew Hendrix
. Four of the remaining six defenses Notre Dame will face are currently ranked 61st or lower in total defense, with Stanford (19th) and Wake Forest (26th) being the two best as of now. How lethal this offense looks out of the bye week -- under the lights against rival USC, no less -- will say a lot about the potential of the unit in its second year under Brian Kelly.
Top Three Impactful Games:
Oct. 22 vs. USC, Oct. 29 vs. Navy, Nov. 26 at Stanford
Oct. 22
The USC game is always a big one, regardless of how well each team is playing. The Trojans may enter with just one loss depending on how they fare at Cal this Thursday. They feature an explosive offense that features quarterback
Matt Barkley
and the receiver
Robert Woods
. Throw in the first night game at Notre Dame Stadium in 21 years, in addition to extended rest for both teams, and the hype will be unlimited leading up to the battle for the Jeweled Shillelagh.
Oct. 29
We all know what Navy did to Notre Dame last year and what it has done to the Irish in three of the past four years. The Irish defense looked much better against the option this past Saturday against Air Force, and one would have to think Notre Dame knows better than to overlook the Midshipmen given their recent history with them. But this is a Navy team that currently leads the nation in rushing, at 366 yards per game, and one that the Irish will have to get up for after what is sure to be an emotionally taxing game against USC a week earlier.
Nov. 26
The Irish will likely be playing for a BCS spot if they win all five games before it, and Stanford may be playing for a national title spot if it enters at 11-0. Even a one-loss Cardinal team will likely be playing for a BCS spot as well, and this is certainly the biggest challenge remaining on Notre Dame's schedule. Closing the season with a road win at what is currently a top-10 team will certainly leave a strong impression on voters and bowl selection committees.
TOP 25 SCOREBOARD
Thursday, 8/28
Friday, 8/29
Saturday, 8/30
Sunday, 8/31
TOP PERFORMERS