Chicago Colleges:

Robo Kreps
August, 22, 2011
8/22/11
2:04
PM CT
Former UIC basketball players Paul Carter and Robo Kreps have signed overseas contracts, the school announced on Monday.

Carter, a 6-8 forward, signed with Proteas Danoi in the Cypriot League. He averaged 14.7 points and eight rebounds last season.

Kreps, a 6-1 guard, will play for MIA Tbilisi of the Georgian League. He finished seventh on UIC's all-time scoring list with 1,594 career points.

"I'd like to congratulate both Robo and Paul on extending their basketball careers on the professional level," UIC coach Howard Moore said a statement. "Those guys did a great job serving as our co-captains last year, and had tremendous careers. I'm extremely happy for both of them, and we'll be paying close attention to their careers overseas."

February, 15, 2011
2/15/11
3:29
PM CT
CHICAGO -- Life is good when UIC senior guard
Robo Kreps
plays well.
In the his past five games, Kreps is averaging 22.4 points, 4.8 rebounds and has made 18 3-pointers while shooting 48 percent from the field.
[+] Enlarge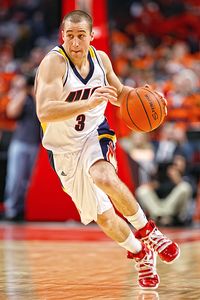 Robin Alam/Icon SMIUIC guard Robo Kreps is averaging 22.4 points and 4.8 rebounds in his past five games.
"I care so much about this game," Kreps said. "I don't really care what happens in class here or there. If I'm playing good basketball, life is a lot better. If we were winning, life would be even better."
Kreps hopes to have the best of both worlds Wednesday when he faces inter-city rival Loyola for possibly the final time in his career. Kreps has a 5-3 record against the Ramblers in his four seasons, but Loyola has won the past three meetings, including a 68-59 victory earlier this season.
"No doubt about it, Loyola is one we always want to get," said Kreps, who has averaged 10.1 points against the Ramblers. "I've played most of those kids my whole career. [Loyola senior Andy] Polka has been there since I've been here. I was 5-0 against them, and last year wasn't that good. I want to get them back this coming game."
Kreps also is eager to just get back on the court the way he has been playing recently.
"I can't wait to play Loyola on Wednesday," Kreps said. "The rim just feels so big right now. I feel like I'm going to make everything I shoot. My confidence has skyrocketed."
Kreps and UIC coach Howard Moore credit his recent play to his confidence and switching positions. The Flames lacked offensive production, and Moore needed more scoring. With sophomore
Corey Gray
proving recently he could handle the point guard responsibilities, Moore made the logical move -- moving his best shooter to shooting guard.
Kreps wasn't in love with the idea at first. He was comfortable with the ball predominantly in his hands, running the offense, distributing and shooting when needed. With the switch, he had to give up some of that.
"The first game I wasn't pleased with it," Kreps said. "I've since fallen in love with it. I'm getting more shots, getting more open shots. That's helped my game out."
Moore knew Kreps would come around.
"I don't know if too many players would be upset if I said to them, 'I need to get you more shots,'" Moore said. "I didn't think Robo would fight me too much. I think it's changed his mentality. The shots he was probably turning down at the point, he's really hunting those shots. He's being more assertive because his role has changed."
Kreps needed two games to adapt to it. He shot 10 times against Cleveland State and nine against Youngstown State. In his third game at the shooting guard, he flipped the switch. He was 10 of 17 from the floor and scored 25 points against Detroit. A game later against Wright State, he was 7 of 15 from the field, made five 3-pointers and scored 20 points. In a win over Wisconsin-Green Bay last week, Kreps was 7 of 12 from the field, scored 21 points and drained a game-winning runner at the buzzer.
"He just has the heart of a lion," Moore said. "He's not going to back down in any situation. He's always going to compete at the highest level. Even though our record isn't great, he's led this team to compete at the highest level. He's not allowed this team to quit."
Winning has been a struggle for the Flames, who are 7-20 overall and 2-13 in the Horizon League. Since upsetting Illinois on Dec. 18, UIC has gone 2-13.
The Flames' record is somewhat deceiving. They have been competitive in nearly all their games. They lost five games by three points or less. They trailed Butler by one at halftime on the road. They lost by six points at Wright State. They led Detroit at halftime in their first meeting and were tied with the Titans at halftime in their second game.
"I'll be honest with you, it's been pretty hard," Kreps said. "I've said this many times -- we've been around in every game. We're right there, but we can't get over the hump.
"It's nice I'm playing well, but I still want to get those wins. At the end of the day, you have to perform in the conference tournament. Not a lot of teams get an automatic bid in our conference. We just got to stay aggressive and keep our confidence in the second half. The first half of the games we're right there."
December, 18, 2010
12/18/10
7:44
PM CT
CHICAGO -- Being the sister school of
Illinois
,
Illinois-Chicago
is given the occasional gift by the Illini.
Illinois packs the United Center, slips UIC a cut of the gate, provides the Flames with some exposure, maybe lets them hang around for a bit and then ultimately delivers what the crowd came for -- a no-doubt-about-it Illini victory. Of the 13 times Illinois and UIC had met before Saturday, the Illini had won 12 of them.
On Saturday, UIC took charge of filling its own stocking, swiping the usual Illinois win in one of the bigger victories in Flames history -- a 57-54 win over No. 14 Illinois at the United Center.
Of the 13,117 fans who reportedly attended Saturday's game, the Flames were lucky if 10 percent belonged to them, despite their campus being a few bus stops away. None of it mattered to UIC's players, though.
[+] Enlarge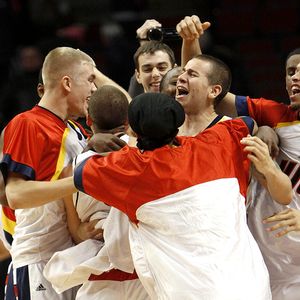 AP Photo/Charles CherneyThe Flames' celebration ought to last awhile after their win over Illinois on Saturday.
"I think we knew it was going to be like that," said UIC senior guard
Robo Kreps
, who ignited the upset with three 3-pointers in the opening minutes and finished with a team-high 15 points.
"Midway through the second half, I finally took a look at the crowd, and I saw the second tier was orange and the third tier was orange. When they scored, obviously, the Illinois fans were loud. When we scored, it was kind of quiet. But we've been there before, we've played in some tough games, and I thought we fought through it really good today."
UIC defeating Illinois would be a big deal in any given season. The Illini are supposed to be the better team. Their coaches are paid more. Their recruits have more star power. Their players have more skill. They play in a better conference.
That was the case back in 1990, when UIC pulled off its other win. The Flames' 71-60 upset over the Illini in Champaign was a major achievement for the program then. But it'll probably be nothing like Saturday's win for UIC when history is revisited.
Saturday's victory may be the defining moment that makes the Flames relevant in the college basketball world again. If UIC is dancing in the NCAA tournament a few years from now, it likely will have something to do with Saturday.
The hiring of former Wisconsin assistant Howard Moore put a buzz around UIC's program. Everyone agreed Moore was a smart hire. He had recruited with success in the Chicago area. He had put in his time as an assistant and had learned from a variety of successful head coaches. The cherry on top was Moore's roots were Chicago-based. He was a born-and-bred Chicago player and coach. Everything fit.
Moore quickly built a solid recruiting class and got people optimistic about UIC. But like it does everywhere, the initial buzz began to die down for Moore as the season began. The talk became less about what UIC will do in the future and more about its current status. With the Flames starting off the season 4-7, there weren't many positives to discuss.
Saturday changed that.
If UIC had won at Pittsburgh to start the season, it would have meant less than defeating Illinois at the United Center.
By beating the home state power, one thought to be a Big Ten championship contender and an Elite 8 team (which may have been altered as well Saturday, but that's another story), on the Big Ten Network, before a massive Chicago crowd and with dozens of media outlets in attendance, Moore and UIC placed a major piece into their rebuilding puzzle.
Instantly, Moore earned additional credibility when it comes to recruiting. If "We just beat highly ranked Illinois," isn't the first sentence out of Moore's mouth in the coming weeks when talking to recruits, it will likely be the second. And with the Illini possessing a full cupboard of talented recruits coming in, some of Chicago's top players will be looking at places other than Champaign, and now UIC could be a legitimate option for them. The Flames could be a perfect place for a rising star like Hales Franciscan junior guard Aaric Armstead or Simeon sophomore guard
Kendrick Nunn
.
Moore understood immediately what the win could mean to his program.
"I think it's a tremendous deal," Moore said. "I think it could really give our program a shot in the arm in recruiting, obviously some exposure. My last few press conferences, I got to be honest with you, I haven't seen so many people. I almost sat down with you guys. I had no idea where to go."
The win also will likely be the top memory of the 2010-11 season for the Flames' seniors. While UIC showed it does have talent, it still has to go through the likes of Butler, Cleveland State and Detroit in the Horizon League.
Whatever happens the rest of the season, UIC's seniors will always be able to think back to the day they knocked off Illinois.
"It's always about your seniors," Moore said. "That's who our team should be playing for. They're obviously playing for me as the head coach, but you want your seniors to have moments like this to relish and to remember.
"This is something when Robo's 40 years old and has got a pot belly, we can sit back and talk about this over a beer. Because it's going to happen, Robo, your metabolism is going to slow down. It's just great to have these moments and share these moments with your team. That's why we do it. To have success, to see guys get degrees, that's the reasons why we should be in this."
October, 26, 2010
10/26/10
8:52
PM CT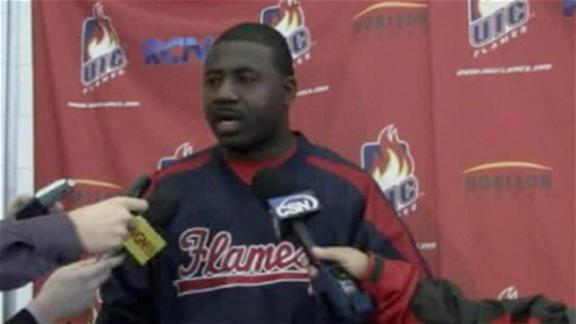 CHICAGO -- The future appears bright at the University of Illinois-Chicago.
With a new head coach in Howard Moore, a new staff, a new way of doing things and a handful of talented recruits already committed, there is a buzz around the program and a belief the Flames could be on the rise for years to come.
But UIC senior guard
Robo Kreps
and senior forward
Paul Carter
, the team's captains and star players, didn't want to talk about the future during the Flames' basketball media day on Tuesday. Their time isn't a few years down the road or even next season. They only have the present for the Flames to succeed.
[+] Enlarge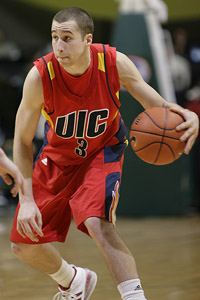 Tim G. Zechar/Icon SMIUIC senior Robo Kreps led the Flames with 15.2 points per game last season.
"Robo and I have had several talks about it," said Carter, who transferred from Minnesota to be closer to his family while his sister battled cancer. "A lot of people are saying the program is going to be great; coach is going to build it for the years to come. But all we have is now, so all we're going to be worried about is now. We're going to work hard like we've been here for years, and that's what we're going to do this year. We feel like we can win this year."
The media, coaches and sports information directors who voted in the Horizon League's preseason poll obviously don't believe the same. With the Flames coming off a 3-15 conference season, they were picked to finish second to last in the Horizon League this season.
Kreps was aware of the prediction, but didn't let it bother him.
"Those rankings don't mean anything," said Kreps, whose 15.2 points per game led the Flames last season. "It's not where you start. It's where you finish. I think we definitely use it as motivation, but we don't need any motivation this year. We were 8-22 last year. We're ready to go out and show what we can do."
Kreps, like Carter, believes the Flames are capable of winning now.
"We're ready," Kreps said. "We can win 20 games this year. We're going to sneak up on a lot of teams. We're pretty darn good.
"First is our defense. We're going to be getting into people. The type of defense we'll be playing is going to help us. Offensively, we're going to be doing things differently than last year. We're going to be taking better shots, and everyone's shooting percentage will go up."
Moore echoed his players.
"It is what is," Moore said of the preseason poll. "At the same time, we should be motivated regardless. If we're picked first, we should be motivated. If we're picked ninth or 10th, it's there as well. Can you take it personally? Absolutely. We're in this together. I told the guys, 'They picked us ninth. So what? Let's go play.' No one wins a championship in October."
TOP 25 SCOREBOARD
Thursday, 11/27
Friday, 11/28
Saturday, 11/29
TOP PERFORMERS