Chicago Colleges:

Russell Bellomy
February, 25, 2014
2/25/14
9:00
AM CT
Spring football kicks off earlier than normal in the Big Ten, as Michigan takes the field Tuesday, Northwestern follows Wednesday and eight other squads begin their sessions by March 8.
The accelerated schedules seem appropriate in a league filled with players, coaches and teams itching for fresh starts.
New assistants get their first chance to repair struggling units, whether it's Doug Nussmeier with Michigan's offense, Brian Knorr with Indiana's defense or Chris Ash and Larry Johnson with a once-feared Ohio State defense. Quarterback competitions begin or resume at nine places, as new faces such as Illinois'
Wes Lunt
, Nebraska's
Johnny Stanton
and Minnesota's
Chris Streveler
enter the mix, while veterans like Wisconsin's
Joel Stave
and Michigan's
Devin Gardner
try to retain their starting jobs.
Happy Valley continues to buzz about new Penn State coach James Franklin, who seems to galvanize everyone whom he encounters. But Franklin barely has been around his new players and finally begins the real work with a team facing very real challenges.
[+] Enlarge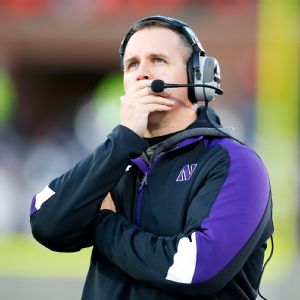 AP Photo/Jeff HaynesNorthwestern coach Pat Fitzgerald hopes his team can start a rebound from a disappointing, injury-riddled 2013 season.
Spring also allows teams such as Northwestern, Michigan, Purdue and Indiana to look forward after disappointing seasons. Michigan State, meanwhile, continues to bask in the Rose Bowl glow but looks toward its next goal -- a national championship -- as spring ball kicks off March 25.
"It's big-picture stuff, building relationships with the players and everyone associated with the program," Franklin told ESPN.com. "The other thing is laying a really good foundation with the philosophies and schemes of how we're going to do things. That's going to happen naturally over time, but I'm not the most patient person. I wish it would have happened yesterday."
Franklin doesn't water down his goals for Penn State, especially in recruiting, but he's also realistic about the challenges of a reduced roster. The Nittany Lions return strong pieces such as quarterback
Christian Hackenberg
and defensive back
Adrian Amos
,
but the two-deep has some holes that Franklin and his assistants must address, while installing new schemes.
"It's one thing when you get put in this situation in the first place with limited scholarships," Franklin said, "but the longer you're in it, the more effect it has. We've got some depth issues, there's no doubt about it, across the board. We're going to have to get creative."
Northwestern also is focused on depth after being hit hard by key injuries in 2013. Pat Fitzgerald blames himself and his staff for failing to get enough second-stringers ready, which proved costly in close Big Ten losses.
After their first bowl-less winter in six years, the Wildcats responded well in the weight room, as more than 50 players recorded personal bests. Although 11 players will miss spring practice, including standout running back/returner Venric Mark, the depth should be better in areas like the secondary.
"We're really emphasizing taking ownership of the finish," Fitzgerald said. "Finishing your technique, finishing the call, finishing the route. There's a lot of disappointment in the way the program didn't take the next step forward."
Michigan coach Brady Hoke
restructured the roles of his defensive assistants
for 2014, but the Wolverines' offense will be in the spotlight this spring after a wildly inconsistent season. Gardner, who continues to recover from a foot injury and likely won't be 100 percent until midway through the spring, will compete with
Shane Morris
,
Russell Bellomy
and midyear enrollee
Wilton Speight
.
But other positions, such as offensive line, figure to be just as important as Michigan tries to achieve Hoke and Nussmeier's vision.
"We had good intentions as far as what we wanted our identity to be, but obviously I don't think it came out the way we'd like it to," Hoke said. "The quarterback position is as important as any, and we have a guy [Gardner] who is very talented and had some really good games and games where we had to protect him better, have a better run game and take pressure off of him, and I don't think we did."
While Michigan turns the page on offense, Ohio State focuses on a defense that allowed 115 points in its last three games and finished 110th nationally in pass yards allowed (268 YPG). The Buckeyes lost top defenders
Ryan Shazier
and
Bradley Roby
, but they also added two accomplished assistants.
Johnson, who churned out NFL linemen during 18 years at Penn State, chose Ohio State instead of remaining in State College. Ash leaves a sole coordinator role at Arkansas for a co-coordinator role at Ohio State, where he'll work with the embattled Luke Fickell and others to mend the defense through a simplified scheme.
"Back in the day when Ohio State played great defense, you knew what you were going to get," Ash said. "They
played with swagger, played with confidence, played with toughness. We have to get back to that. The simplicity of the things we're going to do will lead to faster players, more plays made and a more aggressive defense.
"I wasn't here [in 2013], but I can tell you what Coach Meyer has told me, what Luke Fickell has told me and what I watch on film. I can see there's some hesitation, there's some uncertainty. Why that is, I don't know. But it's my job to get it fixed."
Purdue has plenty to fix after a 1-11 season, and players not surprisingly are
wearing T-shirts with the word "FORWARD" on the backs
. Maryland and Rutgers move forward to a new conference after an offseason that saw several staff changes, including new coordinators at Rutgers (Ralph Friedgen, Joe Rossi).
There's a fresh start of sorts at Wisconsin, as a large and decorated senior class departs. Coach Gary Andersen's markings will be more obvious with his second team, which begins practice March 7.
Wisconsin is just one of many places where the top quarterback job is at stake. Lunt, who sat out last season after transferring from Oklahoma State, competes with
Reilly O'Toole
and
Aaron Bailey
at Illinois.
"Competition's competition, no matter where it's at," said Lunt, who has added about 15 pounds since his arrival and checks in at 225. "It's different because it's different people, different coaches, but I'm excited for it."
He's not alone in the Big Ten. Spring ball can't start soon enough.
April, 10, 2013
4/10/13
4:54
PM CT
Every Legends Division head coach, along with a player from each of the six teams, participated in a Big Ten spring teleconference with the media on Wednesday.
Here are some notes and updates from those teams:

IOWA
After six practices, the Hawkeyes' three-man quarterback race between Jake Rudock, Cody Sokol and C.J. Beathard is "about where we expected," head coach Kirk Ferentz said. All three are receiving equal reps, and all are working with the first-, second- and third-team offenses. "At this point, it's a jump ball for all three guys," Ferentz said.
Accountability is a big theme this spring at Iowa after the team endured its worst season (4-8) in more than a decade. Ferentz said he can't bury his head in the sand after a season like last year's. "We have to do a better job in all areas and that starts with me," he said. Linebacker James Morris was candid about the legacy he'd like to leave at Iowa. "The mark we've left so far, if we're being completely honest, isn't a particularly good one," Morris said. "I'm not happy about it, but I'm excited we have one more opportunity to change things."
Ferentz said Sunday's open practice in West Des Moines gives Iowa a chance to say thanks to its fans in the central and western parts of the state. Hawkeyes players enjoy the chance to perform in front of their fans. "It's something to break the monotony of spring ball," Morris said. "This will be something different."
Morris wants to see Iowa's defense translate its red-zone effectiveness -- the Hawkeyes allowed only 15 touchdowns on 48 red-zone chances in 2012 and held opponents scoreless 10 times -- to the rest of the field. Better communication also is a focal point for the defense this spring.

MICHIGAN
Head coach Brady Hoke said the team will explore the possibility of adding a junior-college quarterback or a graduate transfer from an FBS program to address the position. Russell Bellomy, the projected backup, is scheduled for ACL surgery May 1 and could miss the entire season. Walk-on Brian Cleary is working as the No. 2 quarterback this spring behind Devin Gardner, and heralded recruit Shane Morris arrives in the summer. Asked generally about redshirting players, Hoke didn't sound as if he'd hesitate to use a player like Morris. "No matter if they're fifth-year seniors or true freshmen, the best players have to play," he said. "If you don't do your justice on playing the best players, you're going to cheat the kids on this team."
Both Hoke and left tackle Taylor Lewan praised the young players competing for the three vacant starting spots on the interior offensive line. Hoke has seen "a lot of progress" with players like Ben Braden, Kyle Kalis, Chris Bryant, Blake Bars and Joey Burzynski. Lewan sees more "maulers" along Michigan's line as the unit aims to be more physically dominant this season in a pro-set scheme.
Lewan said the experience of playing for Michigan and the opportunity to win a Big Ten championship led him to decide to return for his senior season rather than enter the NFL draft, where he likely would have been a first-round pick. He said his decision was his own, and that those who haven't played for Michigan can't truly understand the lure of remaining there. "There's no better decision I could have made than coming back to the University of Michigan," he said.
Lewan said defensive end Frank Clark could be on the All-Big Ten radar by the end of the season, while Hoke singled out Chris Wormley for having a strong spring with the D-line. Hoke said running back Fitzgerald Toussaint is progressing well as he recovers from leg surgery.

MICHIGAN STATE

MINNESOTA
Head coach Jerry Kill said injured offensive tackle Ed Olson (ankle) and defensive lineman Roland Johnson (knee) are both progressing well, and he expects both to be ready to go for fall camp.
Kill had high praise for safety Brock Vereen, saying he could follow his brother, Shane, into the NFL. "He's gotten better and better since we've been here, and he's turned into a great football player in our minds. We look for him to have a very productive year."
Vereen said the team is practicing with a new sense of confidence. "We're finally comfortable with coach Kill's system. We know what they expect from us. And that just makes it a lot easier to show up every day and do what we need to do."
Vereen on how far away the Gophers are from contending in the Legends Division: "We are closer than a lot of people think. If you look back to last season, a lot of those games we lost were in the fourth quarter. A loss is a loss, but at the same time, we were in a lot of those games. It's about pushing through, which is something we learned the hard way, but we still learned. ... I think we're going to shock some people this year."

Linebacker David Santos (arm) will miss a portion of summer workouts but will be back before the Huskers open preseason camp, head coach Bo Pelini said. Defensive linemen Vincent Valentine and Greg McMullen, who missed Saturday's spring game, aren't seriously injured and will be fine for workouts and camp.
Although Nebraska's defense had its ups and downs this spring, redshirt freshman linebacker Jared Afalava stood out. Pelini expects a lot of production this fall from Afalava, who is "probably further ahead of where I thought he'd be." Pelini also praised senior defensive end Jason Ankrah, saying the coaches gave him more freedom to move around this spring. "Hopefully, his best year is yet to come," Pelini said.
Senior quarterback Taylor Martinez expects Nebraska to throw the ball "a lot more" this season, mainly because of the team's strength at wide receiver with Kenny Bell, Jamal Turner and others. Martinez said expectations are extremely high for the offense, and that coordinator Tim Beck is more comfortable calling plays. "I'd rather throw the ball 30 times a game … get the football to those guys and let them do their thing," Martinez said. Pelini has no argument, saying "the best is yet to come" with Martinez at quarterback.
Martinez said the Memorial Stadium crowd was about as loud as he's ever heard it when 7-year-old cancer patient Jack Hoffman ran for a 69-yard touchdown in Saturday's spring game.

NORTHWESTERN
The Wildcats won't hold a traditional spring game this year but just a normal practice session. Head coach Pat Fitzgerald said 13 players had surgeries after the season, and the team was limited to eight healthy offensive linemen this spring. "We've had to tweak things, so that's why we've kept the same routine throughout all 15 of our practices," he said.
Some of the lesser-known Northwestern players who have had good springs, Fitzgerald said, included backup quarterback Zack Oliver, receiver Mike Jensen, superbacks Mark Szott and Jack Schwaba and defensive lineman C.J. Robbins. Fitzgerald said he's been "very, very impressed" by Robbins, who has been injured the past two years.
A question on offering prospects early prompted this response from Fitzgerald: "I have just a fundamental issue with offering a kid a scholarship that doesn't have a driver's license. Just barely shaving. And because he looks good in shorts doesn't mean he's going to be a great Big Ten football player. The glorification of these kids at a young age is unfair to them. It's putting unfair and unrealistic expectations on them."
Defensive end Tyler Scott, who Fitzgerald said is "poised to take the next step," said he's worked hard on becoming a more vocal leader this year and on his pass-rushing techniques. "I'm trying to bring more tools to that aspect of the defense," he said.