Chicago Colleges:

Ryan Boatright
January, 14, 2012
1/14/12
8:21
PM CT
SOUTH BEND, Ind. -- It was odd enough that Connecticut would have an 8:45 a.m. shootaround and an 11 a.m. tip for its get-together with Notre Dame on Saturday.
"I don't remember the last time I got a 6:50 wake-up call for basketball," Jim Calhoun quipped.
But the curveball thrown UConn's way close to 7 p.m. Friday was the one that would really test Calhoun's club.
That's when the 40th-year head coach broke the news to
Ryan Boatright
that he would not be playing against Notre Dame -- located less than three hours from his hometown of Aurora, Ill. -- because of additional information provided by the NCAA regarding his pre-UConn days.
"He was in my arms when I told him," Calhoun said, recalling pulling Boatright out of the team meal Friday. "He was in my arms. That's all I can tell you."
Roughly 400 friends and family members expected to make the trip here would have to watch the Huskies'
67-53 win
over the Irish without Boatright, who is sitting for an indefinite period for the second time this season as the NCAA investigates his eligibility.
Making matters worse for the Huskies was the combined shooting effort of their starting backcourt, particularly
Jeremy Lamb
, who made just three of 11 shots.
"If you had told me coming into this game we could get both guards, what is that, 8-for-22?" Calhoun said. "Wasn't gonna happen."
Fortunately for UConn, Notre Dame didn't fare much better on the offensive end. The Huskies had plenty to do with that.
Following a 5-for-11 showing from beyond the arc as they went into halftime with a surprising 25-24 lead, the Irish connected on just one of 15 shots from beyond the arc, which would have been their only safe haven after getting pounded inside by the Huskies' front line.
[+] Enlarge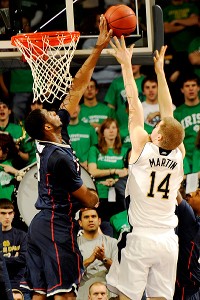 AP Photo/Joe RaymondUConn's Andre Drummond had 10 points, 13 rebounds and two blocks against Notre Dame.
Notre Dame shot just 32 percent for the game.
A
Jack Cooley
three-point play and ensuing fast-break layup by
Eric Atkins
cut the Irish deficit to 42-38 with 9:23 to go, the Joyce Center as loud as it's been all season with assistant Rod Balanis urging the fans on following a UConn timeout.
"We all got together and we said we were gonna stop them from scoring, and that's what we did," forward
Roscoe Smith
said. "We had seven straight stops. We kind of allowed our defense to create our offense."
Andre Drummond
answered the next possession with an alley-oop layin from Lamb, starting a 9-0 run that took the emotion out of the building with seven straight scoreless possessions for the Irish, a stretch that ended with UConn up 51-38 with less than five minutes to go.
Drummond had three offensive rebounds, five of his game-high 13 boards and four points during that stretch, finishing as one of four Huskies in double-figures, with 10 points.
The Irish actually had three more offensive rebounds than the Huskies but were outrebounded in the game by a 43-33 margin.
Alex Oriakhi
(12 points, 7 rebounds) and Smith (10, 6) made life difficult inside for Cooley (7, 6) and the Irish, who were led by co-captains Atkins (20 points) and
Scott Martin
(12 points, nine boards and three charges to add to what
has
to be his unofficial conference lead).
Notre Dame's 29-game home winning streak was not talked about beforehand, nor was the fact that the Irish's last long home streak, of 45 games, was ended by the Huskies three years ago.
"I'm proud that we broke a 29-game win streak," Calhoun said. "I'm proud we did it against Notre Dame, one of the great universities in America, both academically and athletically. I'm proud because we beat Mike Brey, who has probably evolved into what I think is as good of a coach as there is. I thought this year with the loss of [Tim] Abromaitis, that was it. They just weren't gonna recover. And watching them recover has astounded me, and really make that into a good team."
Afterward, dozens of Boatright's friends and family members waited outside the visiting locker room, a picture of uncertainty for a team and player who don't know when their next hurdle will be cleared.
Calhoun wouldn't go into details when asked whether he thought this chapter of the Boatright saga -- which cost him the season's first six games for an infraction involving a plane ticket during AAU basketball -- was over.
"I'm not gonna do anything that's gonna injure or hurt Ryan Boatright, so therefore I have nothing to say about it," Calhoun said. "I feel a lot about it, but I have nothing to say about it."
Players said afterward they were playing for the sidelined freshman.
"It's kind of unfortunate that the NCAA would do that to him, especially a game where it's close to home for him and he had a lot of people coming up to see him play," Oriakhi said. "But we were able to get the win, and Coach said guys were gonna have to step up without Ryan, and guys did that."
July, 5, 2011
7/05/11
6:02
PM CT
The first of two July recruiting basketball periods begin on Tuesday. Here are 10 things to keep in mind throughout the coming weeks.
[+] Enlarge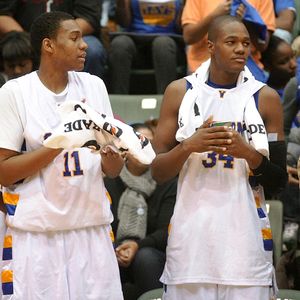 Scott Powers for ESPN.comCould Simeon's Jabari Parker and Steve Taylor both end up at DePaul?
1. DePaul taking next recruiting step:
While the Blue Demons improved their team with this year's recruiting class, there's still plenty of work to do. The next step is for Oliver Purnell to grab a marquee recruit from the Chicago area. Simeon senior forward
Steve Taylor
, the area's lone ESPN's top-100 player, could be that guy for the Blue Demons. Taylor may not have the impact Quentin Richardson did years ago for DePaul's recruiting, but he could do some wonders locally for the program. Class of 2013 guard Billy Garrett Jr., who is No. 45 in ESPN's Super 60, is a major commitment for DePaul, but he was expected to go there because his father is a Blue Demons assistant.
2. Just one:
Illinois welcomed six freshmen and one transfer to its latest recruiting class. Headed into July, Illini coach Bruce Weber had just one scholarship to play with. Simeon forward Steve Taylor is the likely target for the Illini. Weber and his staff also will be sure to be seen plenty when the state's younger recruits are playing.
3. Big class for Northwestern:
The Wildcats are hoping to secure four or five commitments for their Class of 2012. While losing point guard
Michael Thompson
won't be easy, next year's departures will be even harder. Northwestern will graduate starters
John Shurna
and
Luka Mirkovic
and key reserve Davide Curletti after next season, and will need to find a few players, especially post players, who can make an immediate impact for the 2012-2013 season. There's a good chance Northwestern will not seek a single in-state player in this class. Wauwatosa East (Wis.) forward
Darrell Bowie
is one of the Wildcats' targets.
4. New to the road:
This will be the first opportunity for a number of new in-state coaches to hit the road recruiting for their programs. Bradley's Geno Ford, Loyola's Porter Moser and Northern Illinois' Mark Montgomery are all entering their first season at their new homes. It will be the second year for Chicago State's Tracy Dildy, DePaul's Oliver Purnell and UIC's Howard Moore.
5. Jabari watch:
Simeon junior
Jabari Parker
continues to get better, and his recruitment is bound to only get more intense. Parker is coming off MVP honors while helping Team USA win the 16-U FIBA Americas championship. He isn't likely to make a decision until at least next summer, and that means the nation's top coaches will be recruiting him hard until then. DePaul, Duke, Georgetown, Illinois, Kansas, Michigan State and Washington are among the schools he's interested in.
6. Not the state's best:
Illinois was stacked in 2011. The state placed nine players in ESPNU's top 100. This year will be a different story. As of now, one player -- Simeon's Taylor -- is in the top 100 for the Class of 2012. A few others could end up on the list. Downers Grove South's
Jerron Wilbut
has proven himself as a scoring machine.
Jay Simpson
, who just transferred from Champaign Central to Indiana's La Lumiere, is also a candidate.
7: Back to the usual:
The Class of 2012 may be a down year for the state, but the talent quickly picks up again in the years following. The Class of 2013 has six players in ESPN's Super 60. The Class of 2014 has three players in the Terrific 25. There's a chance Simeon's Parker could end up the No. 1-ranked players in the Class of 2013, and Whitney Young's
Jahlil Okafor
could be the No. 1 player in the Class of 2014.
Anthony Davis
, who played at Perspectives in Chicago, was the No. 1 player in 2011.
8. Local tournaments:
The Tip-Off Classic will be at Riverside-Brookfield High School from Wednesday through Friday. The field includes the Illinois Warriors, Ferrari and PrymeTyme. More information can be found at www.773hoops.com. ... The D-I Elite tournament will be held at York High School from Friday through Monday. The tournament field is loaded with local talent. The Illinois Wolves, Mac Irvin Fire, MeanStreets, Illinois Warriors, Full Package and Illinois Heat are all expected to compete in it. More information can be found at www.bayloryouth.org. ... The King James Summer Showcase will be held in the northern suburbs from Saturday through Tuesday. King James has a lot of the nation's top out-of-state teams. Locally, Ferrari, Rising Stars and PrymeTyme are among the teams to see. The tournament's locations will include the Waukegan Field House, Ridgewood High School, Libertyville Sports Complex, Lake Zurich High school, Lake Barrington Field House and Joy of the Game. More information can be found at www.neobasketball.com.
9. The high school season is different:
East Aurora point guard
Ryan Boatright
, a Connecticut recruit, ended up No. 72 in ESPN's final Class of 2011 rankings and was behind four other Chicago-area players in the rankings. Despite that, Boatright earned the ESPNChicago.com Player of the Year award and Mr. Basketball with his play during the high school season. So no matter where players end up after being ranked this July, it likely won't have an impact on next year's high school season. It's important to remember the game is different during the high school and club seasons.
10. The search for another Anthony Davis:
They story of Davis is unlike any of the past. Davis went from being an unknown player in Chicago as a junior to now being considered the likely No. 1 pick in the 2012 NBA draft. Davis was discovered last summer on the club circuit. There probably won't be another player with as much talent who goes unnoticed like Davis, but there's sure to be a couple diamond in the roughs always discovered. Joliet West senior forward Marlon Johnson, who played for the Illinois T-Wolves, could be one to watch. He began to emerge in the spring and could have a big July period.
November, 8, 2010
11/08/10
8:09
PM CT
By
Dave Telep
| ESPNChicago.com
Ryan Boatright
gave a birthday present to his mom and a gift to Jim Calhoun all at the same time. The 6-foot-2 point guard out of Aurora (Ill.) East committed to the Connecticut Huskies after considering UNLV, Miami and Oklahoma.
Read the entire story.
October, 25, 2010
10/25/10
2:31
PM CT
East Aurora senior point guard Ryan Boatright will look at Connecticut, Oklahoma and UNLV after de-committing from West Virginia last week, according to ESPN.com senior recruiting analyst Dave Telep.

Boatright committed to West Virginia on Oct. 18, but backed out later in the week after the Mountaineers took a commitment from another Class of 2011 point guard. Boatright is ranked 36th in the country by ESPN recruiting.

"Boatright's a Top 100 player and there aren't many of them remaining, especially point guards," Telep said. "It would make sense that every program searching for a scoring answer from their lead guard position would touch base. It sounds like UConn already has."

Boatright was an ESPNChicago.com All-Area selection last season after averaging 26 points, six rebounds, five assists and four steals. Boatright committed to USC as a eighth grader, but de-committed when coach Tim Floyd left the program.

October, 18, 2010
10/18/10
5:01
PM CT
By
Brendan Murphy
| ESPNChicago.com
AURORA, Ill. -- ESPNU Top 100 prospect East Aurora senior point guard Ryan Boatright announced his commitment to West Virginia at a news conference on Monday.
Read the entire story.
TOP 25 SCOREBOARD
Saturday, 12/21
Monday, 12/23
Tuesday, 12/24
Thursday, 12/26
Friday, 12/27
Saturday, 12/28
Monday, 12/30
Tuesday, 12/31
Wednesday, 1/1
Thursday, 1/2
Friday, 1/3
Saturday, 1/4
Sunday, 1/5
Monday, 1/6
TOP PERFORMERS