Chicago Colleges:

Sam Stark
October, 10, 2014
Oct 10
10:00
AM CT
Week 7 is here, and let's not sugarcoat it: Big Ten football has looked more interesting on other weekends. This first Saturday of the season without nonconference action lacks marquee matchups. Still, the division races will continue to take shape.
Here's a look at the five games (all times Eastern):
Noon
Illinois (3-3) and Wisconsin (3-2)
, ESPN2: Will
Melvin Gordon
run for 300 yards? If the Badgers wanted it to happen, Illinois' 119th-ranked rushing defense would likely comply. More of the intrigue in Madison involves the quarterbacks. For Wisconsin,
Joel Stave
, who returned last week against Northwestern, will see time, in addition to
Tanner McEvoy
, who might also take a shot at receiver. And with Illinois'
Wes Lunt
out with a fractured leg, senior Reilly O'Toole and sophomore
Aaron Bailey
, who was set to redshirt, have competed in practice this week.
Indiana (3-2) and Iowa (4-1)
, ESPNU: Indiana has shown it can win on the road in tough spots, handing Missouri its lone loss on Sept. 20. The Hoosiers are more explosive on offense than any foe Iowa has faced. But Indiana still can't defend well, in particular against proficient quarterbacks. The Hawkeyes are going back to
Jake Rudock
at the start, but
C.J. Beathard
will play. How well can Greg Davis manage this? If it's a disaster, Indiana might just find itself in the right place at the right time for an upset bid.
[+] Enlarge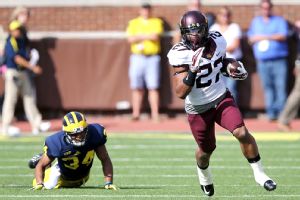 Leon Halip/Getty ImagesDavid Cobb and Minnesota can take a big step in their quest for a Western Division crown by beating Northwestern on Saturday.
Northwestern (3-2) at Minnesota (4-1)
, BTN: Who would have guessed a month ago, as the Golden Gophers fell flat at TCU and the Wildcats sat winless, that this game would have legitimate implications for the West Division title race? It does, with NU in quest of a third straight unexpected win to open league play. Its defense led the charge against Penn State and Wisconsin. Minnesota is simply solid, led by
David Cobb
, statistically the league's most valuable offensive player. Minnesota has defended the pass especially well in recent games and will test Northwestern's
Trevor Siemian
, 13th in the Big Ten in QBR.
3:30 p.m.
No. 8 Michigan State (4-1) at Purdue (3-3)
, ESPN2: At least it's not the best team in the Big Ten against the worst. Purdue escaped the low spot last week with a win over Illinois. And sophomore quarterback
Austin Appleby
looked good in the victory. Very good, in fact. Back at home, he figures to find a much more difficult situation against the Spartans, who might come in a bit angry after nearly blowing a 24-point, fourth-quarter lead against Nebraska.
7 p.m.
Penn State (4-1) at Michigan (2-4)
, ESPN2: The visitors from Happy Valley, after an off week, get an opportunity to show that their anemic performance against Northwestern was just a fluke. With an upcoming stretch of three challenging games, no better time exists for PSU to get healthy than at Michigan, trying to avoid its first 0-3 start in the Big Ten since 1965. Against a good Penn State front, the Wolverines must protect
Devin Gardner
and throw the football, neither of which they've done well in recent weeks.
Required reading
January, 22, 2014
Jan 22
2:30
PM CT
As the Big Ten prepares to officially welcome new members Rutgers and Maryland on July 1, the league is mobilizing to increase its brand in the valuable Northeast corridor.
The Big Ten will now regularly play games in Piscataway, N.J., and College Park, Md., and will likely be a bigger presence at neutral-site venues like MetLife Stadium in New Jersey and FedEx Field in Maryland.

But the Big Ten's signature football event, the championship game, likely isn't leaving the heart of the league.
The league hasn't started receiving bids for football title games in 2016 and beyond -- the 2014 and 2015 contests will be held at Lucas Oil Stadium in Indianapolis -- but feedback gathered from top athletics officials and faculty representatives last fall suggests the event will remain in the center of the conference footprint.
"We believe it makes more sense perhaps to be more centrally located rather than moving that around to avoid a bad geographic matchup," Big Ten deputy commissioner Brad Traviolia told ESPN.com.
Indianapolis has successfully hosted the first three title games and qualifies as a central location. Chicago's Soldier Field is another option, and centrally located cities such as Detroit and Cleveland also could be in the mix. The Big Ten considered bids from both Indianapolis and Chicago in 2011 before settling on Indy to
host the championship game from 2012-15
.
There's no firm timetable as to when formal discussions for future title games will begin, although there could be some when the Big Ten's joint group -- consisting of athletics directors, senior female administrators and faculty representatives -- meets again in February. The group met in the fall and concluded that keeping the game centrally located makes sense because only two schools participate and they aren't known until the week before the event. Those views were relayed to the league's presidents and chancellors, who met in Indianapolis after the championship game.
"Say you have an Indiana-Nebraska game at a New York- or a D.C.-type location, or if you had Purdue-Maryland and you had that in Minneapolis -- is that a good deal?" Traviolia said. "In talking through those things, we think football in the central region probably makes sense, and basketball, if we want to move around and be both in the East and the Midwest, basketball is probably the sport to do that."
[+] Enlarge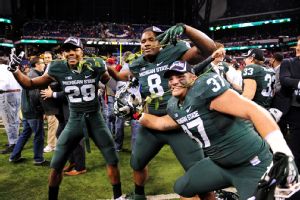 Allen Kee/ESPN ImagesThe Big Ten title game, played at Lucas Oil Stadium in Indianapolis through 2015, is likely to stay centrally located in 2016 and beyond.
The Big Ten men's and women's basketball tournaments have rotated between Chicago and Indianapolis -- and most recently Hoffman Estates, Ill., for the women's tournament -- throughout their existence. Both tournaments will take place in Indianapolis in March, before going to Chicago/Hoffman Estates in 2015 and back to Indy in 2016.
It's much likelier the basketball tournaments will take place in newer areas than the football championship.
"They're all-comer tournaments because you have all 14 teams that are going to be playing in them," Traviolia said. "Regardless of where you place it, you're going to have a team or two that basically will be a home team, whether it's Indiana and Purdue in Indianapolis or whether it's Maryland in D.C. or Rutgers and Penn State in New York."
Groups from both Indianapolis and Chicago have expressed interest in hosting football title games for 2016 and beyond. The Chicago group has enhanced its profile with the formation of a sports commission that helped promote last March's Big Ten basketball tournament, which set an attendance record at the United Center (124,543 fans during four days).
Sam Stark, executive director of Chicago's sports commission, told ESPN.com that the success of the Big Ten basketball tournament helped the city land other major college sports events like the
Frozen Four in 2017
and the
NCAA men's gymnastics championships in 2018
. Although there's some concern about holding the football title game outdoors at Soldier Field, there's much more that goes into a selection.
"The game and the venue is probably the easy part," Stark said. "Most of the opportunity lies in the development and the enhancements of programs and the brand you can create in the community. Soldier Field, they could host any event. A lot of it comes down to community building."
Indianapolis has a lengthy track record of hosting major sporting events, which is the main reason why the Big Ten selected the city for its first five football championship games (commissioner Jim Delany praised the city for delivering "turn-key events"). Indiana Sports Corp, the city's sports commission, has had discussions with the Big Ten about future football title games after receiving positive feedback about the first three events, particularly the most recent one in December.
"We love working with the Big Ten, we love hosting these 12, soon-to-be 14, schools," said John Dedman, vice president of communications for Indiana Sports Corp. "They're still making some timing decisions on their end. We know that here, sometime in the near future, we'll be looking to secure [future games]."
While it's likely the basketball tournaments will continue to rotate -- both Indianapolis and Chicago want to be in the mix -- the football title game also could move "around our central region" after 2015, Traviolia said.
"There's nothing in stone," Traviolia said. "Based on how our discussions with different venues go and how our internal planning goes, it may be ripe for more advance discussions with our schools come February, or it may not."
February, 25, 2013
2/25/13
12:21
PM CT
When Indianapolis and Chicago made bids to host the first set of Big Ten football championship games,
Indy won in a landslide
, as the Big Ten awarded it the title game through 2015.
A first-rate indoor facility (Lucas Oil Stadium) surrounded by restaurants and hotels certainly helped Indianapolis, but the
Indiana Sports Corp
-- the city's sports promotional and organizing arm -- put it over the top. Not only is Indiana Sports Corp the nation's first sports commission (founded in 1979), it's also one of the best,
bringing events
like the Super Bowl, the Final Four and the Olympic Trials to Naptown.
Marketing matters and so does logistics, and Chicago fell well short of Indy in those areas. But things are changing.
Chicago launched its own sports commission in 2011. It's part of
Choose Chicago
, the city's official tourism organization. Don Welsh, the president and CEO of Choose Chicago, previously had led the Indianapolis Convention and Visitors Association, which works directly with Indiana Sports Corp., and had held a similar post in Seattle, working with the Seattle Sports Association to bring major events to the Emerald City.
"He called and said, 'Where's your sports commission person?'" said Sam Stark, the executive director of the Chicago Sports Commission. "And people were like, 'We don't have a sports commission person.' So he said, 'Well, we will soon.' It's a big niche, and he wanted to make sure Chicago is at the table."
[+] Enlarge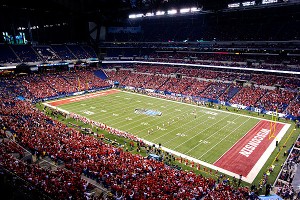 AP Photo/David StlukaA crowd of just over 41,000 watched the 2012 Big Ten title game in Indianapolis' Lucas Oil Stadium. Would a title game in Chicago pack the seats?
That person turned out to be Stark, who had
previously served as president and CEO
of the Central Florida sports commission in Orlando.
Advisory board members
for the Chicago Sports Commission include Chicago Cubs chairman Tom Ricketts, Chicago Bulls executive vice president Steve Schanwald and several marketing chiefs of pro teams in the city.
The Chicago Sports Commission is partnering with the Big Ten for the league's upcoming men's basketball tournament at the United Center. Along with Mayor Rahm Emanuel, the commission on Monday
announced a series of events
to be held in conjunction with the tournament, including a fan fest downtown at Daley Plaza, a tip-off luncheon and a VIP/alumni party. Chicago didn't have these events in the past, which hurt when the Big Ten moved the basketball tournament to Indianapolis in 2006. Indy and Chicago are co-hosting the event through 2015.
Indianapolis will host the football championship for at least another three seasons, but Stark would love to bring the event to Chicago in 2016.
"Just the synergy between the Big Ten and Chicago warrants a discussion about the event," Stark told ESPN.com. "The amount of alumni here in this market, it's an event that we need to look at. We'll first talk to the folks at [Soldier Field Management] and the Bears, and get their interest level. But on the surface, it certainly seems like an event that has a place in Chicago."
The bid process for the next set of football title games is at least a year away, and Stark hopes the upcoming basketball tournament will help his group formulate what works and what doesn't. The Chicago commission is working closely with the Big Ten and local Big Ten alumni groups leading up to next month's event.
"This is our first effort as a sports commission to welcome in the Big Ten in a way that hasn't happened before," he said. "This will allow us to sit down with them afterward and get feedback. This will really be the starter on those kinds of discussions."
One big difference between Chicago and Indy is the lack of an indoor facility, where many league title games are played. Weather can be a factor on the first Saturday of December, when the league title game will be held. But as many Big Ten fans have pointed out, it's part of the league's football fabric.
"Every school plays outdoors," Stark said, "so one week later, they can't play one more game outdoors? It's doable."
Attendance has been a challenge in Indianapolis for the first two Big Ten football championships -- last year's event drew only 41,260 -- and also for some recent basketball tournaments. Chicago could have an easier time there because there are
so many more Big Ten fans in the area
. A bigger obstacle for the city could be logistics, as Soldier Field isn't nearly as centralized as Lucas Oil Stadium.
But Stark is confident his group can "shrink Chicago."
"It's a different footprint, and that's fine," Stark said. "But with good planning and with good logistics, transportation and other elements, it's a very manageable city. That's been the bogeyman of Chicago, 'Aw, it's too big, the parking ...' It's really not.
"Once you have a group that's focused and dedicated on those things, you'll see we'll have a city that helps the fans, the athletes, the media, everybody."
Chicago has that group, and it should give Indy some real competition when the bidding process comes around again.
TOP 25 SCOREBOARD
Saturday, 10/25
Thursday, 10/23
Friday, 10/24
TOP PERFORMERS