Chicago Colleges:

Scott Powers
August, 18, 2011
8/18/11
5:21
PM CT
Illinois sophomore guard Joseph Bertrand continued to be the surprise of the team's Italy trip, scoring a team-high 18 points in the Illini's 131-65 win over Castellanza on Thursday.
It was the second game of the overseas trip Bertrand led the Illini in scoring. He also had a team-leading 14 points in Saturday's win over Roma Selezione.
Tyler Griffey (17 points), Brandon Paul (15 points), Ibby Djimde (14 points), Myke Henry (13 points), Meyers Leonard (10 points) and Nnanna Egwu (10 points) also contributed in the win.
Illinois shot 53 of 97 from the field and made off 11-of-20 3-pointers. The Illinois also out-rebounded Castellanza 41-26 and had 28 assists and 24 steals.
Illinois improved to 2-1 in Italy.
Illinois will play its final game in Italy on Friday against Fulgor Omegna.
March, 10, 2011
3/10/11
3:56
PM CT
INDIANAPOLIS -- Here's a quick look at Northwestern's 75-65 win over Minnesota in the first round of the Big Ten tournament on Thursday.


How the game was won:
Northwestern senior
Michael Thompson
wasn't going to let his NCAA tournament dream die just yet. Thompson went off for a career-high 35 points, which included 22 second-half points. Minnesota had no answer.
Key stretch:
With Minnesota leading 44-42, Northwestern went on a 13-1 run and put the game away.
Alex Marcotullio
and Thompson combined for 11 points in the run.
Stat of the game:
Northwestern took care of the ball. The Wildcats committed just five turnovers compared to Minnesota's eight. Northwestern had been averaging 10 turnovers a game.
Player of the game:
Thompson nicked himself Juice as a kid because he said his shot was pure as juice. On Thursday, he lived up to that. He drained five 3-pointers.
Minnesota player of the game:
Trevor Mbakwe
bounced back from a poor first half and finished with 19 points and 11 rebounds. He had just four points and three rebounds at the half.
Unsung hero of the game:
Northwestern sophomore guard Alex Marcotullio was inserted in the starting lineup for the first time since December due an injury to freshman
JerShon Cobb
. Marcotullio didn't let the Wildcats down. He scored 13 points, grabbed six rebounds, passed out two assists and had two steals. Coming off an 18-point game, it was the first time Marcotullio had back-to-back games of double digits this season.
SportsCenter highlight of the game:
Off the opening tip, Minnesota's Rodney Tip caught the ball, found a wide-open lane to the hoop and threw down a monstrous two-handed dunk.
What the game means:
Northwestern will see at least one more day of Indianapolis. The Wildcats likely secured themselves at least an NIT bid. They now face Ohio State on Friday. Expect them to slow the game as slow as possible to give themselves a shot at upsetting the top-ranked Buckeyes. The plan nearly worked the last time the two teams met, and Ohio State pulled out a one-point win on Northwestern's home court. For Minnesota, it's the end of a trying season. The Golden Gophers had the making of a NCAA tournament team, but couldn't overcome a variety of adversities.
March, 9, 2011
3/09/11
3:45
PM CT
Illinois' and Notre Dame's seeds didn't change in ESPN bracketologist Joe Lunardi's latest bracket on Wednesday, but their opponents did.

Illinois remained a No. 9 seed in the West region, and Lunardi now has the Illini facing No. 8-seeded Old Dominion in the opening round. Old Dominion won the Colonial Athletic Association championship and has won 11 of its last 12 games.

The Irish continued to be a No. 2 seed in the East region, and Lunardi has them meeting No. 15-seeded Northern Colorado in the round of 64 in Chicago. Northern Colorado is favored to win the Big Sky tournament.

The Illini open the Big Ten tournament against Michigan on Friday, and Notre Dame plays the winner of South Florida and Cincinnati in the Big East quarterfinals on Friday.

The Big Ten still also had six teams in the bracket. Ohio State (No. 1 seed), Purdue (No. 3), Wisconsin (No. 4), Michigan (No. 11) and Michigan State (No. 11) were included with Illinois.

December, 30, 2010
12/30/10
10:12
AM CT
EVANSTON, Ill. -- Injured Northwestern junior quarterback
Dan Persa
may not be able to contribute first downs and touchdowns at the TicketCity Bowl on Saturday, but the Wildcats' captain will attempt to assist in every other way while in Dallas.
After rupturing his Achilles tendon against Iowa on Nov. 13, Persa attended Northwestern's final two regular-season games against Illinois and Wisconsin, but being on crutches immobilized him, and he felt useless on the sideline.
Since then, Persa's recovery has progressed. Ahead of schedule, he recently ditched the crutches and was upgraded to a walking boot. While he isn't flying around as he did on the field for Northwestern this season, he still has a quick step and can get around with ease.
On Saturday, Persa plans to make his way up and down Northwestern's sideline, encouraging his teammates and doing whatever he can to help the team's two young quarterbacks: Redshirt freshman
Evan Watkins
and freshman
Kain Colter
.
"The past few games I've pretty much been immobile, so I couldn't say too much to them," said Persa, who was an All-Big Ten first-team selection by the conference coaches. "Hopefully, I'll be able to say more to them during the bowl game.
"It's weird, because you can't say as much because you're just not playing. You can talk to the guys kind of behind the scenes on the field, but you can only say so much because you're not out there. That's the hardest part."
Not playing has been a struggle for Persa, but he's come to terms with the situation.
"I want to be out there," Persa said. "I want to play, but I know I can't. I've kind of accepted that and moved on from that."
Persa has taken a few positives from his experience. For one, he's learned the game he loves can be taken away from him just like that.
"You never know when it's going to end," Persa said. "It's obviously not ending for me, but you never know when the season is going to end. It can happen pretty quick."
Persa can now walk without the boot, but feels more protected with it. He expected to remove the boot for good in about three weeks and should be ready for a spring practice return.
November, 19, 2010
11/19/10
5:44
PM CT


Illinois (5-5) vs. Northwestern (7-3) on Saturday
When, where
: 2:35 p.m. at Wrigley Field in Chicago
TV
: ESPNU
Radio
: WIND-560 AM, WGN-720 AM
Web:
ESPN3.com
What you need to know:
The actual game between Illinois and Northwestern has almost become secondary to everything else that has occurred this week leading up to the first football game at Wrigley Field since 1970. The biggest news came Friday when the Big Ten decided only the west end zone would be used due to concerns over the proximity of Wrigley's right-field wall to the east end zone. As for the game, it's a vital one for Illinois. The Illini are coming off an embarrassing home loss to Minnesota and still need another win to become bowl eligible. Illinois' defense has been suspect over the last few weeks and may need to straighten itself out to save coach Ron Zook's job. Northwestern does have its own issue. After delivering the game-winning touchdown pass against Iowa last week, junior quarterback Dan Persa, who had been among the best in the country, suffered a season-ending injury. In steps redshirt freshman Evan Watkins to make his first collegiate starter. The Wildcats have put themselves in a favorable position now with seven wins.
Scott Powers' prediction:
Northwestern 27, Illinois 21


Notre Dame (5-5) vs. Army (6-4) on Saturday
When, where:
6:30 p.m. at Yankee Stadium in New York City
TV:
NBC
Radio:
WLS-AM 890.
Web:
und.com, goarmysports.com
What you need to know:
Confidence is high for Notre Dame, which got back to .500 with a dominant performance against Utah in a 28-3 victory last weekend. Army beat Kent State last week to become bowl eligible. The 50th installment of this great rivalry picks up after the Irish topped the Black Knights in 2006. The top storyline for Notre Dame is whether or not it can stop a triple-option offense after struggling mightily against the same look versus Navy. If Brian Kelly's squad can make the necessary adjustments, it will earn a postseason invitation that looked unlikely just a couple weeks ago. Freshman quarterback Tommy Rees was poised against the Utes, completing 13-of-20 pass attempts for 129 yards and three touchdowns. Senior receiver Duval Kamara, getting more playing time due to many injuries on that unit, caught two of those TDs. Notre Dame, led by sophomore Cierre Wood, also managed to put up 127 rushing yards against Utah. Safety Harrison Smith continues to have a banner season with three interceptions for ND. Army averages less than 90 yards passing per game but moves the ball effectively on the ground, averaging 273 yards per contest. Paced by Jared Hassin, the Black Knights boast four players averaging over 40 rushing yards per game, including QB Trent Steelman, who also has thrown for five scores.
Wes Morgan's prediction:
Notre Dame 31, Army 24.


Northern Illinois (8-2) at Ball State (4-7) on Saturday
When, where:
11 a.m. at Scheumann Stadium in Muncie, Ind.
TV:
None
Radio:
WSCR-670 AM
Web:
NIUHuskies.com
What you need to know:
Northern Illinois is one of the hottest teams in the country right now. The Huskies have won seven straight and should make it eight against a Ball State team that has struggled for most of the season. Northern Illinois also had had plenty of time to prepare for this game with its last one occurring on Nov. 9. Running back Chad Spann and quarterback Chandler Harnish have been stellar all season. Spann has rushed 1,070 yards and 15 touchdowns. Harnish has compiled 2,309 total yards of offense and scored 18 touchdowns.
Powers' prediction
: Northern Illinois 38, Ball State 13

Indiana State (6-4) at Southern Illinois (4-6) on Saturday
When, where
: 1 p.m. at Saluki Stadium in Carbondale, Ill.
TV:
None
Radio:
None
Web:
SIUSalukis.com
What you need to know:
The 2010 season has been a rocky one for Southern Illinois, but the Salukis can end it on a high note with a win over Indiana State. Southern Illinois is coming off a 20-10 win over Western Illinois. Jayson DiManche had three sacks in the win, Western Illinois had negative seven yards rushing against the Salukis' defense. Indiana State's last five games have been decided by 12 points or less.
Powers' prediction
: Southern Illinois 27, Indiana State 24


Northern Iowa (7-3) at Western Illinois (6-4) on Saturday
When, where: 1 p.m. at Hanson Field in Macomb, Ill.
TV: None
Radio: None
Web: GoLeathernecks.com
What you need to know: Western Illinois has yet to lose at Hanson Field this season. The Leathernecks are 5-0 at home and 1-4 on the road. Western Illinois ranks second in total offense in the FCS. It would help its chances of receiving an FCS Playoffs' berth with a win over a tough Northern Iowa team. The Panthers have defeated Western Illinois in six of their last seven meetings.
Powers' prediction: Northern Iowa 37, Western Illinois 31
October, 13, 2010
10/13/10
6:31
PM CT
[+] Enlarge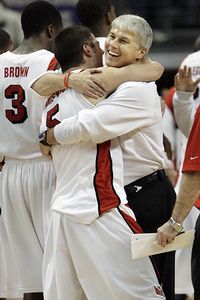 AP Photo/Laura RauchBradley head coach Jim Less hugs Sam Maniscalco after defeating Illinois 72-68 at an NCAA college basketball game at the Las Vegas Invitational in Las Vegas. Les wants Maniscalco to assume more leadership this season.
Five questions with Bradley coach Jim Les
You return a bulk of your team from last season, including your top three players. What are the expectations this season?
Jim Les: I think we have high expectations, not only from the coaching staff, but the players themselves. These guys last year logged a lot of minutes, got a lot of valuable experiences, and that's not enough to parlay into the following season into having success. What they did is they took that success and had a really good offseason. They were here all summer. They all got bigger, faster and stronger. For me, that's parlaying last year and putting in the necessary time and work to capitalize on that this year. I think all of our expectations are high and should be.

This team looked so good at times and so-so at other times last season. What was the difference between those two teams last season, and how do you fix that this year?
JL: I think it was a lot of factors that were a product of our youth, a product of new guys being thrust into situations that they weren't familiar with and sometimes not comfortable with. I would be extremely worried about that if they never showed me the type of basketball they're capable of, which they did beating Illinois, beating a ranked Northern Iowa team. Doing those type of things showed me the capability is there. You feel like you have to harness those moments and realize one of our goals going into this year is having consistency. Be sure the team that showed up on those nights shows up on every night.

Heading into your ninth season at Bradley, where do you feel the program is right now?
JL: I think I'm happy with the overall culture of the program. We went through a number of years facility-wise where we had some deficiencies, and we had to weather those years not being up to caliber in terms of the resources we could offer. We've now moved into to a $25 million dollar practice facility that is state of the art and off the charts. That's really positive. Our kids do really well in the classroom. Our team had a B average last year, and we graduate our kids. We have been able to establish a consistency in our program with 20-plus wins over the last five years. With the experience of this team and the resources we have, I think it's time for us to take another leap. We need to seek out championships and [NCAA tournament] bids year in and year out, and I think that's reasonable.

Sam Maniscalco and Andrew Warren make up one of the best backcourts in the Missouri Valley. What do you expect from them this season?
JL: I think first and foremost to provide leadership for our team. These guys have logged a lot minutes; they have an understanding of our system and understand what it takes to be successful at our level. We need them to provide leadership by example in every practice and in every game. The second thing is consistency in their production. Those are two guys who can have a major impact in a game. I think they're coming into this year looking to shoulder that responsibility. The direction of the team and the young guys following will be directed by their tone. I'm not worried about their offense. They're going to score points. They're too skilled not to expect them to. Where they're going to leave their mark is their defensive production and leadership on that end of the floor.

How did the opportunity come out to play at Duke, and what does that game mean for this program?
JL: I think every year we've been aggressive in scheduling since I've been here. It's a matter of making the phone calls and seeing what works and what fits. We're excited to play what I think will be the No. 1 team in the country in Duke and having the experience of playing at Cameron Indoor. What a challenge it'll be for us to find out who we really are. We'll get a good snapshot of who we are and what we need to get better at as we approach the rest of the non-conference schedule and the rest of the season in playing in that environment and against that type of team. We're looking forward to that challenge and grateful that Duke gave us an opportunity.
October, 9, 2010
10/09/10
4:08
PM CT
Football dynamic duos normally consist of a quarterback and a wide receiver; two running backs or maybe even a pair of defensive backs.

Illinois possesses a unique duo. The Illini are powered by the legs of junior kicker Derek Dimke and senior punter Anthony Santella.

Dimke and Santella have proven to be two of the best at their respective positions in 2010, and they continued to show that in Illinois' 33-13 upset win at Penn State on Saturday.

Dimke was a perfect 4-for-4 on field goals and 3-for-3 on extra points against the Nittany Lions. He connected on field goals of 31, 37, 41 and 50 yards.

For the season, he's 10-of-11 on field goals and 12-of-12 on extra points. His long field goal for the season was a 52-yarder against Missouri, and his only miss was a 41-yard attempt against Ohio State.

Dimke should be among the nation's leaders in field goals after his performance on Saturday. Two kickers, one of them being Penn State's Colin Wagner, were tied for first with 11 field goals heading into the week. Wagner hit two against Illinois.

Santella entered Saturday ranked fourth in the country in punting with a 48.3 average. On Saturday, his averaged dropped to 47.8 yards, but that was due to a situational punt. He would have stayed right on his average with his two 48-yard punts on Saturday, but he also had a 39-yarder that landed on Penn State's 10-yard line. All three of Santella's punts were to the Nittany Lions' 20 or better.

Santella has had nine punts of 50 or more yards this season, has placed seven of his 24 punts inside the opponent's 20-yard line and has four touchbacks.

TOP 25 SCOREBOARD
Thursday, 10/2
Friday, 10/3
Saturday, 10/4