Chicago Colleges:

Shaka Smart
March, 16, 2013
3/16/13
2:10
PM CT
Here's a look at potential candidates for Northwestern, who
fired Bill Carmody
on Saturday after 13 years at the school:

Harvard head coach Tommy Amaker:
Amaker has won and recruited well at Harvard. The Crimson are headed to their second consecutive NCAA tournament under Amaker, who has a 111-64 record in six seasons at the school. He also has Big Ten experience with six seasons as Michigan's head coach.

Duke assistant coach Chris Collins:
Collins' name has been thrown around a lot if Northwestern's job ever opened. This could be the ideal first head position for him. He has been on Duke coach Mike Krzyzewski's staff since 2000 and was promoted to associate head coach in 2008. He grew up in Northbrook, Ill. and is the son of NBA coach Doug Collins.
Valparaiso head coach Bryce Drew:
Drew has succeeded quickly at the Valparaiso. The program is headed to the NCAA tournament in his second season as head coach. The Crusaders are 48-19 overall and 27-7 in conference in the past two years. He's recruited the Midwest and comes from a coaching family.


Northwestern assistant coach Tavaras Hardy:
Hardy is a longshot, but he fits the mold of what Northwestern athletic director Jim Phillips likes in his football coach Pat Fitzgerald. Hardy is a former Wildcats' player and a longtime assistant. If he doesn't get a shot at the job, he could be retained on the staff.

Princeton head coach Mitch Henderson:
Henderson, a former Northwestern assistant, is in his second season as Princeton's head coach. The Tigers were 17-11 overall and 10-4 in the conference this season.

Richmond coach Chris Mooney:
Mooney's stock may have cooled off a bit since Richmond's back-to-back NCAA tournament appearances in 2010 and 2011. Richmond has remained competitive in the Atlantic 10 and is still only 40 years old. He did sign a 10-year deal with Richmond in 2011.

Bucknell coach Dave Paulsen:
Paulsen was able to turn Bucknell's program around. Bucknell was 7-23 in Paulsen's first season, and he's since coached the Bison to two NCAA tournaments in five seasons at the school.

Oregon State head coach Craig Robinson:
Robinson, another former Northwestern assistant, would have been a more likely candidate the past few seasons. The Beavers have struggled this season with a 14-18 overall record and 4-14 Pac-12. He has been at Oregon State for five seasons and has recruited the Chicago area.
VCU head coach Shaka Smart:
Smart wasn't interested in any openings last season, but the idea of leading Northwestern to its first NCAA tournament could be enticing to some high-profile coach. It's worth at least a phone call.

Wright State head coach Billy Donlon:
Donlon has Wright State moving in the right direction in his third season. The Raiders lost in the Horizon League tournament championship game and finished third during the conference season. The 36-year-old Donlon is originally from Northbrook, Ill. and has recruited the Chicago area.

Lehigh head coach Brett Reed:
The 40-year-old Reed has developed Lehigh into a consistent winner in his six seasons there. The Mountain Hawks have won 20-plus games three of the last four years and been two NCAA tournaments. Lehigh shocked Duke in the tournament last season.
March, 28, 2012
3/28/12
10:53
PM CT
Sources say Illinois has finally landed its new coach in John Groce after what appeared to be another bumpy journey for Illini athletic director Mike Thomas.
[+] Enlarge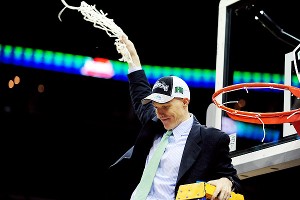 Andrew Weber/US PresswireJohn Groce's teams at Ohio won when it mattered most -- the postseason.
From the outside looking in, the Illini's search for Bruce Weber's replacement didn't appear to go according to plan -- much like Illinois' football search.
VCU's Shaka Smart was thought of as the holy grail, but he turned down the Illini's offer and released a public statement that he was remaining at VCU on March 21.
Illinois next went after Butler's Brad Stevens, another big fish, and also failed to reel him in. Stevens released a similar public statement that he was staying at Butler on Sunday.
Groce may not be Illinois' No. 1 choice -- a lot like football coach Tim Beckman didn't seem to be -- but it doesn't mean he can't succeed in Champaign.
Groce's MAC record (34-30) isn't impressive, but his teams have come through when it has mattered most. The Bobcats won the MAC tournament as a No. 9 seed in 2010 and went onto upset Georgetown in the NCAA tournament. This season, they upset Akron to win another MAC tournament and advanced to the Sweet 16 by knocking off higher seeds Michigan and South Florida and only lost top top-seeded North Carolina in overtime.
Groce's recruiting success at Ohio State is what should give Illinois' fans hope. He landed Greg Oden and Mike Conley Jr. from Indiana. If he can duplicate that success in Chicago, the Illini should be in great shape. One of the biggest knocks on Weber was he was unable to lure the state's top recruits.
Groce plays an up-tempo style of offense that allows his players freedom, but he also emphasizes an aggressive man-to-man defense. Ohio ranked third in scoring offense and third in scoring defense in the MAC this season. His team also shot a MAC-high 809 3-pointers, which was 190 more than the next team, and led the conference with 9.4 steals a game this season.
March, 23, 2012
3/23/12
2:35
PM CT
One of Chicago's most powerful club high school coaches said Friday he doesn't believe Shaka Smart turned down Illinois' offer because of his reluctance to deal with Chicago recruiting and believes the perception of the city's recruiting is wrong.
Mike Irvin runs one of Chicago's most recruited club programs, the Mac Irvin Fire. Its recent players include McDonald's All-Americans
Wayne Blackshear
and Jereme Richmond, Illinois sophomore Meyers Leonard and Ohio State freshman
Sam Thompson
. The Fire's current roster includes the nation's No.1 junior
Jabari Parker
and No. 2 sophomore
Jahlil Okafor
.
According to sourced reports, Smart was turned off by the politics of Chicago recruiting, and that played a factor in his decision to reject Illinois' offer. Irvin said Smart has recruited Chicago before and doesn't believe that soured Smart on the Illinois job.
"Shaka knows he can come in and recruit kids from here," said Irvin, who took over the program for his recently deceased father Mac Irvin. "When Shaka was (an assistant) at Florida, all of our guys had Florida on their list. I didn't even know who Shaka was before, and he called me 90 times before he got a hold of me. He knows he can come in here."
March, 21, 2012
3/21/12
5:24
PM CT
The quality of the Illinois job doesn't change because Shaka Smart doesn't want it.

It may not have not been the right fit for Smart, who also might be waiting for a more high-profiled position to open, but Illinois remains to be a top-15 job with or without him.

Unfortunately for Illinois, Smart and even Butler's Brad Stevens can pass on the Illini's offer and still end up with a better job. They've placed themselves into that elite pool of coaches with their success and proven charisma over the past few seasons. They will be top candidates for jobs such as Connecticut or Syracuse if they become available in the next few years.


March, 21, 2012
3/21/12
2:43
PM CT
Illinois will have to move onto Plan B now that VCU coach Shaka Smart has
turned down its offer
.
The question now is whether Illinois and its athletic director Mike Thomas have a legitimate Plan B.

There have been a lot of names thrown around for Illinois' search, but no one else has appeared to be a prime target like Smart, who was undoubtedly the big fish Illinois was using all of its resources to try to reel in.
Among the other have names linked to Illinois' search have been Alabama's Anthony Grant, Baylor's Scott Drew, Butler's Brad Stevens, Duke's Chris Collins, Stanford's Johnny Dawkins, Florida State's Leonard Hamilton, Wichita State's Gregg Marshall, Kansas State's Frank Martin, Memphis' Josh Pastner, Ohio's John Groce, Simeon high school's Robert Smith, Washington's Lorenzo Romar and Reggie Theus.
It could be anyone's job after Smart passed on it.
Race could still play a factor in Illinois' hiring. The Illini have never hired an African-American head coach in men's basketball or football. Thomas has attempted to do so in both sports since being hired last year, but Kevin Sumlin reportedly declined Illinois' football offer and now Smart has done so in basketball.
March, 19, 2012
3/19/12
8:07
PM CT
The University of Illinois has targeted VCU's Shaka Smart as its top choice to replace Bruce Weber, according to a source familiar with the situation.
Smart's Rams lost to Indiana on Saturday, ending their season in the round of 32. VCU became just the third No. 11 seed in NCAA tourney history to make it to the Final Four in 2011, after which Smart signed an eight-year extension.
Read the entire story.
March, 9, 2012
3/09/12
2:48
PM CT
Bruce Weber's greatest failure was never turning Deron Williams into Derrick Rose.
Or Eric Gordon.
Or Jon Scheyer.
Weber, a nice-enough guy and a good-enough coach, never evolved into the head salesman of a program.
A once-in-a-program trip to the national championship game never amounted to a top-flight in-state recruit committing to Illinois (besides cautionary tale Jereme Richmond). It never evolved into another trip into the second weekend of the NCAA tournament.
Read the entire story
.
TOP 25 SCOREBOARD
Thursday, 10/2
Friday, 10/3
Saturday, 10/4