Chicago Colleges:

Shannon Smith
June, 7, 2011
6/07/11
4:29
PM CT
NEW YORK -- Shannon Smith of Northwestern has won the Honda Sports Award as the top woman in college lacrosse.
Read the entire story
.
May, 29, 2011
5/29/11
6:14
PM CT
STONY BROOK, N.Y. -- Northwestern won its sixth NCAA women's lacrosse championship in seven years Sunday, getting four goals from Shannon Smith, including the game-winner with 4:36 remaining, in an 8-7 victory over top-ranked Maryland.
Read the entire story.
May, 27, 2011
5/27/11
3:47
PM CT
EVANSTON, Ill. -- There are other lacrosse players throughout the country as competitive as Northwestern junior Shannon Smith.
There are only a handful as skilled.
But there may not be anyone as competitive and skilled as Smith.
[+] Enlarge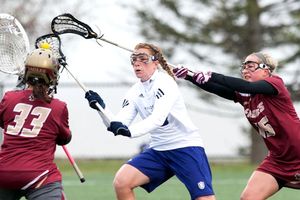 Northwestern athletic communicationsNorthwestern's Shannon Smith leads the nation with 119 points, which is 20 more than the next person.
Smith has used the postseason to prove that, scoring five goals in each of the Wildcats' past four games. She accounts for 26 points in that span, helping Northwestern win the American Lacrosse Conference tournament and reach its seventh consecutive Final Four.
Northwestern faces North Carolina in the NCAA semifinals on Friday.
Smith leads the nation with 119 points, which is 20 more than the next person, tops it with 78 goals and ranks seventh with 41 assists. She's three goals shy of tying Northwestern's single-season record.
"I think the thing that impresses me the most about Shannon is her will to win," Northwestern coach Kelly Amonte Hiller said. "She is just a competitor. In any given situation where the game is on the line or people are nervous or whatever the situation is, her will to win exceeds any other characteristic, and it gives every other person on the field confidence."
Smith's competitive side has been at full tilt since Northwestern lost back-to-back games to Florida and John Hopkins in April. The two losses ate at Smith, and she promised herself and her teammates that she wouldn't allow it to happen again.
"I took those extremely personal," Smith said. "I looked inside myself, and I realized I had to push it a lot more, and I needed to push my teammates a lot more, and I needed to challenge myself."
Opponents have tried to present their own obstacles for Smith.
In the game following Northwestern's second loss in April, Ohio State pulled within 8-7 in the early minutes of the second half. Northwestern answered with four consecutive goals. Smith scored two of them and dished out an assist on another. A game later, Smith scored seven goals and had one assist in Northwestern's 12-11 win over Stanford.
As good as Smith was in those games, they were nowhere near the performance she gave against Florida in the ACL tournament championship. The Gators took an 8-5 lead with 13:17 left and appeared to be on the verge of knocking the Wildcats off for the second time this season.
Smith had other plans. She scored with 12:02 remaining to make it an 8-6 game. She scored again 1:02 later to make it 8-7. Following back-to-back goals by her teammates, Smith added one more goal to seal the game. Florida scored a late goal, and Northwestern won 10-9.
"She basically said, 'No, this is not happening,'" Amonte Hiller said. "She put the team on her back and just made plays. Her will to win inspired everyone."
Smith said: "I was going to do whatever it took to get that ball in the net."
Smith's skill level -- she was playing on her high school varsity team as a seventh-grader -- and score-at-all-cost mentality has made for some memorable goals. She's found the net with under-handed and over-handed shots, off spin moves, by beating multiple defenders, tricking goalies with fakes and every other way.
Smith's favorite goal of the year came against William and Mary at Cowboy Stadium. She was sprinting up the left wing when a defender emerged. Smith spun to her right and in one motion dropped her stick and flung the ball under-handed into the top right corner of the net.
"One of my coaches bet me I couldn't do it again," Smith said.
A game later, she repeated the feat against Syracuse.
Despite Smith's success this season, she's far from content. Going into the weekend, she still was in search of that ever-elusive perfect game.
"If you're a competitive person and you want to be the best, you're going to very critical in everything you do," Smith said. "Even if you do have that perfect game, you're still going to find something in there that you could have done better. I'm always looking to get better. I just want to be the best."
TOP 25 SCOREBOARD
Saturday, 12/21
Monday, 12/23
Tuesday, 12/24
Thursday, 12/26
Friday, 12/27
Saturday, 12/28
Monday, 12/30
Tuesday, 12/31
Wednesday, 1/1
Thursday, 1/2
Friday, 1/3
Saturday, 1/4
Sunday, 1/5
Monday, 1/6
TOP PERFORMERS