March, 19, 2012
3/19/12
4:48
PM CT
Former Illinois coach Bruce Weber is expected to interview for Southern Illinois' vacancy and is one of the school's top targets, according to a source familiar with the situation.
Read the entire story.
March, 9, 2012
3/09/12
3:24
PM CT
The assumption is Bruce Weber will return to coaching somewhere in the near future after he was fired by Illinois on Friday.

But could that somewhere be Southern Illinois, the school Weber departed to end up at Illinois?

Weber coached Southern Illinois from 1998-2003, went to two NCAA tournaments and left there with a 103-56 record. It was Weber's first head coaching position after spending 18 seasons as a Purdue assistant coach.

Southern Illinois' position opened March 2 when Chris Lowery was fired after his program took a similar dip to Illinois'. Southern Illinois went to the Sweet 16 under Lowery in 2007, but he failed to reach the NCAA tournament again and suffered his second consecutive losing season.

Southern Illinois athletic director Mario Moccia is currently undergoing a coaching search and declined comment Friday through a school spokesperson on whether Weber could be a candidate.

"Mario is keeping a low profile during the search process and not doing interviews," Southern Illinois spokesperson Tom Weber wrote in an email.

Moccia was previously asked if Weber was a possibility at Southern Illinois during the press conference to announce Lowery's dismissal.

"I wouldn't rule anybody out," Moccia said on March 2. "I'd hate to speculate on coach [Weber] because he's still coaching at U of I. I think once you join the Saluki family, whether you're an athletic director that's been here six years or somebody like Mike Reis who's been here 30, I root for coach, I root for Matt Painter, so I want them to do well, so I'd hate to speculate on that. I hope he wins big and finishes out his contract at U of I."

Weber's allegiance to his former assistants could play a factor in the job. Lowery was an assistant to him and so was Rodney Watson, who is considered one of the favorites for Southern Illinois' position. Watson is now the head coach at Southern Indiana.
March, 2, 2012
3/02/12
4:49
PM CT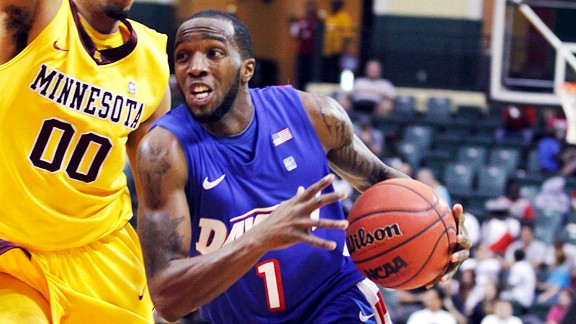 AP Photo/Reinhold MatayKevin Dillard left SIU for Dayton, where he's averaging 12.9 points.
Chris Lowery's descent at Southern Illinois was triggered not by who he was able to recruit, but who he failed to retain.
After the Salukis made a run to the Sweet 16 in 2007, Lowery was on top of the mid-major world. His name began being tossed around for high-major jobs, and he was rewarded by Southern Illinois with a seven-year extension worth $750,000 a year.
He was beloved by the university, the fans and, yes, recruits. Southern Illinois was getting in with an even higher level of player, and it began paying off in the 2007 class by receiving a commitment from guard
Brandon Wood
. In 2008, Lowery added even more star power with top-100 recruit
Anthony Booker
and Illinois Mr. Basketball
Kevin Dillard
. The 2008 group fell just outside of ESPN's top-25 classes and received honorable mention.
The honeymoon wouldn't last long. Lowery was used to coaching a certain type of player who played defense first and was willing to sacrifice their individual games for the sake of the team, and his new recruits didn't fit the typical Southern Illinois mold.
By April of 2010, all four 2008 recruits -- Booker, Dillard, Torress Roundtree and Ryan Hare -- were gone from the program.
"SIU was never a good fit for Kevin Dillard," long-time Illinois AAU coach and recruiting analyst Larry Butler said on Friday. "Booker and all those guys weren't a fit for Chris. He started going after finesse guys when they built the program on meat grinders. He stopped recruiting the type of kids Matt Painter and Bruce Weber built the program with. They turned the corner with tough, hard-nosed kids.
March, 10, 2011
3/10/11
4:29
PM CT
Southern Illinois coach Chris Lowery received a vote of confidence from athletic director Mario Moccia at a joint press conference on Thursday despite pressure from fans and alumni to fire him.

Moccia and Lowery acknowledged the program needed to be better, especially in retention of players, and there would be changes made, including ones to Lowery's staff. The staff changes were not disclosed.

"Our program is not where it needs to be at this point and time," Moccia said.

Southern Illinois is coming off a season where it was 13-19 overall and 5-13 in the Missouri Valley. It was the Salukis' third consecutive losing season under Lowery.

Lowery was among the hottest coaches in the country from 2004-2007 after compiling a 78-26 record and reaching three NCAA tournaments, which included a Sweet 16 run. He was given a seven-year extension in 2007 at $750,000 per season. He also brought in a top-30 nationally ranked recruiting class in 2008, which included Illinois Mr. Basketball Kevin Dillard.

But the Salukis haven't reached the NCAA tournament since 2007, and everyone in that touted 2008 recruiting class has left the program.

"I haven't at any point of my life lost," Lowery said. "Where the program is now, I apologize to our students, fans and alumni. We shouldn't be at this point."

Lowery said among the keys to returning Southern Illinois to the top of the Missouri Valley was recruiting players who fit his program better.

Moccia would not say whether next season would be a make-or-break one for Lowery.

TOP 25 SCOREBOARD
Friday, 11/28
Thursday, 11/27
Saturday, 11/29
TOP PERFORMERS