Chicago Colleges:

Skip Holtz
October, 21, 2013
10/21/13
9:00
AM CT
The hardest part for
Aaron Lynch
was not Notre Dame's sudden resurgence without him. The Fighting Irish did just fine after his departure -- they ran the regular-season table and making the BCS national title game -- but it did not really matter much to the ballyhooed South Florida defensive end.
But Lynch could not avoid the talk last season of what he was missing out on roughly 1,000 miles to the North -- be it from classmates on his new campus in Tampa, Fla., or from teammates inside the Bulls' locker room, where the televisions were always tuned to ESPN, inevitably serving as a talking point about what could have been.
[+] Enlarge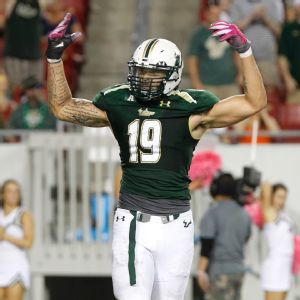 Kim Klement/USA TODAY SportsAaron Lynch never looked back with regret on leaving Notre Dame, even as the Fighting Irish were making a run to the BCS title game.
"The only thing that was tough was always having to hear about it," Lynch told ESPN.com. "People were always talking to you about it; that got annoying. I was like, 'You're the reason why I came here, and you need to understand that none of that really matters to me because I left that place for a reason.'
"If I was feeling a certain way about that then, I should have never left. People would be like, 'Why are you so mad?' That's all you guys talk about: 'Oh, you could've done this and done that.' I don't want to hear that, because if that's what I wanted, I would've stayed there."
A precocious pass-rusher who was out of his comfort zone two years ago at Notre Dame finds himself more at home now as a junior, some two hours away from his mother, Alice, who is now in Fort Myers. He had his long-awaited breakout for the Bulls in his last game, returning a fumble 44 yards for his team's only touchdown in a 13-10 win over UConn. He recorded his first sack in a USF uniform as well.
Teddy Bridgewater
and a Louisville team that -- for now, at least -- sports a worse league record than the 2-0 Bulls come to town this Saturday, a rare American Athletic Conference matchup that features two potential high first-round draft picks.
It is another contest that Lynch is just happy to be playing in after a frustrating year as a transfer. The sting of knowing he would not play in 2012 became too much to bear as the season approached, so he sat down with his fellow defensive linemen and then-coach Skip Holtz and asked if they would mind if he did not join them on the sideline for home games.
They granted his wish, with plenty of homework assignments accompanying his home viewings of the games.
"I was never like, 'Awww man, I can't believe this' -- I was more of a coach because that's what the D-line wanted," Lynch said of watching games from home. "They said if you're not going to be at the game, then we want to see how we're doing on TV so you can tell us what we need to do, or things that we don't see on the field that you do see that's off the field. You can pause and rewind and stuff like that.
"So that's what I did. That was really my job as a D-line brother and as a teammate. When I watched the game, I wasn't watching the game as if I was watching the Patriots and the Ravens go at it. I was watching it as if I was watching game film."
For a former freshman All-American who had 5.5 sacks in 2011 while causing as many headaches for his own team as he did his opponents, this was a different kind of challenge. Weight disappeared from what was a 6-foot-6, 270-pound frame at Notre Dame, with Lynch entering this season officially listed at 244 pounds. (He says he is currently around 250, with the hope of that number rising.) Adjusting socially, meanwhile, presented obstacles of its own on a campus with an undergraduate enrollment more than four times the size of Notre Dame's 8,000-plus student body.
That atmosphere, however, also allowed him to grow at his own leisure.
"I would say I matured more since I've left there, because when I got here I had to do a lot of things, I'd say, on my own in a way, because things were smaller there at Notre Dame; it was a smaller university, there wasn't a lot for me to get into," Lynch said. "When I got here, I feel like I matured more because there's so much more out there for me to get into and I kept myself from getting myself into those types of things.
"In other words, my freshman year I probably would've gotten into a lot more things than I do now."
Lynch cut his nearly out-of-control hair going into spring practice, a sign his new coach, Willie Taggart, has pointed to as a sign of his growth.
"To me when a guy does something like that, it's a sign of maturity, and a guy that's willing to change and make himself better," Taggart told ESPN.com this spring. "I know nowadays it's hard to do that when a lot of your peers are doing it and look at those guys. But for a guy like that to cut his hair off and get himself sharp and think about the way people look at him and want to represent himself the right way, it's really impressive."
A one-time aspiring poetry and literature major, Lynch has left those desires behind in South Bend. He still talks regularly with former Irish defensive line teammates
Stephon Tuitt
and
Louis Nix III
-- all three players could be first-round picks come May -- and he often utilizes the "Snapchat" application on his phone to exchange funny messages with running back Cierre Wood, who has since joined the Houston Texans.
Lynch now majors in interdisciplinary social science. As for social media, he has kept his distance from a world that ballooned his reputation as a can't-miss prospect before turning him into a virtual pinata once he decided Notre Dame was not for him.
He says he cannot even remember his Twitter password. His Facebook account received the ax after he left the Midwest.
"The way I blocked that out was really just being with my family, because that's what I was worried about most, because my mom had gotten threats from Notre Dame fans and things like that," Lynch said. "So having my family close to me, that's how I got through it. Just my mom -- she always had my back on everything, and if I knew I was with them and there was nothing wrong with them, then I never had nothing to worry about. The reason why I made the move from Notre Dame was, one, the environment, it wasn't me; and then two, I needed to be with my family, because my family is my everything."
May, 10, 2012
5/10/12
8:00
AM CT
Following consecutive 8-5 campaigns, Notre Dame entered this spring with a re-shuffled staff, a wide-open quarterback competition and arguably one of the nation's best defensive lines.
So, uh, about those three new assistants ...
"I love the energy out there, I love what I'm hearing in terms of teaching," head coach Brian Kelly said April 4, roughly halfway through the spring. "Guys are teaching and I can hear it. So for me it's exactly what I need to hear from our coaches. There's a lot of teaching going on, there's a lot of energy. So for me I feel really good about going out to practice, and what I hear I really like."
Nine days after that comment, defensive end Aaron Lynch announced his decision to transfer, eventually ending up with Notre Dame alum Skip Holtz at South Florida. A series of cryptic Twitter posts by nose guard Louis Nix in the days after Lynch's departure unsettled an already-uneasy fan base, and Nix's admittedly honest public comments afterward about having missed his Florida home did little to quell Irish fans' worst fears.
[+] Enlarge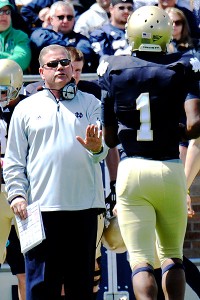 AP Photo/Joe RaymondCoach Brian Kelly, left, still has issues with how QB Everett Golson (1) manages the game.
Then came the spring game,
Everett Golson
's coming-out party. The rising sophomore quarterback completed 11 of 15 passes for 120 yards and two touchdowns, adding 25 yards on six rushes. Most importantly, he was the only of the four quarterbacks to not turn the ball over.
If that wasn't enough for Golson to improve his chances of starting in 2012 -- Kelly said afterward that he had trouble getting plays in on time -- the events of May 3 certainly did.
Tommy Rees
, the only of the four signal-callers with starting experience, was charged with four misdemeanors as a result of his arrest at an off-campus house party. Police said that they had to use pepper spray to subdue Rees, who faces two counts of resisting law enforcement, in addition to minor consumption and battery.
So begins an offseason whose storyline, like last year's with Michael Floyd, will be dominated by an off-field run-in by a big-name player. Rees is due in court May 17, but his status with the Irish remains up in the air. Discipline of any kind -- even an offseason suspension -- would strongly diminish his hopes of taking the first snap Sept. 1 in Dublin, Ireland.
Kelly said after the spring game that the guy to emerge as the starter will be the one who commits to all the details in the summer. Golson and
Andrew Hendrix
— in addition to early enrollee
Gunner Kiel
— would be in much better positions to do that should Rees be dealt a ban. Regardless, leadership issue becomes an obvious question in light of the arrest.
Whoever does start should have plenty to work with in proven playmakers like
Cierre Wood
,
Theo Riddick
and
Tyler Eifert
. He will also be protected by an experienced offensive line, which returns four players with starting experience.
Linebacker
Manti Te'o
, who passed up NFL millions this offseason, returns to lead a defense that should still be strong enough up front, though a depleted cornerback corp could have benefited from playing behind an elite pass-rusher like Lynch.
A season that begins overseas is still four months away, but the drama attached to the hip of the nation's most polarizing program has only increased with spring ball in the rearview mirror.