Chicago Colleges:

Soldier Field
February, 25, 2013
2/25/13
12:21
PM CT
When Indianapolis and Chicago made bids to host the first set of Big Ten football championship games,
Indy won in a landslide
, as the Big Ten awarded it the title game through 2015.
A first-rate indoor facility (Lucas Oil Stadium) surrounded by restaurants and hotels certainly helped Indianapolis, but the
Indiana Sports Corp
-- the city's sports promotional and organizing arm -- put it over the top. Not only is Indiana Sports Corp the nation's first sports commission (founded in 1979), it's also one of the best,
bringing events
like the Super Bowl, the Final Four and the Olympic Trials to Naptown.
Marketing matters and so does logistics, and Chicago fell well short of Indy in those areas. But things are changing.
Chicago launched its own sports commission in 2011. It's part of
Choose Chicago
, the city's official tourism organization. Don Welsh, the president and CEO of Choose Chicago, previously had led the Indianapolis Convention and Visitors Association, which works directly with Indiana Sports Corp., and had held a similar post in Seattle, working with the Seattle Sports Association to bring major events to the Emerald City.
"He called and said, 'Where's your sports commission person?'" said Sam Stark, the executive director of the Chicago Sports Commission. "And people were like, 'We don't have a sports commission person.' So he said, 'Well, we will soon.' It's a big niche, and he wanted to make sure Chicago is at the table."
[+] Enlarge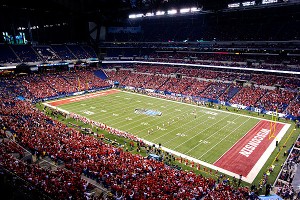 AP Photo/David StlukaA crowd of just over 41,000 watched the 2012 Big Ten title game in Indianapolis' Lucas Oil Stadium. Would a title game in Chicago pack the seats?
That person turned out to be Stark, who had
previously served as president and CEO
of the Central Florida sports commission in Orlando.
Advisory board members
for the Chicago Sports Commission include Chicago Cubs chairman Tom Ricketts, Chicago Bulls executive vice president Steve Schanwald and several marketing chiefs of pro teams in the city.
The Chicago Sports Commission is partnering with the Big Ten for the league's upcoming men's basketball tournament at the United Center. Along with Mayor Rahm Emanuel, the commission on Monday
announced a series of events
to be held in conjunction with the tournament, including a fan fest downtown at Daley Plaza, a tip-off luncheon and a VIP/alumni party. Chicago didn't have these events in the past, which hurt when the Big Ten moved the basketball tournament to Indianapolis in 2006. Indy and Chicago are co-hosting the event through 2015.
Indianapolis will host the football championship for at least another three seasons, but Stark would love to bring the event to Chicago in 2016.
"Just the synergy between the Big Ten and Chicago warrants a discussion about the event," Stark told ESPN.com. "The amount of alumni here in this market, it's an event that we need to look at. We'll first talk to the folks at [Soldier Field Management] and the Bears, and get their interest level. But on the surface, it certainly seems like an event that has a place in Chicago."
The bid process for the next set of football title games is at least a year away, and Stark hopes the upcoming basketball tournament will help his group formulate what works and what doesn't. The Chicago commission is working closely with the Big Ten and local Big Ten alumni groups leading up to next month's event.
"This is our first effort as a sports commission to welcome in the Big Ten in a way that hasn't happened before," he said. "This will allow us to sit down with them afterward and get feedback. This will really be the starter on those kinds of discussions."
One big difference between Chicago and Indy is the lack of an indoor facility, where many league title games are played. Weather can be a factor on the first Saturday of December, when the league title game will be held. But as many Big Ten fans have pointed out, it's part of the league's football fabric.
"Every school plays outdoors," Stark said, "so one week later, they can't play one more game outdoors? It's doable."
Attendance has been a challenge in Indianapolis for the first two Big Ten football championships -- last year's event drew only 41,260 -- and also for some recent basketball tournaments. Chicago could have an easier time there because there are
so many more Big Ten fans in the area
. A bigger obstacle for the city could be logistics, as Soldier Field isn't nearly as centralized as Lucas Oil Stadium.
But Stark is confident his group can "shrink Chicago."
"It's a different footprint, and that's fine," Stark said. "But with good planning and with good logistics, transportation and other elements, it's a very manageable city. That's been the bogeyman of Chicago, 'Aw, it's too big, the parking ...' It's really not.
"Once you have a group that's focused and dedicated on those things, you'll see we'll have a city that helps the fans, the athletes, the media, everybody."
Chicago has that group, and it should give Indy some real competition when the bidding process comes around again.
February, 1, 2013
2/01/13
2:06
PM CT
Soldier Field officially becomes home to an ice rink for the first time in its history when the OfficeMax Hockey City Classic Winter Festival opens on Friday night.

The festival is highlighted by a college hockey doubleheader between four top-20 ranked teams on Feb. 17, but the ice will be used in a variety of ways over the next two-plus weeks.

"I think our theory behind it was that we're going to be spending so much time and money for this hockey rink, and it'd be a shame to just have it for an afternoon of college games," Intersport sports properties vice president Drew Russell said on Friday. "The planning for this event started two years ago. We thought what else can we do? What else can we do to give back to the community?"


August, 7, 2012
8/07/12
2:41
PM CT
The University of Illinois will face the University of Washington in Soldier Field on Sept. 14, 2013.
Read the entire story.
July, 27, 2012
7/27/12
6:36
PM CT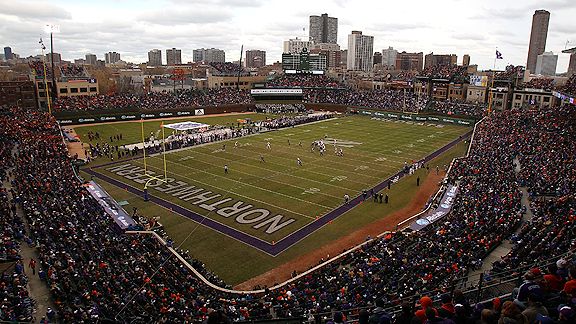 Jonathan Daniel/Getty ImagesThe Northwestern-Illinois contest at Wrigley Field in 2010 generated buzz across Chicago.
CHICAGO -- Illinois coach Tim Beckman and Northwestern coach Pat Fitzgerald expressed interest Friday in playing more football games in Chicago.
Illinois and Northwestern played before a sold-out crowd at Wrigley Field in 2010. It was the first football game at Wrigley Field since 1970, and the game was made further unique because the teams were only allowed to play west-to-east due to safety concerns with the east end zone's proximity to the outfield wall.
Beckman, in his first year at Illinois, thought Solider Field was more apt for future Chicago games because of the obstacles at Wrigley Field.
"I think they've talked about the logistics and make sure everyone can run a game in a stadium first and foremost, Soldier's more (ready than Wrigley)," Beckman said at the Big Ten media days on Friday.
But as much as Beckman would like to play in Chicago, he doesn't want to give up a seventh home game to do so.
"I talked to (athletic director) Mike Thomas quite about possibly doing (Chicago) every other year because we will be playing up here once every other year, playing the team (Northwestern) up state, as long as it doesn't interfere with the seven home games at Memorial Stadium. … I'd like to keep the seven games in Champaign as much as I can."
Fitzgerald is more flexible with his seventh home game, and he also was interested in playing other teams beside the Illini in Chicago.
"We're going to look at all options that we have to continue solidifying ourselves as Chicago's Big Ten team," Fitzgerald said. "Obviously the game at Wrigley was a huge success. It was a bowl game in the best sports city. We're going to take advantage of what we have in our front yard, which is Chicago."
Fitzgerald said he'd be willing to play in Wrigley Field again only if the teams could use both end zones. He also thought Soldier Field and U.S. Cellular Field were possibilities.
"I think everything is realistic, absolutely," Fitzgerald said. "I don't think we're going to play at Carl Sandburg High School. Ryan Field is going to be our home field. We're going to play there. Years we have seven games, I'm open to anything.
"I think everybody in Chicago has expressed interest (in hosting a football game.) We're not going to play indoors. We're not going to play at the United Center, those kind of things. There are great venues here. It's a pretty unique set of circumstances having Chicago in your front yard."
April, 26, 2012
4/26/12
9:29
PM CT
Soldier Field has been home to many events, but never hockey.
That will change next year, according a report.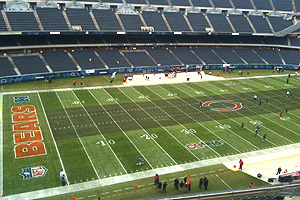 Mike Wright/ESPNChicago.comSoldier Field has never hosted a hockey game. It, reportedly, will host two in the same day in February.
As part of a college hockey doubleheader, Wisconsin will face Minnesota and Miami (Ohio) will play Notre Dame at Soldier Field on Feb. 17, 2013, according to the Wisconsin State Journal.
A spokesperson for Intersport, a Chicago-based promotion company, said Thursday nothing was yet official for the event.
Wisconsin has previously played outdoor games at Lambeau Field in Green Bay, Wis., and at Camp Randall Stadium in Madison, Wis.
The Minnesota-Wisconsin game will be the teams' final regular-season meeting while members of the WCHA. Both teams will enter the Big Ten the following season.
Soldier Field, which opened as the Grant Park Municipal Stadium, opened on Oct. 9, 1924. It has hosted a wartime visit by President Franklin Roosevelt, evangelist Billy Graham, high school, college and professional football, boxing, soccer, concerts, rodeos, stock-car races and a skiing/toboggan event.
TOP 25 SCOREBOARD
Thursday, 9/11
Friday, 9/12
Saturday, 9/13
TOP PERFORMERS