Chicago Colleges:

South Florida
October, 2, 2011
10/02/11
9:00
AM CT
1) Protecting the ball makes for smooth sailing:
It seemed like we'd never see the day Notre Dame went 60 minutes without a turnover, but Saturday changed that.
[+] Enlarge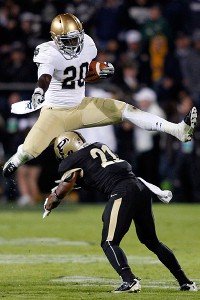 AP Photo/AJ MastNotre Dame's Cierre Wood is 42nd in the nation in rush yards per game at 89.8.
The Fighting Irish eclipsed the 500-yard mark for the third time this season, but won while crossing that plateau for the first time, as they were doomed by five-turnover performances in Weeks 1 and 2. Saturday was huge for the offense, in particularly
Tommy Rees
, who eliminated many of the befuddling miscues that had Irish fans calling for a new quarterback after his first three-and-a-half games under center. Now, for the first time all season, we can no longer say Notre Dame leads the nation in turnovers or has the worst turnover margin. (The first honor belongs to East Carolina, with 17. The latter is shared by East Carolina, Iowa State and Western Kentucky, at -2.00).
2) The rush defense is for real:
Notre Dame had another dominating performance up front Saturday, limiting the Big Ten's second-ranked rushing offense to 84 yards on 27 carries. This came two weeks after the Irish allowed just 29 rushing yards against Michigan State and one week after holding Pitt's
Ray Graham
to 89 yards, something that looks like more of accomplishment after Graham exploded for 226 yards Thursday against South Florida.
3) Special teams need to improve. Still:
Brian Kelly said Saturday that he didn't want to sound like sour milk when listing what his team could have done better, but the Irish did leave points on the board. David Ruffer, a 2010 Lou Groza Award finalist, missed two field goals. And the punt return experiment once again looked like just that -- an experiment.
John Goodman
netted -3 yards on two returns and, in a real head-scratcher, watched one ball sail over his head and roll for a 61-yard punt in the first quarter.
4) Penalties still need clearing up:
This one gets overshadowed because the Irish didn't turn the ball over, won by 28 points and saw their opponent commit an astounding 13 penalties for 118 yards. But Notre Dame itself committed eight penalties for 85 yards, including an ugly one when long snapper
Jordan Cowart
got tangled up with several Purdue players on a second-quarter punt. Mental lapses such as these are forgivable against the Boilermakers, not so much against USC or Stanford.
September, 29, 2011
9/29/11
4:00
PM CT
Things have been relatively quiet on the Notre Dame recruiting front the past two weeks with the Fighting Irish away from home. And they will likely stay that away until the week of Oct. 16, the Sunday before the Irish host USC at night.

For now, it's worth taking a look at what other potential Notre Dame prospects are doing in their time before then.
William Mahone
, the highly touted four-star running back from Austintown Fitch (Ohio) High School, will be joining prep teammates Demitrious and Chris Davis at Heinz Field tonight for Pitt's game against South Florida, according to
our guy Jared Shanker
.
Shanker says this is the last shot for Pitt to make a strong impression on Mahone, who will likely choose between the Panthers, the Irish and Michigan State. The Davis twins have already committed to Pitt.
Still, Shanker said, it would be surprising if Mahone didn't end up in South Bend, Ind. He visited Sept. 17 for the Irish's win against the Spartans, and he liked it so much that he is paying his own way back for the Irish's Oct. 22 game against the Trojans.
Until then, however, don't expect much movement from a Notre Dame 2012 recruiting class 15-deep, one that
moved up two spots to 11th overall in the nation in ESPN's latest rankings
, released Wednesday.
September, 29, 2011
9/29/11
12:30
PM CT
SOUTH BEND, Ind. -- Like most who have watched Notre Dame this season, Brian Kelly sees the good and the bad
Tommy Rees
has done through four weeks.
"You could put together an incredible highlight reel with Tommy Rees this year," the second-year head coach said. "And you could also put together a blooper film. And so it's really being able to gain that consistency of play after play after play. And a lot of that is learning and experience, and that's where we're in."
Rees turned the ball over twice Saturday at Pitt, fumbling it deep in his own territory in the first quarter and throwing an interception in the end zone in the second quarter. He alone has accounted for nine of the Fighting Irish's nation-leading 15 turnovers, and he didn't even play in the first half of the first game of the season.
[+] Enlarge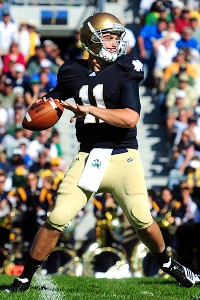 Chris Williams/Icon SMIWhile he admits there is plenty to improve upon, Tommy Rees remains entrenched as Notre Dame's quarterback.
But almost every coach's criticism about the sophomore is immediately followed by the end result -- his 6-1 record as a starter, which could have been worse if not for his perfect fourth quarter in Saturday's comeback, which saw him complete all nine of his passes and battle through a Pitt defense that negated
Michael Floyd
for most of the game.
"At the end of the day, winning is the most important thing," Rees said. "But you need to stay productive and you can't put yourself, you can't put your team in situations where the game can go either way. As individual performances, you wanna be sharp, be good. But if you're winning, you can't complain too much. Like I said before, I'm pretty tough on myself. I know where I need to improve. I look forward to keep getting better and eliminating some of those mistakes."
In an ironic twist Wednesday, Week 1 starter
Dayne Crist
was named one of 25 finalists for the Johnny Unitas Golden Arm Award, given to the nation's outstanding quarterback. Crist, of course, was yanked at the half of the Irish's 23-20 Week 1 loss to South Florida.
The staff this week said the two still split most of the reps at about a 60-40 ratio, with Rees seeing more action.
Everett Golson
and
Andrew Hendrix
have seen some situational action on the practice field as well.
Rees spoke several hours after the Unitas announcement Wednesday, three days after Kelly reiterated that he would remain the starter, though the head coach is hoping he doesn't have to answer the same kind of questions next season.
"That's this year," Kelly said. "We better not be talking about this stuff next year or there will be another quarterback playing. But he is learning. He's got, some of the body of his work is really good and some of it needs great improvement. And he knows that, I know that and we believe that he's capable of being more consistent for a longer period of time."
Rees, who has thrown for 988 yards this season with seven touchdowns and six interceptions, said he focuses more on his negatives in the film room.
"Well, obviously it's not a secret, I need to cut down some of the turnovers and some of the mental mistakes," he said. "I think each week with different defenses and different situations I keep growing as a player. The last two games we come out with wins, so you can't be too upset after those. But after every game there's places where you can improve. I think just the more experience, the more games that come, I can keep developing things and work on limiting some of those mistakes."
That includes protecting the ball with two hands in the pocket or taking a sack when there is no other option downfield.
For his part, however, Rees isn't judging himself differently as a 19-year-old.
He has started seven games and finished two more, and he knows whatever learning curve he had has come and gone one-third of the way through the season.
"I think the whole being a sophomore thing isn't really that relevant anymore," Rees said. "I need to improve how I'm playing and keep getting better. It can't be a matter of age or experience. I need to be the quarterback for this football team and I need to make sure I'm limiting my mistakes and playing up to my capabilities."
September, 12, 2011
9/12/11
7:39
PM CT
In the second half of Saturday's 35-31 loss to Michigan, Notre Dame went 0-for-3 in third down situations of three yards or fewer. That problem looks manageable when compared to that of Florida Atlantic's, as the Owls managed just one first down Saturday.
In the entire game.
[+] Enlarge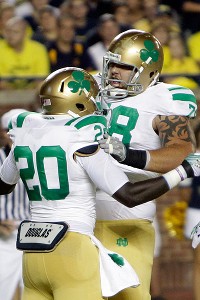 AP Photo/Carlos OsorioNotre Dame might lean on Cierre Wood, 20, and the running game against Michigan State.
FAU's opponent was Michigan State, which dominated on all cylinders in winning 44-0. The 15th-ranked and defending Big Ten co-champion Spartans allowed just 44 yards of total offense, stopped the Owls on all 10 third-down plays and scored a touchdown on defense.
Not exactly what the Fighting Irish are itching to see after a pair of mistake-filled losses.
Notre Dame's offense has a nation-leading 10 turnovers through two games, severely hindering an offense that is 10th among FBS schools in total yards but tied for 69th in points scored. It will face an MSU defense that ranks third against the pass, fourth in total defense and third in scoring defense.
At 2-0, the Spartans have looked like a much more complete team than the South Florida and Michigan teams that have beaten the Irish on the way to their 2-0 starts. The Spartans are sound overall on defense, efficient on offense and, as Notre Dame learned the hard way last season, well-coached.
If there is one area MSU has shown deficiencies in through two weeks this season, it might be its rushing defense. In a 28-6 Week 1 win against FCS opponent Youngstown State, the Spartans surrendered 128 rushing yards. Despite playing from behind most of the game, the Penguins finished with more yards on the ground than they did through the air (126).
That's not to say that Notre Dame should run all over Sparty, which still boasts the nation's No. 22 rush defense. But the Irish should try to establish a ground game early.
For one,
Greg Jones
is no longer in the green and white. Jones, now with the New York Giants, finished last season as the school's third-leading career tackler, with 465 takedowns. His 46.5 tackles for loss were tops in school history.
Notre Dame had plenty of success running the ball up the middle early Saturday in Ann Arbor, Mich.
Cierre Wood
carried the ball four times for 29 yards on the Irish's opening drive, and both he and change-of-pace back
Jonas Gray
combined for 22 yards on four carries on drive No. 2. Both series ended in touchdowns.
Wood finished the evening with 134 yards on 25 carries; Gray with 66 yards on six carries. Wood, who had 104 yards in Week 1, became the first Irish back to rush for 100 yards in two straight games since Armando Allen did so against Michigan and MSU in 2009.
Unlike Allen, Wood fumbled against Michigan, with his team driving in the fourth quarter. Gray fumbled in Week 1 at the goal line, resulting in a 96-yard touchdown for USF.
The key, of course, is protecting the ball while trying to expose a potential weakness in the defense. Then again, with the Irish, that's been the problem all along in this young season.
September, 7, 2011
9/07/11
10:40
AM CT
SOUTH BEND, Ind. --
Theo Riddick
is eager to put his shaky debut as a punt returner behind him. More specifically, he wants the public to forget about what it saw from Notre Dame as a whole in its season-opening loss to South Florida.
"I have put it in the past, it's nothing around there," Riddick said. "But I'm just eager just to play Michigan. It's a huge rivalry not just for us but for this university, and I can't wait to display this team because I feel as if last week, that wasn't us."
For Riddick, that means forgetting the negative-2 yards he netted on a pair of punt returns, which includes a lost fumble at his own 20-yard line. And it means not letting his play in one facet of the game carry over into another, which is another way of saying he expects to do more than catch just three passes for 32 yards in his role as slot receiver.
[+] Enlarge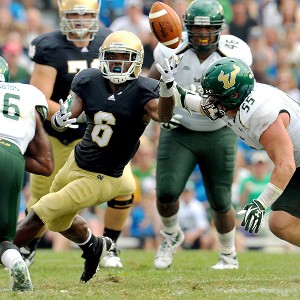 Matt Cashore/US PRESSWIRETheo Riddick's struggles in the punt return game against South Florida may have carried over to his play at receiver. "He can't get down on himself," coach Brian Kelly said.
"It's his fundamentals got away from him, that's just the bottom line," offensive coordinator Charley Molnar said. "He didn't become a worse receiver in the three hours during the game; he just lost his fundamentals.
"Maybe it was just playing in a game -- it could have been a million things on his mind. Maybe returning punts and playing receiver. So we just are getting back, doing the basic drill work of what brought Theo Riddick from Point A to Point B and getting him back to where he was coming out of camp."
Riddick emerged out of camp as the Fighting Irish's No. 2 threat at receiver despite having played less than a full season at the position. But the converted running back showed flashes of promise in his new role in 2010, catching 40 passes for 414 yards and three touchdowns despite missing four games toward the end of the season because of a right ankle injury.
Riddick, who had 885 career kick return yards in his first two seasons, entered 2011 with a renewed focus on special teams, as he would be handling punt returns for the first time as well. Head coach Brian Kelly had said before Week 1 that any breathers the junior would get in the course of a game would come on offense.
Kelly reiterated this week that Riddick is still his guy on punt returns, though he may remove him in short-field situations since a return is unlikely.
"The things that he has to work on, obviously is his body language," Kelly said. "He can't get down on himself, because we're gonna keep coming to him. He's gonna be our guy. He's got to fight through a very difficult set of circumstances that were presented to him."
Riddick said he went through exercises in practice Tuesday that featured coaches hitting him with bags while others threw towels at him during returns.
Kelly recalled a drill last week in which Riddick was not allowed to field a punt without holding another football in one of his hands.
"I think he dropped one in five days," Kelly said. "So he's capable of doing it. He's got to get over that traffic that's coming down on him and concentrate on catching the ball."
Added defensive line coach and special teams coordinator Mike Elston: "We have a whole checklist of things that we do with the punt returner, and that's one of them. There's other things that we do with them -- catching in a crowd, hitting him with things while he's catching it, crowd noise, yelling at him, guys whizzing by him, running backwards to catch punts, running forward, running sideways, catching rugby punts. We go through everything to try and prepare him for what the team is gonna do, because you never really know what the first opponent's gonna do."
Riddick saw what his first opponent -- along with Mother Nature -- did this past Saturday. Now he's hoping to weather the bells and whistles that come with playing the first night game in the history of the Big House.
"I've been here for three years and I'm accustomed to it, but I just had a bad day," Riddick said. "It was the first game, a first-time thing, and I just gotta move on and play better this week."
TOP 25 SCOREBOARD
Thursday, 8/28
Friday, 8/29
Saturday, 8/30
Sunday, 8/31
TOP PERFORMERS