Chicago Colleges:

South Florida Bulls
October, 21, 2013
10/21/13
9:00
AM CT
The hardest part for
Aaron Lynch
was not Notre Dame's sudden resurgence without him. The Fighting Irish did just fine after his departure -- they ran the regular-season table and making the BCS national title game -- but it did not really matter much to the ballyhooed South Florida defensive end.
But Lynch could not avoid the talk last season of what he was missing out on roughly 1,000 miles to the North -- be it from classmates on his new campus in Tampa, Fla., or from teammates inside the Bulls' locker room, where the televisions were always tuned to ESPN, inevitably serving as a talking point about what could have been.
[+] Enlarge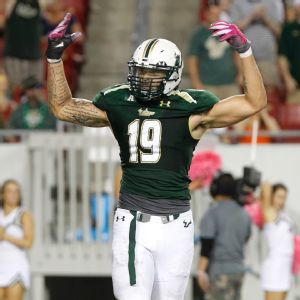 Kim Klement/USA TODAY SportsAaron Lynch never looked back with regret on leaving Notre Dame, even as the Fighting Irish were making a run to the BCS title game.
"The only thing that was tough was always having to hear about it," Lynch told ESPN.com. "People were always talking to you about it; that got annoying. I was like, 'You're the reason why I came here, and you need to understand that none of that really matters to me because I left that place for a reason.'
"If I was feeling a certain way about that then, I should have never left. People would be like, 'Why are you so mad?' That's all you guys talk about: 'Oh, you could've done this and done that.' I don't want to hear that, because if that's what I wanted, I would've stayed there."
A precocious pass-rusher who was out of his comfort zone two years ago at Notre Dame finds himself more at home now as a junior, some two hours away from his mother, Alice, who is now in Fort Myers. He had his long-awaited breakout for the Bulls in his last game, returning a fumble 44 yards for his team's only touchdown in a 13-10 win over UConn. He recorded his first sack in a USF uniform as well.
Teddy Bridgewater
and a Louisville team that -- for now, at least -- sports a worse league record than the 2-0 Bulls come to town this Saturday, a rare American Athletic Conference matchup that features two potential high first-round draft picks.
It is another contest that Lynch is just happy to be playing in after a frustrating year as a transfer. The sting of knowing he would not play in 2012 became too much to bear as the season approached, so he sat down with his fellow defensive linemen and then-coach Skip Holtz and asked if they would mind if he did not join them on the sideline for home games.
They granted his wish, with plenty of homework assignments accompanying his home viewings of the games.
"I was never like, 'Awww man, I can't believe this' -- I was more of a coach because that's what the D-line wanted," Lynch said of watching games from home. "They said if you're not going to be at the game, then we want to see how we're doing on TV so you can tell us what we need to do, or things that we don't see on the field that you do see that's off the field. You can pause and rewind and stuff like that.
"So that's what I did. That was really my job as a D-line brother and as a teammate. When I watched the game, I wasn't watching the game as if I was watching the Patriots and the Ravens go at it. I was watching it as if I was watching game film."
For a former freshman All-American who had 5.5 sacks in 2011 while causing as many headaches for his own team as he did his opponents, this was a different kind of challenge. Weight disappeared from what was a 6-foot-6, 270-pound frame at Notre Dame, with Lynch entering this season officially listed at 244 pounds. (He says he is currently around 250, with the hope of that number rising.) Adjusting socially, meanwhile, presented obstacles of its own on a campus with an undergraduate enrollment more than four times the size of Notre Dame's 8,000-plus student body.
That atmosphere, however, also allowed him to grow at his own leisure.
"I would say I matured more since I've left there, because when I got here I had to do a lot of things, I'd say, on my own in a way, because things were smaller there at Notre Dame; it was a smaller university, there wasn't a lot for me to get into," Lynch said. "When I got here, I feel like I matured more because there's so much more out there for me to get into and I kept myself from getting myself into those types of things.
"In other words, my freshman year I probably would've gotten into a lot more things than I do now."
Lynch cut his nearly out-of-control hair going into spring practice, a sign his new coach, Willie Taggart, has pointed to as a sign of his growth.
"To me when a guy does something like that, it's a sign of maturity, and a guy that's willing to change and make himself better," Taggart told ESPN.com this spring. "I know nowadays it's hard to do that when a lot of your peers are doing it and look at those guys. But for a guy like that to cut his hair off and get himself sharp and think about the way people look at him and want to represent himself the right way, it's really impressive."
A one-time aspiring poetry and literature major, Lynch has left those desires behind in South Bend. He still talks regularly with former Irish defensive line teammates
Stephon Tuitt
and
Louis Nix III
-- all three players could be first-round picks come May -- and he often utilizes the "Snapchat" application on his phone to exchange funny messages with running back Cierre Wood, who has since joined the Houston Texans.
Lynch now majors in interdisciplinary social science. As for social media, he has kept his distance from a world that ballooned his reputation as a can't-miss prospect before turning him into a virtual pinata once he decided Notre Dame was not for him.
He says he cannot even remember his Twitter password. His Facebook account received the ax after he left the Midwest.
"The way I blocked that out was really just being with my family, because that's what I was worried about most, because my mom had gotten threats from Notre Dame fans and things like that," Lynch said. "So having my family close to me, that's how I got through it. Just my mom -- she always had my back on everything, and if I knew I was with them and there was nothing wrong with them, then I never had nothing to worry about. The reason why I made the move from Notre Dame was, one, the environment, it wasn't me; and then two, I needed to be with my family, because my family is my everything."
October, 11, 2012
10/11/12
2:13
PM CT
This week, ESPN.com is breaking down the nonconference schedules of each and every team in a dozen of nation's top leagues. On Monday, we began with the
ACC
,
SEC
and
C-USA
. We started Tuesday with the
A-10
and now it's off to the Big East ...

CINCINNATI
Toughest:
Global Sports Invitational (Nov. 23-24 in Las Vegas)
Next-toughest:
Alabama (Dec. 1), vs. Marshall (Dec. 15 in Charleston, W.Va.), vs. Xavier (Dec. 19 at US Bank Arena), New Mexico (Dec. 27)
The rest:
UT-Martin (Nov. 11), Mississippi Valley State (Nov. 13), North Carolina A&T (Nov. 18), Campbell (Nov. 20), Arkansas-Little Rock (Dec. 6), Maryland-Eastern Shore (Dec. 8), Wright State (Dec. 22)
Toughness scale (1-10): 5
-- The Bearcats earn a slight bump thanks to a trip to Vegas that includes a game against Iowa State and then either UNLV or Oregon. But otherwise there isn't a lot to get excited about here. Even the Crosstown Shootout has lost a little luster, moved off campus after the brawl and muted by a seriously depleted Xavier roster.

CONNECTICUT
Toughest:
vs. Michigan State (Nov. 9 in Germany), vs. NC State (Dec. 4 in NYC), Washington (Dec. 29)
Next-toughest:
Paradise Jam (Nov. 16-19), Harvard (Dec. 7)
The rest:
Vermont (Nov. 13), Stony Brook (Nov. 25), New Hampshire (Nov. 29), Maryland-Eastern Shore (Dec. 17), Fordham (Dec. 21)
Toughness scale: 8
-- Welcome to the hot seat, Kevin Ollie. Jim Calhoun has done you little in the way of a favor, leaving a Huskies team in the midst of reconstructing itself a tough schedule. The Armed Forces Classic with the Spartans on the base in Germany will be a spectacle in the best sense of the word, but followed just four days later with a not-so-easy game against perennial America East contender Vermont. And that's just the first week. There's also a preseason top-10 team in NC State and a decent field in the Virgin Islands that includes New Mexico and several dangerous mid-majors.

DEPAUL
Toughest:
Cancun Challenge (Nov. 20-21)
Next-toughest:
at Arizona State (Dec. 12)
The rest:
UC Riverside (Nov. 9), Gardner-Webb (Nov. 15), Austin Peay (Nov. 17), Fairfield (Nov. 27), at Auburn (Nov. 30), at Chicago State (Dec. 5), Milwaukee (Dec. 9), Northern Illinois (Dec. 16), UMBC (Dec. 22), Loyola-Chicago (Dec. 29)
Toughness scale: 2
-- There's a rationale here that's understandable. DePaul has to walk before it can run and frontloading an impossible schedule will do no good for a team still trying to crawl its way up the Big East standings. But maybe a little something to move the needle wouldn't be a bad idea. The Cancun event is about it and that offers up retooling Wichita State and either Iowa or Western Kentucky.

GEORGETOWN
Toughest:
vs. Florida (Nov. 9 in Jacksonville), Legends Classic (Nov. 19-20 in Brooklyn, N.Y.)
Next-toughest:
Tennessee (Nov. 30), vs. Texas (Dec. 4 in New York)
The rest:
Duquesne (Nov. 11), Liberty (Nov. 14), Mount St. Mary's (Nov. 24), Towson (Dec. 8), Longwood (Dec. 10), Western Carolina (Dec. 15), American (Dec. 22)
Toughness scale: 8
-- This schedule is potentially even better. If the Hoyas beat UCLA in Brooklyn, they'll likely take on preseason No. 1 Indiana the next day. That's after the opener against Florida and before tough games against Tennessee and Texas. Georgetown, looking for a second straight better-than-expected season, will be well-tested by the beginning of December. If they aren't beaten up or beaten down, the Hoyas will come out the stronger for it in time for Big East play.

LOUISVILLE
Toughest:
Battle 4 Atlantis (Nov. 22-24), at Memphis (Dec. 15), Kentucky (Dec. 29)
Next-toughest:
Illinois State (Dec. 1), vs. Western Kentucky (Dec. 22 in Nashville)
The rest:
Manhattan (Nov. 11), Samford (Nov. 15), Miami-Ohio (Nov. 18), at Charleston (Dec. 4), UMKC (Dec. 8), Florida International (Dec. 19)
Toughness scale: 8
-- The beauty in this schedule is what you don't see -- namely the Battle 4 Atlantis schedule after the first-round date with Northern Iowa. Missouri, Stanford, Memphis, VCU, Duke and Minnesota round out the field of heavy hitters, all of whom will give the top-5 Cards plenty to handle. And the date with Kentucky is always a nice friendly little waltz, too.

MARQUETTE
Toughest:
vs. Ohio State (Nov. 9 in Charleston, S.C.), Maui Invitational (Nov. 19-20), at Florida (Nov. 29), Wisconsin (Dec. 8)
Next-toughest:
LSU (Dec. 22)
The rest:
Colgate (Nov. 11), Southeastern Louisiana (Nov. 13), UMBC (Nov. 26), Savannah State (Dec. 15), at Green Bay (Dec. 19), North Carolina Central (Dec. 29)
Toughness scale: 8
-- Another schedule with a hidden gem -- that would be a potential tango with North Carolina in Maui. But only if the Golden Eagles get past Butler, no easy task. Even without that, though, Buzz Williams has set his team up nicely, with not just some big names but a good mix of contrasting styles -- from uptempo Florida to no-tempo Wisconsin. You can even forgive Marquette for its dose of supposed 'easy' games. There's enough heft here, including that opener against the Buckeyes, to excuse any number of softies.

NOTRE DAME
Toughest:
CVC Classic (Nov. 16-17 in Brooklyn, N.Y.), Kentucky (Nov. 29)
Next-toughest:
vs. Purdue (Dec. 15 in Indianapolis)
The rest:
Evansville (Nov. 10), Monmouth (Nov. 12), George Washington (Nov. 21), St. Francis-Pa. (Nov. 24), Chicago State (Nov. 26), Brown (Dec. 8), IPFW (Dec. 17), Kennesaw State (Dec. 19), Niagara (Dec. 21)
Toughness scale: 5
-- It's not awful -- and it could get better, with Florida State perhaps waiting in the wings in Brooklyn (ND opens with A-10 favorite St. Joe's there) -- but this isn't exactly the same as the Irish's football schedule. Yes, Kentucky coming to town for the SEC/Big East Challenge is a great feather in the cap, but there are too many teams here that aren't guaranteed NCAA tournament selections to get hyped up about.

PITTSBURGH
Toughest:
NIT Season Tip-Off (Nov. 12-23)
Next-toughest:
Detroit (Dec. 1)
The rest:
Mount St. Mary's (Nov. 9), Fordham (Nov. 12), Oakland (Nov. 17), Howard (Nov. 27), vs. Duquesne (Dec. 5 at Consol Energy Center), North Florida (Dec. 8), Bethune Cookman (Dec. 15), Delaware State (Dec. 19), Kennesaw State (Dec. 23)
Toughness scale: 3
-- Yikes. This is a whole lotta meh for the Panthers. The NIT will help. Assuming they beat Fordham and/or Robert Morris or Lehigh (the latter of which won't be easy), a trip to MSG will likely produce a matchup with Michigan and either Virginia or Kansas State. The rest is pretty grim, but then again so was Pitt last season. It might be not be a bad way to go about the season.

PROVIDENCE
Toughest:
Puerto Rico Tip-Off (Nov. 15-18)
Next-toughest:
Mississippi State (Dec. 1), at Boston College (Dec. 22)
The rest:
NJIT (Nov. 10), Bryant (Nov. 12), Fairfield (Nov. 23), Holy Cross (Nov. 27), Rhode Island (Dec. 6), Colgate (Dec. 18), at Brown (Dec. 28)
Toughness scale: 2
-- You almost can't fault the Friars here. It's not their fault New England basketball is a mess. If it weren't, games against Rhode Island and BC would have some heft. But truth be told, Ed Cooley ought to be sighing in relief here. Without heralded freshman Ricardo Ledo, Providence needs a little more time to build, and this schedule ought to allow for that. There might be some meat in San Juan with an opener against UMass and Tennessee and NC State in the field. But there's not much else to see here.

RUTGERS
Toughest:
at Ole Miss (Dec. 1)
Next-toughest:
at Princeton (Nov. 16), vs. Iona (Dec. 8 in NYC)
The rest:
St. Peter's (Nov. 9), Sacred Heart (Nov. 12), Boston U (Nov. 20), UNC Greensboro (Nov. 25), George Washington (Dec. 11), UAB (Dec. 16), Rider (Dec. 28)
Toughness scale: 1
-- When the toughest games you have are against the Ivy League and a middle-of-the-pack SEC contender (which was scheduled for them), there just isn't much to crow about. This is a schedule built to get Rutgers wins but not much else.

ST. JOHN'S
Toughest:
Charleston Classic (Nov. 15-18)
Next-toughest:
Detroit (Nov. 13), South Carolina (Nov. 29)
The rest:
Holy Cross (Nov. 21), Florida Gulf Coast (Nov. 24), NJIT (Dec. 1), at San Francisco (Dec. 4), Fordham (Dec. 8), vs. St. Francis-NY (Dec. 15 in Brooklyn, N.Y.), UNC Asheville (Dec. 21)
Toughness scale: 4
-- The Red Storm could get a bump in Charleston, where they open with the home-team Cougars and could draw Murray State in the second round and maybe Baylor or Colorado down the road. So that's not awful. But otherwise Steve Lavin has a manageable -- if not entirely easy -- reentry into his coaching career, as does his young roster.

SETON HALL
Toughest:
Hall of Fame Tipoff Classic (Nov. 17-18 in Uncasville, Conn.)
Next-toughest:
at LSU (Nov. 29), at Wake Forest (Dec. 8), vs. LIU-Brooklyn (Dec. 22 in Brooklyn, N.Y.)
The rest:
UMKC (Nov. 9), Norfolk State (Nov. 12), Maine (Nov. 21), St. Peter's (Nov. 25), NJIT (Dec. 4), North Carolina A&T (Dec. 15), Longwood (Dec. 19), Stony Brook (Dec. 28)
Toughness scale: 3
-- This could get better if the Pirates play Ohio State at Mohegan Sun (that would require a win over Washington) and would have been better if Wake Forest was what Wake Forest used to be. But going by the "play the hand you're dealt" adage, Seton Hall is holding a pair of 3s at best.

SOUTH FLORIDA
Toughest:
at Oklahoma State (Dec. 5)
Next-toughest:
UCF (Nov. 10), George Mason (Dec. 29), at UCF (Jan. 2)
The rest:
Maryland-Eastern Shore (Nov. 16), Loyola-Chicago (Nov. 17), Western Michigan (Nov. 18), Bradley (Nov. 20), at Stetson (Nov. 26), Youngstown State (Dec. 18), Bowling Green (Dec. 21)
Toughness scale: 3
-- The Bulls had to fight and pray to make it into the NCAA tournament a season ago, a serious bubble team until the Big East tournament. This schedule won't do much to make March easier should USF be successful again. There's just enough here to turn the committee's head, so it will be up to the Big East slate to make South Florida viable.

SYRACUSE
Toughest:
vs. San Diego State (Nov. 9 at Battle of the Midway), vs. Temple (Dec. 22 in NYC)
Next-toughest:
Princeton (Nov. 21), at Arkansas (Nov. 30), Long Beach State (Dec. 6), Detroit (Dec. 17)
The rest:
Wagner (Nov. 18), Colgate (Nov. 25), Eastern Michigan (Dec. 3), Monmouth (Dec. 8), Canisius (Dec. 15), Alcorn State (Dec. 29), Central Connecticut State (Dec. 31)
Toughness scale: 6
-- I'm done with arguing the merits of Jim Boeheim's schedule because he always wins. He wins games, lots of them, and he wins the argument, quieting the scheduling critics (present company included) with deep March runs. This isn't awful, but it's not saliva-inducing wonderful either. So what? It will work. Just watch.

VILLANOVA
Toughest:
2K Sports Classic (Nov. 15-16), Temple (Dec. 5)
Next-toughest:
Marshall (Nov. 11), at Vanderbilt (Dec. 1), Saint Joseph's (Dec. 11)
The rest:
Columbia (Nov. 20), at La Salle (Nov. 25), at Penn (Dec. 8), Delaware (Dec. 16), at Monmouth (Dec. 22), NJIT (Dec. 28)
Toughness scale: 4
-- The 2K Sports Classic, with Purdue as the opener and either Alabama and Oregon State in the second game, raises the bar slightly and the chronically hard-to-win Big 5 games help, too, especially now that some of those teams have life again. But this is by no means the most menacing schedule Jay Wright has ever concocted for his team. Which might be wise. The Wildcats, remember, were not exactly the most menacing team a season ago.
May, 10, 2012
5/10/12
10:30
AM CT
Best spring game performance:
Everett Golson
, considered the biggest mystery in the four-man quarterback battle entering the spring, was 11 of 15 for 120 yards and two scores. He carried it six times for 25 yards. Most importantly, he was the only quarterback to not turn the ball over.
Best overall unit:
The running back/slot receiver group coached by Tony Alford is loaded with talent.
Theo Riddick
and
George Atkinson III
made big play after big play in the spring game (though Atkinson will have to protect the ball better after fumbling twice). We all know what
Cierre Wood
is capable of after a 1,000-yard season while splitting carries with Jonas Gray in 2011. And we might even see a bit of
Robby Toma
in the backfield, though the senior remains an invaluable pass-catcher for the Irish.
Best position battle:
Other than under center? Let's go with the right side of the offensive line, where
Mike Golic Jr.
,
Nick Martin
and
Christian Lombard
look to have the inside track for the two open spots.
Biggest surprise (good):
John Goodman
raised some eyebrows with his play this spring, earning most improved player on the offensive side of the ball and getting to be a captain for the spring game. Coach Brian Kelly said he's been the go-to receiver this spring, and Goodman wants to reward the staff's faith in him after he was invited back for a fifth year.
Biggest surprise (bad):
Aaron Lynch has transferred to South Florida, leaving the Irish down a man on the defensive line.
Kapron Lewis-Moore
, a previous starter, will slide back into Lynch's role, but the loss of an elite pass-rusher who had no trouble bursting onto the scene as a freshman is a blow to the team.
May, 10, 2012
5/10/12
8:00
AM CT
Following consecutive 8-5 campaigns, Notre Dame entered this spring with a re-shuffled staff, a wide-open quarterback competition and arguably one of the nation's best defensive lines.
So, uh, about those three new assistants ...
"I love the energy out there, I love what I'm hearing in terms of teaching," head coach Brian Kelly said April 4, roughly halfway through the spring. "Guys are teaching and I can hear it. So for me it's exactly what I need to hear from our coaches. There's a lot of teaching going on, there's a lot of energy. So for me I feel really good about going out to practice, and what I hear I really like."
Nine days after that comment, defensive end Aaron Lynch announced his decision to transfer, eventually ending up with Notre Dame alum Skip Holtz at South Florida. A series of cryptic Twitter posts by nose guard Louis Nix in the days after Lynch's departure unsettled an already-uneasy fan base, and Nix's admittedly honest public comments afterward about having missed his Florida home did little to quell Irish fans' worst fears.
[+] Enlarge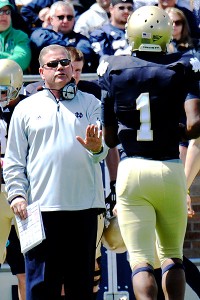 AP Photo/Joe RaymondCoach Brian Kelly, left, still has issues with how QB Everett Golson (1) manages the game.
Then came the spring game,
Everett Golson
's coming-out party. The rising sophomore quarterback completed 11 of 15 passes for 120 yards and two touchdowns, adding 25 yards on six rushes. Most importantly, he was the only of the four quarterbacks to not turn the ball over.
If that wasn't enough for Golson to improve his chances of starting in 2012 -- Kelly said afterward that he had trouble getting plays in on time -- the events of May 3 certainly did.
Tommy Rees
, the only of the four signal-callers with starting experience, was charged with four misdemeanors as a result of his arrest at an off-campus house party. Police said that they had to use pepper spray to subdue Rees, who faces two counts of resisting law enforcement, in addition to minor consumption and battery.
So begins an offseason whose storyline, like last year's with Michael Floyd, will be dominated by an off-field run-in by a big-name player. Rees is due in court May 17, but his status with the Irish remains up in the air. Discipline of any kind -- even an offseason suspension -- would strongly diminish his hopes of taking the first snap Sept. 1 in Dublin, Ireland.
Kelly said after the spring game that the guy to emerge as the starter will be the one who commits to all the details in the summer. Golson and
Andrew Hendrix
— in addition to early enrollee
Gunner Kiel
— would be in much better positions to do that should Rees be dealt a ban. Regardless, leadership issue becomes an obvious question in light of the arrest.
Whoever does start should have plenty to work with in proven playmakers like
Cierre Wood
,
Theo Riddick
and
Tyler Eifert
. He will also be protected by an experienced offensive line, which returns four players with starting experience.
Linebacker
Manti Te'o
, who passed up NFL millions this offseason, returns to lead a defense that should still be strong enough up front, though a depleted cornerback corp could have benefited from playing behind an elite pass-rusher like Lynch.
A season that begins overseas is still four months away, but the drama attached to the hip of the nation's most polarizing program has only increased with spring ball in the rearview mirror.
December, 5, 2011
12/05/11
6:08
PM CT
It's time to take a look at what's on your minds with the regular season over and a trip to the Champs Sports Bowl remaining.
Roald "Roe" Gonzalez from Austin, Texas, writes:
Our 105,000 DKR memorial Stadium is awaiting for Notre Dame to Drop by annually for out Turkey Day Shoot out with Notre Dame. Any chance Notre Dame is even considering the invite from De Loss Dodds?
Matt Fortuna:
Roe, I don't see that happening in the near future. Notre Dame plays Stanford until 2019, and the Irish's series with USC doesn't seem to be going anywhere. At least for the next eight years (imagine what the college sports landscape could look like in 2019?), I can't see Notre Dame adding Texas on an annual basis.
Ryan from McSherrystown, Pa., writes:
Hi Matt,Love your work. Just finished reading your last chat on ESPN and just wanted to see what you think about my optimism for ND next year. This is mostly about the schedule. You point out these games as being the tough ones. USC, OU, STANFORD, MSTATE, MICH, MIA..right? Here is my case. The top 3 QB's in next years NFL draft will come from 3 of those schools. Barkley, Jones, Luck will all be gone and all those schools will be playing with new or young QB's. We are due to beat Mich and Cousins is gone at MSTATE..I don't see MIA as being that tough and they weren't very good this year. Mich is the only one of those teams who brings back their QB and we had them beat at MICH this year. Thoughts...Thanks
Matt Fortuna:
Thanks, Ryan. You bring up an interesting point with the quarterbacks, but I still don't see Notre Dame entering 2012 as a better team than most of the ones you mentioned. I think we'll learn a lot about Stanford when it no longer has
Andrew Luck
, so the Cardinal remain up in the air. Being due to beat Michigan means nothing when the Irish have lost three close ones to the Wolverines the last three years. Michigan will only get better in Brady Hoke's second year and with one more year of
Denard Robinson
. Michigan State, even without
Kirk Cousins
, is a program that is on the rise. None of this is to say the Irish can't win any of those games, but they do face an awful lot of opponents who are at least capable of beating them — even more than this year, and this was a more experienced team that lost to South Florida.
Joe from Telsau writes:
Re: Crist article - REALLY?A rent a player is OK, Wow!!Please shut up, why do we always have to hear bspn peoples opinion. I hope the ncaa does away with this stupid LOOP HOLE.
Matt Fortuna:
Sorry, Joe, I'm having trouble hearing you over all of those capital letters. Seriously, though, I see some instances where the rule is taken advantage of and not used for its intent (see: Jeremiah Masoli). And yes, clearly academics are not the main factor in players taking advantage of this rule. But since when did academics dictate where recruited athletes go to college? Sure, academics are often one of several factors. And yes, some schools adhere to higher academic standards than others while recruiting. But a player who graduates and lives up to his end of the bargain academically should be entirely free to go wherever he wants to after, provided the interest is mutual. What does
Dayne Crist
stand to benefit from staying one year at Notre Dame as a backup while already having a degree? He graduated early, before his scholarship would have expired, and he should be rewarded for that.
Mitch writes:
Ok, Matt. We know all about where FSU's defense is ranked. But doesn't their schedule put them in a position to do just that? Looking at the rushing attempts from the opponents they played, you see teams only having 10-15 rushing attempts all together. Seems to me like they haven't really been worn down since they allowed 100+ yards to Wake.
Matt Fortuna:
Great point, Mitch. The best rushing offense Florida State played all season was Maryland's, which ranked 44th in the nation. I'm curious to see what Notre Dame can do with
Jonas Gray
no longer back there, and if
Theo Riddick
can make a difference at running back. Considering the Irish averaged just 1.8 yards per carry as a team against Stanford, the nation's No. 5 rush defense, they have some work to do.
October, 24, 2011
10/24/11
6:36
PM CT
Notre Dame was already scheduled to play a school-record five night games this season, so what's one more?

The ACC announced Monday that the Irish's Nov. 5 game at Wake Forest will kick off at 7 p.m. and air on ESPN2, with the possibility of it moving to 8 p.m. and airing on either ABC or ESPN2. The final decision will be announced no later than Sunday.

Notre Dame will have played six night games this season, not including the delayed-filled opener against South Florida that ended close to 10 p.m.
October, 23, 2011
10/23/11
12:25
AM CT
SOUTH BEND, Ind. — They tailgated all day and they waved blue towels and they bounced up and down to seemingly every possible sports pump-up song imaginable. They enjoyed the bright lights and marveled at the shiny new helmets and saw Saturday's matchup build into more than just another game on their schedule.
And though it wasn't exactly clear what Notre Dame fans could have expected when looking back at a USC squad that ran through the home team and slowed its ground game to a halt, it was certainly more than this:
A
31-17 loss
to the arch-rival, its ninth defeat in the past 10 meetings. A turnover-plagued performance that brought to mind the adventures of the season's first two weeks. And, most of all, the harsh reality that the BCS-bowl dreams that began before the season are all but officially over just seven games into 2011.
"I think from a player's standpoint, maybe we didn't stay true to who we were," fifth-year safety and captain Harrison Smith said. "Maybe we did buy into the hype, and we can't do that again. We didn't play with poise and there were penalties that you just can't have if you wanna win."
The five penalties will sting but not as much as the three turnovers, particularly after consecutive games without any. An early and surprising 17-0 deficit gave the Irish no margin for error in attemping their comeback, one made easier by — who would have thunk it? — special teams.
George Atkinson's 96-yard kick return for a touchdown brought the Irish to life in the second quarter, and they managed to tack on a field goal before the break to somehow make a seven-point game out of a half that saw them outgained by nearly a 2-to-1 margin.
[+] Enlarge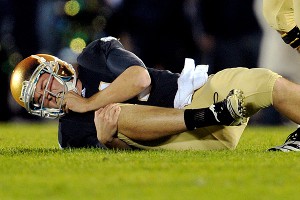 Matt Cashore/US PRESSWIRETommy Rees hyperextended his knee during a painful evening for the Irish.
Tommy Rees
went down with a hyperextended right knee midway through the third quarter and
Dayne Crist
stepped in — and this looked like redemption for the California kid against USC, first hitting
Cierre Wood
for 4 yards, then hitting
Tyler Eifert
two plays later on a crucial fourth down, the ball moving and Notre Dame closing in on the Trojans after being outplayed for a majority of the game before that point.
Three plays later, third-and-goal at the 1, Crist fumbled the snap. Eighty yards later and Jawanza Starling was in the end zone with the ball and a 14-point Trojans lead, one that looked so big yet so familiar given Crist's last third-and-goal-from-the-1 play this season, even if he wasn't to blame for the opening-drive gaffe against South Florida in Week 1.
"Losing stinks. For me, it's hard for me to put a stink-meter on losing. They all stink," coach Brian Kelly said. "You know what I'm disappointed in? This is the first time that I've leaned on my guys pretty hard in the locker room. I was not happy. Because we're better than that. We're better than that. And, to turn the ball over in the ridiculous fashion that we have, I just, just makes me crazy. In terms of, I just don't understand how something so easy can come out the way it does.
"So I told our guys, 'Listen, every time we try to take a step forward, we seem to wanna take one step back.' I'm not gonna tolerate it. It's not gonna be pretty this week in practice. If we gotta go back and tackle every day, we'll tackle every day, because they know how I feel about the way we played."
The hypothetical playoffs that Notre Dame talked about so much have come to an unceremonious end, and now comes the more challenging part, re-focusing on the next-best-thing with plenty of season remaining, five games to prove to all that this is not a lost cause after its record fell to 4-3 with a return of similar frustration.
Perhaps the normal 3:30 p.m. start next week against Navy will spark what had become a familiarity with this team in its previous four games, moving the ball efficiently while eliminating the bad mistakes.
For now, rebounding from this letdown and controlling emotions is the next step, one Notre Dame received a hard lesson in Saturday night from its rival out West.
"You're trying to get at something that I think is real, and we talked about this," Kelly said when asked if his players could have been too excited going into Saturday. "We had some guys that didn't play with poise that need to play with poise. Championship football teams play with competitive greatness, which means when the stakes are high and the stage is great, they raise their game.
"Today, in that same situation, some of our players didn't raise their level of play. That to me is poise, and we're still building that. That's a hard thing to dig at. But we're still building that."