Chicago Colleges:

Stefan Demos
March, 7, 2011
3/07/11
3:44
PM CT
EVANSTON, Ill. -- With snow on the ground, temperatures at the freezing level and the sun still waiting to make its first appearance of the day, nothing about 6 a.m. Monday indicated spring had arrived on Northwestern's campus.
Just don't say anything to the Wildcats football team.
Northwestern coach Pat Fitzgerald and his team assembled before sunrise Monday and held their first of 15 spring football practices.
[+] Enlarge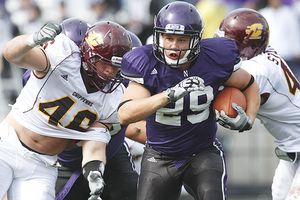 AP Photo/Nam Y. HuhMike Trumpy had two 100-yard rushing games before fracturing his wrist against Illinois and sitting out the last two games.
Although sophomore running back
Mike Trumpy
may have been delirious after the three-hour morning practice, he sounded as if he enjoyed being back out on the field even it was March 7 and so early in the morning.
"It was so much fun," Trumpy said. "I love practicing. It doesn't bother me we to wake up at five in the morning. I love it."
Coming off a disappointing loss in the TicketCity Bowl, Fitzgerald has said there will be competition at every position in the spring, but it's especially expected at running back. Trumpy, sophomore
Adonis Smith
and senior
Jacob Schmidt
are all in the running for the starting role next season.
The running game went through its ups and downs throughout last season.
Arby Fields
was expected to be the starter, but struggled early and left the program before the end of the season. Trumpy made the most of his chance, with two 100-yard rushing games before fracturing his wrist against Illinois and sitting out the last two games. Schmidt also was hampered last season with an ankle injury. Smith showed promised as a freshman and rushed for 61 yards in the bowl game.
"We all bring something different to the table," said Trumpy, who practiced with a protective cast on his right wrist. "We all work hard and have a good time. I think it's going to be fun competing with everyone.
"It's the Big Ten. There's never one running back. It's always going to be multiple running backs. Someone's going to get dinged up. Last year, we had I think four running backs go down at one point of the season. Everyone's got to be ready. Everyone's got to compete every single day and work hard every single day because you never know what's going to happen."
Fitzgerald preached the same message about his quarterbacks. While senior
Dan Persa
still rehabs after rupturing his Achilles tendon last season and will be limited in his practice participation, Fitzgerald is evaluating sophomore
Evan Watkins
, sophomore
Kain Colter
and redshirt freshman
Trevor Siemian
for his spring starting quarterback.
Watkins and Colter both saw time in the Wildcats' final three games last season after Persa's injury against Iowa.
"Dan's out," Fitzgerald said. "With that being said, now is the time. Last year after the Iowa game, we didn't have a chance; Evan was next up. We decided we'd move forward with Kain. Those two guys, their playing was predicated based on success. We went 0-3. Neither one of those guys is a starting quarterback. We add Trevor to the mixer.
"One of those three guys has to emerge to be the starting quarterback this spring. They're going to work their butts off and compete, and I'm look forward to watching."
Placekicker is another position up for grabs. Stefan Demos had the role locked down for the past four seasons, but with his graduation either sophomore Jeff Budzien or junior Steve Flaherty will take over.
On Monday, Budzien went 4 for 4 on field-goal attempts, and Flaherty was 3 for 4.
"It's about consistency," Fitzgerald said. "I would love for Jeff and Steve to both have a role."
Senior wide receiver
Jeremy Ebert
thought the first day went as well as could be.
"We came out a little sloppy," Ebert said. "You know, first day, it was expected. But I thought for a first day, it was pretty good.
"We've experienced this before. It's not our first rodeo. We have a sour taste in our mouth. We have a lot of guys coming back, and we're trying to do something big this year."
December, 28, 2010
12/28/10
5:42
PM CT
EVANSTON, Ill. – Northwestern senior kicker Stefan Demos wasn't as deaf to the criticisms directed his way as it appeared throughout this season.
[+] Enlarge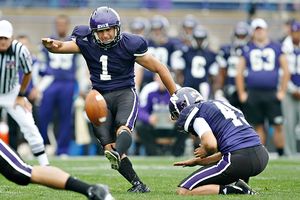 Scott Boehm/Getty ImagesStefan Demos has made 15 of 22 field goal attempts this season.
Expectations for Demos were set at a high level from the start. He had been one of the Big Ten's top kickers last season and had been relieved of his punting duties this year, so it was assumed he would be nearly automatic in 2010. But when he started off the season with a missed 27-yard field goal and extra point against Vanderbilt, a missed field goal and extra point against Illinois State and another missed field goal and extra point against Central Michigan, people began to wonder if something was wrong with him. Demos said there wasn't.
A few critics threw out the idea Demos' confidence had been broken after missing two field goals and having an extra point blocked in last year's Outback Bowl loss. He laughed at that.
When Demos nearly cost Northwestern a win against Minnesota with a missed extra point in Week 5, there were some who believed the Wildcats were better off with another kicker.
Demos heard it all loudly. But while his confidence did bend and it wasn't enjoyable having people question whether he was hurting the team, Demos remained quiet. There was something wrong, but he had decided before the season not to tell anyone despite the situation.
Just before leaving for Dallas and going through the final preparations for his last college game, Saturday's TicketCity Bowl, Demos was willing to finally open up about his secret of the 2010 season. He had played the entire season with a torn hip labrum and will have surgery following the bowl game to repair it.
"I don't want to make excuses," Demos said. "I'm not going to make an excuse the reason why I missed kicks was because of my hip. People can make that inference if they want to. I know fans are entitled to their opinion, and they're going to have it regardless. Whether or not they knew or didn't know, I still think they're calling for my head or love me. But that's the way a kicker's life works. Some weeks they love you, some weeks they don't.
"I could go out and tell the media, but what's that going to do? That would be selfish for me to save my own head because we had a plan that we were going to keep it in house and we did. We moved on. We lived with it. Coach never faded from having confidence in me. There were probably times people probably wanted me out, and he stayed with me. Hopefully, I rewarded his confidence, and I can finish out strong here."
Demos was feeling as good ever throughout the team's training camp, but tore his labrum just before the season began. He sat down with Northwestern coach Pat Fitzgerald to discuss their options, and Demos was adamant about playing this season.
"I chose to keep playing, so I got to live with it," Demos said. "It was tough, but I wouldn't have passed up this year for everything."
The injury affected how Demos could kick. His leg would only go so far back and so far forward. His range of motion wasn't nearly what it was last season.
Demos had to alter his style. Early on, he attempted baby swings to reduce the pain, but he discovered that made his extra points sail wide left. He eventually realized he would have to endure some discomfort to have success.
"There are certain things I've had to change just because physically I just don't have the motion to do some things," Demos said. "It stops me at a certain point. It's still different. At the same time, you have to adjust to it. Like I said, I chose to keep playing, so I figured out ways to hit the ball straight."
When people were questioning his early-season performances, Demos was barely practicing. He was in so much pain he even sat out an entire week of practice.
The extra time off leading up to Friday's bowl game has helped his hip feel better, but even now it isn't perfect.
"It's not very comfortable," Demos said. "Kicking off is probably the worst because it's the most aggression and hardest kick. There's not really great days, but for the most part it stays pretty steady. There are days here and there where it feels like someone is stabbing at my hip, a really bad pinch in there. Those are the days that kind of suck. There are days where coach and I will talk about, and I'm not hitting the ball really well, my leg isn't ready to go and we move on."
Demos admitted his confidence was shaken at times this season. The Minnesota game was especially hard on him. But over the last few games, he's been able to restore his belief in his ability.
Against Illinois at Wrigley Field, he connected on field goals of 25 and 31 yards and made all three of his extra points. At Wisconsin in the final week, he made a season-long field goal from 47 yards.
"I got a little better each week," Demos said. "The last few weeks especially I've had good practices, I had some big kicks against Illinois, the long one against Wisconsin. Certainly confidence carries over. There were times that I wavered, but for the most part I've stayed pretty steady, and that's what's gotten me through the year.
"I feel like I made kicks down the stretch that have helped us to win games. That's all I wanted to this year to help this team as much as I can. I got one more game left."
Demos views Friday's game as just another one. He says he hasn't thought about last year's misses for a long time. They never haunted him as some assumed they did, and he isn't looking for redemption this time around.
"I don't dwell on whether it's going to come down to me or not," Demos said. "If it does, great, I'll be ready. If it doesn't, hopefully something I do during the game has an impact to help this team win.
"As seniors, we talk about it. We want to go out on top and finish what we started the last two years and really leave a legacy here."
Demos will have surgery to repair his hip on Jan. 6. If it's like his last hip surgery, which was in 2008, he expects to be in a brace for six weeks and it'll require about five months of rehab. He hopes to be kicking again in May or June.
While his college career will end on Friday, he does on plan on attempting a professional one when he's completely healthy again.
"I'm going to give it a try," Demos said. "I don't want to look back in 10 years and say I wish I would have. From last year, I know I can get the job done. Even this year, I know mentally I can kick in a game.
"If I keep playing, great. If not, I had a great career here. I loved every minute of it. I'm very fortunate to be in the situation I was."
August, 20, 2010
8/20/10
4:46
PM CT
Northwestern senior kicker Stefan Demos was named to the Lou Groza Award watch list on Friday.

The Lou Groza Award is given to the nation's top placekicker. Demos was one of 20 semifinalists for the award last season.

Demos was a second-team All-Big Ten selection in 2009 after connecting on 18-of-25 field goals and scoring 88 total points.

"It makes you sleep a little better at night to have an All-Big Ten kicker," Northwestern coach Pat Fitzgerald recently said. "It's just going to be, 'What's his legacy going to be?' That's what this year is all about. He's poised."