Chicago Colleges:

Stephen Bardo
November, 28, 2012
11/28/12
12:17
AM CT
EVANSTON, Ill. -- Once the question began to unfold,
Northwestern Wildcats
sophomore point guard David Sobolewski began shaking his head in disapproval.
His squad had just been routed on its home floor, losing 77-57 to the
Maryland Terrapins
in the ACC/Big Ten Challenge on Tuesday. The query was whether Northwestern's loss was anything more significant than an early-season defeat, considering the Terps were the first major-conference opponent the Wildcats had faced after starting the season 6-0.
[+] Enlarge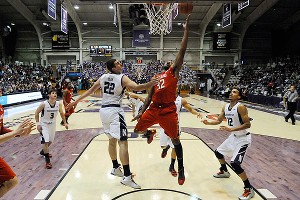 David Banks/US PresswireAfter starting the season with six wins, Northwestern was pummeled at home by
Maryland, its first major-conference opponent.
Sobolewski jumped on the question as soon as it was finished.
"No, it wasn't," Sobolewski said. "It was a November game against an ACC team. It's not the end of the season. We got a lot of work to do for sure, but we're not going to stop working. If anything, this will make us hungrier to improve in practice. So it was nothing more than a loss in November."
Some would debate that.
Whether the Wildcats like it, the question that will be associated with them from November until March is whether they are an NCAA tournament-caliber team. They've never been to the tournament ... and that, more than ever, is the measuring stick for the program after four consecutive NIT appearances. The question won't disappear until the goal of an NCAA tourney berth is realized.
From that standpoint, Northwestern didn't look much like a tournament team on Tuesday. The Wildcats were outscored 49-31 in the second half and outrebounded 47-19, shot 6 of 25 from the 3-point range and allowed 44 points in the paint. And their bench was outscored 23-7.
Northwestern coach Bill Carmody understood how one-sided the second half was and got that the Wildcats have to compete with teams like Maryland. But he also remained optimistic they'll get there.
"We have to be able to play with these guys, especially at home, so I think we're all disappointed. And we'll come back out and work hard and get this thing turned around," Carmody said.
ESPN college basketball analyst Stephen Bardo, who called the game, was more critical of the Wildcats.
"There really wasn't one thing they did well," Bardo said. "I think this was a game where anything could go wrong went wrong. It wasn't necessarily that Maryland is a dominant defensive team; Northwestern just couldn't get into anything."
What Northwestern does have in its favor are upcoming games with the
Baylor Bears
(Dec. 4 in Waco, Texas) and home against the
Butler Bulldogs
(Dec. 8). The Wildcats' Big Ten schedule will decide their postseason fate, but both these nonconference games could play a big part, as well.
Baylor has had some early bumps, but it is still a respected program. The Bears will face the
Kentucky Wildcats
just prior to playing Northwestern. Butler had a strong showing at the Maui Invitational, with wins over the
Marquette Golden Eagles
and
North Carolina Tar Heels
.
Bardo thought it was a necessity for Northwestern to defeat Butler and at least compete with Baylor. Last season, the Wildcats lost to Baylor by 28 points in Evanston.
"They're going to have to do some things if they want to improve their national view," Bardo said.
While all is certainly not lost with one game in November, the Wildcats now face more of an uphill battle if they're to reach their ultimate goal.
March, 29, 2012
3/29/12
5:36
PM CT
Here's what others are saying about new Illinois coach John Groce:
"He has a great basketball mind and a hunger for getting himself and his team better daily. I think U of I has found its answer. The style of play is going to attract big time players," – Philadelphia 76ers guard and former Ohio State player Evan Turner.
"He is a fantastic recruiter, fantastic. No messing around. No, 'Well, he doesn't do this.' Terrific, terrific in people's homes, terrific in terms of being able to evaluate. I think you have to be there. You have to be all things to all people when you're a head coach in the Big Ten. You have to be able to recruit different places, different types of people, different family situations. I think he's very good at that," – ESPN college basketball analyst Dan Dakich.
"He's intense. He's focused. I think he's a tremendous head coach. His kids really love playing for him, and he loves his kids, too. I think he's really grown as a head coach in his four years at Ohio. I think he took what he's learned from others – Thad Matta, Todd Lickliter – and in Year 4 it's a perfect storm of it all. It's all seemed to click. When the lights are the brightest, I think that's when he coaches his best," – Ohio play-by-play announcer Russ Eisenstein.
"John Groce is a very energetic guy. He relates to his players extremely well. He' s a very good recruiter. He's come into the Chicagoland area and gotten D.J. Cooper, who is an outstanding players out of the south suburbs of Chicago. He's familiar with the landscape," – ESPN college basketball analyst and former Illinois player Stephen Bardo.
"He's a very good guy. It think he'll do a super job. I know John. He would have only taken it if he was completely sure. John had plenty of opportunities to become a head coach. He took his time," – Former DePaul assistant and current St. Rita high school coach Gary DeCesare.
"What I know of coach Groce is throughout the years he's done a great job recruiting wherever he's been and has moved up the ladder. He's done everything to move up to be considered for this job. He didn't ask for the media circus around him. He didn't create that," – Illinois Wolves club coach Mike Mullins.
"It's not a bad hire at all. I think he's a great hire. I think he's a dynamite communicator. He's proven he can get kids to elevate their play. He'll be able to deal with guys around Chicago. He'll be able to win guys over," – Illinois high school basketball analyst and former club coach Larry Butler.
March, 10, 2012
3/10/12
8:34
PM CT
Illinois athletic director Mike Thomas has said he plans to have a diversified candidate pool in the search for school's next basketball coach. But it is uncertain how much of a factor race will ultimately be in the process -- and whether Illinois will change its athletic history.
The fact is Illinois has never hired an African-American head coach in men's basketball or football. Nebraska and Purdue are the only other Big Ten schools to have never done the same.
Part of the reason Illinois is in that category is circumstantial -- at least recently. Thomas reportedly pursued Kevin Sumlin, an African-American, for Illinois' football opening in December. Sumlin, however, turned down the Illini and opted for Texas A&M.
However it may have gotten there, Illinois is still in a category that doesn't reflect well on the university and its diversity.
"I do feel it's a negative," ESPN college basketball analyst and Illinois alumnus Stephen Bardo said. "It sends a certain message that doesn't resonate well with student-athletes from urban areas. The previous regime liked to stay in their comfort zone, but the rest of the Big Ten is much more progressive and in many ways more successful."
Two Illinois board of trustees members brought a higher level of public awareness to Illinois' lack of African-American head-coaching hires when they voted against the appointment of football coach Tim Beckman on Jan. 19. Trustees James Montgomery and Lawrence Oliver said they had nothing against Beckman but were disappointed Illinois hadn't aggressively pursued an African-American coach.
Oliver spoke with ESPNChicago.com on Jan. 20 and explained why he voted as he did.
"I think over years and decades a fair process should produce some diversity in those high-profile positions, and it just hasn't happened," Oliver said on Jan. 20. "The vote more than anything was to bring some attention to the fact, 'Listen, there are a lot of qualified African-Americans in these two major college sports. For some reason, we've never done it.' I wanted folks to be mindful of that. My vote was essentially to raise the awareness of it and hopefully more thought will be put into future considerations."
Oliver was also asked if he thought Illinois needed to hire an African-American men's basketball or football head coach whenever those jobs became available again.
"Whether I'm a trustee at the time [of another hiring] or not, I would want an emphasis placed on pursuing a diverse slate of candidates with the understanding of we've never had a black coach, and that's something that puts us in a category that you don't want to be in, especially in major colleges and Big Ten schools," Oliver said. "I'm not saying absolutely hire a coach, but be more mindful of it.
"I know a lot of people have strong opinions about this. It's a hot-button issue, and I realize this. But I think it's an important issue in the year 2012."
Oliver declined an interview request to speak of the issue again on Friday.
Bardo has become a public advocate to Illinois pursing an African-American men's basketball head coach.
"It's something made very visible by the likes of me and other people associated with the program," Bardo said. "That's something we want to be a big-time consideration. It's not the end all, be all. I want the best coach to take over the program. But I want consideration of an African-American coach to lead the program in the direction to where it was when I went there. I don't think that's been done in the past.
"Until the university makes a true commitment to diversity, this is the outcome we're going to get. To move to another level, another direction, you have to try different things."
Among the possible candidates who would meet that criteria are VCU head coach Shaka Smart, Washington head coach Lorenzo Romar, former NBA and college coach Reggie Theus, Alabama head coach Anthony Grant, Illinois interim head coach Jerrance Howard, Harvard head coach Tommy Amaker, Detroit head coach Ray McCallum and Simeon high school coach Robert Smith.
Thomas was asked directly whether there was pressure to hire an African-American coach during an interview on ESPN 1000 on Friday.
"For me and really as it falls under my job description, it's really about getting the best basketball coach," Thomas said. "But in saying that, it's also my job to make sure that we have a quality pool and diversified pool. We have to have a diversified pool. We got to have some diversity. It's got to be a pool of strong candidates. But at the end of the day, it's my job to get the best candidate at the University of Illinois."
March, 14, 2011
3/14/11
10:44
PM CT
CHICAGO -- Former Illinois players
Stephen Bardo
and
Kendall Gill
think
Jalen Rose
is shorting the truth when it comes to the roots of the baggy shorts trend.
Rose said in ESPN's documentary "The Fab Five" that he and his Michigan teammates started the phenomenon when they asked then-Wolverines coach Steve Fisher during their freshman year if they could wear baggier shorts.
But Bardo and Gill see it a little differently. They say it was the Flyin' Illini team of the late '80s who first sported the baggy shorts that have become the norm in college hoops over the past two decades.
Read the entire story.
TOP 25 SCOREBOARD
Thursday, 8/28
Friday, 8/29
Saturday, 8/30
Sunday, 8/31