Chicago Colleges:

Sun Bowl
December, 31, 2010
12/31/10
6:43
PM CT
By
Wes Morgan
| ESPNChicago.com
If you're a
Notre Dame
football fan, the 2011 season is shaping up to be pretty special.
The Irish dominated both sides of the ball in Friday's 33-17 victory over Miami in El Paso, Texas, as a four-game win streak to end 2010 took away the sting of a slow start and gave them momentum heading into next year.
The electric Fighting Irish jolted the Hurricanes (7-6) early with two quick touchdown strikes from freshman quarterback
Tommy Rees
to star receiver
Michael Floyd
, who nearly added two more, practically claiming a victory before everyone had reached their seats.
On an uncharacteristically cold day in West Texas, here's a look at a number of Notre Dame players who scorched an old rival to finish 8-5:
[+] Enlarge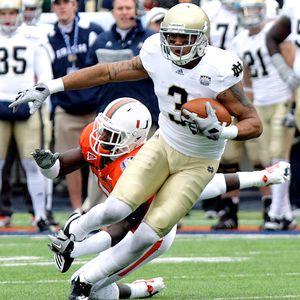 AP Photo/El Paso Times/Mark LambieMichael Floyd caught six passes for 106 yards and two touchdowns in Notre Dame's Sun Bowl win on Friday.
Farewell Floyd?
In what was probably his final game in an Irish uniform, Floyd, a junior, caught six passes for 106 yards and two scores against the nation's second-ranked pass defense. Few expected Floyd, assumed to be greeted by blanket coverage all afternoon, to be much of a factor. Instead, the 6-3, 227-pounder from St. Paul, Minn., victimized Miami and defensive back
Brandon Harris
.
Floyd showed his speed on third-and-long with a short slant that he took 35 yards -- on a drive he finished with a 2-yard TD snag -- and underscored his ability to get the ball on an under-thrown pass for a 34-yard score.
Harrison Smith-ereens
Irish senior safety Harrison Smith turned Miami quarterback
Jacory Harris
' brain to mush with three first-half interceptions, breaking former ND great Elmer Layden's 85-year record of two picks in the 1925 Rose Bowl against Stanford. Harris was soon replaced by freshman
Stephen Morris
, who finished 22-for-33 passing for 283 yards and a pair of TDs.
Smith has a fifth year of eligibility and it's all but a formality that he will be back in South Bend next year, pending an official offer from the university. Smith had four interceptions in the regular season to finish with seven. He hadn't registered one prior to his senior campaign.
Production, but not perfection
Senior walk-on kicker David Ruffer entered the Sun Bowl 16-for-16 on field goals this year and 22-for-22 in his brief career with the Irish. He connected on FGs from 40 and 50 yards (tying a career long) in the first quarter and added a 19-yarder in the third to give ND a 30-3 lead. Following the ensuing kickoff, Ruffer limped off the field.
When he came back out for a 36-yard attempt with 4:16 left in the third, his streak ended. Though his resume was finally smudged, his nine points were critical when the Hurricanes came to life later in the game. Sophomore Nick Tausch, a Texas product, relieved Ruffer and converted a 34-yard field goal in the fourth quarter.
Long haul for Hughes
Through his first three seasons,
Robert Hughes
never averaged more than 38 yards rushing per game. His 5-11, 245-pound frame was used mostly at fullback after opportunities as the featured back failed. When Armando Allen went down with a hip injury earlier this year, Hughes provided ND with energy, toughness and straightforward reliability in combination with sophomore
Cierre Wood
, who bolted to a 34-yard TD early in the third quarter.
Hughes, who only carried the ball in eight games this year, bruised the Hurricanes for 84 yards on 27 carries to cap a superb senior season and push his total to 303. Wood had 85 yards on 11 carries.
Quarterback conundrum
The crystal ball was already murky concerning Notre Dame's starting QB in 2011, and Rees' efficient and intelligent play against the 'Canes just made Kelly's decision that much tougher.
Never rattled, Rees completed 16 of 30 passes for 195 yards and two touchdowns with absolutely no mistakes against a heralded secondary. With ample protection from the Irish offensive line, Rees was patient in the pocket, made strong throws on the run and did far more than just manage the game. Of his four victories, Friday's was the loudest argument that he's ready to be the man and permanently replace injured junior
Dayne Crist
.
December, 30, 2010
12/30/10
5:43
PM CT
By
Wes Morgan
| ESPNChicago.com
There's nothing conservative about
Notre Dame
coach Brian Kelly. But a power attack on offense shielded freshman quarterback
Tommy Rees
from having to make too many hard decisions after he took over for injured
Dayne Crist
. As a result, the Fighting Irish rattled off three straight victories to salvage their season.
In his last session with reporters before Friday's Sun Bowl against
Miami
(1 p.m., CBS), the game plan wasn't given away, but Kelly made it clear that Rees wasn't on a tight leash.
[+] Enlarge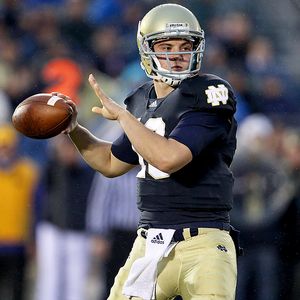 Jonathan Daniel/Getty ImagesTommy Rees led Notre Dame to wins in its last three games.
"The one thing that Tommy has been able to get is real experience leading into this game," Kelly said Thursday. "Three weeks of watching film and looking at the mistakes against USC, it's been a great teaching time for him, where you can slow things down a little bit and look at all the things he's capable of doing and things he can do better. I probably feel as confident with his development as any player, because he's had that real experience.
"Going into this game, Tommy has to be part of the equation. We can't go in there and say things like, 'Well, he just has to distribute or he just has to manage the game.' Tommy has to play well. and if we're to win this football game, he has to use the experience he had as a starter and go play the game the way he's capable of."
The Irish offense is bolstered by the return of sophomore receiver
Theo Riddick
, a versatile player needed against a formidable Hurricanes' secondary.
"You'll see a much more expanded role for him in this game," Kelly said. "He hasn't been part of our game plan for over two months. He'll be an integral part of what we do."
Now that it's time for the Irish (7-5) to renew an emotional rivalry with the Hurricanes (7-5) for the first time in decades, Kelly assessed his squad one more time.
"I think I know our team fairly well," he said. They're excited about the matchup. When you have the University of Miami, it gets your attention. Our guys are excited about the game. Now, being excited about the game and execution and following through on all the things, that's why there is so much anxiety as a coach going into a bowl game with so much of a layoff. Their battery is fully charged, let's put it that way."
December, 28, 2010
12/28/10
8:02
PM CT
By
Wes Morgan
| ESPNChicago.com
Editor's note: This is the second of two parts recapping Miami's season as the Hurricanes and Notre Dame prepare for Friday's Sun Bowl.
Miami (7-5) had a rough road to start the season with four road games in the first six weeks, including trips to No. 2 Ohio State and No. 23 Florida State -- both losses. Still, the Hurricanes managed to put together a 4-2 record.
Randy Shannon's squad never could hold onto momentum, failing to win more than two games in a row all year. Miami's only two-game losing streak came in the final two weeks, which led to Shannon's dismissal.
Here's a look at the Hurricanes' rocky finish to the regular season:
Oct. 24, North Carolina
Miami entered the contest ranked 25th in the Associated Press poll and quarterback Jacory Harris threw three touchdown passes to move into second place on the program's career list. Tailback Damien Berry posted his fourth consecutive effort over 100 yards to help the 'Canes cruise to a 33-10 victory over the Tar Heels, which kept them in the Atlantic Coast Conference title hunt.
Oct. 30, at Virginia
[+] Enlarge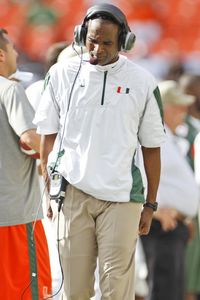 AP Photo/J Pat CarterMiami's poor finish cost Randy Shannon his job.
Moving up to a No. 22 ranking, the Hurricanes' season started to unravel in Charlottesville after Harris went down with an injury and the Cavaliers intercepted Harris once and Miami's backup QBs four times to tie a school record. Virginia's
Keith Payne
rushed for a pair of TDs to finish off Miami and its ACC championship hopes.
"When you chop the head off a giant, the rest of the body goes with it," Virginia defensive tackle John-Kevin Dolce said about his blast to Harris' chest that lifted the athletic QB off his feet and took him out of the game with a concussion. It was Virginia's first league victory in its last 10 tries.
Nov. 6, Maryland
With Harris sidelined indefinitely, true freshman Stephen Morris threw for 286 yards in his first start, including a 35-yard TD strike to Leonard Hankerson with 37 seconds left for a 26-20 win.
A sloppy game that featured three Miami turnovers and two missed extra points came down to that final 82-yard drive that began at the 3:06 mark. A defensive touchdown was negated by a penalty and Maryland capitalized with a Travis Baltz field goal from 23 yards prior to the Hurricanes' last drive.
Nov. 13, at Georgia Tech
Even distribution on the ground led to a 35-10 win on the road in Atlanta. Taking pressure off Morris, the Hurricanes had four rushers find the end zone as Hankerson did the heavy lifting receiving. Morris still finished with 230 passing yards. Lamar Miller, Berry, Mike James and Graig Cooper all ran for scores to help pile up a season-high 504 total yards of offense.
Nov. 20, No. 14 Virginia Tech
The Hokies, ranked 14th, got a huge lift from Ryan Williams' 142 rushing yards and two TDs, which included a career-long 84-yarder in the fourth quarter, for a 31-17 victory over Miami to seal up an ACC Coastal Division crown. It was Virginia Tech's ninth straight victory -- its longest winning since 1999 -- after back-to-back losses to start the season.
Miller rushed for a career-best 163 yards for the Hurricanes, which dropped to 7-4 overall and 5-3 in the ACC after turning the ball over six times.
Nov. 27, South Florida
Shannon's time in Miami ran out after a 23-20 overtime loss to the Bulls. The defeat sent the Hurricanes to their worst home record since 1997. South Florida's Bobby Eveld rushed for a 1-yard TD with two minutes left in the fourth quarter to tie the game, then caught a 9-yard pass in the extra period to move the Bulls to the 1-yard line. Demetris Murray finished the drive by leaping over the pile on the next play to end it.
In his return from injury, Harris threw a pick with five seconds left well within kicker's Matt Bosher's range. Bosher connected on a 38-yarder in OT but the cushion wouldn't be enough.
December, 26, 2010
12/26/10
3:33
PM CT
By
Wes Morgan
| ESPNChicago.com
Second in a series examining Notre Dame bowl records.
At least publicly,
Miami
interim coach Jeff Stoutland still hasn't settled on a starting quarterback for the Hurricanes' Sun Bowl clash with
Notre Dame
on New Year's Eve in El Paso, Texas. The competition between
Jacory Harris
and
Stephen Morris
was tight throughout the team's preparation for the Irish.
Miami (7-5) averaged just over 422 yards of total offense and 27 points per game this season, with a balanced attack that was nearly an even split between the rushing and passing. However, the Hurricanes weren't that great in scoring position, with only 28 touchdowns in 50 red-zone trips. Notre Dame (7-5) climbed back into the bowl picture by tightening the screws on defense, which was mostly responsible for the Irish winning their last three games.
Here's a look at some of Notre Dame's defensive bowl records and impressive individual performances, as well as a few records by opponents that the Irish defense would rather not see broken:
Interceptions:
Not since Elmer Layden against Stanford in the 1925 Rose Bowl has an Irish player intercepted two passes in a postseason contest. Layden returned the picks for a combined 148 yards, one of which he took back 78 yards, records in both categories. This season, safety Harrison Smith snagged four interceptions and cornerback Darrin Walls added three to pace the Irish.
Tackles:
Rod Smith recorded a staggering 18 solo tackles versus Florida in the 1992 Sugar Bowl -- a program best for both unassisted and total stops in a bowl game for ND. Jay Case had nine assisted tackles at the 1979 Cotton Bowl against Houston. Brian Smith had 10 assists in a victory against Utah and fellow inside linebacker Manti Te'o registered 21 stops in a loss to Stanford.
Opponent rushing:
Rondell Mealey (LSU) punked Notre Dame for 222 yards on the ground in the 1997 Independence Bowl, including a 78-yarder --
the longest ever against the Irish in a bowl game. Nebraska's Johnny Rodgers scored three touchdowns in the 1973 Orange Bowl.
Opponent passing:
Florida's Shane Matthews' 58 attempts, 28 completions and 370 yards in the 1992 Sugar Bowl were all postseason bests against an Irish defense. Oregon State's Derek Anderson also completed 28 passes in the 2004 Insight Bowl and he tied FSU's Danny Kanell (1996 Orange Bowl) with four TD passes.
Opponent receiving:
Jerricho Cotchery caught 10 balls in the 2003 Gator Bowl for NC State and Ohio State's Ted Ginn Jr. enjoyed 167 receiving yards in the 2006 Fiesta Bowl, where Buckeyes quarterback Troy Smith also connected with a record-setting 85-yard pass to Santonio Holmes. FSU's Andre Cooper caught three TD passes from Kanell in 1996.
December, 23, 2010
12/23/10
10:55
PM CT
By
Wes Morgan
| ESPNChicago.com
[+] Enlarge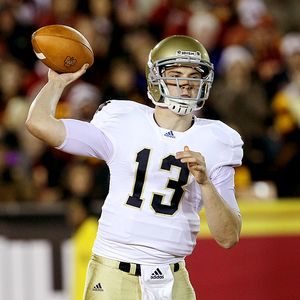 Stephen Dunn/Getty ImagesTommy Rees has Notre Dame on a three-game winning streak.
It's hard to know how Miami will react with new head coach Al Golden taking over the program on such short notice heading into the New Year's Eve showdown with Notre Dame in the Sun Bowl. But If the Hurricanes' secondary lives up to its impressive billing, it's unlikely Irish freshman quarterback
Tommy Rees
will set any passing records in El Paso.
Both 7-5 teams underachieved. However, at times this season, both squads looked unstoppable.
Here's a look at some of Notre Dame's offensive bowl records and impressive individual performances. Most marks aren't in jeopardy. Some might be.
Rushing:
Allen Pinkett's 28 rushing attempts against Boston College in the 1983 Liberty Bowl were the most in Irish postseason history and netted 111 yards in a 19-18 victory. When senior Armando Allen went down earlier this season with a hip injury, sophomore
Cierre Wood
received the lion's share of carries, highlighted by a 94-yard day versus Western Michigan. He averaged 82.7 yards in the final three victories against Utah, Army and USC. With Miami stingy against the pass, Wood should get plenty of action, but it will be tough to match Jerome Bettis' program-record 150 yards versus Florida in the 1992 Sugar Bowl, which included three touchdowns and tied a Notre Dame record.
Passing:
Brady Quinn unleashed 45 pass attempts against Ohio State in a Fiesta Bowl loss in 2006. Quinn also holds the high mark with 29 completions in the same game. Jimmy Clausen lit up Hawaii on its home turf in 2008, snagging the completion-percentage record (85 percent) when he connected on 22 of 26 attempts, which netted a record 401 yards. One of the Irish's living legends, Joe Montana, holds the unfortunate record of four interceptions (1979 Cotton Bowl vs. Houston).
Receiving:
Arnaz Battle caught 10 passes in the 2003 Gator Bowl vs. North Carolina State, but Golden Tate terrorized Hawaii in '08 with 177 receiving yards and three TDs -- both Irish records. Tate also hauled in the longest bowl pass in program history with a 69-yarder. It's plausible that
Michael Floyd
might catch 10 balls against Miami next week, but unlikely. Rees might be fortunate to throw for 177 yards all day against the Hurricanes.
Field goals:
This year's Lou Groza Award finalist David Ruffer already holds the single-season record for consecutive field goals with 15. He's perfect for his career with 20 field goals made dating back to last season. He'll have to knock down three on New Year's Eve to tie Scott Cengia's performance against LSU in the 1997 Independence Bowl.
December, 21, 2010
12/21/10
9:11
PM CT
By
Wes Morgan
| ESPNChicago.com
According to
Notre Dame
football coach Brian Kelly, the Fighting Irish did what they were told in Tuesday's final full practice before their trip to the Sun Bowl in El Paso, Texas. Then they added some unexpected pop to a session that satisfied Kelly and his staff.
"Today was a good day," Kelly said. "It was fast, there was high-paced action. It was supposed to be tag-off today and it ended up in tackling. That's a good sign. I've been on teams that didn't want to play the bowl game; they just wanted to get through it, get the season over with and get out of here. These guys want to play the game. … They got a lot of gas in the tank."
[+] Enlarge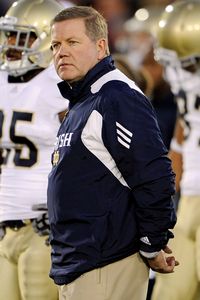 Chris Williams/Icon SMIBrian Kelly would like to see the Irish go into the offseason on a high note with a win in the Sun Bowl.
Kelly feels his team is adequately prepared to take on Miami on New Year's Eve, but his other concern is taking good vibrations into 2011.
"You want to win the game because [if you don't,] you're carrying with you in the offseason the loss," he said. "That's the No. 1 thing. It's such a long time before you get a chance to eradicate that. More than anything else, there's such a long layoff before you get a chance to play again. That's very, very important to me and I know it is for our players. They don't want (strength and conditioning) coach (Paul) Longo with a loss on the first day of winter conditioning. I think they'd rather have him with a win on his mind."
Here are the other topics Kelly addressed in his last news conference before heading to El Paso:
On maintaining defensive chemistry now that nose guard Ian Williams is back:
"Well, I think it was more about the other players playing at a higher level (while Williams was out). We got Darius Fleming playing really well late; Brian Smith playing really well late. So, it was really more about those other guys around him playing very, very well. And then Sean [Cwynar] and Hafis [Williams] did a really nice job when they were called upon as a package [at nose guard]. Now you got Ian back in there, and if we can keep the same level of play, because we can't have those guys drop off, if they continue their same play, we can obviously feel good about our defense going into Miami.
"The scheme didn't change much at all. I think if anything we probably focused more on making sure we protected our linebackers even more."
On Miami's voracious secondary:
"They play man-on. Their hands are on you. There's not a lot of space. This isn't a team that's going to play soft quarters and let you throw it and rally it. They're going to have hands on you. So, it's bump and run, it's tight coverage. You better be very accurate with the football and be able to put it on your receivers. That's why they've been so good. And they generate a really good pass rush with just four."
On what he's learned about his team since the victory over USC:
"Like all other teams that I've coached, if you prepare them in the manner that I have prepared them, they will have a lot left in the tank, you know, later in the year. There's a lot of energy with our group; they enjoy coming to play. All these things are important principles in developing consistency within your program. They really like playing the game. This is a group, I think, again, is, you know, the best word I can use is the morale is pretty high. And when the morale is high, these guys like to come in and play the game."
On what happens once they arrive in Texas:
"We want to make sure they enjoy the experience. To enjoy the experience you have to be well prepared before you get there, because if you're not well prepared and organized with your schedule, then it becomes a bit of a distraction. … So we try to create a very solid schedule for them and do a lot of the preparation work before we get there, because we want them to enjoy the bowl experience."
On his first Christmas in South Bend:
"I'm ready to enjoy it. It's not here yet, though my kids thought Christmas was like the last three days. I need to get out and shop in the greater South Bend, Michiana community and buy a lot of stuff. I haven't done any shopping yet.
"I think just sitting down and having a meal. You never get an opportunity to sit down as a family and, you know, talk to your kids for more than sound bites. So, it will be nice to sit down and relax and not have to get what happened in your school day in about 20 seconds at 6:30 in the morning."
December, 11, 2010
12/11/10
1:37
PM CT
By
Wes Morgan
| ESPNChicago.com
Notre Dame
was a middling team this season that showed flashes of excellence. There were missed opportunities. There were embarrassments. There was a three-game resurrection at the end.
A year after being introduced in the same auditorium, coach Brian Kelly stepped in front of the lectern Saturday and explained that the Sun Bowl isn't what he was shooting for. But playing Miami in El Paso, Texas, on Dec. 31 has turned out to be the best of the rest for the Fighting Irish.
"We started about talking about how important it was for this game to really reflect being the first game of 2011 and a glimpse towards that," Kelly said. [Finishing at] 7-6 versus 8-5, playing Miami. I think we've talked about the game itself. They're excited about the matchup. Let's face it, nobody has their eyes set on the Sun Bowl when you start the season. Nobody does. But you are playing Miami in a bowl game and it sold out in 24 hours. It's a great matchup that goes back for so many years."
Kelly mixed humor and honesty to sum up a tumultuous first season in South Bend.
"Generally at this time, I usually have to begin by saying I'm not interested in any other jobs," he said to open the news conference. "I'm only interested in the job that I have here at the University of Notre Dame. The good part about it and the bad part about it is when you're 7-5 you don't have to worry about those things.
"... I think I said it then, that it was a dream come true. I think what I can tell you now is that there's no job like being the head football coach at the University of Notre Dame. Some could comment on what that dream meant. It certainly was, for me, a great experience. Some highs, some lows, but it's what I thought it would be."
What he focused on this past week was continuing to polish younger and inexperienced players, as well as bringing everyone back up to the kind of speed they showed to cap the season.
"Seriously, for us here, we've always talked about developing our players and our program and that's what we're doing right now in our practices," Kelly said. "You know, the past four or five practices have really been about timing, tempo and tackling. And, really, when you talk about those three things, the game of football requires you to knock the rust off when there's about 30 days before you play that next game.
"So, our focus has been on, again, those elements of the game that require timing. You get away from it and you can immediately see it. So, that's been a focus. The tempo, in terms of moving our practices and getting our guys back to pace that they need to be."
Here are some other topics Kelly addressed Saturday:
On next week's schedule:
"We'll now move into next week, and trying to work around a busy schedule for our players with exams, with some practicing. Those schedules are going to put us in some non-traditional times relative to practice so that we can get our players there. We'll start to look at Miami next week -- hone in on that a little bit. And then the 20th, 21st and 22nd will really be a long day of football. We'll treat it almost like camp in the sense that we'll have our guys the full day. We let them loose at noon on the 22nd ... they then will go home and will meet us in El Paso on the 26th."
On having nose guard Ian Williams and receiver Theo Riddick back:
"Good to see Ian Williams back out there in a live situation. Very good to see Theo Riddick back to where we remember him [being] before he got injured."
On other bumps and bruises:
"The front line guys -- no injuries. [Dan] McCarthy had shoulder surgery, a shoulder that he had some difficulty with last spring. And, of course, a lot of the focus on Daniel was his hamstring and that has come through well. But [the shoulder] was re-injured and we just thought it would be prudent to get it taken care of now so we wouldn't be into spring ball without him being able to participate because it's an important spring for him. Tyler Stockton, they cleaned up his shoulder. He had some need to have that done. He had been playing most of the this year, in terms of his work on scout team, with a shoulder that needed to get scoped. [Manti Te'o] had his nose set. He thinks he looks a lot better before the nose was broken. [Special teams player] Danny Spond has been fighting a viral illness. He's back in the health center again. He's been hit with a couple bugs that we thought it was food poisoning and turned out to be an infection."
December, 7, 2010
12/07/10
8:55
PM CT
By
Wes Morgan
| ESPNChicago.com
Even after all the injuries that piled up for Notre Dame this season, head coach
Brian Kelly
said the Fighting Irish must bang on each other in the weeks leading up to the Hyundai Sun Bowl on Dec. 31.
"My first couple of bowl games I was really hesitant to even get into some contact," he said about his postseason trips with Cincinnati, including a comeback 31-21 victory over Southern Mississippi and a 20-7 loss to Virginia Tech. "I think we all get caught up in wanting to be injury-free going into the game, and then the game is a little too fast for you early on.''
Kelly, noting advice he once received from Virginia Tech's Frank Beamer about maintaining a high level of physicality through December, said he won't coddle his players, though practices will lighten up around exam time, before Notre Dame (7-5) meets Miami (7-5) on New Year's Eve.
Senior nose guard Ian Williams, who went down with an MCL injury against Navy and missed the final four games for the Irish, and sophomore receiver
Theo Riddick
(ankle), extremely limited since Oct. 16, are both expected to start against the Hurricanes.
"Ian will get as much work as he's able to get," Kelly said of the 6-2, 305-pounder. "It's his last game playing for the University of Notre Dame. So he's going to have to tap his helmet and yell real loud to come off the field, because we're going to stick with him."
Odds and ends
ESPN.com's Heather Dinich reported today that Miami's allotment of Sun Bowl tickets sold out in 36 hours. Notre Dame sold out by Monday night. No tickets remain available to the general public and it's the quickest sellout in the 77-year history of the bowl game, according to Sun Bowl officials.


Kelly confirmed that juniors Michael Floyd (WR) and Kyle Rudolph (TE) have asked the NFL's draft advisory board to provide them with evaluations as to where they might fit in the 2011 draft.

"I guess that's different from last year," Kelly said, "because I don't know that either of those players [quarterback Jimmy Clausen and wide receiver Golden Tate] had asked to be evaluated. They both were going to go [no matter what]. Both of these young men have asked to be evaluated."
December, 5, 2010
12/05/10
7:45
PM CT
By
Wes Morgan
| ESPNChicago.com
Notre Dame nose guard Ian Williams, who missed the final four games with a MCL injury, is expected to suit up against Miami in the Sun Bowl on New Year's Day.
Read the entire story.
December, 5, 2010
12/05/10
4:14
PM CT
By
Wes Morgan
| ESPNChicago.com
This year the Notre Dame football team went through some of the program's darkest days en route to the postseason. Miami, with an interim coach guiding the Hurricanes, has its own issues to resolve. To Sun Bowl organizers, brand value alone, more than both teams' 7-5 records, made dollars and sense.
Read the entire story.
TOP 25 SCOREBOARD
Thursday, 9/18
Saturday, 9/20