Chicago Colleges:

Syracuse Orange
October, 11, 2012
10/11/12
2:13
PM CT
This week, ESPN.com is breaking down the nonconference schedules of each and every team in a dozen of nation's top leagues. On Monday, we began with the
ACC
,
SEC
and
C-USA
. We started Tuesday with the
A-10
and now it's off to the Big East ...

CINCINNATI
Toughest:
Global Sports Invitational (Nov. 23-24 in Las Vegas)
Next-toughest:
Alabama (Dec. 1), vs. Marshall (Dec. 15 in Charleston, W.Va.), vs. Xavier (Dec. 19 at US Bank Arena), New Mexico (Dec. 27)
The rest:
UT-Martin (Nov. 11), Mississippi Valley State (Nov. 13), North Carolina A&T (Nov. 18), Campbell (Nov. 20), Arkansas-Little Rock (Dec. 6), Maryland-Eastern Shore (Dec. 8), Wright State (Dec. 22)
Toughness scale (1-10): 5
-- The Bearcats earn a slight bump thanks to a trip to Vegas that includes a game against Iowa State and then either UNLV or Oregon. But otherwise there isn't a lot to get excited about here. Even the Crosstown Shootout has lost a little luster, moved off campus after the brawl and muted by a seriously depleted Xavier roster.

CONNECTICUT
Toughest:
vs. Michigan State (Nov. 9 in Germany), vs. NC State (Dec. 4 in NYC), Washington (Dec. 29)
Next-toughest:
Paradise Jam (Nov. 16-19), Harvard (Dec. 7)
The rest:
Vermont (Nov. 13), Stony Brook (Nov. 25), New Hampshire (Nov. 29), Maryland-Eastern Shore (Dec. 17), Fordham (Dec. 21)
Toughness scale: 8
-- Welcome to the hot seat, Kevin Ollie. Jim Calhoun has done you little in the way of a favor, leaving a Huskies team in the midst of reconstructing itself a tough schedule. The Armed Forces Classic with the Spartans on the base in Germany will be a spectacle in the best sense of the word, but followed just four days later with a not-so-easy game against perennial America East contender Vermont. And that's just the first week. There's also a preseason top-10 team in NC State and a decent field in the Virgin Islands that includes New Mexico and several dangerous mid-majors.

DEPAUL
Toughest:
Cancun Challenge (Nov. 20-21)
Next-toughest:
at Arizona State (Dec. 12)
The rest:
UC Riverside (Nov. 9), Gardner-Webb (Nov. 15), Austin Peay (Nov. 17), Fairfield (Nov. 27), at Auburn (Nov. 30), at Chicago State (Dec. 5), Milwaukee (Dec. 9), Northern Illinois (Dec. 16), UMBC (Dec. 22), Loyola-Chicago (Dec. 29)
Toughness scale: 2
-- There's a rationale here that's understandable. DePaul has to walk before it can run and frontloading an impossible schedule will do no good for a team still trying to crawl its way up the Big East standings. But maybe a little something to move the needle wouldn't be a bad idea. The Cancun event is about it and that offers up retooling Wichita State and either Iowa or Western Kentucky.

GEORGETOWN
Toughest:
vs. Florida (Nov. 9 in Jacksonville), Legends Classic (Nov. 19-20 in Brooklyn, N.Y.)
Next-toughest:
Tennessee (Nov. 30), vs. Texas (Dec. 4 in New York)
The rest:
Duquesne (Nov. 11), Liberty (Nov. 14), Mount St. Mary's (Nov. 24), Towson (Dec. 8), Longwood (Dec. 10), Western Carolina (Dec. 15), American (Dec. 22)
Toughness scale: 8
-- This schedule is potentially even better. If the Hoyas beat UCLA in Brooklyn, they'll likely take on preseason No. 1 Indiana the next day. That's after the opener against Florida and before tough games against Tennessee and Texas. Georgetown, looking for a second straight better-than-expected season, will be well-tested by the beginning of December. If they aren't beaten up or beaten down, the Hoyas will come out the stronger for it in time for Big East play.

LOUISVILLE
Toughest:
Battle 4 Atlantis (Nov. 22-24), at Memphis (Dec. 15), Kentucky (Dec. 29)
Next-toughest:
Illinois State (Dec. 1), vs. Western Kentucky (Dec. 22 in Nashville)
The rest:
Manhattan (Nov. 11), Samford (Nov. 15), Miami-Ohio (Nov. 18), at Charleston (Dec. 4), UMKC (Dec. 8), Florida International (Dec. 19)
Toughness scale: 8
-- The beauty in this schedule is what you don't see -- namely the Battle 4 Atlantis schedule after the first-round date with Northern Iowa. Missouri, Stanford, Memphis, VCU, Duke and Minnesota round out the field of heavy hitters, all of whom will give the top-5 Cards plenty to handle. And the date with Kentucky is always a nice friendly little waltz, too.

MARQUETTE
Toughest:
vs. Ohio State (Nov. 9 in Charleston, S.C.), Maui Invitational (Nov. 19-20), at Florida (Nov. 29), Wisconsin (Dec. 8)
Next-toughest:
LSU (Dec. 22)
The rest:
Colgate (Nov. 11), Southeastern Louisiana (Nov. 13), UMBC (Nov. 26), Savannah State (Dec. 15), at Green Bay (Dec. 19), North Carolina Central (Dec. 29)
Toughness scale: 8
-- Another schedule with a hidden gem -- that would be a potential tango with North Carolina in Maui. But only if the Golden Eagles get past Butler, no easy task. Even without that, though, Buzz Williams has set his team up nicely, with not just some big names but a good mix of contrasting styles -- from uptempo Florida to no-tempo Wisconsin. You can even forgive Marquette for its dose of supposed 'easy' games. There's enough heft here, including that opener against the Buckeyes, to excuse any number of softies.

NOTRE DAME
Toughest:
CVC Classic (Nov. 16-17 in Brooklyn, N.Y.), Kentucky (Nov. 29)
Next-toughest:
vs. Purdue (Dec. 15 in Indianapolis)
The rest:
Evansville (Nov. 10), Monmouth (Nov. 12), George Washington (Nov. 21), St. Francis-Pa. (Nov. 24), Chicago State (Nov. 26), Brown (Dec. 8), IPFW (Dec. 17), Kennesaw State (Dec. 19), Niagara (Dec. 21)
Toughness scale: 5
-- It's not awful -- and it could get better, with Florida State perhaps waiting in the wings in Brooklyn (ND opens with A-10 favorite St. Joe's there) -- but this isn't exactly the same as the Irish's football schedule. Yes, Kentucky coming to town for the SEC/Big East Challenge is a great feather in the cap, but there are too many teams here that aren't guaranteed NCAA tournament selections to get hyped up about.

PITTSBURGH
Toughest:
NIT Season Tip-Off (Nov. 12-23)
Next-toughest:
Detroit (Dec. 1)
The rest:
Mount St. Mary's (Nov. 9), Fordham (Nov. 12), Oakland (Nov. 17), Howard (Nov. 27), vs. Duquesne (Dec. 5 at Consol Energy Center), North Florida (Dec. 8), Bethune Cookman (Dec. 15), Delaware State (Dec. 19), Kennesaw State (Dec. 23)
Toughness scale: 3
-- Yikes. This is a whole lotta meh for the Panthers. The NIT will help. Assuming they beat Fordham and/or Robert Morris or Lehigh (the latter of which won't be easy), a trip to MSG will likely produce a matchup with Michigan and either Virginia or Kansas State. The rest is pretty grim, but then again so was Pitt last season. It might be not be a bad way to go about the season.

PROVIDENCE
Toughest:
Puerto Rico Tip-Off (Nov. 15-18)
Next-toughest:
Mississippi State (Dec. 1), at Boston College (Dec. 22)
The rest:
NJIT (Nov. 10), Bryant (Nov. 12), Fairfield (Nov. 23), Holy Cross (Nov. 27), Rhode Island (Dec. 6), Colgate (Dec. 18), at Brown (Dec. 28)
Toughness scale: 2
-- You almost can't fault the Friars here. It's not their fault New England basketball is a mess. If it weren't, games against Rhode Island and BC would have some heft. But truth be told, Ed Cooley ought to be sighing in relief here. Without heralded freshman Ricardo Ledo, Providence needs a little more time to build, and this schedule ought to allow for that. There might be some meat in San Juan with an opener against UMass and Tennessee and NC State in the field. But there's not much else to see here.

RUTGERS
Toughest:
at Ole Miss (Dec. 1)
Next-toughest:
at Princeton (Nov. 16), vs. Iona (Dec. 8 in NYC)
The rest:
St. Peter's (Nov. 9), Sacred Heart (Nov. 12), Boston U (Nov. 20), UNC Greensboro (Nov. 25), George Washington (Dec. 11), UAB (Dec. 16), Rider (Dec. 28)
Toughness scale: 1
-- When the toughest games you have are against the Ivy League and a middle-of-the-pack SEC contender (which was scheduled for them), there just isn't much to crow about. This is a schedule built to get Rutgers wins but not much else.

ST. JOHN'S
Toughest:
Charleston Classic (Nov. 15-18)
Next-toughest:
Detroit (Nov. 13), South Carolina (Nov. 29)
The rest:
Holy Cross (Nov. 21), Florida Gulf Coast (Nov. 24), NJIT (Dec. 1), at San Francisco (Dec. 4), Fordham (Dec. 8), vs. St. Francis-NY (Dec. 15 in Brooklyn, N.Y.), UNC Asheville (Dec. 21)
Toughness scale: 4
-- The Red Storm could get a bump in Charleston, where they open with the home-team Cougars and could draw Murray State in the second round and maybe Baylor or Colorado down the road. So that's not awful. But otherwise Steve Lavin has a manageable -- if not entirely easy -- reentry into his coaching career, as does his young roster.

SETON HALL
Toughest:
Hall of Fame Tipoff Classic (Nov. 17-18 in Uncasville, Conn.)
Next-toughest:
at LSU (Nov. 29), at Wake Forest (Dec. 8), vs. LIU-Brooklyn (Dec. 22 in Brooklyn, N.Y.)
The rest:
UMKC (Nov. 9), Norfolk State (Nov. 12), Maine (Nov. 21), St. Peter's (Nov. 25), NJIT (Dec. 4), North Carolina A&T (Dec. 15), Longwood (Dec. 19), Stony Brook (Dec. 28)
Toughness scale: 3
-- This could get better if the Pirates play Ohio State at Mohegan Sun (that would require a win over Washington) and would have been better if Wake Forest was what Wake Forest used to be. But going by the "play the hand you're dealt" adage, Seton Hall is holding a pair of 3s at best.

SOUTH FLORIDA
Toughest:
at Oklahoma State (Dec. 5)
Next-toughest:
UCF (Nov. 10), George Mason (Dec. 29), at UCF (Jan. 2)
The rest:
Maryland-Eastern Shore (Nov. 16), Loyola-Chicago (Nov. 17), Western Michigan (Nov. 18), Bradley (Nov. 20), at Stetson (Nov. 26), Youngstown State (Dec. 18), Bowling Green (Dec. 21)
Toughness scale: 3
-- The Bulls had to fight and pray to make it into the NCAA tournament a season ago, a serious bubble team until the Big East tournament. This schedule won't do much to make March easier should USF be successful again. There's just enough here to turn the committee's head, so it will be up to the Big East slate to make South Florida viable.

SYRACUSE
Toughest:
vs. San Diego State (Nov. 9 at Battle of the Midway), vs. Temple (Dec. 22 in NYC)
Next-toughest:
Princeton (Nov. 21), at Arkansas (Nov. 30), Long Beach State (Dec. 6), Detroit (Dec. 17)
The rest:
Wagner (Nov. 18), Colgate (Nov. 25), Eastern Michigan (Dec. 3), Monmouth (Dec. 8), Canisius (Dec. 15), Alcorn State (Dec. 29), Central Connecticut State (Dec. 31)
Toughness scale: 6
-- I'm done with arguing the merits of Jim Boeheim's schedule because he always wins. He wins games, lots of them, and he wins the argument, quieting the scheduling critics (present company included) with deep March runs. This isn't awful, but it's not saliva-inducing wonderful either. So what? It will work. Just watch.

VILLANOVA
Toughest:
2K Sports Classic (Nov. 15-16), Temple (Dec. 5)
Next-toughest:
Marshall (Nov. 11), at Vanderbilt (Dec. 1), Saint Joseph's (Dec. 11)
The rest:
Columbia (Nov. 20), at La Salle (Nov. 25), at Penn (Dec. 8), Delaware (Dec. 16), at Monmouth (Dec. 22), NJIT (Dec. 28)
Toughness scale: 4
-- The 2K Sports Classic, with Purdue as the opener and either Alabama and Oregon State in the second game, raises the bar slightly and the chronically hard-to-win Big 5 games help, too, especially now that some of those teams have life again. But this is by no means the most menacing schedule Jay Wright has ever concocted for his team. Which might be wise. The Wildcats, remember, were not exactly the most menacing team a season ago.
January, 21, 2012
1/21/12
9:54
PM CT
SOUTH BEND, Ind. — Here are some quick thoughts from Notre Dame's shocking upset Saturday, a
67-58 victory
over top-ranked and previously undefeated Syracuse (20-1, 7-1 Big East), which leaves Murray State as the nation's only unbeaten team:


Overview:
The Irish (12-8, 4-3) entered the contest 14th in the Big East in 3-point percentage, shooting just 26 percent from beyond the arc. But they came out firing early, connecting on their first three 3-point attempts and their first four shots overall, jumping to an 11-2 lead that set the tempo for the rest of the way. Notre Dame finished 8-of-16 from 3 for the night. The burn offense was key for Notre Dame, with several of the Irish's jumpers coming with less than 10 seconds on the shot clock. Syracuse could never get into a rhythm offensively. Amazingly, the Irish have now won seven of their past nine home games against a No. 1 team, the previous a 60-58 win over North Carolina on Feb. 1, 1987.
Turning point:
It's hard to overlook the first half in its entirety, particularly the first three minutes, during which the Irish jumped to an 11-2 lead behind back-to-back 3s on their first two possessions. They led by as many as 18 in the frame, during which they connected on 6 of 10 3-point attempts. Syracuse, meanwhile, couldn't buy a bucket, going 8-for-28 from the field in the first 20 minutes. Notre Dame actually endured an 8-minute, 18-second scoring drought in the second half, but Syracuse managed only a 9-0 run during that span, which was effectively ended with a monstrous fast-break dunk from
Jack Cooley
that made it 52-42 Irish.
Star of the game:
The Notre Dame 3-point shooters deserve plenty of credit, but Cooley was an absolute force inside, banging with
C.J. Fair
and the Syracuse front line en route to a 17-point, 10-rebound night. He hit 7 of 10 foul shots and had the crowd -- and Irish bench -- fired up all night long. The absence of the 7-foot
Fab Melo
was noticeable for the Orange.
Up next:
Syracuse needs to put aside the bitterness from its potential perfect season being ruined, as the Orange have a quick turnaround Monday at Cincinnati, which itself is coming off a tough loss at West Virginia in overtime Saturday. Notre Dame, meanwhile, will try to take momentum from this upset into next week's road trip, when the Irish will go to Seton Hall on Wednesday before traveling to Connecticut next Sunday.
January, 21, 2012
1/21/12
9:53
PM CT
SOUTH BEND, Ind. — The montage had stopped playing Friday night in the hotel, but something was still gnawing at
Eric Atkins
.
Notre Dame coach Mike Brey showed his players a roughly five-minute video clip of the Irish's history against teams ranked No. 1 by The Associated Press: the infamous snapping of UCLA's 88-game winning streak from 1974, the more recent knocking off of North Carolina nearly 25 years ago — seven in all, and six in this building.
Nearly 24 hours later, after seemingly most of the 9,149 in attendance rushed the Joyce Center court to celebrate a game that was never really as close as its
67-58 final score
would indicate, Atkins and the Irish were able to boast about another milestone for Brey, this time because of a victory over top-ranked and previously unbeaten Syracuse in which they led from start to finish.
"I actually remember saying after the video that there were no Coach Brey teams in there," the point guard said, "but I feel great that we can add that to his résumé."
Told of the reaction, Brey cracked: "That's awesome."
Brey was able to circumvent the chaos, but his players soaked it all in.
Scott Martin
followed the biggest guy he could find for the safest route off the court.
Pat Connaughton
was hoisted up by one of his friends from the stands. Atkins somehow ended up in the middle of it all.
"I was making sure Syracuse got off," Brey said. "Our guys were in the middle of it, which was awesome."
The 12th-year Notre Dame coach found himself amid the smaller remaining crowd 12 minutes after the final horn, when he came out for his radio interview.
But by then, the noise had died down considerably from the 40 previous minutes of action on the floor, which began thus for the Irish offensively:
Connaughton hits an open 3 outside the elbow.

Atkins hits an open 3 in front of the Syracuse bench with the shot clock winding down.

Jack Cooley lays it in inside.

Connaughton hits another 3, prompting Syracuse coach Jim Boeheim to call a timeout 2 minutes, 40 seconds into the game.
The Irish, who entered the night 14th in the Big East in 3-point shooting, made their first three 3-pointers. The Orange, whose biggest deficit at any point this season had been eight at North Carolina State, trailed 11-2.
The shots kept dropping for Notre Dame, which made 8 of 16 from downtown, including 6 of 10 in the first half. They kept clanking for Syracuse, which made just 18 of 53 field goal attempts for the night, starting with an awful 8-of-28 performance in a first half that saw the Irish lead by as many as 18.
[+] Enlarge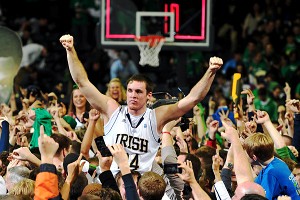 Matt Cashore/US PresswirePat Connaughton (7 points, 7 rebounds) gets a lift from the crowd after Notre Dame's upset.
"I wasn't surprised at how we started the game," Atkins said. "We were either gonna start really hot or really cold. We started hot — good.
"When we were up 18, that's when you would look up, and we're like, 'Oh wow, that is surprising.' "
Many of those 3-pointers came with less than 10 seconds on the shot clock, a product of the burn offense Brey often runs, an offense that kept his players in a rhythm while nursing a big lead.
"You know what's helpful? Because we play a slower tempo on offense, I've never felt that those guys feel kind of we're holding the ball," Brey said. "It's part of our arsenal to be very patient. We burn the clock and then score. If you never did it before, and then you're sitting on it, I think it can take away some confidence and you're looking over your shoulder. But it's something we've done for a while, so I think they feel that this is how we play."
Even more helpful — especially with Orange 7-footer
Fab Melo
not making the trip for undisclosed reasons — was the inside presence of the 6-9, 248-pound Cooley, who made Irish offensive possessions feel like an eternity by creating second chances and pounding the overmatched
C.J. Fair
(6-8, 212) inside.
Cooley finished with game highs of 17 points and 10 rebounds, six of those boards offensive. The Irish outrebounded the Orange 38-25.
"Cooley was able to get the ball inside and score," Boeheim said. "We just could not make shots to get back in the game. I have to give Notre Dame a lot of credit for that."
The Irish actually endured a 7-minute, 18-second stretch in the second half without scoring, during which Syracuse mounted a 9-0 run.
But Cooley's monster jam on a fast break with 5:17 left put the lead back to double digits at 52-42, re-energizing the building and helping to set up the eventual court-storming.
Cooley burst from the sea of revelers and barreled his way up the tunnel toward his locker room eight minutes after the victory, screaming "Here we go!" to anyone and everyone in sight.
His coach, the one who can now join Digger Phelps in claiming to have knocked off a No. 1 team in this building, hopes it's only a sign of things to come.
"To be part of that history of beating No. 1s, I'm very proud of that," Brey said. "But I'm more proud for our guys. This is a great memory for them. Now, winning 10 league games and getting an NCAA bid — that's a better memory, so we're gonna keep pushing buttons on that."
January, 1, 2012
1/01/12
8:32
PM CT
ROSEMONT, Ill. – The Big East has a way of humbling freshmen.
DePaul starting freshman forward Jamee Crockett discovered that Sunday.
[+] Enlarge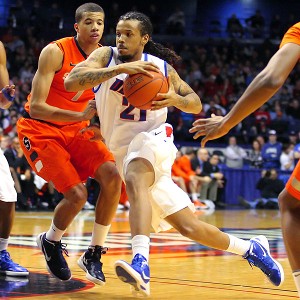 Dennis Wierzbicki/US PresswireJamee Crockett's first season in the Big East might be a bit of trial by fire.
Not only did Crockett receive his introduction course to the Big East on Sunday, but it was top-ranked Syracuse gaving the lesson. And the Orange didn't fail to cover any areas in its 87-68 win over the Blue Demons at Allstate Arena.
Coming out of Crete-Monee High School in Chicago's suburbs, Crockett was sold on DePaul because it was an opportunity to play in the Big East. To him, there was no better conference. The Big East had the biggest, strongest, quickest and most athletic players in the country.
Facing Syracuse confirmed that.
He experienced what it was like to be knocked around by Syracuse's 7-foot-1 center Fab Melo. He witnessed how athletic guards like Syracuse's Scoop Jardine and Brandon Triche can close out on shooter in the blink of an eye. He saw how quickly a turnover can turn into a dunk.
"The Big East is no joke," Crockett said. "I knew it, but it's a reality now. I'm playing in it."
DePaul coach Oliver Purnell tried to prepare Crockett and the team's other freshmen for what they were gong to face on Sunday, but it can't really be understood until it's experienced.
"As we talked to them about, if you don't do the things we work on, you don't get a chance to do them a second time," Purnell said. "If you miss the open guy, he's going to be covered after that. If you are weak with the ball, they're not only going to steal it, but they're going to turn it into a basket. We talked about those things, and a lot of them occurred."
Crockett's Big East debut wasn't a complete disaster. The opening few minutes of Sunday's game were a dream start to his conference career.
On the game's opening possession, Crockett stole the ball. A minute later, he was fouled while shooting a 3-pointer and sank all three free throws to put DePaul ahead 5-2. The Blue Demons built their lead to 7-2, resulting in Syracuse coach Jim Boeheim calling a timeout one minutes and 30 seconds into the game.
Crockett would later add an outside jumper and layup to finish with seven points. He also had two rebounds, one steal and three fouls in 17 minutes.
Crockett did find positives to take away from his game in the loss.
"I played hard," he said. "I got stops on defense. I knocked shots down."
He also knew he failed in some areas.
"Just down the stretch, I didn't knock down some shots," he said. "I needed to play more aggressive on defense."
Overall, Crockett understood it was only his first Big East game, and it was against Syracuse. He was sure better things were to come for him and DePaul in the Big East.
"They're good," Crockett said of Syracuse. "We can take that away from this. It just happens sometimes. We weren't just going to come out and beat the No. 1 team in the country. We weren't going to come out like that. It's a building process. We have to build up."