Chicago Colleges:

T.J. Neal
July, 14, 2014
7/14/14
2:30
PM CT
The SEC has to be first with everything and
kicked off its media days extravaganza earlier Monday
in Alabama. Never mind that the season doesn't start until late August.
Big Ten media days are still two weeks away in Chicago, but we're here to get you ready. This series lists three of the pressing questions that each league squad will face at media days, and the possible answers.
Illinois is first up in the proverbial hot seat. In addition to coach Tim Beckman, the Illini are bringing offensive tackle
Simon Cvijanovic
, tight end
Jon Davis
and defensive tackle
Austin Teitsma
.
1. What's the plan/timetable for the quarterback competition?
The starting job technically remains open as
Wes Lunt
,
Reilly O'Toole
and
Aaron Bailey
will continue to compete in camp.
Beckman said in April
that he wants the probable starter to start receiving more reps when the team begins two-a-day practices. Lunt seemed to have the edge for much of the spring and boasts the strongest arm, and offensive coordinator
Bill Cubit seems to be high on his development
.
O'Toole's experience keeps him in the mix. Bailey is a tremendous athlete but must show improvement as a passer to remain in the race. Expect to see some separation by about Aug. 10.
2. Who must step up on defense for the unit to improve?
It starts with the front seven as Illinois finished last in the Big Ten and 116th nationally in rush yards allowed (238.6 yards per game). The Illini lose top linebacker Jonathan Brown and Houston Bates, who played the Leo position, transferred to Louisiana Tech. Beckman praised the play of
T.J. Neal
coming out of the spring, and he forms a potentially strong tandem with
Mason Monheim
. The line is a mix of veterans who need to blossom such as Teitsma and
Kenny Nelson
, and newcomers like
Jihad Ward
,
Paul James
and
Joe Fotu
, who must make an immediate impact.
3. What will it take for Beckman to leave the hot seat and return for a fourth season?
This isn't a new question -- it has been asked throughout the offseason -- but it will undoubtedly come up during media days as Beckman will be a popular choice as the Big Ten coach on the hottest seat. Illinois AD Mike Thomas has said
the Illini need to win more going forward
, but has wisely avoided specific numbers for this season. The big debate seems to be whether Beckman could survive at 5-7 -- a third consecutive bowl-less season -- or if Illinois needs to reach the six-win plateau and qualify for postseason play. Beckman and the players likely won't speculate on what it will take to prevent a coaching change, although they'll address a schedule featuring several tough road games (Ohio State, Wisconsin, Nebraska).
April, 30, 2014
4/30/14
9:00
AM CT
With spring practice now in the rear-view mirror, your faithful Big Ten reporters thought it would be a good time to share some of our thoughts from the spring that was. Between us, we saw 10 of the 14 Big Ten teams in person this spring and we followed all of them as closely as possible.
So this is a chance to share our impressions and observations. We'll start today with the West Division, where Adam got an up-close look at Illinois, Iowa, Northwestern and Wisconsin.
[+] Enlarge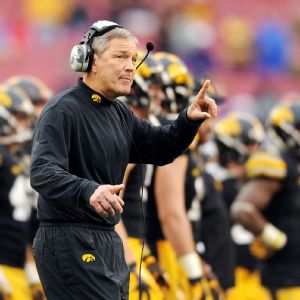 Steve Mitchell/USA TODAY SportsIowa coach Kirk Ferentz has a legitimate contender for the Big Ten title.
Brian Bennett:
Adam, I'm intrigued by Iowa and you went to see the Hawkeyes -- and even got into practice! Sounds like this team has a little more speed and explosiveness. How does it compare to the Iowa teams we've seen in the past, and is this a legit Big Ten contender?
Adam Rittenberg:
Well, it was actually a portion of practice, but I'll take what I can get at Fort Ferentz. This is a legitimate Big Ten contender, in large part because of the schedule but also because of the team it returns. I just didn't get the sense Iowa has many major problems. AIRBHG is off torturing baby seals. The linebacker thing is worth monitoring, but
Quinton Alston
would have started for most teams last year. Kirk Ferentz's best teams are strong up front, and Iowa looks very solid along both lines with
Brandon Scherff
,
Carl Davis
and others.
The young wide receivers really intrigue me, especially
Derrick Willies
, who blew up in
the spring scrimmage
. Iowa hasn't had difference-makers at receiver for some time. The
offense had a spike in plays
last year, and coordinator Greg Davis wants to go faster and be more diverse, even incorporating backup quarterback
C.J. Beathard
into the mix. That intrigues me. So you've got solid line play, more weapons on offense and a cake schedule. Indianapolis-bound? It's possible.
BB:
When it comes to winning Big Ten titles, Wisconsin has been far more successful than its new West brethren in the last five years. Yet the Badgers lost a whole lot of valuable seniors, especially on defense. You went to Madison. How's the revamped defense looking, and is there anyone who can catch the ball from whoever starts at QB?
AR:
Fascinating team. Quarterback competitions are nothing new in Mad City, but the sheer number of questions at UW stands out. It feels like coach Gary Andersen
should be going into his first year, not his second
.
Kenzel Doe
had a nice spring at slot receiver, but Wisconsin will need help from its five incoming freshmen. The uncertainty at receiver could benefit
Tanner McEvoy
in the quarterback competition as Andersen wants a second rushing threat on the field (or sometimes a third when
Melvin Gordon
and
Corey Clement
play together).
I didn't get a great read on the offensive line because of injuries, but the defensive front seven will be a big story all season. So many position changes. Linebacker
Derek Landisch
is the leader, but who are the top playmakers? Cornerback
Sojourn Shelton
could be one, and the coaches really like young defensive ends
Chikwe Obasih
and
Alec James
. I really liked linebacker
Leon Jacobs
last summer and could see him emerging. Like Iowa, Wisconsin has a favorable schedule, but we're going to find out how good Andersen and his staff really are this season.
[+] Enlarge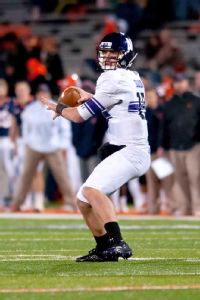 Bradley Leeb/USA TODAY SportsQuarterback Trevor Siemian has taken charge at Northwestern.
BB:
You also spent some time at Northwestern, whose spring was dominated by the union issue. With all those distractions and the many injuries this spring, did you get any sense whether the Wildcats can bounce back from last year's highly disappointing 5-7 campaign?
AR:
If the team stays focused and aligned, not to mention healthy, the answer is yes. Northwestern spun the two-quarterback deal well for a while, but it's always better to have one QB and a clear identity on offense. It has that with
Trevor Siemian
, who looked good this spring, and a scheme that should rely more on the pass. Wide receiver is a strength as Rutgers transfer
Miles Shuler
shined at the slot. I'm interested to see how running back
Venric Mark
's role changes without
Kain Colter
on the field.
The defense could be the best in Pat Fitzgerald's tenure. Improved recruiting is paying off in the secondary as several redshirt freshmen, including safety
Godwin Igwebuike
, enter the mix. Defensive tackle is the big concern and overall D-line health, but the defense wasn't the reason Northwestern went 5-7. It should keep the team in most games.
BB:
The last West team you saw was Illinois. Did anything you witnessed convince you the Illini can get to a bowl in 2014?
AR:
I'm still thawing out from a frigid March night at Chicago's Gately Stadium. Illinois has a chance to sustain its momentum on offense. The line should be solid, quarterback
Wes Lunt
has a plus arm and
Josh Ferguson
is a big-time threat. Continued improvement at wide receiver is key as newcomers
Geronimo Allison
and
Mike Dudek
impressed. The defense still needs a lot of work, but
T.J. Neal
has helped fill
Jonathan Brown
's role, and linemen
D.J. Smoot
and
DeJazz Woods
stood out. Illinois needs more numbers in the front seven to firm up a run defense that really struggled last year.
BB:
Overall, did anything you saw change your opinion on the West Division race? I'm pretty high on Nebraska and think their defensive front seven could be pretty special. I still think Minnesota will be a factor, but the lack of visible progress in the passing game (granted, the spring game debacle there means little in the big picture) was disappointing. For me, the jury's out on Wisconsin and Iowa is a big-time dark horse. What say you?
AR:
Iowa is beyond dark-horse status. A veteran team took a big step last year and is poised to take another with a favorable schedule. Wisconsin likely will be the popular pick to win the division, but I have too many doubts right now. Nebraska is the wild card to me. Can we trust a Huskers team that will be better on defense? Minnesota might be a better team with a worse record because of its schedule. Northwestern could be a factor if it gets past the union distraction.
There's no alpha dog here. Should be a wild ride.
April, 17, 2014
4/17/14
5:00
PM CT
CHICAGO -- Illinois hopes Deion Sanders was right when he famously stated, "If you look good, you feel good. If you feel good, you play good."
The
Illini unveiled their new look
this week, part of a
rebrand with Nike
for all the school's athletic teams. I'm a fan of the white uniforms with white helmets and the sleek shield on the collar. Athletic director Mike Thomas said the new threads give Illini teams the consistent look they had lacked. Football coach Tim Beckman wants more consistency on the field this fall after back-to-back losing seasons.
The Illini finished spring practice on Saturday, and I caught up with Beckman on Thursday at Niketown to recap the session.
[+] Enlarge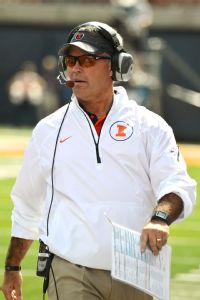 Keith Gillett/Icon SMITim Beckman likes the experience his Illinois team will have in 2014.
What were your main objectives for the spring, and did you achieve them?
Tim Beckman:
We always have three goals. First, we wanted to become more physical up front, and we were much more physically and mentally tougher this spring than we've been. We wanted a competitive edge. You've got to compete against yourself, against your fellow players. And then position-wise, we knew we had to strengthen up on the defensive front. We knew defensively, we had growing up to do. We know why: We had a bunch of freshmen playing for us, sophomores playing for us. Offensively, we had to find wide receivers to step in. We moved in the right direction. We still have some guys who have been in our program, who were there before I came, who still haven't played. The time has come.
Who is growing up for you on defense?
TB:
T.J. Neal
. He has probably the best linebacker spring that we had. He's gotten bigger, stronger. Even
Mason [Monheim]
, when he was starting for us [as a freshman], he was benching around 315 pounds. He's around 375-380, so his whole body's changed.
Austin Teitsma
is where he needs to be. He's playing better. We needed to work on our pass rush and
D.J. Smoot
, he has a great motor.
DeJazz Woods
has grown up. They should never have had to play, should have been redshirted. Now they're juniors and sophomores and they look like different guys.
Did you get what you needed out of the wide receivers?
TB:
The junior-college players have come in and helped.
Martize Barr
just turned a year older.
Geronimo Allison
had a great spring.
Justin Hardee
had a good spring.
Mikey Dudek
surprised us all. If you had to pencil in a starter right now, Mikey Dudek would be in there.
When you reviewed the quarterback play, what stood out?
TB:
Each guy has a very good talent.
Wes [Lunt]
has got very, very good arm strength. And arm strength to me isn't about throwing a 60-yard bomb, it's about getting that comeback or putting that seam route 18-25 yards right on that seam. He has a very, very good arm.
Aaron Bailey
has very, very good feet. He can run, he can make people miss, he's an athlete.
Reilly [O'Toole]
has played more and he's got experience, and he's kind of between them. His arm's a little better than Aaron's, but his feet are better than Wes'. All of them are outstanding competitors, and they get along.
When would you like to decide on the starter?
TB:
I've talked to [offensive coordinator Bill Cubit] about it. I don't think there's a time frame that we've got to do it right now, but as we go through the summer and they get a feel for where they're going to be, we talk to them honestly. I would say when two-a-days get humming, we've got to get where this guy's going to be doing most of it.
What are the team's strengths at this point?
TB:
We've got a lot of guys who have played. Were they ready to play back then? No, but they did. If you do it by position, we've got an offensive front that is experienced, and they're very, very good leaders. To be in a Big Ten game, you better win up front. Defensively, we're making definite strides with guys like
Teko Powell
,
Jarrod Clements
,
Joe Fotu
. We expect some big things when
Jihad Ward
gets here. The players are getting some maturity.
What areas still must be improved?
TB:
We can't let negativity absorb our program. We've got to be positive, we've got to believe. At times, there's too much questioning. We need to believe it can be done. Last season, we didn't start well a lot of times, but we gave ourselves opportunities to come back and win. We've can't start that way. We've got to go out there and know we can play with people in the Big Ten.
Wide receivers definitely got to step up. The offensive line depth is important. On defense, the young defensive backs have to come through for us and the front. But I feel better about it because they are getting bigger, they are getting stronger. They're not 18-year-olds. They're 20-year-olds now. And they play like it.
April, 11, 2014
4/11/14
11:00
AM CT
Ten league squads wrap up spring practice this weekend, and we're taking a look at each spring game or scrimmage. Up next: the
Illinois Fighting Illini
.

When:
3 p.m. ET Saturday
Where:
Memorial Stadium in Champaign, Ill.
Admission:
Tickets and parking are free. Only the East side of the stadium is open, and fans should enter through Gates 17, 19 and 21.
TV:
Streamed on
BTN2Go.com
Weather forecast:
Partly cloudy, temperatures in the 60s, winds at 10-15 mph
What to watch for:
The Orange and Blue game will be played with a normal clock for the first three quarters and a running clock for the fourth, aside from the final two minutes if the game is close. Every drive following a score will begin at the offense's 27-yard line. Punts will be fair-caught, and field goals will be attempted without a rush. The seniors selected
the rosters
earlier this week, as quarterback
Wes Lunt
was the first pick (Blue), followed by running back
Josh Ferguson
(Orange). Seven players are listed on both rosters and could play for both squads.
Offensive coordinator Bill Cubit is in no rush to name a starting quarterback, but Lunt has looked the part this spring, especially in
last week's scrimmage
. Coach Tim Beckman described the spring game as another opportunity to compete, although Lunt and
Reilly O'Toole
both will play for the Blue squad, while dual-threat sophomore
Aaron Bailey
suits up for the Orange. Newcomer receivers
Geronimo Allison
and
Mike Dudek
, both of whom have stood out this spring, will play for the Orange team. Top running backs Ferguson and
Donovonn Young
also will play for Orange.
On defense, keep an eye on linebacker
T.J. Neal
, whom Beckman singled out for his play this spring. He brings versatility to the group. Defensive coordinator Tim Banks called Neal "the surprise of the spring." Leo
DeJazz Woods
and end
Kenny Nelson
are worth watching after making plays in earlier spring scrimmages.
The quarterback position always generates attention, but Illinois' biggest problems in 2013 were on the defensive side of the ball. The unit is better, coaches say, and fans can get a glimpse of the differences Saturday.
March, 5, 2014
3/05/14
1:30
PM CT
We're taking snapshots of each position group with each Big Ten team entering the spring. Up next: the linebackers.

Illinois:
The Illini lose an All-Big Ten player in
Jonathan Brown
but still have decent overall depth at linebacker.
Mason Monheim
started every game at middle linebacker in 2013, and
Mike Svetina
started all but one game at the star position. Both players return as juniors. Svetina will move into Brown's spot on the weak side, while the other position could be filled by
T
.J. Neal, who recorded 38 tackles last season. Ralph Cooper has logged significant reps as a reserve, and Eric Finney gives Illinois some flexibility after playing the star position (safety/outside linebacker).

Indiana:
This becomes a more significant position under coordinator Brian Knorr, who plans to use a 3-4 alignment. Indiana should have enough depth to make the transition as it returns two full-time starters from 2013 --
David Cooper
and
T.J. Simmons
-- as well as two part-time starters in
Forisse Hardin
and
Clyde Newton
, who started the final four games of his freshman season. Like Simmons and Newton,
Marcus Oliver
played a lot as a freshman and provides some depth. The key here will be converting all the experience into sharper, more consistent play.

Iowa:
If you're of the mindset that Iowa always reloads at linebacker, you can rest easy this spring. If not, keep a very close eye on what happens as the Hawkeyes begin replacing one of the more productive linebacker groups in team history:
James Morris
,
Christian Kirksey
and
Anthony Hitchens
. There are high hopes for sophomore
Reggie Spearman
, who played in 10 games as a freshman last fall. Spearman, junior
Travis Perry
and senior
Quinton Alston
enter the spring as the front-runners to take over the top spots. The biggest challenge could be building depth behind them with
Cole Fisher
and others.

Maryland:
The good news is the Terrapins return three productive starters from 2013 in
Cole Farrand
,
L.A. Goree
and
Matt Robinson
, who combined for 233 tackles, including 19 for loss. The bad news is Maryland loses its top playmaker at the position in
Marcus Whitfield
, who recorded nine sacks and 15.5 tackles for loss last season. But the overall picture is favorable, and the depth should be strong when
Alex Twine
and
Yannik Cudjoe-Virgil
return from their injuries. Young players such as
Abner Logan
(37 tackles in 2013) will push for more time.

Michigan:
There are a lot of familiar faces in new positions as Michigan not only has shuffled the roles of its defensive assistant coaches, but also its top linebackers. Standout
Jake Ryan
moves from strong-side linebacker to the middle, while junior
James Ross III
moves from the weak side to the strong side and
Desmond Morgan
shifts from the middle to the weak side.
Joe Bolden
, who had 54 tackles last season, can play both outside and inside, and players such as
Ben Gedeon
,
Royce Jenkins-Stone
and
Allen Gant
add depth. The talent is there for a big year if the position switches pan out.

Michigan State:
It won't be easy to replace the Big Ten's top linebacker tandem in
Max Bullough
and
Denicos Allen
, not to mention Rose Bowl hero
Kyler Elsworth
, but Michigan State has some promising options.
Ed Davis
appears ready to step in for Allen after recording four sacks as a sophomore. Junior
Darien Harris
and two redshirt freshmen,
Shane Jones
and
Jon Reschke
, will compete at middle linebacker. Returning starter
Taiwan Jones
is back at the star position, and
Mylan Hicks
should be in the rotation. Depth is a bit of a question mark here entering the spring.

Minnesota:
The Gophers lose key pieces in all three areas of the defense, and linebacker is no exception as two starters (
Aaron Hill
and
James Manuel
) depart. Minnesota will lean on
Damien Wilson
, who started in 12 games at middle linebacker in his first season with the Gophers and recorded 78 tackles. Junior
De'Vondre Campbell
seems ready to claim a starting spot after backing up Manuel last season. There will be plenty of competition at the strong-side linebacker spot, as
Nick Rallis
,
De'Niro Laster
and others are in the mix.
Jack Lynn
is
backing up Wilson at middle linebacker
but could work his way into a starting spot on the outside with a good spring.

Nebraska:
Optimism is building for the Blackshirts in 2014, thanks in large part to the returning linebackers. The three players who finished last season as the starters --
David Santos
,
Michael Rose
and
Zaire Anderson
-- all are back, as Rose will lead the way in the middle.
Josh Banderas
and
Nathan Gerry
also have starting experience and return for 2014. If younger players such as
Marcus Newby
develop this spring, Nebraska could have the Big Ten's deepest group of linebackers, a dramatic departure from the Huskers' first few years in the conference. Good things are happening here.

Northwestern:
The top two playmakers return here in
Chi Chi Ariguzo
and
Collin Ellis
, who combined for seven interceptions and 11.5 tackles for loss in 2014. Northwestern's challenge is replacing the leadership
Damien Proby
provided in the middle. Ellis has shifted from the strong side to the middle, and Northwestern has moved safety
Jimmy Hall
from safety to strong-side linebacker.
Drew Smith
and Hall will compete for the third starting spot throughout the offseason. Sophomores
Jaylen Prater
and
Joseph Jones
should provide some depth.

Ohio State:
Coach Urban Meyer has made it clear that Ohio State needs more from the linebackers, so it's a huge offseason for this crew, which loses superstar
Ryan Shazier
. The Buckeyes return starters at the outside spots in
Curtis Grant
and
Joshua Perry
, although competition will continue throughout the spring and summer. Redshirt freshman
Darron Lee
surprisingly opened spring practice Tuesday working with Grant and Perry on the first-team defense.
Camren Williams
appeared in all 13 games as a reserve and will be part of the rotation, along with
Trey Johnson
. Meyer said last month that the incoming linebacker recruits won't redshirt, which means an opportunity for mid-year enrollee
Raekwon McMillan
.

Penn State:
Linebacker U is looking for more bodies at the position after struggling with depth issues throughout 2013. The Lions lose leading tackler
Glenn Carson
but bring back two players,
Mike Hull
and
Nyeem Wartman
, who started most of the season. The new coaching staff is counting on Hull to become a star as a senior.
Brandon Bell
, who appeared in nine games and recorded 24 tackles as a freshman, will compete for a starting spot along with
Gary Wooten
. Penn State hopes
Ben Kline
can stay healthy as he provides some experience, and incoming freshman
Troy Reeder
could enter the rotation right away.

Purdue:
Expect plenty of competition here as Purdue loses leading tackler
Will Lucas
and must get more consistent play from the group.
Joe Gilliam
started for most of the 2013 season and should occupy a top spot this fall.
Sean Robinson
also brings experience to the field, and
Ryan Russell
could fill more of a hybrid linebacker/defensive end role this season. Redshirt freshman
Danny Ezechukwu
is an intriguing prospect to watch this spring as he aims for a bigger role. Ezechukwu is just one of several younger players, including decorated incoming recruit
Gelen Robinson
, who have opportunities to make a splash.

Rutgers:
The Scarlet Knights return a good deal of production here with
Steve Longa
and
Kevin Snyder
, who combined for 219 tackles, including 15 tackles for loss and five sacks.
Quentin Gause
also is back after racking up 53 tackles (8.5 for loss) in a mostly reserve role last season. Gause likely will claim the starting strong-side linebacker spot as
Jamal Merrell
departs. The starting spots are seemingly set, so Rutgers will look to build depth with
Davon Jacobs
, who had 30 tackles as a reserve last season, and
L.J. Liston
, both sophomores.

Wisconsin:
Do-it-all linebacker
Chris Borland
is gone, along with
Ethan Armstrong
and
Conor O'Neill
, so Wisconsin must replace three of its top four tacklers from 2013.
Derek Landisch
and
Joe Schobert
can be penciled in as starters, along with
Michael Caputo
, who played mostly safety last season but should slide into one of the outside spots.
Marcus Trotter
brings experience to the rotation. The spotlight will be on younger linebackers such as
Vince Biegel
, who had 25 tackles last season, as well as dynamic sophomore
Leon Jacobs
and
Alec James
, a decorated recruit who redshirted in 2013.