Chicago Colleges:

Take Two
March, 5, 2014
3/05/14
9:00
AM CT
Big Ten bloggers Adam Rittenberg and Brian Bennett occasionally will give their takes on a burning question facing the league. We'll both have strong opinions, but not necessarily the same view. We'll let you decide which blogger is right.
As the Big Ten positions itself for a new television contract that should shatter revenue records, the subject of playing more weekday games has surfaced. There's even been some buzz about the
possibility of more Friday night games
, although commissioner
Jim Delany doesn't expect them for a while
. Still, the only major conference that has resisted many regular-season weekday days could head in that direction in the not-so distant future.
Today's Take Two topic is:
Should the Big Ten schedule more weekday games?
[+] Enlarge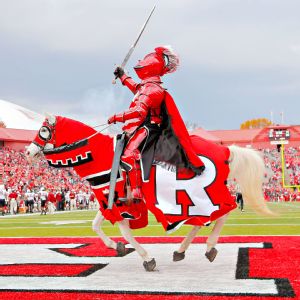 Jim O'Connor/USA TODAY SportsHaving schools such as Rutgers play Thursday or Friday night conference games wouldn't be the worst thing in the world for the Big Ten.
Take 1: Adam Rittenberg
I've been consistent on this issue since the Big Ten blog launched. More weekday games? Yes, please. I appreciate college football Saturdays as much as the next person, but the Big Ten has been missing out on certain exposure opportunities by clumping all of its games on one day, particularly in the noon ET/11 a.m. CT window. We've seen some Thursday night and Friday night games in Week 1, and Nebraska and Iowa are playing the day after Thanksgiving, but the Big Ten has largely steered clear of weekday games. The rationale: We're the Big Ten. We don't need no stinking weekday games.
That's true to an extent. Programs such as Ohio State, Michigan, Nebraska and Penn State receive exposure no matter when they play. Programs such as Michigan State, Iowa and Wisconsin also aren't starved for a separate TV window that can get more eyeballs on their product. But there's another group of Big Ten programs that could benefit greatly from these games, perhaps not in attendance but certainly in exposure. Too many games are overlooked in that Saturday morass, especially when the bigger-name teams are playing. Wouldn't matchups such as Purdue-Illinois, Minnesota-Northwestern or Maryland-Indiana get more attention on Thursday night than Saturday afternoon? I have mixed feelings about Fridays because those are big high school game nights in the Midwest, but a Friday game every once in a while isn't a bad deal.
The Big Ten has made some encouraging scheduling moves in recent months. More Saturday prime-time games are on the way, most likely in the 2014 season. More weekday games would be another good move for certain programs. Big Ten teams don't need to go overboard, but they should be open to the pluses that can come from these events.
Take 2: Brian Bennett
Saturdays are sacred. Let's just get that out of the way at the beginning. The Big Ten is right to preserve the tradition of fall afternoon kickoffs as much as possible. That's what college football is all about.
There are certain programs in the league that should never consider hosting a game on any day but Saturday, apart from opening week and Thanksgiving weekend. As part of our Flip Week series last season, I attended a Thursday night game at Clemson. Because that campus is in a small town and the stadium demands ample parking, Clemson canceled all classes on Thursday afternoon to get ready for the game. Can you imagine many Big Ten schools doing that? And there were a few thousand empty seats for that game against Georgia Tech, a rarity for the Tigers at home. Programs with large stadiums in college towns such as Penn State, Michigan and Iowa would struggle to get all the logistics in place for a weeknight, midseason game.
But it's also hard to argue against the point that college football is dictated by TV, and Thursday night games have provided great exposure. Louisville practically built itself into a power by playing any day of the week, and the ACC has benefited from Thursday games. With the Big Ten expanding to 14 teams, it's hard to squeeze all those games into a Saturday viewing period and not have some get lost in the shuffle. Programs such as Illinois, Indiana, Minnesota and Purdue could really benefit from a Thursday or Friday night spotlight, even if it's just on the Big Ten Network. Rutgers is used to playing on weeknights, and Maryland is no stranger to it from its ACC days.
So why not the occasional Thursday or Friday night game? Friday games would hurt high school football, but as a once-a-year thing, they would hardly be a death knell. Keep the games on Saturdays as often as possible. But a limited dose of weeknight games can be very helpful in the right spots. More TV slots could mean more money when the league negotiates its new broadcast rights package. And these days, TV and money drive everything in college football.
October, 22, 2013
10/22/13
3:30
PM CT
Big Ten bloggers Adam Rittenberg and Brian Bennett will occasionally give their takes on a burning question facing the league. We'll both have strong opinions, but not necessarily the same view. We'll let you decide which blogger is right.
[+] Enlarge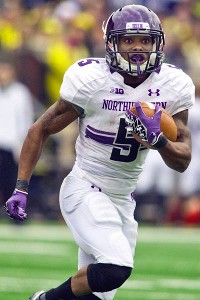 Tony Ding/AP PhotoCan Venric Mark and Northwestern stop their free fall and make a bowl?
Through eight weeks of the season, three Big Ten teams (Michigan, Michigan State and Ohio State) have already qualified for bowl games. Nebraska and Wisconsin look like locks for the postseason. Purdue would need a miracle to win its final five games and make a bowl, while Penn State remains ineligible for a bowl bid.
That leaves five teams in a little bit of bowl limbo: Illinois (3-3), Indiana (3-4), Iowa (4-3), Minnesota (5-2) and Northwestern (4-3). So
today's Take Two topic
is: How many of those teams -- and which ones -- will be playing a 13th game in 2013?
Take 1: Brian Bennett
The question is not as easy as it looks on the surface. Minnesota already has five wins but has games remaining against Nebraska, Penn State, Wisconsin and Michigan State, as well as a trip to Indiana. Iowa has played pretty well but still has to beat at least one of the following: Northwestern, Wisconsin, Michigan and Nebraska. Northwestern seemed like a no-brainer for a bowl bid this season until it started off 0-3 in the league; the Wildcats' schedule offers few breaks down the stretch, either.
Illinois and Indiana appear to be much longer shots at getting bowl eligible. But the Hoosiers get Minnesota, Illinois and Purdue at home, while the Illini have Indiana, Purdue and a struggling Northwestern club to end the year.
I'm going to bank on talent first and foremost here. While Northwestern has not played well at all the past two weeks, I think Pat Fitzgerald's team has too much ability and pride not to turn things around and get two more wins. Iowa should beat Purdue and has three more games at Kinnick Stadium to find one more victory. I say the Hawkeyes get it done.
Minnesota either beats Indiana or springs an upset -- Penn State or Michigan State, perhaps -- to go bowling for a second straight year. Indiana is too inconsistent and too porous on defense for me to believe in, while it's hard to bet on an Illinois team that has lost 16 straight Big Ten games suddenly winning three in the final six weeks.
So I've got three of the five making it: Northwestern, Iowa and Minnesota. For the Illini and Hoosiers, it will be wait 'til next year.
Take 2: Adam Rittenberg
[+] Enlarge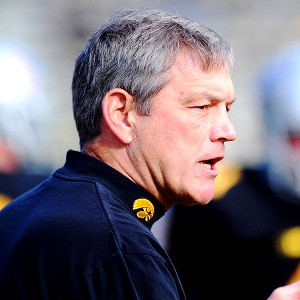 Byron Hetzler/USA TODAY SportsWith several tough matchups remaining, including Michigan and Nebraska to close the year, it might be tough for Kirk Ferentz and Iowa to reach a bowl.
We'll have a much easier time answering this question after Northwestern and Iowa play this week and Minnesota and Indiana play the following week. Those two games will go a long way toward determining which teams reach the six-win plateau and punch their ticket to the postseason. I'm somewhat optimistic about this group and will go with four teams winning at least six games and going bowling. The main reason is that outside of Ohio State and perhaps Wisconsin, every Big Ten squad can be beat, and I expect some upsets (minor or major) down the stretch.
Minnesota needs only one more victory, and while the Gophers have arguably the toughest closing slate, they should find a way to record at least one more win. The defense has been solid, and the offense should identify a few more playmakers down the stretch. Indiana needs three more wins but has a favorable home schedule with Minnesota, Illinois and Purdue all visiting Memorial Stadium. The high-powered Hoosiers offense should be able to record wins in at least two of those games.
Iowa is clearly an improved team that doesn't necessarily have the record to show it, but things could change soon. The Hawkeyes host sputtering Northwestern on Saturday and still have a game against 1-6 Purdue. Iowa also performs well against Michigan at home and could knock off the Wolverines on Nov. 23 following an open week.
Northwestern is in a free-fall and could completely crash and burn, especially if it doesn't get healthy. But we'd both agree this is a pretty good team when
Kain Colter
and
Venric Mark
are on the field, and at some point, they should reunite for the stretch run. Even if Northwestern drops its next two, I could see at least two wins in the final three games.
I have Illinois falling short of a bowl, as the Illini still need three more wins and haven't been competitive in their first two Big Ten contests. Although there are some potential wins out there – Indiana, Purdue, Penn State, Northwestern, Michigan State -- the Illini likely need at least one upset and probably two, which is asking a lot for a young team that has struggled so much in league games.
If my plan plays out, the Big Ten should fill all of its bowl tie-ins for this year and might have an at-large team.
October, 9, 2012
10/09/12
2:00
PM CT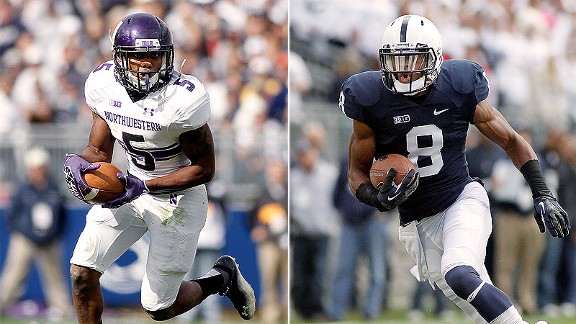 Getty ImagesNorthwestern's Venric Mark and Penn State's Allen Robinson have been nice surprises this season.
Big Ten bloggers Adam Rittenberg and Brian Bennett will occasionally give their takes on a burning question facing the league. We'll both have strong opinions, but not necessarily the same view. We'll let you decide which blogger is right.
Today's Take Two Topic
is inspired by Maxwell from Madison, Wis., who asked
during Monday's chat
:
To this point, who is [the Big Ten's] non-quarterback offensive MVP?
Take 1: Brian Bennett
Maxwell posed an interesting question, because it's pretty obvious through six weeks that Ohio State's
Braxton Miller
and Penn State's
Matt McGloin
are two of the top MVP candidates in the league, while Nebraska's
Taylor Martinez
and Michigan's
Denard Robinson
are crucial to their team's fortunes. Some of the running backs we expected to be MVP candidates, like Wisconsin's
Montee Ball
and Nebraska's
Rex Burkhead
, haven't had the kind of years anyone projected. My answer to this question is a guy hardly anybody was talking about this summer: Penn State receiver
Allen Robinson
. When Derek Moye graduated and
Justin Brown
transferred to Oklahoma State, the Nittany Lions receiving corps was badly in need of a leader this fall. Robinson, a sophomore, has taken that on his shoulders. He leads all Big Ten receivers in catches (41), yards (524) and touchdowns (7). McGloin has had a standout season, but more than a third of his passing yards have gone to Robinson. Penn State's offense wouldn't be nearly the same. And there's almost no way the team would be 4-2 without him.
Take 2: Adam Rittenberg
Robinson is a very good choice, BB. He has become a star at a position that entered the season with major question marks after Brown's departure. The same could be said for Northwestern's running back spot, which hasn't had a true standout since Tyrell Sutton left following the 2008 season. Things have changed this season because of
Venric Mark
, and he's my pick for non-QB offensive MVP. Despite standing barely 5-foot-8, Mark is the biggest reason why Northwestern started 5-0, and why the Wildcats were in position to be 6-0 before a fourth-quarter collapse at Penn State. He has three 100-yard rushing performances and averages 5.4 yards per carry with six rushing touchdowns. And unlike Robinson, Iowa's
Mark Weisman
, Michigan State's
Le'Veon Bell
or most other candidates (save for Nebraska's
Ameer Abdullah
), Mark has made a huge impact in more than one way. He has two punt returns for touchdowns, averages 32.9 yards per runback and ranks second in the Big Ten and seventh nationally in all-purpose yards (180.5 ypg). Only one other Northwestern player ever had recorded multiple punt return touchdowns in a season (Tom Worthington in 1949). Mark also has been surprisingly good in the red zone despite his size and complements quarterback
Kain Colter
in the option.