Chicago Colleges:

Tavaras Hardy
April, 5, 2013
4/05/13
3:31
PM CT
Northwestern coach Chris Collins announced Friday he retained Tavaras Hardy as the first member of his coaching staff.
Hardy, a former Northwestern player, was on former Wildcats coach Bill Carmody's staff for the last seven seasons and was the associate head coach for the last two years. Hardy was the lead recruiter for a number of Northwestern's top players, including John Shurna and
Drew Crawford
, and was on staff for four consecutive NIT appearances.
"I'm thrilled to have Tavaras as a member of our coaching staff," Collins said in a statement. "His first-hand experience as a student-athlete at Northwestern is a tremendous asset to the program in that he understands what a special place this is and what it takes to be successful here. He is an outstanding talent in our profession and has a great understanding of the game. Tavaras has an excellent ability to communicate with young players which makes him a terrific recruiter and mentor."
March, 27, 2013
3/27/13
11:35
PM CT
Now that Chris Collins has been hired as the
Northwestern Wildcats
' coach, he has some work ahead of him if he's going to establish it into a consistently winning program.
Here are five immediate objectives for Collins to start his tenure:
1. Move on from the past and create a winning mentality:
You saw this when John Groce took over at Illinois and it worked to perfection. The message is important right away. Collins has to first convince his current players, then recruits and the fan base, that Northwestern is done with its past and is moving on to a brighter and winning future. Luckily for Collins, he might just have enough quality pieces to make a run at the NCAA tournament next season. If he can somehow get the Wildcats into the tournament in his first season, he can really get the program rolling. The first part of achieving that is to sell his team on the idea that it's possible.
2. Convince Drew Crawford to stay:
Next season's fate likely depends on whether Crawford decides to stay at Northwestern for his fifth year or take advantage of the graduate school loophole and transfer to another program. Crawford, a 6-foot-5 guard, medically redshirted last season and had surgery to repair his right shoulder. He's one of the more gifted players Northwestern has ever had. He's a big-time scorer and team leader, but he also can rebound and defend. He was an All-Big Ten third-team selection as a junior, averaging 16.1 points, 4.7 rebounds, 2.1 assists and 1.2 steals.
3. Re-recruit Jaren Sina:
Sina, a 6-foot-3 point guard, was ranked in ESPN's top 100 in the Class of 2013 when he originally committed to Northwestern. He's since dropped in ranking, but he would still be a major recruit for the Wildcats. He asked and was released from his letter of intent when Bill Carmody was fired. Sina's father, Mergin Sina, said the family would still explore Northwestern as an option when a new coach was hired. Sina has reportedly also been contacted by Alabama and Seton Hall. Northwestern has a steady point guard in
Dave Sobolewski
, but Sina would add depth at the position and be the team's point guard of the future.
4. Establish relationships with local high school and club coaches:
Northwestern has to recruit nationally to fill a roster, but the Wildcats should still be able to pull players from the state whenever they fit their criteria. In the recent past,
Michael Thompson
, John Shurna, Crawford and Sobolewski are among the players Northwestern has recruited from Illinois and the Chicago area. Getting those players from the state is key for the program's future as well.
5. Keep Tavaras Hardy on staff:
Hardy, who was an associate head coach under Carmody, is the full package to get Collins going at Northwestern and recruiting the state. Hardy starred in high school in Illinois, played at Northwestern, coached at Northwestern and has been the program's main in-state recruiter. He knows Northwestern inside and out. He also can quickly open for Collins a lot of doors to the state's high school and club coaches. Collins is likely to bring an assistant or two with Duke ties, and that could helpful in a lot of ways, but it's also vital to have someone who knows Northwestern and the state.
March, 16, 2013
3/16/13
2:10
PM CT
Here's a look at potential candidates for Northwestern, who
fired Bill Carmody
on Saturday after 13 years at the school:

Harvard head coach Tommy Amaker:
Amaker has won and recruited well at Harvard. The Crimson are headed to their second consecutive NCAA tournament under Amaker, who has a 111-64 record in six seasons at the school. He also has Big Ten experience with six seasons as Michigan's head coach.

Duke assistant coach Chris Collins:
Collins' name has been thrown around a lot if Northwestern's job ever opened. This could be the ideal first head position for him. He has been on Duke coach Mike Krzyzewski's staff since 2000 and was promoted to associate head coach in 2008. He grew up in Northbrook, Ill. and is the son of NBA coach Doug Collins.
Valparaiso head coach Bryce Drew:
Drew has succeeded quickly at the Valparaiso. The program is headed to the NCAA tournament in his second season as head coach. The Crusaders are 48-19 overall and 27-7 in conference in the past two years. He's recruited the Midwest and comes from a coaching family.


Northwestern assistant coach Tavaras Hardy:
Hardy is a longshot, but he fits the mold of what Northwestern athletic director Jim Phillips likes in his football coach Pat Fitzgerald. Hardy is a former Wildcats' player and a longtime assistant. If he doesn't get a shot at the job, he could be retained on the staff.

Princeton head coach Mitch Henderson:
Henderson, a former Northwestern assistant, is in his second season as Princeton's head coach. The Tigers were 17-11 overall and 10-4 in the conference this season.

Richmond coach Chris Mooney:
Mooney's stock may have cooled off a bit since Richmond's back-to-back NCAA tournament appearances in 2010 and 2011. Richmond has remained competitive in the Atlantic 10 and is still only 40 years old. He did sign a 10-year deal with Richmond in 2011.

Bucknell coach Dave Paulsen:
Paulsen was able to turn Bucknell's program around. Bucknell was 7-23 in Paulsen's first season, and he's since coached the Bison to two NCAA tournaments in five seasons at the school.

Oregon State head coach Craig Robinson:
Robinson, another former Northwestern assistant, would have been a more likely candidate the past few seasons. The Beavers have struggled this season with a 14-18 overall record and 4-14 Pac-12. He has been at Oregon State for five seasons and has recruited the Chicago area.
VCU head coach Shaka Smart:
Smart wasn't interested in any openings last season, but the idea of leading Northwestern to its first NCAA tournament could be enticing to some high-profile coach. It's worth at least a phone call.

Wright State head coach Billy Donlon:
Donlon has Wright State moving in the right direction in his third season. The Raiders lost in the Horizon League tournament championship game and finished third during the conference season. The 36-year-old Donlon is originally from Northbrook, Ill. and has recruited the Chicago area.

Lehigh head coach Brett Reed:
The 40-year-old Reed has developed Lehigh into a consistent winner in his six seasons there. The Mountain Hawks have won 20-plus games three of the last four years and been two NCAA tournaments. Lehigh shocked Duke in the tournament last season.
November, 26, 2012
11/26/12
10:36
PM CT
[+] Enlarge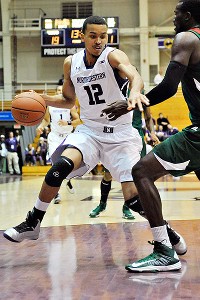 David Banks/US PresswireTransfer Jared Swopshire is averaging a career-high 12 points in his first season with Northwestern.
EVANSTON, Ill. -- "Perfect storm" is how
Northwestern
associate head coach Tavaras Hardy described the meeting of Northwestern's basketball program and
Louisville
transfer forward Jared Swopshire.
Northwestern had lost its all-time leading scorer in small forward John Shurna, and there wasn't a logical replacement on the roster.
The 6-foot-8, 210-pound Swopshire, who was a redshirt junior last season, was looking for a new school after he was told there wouldn't be a spot for him on Louisville's roster during the 2012-13 season. He was on pace to graduate from Louisville, so he had the chance to take advantage of the NCAA's post-graduate transfer rule and play somewhere immediately.
Northwestern did its research. Swopshire and his family did their research. It take didn't long for either to realize they were a match.
"I took a visit here, loved the coaches, loved the players, the system," Swopshire said prior to Tuesday's game ACC/Big Ten Challenge game with
Maryland
. "I'm here."
March, 15, 2011
3/15/11
9:27
PM CT
Coaching searches are in full swing at three in-state schools with
Loyola
recently joining
Bradley
and
Northern Illinois
in the coaching carousel.
Last year,
Chicago State
,
DePaul
and
Illinois-Chicago
made coaching changes. Chicago State and UIC snagged two up-and-coming assistants with local ties, and DePaul went for an experienced head coach known for rebuilding programs.
Who will Bradley, Loyola and Northern Illinois hire this year?
Here are a number of candidates for all three positions:
Fairfield head coach Ed Cooley

Resume:
Cooley is in his fourth season as
Fairfield
's head coach, and he has turned the program around. The Stags were 23-11 last season and 24-7 this season. Fairfield won the regular-season MAAC title with a 15-3 record this year, but was upset in the conference tournament. His recent success is in large part due to recruiting two Chicago-area players. Sophomores
Derek Needham
(De La Salle) and
Colin Nickerson
(Waukegan) are among Fairfield's best players. Before taking over at Fairfield, Cooley was an assistant at
Boston College
for nine seasons.
Who should look at him:
With his success as a head coach and recruiting the Chicago area, he's a viable candidate for Bradley, Loyola and Northern Illinois. The question may be whether Cooley is ready to leave Fairfield yet. He has a lot of talent returning next season and will be a probable NCAA tournament team.
Wisconsin associate head coach Greg Gard

Resume:
Gard is Bo Ryan's right-hand man. Gard has been at
Wisconsin
the last 10 seasons under Ryan and also was an assistant for him at
Wisconsin-Milwaukee
. Gard is the Badgers recruiting coordinator and has ties with high school and club coaches throughout the Midwest.
Who should look at him:
Howard Moore left Wisconsin last year and was hired by UIC. It could be Gard's turn to leave the nest. He's been around long enough in the Big Ten that Bradley, Loyola and Northern Illinois should all give him at least a look. Northern Illinois hired its football coach from Wisconsin. Could it do the same with its basketball one?
Gonzaga assistant coach Ray Giacoletti

Resume:
Giacoletti has been an assistant at
Gonzaga
for four seasons. He interviewed for Bradley's opening in 2002, but wasn't hired. He has head coaching experience with
Utah
,
Eastern Washington
and
North Dakota State
. He coached Eastern Washington to the NCAA tournament in 2004 and Utah to the Sweet 16 in 2005. He resigned from Utah in 2007 after back-to-back losing season.
Who should look at him:
Bradley could give him another chance. He's originally from the area and has had success as a head coach and assistant. He did struggle in his last two year at Utah, but he's been on a winning staff for the last four years and his NCAA tournament experience speaks for itself.
Butler associate head coach Matthew Graves

Resume:
Graves has been on
Butler
's staff for the last decade. He began as the team's basketball operations coordinator, was promoted to assistant coach and now is the associate head coach. He's worked with former Butler coach Todd Lickliter and current coach Brad Stevens. He's knows the game and has been key to the Bulldogs' continued success.
Who should look at him:
He could be a good fit at Bradley. Butler hasn't had a whole lot of recruiting success in the Chicago area, and that could hurt his chances at Loyola and Northern Illinois. Both those programs need to do a better job getting players from the area if they're going to improve.
[+] Enlarge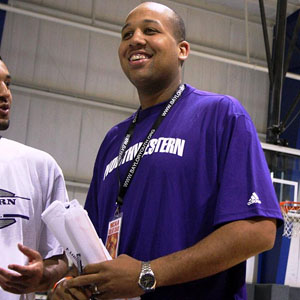 Scott Powers/ESPNChicago.comTavaras Hardy is in his fifth season as a Northwestern assistant.
Northwestern assistant coach Tavaras Hardy

Resume:
A former
Northwestern
player, Hardy is in his fifth season as an assistant at his alma mater. Hardy has established himself as one of the Chicago-area's top recruiters. It has been through his ties with area high school and club coaches Northwestern has received commitments from current starters
Drew Crawford
and
John Shurna
. He's also expanded his recruiting relationships and was influential in plucking freshman guard
JerShon Cobb
from Georgia and incoming freshman
Tre Demps
from Texas.
Who should look at him:
Hardy would help Northern Illinois with its Chicago-area recruiting woes, but he's a better fit at Loyola. Rather than bring in another recycled head coach, Loyola could make the smart move like UIC did with Howard Moore and hire someone who will rejuvenate the program. Like Moore, Hardy is a Chicago-area native, he's played in the area, he's coached in the area and he's recruited in the area. Hardy has paid his dues as an assistant and has proven himself worthy of a head-coaching spot. Couple Hardy with an assistant with Public League ties, possibly Simeon's Robert Smith, and a few experienced coaches, and the Ramblers could be rolling.
Illinois assistant coach Jerrance Howard

Resume:
A former
Illinois
player, Howard is in his fourth year as an Illini assistant. Howard has quickly built a reputation as Chicago's premier recruiter. He's been the catalyst behind Illinois scoring nationally-ranked recruiting classes the last three years. He was key in Illinois keeping the commitment of McDonald's All-American recruit
Jereme Richmond
. Howard, who is 30, knows how to relate to kids and has a bubbly personality about him that's helped create relationships. He attracted interest from
Kentucky
the past few years to join its staff.
Who should look at him:
Being a Peoria native, Howard is a perfect fit for Bradley. He'd certainly be one of the youngest coaches in the country, but there's no doubt he could reignite the Braves' program with his energy and recruiting. In talking to him, it's easy to see he's more than just a recruiter, but he would likely have to surround himself with some experienced and knowledgeable assistants at Bradley. With his Chicago-area recruiting specialty, he'd also be someone for Loyola and Northern Illinois to talk to.
Former Butler and Iowa head coach Todd Lickliter

Resume:
Lickliter was one of the nation's more successful mid-major coaches at Butler before jumping to
Iowa
, where he was fired after three seasons. Lickliter was 131-51 in his six seasons at Butler. He also coached the Bulldogs to two Sweet 16 appearances and was named the Division I Coach of the Year by the National Association of Basketball Coaches in 2007.
Who should look at him:
Bradley, Loyola and Northern Illinois should at least gauge his interest. He may have failed at Iowa, but he's had success at the mid-major level and is a name people know.
Purdue associate head coach Paul Lusk

Resume:
Lusk has been on
Purdue
's staff for seven seasons and is ready to make the job to the head position. He was under Gene Keady for one season at Purdue and the last six years under Matt Painter. He also was an assistant under Painter at
Southern Illinois
and played for Southern Illinois. He was the head coach at Division III Dubuque during the 2002-2003 season before leaving to coach at Southern Illinois.
Who should look at him:
Lusk would have been the perfect match for Southern Illinois if the Salukis hadn't retained Chris Lowery for at least one more year. There's no guarantee Lowery will turn the program back around, and Lusk may take his chances and wait for it. He could also attractive Bradley, Loyola and Northern Illinois with his experience and longtime in-state ties.
Michigan State associate head coach Mark Montgomery

Resume:
Montgomery has been on Tom Izzo's staff for 10 seasons. He's been a key recruiter for
Michigan State
and has worked predominately with the perimeter players. Montgomery has been up for other head jobs, including UIC last year, but hasn't been hired yet.
Who should look at him:
With his Michigan State background under Izzo, Bradley, Loyola and Northern Illinois would be all smart to interview him. He has the potential to be a successful head coach.
Clemson associate head coach Rick Ray

Resume:
Ray is in his first season at
Clemson
after four years as an assistant at Purdue. He also was an assistant at Northern Illinois for two seasons and
Indiana State
. He's well known as a top recruiter.
Who should look at him:
Ray's tie to Northern Illinois and the Midwest should get him at least an interview with the Huskies if he's interested.
Nebraska assistant coach Tracy Webster

Resume:
Webster is only in his first year at
Nebraska
, but he's been around for a while now. He was at DePaul previously and was the Blue Demons interim head coach when Jerry Wainwright was fired last year. He's also been an assistant at Illinois, Kentucky and Purdue. He's considered one of the Chicago area's top recruiters and has ties with a lot of area coaches.
Who should look at him:
Webster could improve Loyola's and Northern Illinois' recruiting in the Chicago area instantaneously. He was only the head coach at DePaul for a short time, but he now does have some coaching experience at the highest level.
TOP 25 SCOREBOARD
Saturday, 12/20
Monday, 12/22
Tuesday, 12/23
Wednesday, 12/24
Friday, 12/26
Saturday, 12/27
Monday, 12/29
Tuesday, 12/30
Wednesday, 12/31
Thursday, 1/1
Friday, 1/2
Saturday, 1/3
Sunday, 1/4
Monday, 1/12
TOP PERFORMERS