Chicago Colleges:

Tavon Wilson
April, 27, 2012
4/27/12
9:32
PM CT
Illinois
set a school record by having four players selected in the first two rounds of this year's NFL draft.
Illinois senior offensive lineman
Jeff Allen
and senior safety
Tavon Wilson
became the third and fourth Illini players taken in the draft on Friday. Allen was drafted by the
Kansas City Chiefs
in the second round as the No. 44 overall pick. Wilson was taken by the
New England Patriots
in the second round as the No. 48 pick.
In the first round on Thursday, defensive end
Whitney Mercilus
went to the Houston Texas as the No. 26 pick and wide receiver
A.J. Jenkins
was selected by the
San Francisco 49ers
with the 30th pick.
Illinois hadn't previously had more than two players selected in the first two rounds.
"It means a lot," Allen said of the four draft picks. "We've always had talent. We've had great players taken in the draft. To have four players in the first two rounds is unbelievable. It's something you can't describe. I'm just so happy for all my teammates right now."
Allen, who attended King High School in Chicago, will join former Illinois teammate
Jon Asamoah
on the Chiefs' offensive line. Asamoah was drafted by the Chiefs in the third round in 2010 and started 16 games for them last season.
Wilson had 81 tackles, including 51 solo, and one interception last season for Illinois.
The Illini had four players taken in the draft last year. Three of those picks came in the first three rounds.
October, 10, 2011
10/10/11
11:05
AM CT
Illinois senior cornerback Tavon Wilson was named the Big Ten Defensive Player of the Week on Monday.

In Saturday's win over Indiana, Wilson returned a fumble 66 yards for a touchdown and recorded a team-high 11 tackles and a career-best 3.5 tackles for loss, including a sack.

It was Wilson's first conference honor.
September, 15, 2011
9/15/11
10:05
AM CT
Here's a buy-or-sell proposition for you.
Team X won its bowl game convincingly in December, capping a season that surprised many so-called experts. Team X boasts an exciting young dual-threat quarterback who has complemented his athleticism with better passing. Team X typically ranks among the nation's top-20 teams in rushing, returns a veteran line and a nice backfield mix. Despite losing three defenders to the NFL draft, Team X has several seasoned defensive backs and linebackers. Team X has won its first two games by a combined score of 89-18. Team X plays eight home games, including each of the first five and six of the first seven.
So, are you buying or selling?
Oh, you want to know the team's name? The head coach's name, too?
OK, understood. Let me know if you change your mind.
This is the perception the
Illinois Fighting Illini
and their coach Ron Zook are up against as they try to regain a place on the national college football radar. For every reason to buy into Illinois, there are other reasons to stay away from the Orange and Blue.
[+] Enlarge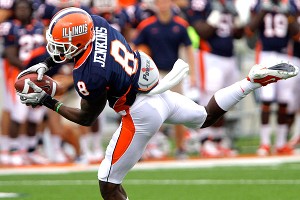 AP Photo/Seth PerlmanA.J. Jenkins knows Saturday night's game gives Illinois the chance to show the country what kind of team it is.
Illinois has been the ultimate tease in the Big Ten, twice reaching BCS bowls in the past decade, only to backslide. Zook has teased us with talent, bringing elite recruits to Champaign but not getting consistent results (30-45 in six-plus seasons).
While Illinois has the look of a team to watch in the Big Ten, there's a hesitancy from the outside to buy in, and players know it.
Check out receiver
A.J. Jenkins
' response to a seemingly neutral question: How big of an opportunity is Saturday night's game with No. 22 Arizona State?
"It's a really big opportunity for us," Jenkins said. "Both undefeated teams, playing a night game in prime time. It's going to be a good thing because we'll finally have the respect we deserve.
"We believe we can be a ranked, Top-25 team. This is the time for us to show the world that doesn't believe, that we're capable."
The Arizona State game comes at a perfect time for Illinois.
The Sun Devils come in ranked in both major polls (No. 22 AP; No. 18 coaches). They put themselves on the national radar with a dramatic overtime victory last Friday against Missouri. They boast one of the nation's most recognizable defenders in linebacker Vontaze Burfict and one of the nation's most recognizable quarterbacks in the 6-foot-8
Brock Osweiler
.
Arizona State will be the main attraction nationally Saturday night, but if Illinois wins, attention will come its way. Maybe even respect.
"Our guys understand if we're going to be involved in the Big Ten [race], have something to do with that, this is a game where we're going to have to show up and play the way we're capable of playing," Zook said. "I don't think there's any question these guys are fired up about it."
The game pits an explosive Illinois offense against an Arizona State defense that ranked 16th nationally against the run in 2010. Illinois set a team scoring record last fall (423 points) and leads the Big Ten in scoring, total yards and rushing yards through the first two weeks.
Sophomore quarterback
Nathan Scheelhaase
is off to a quick start, but Burfict, whose reputation for administering ferocious hits and drawing personal fouls is well known, will be gunning for No. 2.
"The emotional part is the thing that really stands out with Vontaze," Zook said. "He's going to make sure you know he's around."
Osweiler also is tough to miss, and not just because of his unusual size. The junior was brilliant against Missouri, completing 24 of 32 passes for 353 yards and three touchdowns with no interceptions.
Illinois needs its veteran linebackers and defensive backs like Ian Thomas, Trulon Henry, Tavon Wilson and Terry Hawthorne to step up.
"You can't get in his line of sight," Illini defensive coordinator Vic Koenning said of Osweiler. "They run the big split stuff where they get him throwing lanes. He's a big ol' quarterback and he's not unathletic. We're just going to do the best we can.
"This will be a fantastic challenge for us."
Illinois hasn't beaten a ranked opponent since stunning then-No. 1 Ohio State in Columbus in 2007. The victory spurred the Illini to the Rose Bowl.
Although beating Arizona State wouldn't make the same impact, it could springboard the Illini to bigger things when Big Ten play begins.
"For people who don't believe we can beat teams that are ranked, it's time to come out and see what we can do," Jenkins said. "This game might spark our season.
"I wouldn't say it's a must-win, but if we want the respect that we deserve, this is a win we need."
September, 4, 2010
9/04/10
11:55
AM CT
ST. LOUIS -- Illinois junior Tavon Wilson swore in the preseason like many of his teammates that the Illini weren't going to be the same team they were a year ago.
From spring practice to the Big Ten Media Days to the days leading up to the team's season-opener, Wilson pledged things would be different this year. The defense would stop opponents. The offense would score points. Illinois would win more games.
Wilson knows what he's said, and he stands by that. But he also knows with the 11:40 a.m. kickoff against Missouri at Edward Jones Stadium on Saturday, his words will no longer be able to defend the Illini against their critics. Finally, Wilson and his teammates will have to speak with their play.
"Now, we got to show what we've been talking about all year," Wilson said earlier in the week. "We've been talking about new changes and the new coaches. It's time for us to go out to prove it."
For Wilson to succeed at that, much of that burden will fall on him and the rest of Illinois' secondary.
In the past two weeks, injuries have depleted Illinois' secondary. First, it lost safety Supo Sanni for the season when he tore his Achille's tendon. Shortly after, cornerback Terry Hawthorne injured his foot and is expected to miss three to five weeks.
In their place, Wilson moved from starting cornerback to safety, and
Justin Green
transformed himself from a backup running back to a starting cornerback. The other spots will be filled by safety Trulon Henry, a junior college transfer, and senior cornerback Travon Bellamy.
"I was kind of shocked [by the injuries], but I was ready to regroup and was open to whatever the coaches needed me to do as a leader back there," Wilson said. "I was open to it and ready for the challenge."
Missouri's offense will present a different sort of challenge on Saturday. Tigers quarterback
Blaine Gabbert
abused Illinois' secondary in last year's Arch Rivalry for 319 yards and three touchdowns. He surely will look to do the same due to Illinois situation.
Others expect the same. The line for Saturday's game is Missouri by 13.5 points.
Wilson isn't listening, though.
"We don't really get into what people say on the outside," Wilsons said. "We know we have great athletes on the team and capable of getting the job done."
Only their actions will tell on Saturday.
TOP 25 SCOREBOARD
Thursday, 12/5
Friday, 12/6
Saturday, 12/7
TOP PERFORMERS