Chicago Colleges:

Texas Bowl
December, 29, 2010
12/29/10
10:21
PM CT
Illinois coach Ron Zook will laugh, smile, hi-five anyone wearing orange, hug his players and family countless times and enjoy himself to the max Wednesday night after his Illini defeated Baylor 38-14 in the Texas Bowl.
He should. He deserves it. Illinois dominated the Bears from opening kickoff to the final whistle. Zook put together a great game plan, got his players ready, and they executed it to perfection.
That is today. The question is what does tomorrow bring?
While Wednesday couldn't have been better for Zook and the Illini, one day unfortunately doesn't erase a season -- or for that matter six seasons. Amidst the Gatorade being poured over Zook's head, players dancing in celebration and the band loudly playing the school's fight song following Illinois' win, the dark cloud of Zook's uncertain future still hung over the Illini on Wednesday.
[+] Enlarge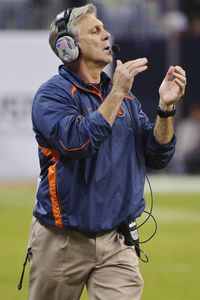 AP Photo/Dave EinselWednesday's win gave Ron Zook his second winning season with the Illini.
Does the bowl win save Zook's job?
It's tough to say.
Here are some things to ponder:
• Zook has coached Illinois for six seasons and has compiled a 28-45 overall record and a 16-32 Big Ten record.
• The Illini have had two winning season under Zook. This year's 7-6 one and they went 9-4 in 2007.
• Zook has taken Illinois to two bowl games. In 2007, Illinois reached the Rose Bowl and lost to USC. On Wednesday, the Illinois won the Texas Bowl. Zook did provide the Illini with their first bowl victory since 1999.
• Zook was thought to have secured his job when Illinois opened this season off 5-3, which included a road win over Penn State and narrow losses to Missouri and Ohio State. But people began calling for his head again after Illinois lost 38-34 to Minnesota in Champaign on Nov. 13. The Gophers had lost their previous nine games. Illinois closed out the regular season losing three of its last four games before winning Wednesday.
• How much of Illinois' rise this season was Zook's doing and how much was it the work of first-year offensive coordinator Paul Petrino and first-year defensive coordinator Vic Koenning? Zook was forced to clean house after last season's 3-9 mark, and Petrino and Koenning, two successful coordinators, were brought in and paid top dollar. Both are among the highest paid coordinators in the Big Ten with Petrino making $475,250 and Koenning getting $325,120. Could one of them be Zook's successor? Could that have been the plan from the start?
• However Illinois has played, Zook has continued to bring in top recruits. Zook has done a good job of securing the state's best players and still is attracting players from Florida and elsewhere. He already has 25 commitments for the Class of 2011. He can sell Illinois at all times.
• Illinois could be one of the Big Ten's top teams next year. The Illini will return their starting quarterback, possibly their star running back and a whole lot more on both sides of the ball. Zook did play a lot of freshmen and underclassmen this season. Does everyone stay if Zook is canned? Could Wednesday be just the start of something special in 2011?
These are all questions Illinois athletic director Ron Guenther and the school's administrators will have to answer soon. They can't sit on this too long.
Today, though, everyone, including Zook, should enjoy themselves. Days like this haven't often come around for the program.
December, 28, 2010
12/28/10
4:18
PM CT
Illinois defensive tackle Corey Liuget couldn't foresee a future rodeo career for himself after he and his teammates received a taste of the profession during a bowl-related event in Houston on Monday night.
"I couldn't do it," he said.
Liuget had fun rounding up cattle, but he still felt his purpose in life was to use his 6-foot-2, 300-pound frame to chase down quarterbacks. Specifically, he has his heart set on lassoing Baylor star
Robert Griffin III
and putting him to the ground a few times on Wednesday in the Texas Bowl.
If the Illini are going to win their first bowl game since 1999, Liuget believes it's going to be he and the defense that have to lead the way against Baylor's high-powered offense.
"On the defensive side, we have to change our attitude and get back to where we were," Liuget said. "We need to be flying around to the ball and playing resilient. That's what we have to do. We need to come together as a defense."
Lately, the defense hasn't been too cohesive. After allowing no more than 26 points through its first eight contests, Illinois' defense took a downward turn over its final four games.
Michigan was the first to strike against the Illini. Led by Denard Robinson's 305 passing yards, the Wolverines compiled 676 total yards and put up 67 points on the Illini. A week later, Minnesota arose from the dead to snap a nine-game losing streak with a 38-34 win in Champaign.
The Illini benefitted from Northwestern being without quarterback
Dan Persa
in their following game, and they pulled out a 48-27 win at Wrigley Field. Finally, Fresno State quarterback
Ryan Colburn
abused the Illini for 304 passing yards in another loss, dropping them to 6-6.
Illinois had allowed just 16.8 points and 301 yards a game through its first eight games. Over its past four, it gave up 39.3 points and 429 yards.
"It was a little bit of lack of concentration," Liuget said. "We didn't have a fire in us."
The Illini better have it against Baylor or they could be in for another onslaught. The Bears' offense is among the best in the nation. They rank 20th in passing offense with 278 yards per game, 23rd in rushing with 200.5 yards and 29th in scoring with 32.2 points.
Like Robinson and Northern Illinois quarterback
Chandler Harnish
, two players who racked up yards against Illinois this season, Griffin III is a dual-threat quarterback. He's thrown for 3,195 yards and 21 touchdowns and rushed for 591 yards and eight touchdowns.
"Their scheme, the way they run their offense, is very similar to Missouri," Liuget said. "They play Big 12 football. We need to adjust to that, make plays and be sound defensively."
While Liuget admitted the season has been disappointing, especially since the Illini were 5-3 and appeared destined for a larger bowl not too long ago, he still thought it would be a meaningful year for himself and the Illini with a win in the Texas Bowl.
"This is my first bowl as a college athlete," Liuget said. "To me, this is my Super Bowl and national championship. That's what I compare it to. I'm going to give it my all."
TOP 25 SCOREBOARD
Saturday, 9/20
Thursday, 9/18
TOP PERFORMERS
M. Gordon Wisconsin - RB
13 car, 253 yds, 5 tds

T. Boyd Pittsburgh - WR
10 rec, 153 yds, 0 tds