Chicago Colleges:

Tim Hinton
January, 2, 2012
1/02/12
11:05
AM CT
Notre Dame will have some familiar faces in new places next season.
Bob Diaco has been named assistant head coach, Chuck Martin has been named offensive coordinator, Kerry Cooks has been named co-defensive coordinator and Scott Booker has been promoted to full-time assistant, the Irish announced Monday, four days after their season ended with a Champs Sports Bowl loss to Florida State and five days after head coach Brian Kelly said he was excited to be able to keep his staff in place for 2012.
Former running backs coach Tim Hinton and former offensive line coach and running game coordinator Ed Warinner have left to pursue other opportunities.
Diaco, Martin, Cooks, Booker, Tony Alford (receivers), Mike Denbrock (tight ends) and Mike Elston (defensive line/special teams) have all received contract extensions as well.
Diaco is promoted after two seasons as defensive coordinator and linebackers coach, duties he will still be responsible for. Martin, who coached safeties and served a recruiting coordinator, replaces Charley Molnar, who took the head coaching job at Massachusetts last month.
Martin succeeded Brian Kelly as head coach at Grand Valley State for six seasons and directed the offense, continuing the same system Kelly had installed.
"Chuck is a very talented coach that will make our offense better in the future due to his knowledge of our offensive system as well as how defenses like to attack it," Kelly said in a statement. "I wanted someone that knew the system I'm familiar with and our experience coaching together will make for an easy transition. Chuck did a great job directing the Grand Valley State offense after I left and led the program to unprecedented heights. I look forward to witnessing the impact he'll have on our offense."
Cooks coached cornerbacks last season and outside linebackers the year before. Booker has been an offensive intern the past two seasons and will be assigned a specific position in the future.
Hinton has long been rumored to be joining Urban Meyer's staff at Ohio State, though neither school had an immediate announcement and Hinton
deflected those rumors Dec. 19
, saying:
"Here's what I know: I am coaching at the University of Notre Dame. That's all for everything else, and that's all for everybody else. I've got one thing to do: I'm gonna coach
Cierre Wood
, I'm gonna coach
Theo Riddick
, which kind of got you guys last week, didn't it? And I'm gonna coach George [Atkinson III] and Cam [McDaniel] and that's the only thing we can do. And that's the bottom line: We're coaching the heck out of them. And do I want to be at Notre Dame? Absolutely."
The loss of Warinner comes as a bigger surprise, though it is unclear where his next stop will be.
November, 12, 2011
11/12/11
12:35
PM CT
Cierre Wood
began the season as Notre Dame's starting running back.
Jonas Gray
has started the Irish's last two games. No, there isn't an injury or dip in performance. The two have just been seemingly interchangeable in the backfield this season.
[+] Enlarge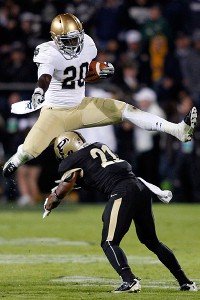 AP Photo/AJ MastNotre Dame's Cierre Wood is 42nd in the nation in rush yards per game at 89.8.
Wood is 42nd in the nation with 89.8 rushing yards per game. Gray, who averages 66 rushing yards per game, ranks 83rd. Notre Dame is one of just eights teams with multiple players among the top 100 in rushing yards per game.
Here, Wood, a junior, talks about the dynamic with Gray, the improved short-yardage game and the running backs' blocking efforts.
It may not have registered until everyone looked up the stats the next day, but Saturday was your first-ever second-half comeback win under Brian Kelly. Do you look at that as maybe a step or a sign? Is that something that's talked about on the team?
CW:
Not really. It's just fighting back, really just that will to not give up and keep going, which we base everything we do off of, which is the next man in. A lot of guys were playing injured that game, but everybody just kept going in because we knew what the task was to come back and win. And we got the job done.
Jonas said after [Wake Forest] missed that field goal late, his first thought on the sideline was, Give me and Cierre the ball, we're gonna run this clock out, we're gonna win. And he said that's a mentality that's kind of had to foster over the course of the year. How have you seen the confidence in the run game grow and know that's your situation right there?
CW:
The run game has been a huge factor this whole year. It started off good in the beginning and it's still going strong. Now we base everything off of our run game. We have to have a physical presence in the run game in order for everything else to fall into place and stuff like that. So in order to get our jobs done at all times, we always need to start running the ball.
How much easier is your life when you have a back who can step in and do the things you do?
CW:
It's extremely easy, to be honest with you. While he's in there, he's doing his thing. While I'm in there I'm doing my thing. We both go in there, we're both gonna produce. So somebody's gonna get the job done.
Is it particularly fulfilling to see the light kind of click on for him during his last chance, to overcome the fumbles in the past and really have a strong senior season?
CW:
Yeah. Since the beginning of the summer I told him we're gonna have to run the tables. We're gonna have to start everything and put the team on our backs and stuff like that. And that's what we did. I told him we're gonna start the run game and it was gonna come from us too, as far as starting it off and getting everything rolling, and that's exactly what we did. I'm happy to see Jonas doing great. I'm his No. 1 fan. Every time he scores I'm always the first one out there to give him a high-five and stuff like that. Coming here, Jonas wasn't playing that much and I'm very very happy to see him making it.
It didn't seem like you guys really missed a step when Braxston [Cave] went out, but when you do see a member of the offensive line go down, particularly at such a big spot like the center, what's the running backs' philosophy there? Obviously you're not on the line with them, but what are you thinking?
CW:
I wasn't worried about anything. As soon as Mike [Golic Jr.] came in there I told him, "Let's go. The ball is dropped. We're rolling with or without you, really." But he knew that coming in. Just like you said, we didn't miss a beat.
One of the things you guys have talked about throughout the year — and that doesn't really get a lot of attention — is the blocking by the running backs. It's one of those things [running backs coach Tim] Hinton was saying earlier: People won't know you're doing a good job until you do a bad job and there's a sack or something that was your responsibility. How much pride do you guys take in that, and how much have you learned to embrace that?
CW:
We take a huge amount of pride in that. That's very very important to us as running backs and to our team as a whole. We haven't allowed a sack, as far as from the backs, this whole season. We wanna go the whole season without allowing any sacks as far as from our end. Our coach always says to be a Notre Dame running back you have to play physical and you have to pass-protect. And that's one of our code of conduct rules that we have. That's basically what we live by and we just get the job done.
It seems like the short-yardage game, that was something at Michigan that wasn't there for you guys late in the game but obviously was this past week at Wake Forest. Is that more of a mentality thing? Is it a physical thing? How has that kind of manifested itself over the course of seven or eight weeks?
CW:
It's a mindset really. You've gotta get into that mindset where you just feel like, hey, nobody's stopping you, no one man can take you down. Coming into the season I put that on myself and that's been there this whole time. I told Jonas we both have to have that mentality at all times. And he jumped on-board with it. We just hit the ground running ever since.
November, 2, 2011
11/02/11
9:15
AM CT
SOUTH BEND, Ind. -- Wait until February to ask Tim Hinton how satisfying it is to see
Jonas Gray
have the kind of farewell season he is having. Right now, there are at least four games left in which the running backs coach would like to see the senior continue to improve.
"You don't have time right now, it's all critical," Hinton said of reflecting. "You feel bad about it sometimes. ... Until the NCAA tells us we can't play another second, then we're gonna improve. That's our job."
Gray has made plenty of strides up to this point, however, scoring eight touchdowns over his past five games and rushing for 502 yards this season. He made his first start of the season (second of his career) Saturday against Navy, and he is averaging 7.97 yards per carry, just shy of George Gipp's single-season Notre Dame record of 8.1.
[+] Enlarge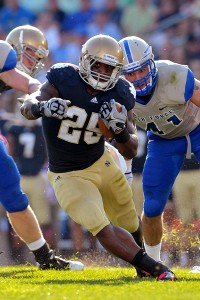 Matt Cashore/US PresswireJonas Gray is averaging 7.97 yards per carry this season and has eight touchdowns in his past five games.
Who?
"I know a little bit about him, not a whole lot," Gray said of Gipp, laughing. "I know quite a bit. Like, I know that he passed away -- I don't know what it was from exactly. ... And after he passed away one of the legendary coaches we had had a speech: 'Win one for the Gipper.'
"I guess I need to really check up on it."
Gray can be forgiven for mis-remembering one of the many tales of Notre Dame lore. He recognizes, however, just what it would mean to leave with a school record.
"It is crazy," he said. "Especially thinking about where I came from, where I started, and talk about breaking a record of a guy like that is just -- just breaking any type of record at Notre Dame from where I started from is pretty incredible."
In his three previous seasons, Gray had just 75 carries for 309 yards. He had fumbled four times, adding to that total when his third-and-goal carry from the 1 in the Irish's opener was stripped and returned 96 yards for a momentum-turning South Florida touchdown.
Head coach Brian Kelly challenged Gray afterward to make sure that he would be remembered for overcoming a tough start to his senior year, not be defined by it. Gray said Kelly has been in his ear since, from telling the senior before the following game at Michigan that he was pulling for him to demanding him to set the tempo as a starter before Saturday's game against Navy.
Before that contest, it hit Gray that he would have just one more game left at Notre Dame Stadium.
"It's been so much of a journey," he said. "It's had its ups and downs, its negatives and its positives, but I wouldn't change a thing. I love this university; I love everything that it stands for. I'm gonna be upset when it's all over."
But as his position coach will remind him, there's plenty of time left for things to improve or go south in an instant.
For Hinton, seeing Gray complete that journey serves as a form of validation.
"Keep coaching them; that's what our jobs are," the running backs coach said. "It's easy to coach the one who does it naturally. Everybody can do that one, right? Why do [they] need us? It's getting the other guys to get to the level they need to be. That's what coaching's all about. That's what you try to do."
October, 5, 2011
10/05/11
8:00
AM CT
SOUTH BEND, Ind. --
Jonas Gray
was locked in a battle with Purdue's Will Lucas at the 2-yard-line Saturday when Lucas suddenly gave out, giving Gray the first-quarter touchdown.
At least it seemed to Gray that was how he escaped his defender. Then, the running back's brief end-zone celebration was interrupted by center Braxston Cave.
"He knocked the guy off of me actually and I didn't even realize it until I watched the film," Gray said of Cave. "And he said something to me in the end zone about it and I didn't know what he was talking about.
[+] Enlarge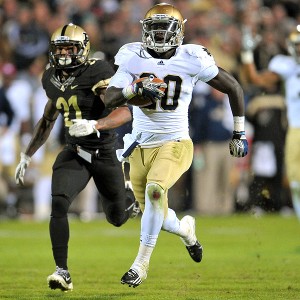 Matt Cashore/US PresswireCierre Wood found plenty of room to run against Purdue.
"Once I watched the film, he knocked that guy off of me and that's a guy, just like the rest of the guys, they're just happy to be physical. They're just happy to go out there and open up holes for us."
Perhaps Cave's clobbering block of Lucas had the Notre Dame offensive line so eager to get back to the line of scrimmage every play Saturday night. The Fighting Irish's 287 rushing yards may have had something to do with that as well.
Regardless, the camaraderie of the rushing attack has been at a high through five games this season, with Notre Dame averaging more than 179 yards per game on the ground.
"It's good, it's a confident group right now," offensive line coach and running game coordinator Ed Warinner said. "They're playing hard. They've been together, they like each other, we have good chemistry and so they know that if they do their job good things happen.
"So those guys are getting some nice creases and [it's] just kind of infectious. It just gets going. And moving the ball and being physical is why they play football. That part of it is fun for them and they're enjoying it."
Fun is exactly how Gray described going back to the sideline after each possession Saturday. Excluding a knee to end the first half, only one of the Irish's first nine possessions at Purdue ended with a punt.
Gray finished with 94 yards on 15 carries.
Cierre Wood
rushed for 191 yards on 20 carries.
"Whenever we go to the sideline during a media timeout or something like that, we were just communicating with each other, telling each other what we saw, and they were like, 'Run behind me. Do this. Do that,'" Gray recalled. "And when you get that from your offensive line, it's refreshing. When they wanna run it and they wanna continue to be physical up front, it was just, they were putting on a lot of positive energy and just being physical up front."
Still, Gray saw plenty of room for improvement, namely in not leaving any more yards out on the field. The senior also hopes to hold up his and Wood's preseason promise of not allowing a sack all season.
The latter area is something running backs coach Tim Hinton believes will go largely unnoticed until a running back actually does miss a crucial block.
Avoiding that is one big challenge for a rushing attack that thus far has exceeded everyone's expectations but its own. Another is simply maintaining the edge that has helped the Irish set the bar so high to begin with.
"The biggest thing right now is to do it every week and have that consistency to run physical, and there will be games where they may not have the highs, but we can't ever have the real lows," Hinton said. "We gotta have a consistent approach to our practice, a consistent approach to how we go about our day and then every game we have to bring a physical mentality and a drive and a relentlessness. We're mad if we got tackled; even if it was a 20-yard gain, we're mad we didn't get 21.
"And I keep trying to instill that that every play: fall forward and try to get one more, try to get two more. And you get that mentality that, 'Listen, I got a little more in me. I got a little more in me,' and that's what we're working for every day. We gotta continue to bring that consistently and I'm telling them every day. And I had a long talk with them [Tuesday]: 'You gotta be able to manage success, because you get a lot of media at Notre Dame and you better manage success.'"