Chicago Colleges:

Tom Herman
May, 23, 2014
May 23
3:00
PM CT
Wishing you a fun and safe Memorial Day weekend. Barring
breaking news
-- fingers crossed -- we'll be back with you bright and early Tuesday.
Follow the Twitter brick road
.
Mail call ...
Rajiv from Tallahassee, Fla., writes:
Do you think that there are any programs in the B1G that would automatically get or deserve a spot in the playoff if they ran the table in any given year? Secondly, suppose a team like Northwestern or Minnesota ran the table and then beat a 12-0 Michigan State team in the BIG Championship. Should one of those teams get an automatic bid? Don't think that situation would happen, but certainly an undefeated Ohio State would garner more recognition than Northwestern.
Adam Rittenberg:
Rajiv, it's my belief that any major-conference team that runs the table and wins a league title game to go 13-0 would make the field of four. Why else would you expand the field from two to four? Most Big Ten teams are playing at least one marquee non-league opponent, so even if their league schedule is a little soft like Iowa's or Wisconsin's this year, a perfect mark would be enough to get them in, regardless of their reputation. It would be incredibly disappointing if the committee functions like poll voters and gives preferences to historically strong teams. There would have to be odd circumstances -- two or more undefeated teams from major conferences -- for a 13-0 Big Ten team to be left out.
---
Jason from Tampa writes:
What are your thoughts around Penn State and its stance on the Paterno lawsuit? On one hand, Penn State is a defendant in the lawsuit, has made great strides, and a majority of the severe sanctions are behind them. On the other hand, Penn State might get temporary or full relief of all sanctions. Do you believe their stance is a calculated move to avoid bad publicity and not disrupt the relationship with the NCAA in regards to further sanction reductions?
Adam Rittenberg:
Jason, I think your first point about Penn State making strides and moving past some of the more severe sanctions is a motivator for the school's position. There's no full relief from the sanctions, since Penn State has had two bowl-eligible teams stay home and continues to operate with reduced scholarships. But the school clearly feels that cooperation with the NCAA is the best route. Penn State also has aligned itself with the Freeh Report, which the Paterno family claims isn't credible. Ultimately, PSU seems too far down the road in lockstep with the NCAA to dramatically change its position.
---
Paul from Lincoln, Neb., writes:
I heard Ed Cunningham say on "College Football Live" that from what he observed in the Big Ten last year that the QB play is very poor compared to other conferences. My question(s) to you is: 1) Do you really believe the QB play is that bad in the conference? 2) Who are the QBs in the BIG that could go and start for other major college football programs in other conferences? (You can pull names from last year as well).
Adam Rittenberg:
Paul, quarterback play in the Big Ten has been down for some time. The league hasn't had a quarterback selected in the first round of the NFL draft since Penn State's Kerry Collins in 1995. That's stunning. Although quarterbacks such as
Drew Brees
(Purdue),
Tom Brady
(Michigan) and
Russell Wilson
(Wisconsin) have gone on to win Super Bowls, the league isn't mass-producing elite signal-callers. Something needs to shift, and it could be the quality of quarterback coaches in the Big Ten. Besides Indiana's Kevin Wilson, are there any true QB gurus in the B1G?
Your second question is a bit tricky because there are some major-conference teams elsewhere with dire QB situations. But
Braxton Miller
,
Connor Cook
and
Christian Hackenberg
could start for any FBS squad.
---
Moss from Ann Arbor, Mich., writes:
The Big Ten is starting to resemble a very wealthy yet dysfunctional family. Consumed by more wealth and shiny toys but not paying attention to their children (teams) as they grossly underperform. Is the BIG more interested in the brand than the actual product? The conference has all the advantages but can't seem to get its proverbial act together.
Adam Rittenberg:
Moss,
it just doesn't seem to add up
. A league should be able to build its brand, generate revenue for its schools and win championships on the field. What do you mean by not paying attention? What do you want the Big Ten to do for its underperforming teams? That's the hard part. Commissioner Jim Delany gets criticized a lot, but he has significantly increased the resources for Big Ten programs, which can pay coaches more and invest in their facilities. Ultimately, the Big Ten can move its campuses to the south and west, where more of the elite players are. But I don't agree the league is neglecting its programs by trying to expand its brand.
---
@roberthendricks via Twitter writes:
Do you think OSU has a long-term solution going forward in
J.T. Barrett
,
Cardale Jones
or
Stephen Collier
? I know taking a hot QB in this class is essential, but what if they don't? Post-Braxton fear is setting in.
Adam Rittenberg:
That fear is real, Robert, as Ohio State's quarterback situation beyond 2014 seems cloudy. Miller's injury this spring allowed Jones and Barrett both to get some significant work in practice. While both struggled in the spring game, Jones enters the summer as Miller's primary backup. Ohio State would be wise to get at least one, if not both, into games this season, even in mop-up time. Collier seems like more of a project, and all three men need some time to develop. I don't think it's realistic to expect Ohio State's next quarterback to match Miller's big-play ability.
February, 7, 2014
Feb 7
11:00
AM CT
Americans should have the right to bear yogurt anywhere ...
November, 4, 2013
11/04/13
11:00
AM CT
Let's take a quick spin around the league …
September, 30, 2013
9/30/13
1:10
PM CT
On occasion Saturday night, Ohio State lined up with quarterback
Braxton Miller
in the shotgun, flanked by running back
Carlos Hyde
and receiver
Dontre Wilson
.
If you're a defensive coordinator, that might qualify as a special kind of torture. Think of all the possibilities with that trio. There's Hyde, the 235-pound power back who at times couldn't be tackled by Wisconsin. There's Wilson, still just a freshman but already one of the fastest players in the Big Ten who's fulfilling the Percy Harvin role for Urban Meyer's offense. Then of course there's Miller, who can beat you with his arms or his legs.
[+] Enlarge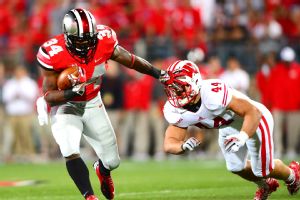 Andrew Weber/USA TODAY SportsCarlos Hyde's full-time return added another dimension to an already diverse Ohio State offense.
That particular offensive grouping didn't create a ton of damage in the Buckeyes' 31-24 victory. But it showed that, like sideline observer LeBron James, Ohio State now can do a little bit of everything now when it has the ball.
In fact, Meyer's biggest lament about the offense after Saturday's game was that he couldn't find playing time for
Jordan Hall
and
Kenny Guiton
. Hall, who leads the team with 427 rushing yards and eight touchdowns, got one carry against the Badgers. Guiton -- who leads the Big Ten in passing touchdowns with 13 -- never saw the field.
Miller quickly showed why the "debate" over whether he or Guiton should start was always silly, because he simply can do so many more things. Offensive coordinator Tom Herman said Monday that Miller still made some mental mistakes and needs to do a better job scrambling straight up the field. But Herman praised Miller's back-shoulder throw to
Devin Smith
for a touchdown, and Ohio State has now incorporated a vertical passing game to go along with its strong rushing attack. Receivers Smith,
Corey "Philly" Brown
and
Evan Spencer
are drawing praise not scorn from Meyer these days, and the trio has combined for 13 touchdown catches.
"They use their weapons well at every position," Northwestern coach Pat Fitzgerald said Monday. "They can get the ball to anybody, and they can score on any given play."
Fitzgerald should know exactly what that looks like, because he has built the same thing with his team. In fact, when Northwestern hosts Ohio State on Saturday night in Evanston, we will see arguably the two most versatile offenses in the Big Ten.
The Wildcats, of course, employ a two-quarterback system with
Kain Colter
and
Trevor Siemian
, the former excelling as a runner and the latter serving as something like a designated passer. Offensive coordinator Mick McCall can use the option game with Colter or spread the field with Siemian and a deep group of wide receivers. The two quarterbacks are completing 69.8 percent of their passes.
In fact, Northwestern is fourth in the Big Ten in both passing and rushing yards, the only team to rank in the top four in each of those categories. The Wildcats have accomplished that almost entirely without star tailback
Venric Mark
, who has dealt with an unspecified lower body injury all season. But Mark, who ran for 1,371 and was an All-American punt returner last season, is listed as a co-starter on the team's depth chart this week.
Fitzgerald said Monday that if Mark gets through practice without issue, "we will have him in some capacity" on Saturday.
Treyvon Green
(404 rushing yards, five touchdowns) has filled in nicely for Mark and brings a bit more power, but Northwestern's offense takes on a different dimension with Mark's speed, especially when paired with Colter.
Northwestern will likely need every available weapon against Ohio State, which managed to shut down Wisconsin's running game on Saturday while allowing some big plays through the air.
All coaches talk about being "multiple" on offense, but the Wildcats and Buckeyes truly embody that this season. Nebraska can also do just about everything, though the Huskers' offense sputtered against UCLA, while Penn State can keep defenses guessing with many formations and plays. Just about everybody else in the league is looking for a consistent passing game (Minnesota, Iowa, Wisconsin), a dependable running attack (Indiana, Illinois) or both (Michigan, Michigan State and Purdue).
Ohio State and Northwestern both have inexhaustible options on offense. The trick will be finding which ones work best on Saturday night.
December, 20, 2012
12/20/12
2:01
PM CT
Paying top dollar for assistant coaches has become an issue in the Big Ten lately. Bret Bielema cited his inability to pay and retain assistants at Wisconsin as a major reason why he left for Arkansas. Purdue made a bigger commitment to its overall staff salary when it hired Darrell Hazell to replace Danny Hope.
How do the Big Ten teams stack up when it comes to salaries for assistants? Luckily, USA Today has
just compiled a database
looking at what every FBS program pays its staffs. The study found that the average major college football assistant
now makes $200,000 per year
, a number that is on the rise. According to USA Today, pay for assistants rose 10 percent from last year and is up 29 percent from 2009, the latter of which is higher than the increase in salary for head coaches during that time period.
Here is what Big Ten teams spent on their staffs in 2012, not including the head coach (Note: Because Northwestern and Penn State are not subject to the same state open-records laws as other schools, their information was not available):
Ohio State: $3.29 million
Michigan: $2.93 million
Illinois: $2.3 million
Michigan State $2.2 million
Nebraska: $2.15 million
Iowa: $2.1 million
Minnesota: $2.1 million
Indiana: $2 million
Wisconsin $1.77 million
Purdue: $1.61 million
As you can see, Wisconsin was near the bottom of the pack in the Big Ten. Purdue has given Hazell a pool of $2.1 million for assistant coaches, which would put the Boilermakers right about the average for league schools. Ohio State and Michigan are the two richest schools and have not surprisingly made the biggest commitment to salaries. When you add in Urban Meyer's salary, the Buckeyes are paying nearly $7.6 million per year in football salaries. You get what you pay for, I guess, as Ohio State went 12-0.
While the Big Ten's median salary pool for assistants was just over $2 million in 2012, the median in the SEC was around $2.5 million. According to USA Today, the SEC paid its assistants an average of $315,000, the most in the nation. The Big 12 was second at just under $290,000.
LSU is spending more than $4 million on assistants, while Alabama is doling out more than $3.8 million on assistants. Auburn ($3.77 million), Tennessee ($2.98 million), Florida ($2.89 million), Georgia ($2.77 million) and Texas A&M ($2.68 million) also far outspent most Big Ten schools, while Arkansas ($2.56 million in 2012) is making a larger commitment to assistant pay under Bielema.
Finally, here's a look at the top-paid coordinators in the Big Ten among the 10 schools whose information was available via public records:
Luke Fickell, co-defensive coordinator, Ohio State: $761,000
Greg Mattison, defensive coordinator, Michigan: $758,900
Al Borges, offensive coordinator, Michigan: $658,300
Pat Narduzzi, defensive coordinator, Michigan State: $501,700
Tom Herman, offensive coordinator, Ohio State: $456,000
Everett Withers, co-defensive coordinator, Ohio State: $456,000
Tim Banks, defensive coordinator, Illinois: $400,000
Chris Beatty, co-offensive coordinator, Illinois: $400,000
Billy Gonzales, co-offensive coordinator, Illinois: $400,000
Tim Beck, offensive coordinator, Nebraska: $372,300
Tracy Claeys, defensive coordinator, Minnesota: $340,000
Matt Limegrover, offensive coordinator, Minnesota: $335,000
Greg Davis, offensive coordinator, Iowa: $325,000
Dan Roushar, offensive coordinator, Michigan State: $307,000
Mike Ekeler, co-defensive coordinator, Indiana: $306,600
Doug Mallory, co-defensive coordinator, Indiana: $306,600
Phil Parker, defensive coordinator, Iowa: $301,500
John Papuchis, defensive coordinator, Nebraska: $300,000
Gary Nord, offensive coordinator, Purdue: $275,000
Chris Ash, defensive coordinator, Wisconsin: $267,050
Matt Canada, offensive coordinator, Wisconsin: $265,000
Seth Littrell, offensive coordinator, Indiana: $255,500
Tim Tibesar, defensive coordinator, Purdue: $250,000
Fickell, Borges and Mattison are three of 18 assistants nationwide who earned at least $600,000 in 2012, according to the study. There were 14 assistants paid that much last season and nine in 2010. Ohio State offensive line coach Ed Warinner is the highest paid position coach in the league, at a salary of $357,800.
TOP 25 SCOREBOARD
Thursday, 9/18
Saturday, 9/20
TOP PERFORMERS
M. Gordon Wisconsin - RB
13 car, 253 yds, 5 tds