Chicago Colleges:

Tom Osborne
December, 12, 2014
Dec 12
8:00
AM CT
Wisconsin survived its first full day since way back in 2012
without a head coach
, though the search to replace Gary Andersen -- set to to be introduced Friday at Oregon State -- appears set end quickly.
The Milwaukee Journal-Sentinel reported Thursday night that the school is
prepared to hire
Pitt coach Paul Chryst, a former UW quarterback and offensive coordinator.
It's a
delicate situation
, of course, for the Badgers, the uprooted assistant coaches and their families -- not to be taken lightly. But perhaps the most interesting byproduct of Andersen's unexpected departure is the news that Barry Alvarez
will coach Wisconsin
in its bowl game. Again.
Alvarez, the 67-year-old athletic director and Hall of Fame former coach of 16 years in Madison, led the Badgers in the 2013 Rose Bowl, a six-point loss to Stanford, after Bret Bielema bolted to Arkansas.
Alvarez ought to just coach the Badgers in every bowl game. In fact, other legends should follow suit and rejoin their former programs on the sideline in the postseason. Surely, the NCAA would allow a special 10th coach. If not, just make them interns.
Let's bring back Bobby Bowden, Lou Holtz, Mack Brown (too soon?), Don Nehlen, Lavell Edwards, Hayden Fry, Barry Switzer and, if Indiana can get to six wins, Bill Mallory.
Yes, I'm joking. Slightly more serious about this, though: Nebraska has an opening on its staff for the Holiday Bowl. How about Tom Osborne? If Alvarez can go from the College Football Playoff selection committee to the sideline, why not Osborne?
Yeah, he's 77, served three stints in Congress, lost a gubernatorial primary in Nebraska -- did that really happen? -- and spent five years as athletic director since coaching his last game, a resounding win over Peyton Manning and Tennessee in the 1998 Orange Bowl.
But Osborne has perhaps never watched more college football than in this season. He must have some ideas on how the Huskers could surprise USC. One more fumblerooski up his sleeve.
What an experience it would be for Barney Cotton,
long loyal to Nebraska
, to have the ex-coach at his side. Cotton played under Osborne from 1975-78, then sent his three sons to Nebraska. It could also be a meaningful sendoff for Ron Brown, the Nebraska running backs coach who worked alongside Osborne in the legendary coach's final 11 seasons.
Might help a bit with ticket sales, too, and inject a little spice into a game that means a great deal to several Huskers who want to
honor their former coach
, Bo Pelini, but realistically, little to the forward movement of the program.
Alvarez played linebacker for Bob Devaney on Nebraska teams of the 1960s that included Osborne as an offensive assistant. If Barry can do it, so can Tom.
Alas, it's unrealistic. Osborne would likely never thrust himself into the spotlight in such a way. But just let me dream.
Thursday in Lake Buena Vista, Florida...
Lots of hardware
What a night on the Disney Boardwalk at the
College Football Awards Show
. The Big Ten had a good showing, as Iowa offensive tackle Brandon Scherff won the
Outland Trophy
, presented to the nation's top interior lineman; Maryland's Brad Craddock took home the
Lou Groza Award
as the top place-kicker; and Wisconsin's Melvin Gordon beat finalists Tevin Coleman of Indiana and Ameer Abdullah of Nebraska for the
Doak Walker Award
, given to the best running back.
Arizona linebacker Scooby Wright won the Bednarik Award, given to the best defensive player. Ohio State defensive end Joey Bosa was among the finalists.
Also, Nebraska wide receiver Jordan Westerkamp won a vote for college football's play of the year for his
behind-the-back catch
in the season opener.
Around the league:
West Division
East Division
Urban Meyer and Nick Saban have already met once in a playoff. They sat side by side Thursday and recalled the 2009 SEC championship game.
No surprise that Michigan wide receiver Devin Funchess did not meet his own expectations this year.
The explanation of playoff committee chair Jeff Long on Mississippi State's final-week jump over Michigan State does not erase flaws in the process, writes Graham Couch.
Indiana lands UAB receiver Marqui Hawkins but misses a juco QB target.
Freshman quarterback Michael O'Connor is leaving Penn State.
Maryland coach Randy Edsall, in San Francisco on Thursday, to discuss the Terps' matchup with Stanford, says receiver Stefon Diggs will play in the Foster Farms Bowl.
The salary pool for Rutgers' assistant coaches ranks eighth in the Big Ten.
June, 5, 2014
Jun 5
9:00
AM CT
Unlike the
ACC
or
SEC
, the Big Ten hasn't taken an official position on an early signing period. Many
Big Ten coaches see the benefits
, but there has been no united front.
Here's a bit of advice: The Big Ten coaches should band together about an urgent recruiting item, but not the early signing period.
The Big Ten must campaign for official visits to be moved up. No other league is affected more by population shifts that have created dense pockets of top recruits located far from its footprint. The
Big Ten is expanding its recruiting reach
, especially to the Southeast, but its proximity to many talent bases remains a significant obstacle.
If the Big Ten can't get prospects to its campuses before decisions are made, it will continue to fall behind in the recruiting race.
[+] Enlarge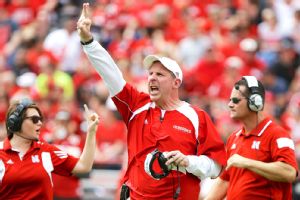 AP Photo/Nati HarnikEarlier official visits would be a boon to Bo Pelini and Nebraska, as the Cornhuskers have to recruit nationally because of a limited local talent base.
"The first thing we have to do is get kids on campus earlier," Michigan coach Brady Hoke told ESPN.com. "I'm sure our friends in the Pac-12 and the SEC would rather not that be the case. They'd rather have kids come in to Ann Arbor if it's winter.
"But I think it would help the guys from distance and the guys from those climates to come on campus to see what it is like."
NCAA rules state that prospects can't begin taking their five official visits -- paid for by the schools -- until the start of their senior year in high school. But many recruits make their college choices much earlier.
The accelerated recruiting cycle has minimized the significance of official visits. Many prospects commit after taking unofficial visits, for which they pay their own way. But the distance between Big Ten schools and the highest concentrations of elite prospects makes it challenging for recruits and their families to fund long, expensive trips.
"Since the trend is for early commitments, it makes sense that it favors schools located in population bases that produce a lot of players," said Big Ten Network analyst Gerry DiNardo, a former coach at Indiana, LSU and Vanderbilt. "So how do you combat that? How does a kid from Atlanta get to Lincoln, Nebraska, in the summer on their own expense?"
DiNardo views Nebraska as the FBS school most impacted by accelerated recruiting cycle. Nebraska always has recruited nationally because of its small local population base, but former coach Tom Osborne -- "a tireless recruiter," DiNardo said -- capitalized on the fact that recruits made their choices after an official visit to Lincoln.
Huskers coach Bo Pelini acknowledges earlier official visits "would help us."
"When you take official visits away from the equation, it really hurts a place like Nebraska," DiNardo said. "So early signing day has to be partnered up with official visits in a prospect's junior year.
"If just the date moves up without official visits, it sets the Big Ten even further behind."
DiNardo notes that a program such as Ohio State is less affected by the official visits timetable because it has a large local talent base that can easily reach its campus. But other Big Ten programs must cast a wider recruiting net.
It's especially true for programs in the western part of the league: Nebraska, Iowa, Minnesota and Wisconsin.
"It gives some of the schools that aren't surrounded by a lot of schools or a lot of places, it gives us a chance," Minnesota coach Jerry Kill said. "But I don't know if that's going to happen or not. People in Texas aren't going to vote for that because they never have to leave Texas."
Most Big Ten coaches interviewed by ESPN.com favor earlier official visits but want clear guidelines. One question is timing.
Several coaches mention late May or early June as the ideal time because many recruits already are touring schools unofficially and most staffs are conducting on-campus camps.
"With the way people are traveling around right now, it might be good to afford a prospect to take a couple of visits in June," Iowa coach Kirk Ferentz said. "Also, I think it'd be great to afford at least a parent the opportunity to join that prospect and make it part of the official trip."
Coaches say the parental component is critical.
"Sometimes kids just don't have the means to be able to get here, and they definitely don't have the means to have their parents come," Pelini said. "Hopefully, they'll change that. It's too big of a decision for a 17-year-old or 18-year-old kid to make without his parents or somebody being there."
[+] Enlarge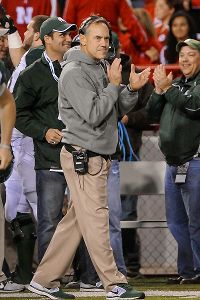 Eric Francis/Getty ImagesMark Dantonio wants an early official-visit period, but would prefer for it to be in a limited window instead of spanning the entire spring and summer.
Both Pelini and Michigan State coach Mark Dantonio want a limit on the number of official visitors schools could have in the spring. FBS teams can provide up to 56 official visits, but Dantonio rarely uses more than half of the allotment.
"It's not just carte blanche," Dantonio said. "I would make it a two-week window and cap those numbers."
Allowing 10-20 early official visits could work. Dantonio and Pelini also think prospects should be allowed to take multiple official visits to the same school.
Wisconsin coach Gary Andersen favors an earlier signing date in December, but he needs more clarity on official visits -- when they would take place, and for how long.
"I have to look at quality of life for my coaches," Andersen said. "Are we willing to take 4-5 weeks away in the summer? I don't want to do that."
Added Purdue coach Darrell Hazell: "You lose your life. The month of July, you need a little bit of decompression time."
The first two weeks in June makes the most sense. Create a dead period in July so coaches can take time off.
It also doesn't mean official visits in September and October will stop. Andersen can talk about Wisconsin's "Jump Around" and show videos, but, he said, "there's nothing like being there."
Big Ten teams still will have the chance to showcase their stadiums, facilities and campuses during football season. But they can't afford to wait that long for far-flung prospects to arrive, especially when they can afford to bring them in sooner.
"It would help everybody," Hoke said. "The other conferences aren't just staying in their region, either."
That's true, but the Big Ten has the most to gain, and pushing for change won't be easy.
"If that thing ever goes to a vote, everybody is going to say is that the Big Ten is just complaining," Indiana coach Kevin Wilson said. "They'll keep rallying their troops because they want to keep those kids at home."
The Big Ten coaches must rally, too. Otherwise, the recruiting gap will widen.
April, 30, 2014
Apr 30
11:00
AM CT
Everything's coming up Milhouse!
March, 31, 2014
Mar 31
3:00
PM CT
Our first Final Four game in the
all-time Big Ten coaches tournament
is set.
No. 4 seed Joe Paterno advanced earlier, and now we find out his opponent. The sixth game in our bracket featured No. 3 seed Tom Osborne from Nebraska vs. the No. 6 seed, Chicago's Amos Alonzo Stagg.
Osborne ran away with this one, winning 72 percent of the vote to 28 percent for Stagg. So it will be Osborne vs. Paterno in one semifinal, which will begin later this week. Should be extremely interesting.
Here are some of your thoughts on the Osborne-Stagg game:
Casey from Hudson, N.H.: As a former Nebraskan, Tom Osborne was and still is the face of Cornhusker football. His record speaks for itself and what he did outside of football is even more remarkable.

Alex from York, Neb.: Osborne gets the nod here, Stagg meant a lot to football but most all of us can remember how totally dominant Nebraska was in Osborne's last 5 years as a coach, going 60-3 with 3 national titles. For perspective, Alabama's record the past 5 years was "only" 60-7, also with 3 national titles. Winning 9 or more games every year in an era where you played 11, MAYBE 12 games per year is too impressive to ignore here.

Josh from Des Moines, Iowa: No doubt about it Osborne is the greatest coach ever. IF he hadn't retired so early and was still coaching, Nebraska would have three additional national championships at least! Osborne was ahead of his time with his schemes and player development.

Paul from La Crosse, Wis.: I grew up during the '90s. There was no better time to be a Husker fan. Maybe the (Bob) Devaney years could stack up, but I wasn't a twinkle in my parent's eyes yet. Even at a young age it was apparent that Tom Osborne was someone to be respected and you could see how much the players respected him. I will never forget Tom being carried off the field by his players after winning the 1994 Orange Bowl. I say good luck to anyone who tries to get in the way of Tom and winning this tournament. Us Husker fans love our Tom Osborne.

Brian from Omaha: T.O. managed a successful program for 25 years, nine wins every season. I can't replicate that success on video games nor could any of the other coaches in this field.
December, 12, 2013
12/12/13
11:00
AM CT
Where did all the football go?
TOP 25 SCOREBOARD
Saturday, 12/20
Monday, 12/22
Tuesday, 12/23
Wednesday, 12/24
Friday, 12/26
Saturday, 12/27
Monday, 12/29
Tuesday, 12/30
Wednesday, 12/31
Thursday, 1/1
Friday, 1/2
Saturday, 1/3
Sunday, 1/4
Monday, 1/12