Chicago Colleges:

Tracy Dildy
May, 1, 2012
5/01/12
5:24
PM CT
Chicago State coach Tracy Dildy has announced the addition of six junior college players to his 2012 recruiting class.
The recruiting class includes Black Hawk (Ill.) guard Jamere Dismukes, Lansing (Mich.) guard Nate Duhon, Lincoln (Ill.) center Arthur Gage, Sauk Valley (Ill.) forward Matt Ross, Moraine Valley (Ill.) guard Modestas Masiulionis and North Dakota State College of Science guard
Greg Tucker
.
"We have really strengthened our backcourt and added much needed depth in our frontcourt," Dildy said in a statement. "You must have the talent and toughness when you are playing such a demanding schedule like the one we will face this upcoming season. We have not scaled our non-conference schedule down from last season, where it was ranked among the top ten in the country.
"We will be successful on the court and in the classroom because that is what Chicago State
University stands for and we will live up to that."
Dismukes, a 6-foot guard, averaged 14 points, 4.8 assists and 3.6 rebounds last season. He played at Rich East High School in Park Forest, Ill.
Duhon, a 6-3 guard, averaged 18.1 points, 5.8 rebounds, 3.1 assists and 1.3 steals last season.
Gage, a 6-10 center averaged two blocks and shot 52 percent from the field last season. He played at Plainfield Central High School in Plainfield, Ill.
Ross, a 6-7 forward, averaged 15.2 points, 8.8 rebounds, 1.8 blocks and 1.7 steals last season. He played at Dixon High School in Dixon, Ill.
Masiulionis, a 6-4 guard, averaged 12.9 points and 2.3 rebounds last season. He at Lemont High School in Lemont, Ill.
Tucker, a 6-2 guard, averaged 12.8 points, 3.3 assists, 2.4 rebounds and 1.6 steals last season. He played at Lincoln Park High School in Chicago.
Chicago State went 4-26 overall and 2-8 in the Great West last season.
January, 12, 2012
1/12/12
9:02
PM CT
Chicago State coach Tracy Dildy lives life with a smile on his face.
[+] Enlarge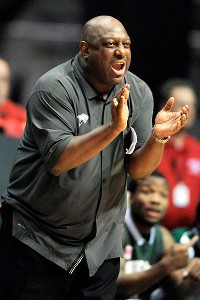 Christopher Hanewinckel/US PresswireA tough schedule has kept Tracy Dildy and Chicago State winless.
He texts in CAPS. He's dishes out hugs like point guards with passes. He laughs. He jokes. He enjoys life. There's little that can get him down.


He's no different when it comes to his team's season, and he has all the reason to be depressed about that. Even though the Cougars are one of three Division I teams still winless this season and have lost 25 consecutive games dating back to last season, Dildy has remained upbeat.
"It hasn't been hard for me," Dildy said by phone on Thursday. "The crazy thing about it is all the support and the people who are always emailing and texting me, giving me a hug and showing me encouragement. That's why it keeps me excited and gets me ready to go. I don't have a bad day. For those people, I want to turn the program around and turn it around a lot quicker."
Dildy believes the program has made progress in his second season. By wins and losses, that would be hard to say, but Dildy isn't judging the program by its record right now.
One way Dildy is currently measuring his program is by its academic success. The Cougars have recently been a mess when it's come to the classroom.
Chicago State was banned last year from postseason play, penalized two scholarships and had its practice time limited after the team failed to improve its Academic Progress Report for the 2009-2010 academic year. The APR is calculated based on eligibility and retention of student-athletes who receive scholarships. Rates are based on performance over the past four years. The Cougars' APR has ranged from 818 to 848 from 2006 to 2010.
"When you're talk about academic things, we're cleaning up the APR situation," Dildy said. "That's a thing that will be behind us. We've gotten students to return to school to finish up their degrees. We have players now who will be able to graduate early. We've raised the standards on the type of student-athlete we're bringing in."
The second barometer for Dildy has been the competitiveness of his team against one of the toughest non-conference schedules in the country. His schedule, which ranks No. 31 in the country, has included Cincinnati, Creighton, DePaul, Illinois, Iowa, Oregon State, San Diego State and Wichita State.
Chicago State has taken some lickings. The Cougars have been defeated by 25-plus points eight times this season. But they've also been in some games. They were within striking distance against DePaul. In their past two games, they trailed Air Force by only four points at halftime and actually led No. 22 San Diego State by seven points in the second half.
"Both of those games, we're in them at the end and have a chance to win," Dildy said. "What I'm thinking now is we're peaking at the right time. Our whole focus is to win our conference. That's the bottom line. I think these games have prepared us to do that."
Chicago State's schedule gets a whole lot easier from here on out. It faces St. Francis, a Division III team, in its next game on Sunday and then goes into its Great West Conference schedule. No one in the conference currently has a winning record.
"We've got 14 games remaining with nine at home," Dildy said. "We're not going to see anybody like San Diego State. We're not going to see anybody like DePaul. We're not going to see anybody like Illinois. We're not going to see anybody like Cincinnati. We're not going to see anybody like the teams we've faced.
"The realistic goal is to win 14 games. That's the realistic goal. The worst-case scenario is to win 12."
Now that would be a reason to really smile.
October, 18, 2011
10/18/11
5:22
PM CT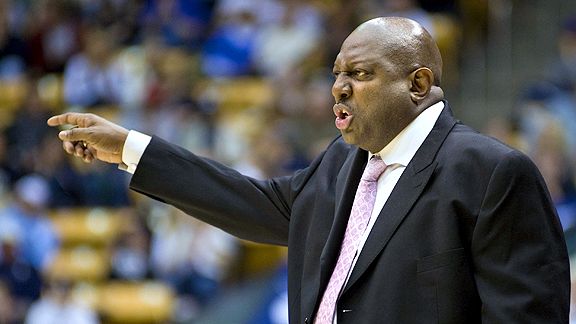 Douglas C. Pizac/US PresswireTracy Dildy said one of the things he learned in his first year as head coach was patience.
Chicago State coach Tracy Dildy and his Cougars took their lumps last season. They lost 12 games by 30 or more points and finished the season 6-26.
Now entering his second season, Dildy is optimistic the program is starting to move in the right direction. He added nine new players to his roster and was able to control his schedule this season.
Dildy spoke with ESPNChicago.com about the upcoming season.
What's different in Year 2 for you?
Tracy Dildy:
What's mainly different now is I got 90 percent of my own guys. I walked into an unique situation. We had a bunch of seniors last year. I was able to go out and really recruit and bring in the type of guys who really fit my system. So now, I'm coaching guys I went out and recruited.
Are there any challenges coaching nine new players?
TD
: The good thing that we did is we're bringing in some older guys. We got some junior college guys. We got some fifth-year transfer guys. The challenge is just now putting them all together and getting them to work together and play well together. We got experience. We got athleticism. We got a lot of toughness. Now, it's just making it all come together.
What did you learn as a head coach in your first year?
TD:
I learned patience. That's what I did. This is a marathon, not a sprint.
Out of those new players, what one player should fans watch out this season?
TD:
Jeremy Robinson is our leader. He's a guy who really kind of special when you talk about doing a lot of things. Super versatile, he can play outside, he can play inside. He's every bit of 6-8. He's been at the Division I level. He had a really good junior college career. If you say one guy, it would be him, but I got a few other guys I think are pretty special also.
How did last season's 6-26 record affect the team?
TD
: The fortunate thing is the group we got in now we only return two guys from last year's team. It's basically like a brand-new team. These guys just hear the stories of last year for the most part. We don't have many guys that actually went through what we went through last year.
Do you have more control over your schedule this season?
TD
: That's been a key. I've had control over the schedule this year. We're going to play a top-20 schedule year in and year out because I really believe that prepares you for your conference, so we're going to do that. We play another tough schedule, but we won't get as much mileage as we did last year. We're going to play a lot of schools in the area when you talk about the DePauls, the Illinois, Illinois States, the Loyolas. We're going to play a lot of those top-tier teams, but we're playing them a lot closer.
Is anything being done to fix the program's Academic Progress Rate problem?
TD
: I think we're right on course of fixing that. When you talk about having seven seniors last year, and out of the seven seniors last year, we had four of them graduate over the summer, and we have three that are still going to finish. We also were able to get four guys that played on previous teams to actually come back and graduate. So when you talk about the APR, it's going in the right direction.
December, 9, 2010
12/09/10
4:31
PM CT
[+] Enlarge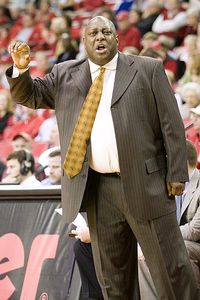 Darrell Walker/UTHM/Icon SMIA tough early schedule loaded with travel has made things rough for Chicago State and new coach Tracy Dildy.
CHICAGO -- Chicago State's Tracy Dildy touted before the season he was undefeated as a head coach.
"I can't hold onto that any longer," Dildy said, laughing.
With a 2-7 record, Dildy's first few months as Chicago State's coach have been trying, and a good portion of that hasn't been his fault. Dildy's hand was forced with one of the country's toughest schedules, which has resulted in lopsided losses and has left Dildy only to wonder what his predecessor, Benjy Taylor, was thinking when he designed it.
The Cougars have already been to Utah to face BYU, California to play St. Mary's, South Padre Island, Texas to play in an invitational and to Kansas to meet Wichita State. In the next 19 days before 2011 arrives, they will travel to Texas for another invitational, Maui to play Hawaii, Iowa again to meet Iowa State and Drake and Texas again to see Texas Christian.
All the travel would be great for someone with air miles, but not a basketball team trying to figure things out under a new coach.
"It's the toughest schedule I've not only been a part of in my 20 years coaching, but it's the hardest schedule I've ever seen," Dildy said. "The past coach must have hated to be home. It didn't make sense. Going to BYU and St. Mary's, those games didn't make sense to me. The money you're making, you're spending."
Adding to Chicago State's traveling woes has been the crushing defeats their opponents have put on them. DePaul beat the Cougars 114-81 on Nov. 14. Three days later, Notre Dame defeated them 102-62. Three days later, BYU won 109-60. Three days later, St. Mary's delivered the worst one, winning 121-52. Within 10 days, Chicago State had been out-scored 446-255.
The losses have worn on Dildy and his players.
"It's making my job difficult because I have to convince the guys at some point we're going to win," Dildy said. "Some of them have been whippings that we have taken. Losing by 60 points, losing by 40 points, averaging 30-point losses, ooh, that's tough. That's really tough.
"My thing is I told them that St. Mary's is a good team, but that was totally unacceptable and totally embarrassing. The thing is we got to instill pride in them. St. Mary's is a very good team, an NCAA tournament team, but they weren't that many points better than us. BYU, the same. We got to fight through it."
The Cougars have shown glimpses of progress. In South Padre Island, they defeated Georgia Southern and lost in overtime to Liberty. On Saturday against a higher-caliber Southern Illinois team, Chicago State was within striking distance until the final minutes when the Salukis pulled away and won by 13.
Dildy saw what his team is capable of in the Southern Illinois game. Star senior forward
Carl Montgomery
was hot, hitting 10-of-14 shots on his way to a game-high 29 points. His guards cut down their turnovers. Freshman
Sean Montgomery
played in his second of his season after sitting out with an injury and had a career-high 10 points and four rebounds.
"We were in the Southern Illinois game the whole time," Dildy said. "If we had a little confidence and had a few more wins, we win that game. That game came down to us not believing we could win and the beatings we have taken."
Dildy is still optimistic. He may not be undefeated, but he expects to be back at .500 sooner than later with the talent he already has and the recruiting class he has arriving next season.
"We are a recruiting class away from being a contender," Dildy said. "One of the things I said when I came in was it's not going to take us three to four years, but a year or two before we're contending."
July, 21, 2010
7/21/10
12:17
AM CT
Tracy Dildy returned to Chicago and his alma mater of UIC in 2007 because he believed he would be the next Flames coach whenever Jimmy Collins decided to retire.
Recently, Dildy began to hear otherwise. It's why he accepted Chicago State's heading coaching job last week even though he knew Collins may soon retire.
On Tuesday, Collins announced his retirement, and Dildy was confident he had made the right decision to leave UIC.
"The reason I was brought back to UIC was to be the next coach," Dildy said. "That was guaranteed. That's one of the reasons I gave up a great job at UAB. That was said to me by a couple people that I would be that guy. As it got closer to the possibility of coach leaving, that guarantee kind of changed. I couldn't take that chance when I had another school that wanted me.
"I'm very excited about coaching Chicago State. That's always been my dream to be a head coach. I have my dream come true."
Collins said he had told Dildy he was considering retirement, but he did not have further discussions with Dildy about it.
"I don't know what Tracy was thinking," Collins said. "I can't speak on it. If he thought he wasn't going to get a shot, that didn't come from me. I know Tracy at some point decided to take a chance and maybe he heard something I didn't hear."
July, 12, 2010
7/12/10
7:08
PM CT
CHICAGO -- After nearly three months of searching, Chicago State named Tracy Dildy as its new men's basketball coach, closing the final vacancy in Division I men's basketball on Monday.
Read the entire story.