Chicago Colleges:

Trey Burke
January, 23, 2013
1/23/13
12:16
PM CT
The Big Ten is the subject of
today's King Court
and the
CBB Live Extra video
, so we decided to have our writers answer a few questions on the nation's top conference.
Among the Big Ten's title contenders, which one is best built for a deep March run?
[+] Enlarge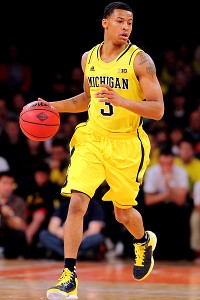 Brad Penner/USA TODAY SportsWill point guard Trey Burke be the difference for Michigan when the tournaments begin?
Eamonn Brennan:
You're really going to make me answer this, huh? Fine: Michigan. Er, Indiana. No, Michigan. No, Indiana. Why are you doing this to me? Here's the thing: Right now, the Wolverines look like the better team. Quite possibly, they are. They are athletic and versatile and incredibly good on the offensive end, and they're led by the best point guard in the country in
Trey Burke
, who reminds of the cool confidence of Chris Paul more and more every time I watch him play. But Michigan is still just the 39th-best defense in the country, per KenPom.com, and traditionally that kind of D makes it hard to make a deep tournament run. Meanwhile, IU is not only playing top-five offense, but top-15 defense, too. But the Hoosiers have recently allowed a score of opponents to crawl back into games, and have shown themselves not only vulnerable, but even rattled, down the stretch at home and on the road. My head tells me the answer to this question is Indiana. My gut tells me Michigan. Does one of them have to be wrong?
How many losses will the Big Ten champion have -- and who will be that champion?
Myron Medcalf:
The Big Ten is the most competitive conference in America. Just check out the past week's sequence of events. Wisconsin won at Indiana and then lost at Iowa. The Hawkeyes followed that victory with a 72-63 loss at Ohio State. At one point, Iowa was down by 23 points in that game. There's so much quality and parity in this league that I can't see the eventual champ earning the Big Ten title without four losses. I think 14-4 will win the conference. With everything that's transpired, it's difficult to envision the schools with one loss (Michigan, Michigan State and Indiana) escaping with fewer than three more losses in conference play, because the next tier (Ohio State, Minnesota and Wisconsin) has already knocked off every team in that group.
As for the second question, I believe Michigan will ultimately win the championship for reasons that aren't all quantifiable. Yes, the Wolverines are first in adjusted offensive efficiency and 39th in adjusted defensive efficiency. But they also have the best player in the country, Trey Burke, running the show. He's going to lead them to the title by elevating his play in UM's toughest games. But I'd like 24 hours to reconsider this choice.
What have you been most surprised by in the Big Ten this season?
Andy Katz:
I knew Michigan had the potential to be an elite team, but had no idea the Wolverines had the makeup to win the national title. The backcourt of Trey Burke and
Tim Hardaway Jr.
is truly exceptional. This duo can definitely lead the Wolverines to the title if they get the right amount of help from the post. Freshman
Mitch McGary
is getting to be more effective with each passing game. Michigan has also fully bought into John Beilein's system. He truly is enjoying this team, maybe as much as if not more than any other he has coached. You can tell how much he can't wait to teach them the nuances of his system, enhance their fundamentals and tinker during the game to ensure a victory.
Will Illinois turn it back around, or was the first month a bit fluky?
Scott Powers:
Illinois has been like a knuckleball this season. At times, the Illini have been untouchable -- in blowouts against Butler and Ohio State and a rare win at Gonzaga. Other times, the Illini have been knocked around no matter the opponent. I believe somewhere in the middle the true Illinois team lies. The Illini are tough when they shoot well outside, and they possess some individual talent, but their rebounding is shaky and their depth is minimal at some positions. They're not a top-tier Big Ten team, but they also aren't a bottom-tier one. They've undoubtedly dug themselves a hole with a 2-4 start in conference play, and it doesn't help that their next two games are hosting Michigan and at Michigan State. Yet in the end, I predict Illinois will turn itself around just enough to finish .500 in the conference and put itself in the NCAA tournament discussion.
January, 3, 2013
1/03/13
9:37
PM CT
EVANSTON, Ill. -- In the offseason,
Trey Burke
told the media he thought the Wolverines were national title contenders.
At the time, it seemed like a stretch. There were questions worth asking: How good were the freshmen? Would the Wolverines defend? Could they really get to that next, almost imperceptible level -- where elite college hoops teams reside?
By now, it's long since official: Burke was right.
Of course, if you needed the confirmation of a
94-66
blowout at Northwestern, you probably haven't been paying attention. It's not so much that Michigan won its Big Ten road opener against a banged-up, overmatched Wildcats team in a split Welsh-Ryan Arena Thursday night. It was the manner with which the Wolverines so coolly and clinically dissected said overmatched Northwestern, the way Burke took the game over early, the way he got the Wolverines their 10-0 lead, the way he and his teammates kept pushing the pace and stretching the lead and pouring it on, the way they immediately and constantly snuffed out any and all thought of a nascent Wildcats comeback.
And it was the way the Wolverines -- starting with Burke -- all calmly shrugged the whole thing off.
"We came out, we made the right plays, and we got good shots," Burke said. "That was our goal, to come in and try to make a statement from the get-go. It's our first Big Ten game."
Burke said the Wolverines knew Northwestern guard
Reggie Hearn
would miss the game, and that his loss alongside guard
Drew Crawford
's, would make things easier for Michigan, even if he refused to acknowledge it before or after the game.
"We have to keep that attitude where guys are still doubting us," Burke said. "We can't go into a game thinking we're just going to blow a team out."
Of course, that's exactly what the Wolverines did, buoyed by a return from previously injured guard
Tim Hardaway Jr.
, who returned from an ankle injury that kept him out of action against Central Michigan Saturday to score 21 points in 31 minutes. When Hardaway's shots started falling early -- after Burke had already crossed up Northwestern's hapless defense with noticeable, Chris Paul-esque ease -- Hardaway's hot shooting was a harbinger for the rest of the night.
By the time it was over, Michigan had shot 34-of-57 (60 percent) from the field and 13-of-22 (59 percent) from beyond the arc, and scored 1.4 points per possession on the road in their Big Ten opener.
Any way you slice it -- bad Northwestern team or no -- a 28-point road win in your Big Ten opener is some kind of statement.
"We're still trying to make believers out of a lot of people," Burke said.
January, 3, 2013
1/03/13
8:32
PM CT
Some quick thoughts on Michigan's wire-to-wire
94-66
drubbing of Northwestern Thursday night:
Overview
: Northwestern never had a chance. Any version of this Wildcats team -- even one at full strength, with injured stars
Reggie Hearn
and
Drew Crawford
or long-since-suspended
JerShon Cobb
-- would have had a brutally difficult task keeping this Michigan team from scoring at will Thursday night. But that's not the current Northwestern team. Missing all those players, with an undersized backcourt and little besides
Alex Olah
in the paint, the Wildcats were obviously overmatched. Michigan opened up a huge early lead and never looked back -- oozing confidence all the way through.


Turning Point
: The opening tip. That sounds like a joke, but it really isn't: Michigan went up 10-0 by the 16:48 mark --
Trey Burke
had seven of those points, including two ankle-breaking moves (one that led to an open 3, one that left poor
Dave Sobolewski
in the dust) -- and genuinely never looked remotely like losing control of the game from there. The lead was 33-13 at the 10-minute mark, and 51-30 at halftime. In recent seasons, at something like full strength, Northwestern has been at best a foil and at worst a tough out for the Wolverines in Welsh-Ryan. That wasn't the case Thursday night.
Key Player
: Trey Burke. Michigan had a handful of impressive performances.
Tim Hardaway
, Jr. returned from injury on point from the perimeter.
Nik Stauskas
shot well (as usual) and put the ball on the deck enough to keep defenders honest.
Mitch McGary
finished with eight boards, and showcased a little open-floor defensive work with an early steal and fast-break dunk. But Burke was the one worth the price of admission. He was in control of the game the entire time -- see the aforementioned opening burst, or his 15-point, 6-for-10 first half performance -- but more than anything it was the way he handled the game. Nothing was rushed, nothing was difficult, and nothing was beyond his control. The Wildcats were unable to put up much of a fight, but I don't care: Burke makes it all look way too easy.
Key Stat
: In the first half, the Wolverines finished 21-of-36 from the field and 8-of-13 from from beyond the arc. And then it was over. Good luck defending that.
Miscellaneous
: Welsh-Ryan Arena has a pretty great little basketball ambiance; its size makes it intimate, and its age helps it feel vaguely old school. But that purple court is every bit as bad as it looks on TV. (My Twitter replies seemed torn on whether it was drawn with colored pencils or markers. Your mileage may vary.) ... Northwestern had a rough night at the office -- the highlight was definitely when the school introduced football coach Pat Fitzgerald, fresh off a 10-win season, as the "best college football coach in the country," which
made visions of a displeased Nick Saban dance in my head
-- but freshman center Alex Olah was a bright spot. For a guy who only the most hardcore recruitniks had heard of before he signed with NU, Olah looks like much less of a project than he should be. His ball control could be better, but he has a fledgling hook shot over both shoulders, and he moves well (and intelligently) without the ball. He's a keeper.