Chicago Colleges:

Tyler Griffey
February, 8, 2013
2/08/13
4:24
PM CT
Illinois coach John Groce said Friday he was happiest for his seniors after all they've been through following the Illini's upset of No. 1 Indiana on Thursday.
"I'm happy for the seniors not only what they battled here in the last week or month, but they've been through a lot of things during their careers," Groce said on "The Waddle & Silvy Show" on ESPN Chicago 1000. "The way those guys stepped up yesterday, the way they came together. I mentioned to my assistant with about three minutes to go, 'My gosh, we played our tails off.'"
Illinois seniors
Tyler Griffey
,
Brandon Paul
and
D.J. Richardson
have endured plenty of ups and downs throughout their careers. In the past two seasons, they've gone 23-3 in non-conference and been ranked as high as No. 10 in the country only to struggle in the Big Ten with a 9-19 mark. With Thursday's win, they improved to 3-7 in the Big Ten this season.
January, 5, 2013
1/05/13
6:38
PM CT
The last time
Brandon Paul
played Ohio State at home, he didn't have just a career game -- he had
anybody's
career game.
That night, Jan. 10, 2012, Paul scored 43 points on 15 shots, including 8 of 10 from beyond the arc. More than a few of those shots were patently ridiculous -- a contested fallaway 3 from the corner, a bank shot from 20 feet, step-backs from every angle -- and they let you know pretty early on that Paul was just having one of
those
nights. Stand back and enjoy.
Despite all that efficient brilliance, Illinois still only barely toppled the Buckeyes, 79-74. In the end, the game was a weirdly telling sign of things to come: Paul went back to his usual inefficient self and Illinois lost 12 out of its last 14 games, turning a 15-3 start into a 17-15 finish that got its coach, Bruce Weber, summarily canned.
This time around, the home victory over Ohio State couldn't have been more different. Illinois didn't have to summon its very best; Paul didn't have to go off. He just needed to do what he's been doing all season. He just needed to be consistent.
[+] Enlarge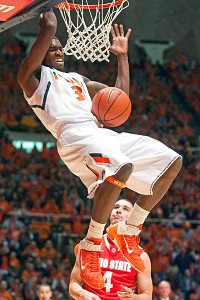 AP Photo/Darrell HoemannBrandon Paul credits the freedom new Illinois coach John Groce has given him for his steadier play.
"I really do just think it's about consistency," Paul told ESPN.com via phone following Saturday's
74-55 cruise
over No. 8-ranked Ohio State. "I'm a lot more consistent this year than I've been in the past."
It's simple but true. Last season, Paul's crazy 43-point breakout was an aberration in an otherwise choppy season. On Saturday, his 19 points on 12 shots (with 7 rebounds and 3 assists) was still one of the best performances on the floor (Illinois center
Nnanna Egwu
had 16 points on 10 shots, with 8 rebounds), and it was more in line with what we've come to expect from Paul this season. Last season, the guard still used 28 percent of his team's possessions -- the same as in 2012-13 -- but his offensive rating was a mere 95.2. Before Saturday's game, his 2012-13 mark was 111.4.
Paul's senior year has thus far been the best of his career, and it isn't even close. He's not only more "consistent," he's
better
, and so is his team.
How? Paul gives a lot of the credit to coach John Groce, who did a major set renovation on Illinois' offense in his first offseason with the team. Doing away with much of Weber's three-out, two-in motion, Groce instead spaced the floor. He frequently plays a four-guard lineup, runs much more high screen-and-roll, and allows 6-foot-9 forward
Tyler Griffey
to spot up from 3, where he's shooting 45 percent on the season.
All of this has helped Paul feel like he has more space to operate on offense -- he can take a screen or two, read the defense, attack the rim or dish to one of several perimeter options. But Groce has also done something much more basic: He has made his star guard feel trusted.
"He's given me, and continues to give me, more freedom," Paul said. "He knows if I make a strong decision with the ball he doesn't really have to worry about bad shot selection. We've all done a better job this year with bad shot selection, myself especially.
"He's given me the option to control the team, to control the game," Paul said. "He says to go at my pace, and make sure everyone else is on the same page. That definitely helps."
To be sure, Paul got plenty of other help in Saturday's victory. His teammates put in a balanced scoring effort -- Egwu picked up an off Griffey down low, while
Tracy Abrams
went 5-of-7 from the field and
Joseph Bertrand
added 12 points off the bench. It also helped that Ohio State went just 4-of-19 from 3.
Deshaun Thomas
needed 21 shots to get his 24 points, and the rest of his teammates combined for just 31 points on 28.2 percent shooting, easily the ugliest performance of the season from a typically good offensive team, albeit one that has yet to notch a marquee victory, and will have its doubters in droves. And 11th-ranked Illinois cleaned up all those misses on the glass, something the Illini struggled to do in Wednesday's Big Ten-opening loss at Purdue.
Illinois' victory also highlighted the sheer strength of the Big Ten, and just how difficult it will be to steal wins on the road in league play.
"You can't take one game off," Paul said. "You have to compete no matter where you're at. It's going to be like every year in the Big Ten -- there are going to be a lot of ups and downs."
Rarely was that more true than for the 2011-12 Illini, who went from an upset of a Final Four team and a classic 43-point performance to 17-15 with a fired coach. This season, the Illini have set about making those downs less down, even if the ups are never quite as high. In a word: consistency.
"We had balanced scoring, guys in double digits, guys were getting a lot of gang rebounds," Paul said. "I love these types of games."
January, 2, 2013
1/02/13
10:00
AM CT
Here are three things we've learned about Illinois during its non-conference schedule:
1. Illinois is an NCAA tournament team:
The Illini and first-year coach John Groce have been one of the nation's biggest surprises during the non-conference season and have proven they're a NCAA tournament team. They've had their share of doubters from the season's start after last season's struggles, a change in coaches and the early departure of Meyers Leonard, but there shouldn't be too many skeptics remaining. Illinois went 13-1 in its non-conference slate with quality wins over Butler and Gonzaga. Its only loss was a narrow one to Missouri in St. Louis. The Illini are currently at No. 11 in the AP poll and No. 8 in ESPN's InsideRPI rankings. Illinois isn't expected to run the table in the Big Ten or probably win the conference title, but it has shown it has the capability to be in the conference's top half. If Illinois can finish .500 or better in a tough Big Ten, the Illini should be a lock for the tournament. The consistency of sophomore point guard
Tracy Abrams
, who scored 27 points against Auburn, and senior shooting guard
D.J. Richardson
, who is 4-of-22 from 3-point range in the last four games, could be the key to the conference season.
February, 19, 2010
2/19/10
11:23
PM CT
It's 1 a.m. on a cold evening in January and Illinois freshman forward Tyler Griffey enters the Illini's practice facility. The gym is empty. He grabs a basketball, sets up a few chairs on the court and aligns the shooting machine.
The first few months of his college basketball career have been trying. For most of December and the early weeks of January, he's seen little time off the bench. Illinois coach Bruce Weber and the assistants tell him to keep on working, and his time will come. His friends, family and teammates stay positive as well.
Griffey is glad to have people around him who care, but this is his time. At this moment, there's no around telling him what drills to do. There isn't anyone standing at his side encouraging him. He's come to the gym at this hour because he finds it's sometimes best to work alone.
Read the full story
.