Chicago Colleges:

Tyrell Sutton
May, 10, 2013
5/10/13
9:46
AM CT
Northwestern's offense has been rooted in the same philosophy -- players, formations, plays -- since coordinator Mick McCall arrived in 2008. McCall shapes his scheme around the players first before choosing formations and plays that maximize their skills.
In the first four seasons under McCall, most of the players ended up being wide receivers and quarterbacks. Most of Northwestern's formations highlighted the wideouts and most of the plays were passes. Northwestern's offense had a clear passing lean, especially in 2009, when the Wildcats ranked 13th nationally in pass offense. The Wildcats didn't neglect the ground game, but when it came time to identify the best players, the running backs didn't make the cut.
[+] Enlarge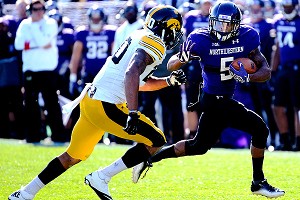 Mike DiNovo/USA TODAY SportsLast season Venric Mark became the first Northwestern running back to eclipse 1,000 yards in a season since Tyrell Sutton in 2006.
"There's been some times in the past at Northwestern in the running back room where there was one guy, and that was it," Matt MacPherson, the team's running backs coach since 2006, told ESPN.com.
MacPherson clearly has his one guy in senior
Venric Mark
, who earned second-team All-Big Ten honors in 2012 after rushing for 1,366 yards and 12 touchdowns. Mark, who earned All-America honors as a return man, was Northwestern's first 1,000-yard rusher since Tyrell Sutton in 2006.
But MacPherson thinks Northwestern's options in the backfield go beyond Mark.
"I feel like we have four or five guys in my room right now that we can go win Big Ten football games with," MacPherson said. "That gives you a lot of flexibility, and it allows you to do a lot of different things. I came out of spring very pleased with the way they performed."
Mark remains the undisputed starter and will get the lion's share of the carries in the fall. He sat out most live-tackling drills this spring as a precaution, which allowed the other backs --
Mike Trumpy
,
Treyvon Green
,
Stephen Buckley
and
Malin Jones
-- to get more reps.
Trumpy racked up 349 yards and three touchdowns on 76 carries as Mark's primary backup in 2012. Green endured a tough season with injuries and personal issues but bounced back and "had a great spring," MacPherson said. Both Buckley and Jones redshirted in 2012 but likely worked their way into the carries rotation with good springs.
"Our running back room has gotten deeper," McCall said. "We've got some guys that can play in a lot of different situations there. We've continually gotten better in that room."
Northwestern made a noticeable shift toward the run last fall behind Mark and dual-threat quarterback
Kain Colter
. After finishing no better than 45th nationally in rushing in McCall's first four seasons as coordinator, Northwestern surged to 19th nationally last year (225.4 ypg).
The rushing focus should continue as long as more running backs meet the first principle of McCall's philosophy. MacPherson thinks they will, and Northwestern might go with a two-back formation, which it used for 10-12 plays per game in 2012, more often this season.
"In my room, those eyes light up when they know we're going to start running the ball a bunch," MacPherson said, "and we're going to have two running backs on the field at the same time. That's something for them to get excited about. That just gives another aspect of competition, knowing that, OK, Venric may be the guy, but when we get into the two-back set, who's going to be the other guy?"
It's a question MacPherson is glad to be asking.
October, 27, 2012
10/27/12
3:36
PM CT
It got interesting in the end because with Northwestern, it always does, but the Wildcats avoided another fourth-quarter collapse and found their identity in the process.


Remember what Wildcats quarterback
Kain Colter
told me this week
?
"That's the problem that we're facing, we don't have an identity," Colter told ESPN.com on Wednesday. "We really need to develop that with the play calling and find out what we're going to do. Once we finally establish that identity, I feel like teams are going to have to start game-planning to stop us, rather than us trying to game plan and change things and do that for them."
Opponents can start game-planning for the Wildcats now. It goes like this: stop Kain Colter.
Iowa had no answers for the Northwestern junior quarterback, who repeatedly gashed the Hawkeyes throughout
Saturday's 28-17 victory
at Ryan Field. Colter had 26 rushes for 166 yards and three touchdowns, including a 39-yard dash on third-and-5 to seal the win. He also completed 6 of 9 passes for 80 yards, including a 47-yard scoring strike to
Christian Jones
in the third quarter.
Colter helped Northwestern hold on after building a 28-3 lead.
Northwestern's quarterback rotation had stalled the previous three weeks, as sophomore
Trevor Siemian
struggled, Colter received surprisingly few snaps, three-and-outs spiked and time of possession plummeted. With Colter at quarterback Saturday, Northwestern (7-2, 3-2 Big Ten) converted 8-of-11 third-down attempts, went three-and-out only once and racked up 20 first downs and 433 yards against an Iowa defense that, until recently, had been very solid.
Siemian likely will be a good Big Ten quarterback some day, but Northwestern's identity on offense is all about Colter, the option game with running back
Venric Mark
and converting red zone chances into touchdowns. If not for a bad snap inside the Iowa 5-yard line early in the fourth quarter, Northwestern likely would have put this game away long before it did. Mark had another big day, rushing for 162 yards on 16 carries. His 72-yard run from the Northwestern 1-yard line put him past the 1,000-yard mark for the season -- Northwestern's first back to reach that milestone since Tyrell Sutton in 2006.
You have to wonder what Northwestern's record would be if it had stuck with Saturday's offensive approach against both Penn State and Nebraska, teams that erased double-digit fourth-quarter deficits against the Wildcats.
Iowa (4-4, 2-2) had its chances after the bad snap, but the Hawkeyes simply don't have the offensive firepower, imagination or execution to erase big deficits. Watching Iowa try to run the two-minute drill was painful, as the Hawkeyes couldn't attack downfield against a Northwestern defense missing two of its three best cornerbacks. First-year coordinator Greg Davis has had a very rough go this fall.
Senior quarterback
James Vandenberg
undoubtedly will receive more criticism from Iowa fans, some of which is merited. Although Vandenberg completed eight of his first nine pass attempts and 11 of 16 in the first half, he couldn't hit the big play, took three sacks and, most disappointing, had three delay of game penalties, including one in the closing minutes with Iowa driving deep in Northwestern territory. You just can't have that from a fifth-year senior. In Vandenberg's defense, he once again got no help from his drops-prone receivers.
The Hawkeyes received a nice boost from
Damon Bullock
, who returned from a concussion to grind out 107 rush yards on 22 carries. Iowa needed Bullock after
Mark Weisman
left the game with a hip injury.
Iowa hit a low point against Central Michigan in Week 4, rallied back the next two weeks, but has now been thoroughly outplayed in back-to-back weeks. The Hawkeyes' season could come down to next week's game at Indiana.
Northwestern, meanwhile, is still alive in the Legends Division race, and enters a much-needed off week before trips to both Michigan and Michigan State. After nine weeks, Northwestern finally knows what it is on offense.
October, 24, 2012
10/24/12
2:00
PM CT
Northwestern used to know exactly what it was on offense.
The Wildcats based their spread attack on accurate, dual-threat passers, a precise short-to-midrange throw game, elite slot receivers and a bit of option sprinkled in. They had their problems, like translating yards to points in the red zone, identifying a featured running back and moving the ball in short-yardage situations. But the offense almost always produced, and three-and-outs were rare. Northwestern ranked in the top 25 nationally in third-down efficiency in each of the past five seasons.
There have been different dynamics this season. Northwestern has its first elite back since Tyrell Sutton in
Venric Mark
, who ranks 18th nationally in rushing and fifth in all-purpose yards. The Wildcats are much stronger in the red zone, particularly on the ground, ranking sixth nationally in efficiency (94 percent) with 19 touchdowns in 31 chances. But they've also slipped dramatically in passing, ranking last in the Big Ten and 110th nationally (172.7 ypg) despite boasting what coach Pat Fitzgerald called the deepest receiving corps in recent memory. The team completion percentage has slipped to 62.6 -- OK for most teams, but not stellar for Northwestern. The Wildcats have attacked downfield much more, while their midrange game seems to have disappeared. Northwestern has slipped to 45th nationally in third-down efficiency.
[+] Enlarge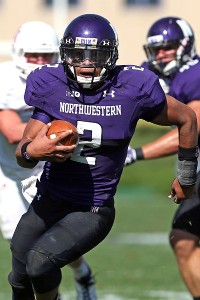 Jonathan Daniel/Getty ImagesKain Colter (2) and the Northwestern offense are still searching for an identity.
The biggest change is a quarterback rotation --
Kain Colter
and
Trevor Siemian
-- that clicked early this season but has seemed disjointed the last three weeks, as Northwestern has gone 1-2. Most troubling is the spike in three-and-outs -- six against Penn State (loss), four against Minnesota (win) and 10 last Saturday in a 29-28 loss to Nebraska.
Northwestern's offense isn't what it used to be. What it is exactly remains a mystery, even to key players.
"That's the problem that we're facing, we don't have an identity," Colter told ESPN.com on Wednesday. "We really need to develop that with the play calling and find out what we're going to do. Once we finally establish that identity, I feel like teams are going to have to start game-planning to stop us, rather than us trying to game plan and change things and do that for them."
What should the identity be?
"We've been running the ball really well, especially with the option," Colter said. "Having both Venric and I back there, that's a threat. It's hard for defenses to stop. And at some point in there, there also needs to be Trev in the game and I'm at receiver. I don't know what our identity is, but I feel like we definitely need to establish our running game and our option, and then be able to throw and make plays in the passing game, too."
Offensive coordinator Mick McCall adheres to the philosophy of players, formations, plays. He shapes his plans around the strengths of his players.
But Northwestern's approach against Nebraska was a bit of a head-scratcher. Colter had given the Huskers all sorts of trouble in last year's
28-25 win in Lincoln
. But Siemian played most of last Saturday's game, as Nebraska loaded up to take away the run and pressed Northwestern's receivers, resulting in numerous shots down the field. It worked on a 26-yard touchdown strike from Siemian to
Tony Jones
, but Siemian connected on just 15 of 35 attempts.
Northwestern went 5-for-20 on third down, continuing a troubling trend. Colter had 14 rushes for 35 yards and attempted just two passes, while spending most of the game at slot receiver.
"I don't think that was the game plan, but I'm not the one back there calling the plays," Colter said. "I'm just going where they put me. We did have success last year and obviously got that W. Some things have changed this year, I guess, and I'm going where the coaches tell me [to go]."
Colter noted that Northwestern's improved rushing this season has, at times, taken the place of the high-percentage pass game, which the coaches viewed as runs in the past.
"[Former Northwestern coach Randy Walker] used to say all the time the deep ball, the go route, the fade, is going to be executed 12 to 15 percent of the time, and that's what we were [against Nebraska]," Fitzgerald said. "We've just got to come up with better solutions and better answers in-game when some things aren't working. That's on us as coaches, obviously."
The quarterback rotation has been a different challenge for the Wildcats, who have used multiple quarterbacks in the past but typically because one gets injured. Siemian has attempted more than twice as many passes (162) as Colter (80), while Colter has 88 rushing attempts to Siemian's 17. Colter went 10-for-10 passing in the Minnesota game, but never attacked downfield. Siemian, meanwhile, took the field on several obvious third-and-long passing situations and completed just 1 of 7 attempts against the Gophers.
A potential concern is whether Northwestern tips its hand depending which signal-caller is in the game.
"I believe I can throw the ball," Colter said. "I've proved that throughout my time here. If I get that opportunity, I'm going to try and do it. I definitely have a lot to improve on as far as passing and so on, but I feel like I'm more than capable. I don't feel like we need to be predictable as far as when I'm in the game, we're going to run the ball. I feel like we've got to keep defenses on their toes."
Despite the offensive issues, Northwestern remains 6-2, still alive in the Legends Division race. But the clock is ticking to find an identity, eliminate the three-and-outs and feature its playmakers as much as possible.
Colter and his teammates hope to show Iowa who they really are Saturday at Ryan Field.
"We're definitely working on what works best for us, and sticking to that, having our offensive foundation," he said. "We'll see how it goes this week. Hopefully, we can go out there, get a W and change things around, regain momentum as we head into some crucial weeks of the season."
October, 17, 2012
10/17/12
3:30
PM CT
EVANSTON, Ill. -- Northwestern running back
Venric Mark
doesn't need a doctor to make the diagnosis.
Like most things in his life, he can do it all by himself.
"I have little man's syndrome," Mark told ESPN.com. "I've had that all my life, since Day 1. I've always been the small guy in the group. I've always been the guy that people go, 'Oh, no, let's not pick him.' So in my head, I'm thinking, 'OK, you're not going to pick me. I'm going to show you why you should have.'"
Any college coach who wouldn't pick Mark after the first half of the 2012 season hasn't been paying attention.
[+] Enlarge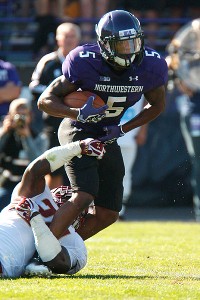 AP Photo/Matt QuinnanRunning back Venric Mark is on pace to break 1,000 yards.
Mark might be 5-foot-8 and 175 pounds, but he's the single biggest reason why Northwestern sits at 6-1, right in the thick of the Legends division race. Along with Iowa running back
Mark Weisman
and Penn State wide receiver
Allen Robinson
, Mark has been one of the Big Ten's surprise offensive stars through the first seven weeks, rushing for 792 yards and eight touchdowns.
He ranks fifth in the league and 15th nationally in rushing average (113.9 ypg). He also leads the league and ranks fourth nationally in all-purpose yards (184.6 ypg), recording two punt returns for touchdowns and 15 receptions, one for a touchdown. After putting himself in position to break most of Northwestern's career return records, Mark's emergence at running back has put the team's all-time career all-purpose yards mark (5,271 by Damien Anderson) very much in play.
"He's just playing at a high level right now," Northwestern coach Pat Fitzgerald said. "... He's a joy to coach."
Northwestern had 1,000-yard rushers every season from 2002-06, but none since. The team has lacked a true threat at running back since Tyrell Sutton departed after the 2008 season. For an offense born out of the Rich Rodriguez-style spread, it was a problem.
Few would have pegged Mark, a return specialist who struggled to find a true position for two years, to be the answer. Just don't tell him that.
"He has a level of intensity that if he was Muhammad Ali, he'd be knocking everybody out," said Northwestern linebackers coach Randy Bates, who recruited Mark out of Houston's St. Pius X High School.
Several times after runs, Mark has confronted defenders more than a half-foot taller than him.
"With football, emotions run high, people talk," Mark said. "For me, that's fuel. When they say, 'You ain't getting this,' that just motivates me."
Mark's edginess is his defining trait, even more so than the top-level speed that got him on the field at Northwestern as a returner and has been showcased on long runs, like scoring bursts of 48 and 26 yards last week against Minnesota. He's not a scat back who spends all his time on the perimeter.
He's a between-the-tackles runner who, along with quarterback
Kain Colter
, has boosted Northwestern's red zone run game, a weakness of the offense in previous years.
"Inside zone is his favorite play," Northwestern running backs coach Matt MacPherson said. "You have to be a special kid, a tough kid, and Venric is pound-for-pound one of the toughest guys on our team. He embraces that role. He wants it."
McPherson likened Mark to former Northern Illinois star Garrett Wolfe, who checked in at 5-7 and 185 pounds and while displaying tremendous speed in space, also had success between the tackles. Wolfe led the nation in rushing (1,928) in 2006.
When Bates began recruiting Mark, he heard some doubts about whether Mark could play in the Big Ten because of his size. Mark won Bates over with his intensity, a quality they share ("We're both pretty whacked-out in our own way," Bates joked).
The question always seemed to be where Mark would play.
Special teams was a given, and Mark became Northwestern's primary returner as a true freshman in 2010, averaging 26.2 yards on kick returns with a touchdown, and 12.9 yards on punt returns. He also stood out on kick coverage.
"There's no doubt in my mind if ever played anywhere at the next level, he could be on all special teams," Bates said. "He was a punt gunner and he was a kickoff guy, and obviously great returning. All that special teams value, even if he never played a snap on offense or defense, he already was a good player."
The coaches tried Mark at slot receiver, but he had just six receptions in his first two seasons, playing behind All-Big Ten selection Jeremy Ebert. There was some talk of using him on defense, but it never materialized. Although Mark came to Northwestern with the idea of simply being the team's starting returner, he wanted more and wasn't happy at receiver.
"I wanted the ball," he said. "I'm that type of player, I'm not going to lie to you. I like having the ball in my hands."
The coaches moved Mark from receiver to running back midway through the 2011 season.
"We weren't quite sure what position we were going to start him at, and as you can see, we were wrong," Fitzgerald said. "Hindsight being 20-20, we wish he would have started in the backfield sooner."
MacPherson knew Mark could make plays in space. His concern was how Mark would handle the mental challenge of being a running back in the Big Ten, where "you get the crap beat out of you," while remaining effective as a receiver and a blocker in Northwestern's offense.
Offensive coordinator Mick McCall wants to get Mark 25 touches per game. While MacPherson admits those won't be 25 inside zone plays, Mark has shown he can be a featured back, despite his size.
"I can take licks," Mark said. "Being a running back, you're going to get bumps and bruises. But it's how you play with them, it's your mindset. Coach MacPherson always talks about [defenders as] nameless, faceless victims. That's what they are."
How many victims has Mark taken this season?
"A lot," he said. "Us as a team, we've taken a lot. And we plan on taking a lot more."
October, 9, 2012
10/09/12
2:00
PM CT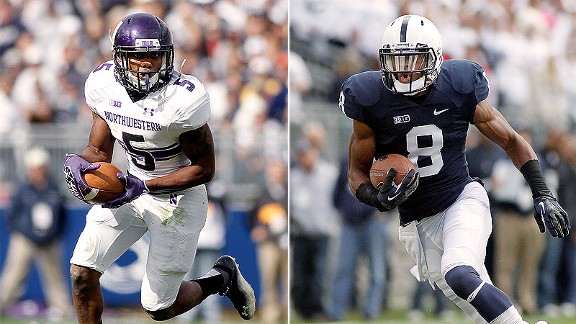 Getty ImagesNorthwestern's Venric Mark and Penn State's Allen Robinson have been nice surprises this season.
Big Ten bloggers Adam Rittenberg and Brian Bennett will occasionally give their takes on a burning question facing the league. We'll both have strong opinions, but not necessarily the same view. We'll let you decide which blogger is right.
Today's Take Two Topic
is inspired by Maxwell from Madison, Wis., who asked
during Monday's chat
:
To this point, who is [the Big Ten's] non-quarterback offensive MVP?
Take 1: Brian Bennett
Maxwell posed an interesting question, because it's pretty obvious through six weeks that Ohio State's
Braxton Miller
and Penn State's
Matt McGloin
are two of the top MVP candidates in the league, while Nebraska's
Taylor Martinez
and Michigan's
Denard Robinson
are crucial to their team's fortunes. Some of the running backs we expected to be MVP candidates, like Wisconsin's
Montee Ball
and Nebraska's
Rex Burkhead
, haven't had the kind of years anyone projected. My answer to this question is a guy hardly anybody was talking about this summer: Penn State receiver
Allen Robinson
. When Derek Moye graduated and
Justin Brown
transferred to Oklahoma State, the Nittany Lions receiving corps was badly in need of a leader this fall. Robinson, a sophomore, has taken that on his shoulders. He leads all Big Ten receivers in catches (41), yards (524) and touchdowns (7). McGloin has had a standout season, but more than a third of his passing yards have gone to Robinson. Penn State's offense wouldn't be nearly the same. And there's almost no way the team would be 4-2 without him.
Take 2: Adam Rittenberg
Robinson is a very good choice, BB. He has become a star at a position that entered the season with major question marks after Brown's departure. The same could be said for Northwestern's running back spot, which hasn't had a true standout since Tyrell Sutton left following the 2008 season. Things have changed this season because of
Venric Mark
, and he's my pick for non-QB offensive MVP. Despite standing barely 5-foot-8, Mark is the biggest reason why Northwestern started 5-0, and why the Wildcats were in position to be 6-0 before a fourth-quarter collapse at Penn State. He has three 100-yard rushing performances and averages 5.4 yards per carry with six rushing touchdowns. And unlike Robinson, Iowa's
Mark Weisman
, Michigan State's
Le'Veon Bell
or most other candidates (save for Nebraska's
Ameer Abdullah
), Mark has made a huge impact in more than one way. He has two punt returns for touchdowns, averages 32.9 yards per runback and ranks second in the Big Ten and seventh nationally in all-purpose yards (180.5 ypg). Only one other Northwestern player ever had recorded multiple punt return touchdowns in a season (Tom Worthington in 1949). Mark also has been surprisingly good in the red zone despite his size and complements quarterback
Kain Colter
in the option.
February, 23, 2012
2/23/12
9:55
AM CT
Adonis Smith
's decision to transfer from Northwestern might not mean much come September.
But his exit adds to the questions surrounding a position that hasn't provided enough definitive answers in the past few seasons.
Smith appeared in 17 games the past two seasons, racking up 462 rush yards and three touchdowns. He might have evolved into the Wildcats' featured back, but he also might have been a career backup. It's tough to tell. Coach Pat Fitzgerald announced Smith's departure Wednesday.
[+] Enlarge

Jerry Lai/US PRESSWIRERunning back Adonis Smith has decided to transfer from Northwestern.

"We're disappointed to see Adonis leave Northwestern," Fitzgerald said in a statement. "He is an outstanding young man and we wish him nothing but the best in his future endeavors."
Wildcats fans will forget about Smith if, say,
Mike Trumpy
returns from a torn ACL and surges as the starter. Or if true freshman Malin Jones emerges in preseason camp. Or if
Treyvon Green
builds on a freshman season in which he rushed for 362 yards and four touchdowns.
But if Northwestern can't identify a featured back and fails to generate a consistent rushing attack in 2012, Smith's name likely will be brought up.
While a struggling defense should be coach Pat Fitzgerald's top priority in the offseason, running back shouldn't be too far down his checklist. Northwestern's offense has made strides under Fitzgerald's watch, producing a steady stream of quarterbacks and wide receivers in recent years. But the running back position, once a program strong point, has declined.
Fitzgerald's predecessor at Northwestern, the late Randy Walker, left an indelible mark on the position he played in college. Walker had a 1,000-yard rusher in 25 of his 30 seasons in coaching, including each of his final four seasons as Northwestern's head coach (2002-05). Northwestern produced a 1,000-yard rusher in five of Walker's final six seasons.
But since Tyrell Sutton finished with exactly 1,000 yards in 2006, Fitzgerald's first season as Wildcats coach, Northwestern has failed to produce a 1,000-yard rusher.
Here are the team's leading rushers the past five seasons:
2007: Sutton, 451 yards

2008: Sutton, 890 yards

2009: Arby Fields, 302 yards

2010: Trumpy, 530 yards

2011: Kain Colter, 654 yards
Colter, by the way, plays quarterback for the Wildcats. Fields transferred following a disappointing 2010 season when he struggled to hang onto the ball or a favorable spot on the depth chart.
Why can't Northwestern produce featured backs anymore? An offense rooted in high-percentage passes and accurate quarterbacks has something to do with it. But the Wildcats have run the spread since 2000, and it didn't stop them from producing standout backs under Walker.
Northwestern has run the ball better as a team the past two seasons, rising from 95th nationally in rushing in 2009 to 58th in 2010 and 45th in 2011. But the team had a league-low 3.8 yards-per-carry average last fall.
Jones, the team's first commit in the 2012 recruiting class, could be the answer, much like Sutton was in 2005, when he captured Big Ten Freshman of the Year honors. Perhaps Trumpy bounces back from injury or Green takes steps in his development. Maybe a committee system is the best approach.
If not, you might hear some grumbling about Adonis Smith in September.
September, 15, 2011
9/15/11
5:00
PM CT
Like all quarterbacks, Northwestern's
Kain Colter
must master clock management.
But not only the clock on the scoreboard. The one in his head, too.
[+] Enlarge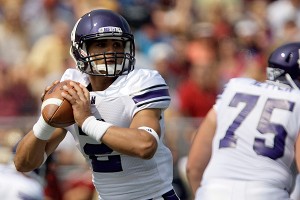 AP Photo/Mary SchwalmNorthwestern's Kain Colter has passed for 301 yards and rushed for 180 over his first two career starts.
Colter has racked up yards (180 rush, 301 pass) and touchdowns (4 rushing) in his first two career starts. He also has racked up hits, a few too many for anyone's liking, especially with top quarterback
Dan Persa
still not medically cleared to play.
There's no doubt Colter is a special player with the ball in his hands. While Northwestern looks for its first bell-cow running back since Tyrell Sutton, the team's best option appears to be the guy taking the snaps.
"Dynamic," offensive coordinator Mick McCall said of Colter. "That's the one word that describes him best. He's a handful to defend. He's done a very, very good job and we're really pleased."
McCall's challenge is to develop Colter into a complete quarterback, one who knows when to take off and when to stand his ground in the pocket and wait for pass plays to develop. Although Northwestern boasts one of the Big Ten's deepest groups of receivers, the team ranks near the bottom of the league in pass attempts (40).
The good news is McCall has been down this road before. Mike Kafka was a run-first quarterback who led the Big Ten with 3,430 pass yards in 2009. Persa began his career as a run-first quarterback before completing a league-record 73.5 percent of his pass attempts for 2,581 yards and 15 touchdowns last season.
"You look early in Dan's career, early in Mike's career, all them have the ability to make plays with their feet," McCall said. "They go, '1-2, I got to get out of here.'"
McCall is trying to get Colter to wait a little longer.
"There's times he's pulled it down where he didn't have to," McCall said. "Last week he checked the ball down a lot better. ... As time goes on, he'll get better at checking the ball down, getting that progression to the third or fourth [receiver] and he won't have to use his feet so much."
Colter went through some sliding drills this week in practice, and McCall is telling the sophomore when he should run out of bounds rather than absorb another hit.
"I've got to teach him to manage himself a little bit better," McCall said. "He wants to go make every play like every young guy does."
Another item on McCall's agenda is what to do at quarterback when Persa is medically cleared to play. Persa, who has had increased participation in practice, said this week he
should be back by the Big Ten opener Oct. 1
, at the latest. McCall said there's still a chance the senior plays Saturday at Army.
Although McCall isn't too wrapped up in how he'll use Persa and Colter, he admits the coaches will "get our creative juices going" soon.
"Until I get told that he's a full-go, that's what I'm waiting on," McCall said. "We'll see when that comes and we'll get him going again. I know he's been itching to play and he's working his fanny off. It's been a tough ordeal. It's hard coming back because you're so close but you've got to get over this hurdle. ... There's always going to be times where you get setbacks in your rehab; it doesn't matter what the injury is.
"But he's still way ahead of the game compared to the normal timeline."
While Persa tries to accelerate his return, Colter's best approach could be to slow things down just a bit.