Chicago Colleges:

University of Illinois
September, 27, 2012
9/27/12
5:14
PM CT
Now that nationally-ranked point guard
Demetrius Jackson
has opted for Notre Dame rather than Illinois, one alternative option may be up I-57 again and into Chicago.
Simeon coach Robert Smith believes the Illini should give his own point guard,
Jaylon Tate
, a chance.
Tate, a 6-foot-2 guard, has received interest from mostly mid-major programs so far. Missouri State, Ohio, Southern Illinois, Western Kentucky and Wisconsin-Green Bay are among the schools recruiting him.
But since Simeon began holding open gyms for college coaches last week, Tate has been creating some buzz. Georgetown asked about him this week, and Illinois, according to a source, has taken notice as well.
April, 2, 2012
4/02/12
1:04
PM CT
Crete-Monee senior point guard
Michael Orris
said Monday he plans to remains committed to Illinois after speaking with new Illini coach John Groce over the weekend.
Orris, a 6-foot-3 point guard, is the lone player Illinois has signed for its Class of 2012. He averaged 12 points and four assists during his senior season.
Orris said it wasn't one specific thing Groce sold him on remaining in Illinois' plans, but more of an overall picture.
"Coach Groce is a great guy and seems to be a great coach," Orris said. "He is a players' type of coach and values having relationships. He is passionate and excited to get to work and to work hard."
Orris' decision to remain signed with Illinois ends what had been a wild recruiting ride for him. He committed to Creighton in May 2011. He decommitted from there in June after his former high school coach and recruiting advisor was charged with aggravated criminal sexual abuse of a minor. Orris then committed to Illinois in September 2011. Bruce Weber was fired from Illinois on March 9, and Groce was hired on Thursday.
"It feels good," Orris said of having recruitment complete.
January, 5, 2012
1/05/12
9:16
PM CT
Illinois Class of 2013 recruit
Jalen James
has transferred from Hope Academy in Chicago to La Lumiere, a boarding prep school, in Indiana.
James, a 6-foot-3 point guard, changed schools to concentrate on his academics, according to his club team coach Mike Mullins. James officially enrolled in La Lumiere on Thursday morning.
"The advantages academically of being a residential prep school environment where there's tutors before class, small class sizes, study tables every night, ACT learning and six-day-a-week studies, the James family thought this was the best move to prepare Jalen for college and the ACT," said Mullins, who runs the Illinois Wolves. "Hope was a wonderful school. James appreciated all the opportunities he had there. This offered an opportunity to get some rigorous academic preparation, which his family thought he may need."
La Lumiere coach Alan Huss said a normal day at the school includes a full morning and afternoon of classes, basketball practice, two hours of proctored study tables in the evening, a couple 30-minute free periods throughout the day and lights out at 10:30 p.m.
"The way the day's set up there's not a lot of outside influences," Huss said. "It's just school and basketball, and school is first. I don't want to put words into his mouth, but I think he was torn because he felt some loyalty to his school, high school teammates and his team. This move is about him being in the best position to have success as a freshman at the University of Illinois."
Mullins said James should have no trouble qualifying for college and being eligible as a freshman at Illinois if he does what's expected of him at La Lumiere. Two other Wolves' players,
Bobo Drummond
and
Jay Simpson
, are also students at La Lumiere.
"That won't be an issue about him being eligible if he does everything he's supposed to," Mullins said. "Their success rate is high if he does all the work. We have monitored this. The James family has monitored this. I check our players' grades regularly. I think everybody should commend Jalen and his family for placing his academics first."
La Lumiere plays Farragut in the Bob Hambric Shootout at T.F. North on Saturday. James is expected to play.
Hope was 13-2 with James this season and was considered a Class 2A state title contender. The Eagles defeated Marshall without James on Wednesday.
James committed to the Illini in June.
February, 23, 2010
2/23/10
4:41
PM CT
[+] Enlarge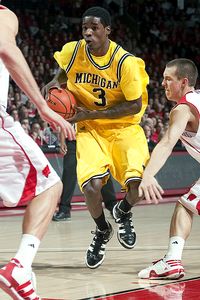 David Stluka/Icon SMIManny Harris averages 18.5 points and 6.2 rebounds for Michigan.
It's amazing how a team's situation can quickly change in college basketball as March approaches and crunch time hits.


No one knows this better than the Illini.


Two weeks ago, Illinois was on top of the world. There weren't many players in the country playing better than junior Demetri McCamey. Every shot seemed to fall, and his teammates chipped in as needed. That combination led to wins over Michigan State and at Wisconsin, put the Illini atop the Big Ten standings and had them in the NCAA Tournament. Illinois was even on the verge of being ranked.


Today, the Illini are in a whole different position. McCamey may be distributing assists at an all-time rate, but his shooting percentage has dropped, his teammates haven't done enough to compensate and the team's defense has been too inconsistent. Together, it led to losses to Ohio State and Purdue. All of a sudden, Illinois find itself in fifth place in the conference with a 9-5 record, again on the NCAA bubble and entering a crucial four-game stretch to their season.


The road begins Tuesday night at Michigan, a team even more desperate than Illinois. The Wolverines need wins now just to salvage an NIT berth. The Illini may be the better team, and Michigan has struggled at home, but the Wolverines also have the capability of being a spoiler when Manny Harris and DeShawn Sims are clicking. Michigan has wins over Ohio State (though without Evan Turner) and Connecticut and narrowly lost to Michigan State and Wisconsin.


Then Illinois hosts Minnesota on Saturday. The Golden Gophers are in a slightly worse predicament than the Illini. Minnesota needs to win almost all of its remaining games and have a decent Big Ten Tournament showing to give itself a shot at an NCAA Tournament berth. The Gophers haven't played well on the road (2-6) but they have the athletes to compete with Illinois.


The Illini are then off to Ohio State on March 2. The Buckeyes handed it to Illinois in Champaign on Feb. 14 and are coming off another dominant performance at Michigan State. There's a good chance they could do it again to the Illini in Columbus. Illinois will need to play at its very best to beat the Buckeyes in what will likely be Turner's final home game.


Finally, Illinois caps its regular season with Wisconsin on March 7. The Badgers may be out of the Big Ten race, but they will look for revenge at Illinois after its home winning streak was snapped by the Illini earlier this month. Wisconsin also has Jon Leuer back.


None of the games are gimmes. When you look inside the numbers (71 RPI rank, 62 strength of schedule, 7-5 in their last 12 games, 5-2 on the road, 0-5 neutral court, 2-2 vs. top 25 RPI, 2-2 vs. 26-50 RPI, 2-2 vs. 51-100 and 5-2 vs. 101-200), it's easy see that Illinois needs to win these games.


In retrospect, as Illinois has returned to an NCAA Tournament uncertainty, there is also some doubt that arises again over its Michigan State and Wisconsin wins. Leuer (14.5 points, 5.8 rebounds, 1.3 blocks) was missing for the Illinois game, and the Badgers went 6-3 without him and have gone 14-4 with him. The Spartans were missing their top player in Kalin Lucas when they played Illinois, too.


The Illini can put those doubts back to rest and do a whole lot more for themselves if they can close out the regular season with an exclamation point. Two wins are likely mandatory. Three would benefit them extremely. Four would be the moon.


Tuesday night their work begins.
February, 5, 2010
2/05/10
2:35
PM CT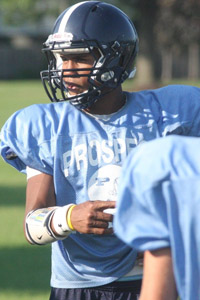 Scott Powers/ESPNChicago.comProspect quarterback Miles Orsei passed for 4,498 yards and 38 touchdowns and ran for 2,426 yards and 39 touchdowns in his junior and senior seasons combined.
Prospect quarterback Miles Osei expressed relief when he committed to Northern Illinois in December. He had taken his time with his decision, so he was confident the Huskies were the best available fit for him as a school and as a football program.


For Northern Illinois, it was also a key commitment. Osei was sought by a number of MAC teams that all saw the same thing: a future 6-foot-2 dual-threat star.


Then Illinois stepped in and complicated everything.

Read the full story.