September, 3, 2013
9/03/13
4:18
PM CT
ESPN 100 senior point guard
Tyler Ulis
has eliminated USC from his recruiting list and is down to Iowa, Kentucky and Michigan State, according to his father.
Ulis, a 5-foot-9 point guard from Marian Catholic in Chicago Heights, Ill., is ranked No. 38 in the Class of 2014 and the No. 8 point guard by ESPN. He trimmed his list to four schools in early August.
"Yes, we did [eliminate USC;] we never said it in the media or anything, but did speak to USC about it a couple weeks ago," James Ulis, Ulis' father, wrote in a text message on Monday. "Didn't want to just take a visit if Tyler had cooled on possibly going there. We thanked [them] for their time and we wanted to allow them to have an opportunity to recruit another PG."
Ulis made an official visit to Iowa this past weekend and will make official visits to Michigan State on Sept. 6-7 and Kentucky on Sept. 8-9. Kentucky recently offered Ulis a scholarship on an unofficial visit, and Iowa and Michigan State previously offered him.
James believes his son's commitment could come as early as the weekend of Sept. 14.
January, 10, 2012
1/10/12
12:22
PM CT
LOS ANGELES -- USC Trojans wide receiver Kyle Prater announced Monday evening that he would be transferring from the school.
Read the entire story.
October, 24, 2011
10/24/11
2:20
PM CT
Matt Barkley didn't back away from assertions by his USC Trojans teammates that Notre Dame quit in the final minutes of their game Saturday in South Bend, Ind.
"I would agree with that," Barkley said Monday in an interview with Max Kellerman and Marcellus Wiley on 710 ESPN. "I was shocked that they didn't use the timeouts because we got on the field with … about seven minutes left, and I thought they were planning on stopping us and saving their timeouts for the end when they had the ball. …
Read the entire story.
October, 3, 2011
10/03/11
3:00
PM CT
Brian Kelly was asked Sunday about the growth of his defense since Notre Dame's loss last season to Navy, which utilized the triple-option offense to run for four touchdowns and 367 yards -- including 210 from
Alexander Teich
-- in a 35-17 rout by the Midshipmen.
"You know, I think the Navy game was schematic more than it was kids not understanding how to play the right kind of defense," Kelly said. "So if you look at that as not about our players, I think we've showed steady improvement since last year. I think it's continuously been better and better defensive play leading up to where we are right now.
[+] Enlarge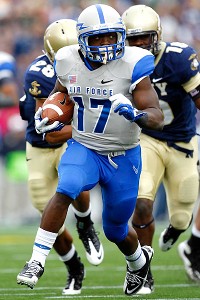 AP Photo/Luis M. AlvarezAsher Clark is averaging 9.3 yards per carry for Air Force this season.
"We still have a ways to go. But I will tell you this, that it's tough to run the ball on us, and that's where you wanna start. So our starting point was, be difficult to run the ball on, and then let's continue to improve in the back end."
After that loss last Oct. 23, the Fighting Irish did not allow another 100-yard rusher over their last five games and gave up just one touchdown run, a 1-yard sneak by USC quarterback Mitch Mustain. Over their last four games, Notre Dame did not allow so much as a 50-yard rusher.
Only one player has rushed for more than 100 yards against the Irish since their loss to Navy, and that was
Denard Robinson
in Week 2 of this season. Robinson's 16-carry, 108-yard effort on the ground Sept. 10 is just as notable for another number Shoelace put up that night: One, as in the number of rushing touchdowns he scored. As in the only rushing touchdown Notre Dame has allowed this season.
And even that could be considered a fluke, as Robinson simply scooped up the ball and took it in for a 1-yard score after Irish safety Harrison Smith jarred it from Michigan running back
Stephen Hopkins
.
In allowing just one score on the ground this year, Notre Dame is tied for the nation lead with four other schools. The Irish have allowed just 91.2 yards per game on the ground this season, good for 19th nationally.
All of which is a roundabout way of saying that this Saturday's contest against Air Force and its triple-option offense should be a fascinating test of execution on each side of the ball.
The Falcons' 364.5 rushing yards per game are good for third in the nation. Only seven teams have scored more than Air Force's 15 rushing touchdowns, but six of them have played five games to the Falcons' four.
The challenge could be all the more difficult if defensive end Ethan Johnson cannot play. Johnson, a two-year starter, suffered a right ankle sprain in Saturday's 38-10 win at Purdue, and Kelly would only say that there's a chance he could return this weekend.
"We'll immobilize him for the next few days and then get him moving and see," the second-year coach said. "It's one of those things where it's such an individual case-by-case situation when it comes to ankles, so he'll be immobilized.
"Last night he was in a boot. He'll stay in that until probably mid-week and then we'll start moving him and see what he looks like."
If Johnson can't go, Aaron Lynch will likely get the start. Known for his ability to rush the passer, Lynch saw more action Saturday after fellow freshman Stephon Tuitt did not make the trip to West Lafayette, Ind., because of a violation of Kelly's missed-class policy.
Kelly said after the game he expected Tuitt back, but neither Tuitt nor Lynch played Week 2 at Michigan because of the complex offense the Wolverines and, more specifically, Robinson, ran.
In any event, it makes this week's contest all the more important, one that can't be overlooked with a bye week and USC looming afterward.
October, 2, 2011
10/02/11
9:00
AM CT
1) Protecting the ball makes for smooth sailing:
It seemed like we'd never see the day Notre Dame went 60 minutes without a turnover, but Saturday changed that.
[+] Enlarge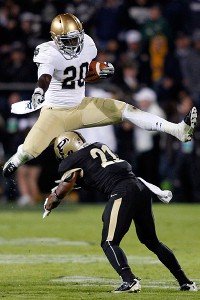 AP Photo/AJ MastNotre Dame's Cierre Wood is 42nd in the nation in rush yards per game at 89.8.
The Fighting Irish eclipsed the 500-yard mark for the third time this season, but won while crossing that plateau for the first time, as they were doomed by five-turnover performances in Weeks 1 and 2. Saturday was huge for the offense, in particularly
Tommy Rees
, who eliminated many of the befuddling miscues that had Irish fans calling for a new quarterback after his first three-and-a-half games under center. Now, for the first time all season, we can no longer say Notre Dame leads the nation in turnovers or has the worst turnover margin. (The first honor belongs to East Carolina, with 17. The latter is shared by East Carolina, Iowa State and Western Kentucky, at -2.00).
2) The rush defense is for real:
Notre Dame had another dominating performance up front Saturday, limiting the Big Ten's second-ranked rushing offense to 84 yards on 27 carries. This came two weeks after the Irish allowed just 29 rushing yards against Michigan State and one week after holding Pitt's
Ray Graham
to 89 yards, something that looks like more of accomplishment after Graham exploded for 226 yards Thursday against South Florida.
3) Special teams need to improve. Still:
Brian Kelly said Saturday that he didn't want to sound like sour milk when listing what his team could have done better, but the Irish did leave points on the board. David Ruffer, a 2010 Lou Groza Award finalist, missed two field goals. And the punt return experiment once again looked like just that -- an experiment.
John Goodman
netted -3 yards on two returns and, in a real head-scratcher, watched one ball sail over his head and roll for a 61-yard punt in the first quarter.
4) Penalties still need clearing up:
This one gets overshadowed because the Irish didn't turn the ball over, won by 28 points and saw their opponent commit an astounding 13 penalties for 118 yards. But Notre Dame itself committed eight penalties for 85 yards, including an ugly one when long snapper
Jordan Cowart
got tangled up with several Purdue players on a second-quarter punt. Mental lapses such as these are forgivable against the Boilermakers, not so much against USC or Stanford.
September, 29, 2011
9/29/11
4:00
PM CT
Things have been relatively quiet on the Notre Dame recruiting front the past two weeks with the Fighting Irish away from home. And they will likely stay that away until the week of Oct. 16, the Sunday before the Irish host USC at night.

For now, it's worth taking a look at what other potential Notre Dame prospects are doing in their time before then.
William Mahone
, the highly touted four-star running back from Austintown Fitch (Ohio) High School, will be joining prep teammates Demitrious and Chris Davis at Heinz Field tonight for Pitt's game against South Florida, according to
our guy Jared Shanker
.
Shanker says this is the last shot for Pitt to make a strong impression on Mahone, who will likely choose between the Panthers, the Irish and Michigan State. The Davis twins have already committed to Pitt.
Still, Shanker said, it would be surprising if Mahone didn't end up in South Bend, Ind. He visited Sept. 17 for the Irish's win against the Spartans, and he liked it so much that he is paying his own way back for the Irish's Oct. 22 game against the Trojans.
Until then, however, don't expect much movement from a Notre Dame 2012 recruiting class 15-deep, one that
moved up two spots to 11th overall in the nation in ESPN's latest rankings
, released Wednesday.
September, 24, 2011
9/24/11
7:45
PM CT
PITTSBURGH -- An early wake-up call in the Steel City gave way to 17 total penalties, two more head-scratching
Tommy Rees
turnovers, a missed field goal and, perhaps most fitting, 666 combined yards of offense.
[+] Enlarge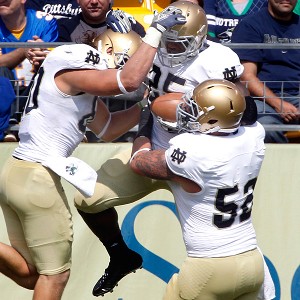 AP Photo/Keith SrakocicNotre Dame running back Jonas Gray, center, celebrates with teammates Tyler Eifert, left, and Braxston Cave after his 79-yard touchdown run against Pittsburgh.
But Irish coach Brian Kelly and his team were more focused on
Notre Dame 15, Pitt 12
, the luck of the Irish turning after two mind-boggling defeats to open the season.
"It was a tough, blue-collar kind of day, and that's what was required of everybody, and that's what we got from our team," Kelly said, "enough to get the win and get outta here."
That result is all that matters for a Fighting Irish team that has churned out far prettier performances in early-season losses. Notre Dame put up more than 500 yards of offense in two straight weeks, outgained South Florida by a 2-to-1 margin, and held a 17-point lead entering the fourth quarter at Michigan.
And Notre Dame (2-2) lost both games.
On Saturday at Heinz Field, Rees fumbled deep in his own territory, leading to three points for the Panthers (2-2). He lofted a ball to the end zone that was easily picked off by Andrew Taglianetti. And Irish WR
Michael Floyd
, arguably the nation's best wideout, had just four catches for 27 yards, his worst statistical performance since his freshman campaign three years ago.
"It's not gonna be an instant classic," Kelly said, "but it certainly is, from a football standpoint -- games that you have to win on the road. And you're gonna be presented with some of these kinds of closely fought, last drive, come-up-with-a-big-stop-or-a-big-conversion [games], and that's what we saw today."
Like Floyd's aggressive downfield blocking on
Jonas Gray
's 79-yard touchdown run, the lone highlight of a rugged first half for the Irish offense.
Or the five times Notre Dame sacked Pitt QB
Tino Sunseri
, making him earn every one of his 22 completions and 165 passing yards.
And, of course, Rees' second-to-last drive, when he completed all eight of his passes after a rough 15-of-32 start and marched the Irish 85 yards on 11 plays to give them the lead with 6:48 to go.
"Like all the guys say, an ugly win is better than a pretty loss," Rees said. "So a win's a win, and on the road against a good Pittsburgh team here, that's all we can ask for, is coming out with a win."
Rees can thank Kelly's faith in him for that, along with the sure hands of tight end
Tyler Eifert
, who finished with a game-high eight catches for 75 yards, including three consecutive catches covering the final 27 yards on the go-ahead drive. His 6-yard touchdown grab capped the drive, and he also caught the two-point conversion.
And Rees can thank some of the little things Kelly pointed to afterward -- a potential saving tackle here, a few big plays by freshmen there, an ability to prove it can end up on the right end of one of these close contests.
"I think one of the key plays in the game was Prince Shembo running down
Ray Graham
, great hustle," Kelly said, recalling Graham's 42-yard first-quarter burst that looked like it could go all the way. "And I guess all those little illustrations are what I like about the team. They keep battling, they play every single play, sometimes maybe not as good as we would like, but it's a group that's learning. Had the big sack, Stephon Tuitt the end of the game there was huge, moved them back after they challenged the play. And some young guys getting in there are making plays for us."
This was supposed to be a breather after a gauntlet of an opening schedule, one that left the Irish with a 1-2 record and plenty of question marks given their perplexing performances.
Notre Dame wasn't supposed to face a serious challenge again until next month against USC, and after Saturday's win Kelly was asked what to make of his squad one-third of the way through its season.
"I told you this many a times, I like the way we compete," he said. "I'd like to have won 37-0 too, but you know what? Winning's winning. It's not easy. You go on the road against a BCS team and limit them to 12 points, and find a way to win, I like that development. We're developing an expectation with our guys that in a close game we're gonna win, and those are good dynamics.
"So we put this one behind us and, believe it or not, we have expectations that we wanna win every game."
Notre Dame's last game of September was an ugly start toward fulfilling that prophecy, but it was a start nonetheless. And after the way this month began, the Irish will surely take it.
September, 23, 2011
9/23/11
4:30
PM CT
You request, I deliver. Here's what's been of your minds through an eventful three weeks of Notre Dame's season.
Mark Schadl from Atlanta writes:
Matt, what's your thoughts on the future of
Dayne Crist
? He "was" eligible to come back for a 5th Year next year, but Brian Kelly's take on 5th Year Seniors is if they can't help and ND needs that scholarship spot, they generally don't get one. I liked Dayne a lot, I wish he would have had more success on the field. Thanks,Mark
Matt Fortuna:
Mark, Dayne entered this year publicly with the approach that it would be his last. Obviously, he didn't expect to get pulled halfway through his first game. It's certainly an interesting scenario and a sidebar to watch as the season progresses. With nine games left, I highly doubt we've seen the last of him. Depending on how much (or how little) playing time he ends up getting, though, it wouldn't shock me if he chose to go to another school for one more year where he could play. Given his California roots, I'd imagine he'd head to the West Coast, though we are getting ahead of ourselves three weeks into 2011.
Greg from Grand Junction, Colo., writes:
It is a shame that
Michael Floyd
is not being mentioned as a Heisman candidate!
Matt Fortuna:
Greg, you clearly haven't been reading my
weekly Heisman watch
. Floyd's numbers are up there with anyone's nationally, but he isn't getting as much attention for the simple fact that Notre Dame is 1-2. Win a few more games, continue to produce at the rate he's at, and surely the national eyes will reach South Bend.
George Somerville from Lake Geneve, Wis., writes:
Notre Dame should try putting Michael Floyd in for Wildcat and see how that works out.
Matt Fortuna:
George, with the many ways the Irish have used Floyd so far this season, it wouldn't really surprise me. Seriously, though, he said he's lost a lot of weight, which has helped contribute to a quicker burst of speed off the ball. I wouldn't expect to see him in the Wildcat, however, with a still developing quarterback at the helm of a team that leads the nation in turnovers.
Paul S Grabsky from Alpine, Texas, writes:
Hello Matt, with A&M about to bolt the Big 12 I have heard rumors that Notre Dame will replace the Aggies on Texas schedule for the annual battle Thanksgiving Night. Just wondering if you heard that as well? Of course the landscape of college sports is all hearsay these days. Thanx for reading.
Matt Fortuna:
Paul, Notre Dame's series with Stanford won't end before 2019. And I can't see the day that the Irish's series with USC would ever end, though I suppose nothing would surprise me anymore. In short, it would take plenty of legwork for something like that to possibly happen.
Ty Winter from Trinidad, Colo.,
writes:
I have 3 questions for you#1: What is your prediction on thier record, and what bowl will they land in?#2: Kelly is a proven coach that rebuilds teams and brings them to the top, is next year the year they will make a run for the BCS championship, and finally,#3: Will Notre Dame join a mega conference, and if so will they keep thier TV deal with NBC? Thank you; oh by the way do you have enough pull to get me two tickets to a ND home game, it's the #1 thing on my Bucket List. Thanks Ty
Matt Fortuna:
That's a lot to dump on my plate at once, Ty. Here we go: 1) Nine wins are still possible, but the Irish can't even think about that if they continue to turn the ball over. The Champs Sports Bowl would seem most likely with anything less than nine wins. 2) Notre Dame will be in great position from a talent standpoint to compete next year, but the schedule is just brutal, with a date in Norman against the potential defending BCS champion Sooners standing out above others. 3) The carousel seems to be put on hold for now, and the Irish and their fans can continue enjoy their status as an independent. Lastly, if I had a dollar for every person who asked me for tickets, I may just be able to afford a few on my own.
September, 22, 2011
9/22/11
4:25
PM CT
If two straight losses to start the season didn't hurt Notre Dame in recruiting, a convincing win against the defending co-Big Ten champions had to have helped, right?

The Fighting Irish walked away from Saturday with win No. 1, 2012 commit No. 15 and 2013 verbal No. 1.
Chris Brown, a three-star receiver out of Hanahan (S.C.) High School, became the Irish's third receiver to join the Class of 2012. The 6-foot-2, 170-pounder is ranked as the 58th best wideout in his class and runs a 4.44 40. He committed Sunday.
Steve Elmer, meanwhile, will add some meat to Notre Dame's offensive line two years from now. He became the Irish's first commit for the Class of 2013 before their 31-13 win against Michigan State on Saturday. The 6-foot-6, 305-pound tackle from Midland (Mich.) High School is one of the top prospects from Michigan in his class.
According to our guy Jared Shanker
, it would take a major meltdown in South Bend over the next two seasons for the big fella to change his mind.
The only thing missing from this past weekend might have been a commitment from William Mahone, but good things might be on the horizon. Shanker said Mahone, a four-star running back out of Austintown-Fitch (Ohio) High School, loved his visit to Notre Dame so much Saturday that he will pay his way back for the Irish's Oct. 22 primetime showdown against USC.
That weekend will be a huge one for Notre Dame on the recruiting front, especially since it has only one more home game, Oct. 8 against Air Force, before then. Don't be surprised if things are a little quiet for the next month. The week leading up to the Irish's game against the Trojans, however, should be a busy one.
September, 17, 2011
9/17/11
9:08
PM CT
1. These guys can rush:
Aaron Lynch set the tone early by sacking
Kirk Cousins
and forcing a fumble. The defense continued the assault all day long, getting to Cousins time and time again and rendering the Spartans' run game moot.
2. Special teams can make all the difference:
George Atkinson III
's kickoff return for a score made it 14-3 early and the Irish never looked back. The return came after MSU's first scoring drive and gave Notre Dame plenty of momentum and distance the rest of the way.
3. Turnovers need to be curtailed:
Three turnovers are still too many.
Tommy Rees
, at 19, is still growing as a quarterback and will make mistakes, but senior
John Goodman
's fumble of a punt return deep in his own territory could have been costly if not for Blanton's pick three plays later. Three is better than five, and the Irish have at least showed they're capable of bouncing back from mistakes by not letting up against MSU on Saturday. But at some point the bleeding has to stop.
4. Don't look now, but the Irish could be in business:
The Irish should be favored in every game moving forward except for the final one, at Stanford. For now, they can focus on a Pitt team that looked more vulnerable Saturday than the Irish themselves through the first two weeks, as the Panthers blew a 21-point lead to Iowa in a 31-27 loss. Purdue and Air Force follow for Notre Dame before its bye, after which it will host rival USC in its first home night game in 21 years.
November, 24, 2010
11/24/10
12:49
AM CT
By
Wes Morgan
| ESPNChicago.com
SOUTH BEND, Ind. -- Perhaps securing a postseason bid, which allowed some pressure between Brian Kelly's temples to escape, is why the Notre Dame football coach was so introspective heading into the regular-season finale at Southern California.
"Clearly 6-5 is not what I had in mind," he said at Tuesday's news conference. "So from a coach, I've got to do a lot of things better. I've got to continue to evaluate myself and decisions and game plans and things of that nature. But in 20 years I think what I've understood more than anything else is that you have to do that. You don't just arrive. Things change so much from year to year. I think that's the thing I look at most. Notre Dame is a high-profile job. With that comes a great deal of scrutiny. I think I was prepared for that. We got a lot of it this year."
There would have been more had the Fighting Irish not turned things around with a makeshift crew the past two weeks. Now Notre Dame has an opportunity to really turn heads Saturday in Los Angeles against its biggest rival.
The Trojans (7-4) have won the past eight years and the Irish don't need reminded of that fact. Just minutes after a lopsided victory over Army, Notre Dame players turned their attention toward the West Coast before they had removed their green jerseys.
"It was the first time this year in the locker room after a win, our guys were already talking about USC," Kelly said. "So there's clearly an energy and an excitement with our football players relative to this week."
Here are some more topics Kelly discussed Tuesday:
On bowl possibilities:
"I have been included in that decision-making process. It's not mine. It's [athletic director] Jack Swarbrick's to make. There are some caveats. Obviously, it's got to fit with our exams -- that's very, very important in the overall perspective here relative to one bowl over the other. Then, as you know, the litany of tie-ins, who has got to do what. I'm usually brought into the loop on, 'Hey, coach, here are some things we're looking at. How does that fit in your recruiting schedule, exam schedule, things of that nature?' But the boardroom discussions are certainly on our athletic director."
On preparing for a bowl game:
"I don't like to put our seniors through 15 more practices. They want to play in the bowl game. Generally, what I'll do is have the younger guys practice, say, for a week and really work on player development -- those young guys getting a chance to be the starters, if you will, on our offense and defense. And then we will integrate our seniors into our practice as we get into specific bowl preparation."
On receiver Theo Riddick's possible return:
"He looked good in pregame against Army. I liked the way he looked. He moved well. At first glance you would say, 'Wow, he looks really ahead of where we thought he was.' Then he stiffened up a little bit as he stood on the sideline for the whole game. Our concern is how is he going to respond on a Tuesday backed up by a Wednesday. How does he really look on Wednesday? I think he's going to look pretty good today. How is he going to look on Wednesday? I think that's really the answer to the question specifically."
TOP 25 SCOREBOARD
Saturday, 12/20
Monday, 12/22
Tuesday, 12/23
Wednesday, 12/24
Friday, 12/26
Saturday, 12/27
Monday, 12/29
Tuesday, 12/30
Wednesday, 12/31
Thursday, 1/1
Friday, 1/2
Saturday, 1/3
Sunday, 1/4
Monday, 1/12