Chicago Colleges:

Vincent Smith
March, 25, 2013
3/25/13
9:09
PM CT
SOUTH BEND, Ind. -- The video has been making the rounds for much of the offseason, garnering more than 12,000 views since it was first uploaded in January.
If hype and preseason projections hold to form, it may feature a future Heisman Trophy winner. If
Everett Golson
develops into the kind of quarterback he hopes to become, it may eventually feature two Heisman winners.
<!-photo1-->The first play of the South Carolina High School League AAA title game,
as CSNChicago's JJ Stankevitz notes
, offered a familiar sight:
Jadeveon Clowney
obliterating everything in its path en route to the quarterback.
The quarterback remembered getting tossed on the sack -- "like it was yesterday," Golson joked -- but he also remembered the night for something else. His Myrtle Beach team beat Clowney's South Pointe squad, 27-23.
Clowney, a rising junior at South Carolina, is among the early spring favorites to lift college football's most coveted individual hardware in 2013, especially after he capped his 2012 campaign with a hit like
this one
on Michigan's
Vincent Smith
.
Golson is quietly rooting for the fellow South Carolina native to become the first pure defensive player to win the Heisman. Golson's former teammate, linebacker
Manti Te'o
, came as close as any pure defender ever in 2012. But there is a caveat.
"I hope he does, but at the same time, I think I'm pushing for the same thing," Golson said. "I know it's maybe a goal some may say is a little bit far-fetched, but I want to be the best competitor I can be. So I want to see him do great, but I also want to be there at the same time."
Starting at the glamor position of quarterback -- at Notre Dame, no less -- one year after taking his team to the final game of the college football season gives Golson a built-in advantage. A year of ups and downs at the highest level, plus the ever-so-slight comfort of knowing the No. 1 job is his to lose, also gives Golson more confidence heading into his redshirt sophomore season. He is better prepared for this year after admitting to being a bit overwhelmed by the media attention.
"I think I came in and it was probably like six [reporters]," he said of last year's spring game, which served as his first breakout public performance. "I was like, 'All right, it's cool.' And next thing I know, I look up and it's like 20, 30 people. I'm like, 'Whoa.' So I'm trying to watch my words more carefully and stuff like that."
He is hoping his plan heading into the 2013 season goes a little bit better than his team's did entering that 2010 title game in South Carolina, end result notwithstanding.
"Oh man," he said laughing. "Let's just say what we planned to happen didn't happen at all. It was the complete opposite. I guess we had a great plan, scheme-wise. We thought it was a good plan. We were basically cracking back on Jadaveon so we would block him with our tackle and our tight end was actually detached and he would crack back as soon as the ball was snapped.
"But I remember we snapped the ball and he just gets off the line and I don't think my tight end gets to him. So I'm like, 'Awww man.' I know he's coming, so like I'm trying to get out but he's a great athlete and it wasn't really combat from me, I guess. I couldn't do anything. I was at a loss so I just kind of took that one."
September, 22, 2012
9/22/12
10:02
PM CT
Denard Robinson
was the difference in the Michigan-Notre Dame classics in 2010 and 2011.


Robinson was again the key figure in the 2012 meeting, though not in a good way for the Wolverines. And the game was anything but a classic -- but Irish fans will gladly take the ugly
13-6 victory
.
It was a bizarre game in South Bend that featured eight turnovers, including six of them by the losing team. Here's a quick look at how it went down.
It was over when:
Tommy Rees
found
Tyler Eifert
for a 38-yard gain on third and four from the Notre Dame 31 with less than two-and-a-half minutes remaining. That play, coming against one-on-one coverage, allowed the Irish to run out the clock and keep Robinson from pulling off another miracle. It was Eifert's only catch of the game.
Game ball goes to:
The Notre Dame defense. For the past two years, they were absolutely terrorized and traumatized for Robinson. This time, the Irish not only held Michigan out of the end zone, they forced Robinson to turn it over five times (four interceptions, one fumble). He had just 228 total yards, and his longest run was only 20 yards. It was like a photo negative of Robinson's previous two performances in this series. The front seven got great pressure and stayed in its lanes, while
Manti Te'o
played an enormous game with two interceptions and two hurries that led to turnovers. That's why the Irish erased their nightmares from years past.
Stat of the game:
Michigan had 299 total yards to only 239 for Notre Dame. But the minus-four in turnovers was too much to overcome.
How the game was won:
Turnovers, turnovers, turnovers. Notre Dame coach Brian Kelly made the best move of the game when he lifted
Everett Golson
for Rees in the first half. Golson looked too skittish for this stage and had two bad interceptions. Rees settled the offense down and while he only threw for 115 yards, he was the only quarterback in the game who took care of the ball.
Second guessing:
Michigan was driving the ball well in the first quarter and had the ball on the Notre Dame 10-yard line when offensive coordinator Al Borges got a little too tricky. He called for a halfback pass from the diminutive
Vincent Smith
, who jumped in the air with Te'o barreling down on him and lobbed an east interception in the end zone. The Wolverines could have used the momentum early and ended up really needing the points.
What Notre Dame learned:
While this one wasn't pretty, the Irish could hardly have asked for a better start to this season. Its defense is playing at a championship level -- to hold Michigan and Robinson to just six points is an outstanding achievement. There are still questions for this team, and Kelly will have to answer even more quarterback controversy questions this week, but this is the toughest Irish team we've seen in a while.
What Michigan learned:
The Wolverines still aren't ready for prime time. They got blown out in the opener against Alabama and then were ridiculously sloppy with the ball in this one. While Michigan had by far its best defensive performance to date and can build on that, Robinson is still making too many mistakes in the passing game. There's really no reason for the Wolverines to be ranked in the top 25 right now, but Michigan still will be a factor in the weakened Big Ten, which went 0-3 against Notre Dame.
October, 3, 2011
10/03/11
12:00
PM CT
Don't look back in anger. Well, unless you're a fan of Nebraska, Ohio State, Purdue, Northwestern or Minnesota. Then we'll allow it.
Team of the week:
Wisconsin. The only real question about the Badgers after their first four games was how they would fare against better competition. Then they steamrolled Nebraska 48-17. Any more questions?
[+] Enlarge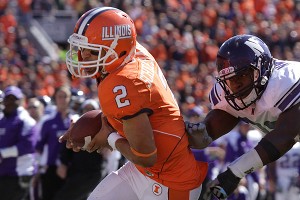 AP Photo/Seth PerlmanConsistency will be a major focus for Illinois QB Nathan Scheelhaase next season.
Best game:
Illinois' 38-35 win against Northwestern. This game was full of twists and turns, as Northwestern built a 28-10 third quarter lead, only to watch the Illini rally for 21 straight points. The Wildcats reclaimed the lead with 1:15 left, but
Nathan Scheelhaase
scored on a 1-yard run with 13 seconds left to end it. After it was over, the Illinois scoreboard proudly proclaimed its homeboys as "The State of Illinois' Undefeated Big Ten Team" while the speakers blared "Sweet Home Chicago," Sinatra's "My Kind of Town" and Kanye's "Homecoming." What, was the band Chicago unavailable for a live performance?
Biggest play:
There were plenty to choose from in the Illinois-Northwestern game, but I'm going with one that might have been overlooked from early in Michigan State's 10-7 win against Ohio State. The Spartans botched the punt snap on their first possession, and Buckeyes defenders were bearing down on punter Mike Sadler deep in his own territory. Sadler somehow recovered, eluded the rush and got off a 37-yard punt. If disaster strikes there for Michigan State, Ohio State might have scored, gained confidence and changed the entire complexion of that game.
Best call:
Maybe we should call this the most interesting calls, not necessarily the best. Michigan offensive coordinator Al Borges unveiled a new wrinkle against Minnesota, putting
Devin Gardner
in at quarterback with
Denard Robinson
and two other running backs also in the game. The Wolverines used it a handful of times, employing a double pitch and a double pass. They also used a halfback pass from
Vincent Smith
for a touchdown. Let's be honest: Michigan didn't need any trickery against Minnesota in a 58-0 blowout. But Borges has just given every other Big Ten defensive coordinator something else to worry about.
Big Men on Campus (Offense):
Illinois receiver
A.J. Jenkins
and Wisconsin quarterback
Russell Wilson
. Jenkins broke a school record with 268 receiving yards plus three touchdowns on 12 catches in the Northwestern win. It was the fourth-best receiving day ever by a Big Ten wideout. Wilson led the Badgers to the win in the biggest game of the year so far in the Big Ten by completing 14-of-20 passes for 255 yards and two touchdowns. He also ran for 32 yards and a score.
Big Man on Campus (Defense):
Wisconsin linebacker Mike Taylor. He made a career-high 14 tackles, one of them for a loss, and intercepted a pass in the second quarter of the Badgers' win. Nebraska entered the game averaging more than 42 points, but was held to just 17.
Big Man on Campus (Special teams):
Penn State's Anthony Fera. He drilled three field goal attempts (from 22, 27 and 33 yards) in a 16-10 win against Indiana. He also punted seven times for an average of 39 yards, placing three inside the 20-yard line.
Worst hangover:
Purdue. While acknowledging the terrible Saturdays that Minnesota and Ohio State also suffered through, the Boilermakers legitimately thought they could beat Notre Dame. They had two weeks to get ready for a night game at home, making this a real circle-the-wagons type of game. After the Irish won 38-10, the Purdue bandwagon has three broken wheels and a flat tire.
Strangest moment:
Let's go back to Purdue for this one. Early on in that game, the Boilers forced an Irish incompletion on third down from their own 10. But safety Albert Evans was called for a celebration penalty for high-fiving some fans in the end-zone stands. Notre Dame would cash in with its second touchdown. "They said I high-fived someone," Evans told reporters. "I was in the moment, so I couldn't tell you who I high-fived. The band was right there. I guess you can't high-five anyone." Can't blame Evans too much for his premature celebration, as it was one of the few times all night the Purdue defense got a stop.