Chicago Colleges:

Wes Lunt
March, 10, 2014
Mar 10
4:00
PM CT
I had a good time covering Arch Madness this past weekend. My astute, professional opinion: Wichita State is really, really good.
But the hoops moonlighting is over. Back to football -- and more of your emails ...
Luke from Lincoln, Neb., writes:
What's your take on
Jamal Turner
getting reps at QB? I know he has gotten reps in previous years but less significant reps. Will anything come of it, or is it just some spring experiment?

Brian Bennett:
First of all, I commend Bo Pelini for giving us media types something interesting to write/blog/debate so early in spring practice. So bravo on that. I suspect this is mostly an experimental thing. Turner is a senior, so he doesn't need a ton of spring reps at QB. But it also gives Nebraska some options, especially in some potential Wildcat alignments.
Tommy Armstrong Jr
. is not the runner that
Taylor Martinez
was, at least not yet in his career, and
Ameer Abdullah
gets enough carries. Turner could bring a speed element to the quarterback spot, a place where the Huskers have no experience behind Armstrong as is. If nothing else, it gives Nebraska's early-season opponents something to think about as they game plan this spring and summer.
---
Kevin from Rock Island, Ill., writes:
To me, it seems the Illinois QB race will come down to
Wes Lunt
and
Aaron Bailey
. If Lunt wins the job (as many expect), does Bailey stay at QB for limited sets, and as a backup, or do they use his athleticism to help fill a position of need at WR? Lunt has had injury issues in his past (why he lost his job at OSU), but Illinois is desperately in need of more playmakers.
Brian Bennett:
While I understand why Illinois' coaches want to term this as an open competition, I'd frankly be very surprised if anyone other than Lunt is the team's starting quarterback. His skill set just seems to fit Bill Cubit's offense perfectly. Bailey is an interesting case. He's too good of an athlete for the Illini to keep him off the field, and
Reilly O'Toole
is a serviceable backup. I think receiver is a natural potential landing spot for Bailey, especially given the team's need there. But prepping him now at quarterback is still a good idea, especially with Lunt's injury history.
---
@HawkFlies via Twitter writes:
Any chance there is a QB controversy in Iowa City this spring?
Brian Bennett:
I doubt it. Kirk Ferentz said he will let
C.J. Beathard
compete with
Jake Rudock
for the job, and there's no question that Iowa needs better play in general from the quarterback position. But as Ferentz also said on signing day, "C.J. still has some catching up to do. Jake has really accelerated." I find it hard to believe that Ferentz will make a switch after Rudock started all 13 games last fall, unless Beathard makes great strides this spring or Rudock really falters. And given that the Hawkeyes play things pretty close to the vest, I doubt we'll see or hear much this spring that would actually lead to any sort of controversy.
---
Jeff from Whitewater, Wis., writes:
In your opinion, is Wisconsin a possible darkhorse to make a BCS bowl? Outside of the LSU game, the toughest games the Badgers will have are at Iowa, at Northwestern and then home against Nebraska. If the receivers can be somewhat productive and secondary can eliminate some of their lapses, I think they can run away with the West.

Brian Bennett:
The Badgers are a real long shot to make a BCS bowl this fall since BCS bowls no longer exist. What you probably mean is a contract bowl. Time to adjust our college football vocabulary. Really, the goal now has to be the College Football Playoff, though realistically Wisconsin would probably have to beat LSU and then run the table or maybe lose just once to make the four-team event (and remember for this coming season, the Rose Bowl is a national semifinal). The playoff committee will also choose teams for the other four major bowls. But I get your point. Gary Andersen's team has a great schedule in 2014, though some lingering questions about the passing game and the defense must be answered. I could easily see Wisconsin winning nine or 10 games with that schedule, and the Badgers are a major West Division threat.
---
John from Brighton, Mich., writes:
I've had this argument with a friend several times. It regards the outlook of the conference over the next 10 years or so. I think projecting forward, Michigan State has overtaken Michigan as a program, and the top of the conference is going to be a battle between the Spartans and Ohio State for the next decade. Am I misguided in my view, and do you think that Michigan is going to be "back" to what it was?
Brian Bennett:
Trying to project a decade in advance might make for fun arguments with your friends, but it's nearly impossible to forecast with any level of accuracy or confidence. Boom and bust cycles are just too short. Look at where Florida State and Texas were just a few shorts years ago compared to now. Michigan State is clearly riding high right now and is in better shape than Michigan. As long as Mark Hollis and Mark Dantonio are around, I expect the Spartans to remain a major factor. But will that be the case in 10 years? Who knows? Michigan has resources that only a few programs can match. Eventually that sleeping giant will come to life, whether it's under Brady Hoke or someone else. At least I think so.
---
Corey from East Lansing, Mich., writes:
Speaking as a Spartan fan, I can't say UofM switching to a 3-4 is all that scary. My thinking is that they don't have the bodies to put three 300-pound linemen on the field together. Hoke and his staff have recruited for running a base 4-3 and have to stick with it. Mixing in the 3-4 is a nice change of pace possibly, but running it as their base doesn't seem like the answer to me. I'm more interested to see if more Big Ten teams don't start copying Pat Narduzzi's aggressive 4-3 zone schemes, especially since Urban Meyer is coming out and saying he wants to be more aggressive. What do you guys see happening in the near future?

Brian Bennett:
Some teams have borrowed bits and pieces from the Spartans' defensive scheme, but for as successful as Narduzzi has been with it, you'd expect even more copycatting. Part of the reason is that most coaches and defensive coordinators don't have the stomach (or the personnel, for that matter) for playing as much man-to-man pass coverage as Michigan State does. As Narduzzi told me in late November, "People know what we're doing, but they don't know how we do it. We're the only team in the country that does zone pressure like this. There's a risk to it if you don't know what you're doing."
Defenses in the Big Ten need to be big enough up front to take on the power run game but also have enough speed to counter the proliferating spread offenses. Whether that comes out of a 4-3 or 3-4 isn't really as important as having great athletes, a consistent philosophy and experience within the system. One of the overlooked aspects of Michigan State's success was how so many guys had learned and practiced just one position in the same system for years and years. It's often not so simple as changing a scheme and expecting a quick fix.
March, 4, 2014
Mar 4
10:40
AM CT
Spring practice kicks off at Illinois on Wednesday, and like all programs at this time of year, there is an air of optimism.
[+] Enlarge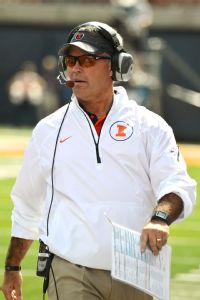 Keith Gillett/Icon SMIIt's a big year for Tim Beckman, who needs his Illinois team to show improvement this fall.
Head coach Tim Beckman said he creates goals for his team for each "quarter" of the year, which consist of winter workouts, spring practice, summer voluntary work and then the season itself. The goals for this spring include getting more physical, especially a year after Illinois fielded one of the worst rush defenses in the country, and learning how to finish.
The ultimate goal for the 2014 Illini, however, is pretty clear. Entering Beckman's third season, the program needs to show more improvement and get to a bowl game after going 2-10 and 4-8 the past two seasons.
Beckman understands that and all but promised more.
"We've got to be better," he said Monday. "We've got to win more football games. We all understand that. There's no question about that. So we're going to win more football games."
Beckman said he is not under any sort of mandate from athletic director Mike Thomas to make a bowl this season, but a disgruntled fan base may not show much more patience. Illinois had gone to back-to-back bowl games before Beckman arrived in Champaign.
"We've got to showcase that we're getting better," Beckman said. "That would be five, six [wins].
"Heck, my wife locks the door in December because she wants to be at a bowl game. ... I push myself to get our football team to a bowl game because I enjoy going to bowl games. Has anybody told me or pressured me by saying you've got to get to a bowl game? No. I'm my worst critic, so pushing myself to get to a bowl game is definitely something I want to do."
The Illini have eight home games in 2014 and should go at least 3-1 in the nonconference schedule, as Youngstown State, Western Kentucky and Texas State all come to Memorial Stadium. They will be a considerable underdog in a Week 3 trip to Washington, however, and the Big Ten schedule includes crossover games against East Division opponents Ohio State and Penn State.
Illinois must break in a new quarterback this season, but Oklahoma State transfer
Wes Lunt
is a talented option and the favorite to win the job. Beckman said Monday that he'd probably name a starter by the end of spring practice.
Beckman brought back his entire coaching staff from 2013, including embattled defensive coordinator Tim Banks. This spring is a crucial time for the defense to make as many strides forward as the offense did a season ago. And the entire team will need to make notable progress this fall or else the prospects of a Year 4 under Beckman become much dimmer.
February, 26, 2014
Feb 26
9:00
AM CT
Let's look at what to expect this spring in the Big Ten's wild, wild West:

ILLINOIS
Spring start:
March 5
Spring game:
April 12
What to watch:
Toughening up on 'D': The Fighting Illini had one of the nation's worst defenses, especially against the run. Tim Beckman brought back defensive coordinator Tim Banks and hopes an extra year of maturity can help strengthen the front seven. Juco import Joe Fotu could win a starting job this spring, and Jihad Ward should help when he arrives in the summer.
'Haase cleaning: Nathan Scheelhaase wrapped up his career by leading the Big Ten in passing yards last season. Oklahoma State transfer Wes Lunt likely takes over the reins, but backups Reilly O'Toole and Aaron Bailey plan on fighting for the job, as well. Bill Cubit's offense should equal big numbers for whoever wins out.
Target practice: Whoever wins the quarterback job needs someone to catch the ball, and Illinois' top two receivers from '13 -- Steve Hull and Miles Osei -- both are gone. Junior college arrival Geronimo Allison will be counted on for some immediate help.

IOWA
Spring start:
March 27 or 28
Spring game:
April 26
What to watch:
A new big three: The Hawkeyes begin the process of trying to replace their three standout senior linebackers from last season: James Morris, Anthony Hitchens and Christian Kirksey. They were the heart of the defense in 2013, and now guys such as Quinton Alston, Reggie Spearman and Travis Perry need to make major leaps forward in the spring.
Develop more playmakers: Iowa was able to win the games it should have won last year, but struggled against those with strong defenses because of its lack of explosiveness. Sophomore Tevaun Smith and junior Damond Powell showed flashes of their potential late in the year at wideout. They need to continue to develop to give quarterback Jake Rudock and the offense ways to stretch the field.
Solidify the right tackle spot: The offensive line should once again be the team's strength, but the departure of veteran right tackle Brett Van Sloten means someone has to take on that role. Whether that's senior Andrew Donnal or redshirt freshman Ryan Ward could be determined this spring.

MINNESOTA
Spring start:
March 4
Spring game:
April 12
What to watch:
Mitch's pitches: Philip Nelson's transfer means redshirt sophomore Mitch Leidner enters spring practice as the No. 1 quarterback. He's a load to bring down when he runs, but Leidner needs to improve his passing accuracy after completing 55 percent of his passes in the regular season and only half of his 22 attempts in the Texas Bowl game loss to Syracuse. Added experience should help. If not, he's got some talented youngsters such as Chris Streveler and Dimonic Roden-McKinzy aiming to dethrone him.
Mitch's catchers: Of course, part of the problem behind the Gophers' Big Ten-worst passing offense was a lack of threats at receiver. Drew Wolitarsky and Donovahn Jones showed promise as true freshmen and should only improve with an offseason of work. It's critical that they do, or else Minnesota might have to count on three receiver signees early.
Replacing Ra'Shede: The Gophers only lost four senior starters, but defensive tackle Ra'Shede Hageman might be the most difficult to replace. The first-team All-Big Ten selection created havoc inside defensively, and there aren't many athletes like him floating around. Scott Ekpe could take many of Hageman's reps, but the defensive line overall will have to pick up the slack.

NEBRASKA
Spring start:
March 8
Spring game:
April 12
What to watch:
Tommy's turn: Sophomore Tommy Armstrong Jr. entered the offseason as the clear No. 1 quarterback for the first time after taking over for the injured Taylor Martinez (and splitting some snaps with Ron Kellogg III) last season. Armstrong showed maturity beyond his years in 2013 but needs to continue developing as a passer and deepen his understanding of the offense. Redshirt freshman Johnny Stanton could push him in the spring.
Get the OL up to speed: Nebraska loses a lot of experience on the offensive line, including both starting tackles (Jeremiah Sirles and Brent Qvale), plus interior mainstays Spencer Long, Andrew Rodriguez and Cole Pensick. The Huskers do return seniors Mark Pelini, Jake Cotton and Mike Moudy, junior Zach Sterup, plus three freshmen and a junior-college transfer who redshirted last year. A strong group of incoming freshmen may also contribute. Big Red usually figures it out on the O-line, but there will be a lot of players in new roles this season.
Reload in the secondary: The Blackshirts have plenty of experience in the front seven, but the defensive backfield has a new coach (Charlton Warren) and will be without top playmakers Stanley Jean-Baptiste and Ciante Evans. The safety spot next to Corey Cooper was a problem area last season, and the Huskers are hoping Charles Jackson takes a major step forward. Warren has talent to work with but must find the right combination.

NORTHWESTERN
Spring start:
Feb. 26
Spring game:
April 12
What to watch:
Trevor's time?: Trevor Siemian split reps with Kain Colter at quarterback the past two seasons, serving as sort of the designated passer. Siemian threw for 414 yards in the season finale against Illinois and has a clear path toward starting with Colter gone. That could mean more of a pass-first offense than Northwestern ran with Colter. Redshirt freshman and heralded recruit Matt Alviti also looms as an option.
Manning the middle: Northwestern brings back a solid corps on defense but lost middle linebacker Damien Proby, who led the team in tackles the past two seasons. Pat Fitzgerald has some options, including making backups Drew Smith or Jaylen Prater a starter or moving Collin Ellis inside. He can experiment and find the best match this spring.
Patch it together: The Wildcats' health woes from 2013 aren't over, as 11 players will be held out of practice for medical reasons, including star running back/returner Venric Mark. Add in that the school doesn't have early enrollees, and the team will be trying to practice severely undermanned this spring. The biggest key is to get through spring without any more major problems and to get the injured guys healthy for the fall.

PURDUE
Spring start:
March 6
Spring game:
April 12
What to watch:
Moving forward: Purdue players wore T-shirts emblazoned with the word "Forward" during winter workouts, and no wonder. They don't want to look backward to last year's abysmal 1-11 season. It's time to turn the page and get some positive momentum going in Year 2 under Darrell Hazell. Luckily, optimism abounds in spring.
Trench focus: The Boilermakers simply couldn't cut it on the lines in Big Ten play, and Hazell went about trying to sign bigger offensive linemen this offseason for his physical style of play. Both starting tackles and three starting defensive linemen all graduated, and no one should feel safe about his job after last season's performance. Kentucky transfer Langston Newton (defense) and early enrollee Kirk Barron (offense) could push for playing time on the lines.
Find an identity: What was Purdue good at last season? Not much, as the team ranked near the bottom of the country in just about every major statistical category. The Boilers found some good things late in the passing game with freshmen Danny Etling and DeAngelo Yancey, but Hazell must do a better job instilling the toughness he wants and locating playmakers.

WISCONSIN
Spring start:
March 7
Spring game:
April 12
What to watch:
Catching on: The biggest concern heading into the spring is at receiver after the team's only dependable wideout the past two seasons, Jared Abbrederis, graduated. Tight end Jacob Pedersen, who was second on the team in receiving yards last season, is also gone. The Badgers have struggled to develop new weapons in the passing game but now have no choice. Gary Andersen signed five receivers in the 2014 class but none enrolled early, so guys such as Jeff Duckworth, Kenzel Doe and Robert Wheelwright need to take charge this spring.
Stave-ing off the competition?: Joel Stave started all 13 games at quarterback last year, while no one else on the roster has any real experience under center. Yet the redshirt junior should face some competition this spring after the Badgers' passing game struggled down the stretch. Andersen likes more mobile quarterbacks and has three guys in Bart Houston, Tanner McEvoy and freshman early enrollee D.J. Gillins, who can offer that skill. Stave must hold them off to keep his job.
New leaders on defense: Wisconsin lost a large group of seniors, including nine major contributors on the defensive side. That includes inside linebacker and team leader Chris Borland, plus defensive linemen Beau Allen and Ethan Hemer, outside linebacker Brendan Kelly and safety Dezmen Southward. That's a whole lot of leadership and production to replace, and the process begins in earnest this spring.
February, 25, 2014
Feb 25
9:00
AM CT
Spring football kicks off earlier than normal in the Big Ten, as Michigan takes the field Tuesday, Northwestern follows Wednesday and eight other squads begin their sessions by March 8.
The accelerated schedules seem appropriate in a league filled with players, coaches and teams itching for fresh starts.
New assistants get their first chance to repair struggling units, whether it's Doug Nussmeier with Michigan's offense, Brian Knorr with Indiana's defense or Chris Ash and Larry Johnson with a once-feared Ohio State defense. Quarterback competitions begin or resume at nine places, as new faces such as Illinois'
Wes Lunt
, Nebraska's
Johnny Stanton
and Minnesota's
Chris Streveler
enter the mix, while veterans like Wisconsin's
Joel Stave
and Michigan's
Devin Gardner
try to retain their starting jobs.
Happy Valley continues to buzz about new Penn State coach James Franklin, who seems to galvanize everyone whom he encounters. But Franklin barely has been around his new players and finally begins the real work with a team facing very real challenges.
[+] Enlarge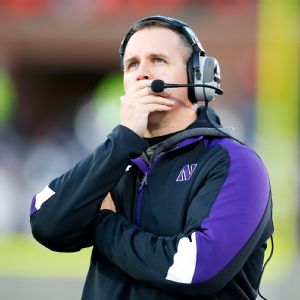 AP Photo/Jeff HaynesNorthwestern coach Pat Fitzgerald hopes his team can start a rebound from a disappointing, injury-riddled 2013 season.
Spring also allows teams such as Northwestern, Michigan, Purdue and Indiana to look forward after disappointing seasons. Michigan State, meanwhile, continues to bask in the Rose Bowl glow but looks toward its next goal -- a national championship -- as spring ball kicks off March 25.
"It's big-picture stuff, building relationships with the players and everyone associated with the program," Franklin told ESPN.com. "The other thing is laying a really good foundation with the philosophies and schemes of how we're going to do things. That's going to happen naturally over time, but I'm not the most patient person. I wish it would have happened yesterday."
Franklin doesn't water down his goals for Penn State, especially in recruiting, but he's also realistic about the challenges of a reduced roster. The Nittany Lions return strong pieces such as quarterback
Christian Hackenberg
and defensive back
Adrian Amos
,
but the two-deep has some holes that Franklin and his assistants must address, while installing new schemes.
"It's one thing when you get put in this situation in the first place with limited scholarships," Franklin said, "but the longer you're in it, the more effect it has. We've got some depth issues, there's no doubt about it, across the board. We're going to have to get creative."
Northwestern also is focused on depth after being hit hard by key injuries in 2013. Pat Fitzgerald blames himself and his staff for failing to get enough second-stringers ready, which proved costly in close Big Ten losses.
After their first bowl-less winter in six years, the Wildcats responded well in the weight room, as more than 50 players recorded personal bests. Although 11 players will miss spring practice, including standout running back/returner Venric Mark, the depth should be better in areas like the secondary.
"We're really emphasizing taking ownership of the finish," Fitzgerald said. "Finishing your technique, finishing the call, finishing the route. There's a lot of disappointment in the way the program didn't take the next step forward."
Michigan coach Brady Hoke
restructured the roles of his defensive assistants
for 2014, but the Wolverines' offense will be in the spotlight this spring after a wildly inconsistent season. Gardner, who continues to recover from a foot injury and likely won't be 100 percent until midway through the spring, will compete with
Shane Morris
,
Russell Bellomy
and midyear enrollee
Wilton Speight
.
But other positions, such as offensive line, figure to be just as important as Michigan tries to achieve Hoke and Nussmeier's vision.
"We had good intentions as far as what we wanted our identity to be, but obviously I don't think it came out the way we'd like it to," Hoke said. "The quarterback position is as important as any, and we have a guy [Gardner] who is very talented and had some really good games and games where we had to protect him better, have a better run game and take pressure off of him, and I don't think we did."
While Michigan turns the page on offense, Ohio State focuses on a defense that allowed 115 points in its last three games and finished 110th nationally in pass yards allowed (268 YPG). The Buckeyes lost top defenders
Ryan Shazier
and
Bradley Roby
, but they also added two accomplished assistants.
Johnson, who churned out NFL linemen during 18 years at Penn State, chose Ohio State instead of remaining in State College. Ash leaves a sole coordinator role at Arkansas for a co-coordinator role at Ohio State, where he'll work with the embattled Luke Fickell and others to mend the defense through a simplified scheme.
"Back in the day when Ohio State played great defense, you knew what you were going to get," Ash said. "They
played with swagger, played with confidence, played with toughness. We have to get back to that. The simplicity of the things we're going to do will lead to faster players, more plays made and a more aggressive defense.
"I wasn't here [in 2013], but I can tell you what Coach Meyer has told me, what Luke Fickell has told me and what I watch on film. I can see there's some hesitation, there's some uncertainty. Why that is, I don't know. But it's my job to get it fixed."
Purdue has plenty to fix after a 1-11 season, and players not surprisingly are
wearing T-shirts with the word "FORWARD" on the backs
. Maryland and Rutgers move forward to a new conference after an offseason that saw several staff changes, including new coordinators at Rutgers (Ralph Friedgen, Joe Rossi).
There's a fresh start of sorts at Wisconsin, as a large and decorated senior class departs. Coach Gary Andersen's markings will be more obvious with his second team, which begins practice March 7.
Wisconsin is just one of many places where the top quarterback job is at stake. Lunt, who sat out last season after transferring from Oklahoma State, competes with
Reilly O'Toole
and
Aaron Bailey
at Illinois.
"Competition's competition, no matter where it's at," said Lunt, who has added about 15 pounds since his arrival and checks in at 225. "It's different because it's different people, different coaches, but I'm excited for it."
He's not alone in the Big Ten. Spring ball can't start soon enough.
November, 24, 2013
11/24/13
10:00
AM CT
Five lessons from the week that was in Big Ten football:
[+] Enlarge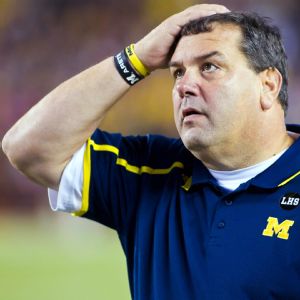 AP Photo/Tony DingBrady Hoke's team suffered another tough loss Saturday against Iowa.
1. The Big Ten title game will tell a lot about both participants:
The desired matchup is set for the league championship game, as Ohio State and Michigan State will meet Dec. 7 in Indianapolis. But what do we know about both teams? Both have made strides during Big Ten play, particularly Michigan State, which doesn't resemble the team we saw in September. Both have excellent offensive backfield tandems in Ohio State's
Braxton Miller
and
Carlos Hyde
, and Michigan State's
Connor Cook
and
Jeremy Langford
. Yet there are still some questions to be answered about both squads, as the respective schedules have provided few significant tests. Ohio State's best win remains a seven-point home decision against Wisconsin, while Michigan State has some decent wins (Nebraska, Iowa, Michigan) but nothing special. There are so many compelling storylines about this game, but perhaps the best is that both teams will be facing their biggest test of the season. Can the game kick off already?
2. Hoke, Fitzgerald and Wilson deserve some heat:
Michigan, Northwestern and Indiana all entered the season with high expectations, and for good reason. The Wolverines and Wildcats both were in the mix for the Legends Division title, and Indiana had a schedule with eight home games, just needing to win six for its first postseason appearance since 2007. But all three programs have significantly underachieved, and all three coaches should feel some heat. Hoke's team completely lacks an identity on offense. Michigan couldn't beat Iowa despite a 21-7 halftime lead and a plus-3 turnover margin. Northwestern outplayed Michigan State for much of the first half but Coach Fitz continued to look like Scaredy Pat, twice punting in Spartans territory. Michigan State's first three touchdowns all came after Northwestern punts in plus territory. The Wildcats, enduring their longest losing streak since 1998, also failed to score a touchdown. Indiana had the most explosive offense of the three, thanks to Wilson's fast-paced scheme. But the Hoosiers once again were grounded in a blowout loss at Ohio State. Northwestern and Indiana are assured of no bowl trip, and while Michigan will be playing in the postseason, the future looks murky in Ann Arbor. All three coaches have some soul searching to do.
3. The Big Ten's BCS at-large hopes are looking better:
Rich Rodriguez might not have fond memories of his time in the Big Ten, but he provided a big assist for the league Saturday, when his
Arizona Wildcats
upset Oregon to hand the Ducks their second loss. The Pac-12 can keep talking about its parity and cannibalistic nature all it wants, but it won't be sending two teams to BCS bowls, as every league squad has at least two losses. Tough tacos, Pac-12. The Big Ten, meanwhile, is in better shape for multiple BCS entries if its contenders can qualify. Michigan State coach Mark Dantonio said his team is playing for a BCS bowl next week against Minnesota, confident the Spartans will remain in the top 14 of the final standings even if they lose in Indy. Wisconsin, meanwhile, strengthened its case for at-large selection with a road win against Minnesota. The Badgers still need to climb into the top 14 but should end the season on a seven-game win streak. A Clemson loss this week against South Carolina would help the Big Ten even more.
4. Iowa-Nebraska is worth watching:
The Heroes Game hasn't lived up to its name the first two years, as Iowa and Nebraska have played two relative snoozers on Black Friday. This week's contest has some more intrigue as both squads come in with some momentum following mini turnarounds. Nebraska has won three of its last four, beginning with the Hail Mary triumph against Northwestern, and still could finish at 9-3. Will that be enough to keep coach Bo Pelini around for another year? We'll soon find out. Iowa also has won three of four following its come-from-behind victory against Michigan. An 8-4 regular-season record with a win against a supposed rival would look pretty good for an improved Hawkeyes squad. The division races are wrapped up and the Ohio State-Michigan game could turn into a blowout, so Iowa-Nebraska might be the best contest of rivalry weekend.
5. Tim Beckman should get another year at Illinois:
Had Beckman's Illini lost at Purdue on Saturday, their Big Ten losing streak would have reached 21 games with no real end in sight. And that might have been enough to justify dumping Beckman after just two years in Champaign. The Illini didn't exactly dominate the lowly Boilers -- they needed a defensive stop late to preserve a 20-16 victory -- but at least the team finally got it done. Perhaps now that the albatross has been lifted, the program can move forward. The Illini host Northwestern in next week's finale, and given the state of the Wildcats right now, it's not inconceivable that Illinois could start a Big Ten winning streak. Regardless, Illinois has made progress, however incremental, in doubling its win total over last year, and the offense has made obvious strides. Beckman should be given another season to try to right the ship on defense and continue the offensive fireworks with likely new starting quarterback
Wes Lunt
.
June, 17, 2013
6/17/13
2:46
PM CT
Illinois coach Tim Beckman finally got his man as former Oklahoma State
Wes Lunt
has
decided to transfer to the Illini
, colleague Joe Schad is reporting.
Lunt, who passed for 1,108 yards with six touchdowns and seven interceptions as a freshman at Oklahoma State, picked Illinois ahead of Sugar Bowl champion Louisville. He'll sit out the 2013 season and have three seasons of eligibility left with the Illini.
Although Lunt is a Rochester, Ill., native, his transfer choice is sure to raise some eyebrows given the seemingly opposite trajectories of Illinois and Louisville. Some are already wondering whether Beckman will have an opportunity to coach Lunt in 2014. Beckman faced heavy criticism during a disastrous first season as Illini coach, and there was some talk Illinois would part ways with the coach following the 2-10 clunker.
[+] Enlarge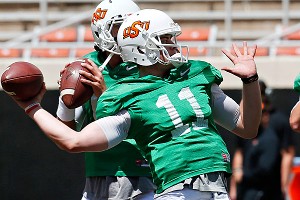 AP Photo/Sue OgrockiWes Lunt threw for 1,108 yards and six touchdowns last season.
Lunt's transfer is undoubtedly a big boost for Beckman and creates some optimism/goodwill among Illini fans. Will it cool off Beckman's seat and help his chances of a third season in Champaign? We debate it.
Adam Rittenberg
There's no denying Beckman needed some good news after nothing went right in Year 1. Illinois made a very strong push for Lunt, reportedly having former Illini quarterback Jeff George, who transferred to the school from Purdue,
meet Lunt during his visit to Champaign
. This is a big victory for Beckman, who landed Lunt despite all of his problems last season and a surging competitor in Louisville. How big? There's a better chance you'll see Beckman on the Illini sideline in 2014 with Lunt potentially calling signals.
Lunt wouldn't have made this decision if he thought Illinois would fire Beckman after just two seasons at the helm. He's taking a bit of a gamble as another 2-10 season -- or worse -- could spell the end for Beckman. But Illinois doesn't want to make another change in a program that has seen too much of it in recent years, and athletic director Mike Thomas certainly doesn't want to dump the guy he hired after only two seasons. What does that say to the next group of candidates? Illinois must show some improvement under Beckman in Year 2, which quite frankly won't be hard. Just take a step this season. The team has a clear offensive vision under new coordinator Bill Cubit that attracted Lunt. A few more wins and a sliver of hope for the future -- along with Lunt waiting in the wings -- should be enough to earn Beckman a third season.
Brian Bennett
The Lunt transfer is some rare good news and a much-needed off-the-field victory for Beckman, who can use any positive momentum after last year's disaster. But how much impact this move will have on Beckman's future is questionable at best, in my view.
Though Lunt and his family clearly must have checked in with Thomas and the Illini administration on their commitment to Beckman before deciding to come to Champaign, spring-time assurances of job security are worth about as much as a Hasheem Thabeet rookie card. I firmly believe that Thomas will give Beckman every chance to succeed and that he has no desire to dump his first major coaching hire at Illinois after just two seasons. But I also believe that if the Illini limp into November with only one or two wins and the Memorial Stadium stands are empty, then Thomas will be worried about the impact on his athletic department's bottom line, not some promise to or the promise of a transfer quarterback waiting in the wings.
Besides, do we even know if Lunt is worth all this hype? His numbers last year at Oklahoma State weren't great, and while he deserves credit for playing as a true freshman, the Cowboys' system usually makes stars out of its signal-callers. There's no guarantee that Lunt is better than Aaron Bailey, who was considered one of the jewels of Beckman's 2013 signing class.
Landing Lunt helps Illinois' depth and sends a signal that Beckman can still attract top talent. Ultimately, whether Beckman is still around to coach Lunt in 2014 depends on whether the Illini can show even modest improvement in 2013.
June, 17, 2013
6/17/13
12:42
PM CT
Wes Lunt
has finally decided on a new home.
He's transferring to Illinois
, a source told colleagues Joe Schad and Brett McMurphy.
Lunt, who grew up an Illini fan, believes the spread offense operated by offensive coordinator Bill Cubit would be a good fit.

Lunt also has a relationship with coach Tim Beckman and could potentially succeed as a senior starter and help turn around a program in front of his home-state fans.
Lunt heading back to the flagship school of his home state was mostly predictable all along (I
called this one in print on May 17
), and it's probably the best move for him after he decided to leave Oklahoma State. Homesickness had to play a big role in his decision to leave.
From purely a football perspective, his
decision to transfer made no sense
. Still, people far too often forget that the guys in helmets every Saturday in the fall are human, and if you don't enjoy the other 352 days a year when you're not playing football, it's hard to stay somewhere if you're happy just for those precious 13.
He won't win as much at Illinois as he would have in Stillwater in the next three years, but he's still got a path to the NFL and he'll probably enjoy his day-to-day life a little better, too. That's nothing against Oklahoma State -- it's mostly just a "different strokes for different folks" type of situation.
Lunt's exit and coach Mike Gundy's decision to limit him from nearly 40 schools
drew criticism
from plenty of folks (
rival coach Bob Stoops
was the only notable person I heard come out in support of the decision), but Lunt landing back close to home to help rebuild a program he loves likely won't draw any complaints from the Lunt camp.
Good spot for him. He'll have to sit out 2013, but will have three years of eligibility remaining. That's a lot of time to rewrite a legacy for a player who showed he's got a whole lot of talent, even in an abbreviated season in Stillwater.
June, 17, 2013
6/17/13
12:35
PM CT
Former Oklahoma State quarterback
Wes Lunt
has decided to transfer to Illinois, a source said Monday, after considering his options for more than a month.
Read the entire story
.
May, 20, 2013
5/20/13
9:00
AM CT
Oklahoma State coach Mike Gundy's decision to prohibit quarterback Wes Lunt
from transferring to the SEC, the Big 12 or Southern Miss
is being
justifiably panned
.
It's petty and hypocritical for coaches, many of whom flirt with other jobs, to restrict players from pursuing their careers at their desired programs. That Tennessee is on Gundy's no-go list -- the same Tennessee that
nearly pried Gundy away from his alma mater in December
-- underscores the hypocrisy. The Pac-12 and Central Michigan, a future Oklahoma State opponent, also
reportedly are off the table for Lunt
.
But all of this is good news for Illinois.
Now that potential transfer targets Tennessee, Vanderbilt and Southern Miss are off the table, Lunt likely will decide between Illinois and Louisville. Lunt, a native of Rochester, Ill., wants to play somewhat close to home. Illinois' campus is about 90 minutes from Rochester, while Louisville is approximately a two-and-a-half hour drive.
Lunt started five games for Oklahoma State as a true freshman, passing for 1,108 yards with six touchdowns and seven interceptions. He competed this spring with
Clint Chelf
and
J.W. Walsh
for the top job but opted to transfer after Chelf emerged as the Cowboys' No. 1 option.
The 6-foot-4, 211-pound Lunt wants to play for a coach he knows, and he has familiarity with Illini head coach Tim Beckman, a former Oklahoma State assistant under Gundy. New Illinois offensive coordinator Bill Cubit also pursued Lunt while Cubit was Western Michigan's head coach. Lunt, who will sit out the 2013 season because of NCAA transfer rules,
reportedly visited Illinois on Thursday
.
Louisville looks like the more stable option for Lunt as the Cardinals come off of a Sugar Bowl championship and awarded coach Charlie Strong a long-term contract. But Lunt wants to play and could see the field earlier at Illinois, which loses three-year starter
Nathan Scheelhaase
after the 2013 season. Although Louisville star quarterback
Teddy Bridgewater
could depart for the NFL after his junior year, the Cardinals have
Will Gardner
, who picked Louisville over Alabama, ready to step in. Junior
Reilly O'Toole
and incoming freshman Aaron Bailey are expected to compete for Illinois' starting job in 2014.
Beckman needs some good news before the 2013 campaign. His team undoubtedly will need to show immediate improvement this fall, but adding a piece like Lunt would raise optimism for the future.
TOP 25 SCOREBOARD
Saturday, 12/21
Monday, 12/23
Tuesday, 12/24
Thursday, 12/26
Friday, 12/27
Saturday, 12/28
Monday, 12/30
Tuesday, 12/31
Wednesday, 1/1
Thursday, 1/2
Friday, 1/3
Saturday, 1/4
Sunday, 1/5
Monday, 1/6
TOP PERFORMERS