Chicago Colleges:

Western Michigan
April, 24, 2013
4/24/13
1:39
PM CT
Freshman forward
Darius Paul
, the younger brother of Illinois senior guard
Brandon Paul
, is leaving Western Michigan after one season and is looking to transfer to a high-major program, Paul's mother said on Wednesday.
Darius, a 6-foot-8, 220-pound forward, was the MAC Freshman of the Year and averaged 10.4 points and 5.7 rebounds last season. He had four double-doubles, including ones against Michigan and North Carolina State.
September, 24, 2011
9/24/11
9:18
PM CT
CHAMPAIGN, Ill. –
Illinois
coach Ron Zook entered his locker room Saturday following the Illini's 23-20 win over
Western Michigan
and was surprised at what he found.
The room was quiet.
Zook didn't expect his players to be celebrating like they did the previous week after beating previously-ranked
Arizona State
, but he certainly didn't think the Illini would be treating their narrow win as a failure.
[+] Enlarge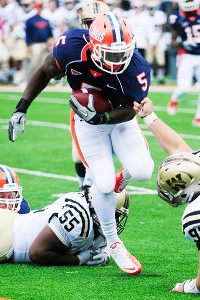 Reid Compton/US PreswireIllinois' Donovonn Young rushed for 100 yards and a touchdown on Saturday.
As Zook explained to them, a win is a win.
"When things are all said and done, people aren't going to remember how we played," Zook said. "They'll remember we're 4-0."
It's true. Back in 2007, Illinois had a similarly difficult game against another MAC foe. The Illini only led
Ball State
by four points entering the fourth quarter before pulling out a 28-17 victory.
If Illinois had lost that game, everyone would easily recall it. Today, it's nothing more than another win that led to a Rose Bowl berth.
Illinois quarterback
Nathan Scheelhaase
hopes those parallels continue.
"We had to scrap out the win," said Scheelhaase, who threw for 133 yards and a touchdown. "They say you need that. Every team who has a great season, at the end, you look back and they have one of those games and found a way to win. It's good to do that."
Not everything was good Saturday. Illinois' offense, especially its run game, struggled in the first half, and Western Michigan was able to pick apart the Illini's secondary at times. Western Michigan quarterback
Alex Carder
accumulated 306 yards passing, and the game could have gone the other way if the Broncos hadn't missed two field goals.
But one positive Illinois will take from the game was despite trailing 13-10 at halftime, the Illini persevered and didn't repeat history. In 2008, Western Michigan led at halftime, and Illinois never recovered.
"I want to tell you something, and I know a lot of people may not agree with this, obviously you guys know more than me, but sometimes you got to go through games like that," Zook said. "There's a lot of teams in the country who would have folded. They had the momentum. We were down by three."
Even a year ago, Illinois likely would have lost Saturday. It went 0-3 in games decide by four points or less in 2010. It's already 2-0 in that same category this season.
Scheelhasse believes there's a reason for that difference.
"It's just a different vibe," Scheelhaase said. "You could feel it through Rantoul. You could feel it as we got up to the season. It's a different mentality. It's exciting. Instead of people getting down on each other, people getting down when things aren't going well, it's almost as if we like when the pressure is on.
"We like being challenged, and we believe in ourselves. That's the thing about it. We have a strong belief in the 100 guys or so in the locker room and the coaches that are coaching us. When we have that strong belief, the sky is the limit."
September, 24, 2011
9/24/11
6:25
PM CT
CHAMPAIGN, Ill. -- Here's a quick look at No. 24
Illinois'
23-20 win over
Western Michigan
on Saturday.


How it happened:
Illinois found a way in the second half to escape another Western Michigan upset. It was three years ago that the Broncos knocked off the Illini in Detroit. Trailing 13-10 at halftime on Saturday, Illinois rallied with a 14-yard touchdown run by freshman
Donovonn Young
and two Derek Dimke field goals to pull out the win. Dimke connected on a 21-yard field goal with 8:14 left for the game-winning points. The Illini's defense held strong from there, coming through again after leading the way in last week's 17-14 win over
Arizona State
. Western Michigan was held to seven points in the second half.
What it means:
This was a game that scared Illinois, and Western Michigan proved those fears to be justified. While it wasn't pretty, Illinois survived another close contest and remained undefeated. Illinois is now 4-0 for the first time since 1951, which also happens to be the last year it claimed a national championship.
Outside the box:
Illinois' early schedule was nicely set up for it to be undefeated. The Illini have opened the season with four home games and still have one more to go.
What's next:
Illinois opens its Big Ten schedule with in-state rival
Northwestern
next week. The Illini's offense went wild in a 48-27 win over Northwestern at Wrigley Field last season. Northwestern had this week off and is hoping to return all-conference quarterback
Dan Persa
next week.
September, 20, 2011
9/20/11
8:58
PM CT
CHAMPAIGN, Ill. -- Illinois earned the right to celebrate for one night after beating its first ranked opponent in 10 tries with Saturday's win over Arizona State.
Illinois senior Jack Cornell just wanted to make sure it wasn't going to be a week-long party. Shortly after returning to the locker room following Saturday's victory, Cornell got up in his front of his teammates and reminded them their next opponent, Western Michigan, isn't one to overlook. It was the same program which upset the Illini when Cornell was a freshman in 2008.
"A lot of the guys in our locker room weren't here a couple years ago," Cornell said on Tuesday. "I just tried to take it upon myself to step up and remind them that this team can beat us, and we need to come out here every day and work hard and not take this team lightly."
Illinois faced Western Michigan at Ford Field in Detroit for its 10th game of the 2008 season. The Illini allowed the Broncos 17 points in the second quarter and never found a way back into the game. Illinois converted 1-of-13 third downs and ended up losing 23-17.
"Trust me when I say this, we all know what happened two years ago," Illinois coach Ron Zook said. "Our football team knows what happened two years ago."
The details of the loss escaped most of Illinois' seniors three years later, but they recalled the general tone of the game.
"I just remember us not showing up to play," Cornell said. "Really not having a lot of fire, and we kind of gave up."
The defeat sent the Illini into a downward spiral. Leading up to the game, Illinois was in position to get back to a bowl game. With the loss to Western Michigan, the Illini fell to .500 and the dropped their next two games to Ohio State and Northwestern to finish 5-7 on the season.
"It kind of stopped us from going to a bowl game," Illinois senior wide receiver
A.J. Jenkins
said.
Illinois won only three games the following season and had to wait until 2010 to finally return to a bowl game.
Now in 2011, Illinois' senior class is at its height. The Illini's win Saturday was their first over a ranked opponent since November of 2010, and they made an appearance Sunday in the AP rankings for the first time since September of 2008. And they're 3-0, which hasn't happened since 2001 and now have a shot at going 4-0 for the first time since the national championship season in 1951.
"My class, we went to one bowl game," Jenkins said. "We're not satisfied. Obviously, we have to keep doing what we're doing. We're in a good position right now to go 6, 7, 8-0 right now. But right now, we have to focus on this game coming up."
Western Michigan is 2-1 and coming off a 44-14 win over its rival Central Michigan. Western Michigan is led by quarterback
Alex Carder
and wide receiver
Jordan White
, who has 29 receptions and 363 yards on the season.
"Our kids are going to have to really rise to the challenge," Western Michigan coach Bill Cubit said. "You've only got 12 opportunities to go play. We've always done this as a football team at Western and continue doing it. I think they're challenges. We've got good players, too.
"I heard one reporter in the conference call mention the last loss was embarrassing to him. So, our kids will go down there and try to win the football game. There's no other way to do it."
February, 15, 2011
2/15/11
9:26
PM CT
DEKALB, Ill. – Here's a quick look at
Western Michigan
's 77-65 win over
Northern Illinois
on Tuesday.


How the game was lost:
It was a night Northern Illinois senior guard
Xavier Silas
will want to forget. After entering the game as the nation's No. 2 scorer at 24.2 points per game, Silas was held to a season-low seven points. He shot 1 of 8 from the field in the opening half and finished 3 of 11. He also shot 1 of 4 from the free-throw line and fouled out with 6:01 left in the game. Without Silas' production, Northern Illinois had no chance against Western Michigan. The Broncos led by double digits for nearly the entire second half.
Stat of the game:
Western Michigan outrebounded Northern Illinois 46-32 overall and 15-8 on the offensive glass.
Turning point:
With the game tied at 24-24 in the first half, Western Michigan went on a 12-0 run to pull away from the Huskies. Western Michigan's
Demetrius Ward
scored 12 points in the half's final 4:22.
Player of the game:
Western Michigan point guard
Mike Douglas
had his best game of season. He nearly went for a triple double, scoring 16 points, grabbing six rebounds and dishing out seven assists. He added two steals.
Northern Illinois player of the game:
Junior
DeMarcus Grady
gave the home crowd something to cheer about during the second half when he scored eight consecutive points. He scored all 10 of his points in the second half.
What the game means:
Northern Illinois continued its struggles. It was the Huskies' worst home conference loss of the season, and they fell to 7-17 overall and 3-9 in the MAC. There have been whispers that this could be Northern Illinois coach Ricardo Patton's final season. Patton has one more season on his deal and would need to be bought out. The Huskies are 33-79 in Patton's four seasons.
October, 14, 2010
10/14/10
9:25
PM CT
By
Wes Morgan
| ESPNChicago.com
KALAMAZOO, Mich. -- If you're a Notre Dame fan, this weekend's game against Western Michigan probably won't raise your blood pressure much. The heavily-favored Fighting Irish should have little trouble climbing to 4-3. The payout for WMU (2-3) will more than cover travel costs and coach Bill Cubit's annual salary in the process.
But there's plenty of excitement just 75 miles to the north of South Bend as Western makes its first trip to Notre Dame since 1920. The two programs clashed that year and also in 1919. The Irish beat the Broncos by a collective score of 94-0.
Known more for the Kalamazoo Promise, a program backed by anonymous donors that provides free college education to all of the city's public school students, as well as being the home of Bell's Brewery, Kalamazoo also has some interesting ties to Irish football.
Johnny Lujack, a quarterback who guided Notre Dame to national titles in 1946 and '47, earned the Heisman Trophy as a senior before going on to play for the Chicago Bears. But his great-nephew truly carried on the family name at QB.
There's a reason few people knew Brandon Luczak, who holds nearly every passing record at Kalamazoo College, a Division III program that plays in the Michigan Intercollegiate Athletic Association, had such a famous bloodline.
"There are a couple of stories about why [Johnny's] last name was spelled differently," said Luczak, who graduated from K-College in 2009 with 6,884 career yards and 58 touchdowns. "I've heard that the hospital where he was born burned down, his records were lost and his name was misspelled. I also heard he changed it so announcers would pronounce his name correctly."
The Hornets had little team success in Luczak's four years on campus, but MIAA announcers had plenty of opportunities to practice pronouncing his name. The Rochester Hills native ranks first at Kalamazoo in pass attempts (1,058) and completions (613). The 5-foot-11, 245-pounder put up Denard Robinson-like numbers as a senior last fall, accounting for 524 total yards against Bluffton (Ind.) and 498 versus Hope -- the top two performances in school history.
K-College played Notre Dame seven times from 1893 to 1923, never scoring a point against the Irish. The closest contest was in 1919, a 14-0 ND victory.
Just down the road at Kalamazoo Hackett Catholic Central High School is a freshman offensive linemen also with legendary Irish blood running through his veins. Danny Stuhldreher, the great-great-nephew of Harry Stuhldreher -- on of the famed Four Horsemen -- is plugging away for a struggling varsity squad that's won just two games this season. The Hackett Fighting Irish square off against Kalamazoo Valley Association foe Galesburg-Augusta Friday, a team that's 0-7. Stuhldreher, who also plays defensive end, hopes to keep his seven-game sack streak alive.
Then he plans to travel to South Bend Saturday to root his beloved Notre Dame to victory over the hometown Broncos.
"People always ask me about [my name]," the 6-2, 180-pounder said. "Some people don't believe me, but once I tell them all about Harry, and I know everything, they do. My grandpa and a couple of my uncles went to Notre Dame, too. But only Harry played football. I hoping to be the next one. That's my biggest dream right now."
October, 11, 2010
10/11/10
11:07
PM CT
By
Wes Morgan
| ESPNChicago.com
KALAMAZOO, Mich. -- A number of Western Michigan football players filed out of Waldo Stadium on Monday night whistling the "Notre Dame Victory March." It was one of several Fighting Irish tracks that bounced around the empty stands on a loop throughout the hour-long practice session, becoming lodged between their ears.
Considering it's the first time WMU coach Bill Cubit's done that since the Broncos geared up to play Florida State in 2006, it's clear how big Saturday's game is for his program.
Ironically, Cubit blasted a Seminoles soundtrack all those years ago because his team needed a lift before leaving for Tallahassee on the heels of a dismal loss to a Brian Kelly-led Central Michigan squad.
[+] Enlarge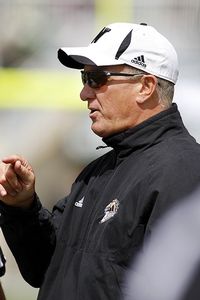 AP Photo/Al GoldisWestern Michigan coach Bill Cubit is no stranger to tough nonconference games, or Irish coach Brian Kelly.
At first, Cubit downplayed the music selection.
"No, it's the noise factor," he said. "That's why we play music and to get guys back on track," he said. "It was a great win for us this past week [against Ball State]. But I don't want these kids to think they've arrived. ... OK, we're playing a great, great football team this week with great tradition. I just want to make sure our kids know, 'Hey, this is who you're playing now. You better ratchet it up because it's going to be hard.'"
But difficult non-conference schedules are nothing new for Western Michigan.
In 2006, Western dropped a 39-21 decision at Indiana but rebounded two weeks later with a 17-10 victory against Virginia. In the second-to-last game of the year, WMU nearly scored a touchdown in the final seconds at Florida State, but a holding call negated the score and the Seminoles slipped away with a 28-20 win in Tallahassee.
In 2007, the Broncos' first three games of the year featured No. 3 West Virginia, Indiana and No. 25 Missouri. Despite an 0-3 start that season, the Broncos finished 5-7, including a 28-19 victory over Iowa on November 17.
In 2008, Western Michigan knocked off Illinois to finish 9-3 and earn a Texas Bowl berth. It's been tough sledding since then, with lopsided losses at Michigan and Michigan State in 2009 and a mistake-filled opener this fall in East Lansing.
That hasn't changed Cubit's position on gladly playing the role of underdog.
"If you're going to do this for a living, you want to go play the best," he said.
Of course, Kelly will be pacing the opposite sideline again.
"It's really funny," Cubit said. "I was giving out the Assistant Coach of the Year award for the American Football Coaches Association and I walked down and I [say to Kelly], 'You know, every time you take another job, you're always on our schedule.' He kind of laughed and said, 'Yeah, we've already been preparing for you guys.' "
Central Michigan's win over the Broncos in 2006 gave it a MAC West Division title and then Kelly was lured to Cincinnati just a few weeks before the Bearcats' International Bowl appearance against, yep, Western Michigan.
Kelly won that one, too, after a Broncos' field-goal attempt to tie the game missed in the closing seconds.
Broncos quarterback
Alex Carder
doesn't care about all that history. He wasn't around then. But he made no effort to mask his enthusiasm about this weekend's 75-mile trip to South Bend.
"I don't think there's any reason to play it down at all," the self-assured sophomore said. "There's a lot to be excited about, because I think if we are, you know, that's how much more we care about it and how much more effort we're willing to put into it. I really don't have a problem with being excited to play Notre Dame."
TOP 25 SCOREBOARD
Saturday, 12/20
Monday, 12/22
Tuesday, 12/23
Wednesday, 12/24
Friday, 12/26
Saturday, 12/27
Monday, 12/29
Tuesday, 12/30
Wednesday, 12/31
Thursday, 1/1
Friday, 1/2
Saturday, 1/3
Sunday, 1/4
Monday, 1/12