Chicago Colleges:

Whitney Young
May, 29, 2013
5/29/13
3:52
PM CT
Chicago Whitney Young High School center Jahlil Okafor, ESPN's No. 1-ranked junior, announced Wednesday a list of eight schools he's still considering in his recruitment.
Read the entire story.
December, 28, 2012
12/28/12
3:59
PM CT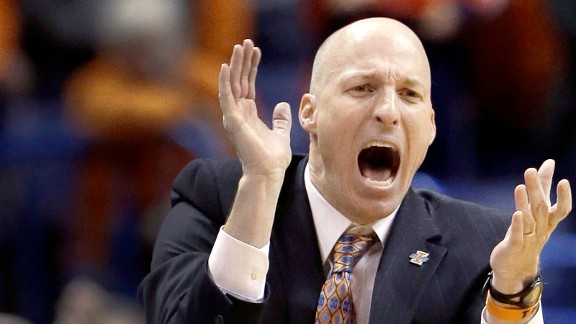 AP Photo/Jeff RobersonIllinois' John Groce is capturing the attention of recruits with the Illini's success.
Being Illinois' head coach got John Groce in most doors when he was first hired and began recruiting the Chicago area.
Groce's sales pitch then was a mixture of the past along with predicting the future. He spoke of what he had done at Ohio and what he thought he could with Illinois. Some recruits knew of Ohio because of Chicago product D.J. Cooper and its NCAA tournament appearances, but not everyone was familiar with the Bobcats.
July, 12, 2012
7/12/12
4:20
PM CT
Whitney Young center Jahlil Okafor, the nation's No. 2 junior, remains wide open in his recruitment and isn't affected by Jabari Parker's college list, according to Okafor's father on Thursday.
Parker, the nation's top ranked junior who plays with Okafor on the Mac Irvin Fire and the 17-and-under U.S. national team, released a list of 10 schools he was considering on Wednesday. The list included BYU, DePaul, Duke, Florida, Georgetown, Kansas, Kentucky, Michigan State, North Carolina and Stanford.
Okafor's father, Chukwudi Okafor, said Thursday his son's recruiting process was still in its infancy.

"Jahlil and Jabari are two different things," Chukwudi said. "It makes sense for Jabari to have a list now. Jahlil's goal is to get better, and everything else when the dust settles he will know about (his recruitment.)"
One of the biggest surprises of Parker's list was the exclusion of in-state Illinois. Chukwudi said Okafor won't be affected by that and is still open to being recruited by Illinois coach John Groce.
"I've spoken to coach Groce quite often," Chukwudi said. "He texts me. I talk to him and call him. He's trying. I give him that. I think he's trying to find the right way to build a relationship with my family. I think he feels he has a chance, and he does.
"I know it's the same old thing, but we have no idea right now. He's not going to Kennedy-King College or somewhere of that nature."
Chukwudi said he and his son would begin to delve deeper in the recruitment process this upcoming school year and begin making visits.
Okafor returned home to Chicago this week after earning MVP honors at the FIBA U17 World Championship in Lithuania. He averaged 13.6 points and 8.3 rebounds while helping the United States to an 8-0 record and a gold medal.
"That was a proud moment," Chukwudi said. "We watched Jabari get that last year and saw how hard he plays. That's one of those things that shows all of the hard work is paying off."
July, 12, 2012
7/12/12
4:11
PM CT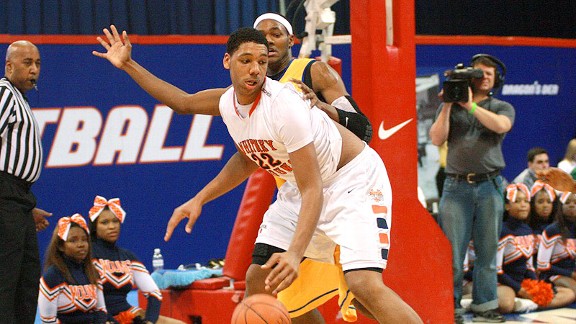 Scott Powers for ESPNChicago.comJahlil Okafor, the nation's second ranked junior, should now be the focus of John Groce's recruiting plan.
Simeon forward Jabari Parker, the nation's top-ranked basketball recruit, will not be playing his college basketball at Illinois. The fact that the program has that information in early July – on the heels of Parker excluding the Illini from his list of 10 possible landing destinations on Wednesday – is some sort of silver lining.
The Illini's chances of landing Parker have always been slim, and that was unlikely to change no matter how often first-year Illinois coach John Groce or his assistants sat courtside to watch Parker play in July. Now with Parker having excluded Illinois, the coaching staff can spend more meaningful time recruiting 2013 players they have a shot at securing. The coaches also can work on developing relationships with the elite 2014 and 2015 players and their families.
As Parker's father, Sonny, said Thursday, the decision to leave Illinois out of the mix wasn't anything personal. The Parker family has consistently emphasized that relationships are vital to Jabari's recruitment. To no fault of Groce's, he simply didn't have enough time to establish a relationship with Parker.
"I guess at this stage it's the relationship part," Sonny said. "Coach Groce, I've been talking to him. My wife has been talking to coach Groce. He seemed nice. (Jabari) had to have a relationship with him, too. It had nothing to do with the school per se. He has to feel comfortable with who's there and who's going to be the coach.
"I don't think he had a chance to (know Groce) because of scheduling and timing. It's hard for coaches to call Jabari because we don't allow coaches to call or text him. It was nothing personal (with Groce.)
"(Jabari) likes the school. His dream is to play for his state school and win a national championship like all kids, but I think the timing, where they were and where we're at."
Of course, that still isn't easy for Illinois fans to absorb. They've endured a recent history of the Chicago area's premier players bypassing Illinois and succeeding elsewhere. Sherron Collins, Jon Scheyer, Julian Wright, Derrick Rose, Evan Turner, Wayne Blackshear and Anthony Davis have been among those who ended up elsewhere and won a lot of basketball games at their out-of-state destinations.
In all likelihood, Parker will elevate the college he attends into a national championship contender in the 2013-2014 season and will be the No. 1 pick in the 2014 NBA draft.
Would Illinois like that type of prodigious talent? Certainly, and there's actually another Chicago product following up right behind Parker capable of having that same impact on a program. Whitney Young junior Jahlil Okafor, a 6-11 center currently rated as the No.2 player in the Class of 2014, appears to be one of those rare big men.
"Jahlil is right there with Jabari," said Mac Irvin Fire coach Mike Irvin, who coaches Parker and Okafor. "He's definitely right there. Jahlil is probably going to be the best big man this state has ever seen. He's grown a couple of inches. He's 6-11, mobile, can run the floor. He's a game-changer.
"He's a possible No. 1 draft pick. When you look at the No. 1 pick and the big men who have come out, he fits right there with the No.1 picks. He's special."
Okafor's father, Chukwudi Okafor, said Thursday that his son will not be impacted by Parker choosing to eliminate the Illini and that they are in their recruiting process was still in its infancy.
Irvin believed Illinois now must do anything it can to get Okafor.
"There aren't Jabari's and Jahlil Okafor's that come around often, maybe every 20 years," Irvin said. "Illinois' focus has to be on Jahlil Okafor now. You lose a Jabari, man, that's huge. That's a blow. Now your thing, if I'm the coach at Illinois, I have to convince Jahlil Okafor."
At the end of the day, it's possible that Parker's rejection of the Illini could lead to Okafor's acceptance of them.