Chicago Colleges:

Wolverines-Irish-092212
September, 23, 2012
9/23/12
12:43
AM CT
SOUTH BEND, Ind. -- All those turnovers, all those jeers, they were nothing but a thing of the past now. Here was
Tommy Rees
, out of the shotgun, third-and-4, Notre Dame's fate against Michigan the only thing riding now on his right arm.
The snap came in, the ball went high down the home sideline, and up went
Tyler Eifert
, the All-American grabbing his first catch of the night for 38 yards, breaking the dam and setting off a party unlike any seen in recent history inside Notre Dame Stadium.
This building has been known more for its quaintness, more for its hospitality, and suddenly that was all coming apart at the seams.
Manti Te'o
was finding his basketball friends in the crowd again, happy
Louis Nix
was dancing the way happy Louis Nix usually does, and no one inside the student section dared ditch the scene a moment too soon.
The Irish had finally knocked off Michigan,
13-6
, after three years of torture, and out from the scrum amid chants of his name came Rees -- first for the television interview, then for a bountiful jog up the tunnel, a far cry from the reception he received the last time he took this field, two weeks earlier.
"It feels good, I'm not going to lie," Rees said. "It feels good to go out there and help the team win and have all your teammates count on you, and you being able to deliver.
"It's still early in the year. We've just got to keep moving forward and taking it one day at a time."
Notre Dame goes into its bye week at 4-0, winning three consecutive games the hard way, two of them behind the poise of the best backup quarterback in the nation, if he can even be called that at this point. Coach Brian Kelly shot his quarterback situation down definitively -- "Everett is our starter," he said -- but the eyes and ears suggest that Rees isn't going anywhere, not in a season ripe with potential like this one.
[+] Enlarge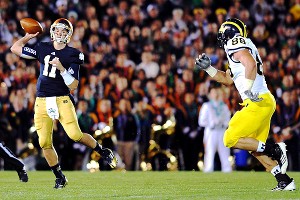 Chris Williams/Icon SMITommy Rees completeed 8 of 11 passes for 115 yards -- and, unlike starter Everett Golson, no picks.
Everett Golson
completed just one more pass to his teammates (three) than he did to defenders (two), and so Rees was summoned midway through the second quarter, making his presence felt on his first drive by plunging into the end zone from 2 yards.
"He's a tough competitor,"
Theo Riddick
said of Rees. "He knows the game, and there's not one day that he doesn't want to go out there and perform. So when his number's called, we expect that."
Riddick carried much of the load in the second half, rushing it 12 times for 40 yards during the Irish's final two drives to help them escape the Wolverines. On a night when Notre Dame's defense was nothing short of dominant, Rees and the offense did everything that was asked of it.
The junior completed 8 of 11 passes for 115 yards, and for the second time this season dispelled the "Turnover Tommy" moniker that dogged him throughout last fall.
Rees' 20 giveaways in 2011 overshadowed his 12-4 career record as a starter, or the fact that he was the only Irish quarterback to enter this season with experience as the No. 1 guy. Those yips were why his off-field arrest this past spring was met by many with a simple headshake rather than a full-out freakout, and why, yes, many of his own classmates let their unhappy feelings show from the stands when he stepped in two weeks ago to relieve Golson before lifting the Irish past Purdue.
Rees will never have the arm that Golson does, never bring the fans or teammates to their feet with a big run like the redshirt freshman. And yet he is beginning to win over his locker room in a way few other reserves could, by tossing distractions aside and by taking care of the football.
"No. 1, it just shows that you can't be selfish," Riddick said of Rees' showings. "It's a team sport, and you've got to do whatever you've got to do to make this team better, and he understands that. And like I said, when he comes in, we all expect him to know everything and play as if he is the starter."
Kelly called last week's win at Michigan State a signature victory. After beating Michigan to end a perfect month, he said this group knows it has a chance to do something big.
Yes, Golson is the man of the future and will start in two weeks because of his promise. But the guy who was nothing more than a glorified graduate assistant a short month ago will be ready if his number is called, as big a reason as any that these Irish just may be on their way to something special.
September, 22, 2012
9/22/12
10:02
PM CT
Denard Robinson
was the difference in the Michigan-Notre Dame classics in 2010 and 2011.


Robinson was again the key figure in the 2012 meeting, though not in a good way for the Wolverines. And the game was anything but a classic -- but Irish fans will gladly take the ugly
13-6 victory
.
It was a bizarre game in South Bend that featured eight turnovers, including six of them by the losing team. Here's a quick look at how it went down.
It was over when:
Tommy Rees
found
Tyler Eifert
for a 38-yard gain on third and four from the Notre Dame 31 with less than two-and-a-half minutes remaining. That play, coming against one-on-one coverage, allowed the Irish to run out the clock and keep Robinson from pulling off another miracle. It was Eifert's only catch of the game.
Game ball goes to:
The Notre Dame defense. For the past two years, they were absolutely terrorized and traumatized for Robinson. This time, the Irish not only held Michigan out of the end zone, they forced Robinson to turn it over five times (four interceptions, one fumble). He had just 228 total yards, and his longest run was only 20 yards. It was like a photo negative of Robinson's previous two performances in this series. The front seven got great pressure and stayed in its lanes, while
Manti Te'o
played an enormous game with two interceptions and two hurries that led to turnovers. That's why the Irish erased their nightmares from years past.
Stat of the game:
Michigan had 299 total yards to only 239 for Notre Dame. But the minus-four in turnovers was too much to overcome.
How the game was won:
Turnovers, turnovers, turnovers. Notre Dame coach Brian Kelly made the best move of the game when he lifted
Everett Golson
for Rees in the first half. Golson looked too skittish for this stage and had two bad interceptions. Rees settled the offense down and while he only threw for 115 yards, he was the only quarterback in the game who took care of the ball.
Second guessing:
Michigan was driving the ball well in the first quarter and had the ball on the Notre Dame 10-yard line when offensive coordinator Al Borges got a little too tricky. He called for a halfback pass from the diminutive
Vincent Smith
, who jumped in the air with Te'o barreling down on him and lobbed an east interception in the end zone. The Wolverines could have used the momentum early and ended up really needing the points.
What Notre Dame learned:
While this one wasn't pretty, the Irish could hardly have asked for a better start to this season. Its defense is playing at a championship level -- to hold Michigan and Robinson to just six points is an outstanding achievement. There are still questions for this team, and Kelly will have to answer even more quarterback controversy questions this week, but this is the toughest Irish team we've seen in a while.
What Michigan learned:
The Wolverines still aren't ready for prime time. They got blown out in the opener against Alabama and then were ridiculously sloppy with the ball in this one. While Michigan had by far its best defensive performance to date and can build on that, Robinson is still making too many mistakes in the passing game. There's really no reason for the Wolverines to be ranked in the top 25 right now, but Michigan still will be a factor in the weakened Big Ten, which went 0-3 against Notre Dame.
September, 22, 2012
9/22/12
5:51
PM CT
SOUTH BEND, Ind. -- I'm back at Notre Dame Stadium for the first time since 2007, gearing up for No. 18 Michigan (2-1) against the 11th-ranked Fighting Irish (3-0).


In case you've been in a cave, this series has been just a bit entertaining in recent years, thanks mostly to one man: Michigan quarterback
Denard Robinson
, who celebrates his 22nd birthday today (on Sept. 22, eerie!). The
Wolverines senior has been Notre Dame's nightmare
the past two seasons, rallying Michigan for wins and setting numerous records in the process. The Wolverines-Irish game takes place under the lights for the second consecutive year after last year's
unbelievable finish at the Big House
.
Michigan has won its past three meetings with Notre Dame -- all by four points -- and aims for its first four-game win streak in the series since 1898-1908. Although Notre Dame comes off of a big win at Michigan State, the Irish players should be locked in for this one. Notre Dame running back
Theo Riddick
said this week
the three-game slide to Michigan
is "basically tatted on us."
Robinson obviously is a huge key for Michigan, but he'll also need help from his receivers to pull off the mini upset tonight. Notre Dame's secondary is the weakness on a mostly stellar defense, and the Irish will be without starting safety
Jamoris Slaughter
, who suffered a season-ending ruptured Achilles' at Michigan State. The Spartans receivers simply couldn't attack Notre Dame; Michigan's core --
Devin Gardner
,
Roy Roundtree
,
Jeremy Gallon
,
Devin Funchess
-- must create separation. It's also a big night for Michigan's lines, which struggled mightily in the season opener against Alabama and will be tested by Notre Dame's fronts on both sides of the ball.
The Wolverines are relatively healthy for the game. Linebacker
Desmond Morgan
and running back
Stephen Hopkins
both should return from injuries this week.
I picked Notre Dame 27-20, while
Bennett forecasts
another Michigan win (28-24).
Stay tuned for more coverage throughout the night.
September, 22, 2012
9/22/12
5:50
PM CT

Adam Rittenberg, Matt Fortuna and Michael Rothstein preview Saturday night's game between No. 11 Notre Dame and No. 18 Michigan