Chicago Colleges:

Xavier Silas
April, 26, 2012
4/26/12
6:40
PM CT
Xavier Silas will never forget the 40-hour span of his life between Tuesday morning and Wednesday evening.
Silas awoke in Arizona at 6 a.m. on Tuesday to a phone call offering him a spot on Philadelphia 76ers' roster for the remainder of the season. By 10 a.m., he was on a flight to join the team in Milwaukee. Finally on Wednesday night, he made his NBA debut, scoring five points on 2-of-5 shooting in 19 minutes in a 76ers' win over the Milwaukee Bucks.
[+] Enlarge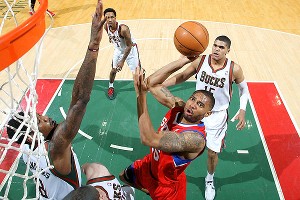 Gary Dineen/Getty ImagesXavier Silas realized his NBA dream on Wednesday night.
"It's all happened so fast," Silas said by phone just hours prior to Wednesday's game. "I didn't really get to feel anything. I got the call at 6 a.m. (Tuesday), and I was on a flight at 10. All I can feel is happiness right now. I'm probably the happiest person ever."
It's a moment Silas has had to wait patiently for since finishing his collegiate career at Northern Illinois last season, but he never lost faith would happen.
Silas was not selected in the 2011 NBA draft, but he was contacted by the 76ers just seconds after the draft ended. His plan was to wait out the NBA lockout while working out in the United States, but he ended up signing a contract in September to play in France. He returned home in December for the 76ers' training camp, but didn't make their NBA roster and went to play for the Maine Red Claws, the 76ers' NBA Development League affiliate.
Silas averaged 9.8 points, 3.0 rebounds and 1.5 assist in 39 games for the Red Claws. He also shot .401 from the floor, .295 from 3-point range and .787 from the free-throw line. His final game with them was on April 7, and he had returned to Scottsdale, Ariz. to train.
"We've always stayed positive with everything, just had faith in myself and the journey," said Silas, who is the son of former NBA player James Silas. "That's all we were doing. We never lost in what we were doing."
But as monumental as Silas anticipated his NBA debut to be on Wednesday, he deemed it just the beginning.
"My goal wasn't just to be in the NBA, but to be successful in the NBA," Silas said. "We still have some work to do."
June, 28, 2011
6/28/11
8:07
PM CT
The NBA is all Xavier Silas has sought since he was a child.
[+] Enlarge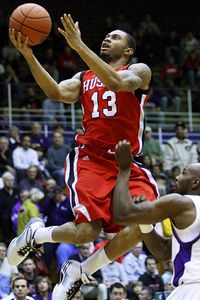 AP Photo/Nam Y. HuhNorthern Illinois' Xavier Silas scored 22 points per a game as a senior.
Silas, the son of former NBA player James Silas, grew up around the game. He played high school and college basketball, but the NBA is what he knows best.
That's why Silas, a former Northern Illinois guard, is willing to gamble with his basketball career this summer for a chance to play in the NBA next season. After going undrafted last week, Silas was asked by the Philadelphia 76ers to pass on any overseas offers and wait to attend their veteran training camp whenever the league resolves its collective bargaining agreement.
The players and the owners could strike a deal at any time, but many believe a lockout is looming and it could roll into the season. For Silas, it would mean a long wait to participate in a training camp where there is no guarantee he will be given an NBA contract.
It is a risk he's willing to take.
"You have to put faith in them," said Silas, a 6-foot-5 guard who averaged 22.3 points as a senior. "I think you have to put a lot of faith in your game, too. It's been like a few days [since the draft], but I'm sure I'll be passing up [overseas] deals, nice lucrative deals. I'll have to have confidence in my game, but at the same I do."
Silas' confidence has never waned throughout the draft process. He is as sure today he can play in the NBA as he's ever been. Of course, the NBA draft didn't play out as he hoped. Heading into the draft, Silas was sure he would be among the 60 players selected.
"I was waiting for a few teams to call my name," Silas said. "The draft was so crazy with all the Europeans being drafted. A lot of people who expected to get drafted didn't get drafted. It was one of those things that it didn't go how you thought it would be.
"It's all about the journey and staying true to your plan and the goal. The goal is to play in the NBA. Not just play in the NBA, but contribute there and have some accolades in the NBA. That's what the goal is. That's still what I'm trying to do."
Silas believes the 76ers will give him that opportunity.
"I didn't have time to be disappointed or upset [about the draft,]" Silas said. "Sacramento's 60th pick was still on the screen when Philly called me and wanted me 100 percent to come into camp. They said, 'We don't want you to go to Europe. We want you to come in our training camp 100 percent because we need a 2 [guard.]
"I know they like my game. I know I'm going to play my game. I know everything is going to work out. I'm just happy everything is on track."
Until training camp, Silas will continue to work on his game in Austin, Texas training with former Northern Illinois assistant Sundance Wicks.
When his chances come, he'll be ready.
"You have to believe in yourself and your game," Silas said. "Knowing what I can do, you can't really get too disappointed. When you get into training camp, it'll all show.
"It's all about finality. You can get there all different types of ways. It's not about draft night. If it was about draft night, the league wouldn't be what it is today."
January, 11, 2011
1/11/11
8:21
PM CT
Here are some of the major points we've learned about state teams so far this college basketball season.
1. Overall, this could be one of the worst seasons ever for the state.
Bradley and Illinois State are 0-5 in the Missouri Valley. UIC is 0-4 and Loyola is 1-5 in the Horizon League. Southern Illinois-Edwardsville's record doesn't count in the Ohio Valley this season, but it's 0-4 against conference teams. Chicago State is 0-1 in the Great West. DePaul is 0-3 in the Big East. Northwestern is 1-3 in the Big Ten. Western Illinois is 1-4 in the Summit League. Northern Illinois is 0-1 in the MAC. Eastern Illinois is 2-3 in the Ohio Valley. Illinois and Southern Illinois are the only teams in the state above .500 in their conferences. Illinois is 3-0 in the Big Ten, and Southern Illinois is 3-2 in the Missouri Valley. All together, the state is 11-40 in conference play.
2. Illinois could be the only team in the state to reach the NCAA tournament.
The Illini aren't a lock yet, but they've opened the Big Ten season strong and secured a couple of quality non-conference wins. Northwestern is the only other team with a chance, and the Wildcats have some work to do after starting the Big Ten 1-3 with losses to Purdue, Michigan State and Illinois and a win over Indiana.
[+] Enlarge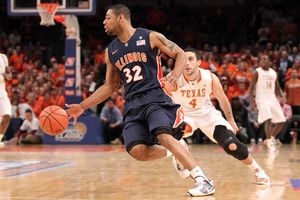 Anthony Gruppuso/US PresswireIllinois guard Demetri McCamey has cut down his turnovers this season.
3. Illinois point guard Demetri McCamey is taking care of the ball better, and the Illini are benefiting from it.
While McCamey's points, assists and shooting percentages are all up from last season, his biggest contribution to the Illini's success this year may be his lack of turnovers. Last season, he committed five or more turnovers in 10 games, and five of those performances led to Illinois' losses. He also hit the six-turnover mark five times last season. This season, he's been more responsible with the ball. He hasn't had a six-turnover game and has had just three games of five turnovers. His assist-to-turnover ratio is up to 2.58 this season from last year's 1.99, and he's averaging 2.8 turnovers a game compared to last year's 3.4.
4. DePaul's youngsters can play.
Blue Demons freshmen
Cleveland Melvin
and
Brandon Young
have shined in the Big East. Melvin has averaged 23.3 points and 6.7 rebounds, and Young has averaged 9.0 points, 3.0 rebounds, 3.7 assists and 2.3 steals in DePaul's three Big East games. It's a promising sign for DePaul's future.
5. Northern Illinois senior guard Xavier Silas' scoring numbers have dipped, but he's still competing for the national scoring title.
Since putting up 20-plus points in seven of his first eight games, Silas has been held to less than 20 points in four of his last five outings. He shot 5 of 31 and scored 19 total points in back-to-back games against Southern Illinois and Missouri in late December. Defenses are keying on Silas, and his field goal and 3-point percentages have dropped. He's still averaging 23.3 points, which ranks sixth in the country.
6. Loyola is experiencing a bad déjà vu.
Last season, the Ramblers got off to a 11-2 start, but lost 14 of their last 17 games. They finished the season 14-16. This season, Loyola was hot again from the start , winning its first seven games. The Ramblers even pushed Butler and Kansas State to the brink. Since then, Loyola's season has unraveled. It's currently 10-7 overall and 1-5 in conference. The Ramblers haven't had a winning season in conference or overall since 2006-07.
April, 22, 2010
4/22/10
2:37
PM CT
Northern Illinois junior guard Xavier Silas has pulled his name out of the NBA draft and will return to the Huskies for his senior season.
"We talked to a couple friends who are affiliated with the league, and they said if I went back and had a good year in all aspects of the game, I could be a first-rounder," Silas said on Thursday. "That's better than chancing it this year."
Silas had until May 8 to make his decision, but he chose to withdraw early because he could only begin talking to NBA teams on April 29 and his school finals were approaching.
"I'm just going to focus on next year," he said. "It helps knowing now what I have to work on and knowing what I need to do.
"I know winning at the same time has a lot to do with it. If I can't help Northern Illinois win, how am I going to help the Knicks win or the Lakers win?"
Read the entire story.
April, 10, 2010
4/10/10
10:33
AM CT
[+] Enlarge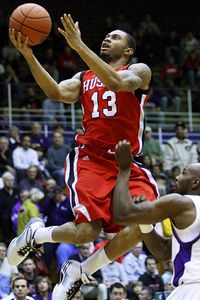 AP Photo/Nam Y. HuhNorthern Illinois' Xavier Silas believes he may be able to lead the nation in scoring next season.
Northern Illinois junior guard
Xavier Silas
told ESPNChicago.com on Saturday that he has declared himself eligible for the NBA Draft. He will not hire an agent.
"I don't see why you wouldn't do it," said Silas, a 6-foot-5, 200-pound shooting guard. "Although they have made it ridiculously impossible for underclassmen with these new rules, I think I should try it and see what happens and go from there."
Under a new NCAA rule, Silas has until May 8 to remain in the draft or withdraw his name to keep his college eligibility. Silas likely will return to Northern Illinois for his senior season as he isn't projected by any draft analysts to be selected, but he said he would weigh his options if an NBA team showed a liking to him.
"With the new rules, [the NCAA] is trying to discourage underclassmen from testing the waters," Silas said. "It has me nervous, scared. I do know that I'm not going to get a fair assessment in that time period.
"This whole thing is nerve-wracking. The teams have never done it before. The players have never done it before. At the same time, it's me entering the NBA Draft. It's exciting. You dream about this."
February, 5, 2010
2/05/10
5:55
PM CT
Xavier Silas was the most excited to finally become eligible for Northern Illinois after sitting out last season, but sophomore point guard Mike DiNunno wasn't far behind.
DiNunno knew exactly what Silas, a junior shooting guard who transferred from Colorado, could mean for him and the Huskies. For one, Silas would quickly add to DiNunno's assist total, and, more importantly, he would give Northern Illinois an instant advantage in the Mid-American Conference.
Both have been true.
Read the full story
.
TOP 25 SCOREBOARD
Saturday, 12/20
Monday, 12/22
Tuesday, 12/23
Wednesday, 12/24
Friday, 12/26
Saturday, 12/27
Monday, 12/29
Tuesday, 12/30
Wednesday, 12/31
Thursday, 1/1
Friday, 1/2
Saturday, 1/3
Sunday, 1/4
Monday, 1/12
TOP PERFORMERS