December, 19, 2014
Dec 19
9:00
AM CT

By Jesse Rogers
ESPNChicago.com
Archive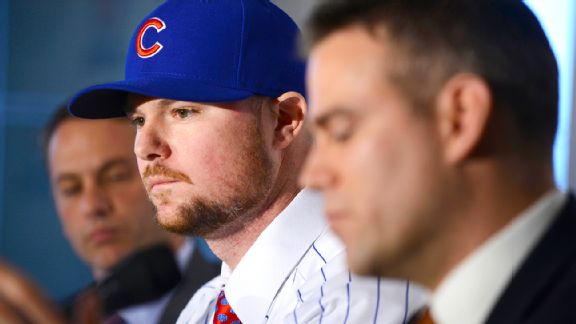 AP Photo/Paul BeatyJon Lester is the ace the Cubs needed, but playoff talk might still be premature.
CHICAGO – Before a break for the holidays, I feel the need to rain on everyone's parade. Specifically, the parade
Chicago Cubs
fans are planning down Michigan Avenue next October.
That might be overstating the case, but the fact remains: People are expecting way too much of the Cubs in 2015. So think of this as a public service, because lowering your expectations might make for a happier New Year and a little more understanding when things go down the way they do next summer at Wrigley Field.
Yes, the additions the Cubs have made so far -- highlighted by pitcher
Jon Lester
-- are impressive and were much needed. They obviously have improved the team, but it hardly puts the Cubs over the top. Chicago's World Series odds went from 50-1 before Lester signed to 12-1 after, according to Bovada.com.
Really?
The Cubs have the same odds to win the World Series as the veteran-laden
Detroit Tigers
, and actually have better odds than the
St. Louis Cardinals
. That's right. Las Vegas thinks the team that won a World Series in 2011, lost one in 2013 and has been to the playoffs the past four years has less of a chance than the team that last won it all in 1908.
That's beyond absurd.
Now, odds are a reflection of the betting public, which only drives my point home even more: Cubs fans aren't always realistic. I think I'm putting that mildly. When I receive tweets (
@ESPNChiCubs
) that say "the Cubs will win 85-90 games, easily," I can only cringe. It's the "easily" part that gets me. Nothing will be easy for the Cubs if they can get to that win plateau. It will be a near-miracle.

I've said from the beginning of the offseason that the Cubs could only top out around .500 next season. It doesn't matter that they added Joe Maddon, Lester or
Jason Hammel
. It doesn't matter that
Javier Baez
,
Arismendy Alcantara
and
Jorge Soler
already have had their first tastes of the big leagues. This team simply isn't ready. And that's all right. Next season will be a great stepping-stone year for Maddon to learn his team and for the front office to figure out which of its young players is for real. Take a step back with me -- and if you're one of those fans who wants to throw his or her computer or tablet or phone right about now, try to look at it from a different angle.
Unless things change between now and April, the Cubs will be starting four rookies. I don't care if some don't qualify for the Rookie of the Year award because of their at-bats last season -- if you haven't played a full season in the big leagues you're still a rookie in my book. So that's four rookies -- Alcantara, Baez, Soler and
Kris Bryant
-- out of eight everyday players. And Bryant won't even start the season in the major leagues. According to ESPN Stats & Information, the last time a team made the playoffs playing four rookies was the 2005
Atlanta Braves
. So it's been a decade, but even that comes with a caveat: Not one of those rookies --
Wilson Betemit
, Jeff Francoeur,
Kelly Johnson
or Ryan Langerhans -- had more than 373 plate appearances. So it's not as if the Braves were counting on them to start every game, as the Cubs will more than likely do with their rookies. And they should: Let's see what they're made of, but let's not assume they are going to take this offense to new heights. Not in one season.
[+] Enlarge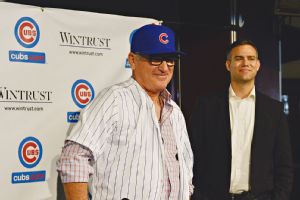 Matt Marton/USA TODAY SportsJoe Maddon's 2014 Rays team looked better on paper than do his 2015 Cubs, yet managed just 77 wins in a down AL East.
And those playing alongside those four rookies aren't exactly all seasoned veterans. Yes, the addition of Lester helps in terms of contending-type experience, but the Cubs were the youngest team in the majors on the day the 2014 season ended. According to the Elias Sports Bureau, their average age was 27 years, 50 days. The last team to make the postseason about that young was the 1970
Cincinnati Reds
. Yes, the beginnings of the Big Red Machine was the last time a team as young as these Cubs played October baseball. Maybe you think the Cubs are that kind of team as well. Or maybe the point will be moot if or when the Cubs sign or trade for another veteran or two this offseason. Still, that won't change the overall average age of the team that much, and won't affect the age of the core group anyway.
The odds are simply against the Cubs turning this all the way around in 2015. As I've stated in this blog, and on the radio several times, the irony is that the offense is a bigger question mark than pitching, though until a week or so ago the Cubs barely had a major league starting staff. They do now. There's plenty of good pitching to be had -- the Cubs picked up a No. 1 starter and a No. 3 this offseason already. They'll pick up more next winter. That's not going to be the issue.
The simple question for this team is when will its on-base percentage increase from the bottom of the league? That's everything you need to know right there. It was lousy again in 2014, ranking 28th out of 30 teams at .300. Add in that they led the league in strikeouts, and the Cubs are making it way too easy on opposing pitchers. Make no mistake, they need to reverse those rankings before we can call the Cubs contenders for anything. OK, maybe they can live with the strikeouts, as that's become the norm in baseball, but the importance of getting on base hasn't changed. And the Cubs are nowhere near good enough in that department. Not yet.
Before you can get the sentence "Bryant and Soler will be here for a full year so that will improve their OBP" out of your mouth, so will Baez and Alcantara, and using rookies to prove your point usually isn't a good idea. Actually, the addition of
Miguel Montero
behind the plate might help more than anyone. He got on base nearly 33 percent of the time in 2014, and that was considered an off-year.
And while you can hope the Cubs' young bullpen is as good as it was last season, hoping and expecting are two different things.
Hector Rondon
was incredible at finishing games, but let's be honest, if he couldn't handle it a second time around, you wouldn't be shocked. Bullpens are volatile by nature anyway. Maybe that's why veteran
Jason Motte
was brought in, for some insurance. Even he isn't a sure thing. Of course, no one is. And I don't want that to be the lasting point of this blog. I can make a "glass-is-half-empty" argument all day long because that's the nature of baseball, but I only want to deal in what is realistic.
I say all this as someone who absolutely believes Bryant is a can't-miss player and thinks starter
Kyle Hendricks
is for real. Not everyone does. But being "can't-miss" or "for real" doesn't mean it's all going to come in Year 1 (though I'm guessing I'll predict Bryant to win Rookie of the Year come April).
Baseball is a funny game. Weird things do happen. This is a sport that can see the
Boston Red Sox
go from worst to first back to worst again as they did from 2012-2014. But it can also be fairly predictable. Everyone knew the Cardinals and the Tigers, for example, had good teams, and they subsequently proved that through 162 games last season. Then again, no one knew for sure -- though they had talent -- that either the
Kansas City Royals
or
Los Angeles Angels
would be in the postseason, and they both made it. Sometimes it goes as planned, and sometimes it doesn't.
But there's no better example of the unpredictability of it all than last season's
Tampa Bay Rays
, with the Cubs' now very own Maddon at the helm. With a great starting staff and an experienced team, the Rays got off to a horrid start in a down division. They made a late run but never really challenged, finishing 77-85. Was that Rays team -- on paper -- worse than the Cubs are heading into 2015? Not likely. Tampa's rotation last spring included
David Price
,
Alex Cobb
,
Matt Moore
and
Chris Archer
. And it failed. Miserably. Don't just assume Maddon translates to 10 more wins right away in Chicago.
So as with anything, I could be totally wrong about the Cubs, but this is about expectations -- not who is right and who is wrong. Manage your expectations. Hope for .500, and if the Cubs shoot past it, be pleasantly surprised. No one should be shocked if they don't make the playoffs and no one should think the plan is a disaster if they win only 74 games next year. I've heard the argument that the Cubs won 73 last year with a subpar manager and without the additions they've made recently, and without Bryant, so next year they should be 10-to-12 games better. It's not always linear like that -- not with a young team. I could make the argument that in signing Lester and Hammel they've simply replaced
Jeff Samardzija
and Hammel himself from last season. No one pitched better than Samardzija in the first half last year, and the Cubs had nothing to show for it.
The bottom line is the Cubs are a little better than they were to start last season. They have a decent starting staff with an unknown offense. Yes, the names are different and certainly more talented on paper, but much of it is still unknown. And no matter what, you can't argue with their ages. That's a fact. Maybe it gets them to .500, or maybe they take off in the second half and hit 85 wins or more.
Just don't count on it.