January, 28, 2015
Jan 28
3:14
PM CT
CHICAGO -- Despite several prospects finally reaching the major leagues last season, the
Chicago Cubs
still have the top-ranked farm system in baseball, according to ESPN.com's prospect guru Keith Law.
Law released his yearly preseason team rankings and the Cubs are No.1 thanks to the "strongest collection of top-shelf hitting prospects I can remember since I started working in baseball," Law writes.
Led by
Kris Bryant
,
Addison Russell
and
Jorge Soler
, Law indicates the Cubs have at least one hitting prospect at every position on the diamond, save catcher, as he doesn't believe 2014 first-round pick Kyle Schwarber will remain at that position.
"I say there's a 10 percent chance he catches in the long run," Law said by phone on Wednesday. "They (scouts) all say he can hit but they don't all say he can catch."
January, 28, 2015
Jan 28
11:11
AM CT
ESPN.com news services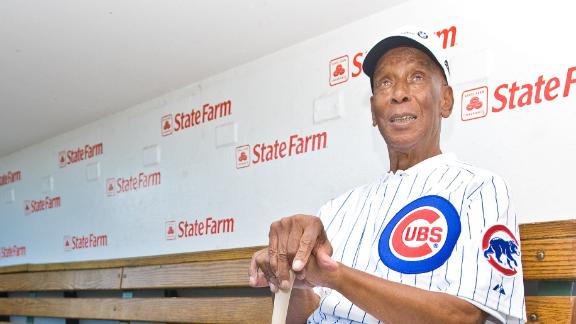 CHICAGO -- Chicago Cubs fans got their first chance to pay their respects to Ernie Banks after the statue of the beloved Hall of Fame player was placed in a downtown plaza Wednesday.
One after another, fans stopped in Daley Plaza to take photos of the statue that normally stands at Wrigley Field. The city and the Cubs took the unprecedented step of taking the statue out of storage -- where it was being held while the ballpark is renovated -- and putting it on public display away from its usual home.
The 83-year-old Banks died Friday of a heart attack. A visitation will be held this coming Friday, followed by a memorial service Saturday.
Mayor Rahm Emanuel, accompanied by Banks' widow, placed a wreath at the statue on Wednesday, saying that while Banks has long been known as Mr. Cub, he "always will be and always has been Mr. Chicago."
By 7:30 a.m., the plaza was growing crowded with fans admiring the statue of Banks, frozen in the batting stance that kids in Chicago in the 1950s and 1960s grew up imitating. They told stories about their own connections to Banks, whether it was watching him play or meeting him.
"My family and my brothers were always watching him on TV and there was nobody like Ernie Banks," said McKenzie Holmes, 51, his postal worker uniform topped off with a Cubs hat. "My brother just passed and I was thinking he's up there playing catch with Ernie now."
Trudi Burns took pictures for her son. Though he's 23 and has seen Banks in action only in clips of games played long before he was born, Burns said he insisted that she take a photo.
January, 28, 2015
Jan 28
8:00
AM CT
To kick off my look this week at the best prospects in the minor leagues, I've ranked all 30 MLB farm systems from top to bottom, considering only the players who are currently in the systems and have not yet exhausted their rookie of the year eligibility. (I use the same criterion for the individual player rankings that will be posted over the next few days.)
Similar to last year, there are only a handful of systems that combine both a few high-impact or high-ceiling prospects and the depth down to and past the end of their top-10 list. (My top 10 rankings by team will be released Friday.) Many systems ranked in the teens boast a couple very good prospects -- say, one or two guys who project as above-average regulars and another two or three who might be everyday guys -- and then it's bench parts and relievers. Those players are good to have, as you'd much rather fill those spots with minimum-salary players than have to reach out to free agency, but their asset value is much lower than the values of prospects who project as average or better.
One major change: You'll notice this year I have more large-market teams in the top 10, as ownership groups in those cities recognize the value in building better stables of prospects, which has included hiring better scouts and coaches away from other organizations. The draft has always offered a competitive advantage to lower-revenue teams willing to put their money into amateur scouting, in part because the clubs with higher payrolls chose to put their cash into the big league roster. If that's no longer true, it will reduce the opportunity for the Pittsburghs and Kansas Citys of MLB to continue to contend.

1. Chicago Cubs
Take a moment to recover from your surprise ...
January, 27, 2015
Jan 27
3:05
PM CT
@ESPNChiCubs who hits 1-2 on opening day? #Cubschat

— Silly Scoey (@slingblade6925) January 27, 2015
Rogers:
Fun question. Will be examining that in the coming weeks. The obvious answer at the top is
Dexter Fowler
. I think that's a big pick-up. If he can be consistent with a .350-ish OBP, that will help the offense. I think No. 2 comes down to two people:
Starlin Castro
and
Jorge Soler
. My guess is it will be Castro, but that doesn't mean it can't change. He did well driving in runs in the cleanup role last year, so if they drop him to five or six, that might work too. Soler's plate discipline might max out in the No. 2 hole. Then you have the big boppers after him. Not that he can't play long ball from there as well, but I would still suspect Castro starts out there and Soler lower.
@ESPNChiCubs #cubschat how good of a spring does Bryant need to have to be in the starting lineup opening day?

— Mack Rooney (@jroons42) January 27, 2015
Rogers:
I suppose there is a scenario where the Cubs will look really, really bad by sending him down if he's just crushing it, but it probably won't get to that. They can limit his at-bats or send him to minor league camp at any time. Unless the Cubs change their mind, his spring results aren't really going to matter. Of course, if he struggles, that makes it a tad easier of a sales job to the public, but I honestly don't believe the Cubs are rooting for that. By May we will have forgotten about all this. His time is coming.
@ESPNChiCubs #Cubschat what role does coghlan play next year? He was "red hot" last year in stretches.

— Phil Johnson (@WriterPhil) January 27, 2015
Rogers:
He's the incumbent starter in left field, at least on Day 1 of spring training. Anything can happen after that, but if he shows the ability to get on base as he did in getting hot last year, then I think he sticks, at least in a platoon role from the left side. Long term, we can't predict Coghlan's role. If Bryant is better suited for left field, then he'll be there. Unless Coghlan establishes himself as a core guy, he's just a nice piece for right now. We need to see if he can follow up his half-year of production.
@ESPNChiCubs Will Spring Training seem more important for gaining chemistry this year, than other years? #CubsChat

— Patrick Norton (@pdnorton39) January 27, 2015
Rogers:
The easy answer is "sure," but you can make a case that a bad team needs chemistry even more. The bottom line is every team needs it, considering they practically live together for seven and a half months. But sure, a team that wants to get off to a good start and shed some losing vibes can certainly use that extra little spark, and that does start in spring training. Plenty of new faces, hopefully they bond quickly.
@ESPNChiCubs #cubschat do you see the Cubs signing anyone from now until the start of spring training ?

— alberto arreola (@albert80) January 27, 2015
Rogers:
I can't see that happening considering they are pretty well positioned throughout the diamond with a mix of veterans and young players. There will be some spring invites and things like that, but I don't see a major addition at this point. Haven't they done enough? Was one heck of an offseason.
@ESPNChiCubs what are you keeping your eye on most this spring training? #cubschat

— Josh Ricker (@Jrick84) January 27, 2015
Rogers:
It's a good question. The obvious answer would be
Javier Baez
and
Arismendy Alcantara
. But this spring it won't be about fawning over the long home runs, it will be about them working the count and seeing what's changed since last year. We can never make full assessments on spring games, but we can certainly get an idea if they "look" different. Also, after watching
Carlos Marmol
and Jose Veras completely blow up these past two springs, I won't ignore a particular pitcher that struggles in a similar manner. It's not just the struggles, but how they struggle. It was obvious to me that neither of those pitchers was ready for prime time come April. If someone else has that feel to his performances, then it's worth noting.
@ESPNChiCubs what % of these questions will be about the odds of Bryant starting the season on the big league roster?

— Will (@IAmWillMarsh) January 27, 2015
Rogers:
Not as many as you might think! What I found funny was the headlines about Bryant that the
Luis Valbuena
trade generated. Like he was the reason Bryant was stuck in the minors. I think people get it. And I think most people aren't blaming the Cubs. The system says two weeks in the minors saves the Cubs a whole year.
#Cubschat The Super2 date in June only has to do with arbitration, right? So we'd only have to wait until 4/17 ish to save a FA year for KB?

— B Allen (@badger0000) January 20, 2015
Rogers:
You are correct. If they wait until the Super 2 date, then they might have a mutiny on their hands.
@ESPNChiCubs Why are the cubs so reluctant to get more starting pitching now "shields" by waiting to "get it" next year? #Cubschat

— Tyler Campbell (@tylercampbell21) January 27, 2015
Rogers:
That's like asking why they don't just sign every great free agent player available? Why stop at
Jon Lester
and Shields? Why not Scherzer and
David Robertson
and the top position players as well? Every team has a budget and a long-term plan, and I can understand not committing to two pitchers in the same offseason, especially when you're still a year or so away. Plus, Shields isn't worth it, in my opinion.
Who could u see making an all star team in 2015 not named Arrietta Castro Rizzo or Lester #cubschat

— mrpostman24501 (@MrPostman24501) January 27, 2015
Rogers:
I'd love to be out in front of a
Neil Ramirez
All-Star bid. They take middle guys nowadays, and he's pretty darn good. If he picks up where he left off after his breakout year, then why not? I also would not put anything past
Kris Bryant
if he comes up early enough. I'm not going to predict it, but it wouldn't shock me. If/when he struggles, I just think his adjustment period will be a lot shorter than most. So there's a couple options, but neither is a favorite to be there.
January, 26, 2015
Jan 26
6:38
PM CT
CHICAGO -- The public visitation and memorial service for
Chicago Cubs
great Ernie Banks will be held Friday and Saturday in Chicago, the team announced late Monday.
The visitation will go from noon until 8 p.m. Friday at Fourth Presbyterian Church, 126 E. Chestnut Street. The memorial service will take place at 10 a.m. Saturday at the church, according to a Cubs release. There will be limited public seating for the memorial Saturday.
Banks was 83 when he died of a heart attack Friday night. Known as Mr. Cub, he was elected to the Hall of Fame in 1977 after playing 19 seasons for the Cubs. He was league MVP in 1958 and 1959 and amassed 512 home runs in his career.
January, 25, 2015
Jan 25
1:58
PM CT
ESPN.com news services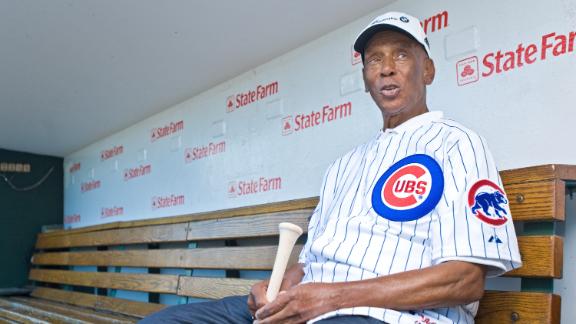 Ernie Banks' family has announced that the Chicago Cubs Hall of Famer died after suffering a heart attack.
Banks, a two-time National League MVP who spent his entire major league career with the Cubs, died Friday at age 83.
The cause of his death was not announced until Sunday, when family attorney Mark Bogen revealed at a news conference that Banks died from the heart attack just seven days before his 84th birthday.
Banks' wife, Liz Banks, also was in attendance.
"It is certainly a sad day for us," she said. "I'd like to thank everyone for being here. ... He was very beloved and he is going to be dearly missed by family, friends and all of his fans."
The Cubs and the city announced later Sunday that a statue of Banks will be temporarily moved from outside Wrigley Field to downtown. It will be on display in Daley Plaza from Wednesday through Saturday.
A public visitation and then memorial service for Banks will be held this Friday and Saturday in Chicago, the team announced late on Monday.
The visitation will go from noon until 8 pm on Friday, Jan. 30 at Fourth Presbyterian Church at 126 E Chestnut St. while the memorial service will take place the next day at 10 am, according to a Cubs release. There will be limited public seating for the memorial on Saturday.
Banks hit 512 home runs during his 19-year career and was fond of saying, "It's a great day for baseball. Let's play two!'' That finish to his famous catchphrase adorns his statue outside Wrigley Field.
Although he played in 14 All-Star Games from 1953 to 1971, Banks never reached the postseason, and the Cubs finished below .500 in all but six of his seasons. Still, he was inducted into the Hall of Fame in 1977, the first year he was eligible, and selected to baseball's all-century team in 1999.
January, 25, 2015
Jan 25
11:17
AM CT
CHICAGO -- For once, social media is in near agreement.
The
Chicago Cubs
should make "Let's Play Two" a reality in honor of the late Ernie Banks. It can't necessarily happen for the 2015 season, but there is no reason –- besides money -– the Cubs can't ask Major League Baseball to schedule a doubleheader for the team each year starting in 2016.
After his passing on Friday night, fans across the country have suggested various ideas to honor Mr. Cub, but none is better than living up to his favorite saying: "It's a beautiful day for a ballgame. Let's play two today."
Some on twitter and Facebook have suggested making Sept. 17 "Ernie Banks Day" considering that was the date in 1953 he made his debut for the Cubs. That might not work for a scheduled doubleheader as a rain-out that late in the season could cause issues with the standings. A floating day each year makes the most sense, whether that be a weekday game or weekend.
If the Cubs are so inclined they should make it a one-ticket event playing both games in back-to-back fashion. That's the way Banks would have wanted it, we can presume. A split doubleheader just doesn't sound right.
The team will unveil ways they will honor him in this upcoming season after talking with his family. A patch would be a good start, along with a day to remember his generosity and greatness. Maybe Sept. 17 works best for this season, but a yearly doubleheader in honor of No. 14 would be a great gesture.
January, 24, 2015
Jan 24
5:03
PM CT

By Doug Padilla
ESPNChicago.com
Archive
CHICAGO -- The
Chicago White Sox
's fan convention took on a decidedly somber tone Saturday after the death of
Chicago Cubs
great Ernie Banks was announced late Friday evening.
There was no crosstown rivalry Saturday, as before each panel discussion tributes were made toward the Hall of Famer.
During a mid-morning panel discussion featuring members of the club's 2005 World Series championship team, radio broadcaster Ed Farmer offered his own tribute to Banks, whom he called a friend. The packed house followed with a round of applause.
"When you talk about Ernie, you have to smile," White Sox chairman Jerry Reinsdorf said. "He was always in a great mood. I never heard him complain about anything. He was always upbeat. He always had a wisecrack. I know he was Mr. Cub, but he was really Mr. Baseball. He was really a great, great ambassador for the game."
White Sox broadcaster Steve Stone, who pitched three seasons for the Cubs in the 1970s and was a former Cubs broadcaster as well, also remembered Banks fondly.
"I've never heard anybody say, 'I don't like Ernie Banks,'" Stone said. "It's like saying you don't like Santa Claus. How can you not like Ernie Banks? He was one of the most lovable human beings that our game has ever produced, and he never lost that child-like enthusiasm."
Banks' positive disposition eclipsed his production on the field, a monumental achievement considering that he hit 512 home runs and had a career .500 slugging percentage.
"I don't believe you're going to remember the home runs; I think he hit 512 of them," Stone said. "You're not going to remember the fact that he was a Hall of Famer because that was obvious to anybody who watched him play.
"I think what everybody is going to remember about Ernie was the enthusiasm he brought to each and every day; the positive attitude that he always had and the lesson in like he taught anybody who cared to listen to him, which was you don't have last season, you don't have last week, you don't have yesterday, you have to look ahead and see what tomorrow brings and tomorrow is going to be a great day."
White Sox general manager Rick Hahn, who grew up in the northern suburbs, said Banks meant as much to baseball as he did to the Cubs.
"Growing up, I probably met him more as a kid and outside of baseball," Hahn said. "I spent a little time with him from time to time during Cubs-Sox series. He was just a tremendous ambassador for the game, for the city. His enthusiasm and his passion for baseball is going to be missed. It's a big loss."
White Sox center fielder
Adam Eaton
offered his condolences.
"[He was a] Hall of Famer. You look at the statistics that he put up," Eaton said. "And as a person, it seemed like he was top notch. On and off the field, he did it the right way. It's a sad day for baseball, and definitely here in Chicago for South Siders and North Siders alike. He'll be missed for sure."
January, 24, 2015
Jan 24
12:46
PM CT
By Staff
ESPNChicago.com

Beloved "Mr. Cub" Ernie Banks died Friday. Many shared their thought on Banks and his impact. Here are some excerpts:
Baseball Hall of Famer
Andre Dawson
tells Jonathan Hood about his memories of Ernie Banks, what Banks was like and how Banks influenced his life.
Listen

PTI's
Michael Wilbon
reacts to Ernie Banks' death and discusses Banks' accomplishments on the baseball field, watching Banks play and his significance to Chicago.
Listen

espnW's
Sarah Spain
shares her thoughts on what Ernie Banks meant to Chicago, the city's reaction to Banks' death and his enthusiasm for the Cubs.
Listen

ESPN Chicago's
Jesse Rogers
tells Jonathan Hood about his reaction to Ernie Banks' death, Banks' relationship with the Ricketts family and Banks' impact on the field.
Listen

January, 24, 2015
Jan 24
11:52
AM CT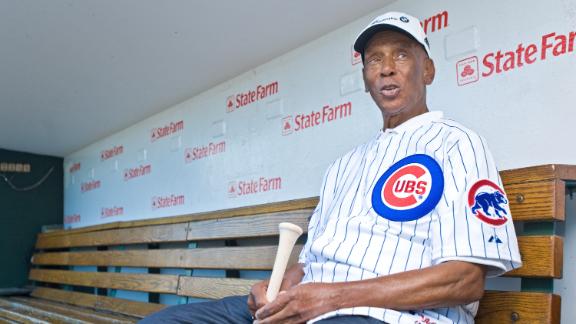 Race matters. We may not agree as to how or when. We may not agree to the degree or extent. You may look in the mirror and believe it does not matter to you, but concede that it may matter to others. We may believe it shouldn't matter. We may even express we are all one race. But it still matters.
I was drafted in 1991 by the Chicago Cubs, and, by far, the person I met in my career who most lived and breathed a life that showed us that we are all one was Ernie Banks.
I had my share of trials and tribulations around race or culture. As a player coming up in the Cubs system and ultimately having the good fortune of playing in the major leagues, my journey was not without bumps in the road -- some of which I attributed to race.
Certainly, that did not embody my entire experience, but it was part of it. And by the time I got to the big leagues, I had thicker skin but also a layer of defense. Maybe it came from the number of advisers in the minors who told me not to trust anyone. Or from mentors who warned me about things like the perils for my baseball future in interracial dating because the powers that be would disapprove.
It was baffling to me because I grew up in Teaneck, New Jersey, a town that seemed to celebrate diversity and cross-cultural exchange. On draft day, I was optimistic because I was heading to an environment that was our country's pastime -- a place that I expected to be progressive. Yet it still had many growing pains around diversity.
Then there was Ernie Banks. I am not even sure when I first met him, but that is irrelevant to the experience of knowing Ernie Banks. All I can think about was how he always pointed you toward the good in people. He didn't even have to be specific in his advice to you. This man had an aura that you understood was your call to be better, to get perspective that you are probably worrying about something small in the grand scheme of things.