August, 27, 2014
Aug 27
1:32
PM CT

By Jon Greenberg
ESPNChicago.com
Archive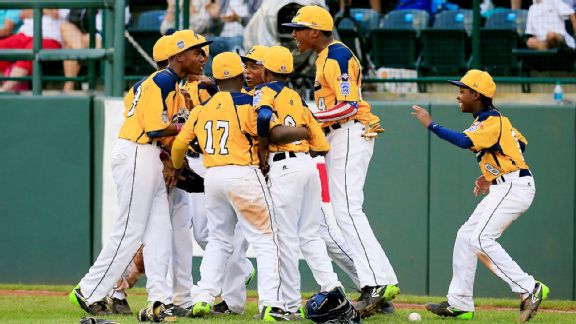 Rob Carr/Getty ImagesJackie Robinson West captured Chicago's hearts when it won the U.S. bracket of the Little League World Series.
Chicago looked like a championship town Wednesday.
From the far South Side to Millennium Park, the city united to celebrate the amazing accomplishments of the 13-member Jackie Robinson West all-star team. Trolleys carried the team from its home park in Washington Heights through a buoyant South Side to its very own downtown rally, complete with celebrities and thousands of joyous fans.
All of the local networks went to live coverage of this event, with reporters interviewing third cousins, aunts, cousins and joyful South Siders just proud of this group of 11- and 12-year-old All-Stars who captivated a city and country as they won the United States bracket of of the Little League World Series.
"There is something so sweet and grassroots about all of this, an ABC 7 anchor said.
So true.
An all-black team from Chicago's South Side is the best Little League team in the United States. And it's very cool how this city responded with pure love. From the famous to the anonymous, a major American city rallied behind a group of pre-teens. I was awed by the absolutely packed crowd at Millennium Park as I watched.
August, 27, 2014
Aug 27
12:07
PM CT
By Staff
ESPNChicago.com

As the city of Chicago celebrated their Little League U.S. champions,
Chicago Cubs
president Theo Epstein said Wednesday that Jackie Robinson West's success should be a "rallying cry" to bring more inner city kids back to baseball.
"At industry meetings and at the Cubs we always get together in boardrooms and suits and sit around and talk about how we can get kids playing baseball again and especially in the inner cities," Epstein said on "The Carmen & Jurko Show" on ESPN Chicago 1000. "We throw money behind it and we give our time but nothing we can do can match the inspiration that these kids set out. It's just really a watershed moment I think because the way these kids played the game and the attention they are getting has a chance to make baseball cool again for young kids.
"The Jackie Robinson West program is not just a two-week phenomenon. We supported them for three years since I got to Chicago but for decades and decades they have been impacting thousands of kids."
JRW, which was the first team from Chicago to reach the Little League World Series since 1983, defeated Nevada on Saturday to win the U.S. championship and then lost to South Korea on Sunday for the world title. They returned to Chicago as local heroes with their hometown throwing them a parade on Wednesday, capped off by a rally at Millennium Park.
Baseball is still a financial success, but Epstein said the demographics of the game are disturbing.
"There's a bit of a dichotomy because the economics of the game are really good right now as an $8, $9 billion industry but if you look at the demographics they're terrible," said Epstein, who congratulated JRW on stage at the rally on Wednesday. "We're losing young kids, especially young kids in the inner cities and there just aren't enough kids playing baseball these days. I think that's the No. 1 priority of Major League Baseball going forward. I think we recognize it but it's an easier problem to talk about than it is to solve.
"I do think this is a bit of a watershed moment because looks who's rallying around this team. The entire community, major league players, front offices, the entire city of Chicago so it's all of our responsibility to make sure that this doesn't fade away."
August, 27, 2014
Aug 27
9:00
AM CT
After yet another four-strikeout game Tuesday against the
Cincinnati Reds
, there must be some growing concern about
Chicago Cubs
rookie
Javier Baez
. Maybe not within the team, but definitely within a portion of the fan base that hasn't seen a player like this in a long time -- maybe ever.
[+] Enlarge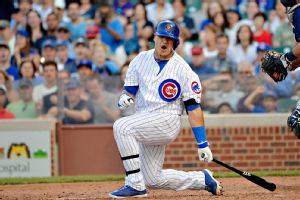 Brian Kersey/Getty ImagesAt this rate, Javier Baez would strike out 240 times in a season.
It's understandable to be confused by what you're seeing. There's the prolific home runs -- seven of them so far -- and the many strikeouts. He has 40 already, including striking out four times in each of four separate games. According to ESPN Stats & Information, no one has accomplished that feat within their first 21 career games in more than 100 years. And he's the first player ever to hit six or more home runs and strike out 30 or more times in his first 20 games, according to Elias Sports Bureau.
We are seeing something unique, and making a judgment on him for that reason alone would be premature. It's hard to compare him to anyone in baseball. At his current strikeout and home run rate, he would hit about 42 long balls and strike out 240 times. Let that sink in.
For now, the comparisons to other major leaguers won't sound favorable on the surface.
Adam Dunn
comes to mind. So does
Mark Reynolds
. These are/were high strikeout, low batting average, high home run hitters. In fact, former Cub Dave Kingman might be best as a comparison. He was a career .236 hitter and on a per-162 game basis he would average 37 home runs, 101 RBIs, 51 walks and 152 strikeouts. Kingman had four seasons of hitting sub-.240 with 30 or more home runs. That looks a lot like what Baez's stat line could be over a full year, though both the home runs and strikeouts could be even higher.
Here's the good news: These seem to be worst-case scenarios for Baez. We can already safely say he has power that won't disappear for a long time. That's not an easy statement to make regarding a 21-year-old middle infielder. But it is for him. So he has the power; now the rest of his game has to come along. He doesn't feel like the type who would have to sacrifice home runs to bring up his batting average and on-base percentage. Experience and coaching should do that.
Dunn hasn't exactly had a bad career. If Baez can reach base as much as Dunn did in his prime, no one will care about the strikeouts. And that's the point here. It's not about how Baez makes his outs -- or even how the team makes them -- it's about how many he makes over the course of the season. And, of course, when he makes them. Cutting down on just a few strikeouts in favor of a few more walks while being able to perform in high leverage situations -- instead of just swinging for the fences -- are the adjustments he'll need to make. The talent in him says he can do it, but his head will have to catch up.
Here's an idea moving forward. Forget about the strikeout totals and just look at his home runs and on-base percentage. If they are headed in the right direction then so is Baez. Otherwise, the Cubs may have to "settle" for Dunn or Reynolds. There are worse outcomes. Plenty worse. He could be a .210 hitter with no power. Let's see how this plays out while admiring the uniqueness he brings -- both the good and bad.

August, 26, 2014
Aug 26
10:09
PM CT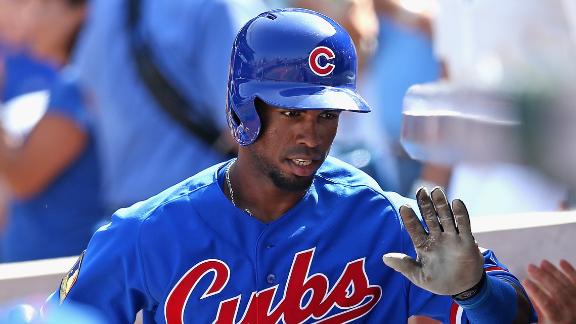 The
Chicago Cubs
beat the
Cincinnati Reds
3-0 on Tuesday night. Here's a quick look at the game.
How it happened:
Before a short rain delay in the first inning,
Anthony Rizzo
took
Johnny Cueto
deep to right for his 30th home run of the season.
Arismendy Alcantara
also went out to right with a man on in the seventh inning to extend the Chicago lead.
Travis Wood
kept the Reds off balance all night and gave up just two hits and a walk over six innings. He struck out five. Three relievers shut down the Reds the rest of the way, and
Hector Rondon
earned his 22nd save.
What it means:
The Cubs have been pitching lights out, and they followed up a one-hit effort on Sunday by giving up just three Tuesday. It was one of Wood's best starts of the season; a strong final month for him can't hurt going into next season. The Cubs' team ERA in August is a sparkling 2.96. That's second best in the National League this month.
Baez whiffs:
Javier Baez
struck out four times. It was his fourth four-strikeout game this season. According to ESPN Stats and Information, Baez became the first player in more than 100 years to reach that mark in his first 21 career games.
Rizzo leaves:
Rizzo became just the sixth player in baseball to reach 30 home runs this season, a feat he achieved for the first time in his young career. Not only has he increased his power this season, he's done it while bringing up his batting average, which was a point of criticism last year. He left the game after batting in the seventh inning; replays showed him wincing after his swing and a jog to first base. Cubs broadcaster Len Kasper said Rizzo left with lower back tightness. Outfielder
Ryan Sweeney
also left the game with a reported hamstring strain.
Castro's return:
Starlin Castro
played for the first time in a week after he was activated from the bereavement list. He had two hits in his first game since Aug. 19.
What's next:
Game 2 of the series takes place on Wednesday night at 6:10 CT when
Jacob Turner
(4-7, 5.77 ERA) makes his first start as a Cub. He'll face
Mat Latos
(4-3, 2.99). Outfield prospect Jorge Soler is expected to make his major league debut.
August, 26, 2014
Aug 26
9:55
PM CT
Associated Press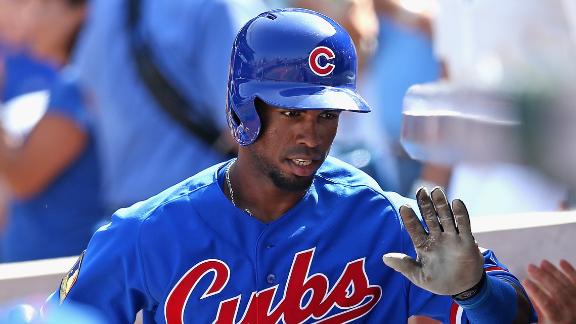 CINCINNATI -- Travis Wood pitched six innings of two-hit ball against his former team for his first win in two months, leading the Chicago Cubs to a 3-0 victory over Johnny Cueto and the Cincinnati Reds on Tuesday night.
Arismendy Alcantara hit a two-run shot and Anthony Rizzo connected for his 30th homer for the Cubs, who have won four in a row for the first time since June 30-July 4.
Cincinnati was shut out for the 12th time this season. Cueto (15-8) struck out eight in 6 1/3 innings in his second straight loss after winning seven consecutive decisions.
Wood (8-11) struck out five and walked one.
August, 26, 2014
Aug 26
4:35
PM CT
The
Chicago Cubs
open a three-game series against the
Cincinnati Reds
on Tuesday night.
•
Tuesday:
Travis Wood
(7-11, 4.91 ERA) vs.
Johnny Cueto
(15-7, 2.20), 6:10 p.m.
•
Wednesday:
Jacob Turner
(4-7, 5.77) vs.
Mat Latos
(4-3, 2.99), 6:10 p.m.
•
Thursday:
Jake Arrieta
(7-4, 2.53) vs.
Dylan Axelrod
(0-0, 3.00), 11:35 a.m.
Castro returns:
Shortstop
Starlin Castro
is back after missing the last five games due to a family tragedy in the Dominican Republic. A car accident claimed the lives of several friends and a relative. Castro had played in all 125 games this season for the Cubs, making his third All-Star team, before leaving the team last Wednesday.
Soler debuts:
He's not in the lineup Tuesday but he 22-year-old outfielder
Jorge Soler
should be on Wednesday for his major league debut. Soler signed a nine-year contract in 2012 but was plagued by injuries the past two seasons. Once healthy, he took off for Triple-A Iowa, hitting three home runs over his final four games, including one on Monday night before being pulled from the game and getting promoted.
Who's Hot/Who's Not:
Arismendy Alcantara
has gotten hot again. He was 8-for-23 (.348) on the most recent home stand, including a go-ahead home run in the series finale sweep of the
Baltimore Orioles
on Sunday. ... Although he hit two home runs on the home stand,
Javier Baez
was just 3-for-22 (.136).
August, 26, 2014
Aug 26
4:02
PM CT
Pitcher C.J. Edwards and shortstop
Addison Russell
are among seven players the
Chicago Cubs
will send to participate in the Arizona Fall League, MLB announced on Tuesday.
Both players were limited this summer due to injuries.
Russell, 20, is the third-best prospect in baseball, according to ESPN Insider Keith Law. He participated in fall ball last season while a member of the
Oakland Athletics
after being drafted 11th overall in 2012. Russell was sidelined at the beginning of this season with a hamstring injury. He was traded to the Cubs for pitchers
Jeff Samardzija
and
Jason Hammel
shortly after returning to action. He's currently at Double-A Tennessee.
Edwards, rated 67th, also missed time this season with shoulder soreness. Also at Double-A Tennessee, Edwards is 1-1 with a 2.25 ERA in nine starts. He was acquired in 2013 as part of a trade with Texas which sent
Matt Garza
to the Rangers.
Other Cubs participating in the Arizona Fall League are pitchers Zach Cates, Gerardo Concepcion and Ivan Pineyero. First baseman Dan Vogelbach is on the roster as is outfielder
Jacob Hannemann
, who was named to the taxi-squad.
Absent from fall participation is 2014 first-round pick Kyle Schwarber. He signed with the Cubs and started playing for the organization shortly after being drafted this summer so a need for more at-bats and playing time probably wasn't a high priority. Last summer, first-round pick
Kris Bryant
was a late signing so the extra time during the fall made sense. He won the Fall League MVP in 2013.
The Arizona Fall League consists of six teams made up of Double-A and Triple-A prospects from around baseball. Each major league organization provides seven players subject to certain eligibility requirements. The Cubs will play for the Mesa Solar Sox.
August, 26, 2014
Aug 26
1:00
PM CT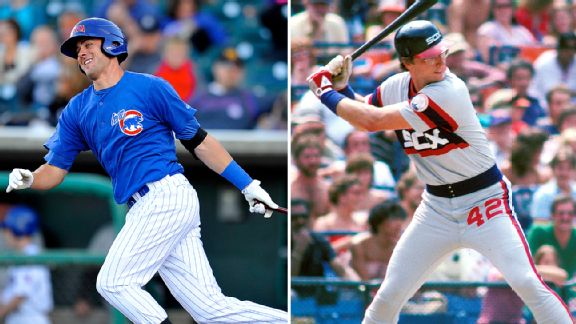 AP ImagesRon Kittle, in 1982, was the last player to hit 50 homers in the minors; Kris Bryant has 43.
Hitting 50 home runs is a rare accomplishment in baseball, even rarer in the minor leagues, where teams play fewer games and players can be moved from one level to the next at a moment's notice.
Chicago Cubs
prospect
Kris Bryant
is in sight of that number, though he'll need a big final week at Triple-A Iowa to get there.
The third baseman has 43 home runs entering play Tuesday, meaning he needed seven in the final six regular-season games for an Iowa team that's in the hunt for a playoff berth. (Iowa's regular season ends Sept. 1.) If he can hit 50 -- spread between Double-A and Triple-A -- he'll become the first player to do so in minor league baseball since former
Chicago White Sox
slugger Ron Kittle did it in 1982.
"Most guys don't get a chance to hit 50 home runs," Kittle said of minor leaguers in an interview Monday, "because if they're having that kind of success, they usually get called up."
That's not in the cards for Bryant this season, so he's been able to chase a home run mark that's stood for 32 years. Noting that this is Bryant's first full season in pro baseball and that they might need a 40-man roster spot, the Cubs have said the 22-year-old isn't getting called up. However, they don't want to highlight the fact that they'll get an extra year out of him before free agency if they wait until next April to bring him up.
"I would probably be a little upset and demand to go play somewhere else in the big leagues," Kittle joked of Bryant's plight.
Kittle said he was held back, as well, because the White Sox had an expensive Steve Kemp playing in front of him in 1982. But he did get a September call-up, something the Cubs say won't happen for Bryant. Who's ever heard of a player approaching 50 home runs in the minor leagues not getting promoted?
"If he's thought about it, he's not mentioning anything to us," Triple-A Iowa manager Marty Pevey said.
To be fair, the
Texas Rangers
said their top prospect,
Joey Gallo
, isn't coming up either, and he has 40 home runs, the most recent with Double-A Frisco.
Either way, it's a special season for Bryant, and if he can get to No. 50, it's bound to be a lasting memory for him. Kittle certainly remembers his 50th as if it was yesterday. He was playing for the Edmonton Trappers in the Pacific Coast League, the same league Bryant is in.
"It came on the next-to-last day of the season," Kittle recalled. "On a 3-2 pitch. A slider. I actually got up again in the game with the bases loaded and they intentionally walked me. I'm not kidding."
Kittle said pitchers stopped throwing him strikes long before he got to No. 50, so he had to take advantage of the mistakes when he could. Bryant has also had issues seeing pitches to hit, and he's made the best of it by taking walks while still hitting his share of home runs. He had five in April, 12 in May, 11 in June, seven in July and eight in August. Nothing has slowed him down.
"How many guys have you seen hit nearly 50 home runs?" Pevey asked rhetorically. "It's been a ride for him this year."
[+] Enlarge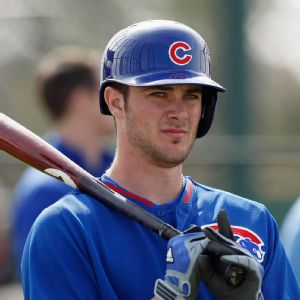 AP Photo/Rick ScuteriKris Bryant entered play Tuesday with 43 home runs and six games left in the regular season.
Kittle knows all about the ride. He admits he was gassed by the end of the 1982, when the media attention picked up steam as he got closer to 50 home runs. Then he came to Chicago in September, where the attention grew even more.
"I was tired," Kittle said. "It was a long season. You're playing in some hot places. Travel was tough. But it was a great experience. Fifty home runs or 49 was no big deal. I think it was bigger for the media."
Kittle went on to win Rookie of the Year in 1983, when he hit 35 home runs, helping the White Sox to the playoffs. But his home run totals steadily declined after that season, and he ended up with 176 in a 10-year career. Of course, Kittle was signed as an amateur free agent, while Bryant was the No. 2 overall pick in the 2013 draft. Cubs fans undoubtedly are hoping for more.
"I like people doing exciting things," Kittle said of Bryant's quest for 50. "I can't wait to see him the in the big leagues."
"That's your goal. To get to the top."
Bryant has never showed in public statements any frustration with the Cubs' decision to keep him in the minors. He's simply stated that he wants them to have a tough choice to make. Hitting 50 home runs -- or even coming close -- puts that decision-making in the spotlight.
There weren't service-time concerns for players such as Kittle back when he was coming up. But the Cubs can control Bryant a year further into the future if they wait; that's always been the prudent thing to do. And by keeping Bryant in the minors all season, he has a chance at achieving something special.
Kittle can't believe no one has accomplished the feat since he did -- even in the steroid era.
"I suppose anybody who was taking any juice was moving up the ladder a little bit quicker," he said.
As good as Bryant has been this season, it's doubtful he'll reach 50 home runs -- hitting seven in six games is a tall task, even for him. And if he plays in all six games, that would be only 138 for the season -- fewer than a full season in either Triple A or the big leagues. Whatever the final total, he's had a magical year. But that round figure of 50 has a nice ring to it.
"It's a magical number," Kittle said.
August, 26, 2014
Aug 26
9:40
AM CT
After only about a season's worth of at-bats in his entire minor league career,
Chicago Cubs
outfield prospect
Jorge Soler
is headed for the major leagues. He'll most likely debut in Cincinnati this week, according to sources familiar with the situation.
[+] Enlarge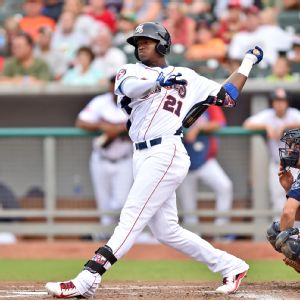 Tony Farlow/Four Seam Images/AP PhotoJorge Soler had a .494 on-base percentage in 22 games at Double-A Tennessee before being promoted to Triple-A Iowa.
Soler, 22, was injured last year and earlier this season, so he hasn't played a full season yet in the minors. But in compiling 15 home runs and 57 RBIs to go along with a .340 batting average in Double-A and Triple-A this season, the Cubs deemed him ready for prime time.
Listed at 6-foot-4 and 215 pounds, teammates say he's a "freakish" athlete who has the potential to be a five-tool player, although he wasn't a stolen base threat in the minor leagues. But that potential is one reason the Cubs signed the Cuban native to a nine-year, $30 million deal in 2012.
Since recovering from two different hamstring injuries, Soler has been on fire in Double-A and then Triple-A. He batted .415 -- with a .494 on-base percentage -- with six home runs and 22 RBIs in 22 games at Double-A Tennessee before his promotion to Triple-A Iowa, where his slash line is .282 AVG/.378 OBP/.618 SLG with eight home runs and 29 RBIs in 32 games.
Of all the Cubs prospects, Soler is being fast-tracked to the major leagues for two likely reasons: He has already signed a long-term major league contract, and he might have the best plate discipline of them all. The Cubs have always been up front about the fact that strikeouts and walks are a big factor in determining promotions at all levels. Since he signed with the Cubs, Soler has been on the right side of that equation.
In three minor league seasons, he has struck out a total of 105 times against 66 walks. This year he has 41 strikeouts and 29 walks split between Double-A and Triple-A. That's a 1.41 ratio. For comparison,
Javier Baez
had a 3.82 strikeout-to-walk ratio before being called up. Top prospect
Kris Bryant
has a 1.83 ratio this year, meaning he's close, as well. Considering Soler's age and experience, he has proved that he has the plate discipline of a more seasoned veteran.
On-base percentage is still a major concern for the Cubs, who rank second to last in the National League (.298) this season. Soler should help in that department as his .432 on-base percentage in the minors this season is off the charts. Bryant has that ability, too. When the Cubs start to reach base more often, their transformation on offense will be complete.
For now, Soler gets the same chance that fellow called-up prospects Baez and
Arismendy Alcantara
are getting: a head-start on 2015.
And fans get to see another piece to the puzzle debut.
August, 26, 2014
Aug 26
9:08
AM CT

By Keith Law
ESPN Insider
Archive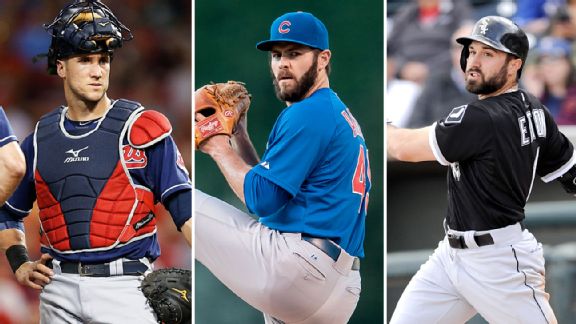 Getty ImagesMany "breakthroughs" are more products of small sample sizes or good luck. These appear different.
For these breakthroughs, I considered:
• Players who were no longer rookies to start 2014.
• Players who either established a substantially higher level of performance, or who established themselves as everyday players/mid-rotation starters when they were previously part-time or extra players.
While many other players had apparent breakouts this year (e.g.,
Josh Harrison
), these 10 players all have had breakouts that I believe are sustainable into future seasons. I picked five starters and five position players.
Pitchers
Garrett Richards

Unfortunately, Richards' season is over due to a freak knee injury that might put him out of action into spring training of 2015, which hurts the Angels' chances of advancing in the postseason and overshadows what an amazing year he's had. Richards was throwing mostly four-seamers and sliders before this season, which made him vulnerable to left-handed batters and generally to hard contact when he left the fastball up. This year, he added a two-seamer, with more life than the four-seamer (which has some natural cut) and a different look, while also adding a curveball to complement the slider, a pitch with similar shape but lower velocity. Assuming his knee allows it, he'll return to ace status next year.
August, 25, 2014
Aug 25
11:20
PM CT
ESPN.com news services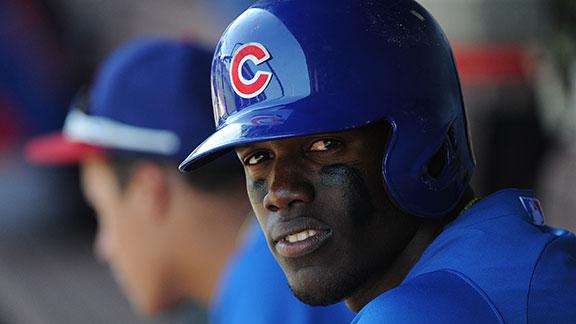 The Chicago Cubs are set to call up one of their top prospects, outfielder Jorge Soler, sources confirmed to ESPNChicago.com's Jesse Rogers on Monday.
Soler was pulled from the Iowa Cubs' game in Tacoma, Washington, on Monday night after hitting a three-run home run, his eighth of the season for Iowa.
The Cuban outfielder will join the Cubs in Cincinnati on Wednesday.
Soler is hitting .338 this season with 15 home runs and 54 RBIs across Triple-A, Double-A and the rookie league. He has played mostly at Double-A Tennessee and Triple-A Iowa, with a short stay rehabbing with a Cubs rookie league affiliate in Mesa, Arizona.
Cubs utility man Logan Watkins said this week that Soler is a "freakish athlete."
"He can do it all," Watkins said. "Obviously there are things he has to work on, but that's a freakish athlete."
Multiple Chicago-area media outlets reported the news earlier Monday night.
Soler, 22, would be just the latest call-up for the Cubs. Earlier this week, the team recalled 24-year-old outfielder Matt Szczur. Szczur was a fifth-round pick of the Cubs in 2010.
Information from ESPNChicago.com's Jesse Rogers contributed to this report.
August, 25, 2014
Aug 25
10:14
AM CT
CHICAGO -- If anyone can speak to the quality and depth of the
Chicago Cubs
prospect pool, it's newly demoted utility man
Logan Watkins
.
Watkins, 24, has been in the Cubs system since being drafted in 2008. He has played with All-Star shortstop
Starlin Castro
-- in the minors and at the major league level -- and next to
Kris Bryant
,
Javier Baez
and
Jorge Soler
. He had a cup of coffee with the Cubs in 2013 and was needed last week as Castro was dealing with a death in his family and played well, batting .300 in four games before being sent down Sunday.
[+] Enlarge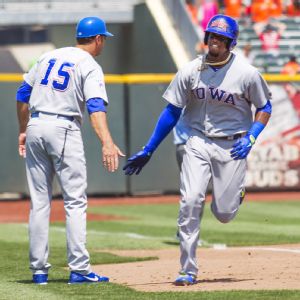 Michael Spomer/Cal Sport Media/AP ImagesJorge Soler is a "freakish athlete" who has a good approach at the plate, according to Logan Watkins.
"Like I said when I first came up, it's one of the most talented teams I've played on," Watkins said Sunday of the Cubs' Triple-A Iowa team this season.
Many of those talented Iowa Cubs were with him in the majors, save Bryant and Soler. Major league sources indicate the Cubs might not be done making trades this month, which could open a roster spot for either player, although the Cubs have already indicated Bryant isn't coming up. After a five-hit Saturday, plus three more including a home run on Sunday, Soler could be close.
"He's a freak but has a good approach at the plate," Watkins said. "He's not just up there just swinging."
Baez has shown a propensity to swing at anything -- see his 41.9 percent strikeout rate -- but Watkins believes Baez might be the most dangerous because he says pitchers will end up "pitching not to make mistakes."
Like outfielder
Matt Szczur
, Watkins' only chance to stick with the Cubs in the future likely is as a utility player. Nearly every time the organization wanted to look at a more highly touted prospect at a new position in Iowa, Watkins was moved around the diamond. When
Arismendy Alcantara
was moved from shortstop to second base at Triple-A, Watkins went to the outfield.
When Alcantara started playing more center field, Watkins went back to second base. And when Baez was preparing for his final promotion and moved to second, Watkins switched places with him and took over at shortstop.
"I feel like I've increased my value this year because I played everywhere," Watkins said. "I want to make myself a luxury for the manager. They're building a championship team here. I want to be a part of it."
Whether fans believe in the Cubs' rebuilding plan or not, the young talent believes in itself. The players think something special is on the way even if they can't see every detail of the plan yet.
"I think we're pretty much set up the middle if those two guys stay healthy," Watkins said of Castro and Baez. "Kris [Bryant] is a polished hitter. He goes pitch-to-pitch. He's going to play the game a long, long time."
But it's Soler who's next up. Even if the Cubs don't make a waiver deal between now and Sept. 1, rosters will expand for the final month and fans will get to see the best pure athlete of the group.
"He can do it all," Watkins said. "Obviously there are things he has to work on, but that's a freakish athlete."
August, 24, 2014
Aug 24
6:04
PM CT
CHICAGO --
Chicago Cubs
shortstop
Starlin Castro
will rejoin the team in Cincinnati when they open a series there on Tuesday night, the team announced on Sunday afternoon.
Castro has been on the bereavement list since a car accident in the Dominican Republic earlier this week claimed the lives of several people, including one of his relatives.
Castro has missed the last five games after playing in all of the Cubs' first 125 contests. He's hitting .284 with 13 home runs and 64 RBIs this season. To make room for Castro, the Cubs optioned infielder
Logan Watkins
to Triple-A Iowa.