July, 30, 2014
Jul 30
11:39
PM CT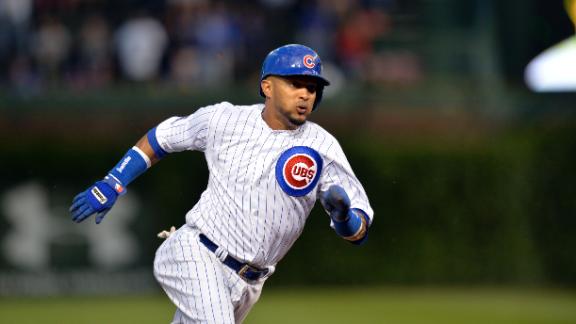 CHICAGO --
Chicago Cubs
infielder/outfielder
Emilio Bonifacio
treated Wednesday like it was a "normal day" despite the trade rumors swirling around him.
"Right now, there is nothing on," Bonifacio said after the Cubs' 6-4 loss to the
Colorado Rockies
. "I'm with the team [Thursday]."
Bonifacio was held out of the lineup in case a trade went down, as Cubs manager Rick Renteria said it was the "prudent" thing to do. Renteria sounded doubtful Bonifacio will be in the lineup or on the team by the end of Thursday.
"It's out of my hands," Bonifacio said. "I'm just going to come to the field tomorrow."
An erroneous report that
San Francisco Giants
second baseman
Dan Uggla
was released on Wednesday night led to speculation Bonifacio could be headed west, but as of Wednesday afternoon there were at least four other teams interested in the versatile player. The
Seattle Mariners
,
Baltimore Orioles
and his old team, the
Kansas City Royals
, have reportedly shown interest.
Bonifacio was asked if he would be excited to go to a contending team.
"You want to be part of that, but right now, you're still part of the Cubs," he said.
His agent, Paul Kinzer, told him "maybe something is going on," Bonifacio said. The Cubs aren't hiding the fact they wouldn't mind moving the soon-to-be free agent.
The non-waiver trade deadline is Thursday at 3 p.m. CT.

July, 30, 2014
Jul 30
11:04
PM CT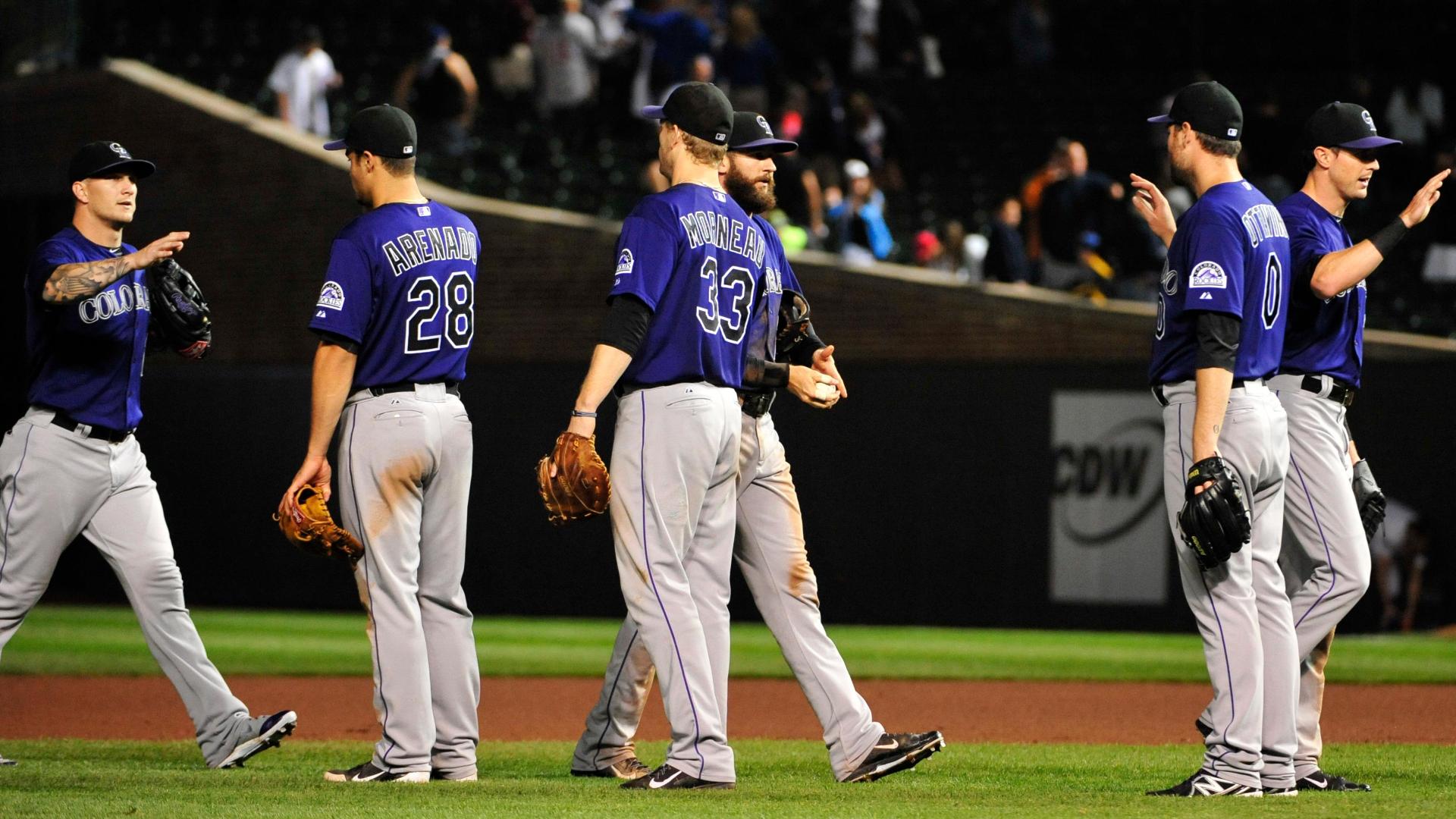 CHICAGO -- The
Chicago Cubs
lost to the
Colorado Rockies
6-4 on Wednesday night. Here's a quick look at the game.
How it happened:
The Rockies scored twice in the 10th off reliever
Wesley Wright
, once on an RBI hit by
Brandon Barnes
and again on a wild pitch. Earlier,
Luis Valbuena
tied the game 4-4 with a two-out, two-run home run in the bottom of the eighth.
Starlin Castro
reached on an error by center fielder
Drew Stubbs
before Valbuena's eighth home run of the year. The Rockies jumped on starter
Travis Wood
for three runs in the first two innings, as
Justin Morneau
,
Charlie Culberson
and
Charlie Blackmon
drove in runs. The Cubs scored their first run in the fifth as
John Baker
doubled home
Ryan Sweeney
. Colorado got that run back in the sixth, when
Michael McKenry
brought home Drew Stubbs with a double. The Cubs scored in the bottom of the inning, when Valbuena beat out an RBI infield hit. Wood lasted six innings in striking out a career-high 11 while employing a career-high 119 pitches. He gave up eight hits and two walks to go along with four runs.
What it means:
At least Wood got through six innings, even if he needed a career high in pitches to do it. He's still giving up too many hard-hit balls, as the Rockies earned every one of their runs off him. There were no cheapies. His ERA is 5.10 for the season. And though he got some swings and misses it was still a nonquality start.
With
Emilio Bonifacio
most likely on the move, the Cubs will lose some speed at the top of the lineup. The one-two punch of Bonifacio and
Arismendy Alcantara
created some excitement. Now it's Alcantara's chance to solidify the leadoff role going into next year. He had one hit in five at-bats.
It's unclear if Wright's rough 10th inning has any effect on his trade value. Wright has been effective most of this season.
Bonifacio sits:
He didn't start Wednesday's game for the first time since returning from an oblique strain last week. He's likely headed out of town before the non-waiver trade deadline on Thursday. Cubs manager Rick Renteria called it "prudent" not to start him until things "shake out."
What's next:
The final contest of the four-game affair takes place on Thursday afternoon, when
Jake Arrieta
(5-2, 2.18) pitches for the Cubs at 1:20 p.m. CT. The Rockies have not named a starter for the game. The Cubs are up 2-1 in the series.
July, 30, 2014
Jul 30
10:43
PM CT
Associated Press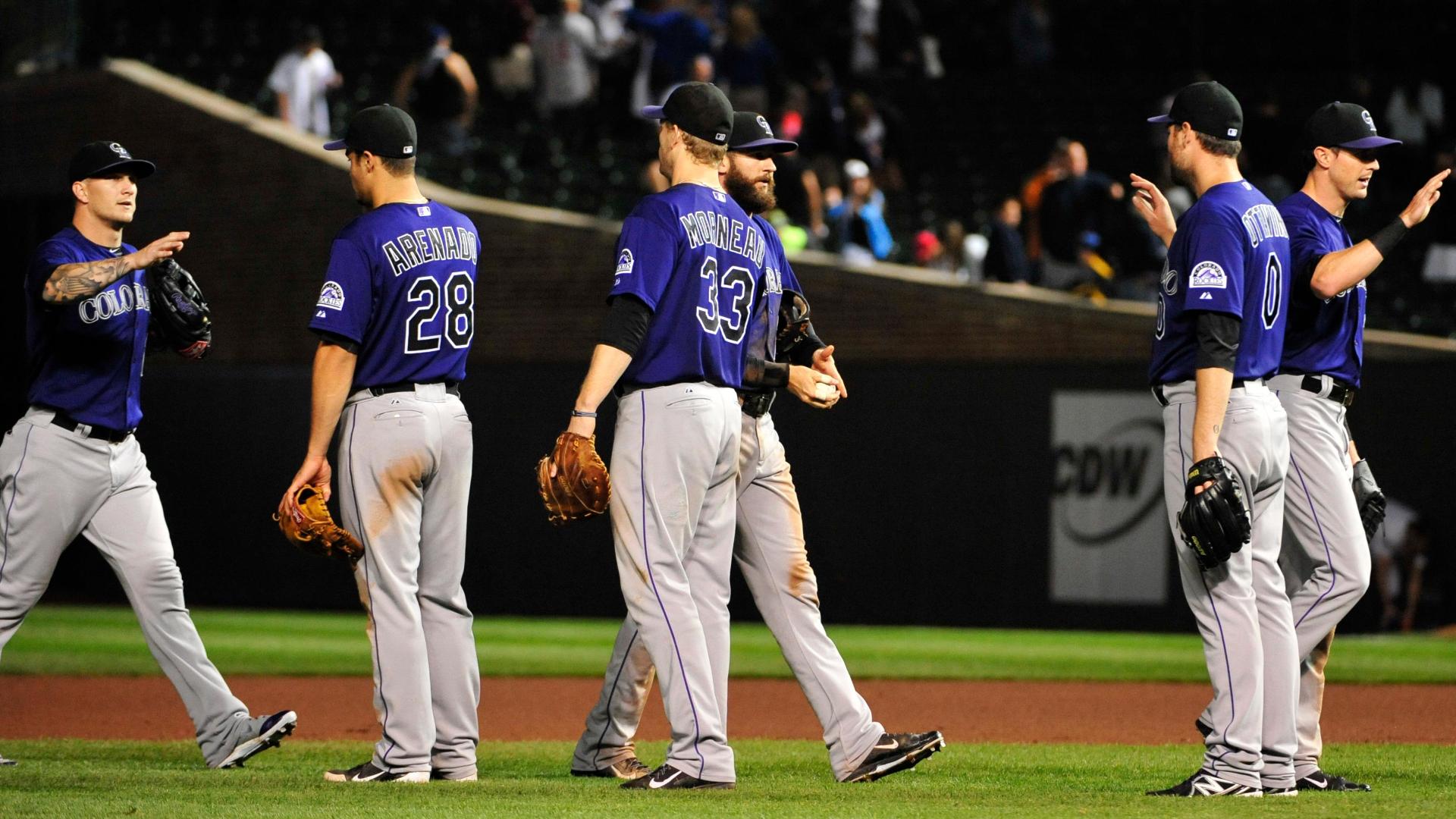 CHICAGO -- Brandon Barnes hit a tiebreaking RBI single in the 10th inning, and the Colorado Rockies beat the Chicago Cubs 6-4 on Wednesday night.
Colorado loaded the bases on two walks and Michael McKenry's third hit of the game before Barnes singled to left with one out against Wesley Wright (0-2). Drew Stubbs then scored on a wild pitch, helping the Rockies stop a three-game slide.
Rob Scahill (1-0) pitched a scoreless inning for his second major league win and Adam Ottavino got three outs for his first career save. Scahill was recalled from Triple-A Colorado Springs before the game, bolstering Colorado's bullpen after it used eight relievers in Tuesday night's 16-inning loss.
July, 30, 2014
Jul 30
8:03
PM CT
By paulyb
ESPNChicago.com


ESPNChicago's Jesse Rogers talks with
Chicago Cubs
catcher
John Baker
, who was the winning pitcher and scored the winning run in Tuesday's 16-inning marathon against the
Colorado Rockies
.


Click here for more audio from ESPN Chicago
.
July, 30, 2014
Jul 30
7:22
PM CT
CHICAGO -- The
Chicago Cubs
have recalled left-handed pitcher
Chris Rusin
while optioning righty
Blake Parker
to Triple-A Iowa, the team announced Wednesday.
Rusin is needed as the Cubs bullpen is taxed after a 16-inning game on Tuesday, during which catcher
John Baker
got the win over the
Colorado Rockies
after throwing an inning in relief. Seven relievers combined to pitch 12 scoreless innings in the tilt, leaving the Cubs down several bullpen arms for Wednesday night's game.
Parker threw two innings on Tuesday night in the victory. He's been up and down with the Cubs several times already this season.
Rusin has appeared in two games for the Cubs this season and is 7-11 with a 3.76 ERA for Iowa.
July, 30, 2014
Jul 30
5:44
PM CT
CHICAGO –
Chicago Cubs
infielder/outfielder
Emilio Bonifacio
has been held out of the lineup Wednesday in anticipation of a possible trade.
"With all this stuff that's going on we found it prudent to hold off to see how it shakes out," manager Rick Renteria said before the Cubs played the
Colorado Rockies
.
Bonifacio, 29, is likely to be traded after proving he's healthy since coming back from an oblique strain earlier this month. He's hitting .400 in eight games since missing time from June 13 to July 20.
Sources familiar with the situation say there are no less than five teams interested in the versatile Bonifacio. Seattle, San Francisco and Baltimore are among teams reportedly interested.
After playing second base and center field most of the season, Bonifacio has started at third base in the first two games of the series this week against the Rockies. He's hitting .279 with two home runs and 18 RBIs overall. He had four hits -- including a game tying home run -- in a 16-inning, 4-3 Cubs win on Tuesday.
"I don't know what's going on," Bonifacio said. "I can't worry about that stuff."
Renteria said he wasn't "anticipating" a deal but reiterated they would let things "shake out" while keeping Bonifacio on the bench. The non-waiver trade deadline is Thursday at 3 pm CT.
July, 30, 2014
Jul 30
2:48
PM CT
By
Kyle Brasseur
| Special to ESPNBoston.com
[+] Enlarge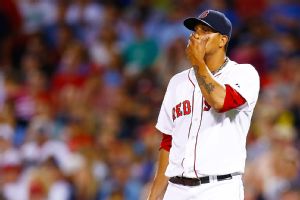 Jared Wickerham/Getty ImagesA struggling Felix Doubront recently had requested a trade out of Boston.
BOSTON -- The Red Sox on Wednesday traded left-hander pitcher Felix Doubront to the Chicago Cubs for a player to be named later.
The Red Sox will get a low-level prospect after the Rule 5 draft for Doubront, a source told ESPNChicago.com's Jesse Rogers.
Doubront struggled with the Red Sox this year, going 2-4 with a 5.19 ERA in 10 starts before being moved to the bullpen June 24. In seven games as a reliever, Doubront's numbers were even worse -- 11 earned runs surrendered on 15 hits in nine innings pitched.
The majority of that damage came on Monday night -- Doubront's last outing in a Red Sox uniform -- as the 26-year-old allowed six runs on six hits while only recording two outs. To observers Doubront seemed disinterested on the mound, perhaps a result of his reportedly expressed desire to return to the team's starting rotation days earlier.
"I don't know that two nights ago triggered a trade," manager John Farrell said Wednesday. "I don't think any trade just happens overnight."
July, 30, 2014
Jul 30
8:00
AM CT
CHICAGO -- It wasn't supposed to happen this way for
Chicago Cubs
right fielder
Nate Schierholtz
.
Coming off a career year -– and entering his free-agency season -– Schierholtz either was going to parlay another good six months into a multiyear deal or at least be traded to a contender by this Thursday's trade deadline. Now, neither is likely.
"Why waste my time worrying?" Schierholtz said Tuesday before taking the field against the
Colorado Rockies
. "Obviously this year hasn't worked out how it could have. I don't know what's going to happen."
[+] Enlarge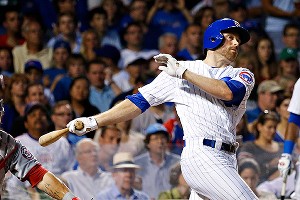 AP Photo/Charles Rex ArbogastNate Schierholtz believes his .201 batting average is a result of "trying to do more than last year."
Schierholtz was a sure-thing trade chip for the Cubs when the season started. He's a left-handed bat about to go to free agency for the first time in his career. The Cubs have no need for a 30-year-old outfielder with those credentials.
But then the season started and nothing went right.
"I started tinkering with my swing," he said. "Trying too hard. Trying to do more than last year. I put too much pressure on myself. It was a big learning experience."
His batting average hovered just above .200 for most of the season, and is down to .198 after an 0-for-7 game on Tuesday. His power, which produced a career-high 21 home runs in 2013, has been nearly nonexistent. He has six home runs this season.
"Was trying to make up for a month every day," Schierholtz said. "I put a lot of pressure on myself sometimes. It went downhill. Just working to get back to how I felt last year. That's been my goal."
Schierholtz could still be moved, of course. A team would have to hope a change of scenery makes the difference or hope for a return to 2013 form somehow.
He'll inevitably be put through waivers next month, as well. A team could get him for nothing at that point.
"In spite of the nonproduction he still gives you as good an at-bat as he can," said Cubs manager Rick Renteria. "We'll just keep allowing him to have opportunities to play, and we'll see if he can find his way out of this little rut."
Schierholtz isn't sure how he got to this point and, frankly, he'd rather forget about most of it. It's been that bad.
"Maybe a combination of things, but a slow start didn't help," he said. "It is what it is; can't wear out thinking about it. But I think I've learned from it.
"I've moved on from all that. Too much thinking sometimes."

July, 30, 2014
Jul 30
1:56
AM CT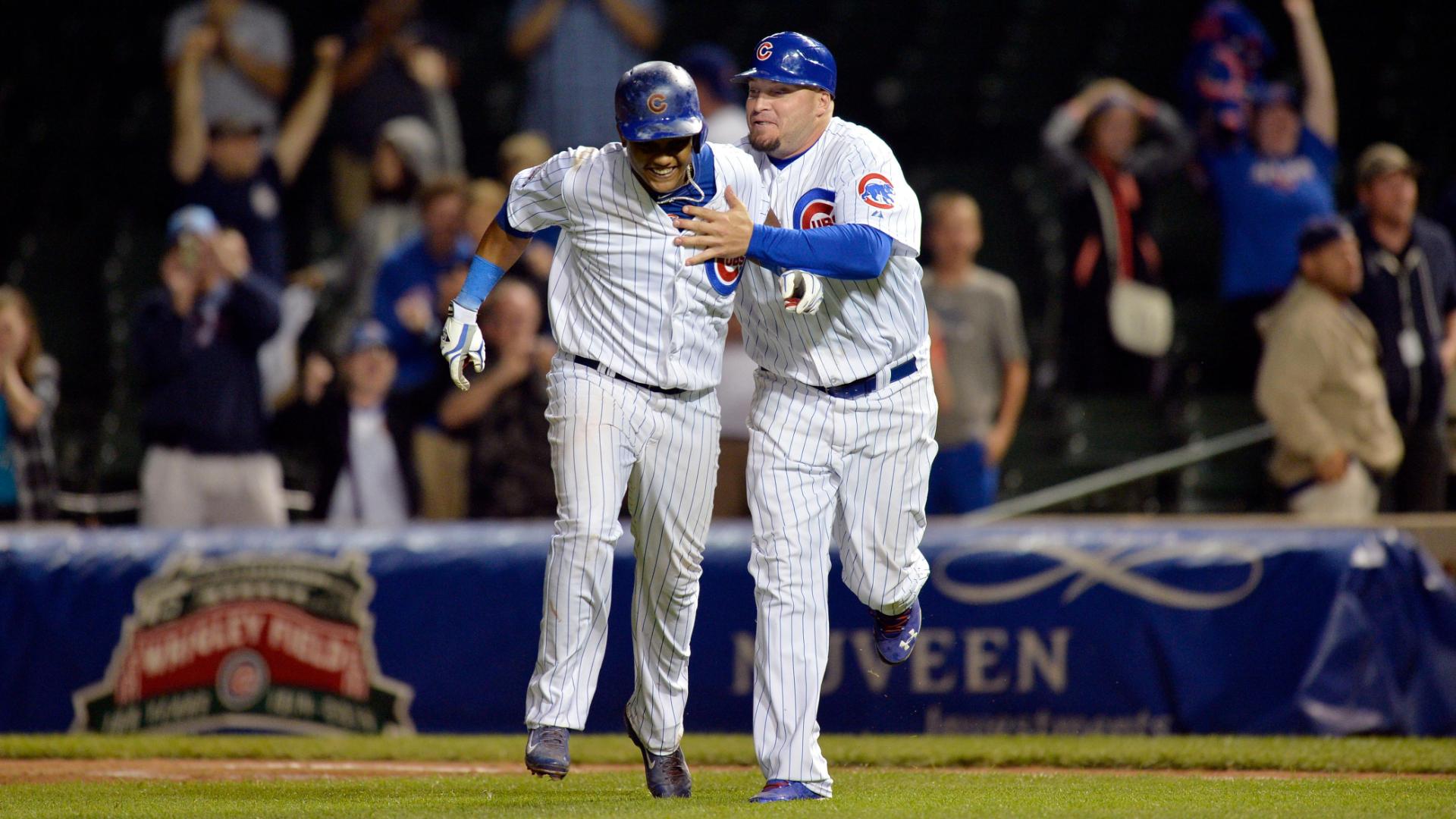 CHICAGO -- The
Chicago Cubs
beat the
Colorado Rockies
4-3 in 16 innings on Tuesday night. Here's a quick look at a long game:
How it happened:
Starlin Castro
drove home catcher-turned-relief pitcher
John Baker
with a sacrifice fly in the 16th to end the longest game in the histories of the Cubs and Rockies. Baker pitched the 16th inning to earn the win after the Cubs used eight pitchers, including starter
Edwin Jackson
, who lasted just four innings. Jackson labored through a 35-pitch first inning as
Nolan Arenado
and
Justin Morneau
had RBI doubles that produced three runs. The Cubs got one back in the bottom of the inning as Rizzo drove in
Emilio Bonifacio
, who had doubled. Three innings later, Bonifacio tied the game with his second home run of the season, a two-run shot. It stayed 3-3 all the way until the 16th inning.
Jackson lasted just four inning, throwing 105 pitches. He walked three while giving up six hits and three runs.
[+] Enlarge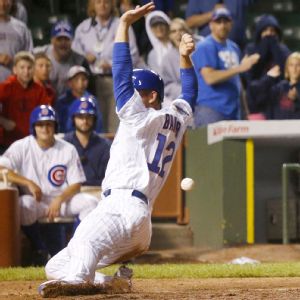 AP Photo/Charles Rex ArbogastCatcher -- and relief pitcher -- John Baker scored the winning run in the 16th.
What it means:
Jackson is doing the Cubs no favors by throwing so many pitches in so few innings. Little did he know his bullpen would have to throw 12 innings, but his team needs him to spare its taxed relievers. However, in start after start he continues to let them down. And his fielders can't like his slow pace, either. Though it was "only" three runs, the outing seemed a lot worse due to the high pitch count.
Bonifacio is playing his way out of town as he has gotten hot at the right time for the Cubs. He was a triple shy of the cycle, collecting four hits while raising his batting average to .400 since his return from an oblique injury. Barring a strange twist, Bonifacio should be moved before Thursday's 3 p.m. CT trade deadline.
Baker pitches:
Catcher John Baker became the first position player to pitch in a game for the Cubs since August 2012 when Joe Mather threw against the
Milwaukee Brewers
. He induced a popup, then walked a hitter before inducing a double-play grounder. Then he came to the plate, walked and scored the winning run a few moments later.
Longest game:
It was the Cubs' longest game in franchise history, the 6 hours, 27 minutes surpassing the 6:10 played on Aug. 17, 1982.
What's next:
Game 3 of the series takes place on Wednesday night when
Travis Wood
(7-9, 5.06) takes on
Brett Anderson
(1-3, 3.24).
July, 30, 2014
Jul 30
1:54
AM CT
Associated Press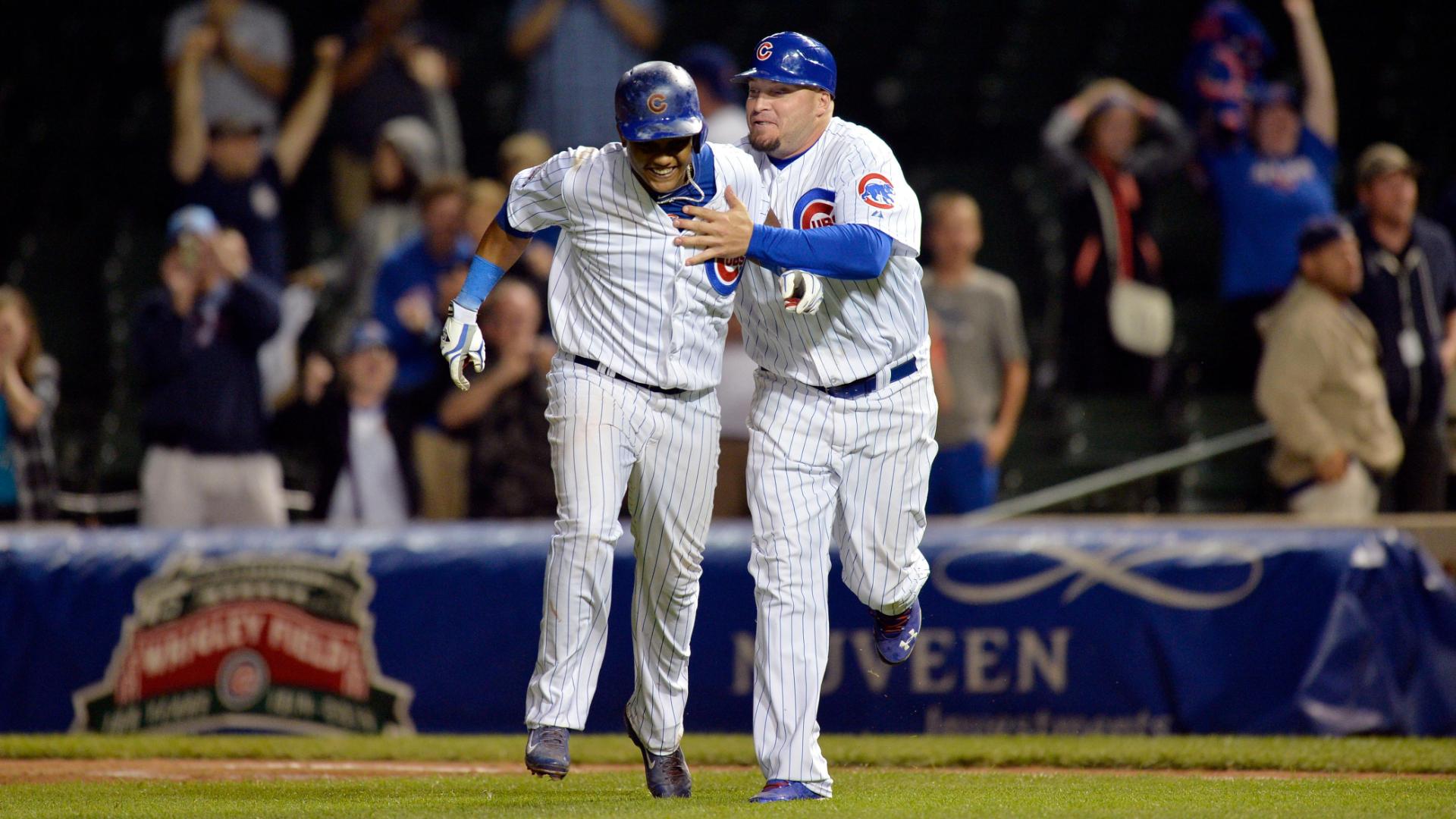 CHICAGO -- Catcher John Baker scored the winning run in the bottom of the 16th inning after pitching a scoreless top half, and the Chicago Cubs overcame a three-run deficit to beat the Colorado Rockies 4-3 on Tuesday night.
Baker scored on Starlin Castro's fly to end game that lasted 6 hours, 27 minute, a record for longest game by time for both teams.
Chicago used seven relievers before Baker (1-0) became the first Cubs position player to take the mound since Aug. 27, 2012, when Joe Mather faced Milwaukee.
The Rockies also used all seven relievers in their bullpen, then turned to Tyler Matzek, a starter in the 16th.
Matzek (2-5) walked Baker to lead off the inning. Baker advanced to second on a sacrifice, then third on Anthony Rizzo's bloop single before scoring.
July, 29, 2014
Jul 29
7:15
PM CT
CHICAGO -- Saying he's "envious" of buyers in the trade market as the Thursday deadline approaches,
Chicago Cubs
general manager Jed Hoyer says he thinks his team will be active and believes the market will start to move Wednesday.
"Tomorrow is moving day," Hoyer said before Tuesday night's game against the
Colorado Rockies
. "Things will get a lot more serious as we move into tomorrow. People are somewhat reluctant on the last day. You get too close to the deadline you can cut short your medical process and things like that. I just feel like tomorrow is the day, as we get to tomorrow evening is when a lot of people hone in on the deals they want to make."
Hoyer likened it to finding a "dance partner" and says he believes the Cubs should find one before Thursday's non-waiver deadline.
"I expect to be active," Hoyer said. "We're having a lot of conversations."
Those conversations involve infielder/outfielder
Emilio Bonifacio
, among others, according to a source familiar with the Cubs' situation. Hoyer said there would undoubtedly be more urgency for the Cubs if they hadn't already traded pitchers
Jeff Samardzija
and
Jason Hammel
earlier this month. Now it's about maxing out on some smaller deals.
"Free-agent markets are pretty thin now and you can trade a guy under club control, and unless you have a prospect that can do that same job, all that means is you're right back on the market this winter trying to find the same skill set," Hoyer said. "We're certainly aware of that and the price of the guys that are under club control certainly reflects that."
In other words, players such as
Chris Coghlan
,
Justin Ruggiano
,
Luis Valbuena
,
Travis Wood
and
Jake Arrieta
aren't in a group that the Cubs benefit highly from moving.
Nate Schierholtz
, Bonifacio and pitcher
Carlos Villanueva
are scheduled to become free agents after this season, so moving them makes plenty of sense. Left-handed relievers are always wanted commodities near the trade deadline, so
Wesley Wright
and
James Russell
could actually bring the Cubs back some prospects.
"People try to find a dance partner on the 30th and 31st [of July]," Hoyer said.
The Cubs found their partner in Oakland when the Athletics traded prospect Addison Russell for Samardzija and Hammel earlier this month, but that doesn't mean the Cubs are done dancing. Hoyer wouldn't mind it being the last time they're sellers.
"[Cubs president Theo Epstein] and I spent all those years in Boston always trying to buy," Hoyer said of he and the Cubs' current team president. "Some years we were active and some years we weren't, but we were always in that deal flow on that other side. That's the side you want to be on."
July, 29, 2014
Jul 29
7:05
PM CT
CHICAGO --
Chicago Cubs
top pitching prospect C.J. Edwards should be making his next start for Double-A Tennessee after completing a long rehab in Arizona, according to general manage Jed Hoyer.
Edwards has been out since late April because of shoulder soreness after making only four starts this season. He has been pitching for the Cubs' rookie team in Mesa where he threw 3 2/3 innings Monday.
"He was a little wild early but overall good stuff," Hoyer said. "He was up to 94 mph."
Edwards was the centerpiece of a five-player deal that sent
Matt Garza
to the
Texas Rangers
last July. He had two MRI exams on his right shoulder, in April and then later in the summer, showing no structural damage.
"He looked free and easy," Hoyer said. "He's excited to get back out there."
Edwards threw a total of 5 2/3 innings in Arizona giving up one earned run.