March, 15, 2014
Mar 15
9:36
AM CT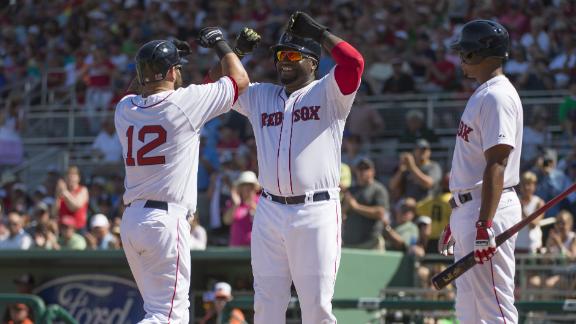 One of the main purposes of
ESPN Insider's Future Power Rankings
is to offer fans
hope
.
Even if your team is bad now, they might be really good in three years. The rankings are designed to peer into the projected future. However, this year's FPR also illustrated something else: baseball has achieved a tremendous amount of parity. If you look at the overall scores, you'll see that the gap between No. 1 and No. 5 (25.8 points) is larger than the gap between No. 5 and No. 25 (23.8). This kind of parity keeps fans' hopes alive because year to year any team could be that surprise contender.
The rankings showed there were four elite teams with scores well above the average: The
Boston Red Sox
,
St. Louis Cardinals
,
Los Angeles Dodgers
and
Texas Rangers
. Conversely there was a significant drop to the last four teams:
Philadelphia Phillies
,
Seattle Mariners
,
Milwaukee Brewers
and
Miami Marlins
. But what about that middle 22 teams?
For fans celebrating their teams ranked just below the elite at fifth or sixth, not so fast. For fans upset their teams ranked as low as 24th or 25th, not to worry. The reality is, there isn't much difference between the fifth-ranked team and the 26th-ranked team, thanks to this new competitive balance. Any of the teams within this range can easily move up or down within a year with some solid moves and decisions.
But how did baseball create such competitive balance so quickly?
To continue reading this article you must be an Insider
March, 14, 2014
Mar 14
7:57
PM CT
Associated Press
MESA, Ariz. -- Josh Beckett pitched three scoreless innings Friday before having to leave the game with soreness in his right thumb, but the Chicago Cubs beat the Los Angeles Dodgers 5-4.
Beckett, expected to be in the Dodgers' rotation, allowed only an infield single to Emilio Bonifacio while walking two and striking out one. He planned to go four innings, but left after three when the thumb, which he accidentally jammed in a door last week, began bothering him.
Cubs prospect Kyle Hendricks blanked the Dodgers for three innings. Hendricks allowed just an infield single by Dee Gordon, while walking one and striking out four.
Luis Valbuena hit a two-run homer for the Cubs. Drew Butera hit a solo homer for the Dodgers.
The game drew an overflow crowd of 15,191, another Cactus League attendance record at Cubs' Park.
March, 14, 2014
Mar 14
6:49
PM CT
MESA, Ariz. – In front of yet another record crowd for a Cactus League game, the Cubs defeated the
Los Angeles Dodgers
5-4 on Friday.
The Good:
Starting pitcher Kyle Hendricks was better than good. He was excellent against a starting lineup of mostly Dodgers regulars in front of 15,191 fans. He went three innings and gave up one hit and one walk while striking out four. The Dodgers produced very little good contact off him -- Hendricks even broke
Yasiel Puig
's bat in the first inning on a pop-up. Even the hit he gave up to
Dee Gordon
was a dribbler to first base that Gordon beat out.
Before the game, manager Rick Renteria said he was "still working" on a fifth starter with
Jake Arrieta
likely to start the season on the disabled list, but Hendricks probably won't be it. It doesn't mean he can't see Wrigley Field in 2014, especially if he keeps pitching like he did Friday.
Also,
Nate Schierholtz
had two hits and
Luis Valbuena
smacked his first home run of the spring.
The Bad:
Closer
Jose Veras
gave up three hits and two runs in his one inning of work. He wasn't fooling anyone as the Dodgers were all over his pitches. His ERA for the spring rose to 9.00. He limited the damage by picking off Alex Guererro at second base to end the inning. ... Outfielder
Ryan Sweeney
struck out three times and is hitting .056 so far this spring.
What's Next:
The 7-8 Cubs will play split squad games over the next three days, including games in Las Vegas against the
New York Mets
on Saturday and Sunday.
Tsuyoshi Wada
and
Chris Rusin
are the scheduled starters there, and
Jeff Samardzija
and
Travis Wood
will throw against the
Kansas City Royals
and
Cleveland Indians
in Arizona on those days.
The Cubs lineup on Saturday against the Roylas looks like this:
Junior Lake
CF
Ryan Roberts
2b
Welington Castillo
C
Justin Ruggiano
LF
Mike Olt
1b
Chris Valaika
SS
Josh Vitters
DH
Brett Jackson
RF
Christian Villanueva
3b
The lineup sets up this way against the Mets in Las Vegas:
Darwin Barney
2b
Donnie Murphy
3b
Nate Schierholtz DH
Anthony Rizzo
1b
Ryan Sweeney RF
Javier Baez SS
Darnell McDonald
LF
Eli Whiteside
C
Matt Szczur
CF
March, 14, 2014
Mar 14
6:20
PM CT
MESA, Ariz. -- Finally,
Chicago Cubs
infielder
Mike Olt
is going to play his natural position. At least, we think he is.
Manager Rick Renteria has been saying for a while that Olt would play third base soon. Olt threw from there on Friday during practice as he recovers from a sore shoulder that's nagged him since spring training began.
"All things being equal, he's coming along and showing everybody he's back on track as to who he was in the past," Renteria said.
That's a reference to Olt's hitting more than anything else. Olt belted two home runs Wednesday night against the Mariners and raised his batting average this spring to .333. But that's all happened while playing first base or as the designated hitter.
Olt called it a "big week" coming up with his chance to debut at third very soon. He is scheduled to play first base again this weekend, so the soonest he would play third is next week. It sounds like Renteria is aware of the implications.
"We were very happy that the day he had (and it) was really important to us," Renteria said.
Hammel progressing:
Jason Hammel
pitched against Cubs minor leaguers Thursday, going six innings while giving up eight hits and three runs. He threw 75 pitches and didn't walk anyone.
"He was elevated a little bit, made some adjustments towards the end of his outing," Renteria said. "His slider was working well. Had some good action."
Replay strategy:
Renteria still isn't convinced batter
Ryan Kalish
was out on a close play at first base in the fourth inning of Wednesday's game against the Mariners. He asked for his first replay of the season.
"It was inconclusive," Renteria said of what the umpires told him.
Similar to football, an inconclusive replay means the call on the field will stand. Renteria believes if Kalish was initially called safe that call would have been upheld. The Cubs are still finalizing their strategy for challenging calls.
"It's a work in progress," Renteria said.
March, 14, 2014
Mar 14
4:38
PM CT
MESA, Ariz. -- It wasn't long ago when
Chicago Cubs
third base prospect Kris Bryant was attending major league exhibition games in his hometown of Las Vegas.
Now he gets to play in them.
[+] Enlarge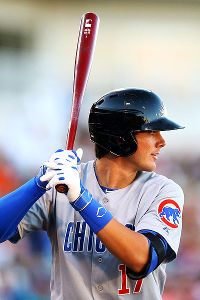 Mark J. Rebilas/USA TODAY SportsKris Bryant gets to play in front of a hometown crowd this weekend in Las Vegas.
"It's cool," Bryant said. "I grew up going to those games and now maybe there's a kid in the stands coming to watch us play."
Even though he was sent down to minor league camp recently, Bryant will travel with the big-leaguers to Las Vegas this weekend as the Cubs play the
New York Mets
on Saturday and Sunday, a tradition that's gone on for several years.
"When I was in high school I went to the Cubs/Sox game there, and I actually saw
Josh Vitters
play there," Bryant said.
That was in 2008 when Vitters was the hot prospect having been drafted No. 3 overall the previous June. Now it's Bryant who has all eyes on him as the No. 2 pick last summer. He and his friends attended in a suite that day to watch Vitters and the Cubs, now he thinks those same friends will be in the same suite watching him now.
"I get to play for the Cubs in my hometown which is pretty cool," he said. "I'm happy they're letting me go. Should be a fun weekend."
He won't start in Saturday's game but should on Sunday. Either way, his family is excited that he's coming home.
"I'm so proud of him," his father Mike said by phone. "We all are. We'll have friends and family there to see him then go out to dinner."
The younger Bryant wouldn't mind a home-cooked meal but mostly he'll be savoring his final days with the big-league club until next spring -- unless he makes it to Wrigley Field this season. That's highly unlikely.
"I'm having a blast," Bryant said of his first spring training.
So are his parents.
"Either way I got to see my boy in the big leagues for 3 weeks," Mike said. "I couldn't be more proud."
As long as the Cubs continue going to Las Vegas for exhibition games each spring Bryant is hopeful this is the first of many trips home.
"It'll be cool they don't have to come see me play, I'm coming to them," he said.
March, 14, 2014
Mar 14
1:12
PM CT
[+] Enlarge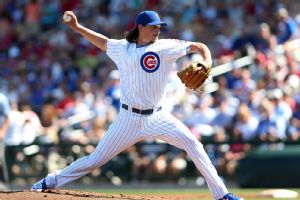 Christian Petersen/Getty ImagesJeff Samardzija will start on Opening Day for a second straight season.
MESA, Ariz. -- Chicago Cubs pitcher Jeff Samardzija was named the starter for the team's March 31 opener against the Pittsburgh Pirates, manager Rick Renteria announced Friday.
"Jeff has done it before," Renteria said. "He's put in a very strong year, as [Travis] Wood did. The decision was quite easy for all of us."
Samardzija was the Opening Day starter last season and beat the Pirates 3-1, throwing eight shutout innings. But Wood had the better year and was the team's lone All-Star.
"It's nice to have it done with and out of the way," Samardzija said. "Now you can really set your schedule which is nice."
Renteria was asked if he needed to talk with Wood about the decision.
"I think you just have your conversations with your guys," he said.
It could be Samardzija's last Opening Day with the Cubs. He is set to become a free agent after the 2015 season, and sources familiar with the situation indicate the Cubs will trade him before then if they can't sign him to a long-term deal.
March, 14, 2014
Mar 14
1:05
PM CT
MESA, Ariz. – The
Chicago Cubs
reduced their spring roster to 54 players Friday after cutting two more from major league camp. Pitcher
Dallas Beeler
was optioned to Triple-A Iowa while non-roster invitee pitcher Marcus Hatley was assigned to minor league camp.
The Cubs previously optioned infielders
Arismendy Alcantara
and
Logan Watkins
along with outfielder
Matt Szczur
to Triple-A Iowa while sending outfielder
Jorge Soler
to Double-A Tennessee.
Other non-roster invitees sent to minor league camp included pitcher Eric Jokisch and infielders Kris Bryant and Jeudy Valdez, as well as outfielder Albert Almora. Outfielder
Aaron Cunningham
was given his release.
March, 14, 2014
Mar 14
12:58
PM CT
ESPN.com news services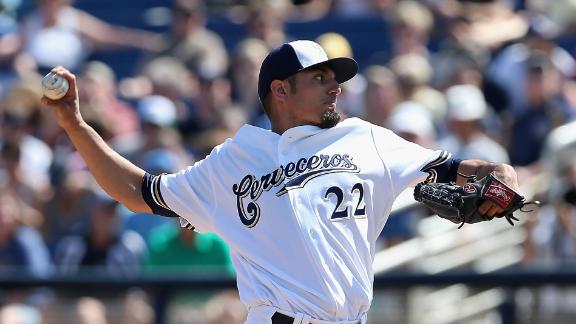 Milwaukee Brewers right-hander Matt Garza relished his experience with the Cubs and enjoyed his time in Chicago.
He won 21 games pitching for the Cubs most of the past three seasons before Chicago dealt him to the Texas Rangers at last July's trade deadline.
Garza will push his warm wishes for his former teammates aside this season, however, insisting he would have extra motivation whenever he takes the mound to face the Brewers' division rivals.
"I wish them the best," he said. "But I like where I'm at, and I'm going to try to kick their teeth in every time I get a chance."
Garza ended up going to the Brewers for four years and $50 million after going a combined 10-6 with a 3.82 ERA over 24 games with the Cubs and Texas in 2013. While he said he savored his time at Wrigley, he voiced some rancor about how the Cubs' front office treated him.
Speaking to the Chicago Sun-Times this week, Garza was still bitter about being on the trading block for a good part of his three years in Chicago and seeing his on-again, off-again contract talks with upper management ultimately prove fruitless.
"They finally put it like, 'Hey, we're rebuilding, don't get comfortable,'" he said. "You just take it with a grain of salt and enjoy the time while you're there.
"I'm just a pawn. It's just playing a chess match. You've got your king and your queen you have to protect, and then you put the pawns in. That's us."
Garza called it a learning experience.
"I dealt with a lot there," he told the Sun-Times, "a lot of positives and some negatives."
Several of Garza's ex-Chicago pitcher teammates brushed off Garza's comments when asked about them Friday, saying they were no big deal.
March, 14, 2014
Mar 14
12:03
PM CT

ESPNChicago's Jesse Rogers talks with Cubs infielder
Mike Olt
about his big game against the Mariners, the cure to his eye problems and when he might play third base.


Click here for more audio from ESPN Chicago
.
March, 14, 2014
Mar 14
6:39
AM CT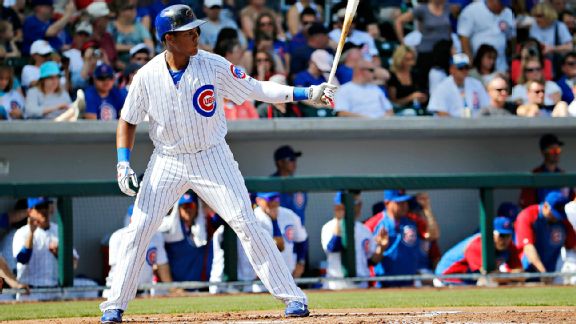 AP Photo/Matt YorkStarlin Castro is a piece of the future the Cubs have already invested in -- with mixed results.
Earlier this week, we looked for some
holes in the Top 300 fantasy rankings
for Messrs. Berry, Karabell et al. In the name of fairness, it's worth expressing some regret over the placement of a particular team in our
Future Power Rankings
, which came out Thursday.
Namely: I'm really, really surprised we have the Cubs as high as No. 7.
That's over the Tigers, who have made the playoffs every year lately. Over the Braves, who just locked up one of the youngest cores of stars in the big leagues --
Freddie Freeman
,
Andrelton Simmons
,
Craig Kimbrel
,
Jason Heyward
,
Julio Teheran
-- and had the second-most wins among NL teams last season. We had the Cubs over the
Tampa Bay Rays
, who have won as many postseason games in the past six seasons (12) as the Cubs have won in the past 78 years. We have the Cubs over the Yankees, who may not have run the most efficient franchise or farm system in the past decade but who have a habit of qualifying for games in October.
If you reverse-engineer the polling results, you can figure out how it happened
To continue reading this article you must be an Insider
March, 14, 2014
Mar 14
11:56
AM CT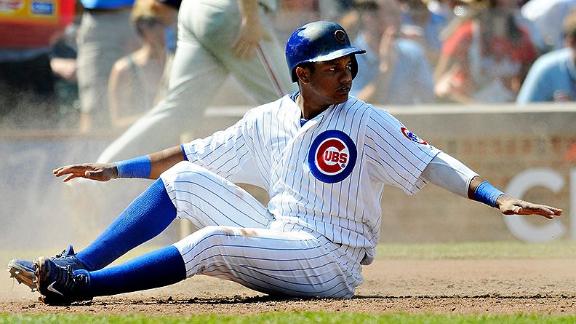 MESA, Ariz. -- Chicago Cubs shortstop Starlin Castro's return to the lineup has been indefinitely delayed as he deals with fluid in his leg from a hamstring injury suffered on March 2.
Initially, the Cubs said Castro would be out of the lineup for seven to 10 days, but on Friday morning, manager Rick Renteria gave no exact timetable on when Castro might play again.
"I don't have a set date in my head right now," Renteria said. "That's all based on how he's progressing. He's progressing well."
Earlier in the week, Castro indicated he might be back by this weekend, but Renteria said he wouldn't play before Monday. Now, Castro says it could be another week, as he's running at only "40 percent."
"I don't want to rush myself," Castro said. "If I can play in 10-12 games in spring training I think I'll be good for the season."
The Cubs have 16 days of games left on their spring schedule before their season opener in Pittsburgh.
"He knows his body more than I do," Renteria said. "He could be 75-80 percent in 3-4 days. We just don't know."
Castro injured his right hamstring sliding into second base during the Cubs' second Cactus League game. He hurt his left hamstring last spring and went on to have the worst season of his career, although the injury didn't plague him during the season. He started taking batting practice Thursday.
He wants to be 100 percent come April and wants to get back to stealing bases again. He had just nine last season after swiping 25 in 2012.
"That's one of my goals," Castro said. "Steal a lot of bases. I can do it because I have a green light now. When I want to run, I run."
March, 13, 2014
Mar 13
8:38
PM CT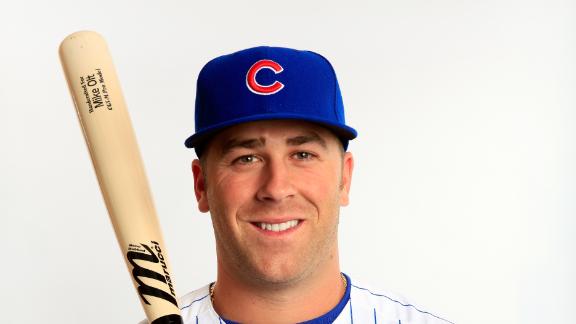 MESA, Ariz. – The
Chicago Cubs
never wavered during the winter whenever a reporter or fan asked what it would take for their top prospects to make the club out of spring training. The answer was always the same: "They can't."
[+] Enlarge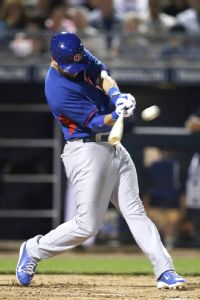 AP Photo/Darron CummingsMike Olt has a chance to open the season as the Cubs' starting third baseman.
But those talking points never applied to 25-year-old
Mike Olt
. It's not as if Cubs officials were handing him the third-base job -- far from it -- but it was understood by what they didn't say about him that Olt had a chance. He was the one exception to the "dominate every level of the minor leagues before being called up" narrative the Cubs had laid out for their other prospects. Olt is older and was on the verge of making the big leagues before being sidelined by vision problems.
Olt did dominate all the way up to Triple-A, where he struggled last season due to those eye issues. He still hit 14 home runs, which he attributed to "luck." Now he's seeing the ball again -- and hitting it well again. Two long home runs Wednesday night against the
Seattle Mariners
have vaulted him squarely into the conversation for the third-base job come Opening Day. He's hitting .333 this spring.
Undoubtedly, the Cubs wanted to see this Olt someday when they acquired him for
Matt Garza
last July. It was just a year earlier he was considered untouchable by the
Texas Rangers
, but his health issues made him expendable. He hit just .168 at Triple-A Iowa after the trade last season. There was no telling what would happen this spring.
But Olt insisted his vision problems were behind him after doctors figured out how to treat him with the correct eye drops. He didn't exactly stand out early in spring, and when games started, he struck out a few more times than he would have liked. But things started to click for him after some recent batting-practice sessions.
"Made some serious strides," he said Wednesday night.
They've paid off, which means the trade of Garza to the Rangers could yield even more than anyone thought. The key member of the deal was C.J. Edwards, who went on to win minor league pitcher of the year in all of baseball despite the midseason change of address. Now Olt is starting to show why Texas once thought so highly of him.
If he makes the team out of spring training, Cubs officials will be pleasantly surprised. They were set to start the season with
Luis Valbuena
and
Donnie Murphy
sharing time at third base until Olt or Kris Bryant was ready. Now there's a chance Olt can seize the job, and if things go really well for him, it could move Bryant to the outfield eventually. But that's a long way off. Right now, he has to keep doing what he's doing, because the question has shifted from if his eye problems are over to just how good can he be?