December, 8, 2013
Dec 8
10:00
AM CT
We continue our three questions series with the NL Central ...
St. Louis Cardinals
What do they need?
Unless the Cardinals surprise everyone with a blockbuster trade, they're essentially done for the offseason.
Jhonny Peralta
was signed to play shortstop,
Matt Carpenter
will move over to third and rookie
Kolten Wong
will be the second baseman.
Peter Bourjos
, acquired for
David Freese
, should take over a portion of the center-field duties from
Jon Jay
, with
Allen Craig
in right field, at least until
Oscar Taveras
is ready.
Do they have enough power?
The Cardinals led the NL in runs scored in 2013, but they hit a record .330 with runners in scoring position. (In 2012, they hit .264 with RISP.) They ranked 13th in the NL in home runs in 2013, and Bourjos and Wong aren't going to help in that department, so the offense will be hard-pressed to score 783 runs again.
Who's going to be in the rotation?
Adam Wainwright
,
Shelby Miller
,
Michael Wacha
and
Lance Lynn
have to be locks, leaving
Joe Kelly
,
Jaime Garcia
and
Carlos Martinez
for one spot (not to mention
Trevor Rosenthal
if the Cards were creative). For now, Rosenthal is the closer, and with
Edward Mujica
and
John Axford
gone, maybe Martinez stays in the pen for his rookie season.
Pittsburgh Pirates
What do they need?
First base, starting pitcher, right field.
Who are they going after?
They inquired about
Adam Lind
and
Mitch Moreland
, while free agent
James Loney
would be a relatively inexpensive signing. Pirates first basemen hit .264/.346/.422 with 17 home runs, so none of those guys are really big upgrades over that. Right field may actually be the bigger problem area, but with top prospect
Gregory Polanco
close to the majors, the Pirates can live with a
Jose Tabata
/
Travis Snider
platoon for a year or half a season. Well, try to live.
What about A.J. Burnett ... or David Price?
If Burnett retires or signs elsewhere, the Pirates do have a big hole in the rotation to fill.
Francisco Liriano
is unlikely to repeat his big season (16-8, 3.02 ERA) and the league figured out
Jeff Locke
in the second half.
Wandy Rodriguez
is still around and
Gerrit Cole
has ace potential, but one more starter would be nice. The Pirates have the prospects to acquire Price. Don't be shocked if they get him.
Cincinnati Reds
What do they need?
Besides
Joey Votto
taking all those walks instead of driving in runs? Right now, the Reds are counting on speed demon
Billy Hamilton
to take over from
Shin-Soo Choo
in center and veteran
Ryan Ludwick
to return from an injury-plagued 2013. Hamilton hit .258/.308/.343 at Triple-A, so there are concerns over his bat at the major league level. Ludwick will be 35, making him a risky bet for a bounce back, especially since 2012 had been his best season since 2008. They did sign
Skip Schumaker
, who provides insurance in center.
Will they go after a starter?
With the departure of
Bronson Arroyo
, it's possible, although they still have a solid five-man group with
Tony Cingrani
. And there's always the possibility that new manager Bryan Price (elevated from pitching coach) will convince
Aroldis Chapman
to move out from the bullpen.
OK, Brandon Phillips. On the market or not?
First he was, then GM Walt Jocketty said he wasn't. Then CEO Bob Castellini said, "you never say never." Schumaker could play second base (or even Hamilton, who played shortstop before moving to center last season) if the Reds do decide to trade Phillips, who is signed through 2017.
Milwaukee Brewers
What do they need?
A first baseman. The Marlins are offering
Logan Morrison
around, so that could be a good fit.
Ike Davis
would be available from the Mets. They traded
Norichika Aoki
to acquire
Will Smith
from the Royals. Smith will get a chance to win a rotation spot.
Do they have any trade chips left?
Not really, unless you include
Ryan Braun
.
Aramis Ramirez
is still around, but he's not a fit for the Marlins or Mets. The farm system isn't exactly loaded with top prospects.
Is there a chance this team could be in the playoff race?
I'm done picking the Brewers. Braun,
Carlos Gomez
,
Jean Segura
and
Jonathan Lucroy
make for a nice core, but the rotation needs
Yovani Gallardo
(4.18 ERA) and
Wily Peralta
(4.37 ERA) to pitch better, and the lack of depth is a huge problem.
Chicago Cubs
What do they need?
Well, they were 14th in the NL in runs scored and 12th in runs allowed. So ... basically, everything. But the prospects are coming!
Will Jeff Samardzija be with the Cubs in 2014?
The Cubs seem determined to trade him, and he's viewed as one of the players most likely to be traded during the winter meetings. Will he be part of a package to acquire Price? The Cubs have been quiet this offseason, foregoing free agents, so you have to wonder if a big trade is in the works. Or maybe they'll just punt on another season as they wait for Kris Bryant, Javier Baez and company to arrive.
Will anybody take Starlin Castro?
No reason to trade him now. The Cubs would be selling low. Maybe new manager Rick Renteria can get him back on track.
December, 7, 2013
Dec 7
12:06
PM CT

Adding a closer is one of the top items on the
Chicago Cubs
' to-do list this winter, and veteran right-hander
John Axford
just might end up being the guy they sign.
To continue reading this article you must be an Insider
December, 7, 2013
Dec 7
9:00
AM CT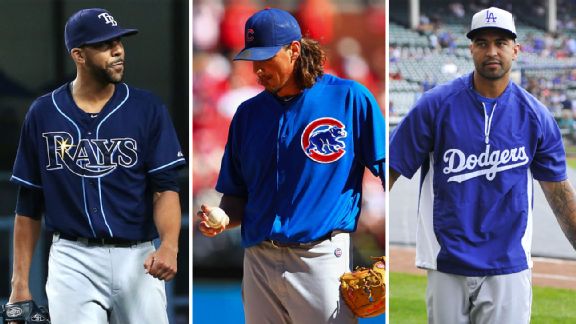 Getty ImagesDavid Price, Jeff Samardzija and Matt Kemp will keep the rumor mill churning.
General managers have been feasting this offseason on blockbuster trades and huge free-agent acquisitions. Some of the game's biggest names --
Prince Fielder
,
Ian Kinsler
,
Jacoby Ellsbury
, and
Brian McCann
-- have new homes, as do major players such as
Jim Johnson
,
David Freese
,
Doug Fister
,
Ricky Nolasco
,
Phil Hughes
and
Joe Nathan
.
However, consider that the appetizer. The main course awaits at baseball's annual winter meetings in Orlando. Expect to see another slew of big names swap teams. Here are eight players who are most likely to be on the move.
1. David Price | LHP | Tampa Bay Rays

I think the Rays most likely will trade Price during the winter meetings. While they have the option of waiting until next July's trade deadline or even next offseason if they don't get the prospect package they're looking for, their history says he's gone.
The Rays will likely be in the pennant race by July so it will be difficult to trade Price at that point. The 2014 offseason is just too late to trade him considering Price's value would be much lower because his new club would only control him for one season and thus net a correspondingly lower trade package. And an extension simply is cost prohibitive based on the present market.
But where will he go? After acquiring
Wil Myers
in the deal for
James Shields
last year, executive vice president of baseball operations Andrew Friedman will insist on a prospect of at least the same caliber, but this time around will prefer a starting pitching prospect who could develop into a No. 1 starter.
To continue reading this article you must be an Insider
December, 6, 2013
Dec 6
3:34
PM CT
Free-agent right-hander Scott Feldman has agreed to terms with the Houston Astros on a three-year contract, the club said Friday.
Various reports say the deal is worth $30 million.
Feldman, 30, had a 3.86 ERA in 2013, splitting time between the Chicago Cubs and Baltimore Orioles. He was a reliable starter, pitching 181 2/3 innings with 132 strikeouts and 52 walks.
The signing comes a few days after the Astros acquired outfielder Dexter Fowler and his $7.35 million salary from the Colorado Rockies.
Feldman began his career with Texas and spent parts of eight seasons with the Rangers as a reliever and starter. He joins a young Houston rotation that includes Jarred Cosart and Brett Oberholtzer.
A report in The Baltimore Sun says the Orioles wanted Feldman but were not willing to go past two years for him.
December, 6, 2013
Dec 6
11:03
AM CT
CHICAGO -- The
Chicago Cubs
introduced new manager Rick Renteria to the local media Thursday while the front office also held court in advance of the winter meetings in Orlando, Fla., next week.
Here's some news and notes as the Cubs head to Disney World in search of talent:
[+] Enlarge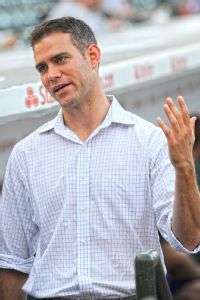 David Banks/USA TODAY SportsTheo Epstein says the Cubs are in search of a starter, bullpen help, an outfielder and looking to "round out the bench" during the winter meetings.
No Rule 5 pick:
The Cubs won't be as busy next Thursday when major league baseball holds it's annual Rule 5 draft which exists so teams aren't allowed to stockpile talent in their minor leagues. Their pick will go to the
Philadelphia Phillies
to resolve a grievance regarding former Rule 5 pick of the Cubs, pitcher
Lendy Castillo
.
Castillo wasn't active for the required number of days for a Rule 5 pick in 2012, so the Cubs are giving their pick to Philadelphia this year. Team President Theo Epstein said the club wasn't going to select anyone with their selection anyway.
Winter meetings:
Epstein says the Cubs are in search of a starter, bullpen help (closer), an outfielder and looking to "round out the bench" during next week's meetings. He expressed some jealousy over a flurry of baseball activity earlier this week and wants to be part of that when his club is ready. It also means keeping a level head next week.
"It's important to have people around you reminding you it's important to do the right deal not just to do a deal," Epstein said. "There's deal momentum at the winter meetings unlike anything you've ever seen before so it's important to make sure you keep your perspective."
December, 5, 2013
Dec 5
5:14
PM CT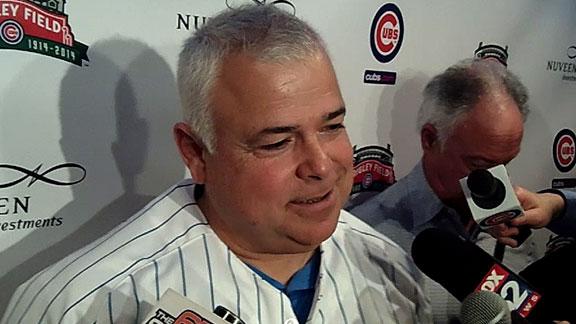 CHICAGO -- Donning a
Chicago Cubs
jersey for the first time, new manager Rick Renteria is excited about the opportunity to lead the Cubs, including embattled shortstop
Starlin Castro
.
Castro is coming off his worst season as a professional -- hitting just .245 -- but the positive-minded Renteria is ready to go to work on him -- and the rest of the team.
[+] Enlarge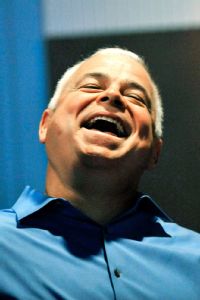 AP Photo/Paul BeatyRick Renteria is hoping to impart his positive attitude on the Cubs' clubhouse, including Starlin Castro, who is coming off his worst season as a professional.
"I have to get to know him as a person and I have to figure what it is that moves him," Renteria said at a Wrigley Field luncheon with media on Thursday. "Sometimes we (as people) don't have conversations, thinking we don't want to have a confrontation or maybe we don't like the answer we're going to get. But the reality is we have to have dialogue and the only way you can improve things is to converse and try to put a plan or an idea on how they can move forward. That's one of the things we have to do as teachers."
Former manager Dale Sveum wasn't one to shy away from a tough conversation, but the key difference with the new coaching staff might come down to that one word: teaching.
Team President Theo Epstein was asked what the major goal was in recent hirings, including former batting champion
Bill Mueller
as hitting coach and newly retired player
Eric Hinske
as first base coach.
"To find as many coaches as we can that can impact players," he responded. "It takes a special personality as well as experience to actually reach the modern player. To dig deep and engage ... and find out what makes them tick."
That might be Renteria's strength. His positive attitude became an attribute early in his career. At Class-A ball in 1982 he had his best year as a professional, hitting .331 with 14 home runs and 100 runs batted in. His manager was former infielder for the
Detroit Tigers
, Johnny Lippon.
December, 5, 2013
Dec 5
1:33
PM CT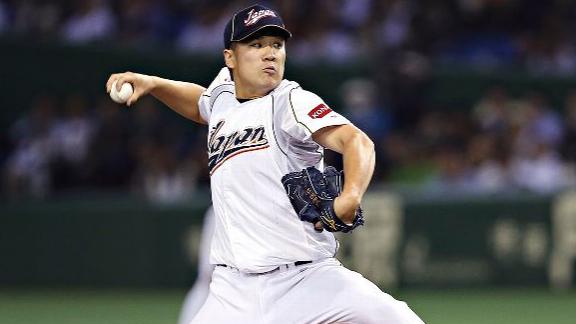 Japanese pitcher Masahiro Tanaka's baseball future was thrown into flux Thursday when the president of the Tohoku Rakuten Golden Eagles told a newspaper that the team might not make the prized starter available to major league teams as a free agent this winter.
Yozo Tachibana told Sponichi that the Golden Eagles might refrain from making Tanaka available through the posting process. Under a proposed system, major league teams would submit maximum bids of $20 million for rights to negotiate with Tanaka, and Tanaka would be free to sign with the club of his choosing among those that meet the threshold.
Previously, major league teams would submit bids and the club with the highest offer would receive exclusive rights to negotiate with the player.
"We have an obligation to explain to our stakeholders whether it's fair," Tachibana reportedly told Sponichi. He added that if Rakuten shareholders do not think the proposed rules are fair, "There's a possibility we won't take the next step."
Tanaka, 25, is a prime target for multiple big league clubs that hope he can have an impact similar to the one Yu Darvish has had with Texas. When Darvish came to the U.S. in January 2012, the Rangers gave him a six-year, $60 million contract on top of the $51.7 million posting fee they paid to his former club, the Nippon Ham Fighters. Darvish led the American League with 277 strikeouts this past season and finished second to Detroit's Max Scherzer in Cy Young Award balloting.
December, 5, 2013
Dec 5
2:01
PM CT

While Major League Baseball and Japan's Nippon Professional League are
reported to be close
to an agreement on the free agent posting fee process, that might not be good news for teams interested in signing pitcher Masahiro Tanaka.
To continue reading this article you must be an Insider
December, 4, 2013
Dec 4
9:26
PM CT
CHICAGO -- The Chicago Cubs have agreed to terms on a one-year contract with left-handed reliever Wesley Wright just two days after he was nontendered by the Tampa Bay Rays, a source familiar with the situation confirmed.
Wright, 28, was 0-4 in 70 games combined for the Houston Astros and Rays this past season. He broke in with the Astros in 2008, after being drafted by the Los Angeles Dodgers in 2003.
For his career, Wright has a 4.37 ERA with two saves. He is limiting left-handed hitters to a .232 batting average and has struck out 5.5 batters for every walk issued to a lefty.
James Russell was the lone lefty reliever for the Cubs for most of 2013, appearing in a combined 151 games over the last two seasons. Russell is arbitration eligible after earning $1.075 million last year.
The deal with Wright is reportedly worth $1.425 million, according to USA Today, which earlier reported the agreement between the sides.
Wright changed his Twitter profile Wednesday evening to read "Relief Pitcher for the Chicago Cubs."
December, 4, 2013
Dec 4
3:08
PM CT
CHICAGO -- The
Chicago Cubs
' search for a radio analyst to replace Keith Moreland may be down to two names, according to a source familiar with the process.
Current television studio analyst
Todd Hollandsworth
and former player and Chicago native
Ron Coomer
are the frontrunners, although there are a "couple others still in the picture," according to the source.
Hollandsworth, who was Rookie of the Year for the
Los Angeles Dodgers
in 1996, played for the Cubs in 2004-05. He's been the pre- and post-game analyst for Cubs games on ComcastSportsNet since 2009.
Coomer played one season (2001) for the Cubs before retiring from his playing career in 2003. He's been an analyst for the
Minnesota Twins
' radio and television outlets after playing for the Twins for five seasons.
The Cubs flagship station, WGN Radio, said they hoped to have a replacement for Moreland by mid-January when the Cubs Convention takes place.
December, 4, 2013
Dec 4
10:36
AM CT
CHICAGO -- If the
Chicago Cubs
are looking for coaches who can relate to their young players than they may have found one in 36-year-old new first base coach
Eric Hinske
.
The former 17th-round pick of the Cubs in 1998 is newly retired from the game as a player, having seen action with the
Arizona Diamondbacks
last season. He spent a total of 12 years in the big leagues after the Cubs traded him to Oakland in 2001 for
Miguel Cairo
.
Hinske hit .249 with 137 home runs in his career. He was the rookie of the year with the
Toronto Blue Jays
in 2002.
Hinske is the final hire for new manager Rick Renteria's staff. He joins
Bill Mueller
(hitting coach), Gary Jones (third base), Mike Brumley (assistant hitting coach) and Brandon Hyde (bench coach) as newcomers. Leftover from former manager Dale Sveum's coaching ranks are Chris Bosio (pitching), Lester Strode (bullpen), Mike Borzello (catching and strategy) and Franklin Font (staff assistant).
December, 3, 2013
Dec 3
2:35
PM CT
CHICAGO -- The
Chicago Cubs
made the right choice in tendering second baseman
Darwin Barney
a contract for 2014. If there was any angst over the decision, there shouldn't have been, because Barney deserves another chance.
[+] Enlarge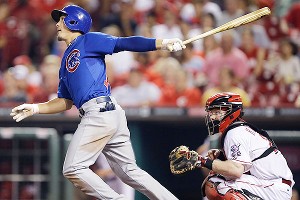 AP Photo/Al BehrmanThe Cubs have to hope Darwin Barney can regain his 2011 form when he batted .276.
Make no mistake, if No. 1 prospect Javier Baez was ready for the big leagues and the Cubs believed second base was where he needed to play, that would mean a different story for Barney. Same goes for rising prospect
Arismendy Alcantara
. Some may even think
Logan Watkins
deserves a real chance at second base. Watkins was an on-base machine in the minors before being recalled last season, but he barely got off the bench. And for all we know, he'll push Barney this spring or summer.
But until further notice, Barney gets another chance to rebound from a rough season at the plate in which he hit just .208 and got on base only 27 percent of the time. The simple reason is Dale Sveum and the old coaching staff. If Sveum and Co. are going to be blamed for the "regression" of
Anthony Rizzo
and
Starlin Castro
, then Barney fits into that category as well.
In fact, going back to last offseason, Sveum may have worked more closely with Barney than Rizzo or Castro. The bottom line is Barney hit .276 the season before Sveum arrived. He hit .254 and .208 in the two years under him. It would be way too simplistic to put that all on Sveum, but Barney deserves a fresh start with a new coaching staff just like Rizzo and Castro.
And even with some poor numbers, he has shown some signs. He'll battle an opposing pitcher with the best of them -- he was third in the league in foul ball percentage at 43.6 percent, according to ESPN Stats and Information. With two strikes he fouled a pitch off 47.6 percent of the time, tops in the league. It's a good reason why he's only struck out an average of 63 times in three full seasons in the big leagues.
But those foul balls don't mean much -- other than driving up a pitch count -- if the at-bat ends in an unproductive out. And Barney actually fouls off more pitches (46 percent) outside the zone than inside (42 percent). Maybe that's where his upside lies or perhaps his deficiency. All players get hits off pitches outside the zone, or at least take more walks than Barney's 36 last season. So a few more balls that go forward instead of backward could make the difference for him as will laying off a few of those outside the zone. And Barney's seven home runs and 41 RBIs in 2013 aren't bad for a hitter who mostly bats in the eighth spot in the lineup. In fact, only
Matt Dominguez
of the
Houston Astros
had more runs driven in from that position in the order than Barney.
Of course, Barney doesn't get another chance at the plate without his work in the field. As bad as he was on offense, he was a Gold Glove winner as well as a finalist at second base in two years under Sveum. That counts for more than just a passing mention. If Sveum gets some blame for Barney's offense then his coaching staff gets some credit for mentally keeping him in the game on defense. FanGraphs basically has Barney as the best defensive second baseman in the game over the past two years. So for Barney to be an effective overall player he only has to return to respectability at the plate.
Unless something unexpected happens, expect the Cubs to sign him for 2014. After that, there are no guarantees. But he deserves another chance to improve at the plate.
At least for a while.
Roster shaping
There were no major surprises during Monday's tender deadline.
The Cubs signed their new backup catcher in
George Kottaras
after
Dioner Navarro
joined the
Toronto Blue Jays
. Navarro wanted a multiyear deal and the Cubs wouldn't give more than one. That has basically been their philosophy lately. If you're not part of the core for the future the Cubs aren't going to be locking you up.
Infielder
Donnie Murphy
fits into that category and between his signing and the Cubs tendering
Luis Valbuena
a contract, it made
Mat Gamel
expendable. According to sources, Murphy had a lucrative offer from Japan after hitting 11 home runs in less than two months last season. An arbitration hearing would have been unique considering his short but successful stay in the majors in 2013, so instead, both sides decided to lock him up. But again, it's for one year.
With prospects Baez, Alcantara, Kris Bryant,
Mike Olt
and others getting ready to break into the majors, one-year deals is the norm right now. And that's the right thing to do.
December, 3, 2013
Dec 3
10:20
AM CT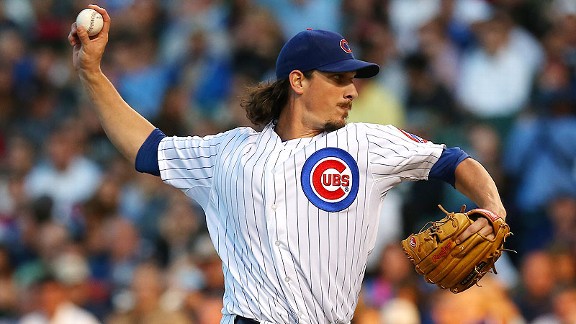 Jonathan Daniel/Getty ImagesJeff Samardzija's trade value is at its peak right now. Should the Cubs trade him?
Should the
Chicago Cubs
trade
Jeff Samardzija
?
Certainly their priority is to re-sign their ace right-hander to a long-term contract. However, if they enter the winter meetings without closure to negotiations with Samardzija, don't be surprised if they deal him. As the rumor mill has probably told you by now, Cubs president Theo Epstein and general manager Jed Hoyer also have been checking the trade market to find out which avenue is best for their long-term goals.
With a free-agent market thin on top-of-the-rotation starters, Samardzija is arguably better than what's available, including
Matt Garza
,
Ervin Santana
,
Hiroki Kuroda
,
Ubaldo Jimenez
and
Bronson Arroyo
. After Japan and MLB agree on a posting system, you possibly can add even Masahiro Tanaka to that list.
However, the Cubs don't have to trade Samardzija -- they control him for two more seasons and have the ability to move him at the July trade deadline or next offseason. However, as we discussed with
Tampa Bay Rays
left-hander
David Price
, the 28-year-old Samardzija is entering his prime, as his trade value will likely never be higher.
Samardzija pitched a career-high 213 2/3 innings this season, finishing with a 4.34 ERA and 1.24 WHIP. He has a nasty fastball in the 93-96 mph range, which he also cuts in the low 90s, with a hard slider (84 mph) and nasty split-finger fastball (also 84 mph). The repertoire says he should be a top-of-the-rotation type starter and in a new environment should reach that potential this upcoming season.
To deal him, however, the Cubs have to receive a significant package in return. And since their system is flush with elite hitting prospects but few pitchers, they would be looking to add elite arms in any major deal. So here are four trades for Samardzija that would make sense for the Cubs. If they can't get this type of return, they should just hold on to him.
1. Baltimore Orioles trade RHP Kevin Gausman straight up

The Orioles' window to win a World Series title with their present corps of stars will close over the next two seasons. And without a top-of-the-rotation starter, that's going to be difficult.
To continue reading this article you must be an Insider