July, 30, 2014
Jul 30
1:56
AM CT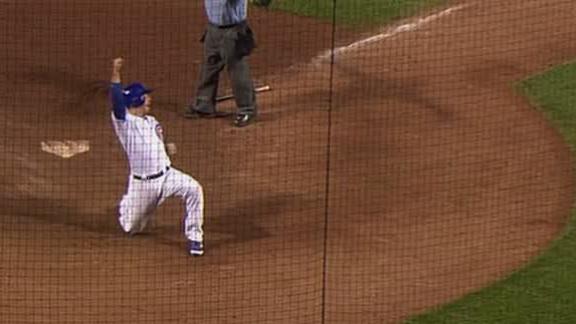 CHICAGO -- The
Chicago Cubs
beat the
Colorado Rockies
4-3 in 16 innings on Tuesday night. Here's a quick look at a long game:
How it happened:
Starlin Castro
drove home catcher-turned-relief pitcher
John Baker
with a sacrifice fly in the 16th to end the longest game in the histories of the Cubs and Rockies. Baker pitched the 16th inning to earn the win after the Cubs used eight pitchers, including starter
Edwin Jackson
, who lasted just four innings. Jackson labored through a 35-pitch first inning as
Nolan Arenado
and
Justin Morneau
had RBI doubles that produced three runs. The Cubs got one back in the bottom of the inning as Rizzo drove in
Emilio Bonifacio
, who had doubled. Three innings later, Bonifacio tied the game with his second home run of the season, a two-run shot. It stayed 3-3 all the way until the 16th inning.
Jackson lasted just four inning, throwing 105 pitches. He walked three while giving up six hits and three runs.
[+] Enlarge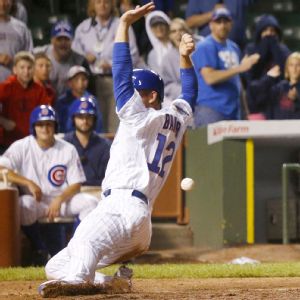 AP Photo/Charles Rex ArbogastCatcher -- and relief pitcher -- John Baker scored the winning run in the 16th.
What it means:
Jackson is doing the Cubs no favors by throwing so many pitches in so few innings. Little did he know his bullpen would have to throw 12 innings, but his team needs him to spare its taxed relievers. However, in start after start he continues to let them down. And his fielders can't like his slow pace, either. Though it was "only" three runs, the outing seemed a lot worse due to the high pitch count.
Bonifacio is playing his way out of town as he has gotten hot at the right time for the Cubs. He was a triple shy of the cycle, collecting four hits while raising his batting average to .400 since his return from an oblique injury. Barring a strange twist, Bonifacio should be moved before Thursday's 3 p.m. CT trade deadline.
Baker pitches:
Catcher John Baker became the first position player to pitch in a game for the Cubs since August 2012 when Joe Mather threw against the
Milwaukee Brewers
. He induced a popup, then walked a hitter before inducing a double-play grounder. Then he came to the plate, walked and scored the winning run a few moments later.
Longest game:
It was the Cubs' longest game in franchise history, the 6 hours, 27 minutes surpassing the 6:10 played on Aug. 17, 1982.
What's next:
Game 3 of the series takes place on Wednesday night when
Travis Wood
(7-9, 5.06) takes on
Brett Anderson
(1-3, 3.24).
July, 30, 2014
Jul 30
1:51
AM CT
Associated Press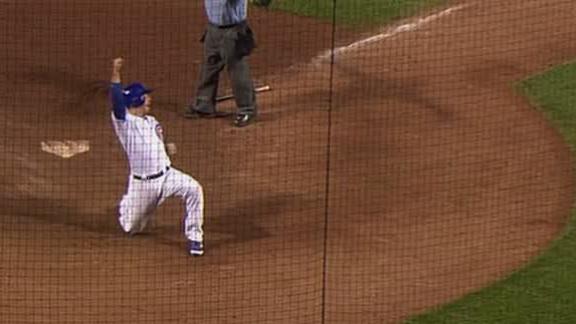 CHICAGO -- Catcher John Baker scored the winning run in the bottom of the 16th inning after pitching a scoreless top half, and the Chicago Cubs overcame a three-run deficit to beat the Colorado Rockies 4-3 on Tuesday night.
Baker scored on Starlin Castro's fly to end game that lasted 6 hours, 27 minute, a record for longest game by time for both teams.
Chicago used seven relievers before Baker (1-0) became the first Cubs position player to take the mound since Aug. 27, 2012, when Joe Mather faced Milwaukee.
The Rockies also used all seven relievers in their bullpen, then turned to Tyler Matzek, a starter in the 16th.
Matzek (2-5) walked Baker to lead off the inning. Baker advanced to second on a sacrifice, then third on Anthony Rizzo's bloop single before scoring.
July, 29, 2014
Jul 29
7:15
PM CT
CHICAGO -- Saying he's "envious" of buyers in the trade market as the Thursday deadline approaches,
Chicago Cubs
general manager Jed Hoyer says he thinks his team will be active and believes the market will start to move Wednesday.
"Tomorrow is moving day," Hoyer said before Tuesday night's game against the
Colorado Rockies
. "Things will get a lot more serious as we move into tomorrow. People are somewhat reluctant on the last day. You get too close to the deadline you can cut short your medical process and things like that. I just feel like tomorrow is the day, as we get to tomorrow evening is when a lot of people hone in on the deals they want to make."
Hoyer likened it to finding a "dance partner" and says he believes the Cubs should find one before Thursday's non-waiver deadline.
"I expect to be active," Hoyer said. "We're having a lot of conversations."
Those conversations involve infielder/outfielder
Emilio Bonifacio
, among others, according to a source familiar with the Cubs' situation. Hoyer said there would undoubtedly be more urgency for the Cubs if they hadn't already traded pitchers
Jeff Samardzija
and
Jason Hammel
earlier this month. Now it's about maxing out on some smaller deals.
"Free-agent markets are pretty thin now and you can trade a guy under club control, and unless you have a prospect that can do that same job, all that means is you're right back on the market this winter trying to find the same skill set," Hoyer said. "We're certainly aware of that and the price of the guys that are under club control certainly reflects that."
In other words, players such as
Chris Coghlan
,
Justin Ruggiano
,
Luis Valbuena
,
Travis Wood
and
Jake Arrieta
aren't in a group that the Cubs benefit highly from moving.
Nate Schierholtz
, Bonifacio and pitcher
Carlos Villanueva
are scheduled to become free agents after this season, so moving them makes plenty of sense. Left-handed relievers are always wanted commodities near the trade deadline, so
Wesley Wright
and
James Russell
could actually bring the Cubs back some prospects.
"People try to find a dance partner on the 30th and 31st [of July]," Hoyer said.
The Cubs found their partner in Oakland when the Athletics traded prospect Addison Russell for Samardzija and Hammel earlier this month, but that doesn't mean the Cubs are done dancing. Hoyer wouldn't mind it being the last time they're sellers.
"[Cubs president Theo Epstein] and I spent all those years in Boston always trying to buy," Hoyer said of he and the Cubs' current team president. "Some years we were active and some years we weren't, but we were always in that deal flow on that other side. That's the side you want to be on."
July, 29, 2014
Jul 29
7:05
PM CT
CHICAGO --
Chicago Cubs
top pitching prospect C.J. Edwards should be making his next start for Double-A Tennessee after completing a long rehab in Arizona, according to general manage Jed Hoyer.
Edwards has been out since late April because of shoulder soreness after making only four starts this season. He has been pitching for the Cubs' rookie team in Mesa where he threw 3 2/3 innings Monday.
"He was a little wild early but overall good stuff," Hoyer said. "He was up to 94 mph."
Edwards was the centerpiece of a five-player deal that sent
Matt Garza
to the
Texas Rangers
last July. He had two MRI exams on his right shoulder, in April and then later in the summer, showing no structural damage.
"He looked free and easy," Hoyer said. "He's excited to get back out there."
Edwards threw a total of 5 2/3 innings in Arizona giving up one earned run.
July, 29, 2014
Jul 29
6:11
PM CT
CHICAGO – The
Chicago Cubs
are placing recently demoted reliever
Neil Ramirez
on the 15-day disabled list with a sore right triceps, the team announced Tuesday.
"All year we've been talking about giving these guys a rest," general manager Jed Hoyer explained before the Cubs played the
Colorado Rockies
on Tuesday night. "That was the intention, to give him a rest. We've tried our hardest to be careful with him, as far as getting him up and down and (pitching) back-to-back days."
The Cubs curiously sent Ramirez to Triple-A Iowa on Saturday, the day after his last appearance. He was in the midst of a stellar rookie year, putting up a 0.96 ERA to go along with a 0.93 WHIP and three saves over the course of 28 innings pitched this season. He never appeared in a game for Iowa before going on the disabled list.
"That was probably the right way to handle it once he came up sore," Hoyer said.
Hoyer admitted the Cubs talked to the Major League Baseball Players Association, as resting a player by demoting him to the minor leagues could be viewed as an attempt to save on a major league salary, but Ramirez was placed on the major league disabled list, retroactive to his last appearance Friday.
The Cubs say they'll try to find more rest for a young group of relievers who have been taxed by shorter outings from starters
Travis Wood
and
Edwin Jackson
.
"I think we've seen a dip in performance in our young relievers," Hoyer said. "They all look a little bit tired."
July, 29, 2014
Jul 29
4:15
PM CT
July, 29, 2014
Jul 29
11:53
AM CT
CHICAGO -- With Thursday's non-waiver trade deadline approaching, the value of
Chicago Cubs
utility man
Emilio Bonifacio
may never be higher since he started the season as one of the hottest hitters in baseball.
[+] Enlarge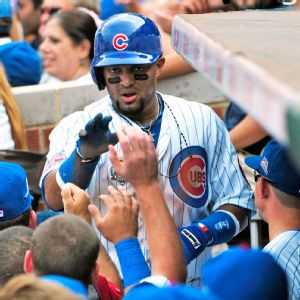 David Banks/Getty ImagesCubs utility man Emilio Bonifacio is batting .357 in July.
"I'm not focused on that," Bonifacio said before collecting two more hits in a 4-1 victory over the
Colorado Rockies
on Monday night. "I have enough to worry about facing the pitchers."
Bonifacio may not be focused on it, but many are focused on him. The Cubs and Rockies aren't exactly a marquee matchup in the standings, but for pro scouts, the two cellar dwellers have plenty to offer. Bonifacio is on their lists. All the American League East and West contenders have had scouts at Cubs games as have National League East and West teams.
When the Cubs signed Bonifacio during spring training, general manager Jed Hoyer declared him a "perfect fit" for an NL team due to his versatility. That attribute makes predicting where Bonifacio will end up nearly impossible. Some may use him in the outfield, others in the infield. The bottom line is if players such as
Darwin Barney
and
Dan Uggla
found new homes, then Bonifacio could as well. He's far more attractive.
After missing more than a month with an oblique strain, Bonifacio has found his groove again. He has a hit in six of seven games, going 10-for-28 (.357) in that span and batting .271 for the season.
"I don't know," Bonifacio said. "Maybe the time off got me some new energy."
Either by design or coincidence, Bonifacio played third base Monday, adding to his defensive duties, which have mostly limited him to second base and center field. His versatility and hot bat make him attractive to a number of contending teams. One NL executive believed he would be a perfect "last-minute deal on Thursday" as teams move on from bigger trade possibilities.
Bonifacio joins left-handed relievers
James Russell
and
Wesley Wright
as the Cubs players most likely to be moved by Thursday, but Chicago could trade any of its outfielders as well.
"I don't pay attention to it," Russell said Monday. "I hear it from you [media] guys."
Many of the Cubs' potential trade chips were on display in Monday's win. Russell threw a third of an inning, outfielder
Justin Ruggiano
had a hit and an RBI,
Chris Coghlan
struck out twice but made a couple of nice catches in left field, and Bonifacio made a difference on offense with his bat and legs.
"I really don't get into the possibilities or the chances of any movement," manager Rick Renteria said of trades. "I concern myself more with the guys that we have and how we'll move forward."

One school of thought has the Cubs holding on to their outfielders like Ruggiano and Coghlan, as they are under team control and the Cubs will need some bodies out there next season as they continue a transition to more talented prospects. But that strategy came back to bite them as right fielder
Nate Schierholtz
has followed up a career-best 21 homers in 2013 with a subpar 2014, making him practically untradable. Before the season, of the position players, Schierholtz was a sure thing to be moved by the deadline since he will be a free agent at season's end. But his .203 batting average and six home runs has kept his name out of the headlines.
"He's just not the same hitter he was last year," one NL scout said.
Schierholtz could still be moved in August when players have to clear waivers. Several Cubs will undoubtedly be put through the process as
David DeJesus
was last season. He ended up with the
Tampa Bay Rays
after a short stay with the
Washington Nationals
.
This whole process is becoming all too familiar in the Cubs clubhouse, and players are doing their best to deal with the talk.
"One of our strengths is sometimes our lack of intelligence when it comes to what's going on in the baseball world," catcher
John Baker
said. "Everybody seems to think that after they get three or four hits they're going to be the next guy that's going to be traded. For me, I tend to laugh at that stuff."
Bonifacio's situation could have a trickle-down effect on other players. It could lead to the anticipated call-up of Triple-A Iowa infielder Javier Baez. Since moving to second base after the All-Star break, Baez is hitting .367 with five home runs and 18 RBIs.
If Baez is called up and plays mostly second base,
Arismendy Alcantara
will move to the outfield on a more permanent basis, at least for this season. Several players could see time at third base since the Cubs will have only one third baseman on the roster,
Luis Valbuena
.
Essentially, a trade of a position player will lead to more focus on call-ups rather than the players the Cubs get in return.
July, 28, 2014
Jul 28
11:17
PM CT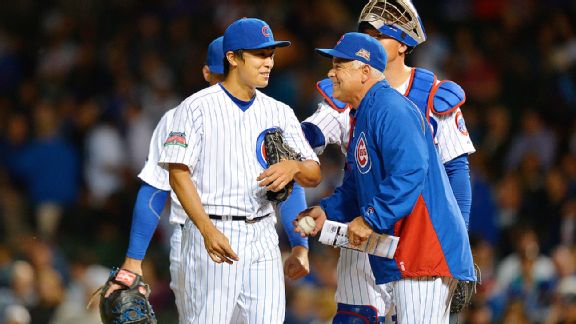 Brian Kersey/Getty ImagesLefty Tsuyoshi Wada went seven innings Monday, allowing one run on five hits with six strikeouts.
CHICAGO -- His age screams trade candidate, but his body of work is likely too small for the
Chicago Cubs
to move starter
Tsuyoshi Wada
by Thursday's trade deadline. So the 33-year-old will have to settle for his first career win and move on from there.
"I'm just happy the Cubs used me again after that outing I had wasn't very good," the left-hander said through an interpreter Monday night after a 4-1 victory over the
Colorado Rockies
. "It was my second time pitching in Chicago. [I was] a little more relaxed."
Last week, Wada got beaten up by the
San Diego Padres
after making a nice debut against the
Cincinnati Reds
. Everything looked better Monday, and the results showed.
"He had them taking some swings on some fastballs they seemed to be very late on," Cubs manager Rick Renteria said. "So he was speeding them up and slowing them down pretty well."
Wada lasted seven innings, giving up just one run on five hits. He walked his lone batter in his last inning. He was seemingly signed in the offseason for this exact role: to eat some innings after the predictable trades of
Jeff Samardzija
and
Jason Hammel
. Renteria didn't want to talk big picture regarding Wada, just the here and now.
"I'm just really happy he's here with us," he said. "Whether he was 20 or 33, he did a nice job today."
The Cubs will probably still need the Wadas of the world going into next season. Their starting staff -- like the team as a whole -- is in transition.
Jake Arrieta
is the only pitcher assured of anything right now. Ineffectiveness (
Edwin Jackson
and
Travis Wood
) along with youth (
Kyle Hendricks
and
Dallas Beeler
) have left things uncertain moving forward. Wada might or might not stick around, but the Cubs will undoubtedly need to find more innings as they search for a contending staff.
"He seemed to agree with how I wanted to pitch the guys," catcher
John Baker
said of Wada. "He was very comfortable with the pitches that were called."
It means Wada gets to start again -- and probably for the rest of the season, unless things go terribly wrong. After that, it's anyone's guess -- with him and with the Cubs' entire starting five.
July, 28, 2014
Jul 28
10:17
PM CT
Associated Press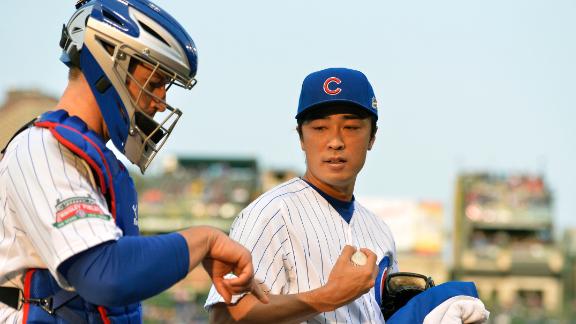 CHICAGO -- Tsuyoshi Wada earned his first big league win, pitching seven strong innings Monday night as the Chicago Cubs defeated the Colorado Rockies 4-1.
Anthony Rizzo drove in two runs to back Wada (1-1).
In only his third career start in the majors, Wada cut through the Colorado lineup, allowing one run and five hits. It was a far cry from his last outing, when he lasted four innings and gave up five runs in a loss to San Diego.
The sole blemish on Wada's performance came in the sixth when the Rockies got three hits, capped by Nolan Arenado's RBI single.
Pedro Strop worked out of a jam in the eighth inning and Hector Rondon worked a perfect ninth for his 13th save in 16 chances.
Yohan Flande (0-3) struck out eight in 6 2/3 innings.

July, 28, 2014
Jul 28
10:06
PM CT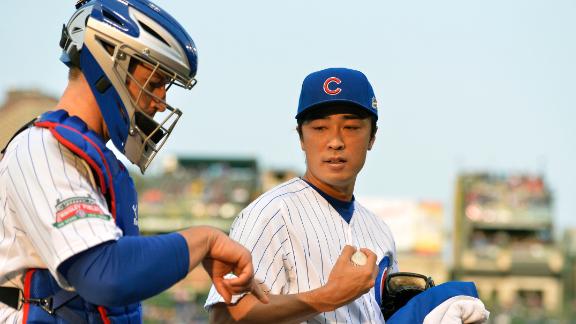 CHICAGO – The
Chicago Cubs
beat the
Colorado Rockies
4-1 on Monday night. Here's a quick look at the game.


How it happened:
The Cubs got on the board first, as a single by
Emilio Bonifacio
and a double by
Arismendy Alcantara
in the fourth inning were followed by an RBI groundout by
Anthony Rizzo
and a sacrifice fly by
Justin Ruggiano
. The Rockies cut the lead in half when
Nolan Arenado
drove in
Charlie Blackmon
with a single in the sixth, but Cubs starter
Tsuyoshi Wada
worked out of the jam without further damage. Wada mixed things up enough to keep the Rockies off balance, giving up just five hits while walking just one and striking out six over seven innings. The Cubs added two runs in the eighth, when an errant pickoff throw to first allowed
John Baker
to score from third and an RBI single by Rizzo brought home Bonifacio, who had doubled.
What it means:
Trade candidate Bonifacio continued a nice run since coming back from injury, collecting two hits including a double. Alcantara, meanwhile, might have cooled after his hot start, but he continues to drive the ball in the form of extra-base hits. Of the 16 hits in his young career, eight have gone for more than one base. His batting average is just .258, but his slugging percentage is .468, second on the team among regular players.
It's not clear what Wada's future holds, but he's been more than adequate in two of three career starts so far after a good season at Triple-A and a rough spring training before that. He earned his first career win Monday.
What's next:
Game 2 of the series is set for 7:05 p.m. Tuesday, with
Edwin Jackson
(5-11, 5.76) to face
Jorge De La Rosa
(11-6, 4.19).
July, 28, 2014
Jul 28
7:29
PM CT
CHICAGO – Could this be
Chicago Cubs
outfielder
Junior Lake
's last real chance this season at showing he belongs in a platoon or as an everyday starter going into 2015? The right-handed-hitting Lake is scheduled to play a lot during the next couple of weeks as the Cubs take on the lefty-heavy
Colorado Rockies
twice, with the
Los Angeles Dodgers
mixed in between those series.
"He's going to have a nice opportunity to get into a lot of ballgames," Cubs manager Rick Renteria said before his squad opened a four-game series with the visiting Rockies on Monday night. "We're hoping he'll have some good ballgames, something to build on, maybe build his confidence."
Calling Lake's season a mess right now might be an understatement. In no part of his game -- save possibly his defense -- has he built off a 2013 campaign in which he wowed fans with his power and athleticism. All his offensive numbers are down, while his strikeout rate is a whopping 34.3 percent. He entered Monday hitting .213.
[+] Enlarge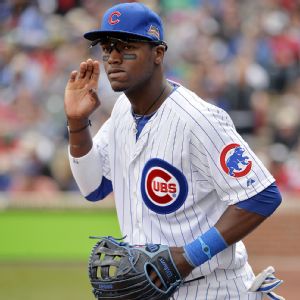 Brian D. Kersey/Getty ImagesWith the Cubs due to face five lefties this week, Junior Lake figures to see quite a bit of playing time.
"We know that he has skill," Renteria said. "Maybe some of these matchups will allow him to go out there and have some good performances."
The Cubs will face five consecutive left-handed starters this week, four with the Rockies and one Friday in Los Angeles. This is Lake's chance to prove he might belong on the roster in some capacity next season. His numbers are better this year against lefties, though that's not saying much. He's hitting .222 off them after hitting .377 last year. Renteria was asked if there was anything he wishes he could have done different with Lake, who has struck out 96 times in 280 plate appearances.
"I'm sure there are things we could have done better or differently," Renteria responded. "Off the top of my head I can't really tell you what those are. We've tried to concentrate more recently on him cleaning up his mechanics a little bit. On top of that, to make sure his mental approach is one that does not worry too much about the results. It's a performance-based game, but you have to worry about the at-bat. The process of that at-bat. We've tried to hammer that a little bit more lately, especially since he hasn't played very much."
As with third baseman
Mike Olt
(now at Triple-A Iowa), Lake's only argument with how he was handled was not getting enough regular at-bats at the beginning of the season. He played, but not every day. Renteria often talks about making sure young players don't change their approach thinking they need to hit one day to play the next. The Cubs could have taken away that uncertainty by simply telling Lake he would play no matter what. But they chose not to. His season went into a tailspin, and playing even less hasn't helped.
"Those things [the process] are key when you haven't played very much because you have to slow the game down and not worry too much, 'I have to hit to play tomorrow.' Just have good at-bats," Renteria said. "That's what we're focused on."
Whether the Cubs made mistakes with Lake or not, he obviously hasn't made the most of his opportunities. With September call-ups -- and potentially even less playing time -- not too far off, he'll get one more good chance to prove himself.
The lefties await.
July, 28, 2014
Jul 28
2:03
PM CT
CHICAGO -- The
Chicago Cubs
open a four-game series with the
Colorado Rockies
on Monday night.


•
Monday:
Tsuyoshi Wada
(0-1, 5.00) vs.
Yohan Flande
(0-2, 7.20), 7:05 p.m.
•
Tuesday:
Edwin Jackson
(5-11, 5.68) vs.
Jorge De La Rosa
(11-6, 4.19), 7:05 p.m.
•
Wednesday:
Travis Wood
(7-9, 5.06) vs.
Brett Anderson
(1-3, 4.24), 7:05 p.m.
•
Thursday:
Jake Arrieta
(5-2, 2.18) vs.
Jeff Locke
(2-2, 3.54), 1:20 p.m.
Nothing but southpaws:
The Cubs are scheduled to face four lefties in the series for the first time since August 1953, according to STATS, Inc. They're hitting 36 points higher (.265/.229) against lefties than righties.
Storylines:
Most will surround the trade deadline which occurs at 3 p.m. CT Thursday. Both the Cubs and Rockies are sellers although the Cubs made their big in-season deal earlier this month when they traded
Jeff Samardzija
and
Jason Hammel
to the
Oakland Athletics
.
Emilio Bonifacio
and the Cubs' lefty reliever combination of
Wesley Wright
and
James Russell
remain the best additional candidates to be moved, but the Cubs won't get any big haul for either player.
Who's hot/who's not:
If scouts needed to know if Bonifacio is healthy and can get back to early-season form then they liked what they saw this past weekend. Coming off the disabled list, he's 8-for-24 (.333) on the homestand with two doubles and a stolen base.
Junior Lake
is hitless in his last four games and his batting average has dropped to .213.
July, 28, 2014
Jul 28
1:56
PM CT
[+] Enlarge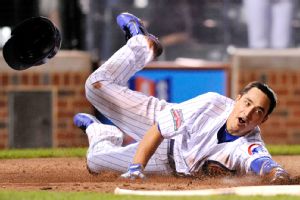 AP Photo/Paul BeatySecond baseman Darwin Barney was traded by the Cubs to the Dodgers.
CHICAGO -- The Cubs have traded second baseman Darwin Barney and cash considerations to the Los Angeles Dodgers for a player to be named later.
Barney, 28, was designated for assignment last Tuesday when Emilio Bonifacio was activated from the disabled list. Barney lost his starting job early this year as Bonifacio got off to a hot start.
Barney was a 2012 Gold Glove winner and is considered one of the best defensive second basemen in the game.
"He was going to land on his feet," Cubs manager Rick Renteria said Monday afternoon. "It's tough in the moment when change occurs but we've been in this game a long time, he's been around a while and done well. He's found a new club. Hopefully it goes well for him.
When Bonifacio went down with an oblique strain last month, Barney started playing more and was hitting .385 in July. But a two-day paternity leave opened the door for rookie Arismendy Alcantara, who was called up in Barney's place.