September, 1, 2014
Sep 1
5:25
PM CT
CHICAGO -- Talk to anyone that's been around
Chicago Cubs
rookie
Jorge Soler
, both in the minors and in his first week of his major league career, and three words keep coming up:
"He is strong."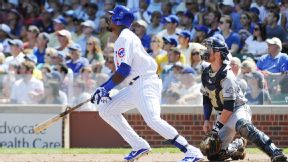 David Banks/Getty ImagesJorge Soler has at least one extra-base hit in his first five games in the majors.
That strength has propelled him to achieve a feat only two other players have accomplished in the last 100 years, according to the Elias Sports Bureau. He's the third to earn at least one extra-base hit in his first five games in the majors after collecting two more in the Cubs' 4-2 win over the
Milwaukee Brewers
in Soler's Wrigley Field debut Monday. He blasted two balls to right field for doubles, one to the corner and one off the wall in right center.
"He stays inside the pitches really, really well," Cubs manager Rick Renteria said after the game. "And then he stays through it. He really gets extension. He is what you would call 'short to the ball and long through it.'"
It's almost an inside-out feel to the swing considering neither pitch was on the outer half of the plate. But that's not the case. It's pure strength which propels what might be a simple fly ball for some players to an extra-base hit. Teams may have to start playing him closer to the warning track.
"Not many times have I gone deep over the right-field fence but I have that mental approach, towards the middle," Soler said through an interpreter.
Renteria likened the finish to his swing to a pitcher's follow through or an infielder's motion on a good throw. The finish is what sets him apart.
September, 1, 2014
Sep 1
4:31
PM CT
Associated Press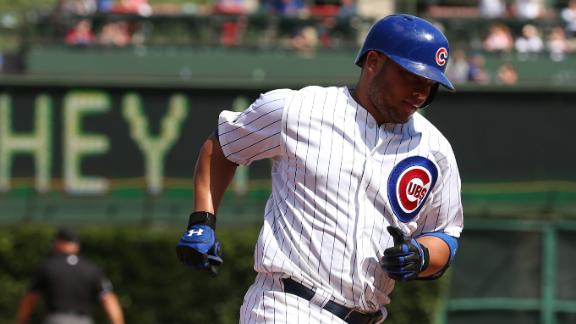 CHICAGO -- Welington Castillo homered and drove in three runs, Luis Valbuena also hit a home run and the Chicago Cubs beat the Milwaukee Brewers 4-2 Monday.
Rookie sensation Jorge Soler had two doubles in his home debut for the Cubs and Jacob Turner (5-8) won in just his second start for Chicago after being acquired from Miami last month. The right-hander allowed just one run and five hits in 6 1/3 innings.
Hector Rondon pitched the ninth for his 23rd save in 27 chances.
Soler became just the third player in the last 100 years to have at least one extra-base hit in each of his first five games in the majors. Will Middlebrooks did it for the Boston Red Sox in 2012 and Enos Slaughter for the St. Louis Cardinals in 1938.
Jimmy Nelson (2-6), who was called up from the minors to make the start, took the loss.

September, 1, 2014
Sep 1
4:14
PM CT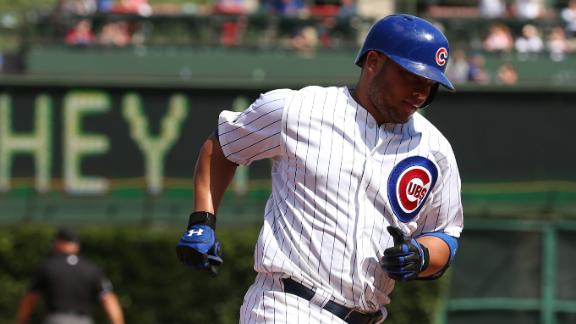 CHICAGO -- The
Chicago Cubs
beat the
Milwaukee Brewers
4-2. Here's a quick look at the game.
How it happened:
Catcher
Welington Castillo
did most of the damage for the Cubs, driving in a run with a base hit in the second inning and then two more with a home run in the fourth, his 11th of the season. The Brewers finally scored off starter
Jacob Turner
in the seventh when
Khris Davis
hit a solo shot.
Blake Parker
relieved Turner and promptly gave up a home run to
Gerardo Parra
on his first pitch.
Luis Valbuena
added an insurance run in the eighth with his 16th home run of the season. Turner lasted 6.1 innings, giving up five hits, walking one and striking out seven.
Jorge Soler
had two doubles in his home debut.
Hector Rondon
earned his 23rd save.
What it means:
Turner threw much better than in his last start as he kept the ball down on a day when the wind was blowing out. Double plays in the first and fourth innings helped his cause as the Brewers managed few hard-hit balls off him besides the Davis home run. He showed movement on his pitches with his fastball was in the 91-93 mph zone. He got plenty of swings and misses in his best appearance as a Cub.
Milwaukee has lost six in a row as the Cubs continue to play well against playoff-contending teams. They start the new month with a win after going 16-14 in August.
Soler sets mark:
Jorge Soler's fast start continued at Wrigley Field, where he went 2-for-4 with two doubles. According to the Elias Sports Bureau, he's just the third player since 1900 to record at least one extra-base hit in each of his first five games. He has seven (three HRs, four doubles) since coming up from the minors. He's hitting .526.
What's next:
Game 2 of the series takes place Tuesday night when
Jake Arrieta
(7-5, 2.88) takes on
Yovani Gallardo
(8-7, 3.26).
September, 1, 2014
Sep 1
2:56
PM CT
CHICAGO -- At first,
Chicago Cubs
manager Rick Renteria called it ironic that U.S. champions Jackie Robinson West were hanging out with a team that hasn't won a title in over 100 years but he quickly changed his mind.
"If the enthusiasm of those young men can be equaled by the young men we have in our clubhouse, we have a good shot," Renteria said Monday morning. "But I think we have a good shot moving forward simply because the talent pool is significantly better for us."
"Maybe it won't be ironic. Maybe it will be prophetic."
That's the kind of inspiration the 12-and 13-year olds kids have had around town as they've been celebrated since returning from the Little League World Series last month where they took second place overall.
"It's still a dream," Robinson coach Darold Butler said. "I haven't touched the ground yet. I'm sure the kids haven't touched the ground yet."
The kids met Cubs players in the dugout before their matinee contest against the
Milwaukee Brewers
while Renteria gave them a speech about continuing to "enjoy the game." The theme that keeps coming up is that baseball is fun and should at least be experienced by kids no matter where they grow up.
"I hope everyone gives baseball a try at least," Butler said. "Baseball is something I love. I'm hoping other people find a way to fall in love with it like I did."
Besides meeting Cubs players, Jackie Robinson West got a tour of the clubhouse, walked the warning track before the game and sang during the seventh-inning stretch.
"It's our job to give them a spotlight," reliever Wesley Wright said. "It's very appropriate for the story and bringing this city together."
September, 1, 2014
Sep 1
1:47
PM CT
CHICAGO --
Chicago Cubs
All-Star first baseman
Anthony Rizzo
remains out of the lineup with lower back tightness and could get an MRI if the ailment continues.
"Still day-to-day," manager Rick Renteria said before Monday's game against the
Milwaukee Brewers
. "Still a little stiff. If it doesn't clear up maybe we'll get an MRI just to make sure everything is ok. But he's doing fine. We're just limiting him, just making sure once he gets back on the field, he doesn't have a setback."
Rizzo has missed the last seven games, including Monday's affair, after leaving a game in Cincinnati last week. He tweaked his back on a swing and immediately came out of the contest. Rizzo is hitting .278 with a career high 30 home runs to go along with 71 RBIs.
With rosters expanding for the month of September, the Cubs recalled right handed pitcher
Blake Parker
. Manager Rick Renteria said a "half-dozen or so" others could be called up after Triple-A Iowa's season ends Monday.
September, 1, 2014
Sep 1
1:02
PM CT
CHICAGO --
Chicago Cubs
rookie
Jorge Soler
will bat fifth and play right field in his Wrigley Field debut Monday after beginning his career 8-for-15 on the Cubs' just completed road trip.
"Since I signed as a pro, I've been waiting for this moment and I'm ready for it," Soler said through an interpreter Monday morning. "I don't know how the crowd will react, but I expect the way I've been going, the crowd will be good on me."
Past players to play right field have had a special relationship with fans going back to Andre Dawson in the 90's and Sammy Sosa into the next decade. If Soler's start to his season is any indication what the bleacher faithful are getting, he'll be a favorite pretty quickly.
"I'm just excited for him," his manager Rick Renteria said. "He's impacted us in a positive way. It will be fun for fans here in Chicago to put their eyes on him."
What they'll see is a freakish athlete who can seemingly do it all on the baseball field. It's why the Cubs signed him to a nine-year contract in 2012 and why they believed him when he told them earlier this season it was "his time."
"I stand by it," Soler said. "I accepted the challenge. I wanted to be the Jorge Soler I'm showing I am right now."
August, 31, 2014
Aug 31
10:06
PM CT
Our weekly look at the interesting and unusual in MLB couldn't help but notice the "hits" column.
• Although there hasn't been a no-hitter since
Tim Lincecum
's on June 25, this week kept us on watch. Since Monday we've seen more than a dozen no-hit bids get into the fifth inning-- including Saturday's game between the
Houston Astros
and
Texas Rangers
where
both
pitchers did it. Four of those bids persisted into the seventh inning, and two into the eighth.
One of the two was
Tuesday's gem
by
Madison Bumgarner
, who retired 21 straight
Colorado Rockies
before
Justin Morneau
doubled to start the eighth. That would be Colorado's only baserunner as Bumgarner fanned 13 and walked zero. It was the third game in Rockies history where their only hit was a double; the last was against Tom Glavine and the Mets on May 23, 2004 (the double was by Kit Pellow).
Lincecum issued one walk in
his no-hitter
, and
Ryan Vogelsong
faced just 28 batters in
a complete game August 1
.
• That makes the Giants just the second team in the live-ball era to have three 28-batter, nine-inning complete games in the same season; Joel Piñeiro and Chris Carpenter teamed up for the Cardinals in 2009.
• Speaking of one double, the
New York Yankees
were held to that in
Saturday's loss
to the
Toronto Blue Jays
. The last time the Yankees were one- (or no-) hit at all was on September 4, 2009, also by the Jays, and a double (by Ramiro Peña) was also the one hit. The last such game where they struck out 12 times was on June 11, 2003, when they were on the wrong end of the Astros' six-pitcher no-hitter.
All's fair in love and the American League East, however. The
Boston Red Sox
also
got one-hit on Saturday
by the
Tampa Bay Rays
, the blemish being
Will Middlebrooks
' fourth-inning single. It's the third time Boston's been one-hit this season, their most since 1992.
Middlebrooks entered the game after
Dustin Pedroia
was involved in a collision. Nine days earlier, Middlebrooks had the lone hit in
another one-hitter
, against the Angels, and also off the bench.
That makes the Red Sox the first team in at least 100 years to have a bench player provide their only hit twice. (Brandon Inge had Pittsburgh's only hit twice last season, but he started one of the games.)
Saturday was just the second time the AL East rivals had both been one-hit on the same day. The other was May 25, 1989, when Chuck Finley of the Angels shut out Boston, and Todd Burns and two A's relievers blanked the Yankees (whose lone hit was by Rickey Henderson).
•
Jorge Soler
had one big hit this week also. On Wednesday the
Chicago Cubs
' highly-touted 21-year-old
sent the fourth pitch he saw in the majors over the wall in Cincinnati
and became the first Cubs batter since
Starlin Castro
(2010) to homer in his first plate appearance. He's the fifth Cuban-born player to homer in his first game in the bigs. The others are Rays minor-leaguer
Eddy Rodriguez
(who played two games with the Padres in 2012),
Kendrys Morales
(2006), A's legend Bert Campaneris (1964), and Phillies outfielder
Tony Gonzalez
(1960).
Two games later
, Soler hit two more homers, one of only two players this season to have a multi-homer outing within his first three MLB games. The other is his teammate, 22-year-old
Javier Baez
(
August 7
). Baez also had one homer in
his debut
; together they made the Cubs the first team ever to have two players, each 22 or younger, homer in their major-league debuts in the same season.
• From one-hit wonders to the team that's never had a no-hitter, we couldn't end without mentioning the
San Diego Padres
.
Rene Rivera
on
Wednesday
,
Yasmani Grandal
on
Friday
, and
Alexi Amarista
on
Saturday
all hit extra-inning singles around an off-day on Thursday. It was the Padres' first streak of three walk-off wins since doing four straight from April 13-16, 1986, and the first time they've ever had three straight in extra innings. Their weekend opponent, the Dodgers, hadn't lost consecutive extra-inning games via walk-off since August 2003. Of the Padres' 10 walk-offs this year, seven have been in extras, one shy of their team record set in 2006.
August, 31, 2014
Aug 31
6:57
PM CT
By Rob Rains
Special to ESPNChicago.com
Archive
ST. LOUIS -- Another September will begin with the
Chicago Cubs
far from playoff contention, but the team still has goals for the final month.
"Our goal down the stretch is to break as many hearts as possible," pitcher
Carlos Villanueva
said Sunday. "We play a lot of teams that are in contention, and that's what we are going to learn from -- winning those games."
The Cubs didn't win Sunday despite staking starter
Travis Wood
to a 5-0 lead in the second inning. The
St. Louis Cardinals
chipped away, eventually tying the game 6-6 before scoring three runs off Villanueva in the eighth for
the 9-6 win
.
While the big blow of the inning was a two-run single by
Matt Holliday
, the play Villanueva lamented was a bunt by
Daniel Descalso
back toward the mound that he misplayed into a single, which opened the way for the Cardinals' winning rally.
Other plays not made also caught the attention of manager Rick Renteria, including a fly ball dropped by
Arismendy Alcantara
after a long run in the fifth, which was ruled a double for
Matt Carpenter
, and a bouncer by
Yadier Molina
that got through the middle of the infield in the seventh.
"Defense is really, really important," Renteria said. "We had a couple of plays today in the game which, quite frankly, probably could have been made and weren't, extending innings a little bit."
Villanueva said those are the things the Cubs will need to do better in September if they want to win games when they have a chance, like Sunday. Despite losing the final two games of the series to the Cardinals, they still finished August with their first winning record for a month since August 2011.
"If I make the play on the bunt, the inning's over," Villanueva said. "A couple of things here and there could have us winning this series. I know what needs to be addressed has already been addressed. We take nothing from it other than loss. We're not happy about it."
Renteria hopes the team's young players look back at games like Sunday, and the small margin between winning and losing, and learn from that experience.
"That's the beauty of the Central Division," Renteria said. "You've got some clubs that are battling. I will still [put] my club against their club any day, and we'll keep battling."

August, 31, 2014
Aug 31
5:11
PM CT
By Rob Rains
Special to ESPNChicago.com
Archive
ST. LOUIS --
Matt Holliday
's bases-loaded single off
Carlos Villanueva
with two outs in the eighth inning sent the
St. Louis Cardinals
to the win over the
Chicago Cubs
Sunday at Busch Stadium.
How it happened:
After staking
Travis Wood
to a 5-0 lead in the second inning, the Cubs allowed the Cardinals to come back and tie the game 6-6 before St. Louis scored three times off Villanueva in the eighth for the win. The Cardinals, who scored nine runs off the Cubs bullpen in the eighth inning on Saturday night, saw Holliday -- whose solo homer in the fourth begin the comeback -- collect nine RBIs in the past two games.
What it means:
Despite the two losses on Saturday night and Sunday, the Cubs still finished August with a 16-14 record for the month, the first time they had a .500-or-better record for a calendar month since August 2011, during which they went 16-13. The Cubs have won only 17 games in August once in the past 20 years, going 20-8 in 2008.
The Cubs got home runs from
Luis Valbuena
and
Arismendy Alcantara
in the loss, giving them nine home runs in the four-game series and bringing the team's total for the month of August to 39, second in the NL, after the
Washington Nationals
hit three more in a loss Sunday at Seattle. Washington finished the month with 40 team home runs.
Wood's inability to hold the 5-0 lead, getting knocked out in the fifth, left him with just one win in his past 14 starts dating back to June 21.
What's next:
The Cubs return to Wrigley Field on Monday to host the
Milwaukee Brewers
in a three-game series. Right fielder
Jorge Soler
, who did not play on Sunday, will make his home debut for the Cubs. On Saturday, he became the first player since the RBI became an official statistic in 1920 to get an extra-base hit and an RBI in each of his first four games in the majors.
Jacob Turner
will make his first home start for the Cubs, while
Jimmy Nelson
will pitch for the Brewers. The Cubs are hoping first baseman
Anthony Rizzo
will be able to play after missing the past five games with a tight back. Before the game, the Cubs will honor the Jackie Robinson West team which reached the finals of the Little League World Series. The team will sing "Take Me Out to the Ballgame" during the seventh-inning stretch.
August, 31, 2014
Aug 31
5:04
PM CT
Associated Press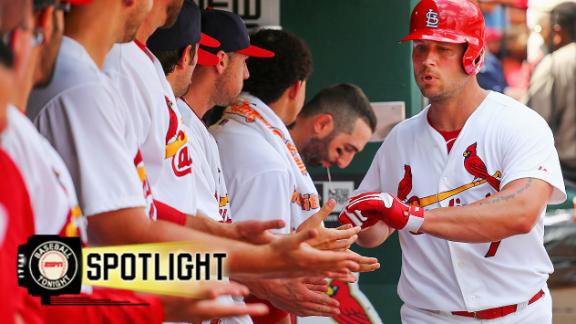 ST. LOUIS -- Matt Holliday hit his third home run in two games and broke an eighth-inning tie with a two-run single, rallying the St. Louis Cardinals past the Chicago Cubs 9-6 on Sunday.
Holliday had three hits and four RBIs for the Cardinals, who began the day one game behind first-place Milwaukee in the NL Central.
St. Louis second baseman Kolten Wong left in the top of the eighth after falling backward when he tried to catch a popup in short right field. He appeared to hurt his head and shoulder, and was replaced by Pete Kozma.
Kozma, in his third stint with St. Louis this season, led off the bottom half with a double. It was his second hit in four at-bats this year. After failing to get down two bunt attempts, Daniel Descalso got the third one down and beat Carlos Villanueva's throw to first for a single.
August, 30, 2014
Aug 30
10:43
PM CT
Associated Press
ST. LOUIS -- Matt Holliday homered twice and drove in five as the St. Louis Cardinals beat the Chicago Cubs 13-2 Saturday night to earn a split of a doubleheader.
The victory snapped a four-game losing streak for St. Louis, which won for just the third time in its past nine games. It's the most runs this season for the Cardinals and the first time in seven games they scored at least three runs. Their previous high was 10, which they did twice.
Chicago is 2/3 in its past five, but has won nine of 14.
Marco Gonzales (1-2) gave up one run on three hits over a season-high six innings. His previous long outing was in his debut on June 25 when he pitched five innings against Colorado but didn't figure in the decision in a 9-6 win for St. Louis.
Tsuyoshi Wada (4-2) gave up four runs in six innings.
August, 30, 2014
Aug 30
4:22
PM CT
Associated Press
ST. LOUIS -- Starlin Castro hit one of Chicago's three solo homers and Felix Doubront pitched seven strong innings in his National League debut, sending the Cubs to a 5-1 victory over the slumping St. Louis Cardinals in the opener of a day-night doubleheader Saturday.
Logan Watkins and Chris Valaika also connected for Chicago in the makeup of a May 14 rainout. The last-place Cubs hit four home runs Friday, giving them seven in two games against the Cardinals.
St. Louis has lost four in a row for the second time this season. The Cardinals began the day one game ahead of Atlanta and 1 1/2 up on Pittsburgh for the second NL wild card.
The Cubs have won nine of 13.
August, 30, 2014
Aug 30
12:05
AM CT
By Tommy Rancel
ESPNChicago.com
Archive
1. Another Friday, another no-hit bid against the Cincinnati Reds
Last week
Atlanta Braves
starter
Mike Minor
tossed 7 2/3 innings before the Reds put a hit on the board. Friday, it was
Pittsburgh Pirates
right-hander
Edinson Volquez
who kept Cincinnati hitless for the first six frames. Volquez, a former 17-game winner with the Reds, was picked up off the scrap heap by Pittsburgh this winter and has been a pleasant surprise. Although his peripheral statistics don't necessarily support his 3.45 ERA, he is unlikely to turn into a pumpkin down the stretch after nearly 160 innings of work this season.
Volquez tied a season high with 114 pitches Friday. He was charged with one earned run on three hits and three walks. He struck out six. He pounded the ground with 10 ground-ball outs. Although he has done a lot of work close to the earth, it is his work in the air that has been the big key in 2014. Last year, opposing batters had a .310 average on fly balls against Volquez. This season, that mark sits at .172. Advanced metrics place the Pirates' outfield in a negative light, but someone is converting those fly balls into outs on a consistent basis.
Despite the lack of knocks, the Reds were able to keep both games close, losing in the 12th inning last Friday and briefly taking a 1-0 lead in the eighth inning Friday before conceding the lead and the game soon after. The wins were important to Atlanta and Pittsburgh as both are still chasing the
San Francisco Giants
and
St. Louis Cardinals
in the National League wild-card race. In fact, the Pirates' three-game winning streak has them sneaking back into contention in the NL Central as well.
For those interested, the Reds host the
New York Mets
next Friday at the Great American Ballpark.
2. DeGrom continues strong season
The Mets are in the midst of another lost season, but once again a trio of young arms gives the organization and its fans some hope. They lack the cool nickname of "Generation K," but
Matt Harvey
, Noah Syndergaard and
Jacob deGrom
may be the foundation of a rotation that gets New York's other baseball team back to the postseason. DeGrom, the only active member of the trio, was on the bump Friday against the
Philadelphia Phillies
.
Without the hype of Harvey or Syndergaard, deGrom has snuck up on most people this season. The lanky right-hander tossed seven strong innings against the Phillies, allowing just one unearned run. Of his 18 starts, deGrom has gone at least six innings in 14 of them. He has allowed three runs or fewer in 13 of those contests.
The rookie boasts a full arsenal of pitches, but Friday night's game plan centered around a mid-90s fastball that he commanded well. It accounted for nearly 75 percent of his pitches thrown Friday, as deGrom honed in on the lower half of the zone to his arm side. The heater was the weapon of choice on 16 of the 22 outs he recorded.
It's been said before, but "maybe next year" for the Mets.
3. Orioles continue to pound away
After taking three of four from the
Tampa Bay Rays
, the American League East-leading
Baltimore Orioles
were back at it Friday night, blowing out the
Minnesota Twins
9-1. Baltimore's pitching staff has been largely mediocre this season, but its offense packs a powerful enough punch to push the O's past the opposition on most nights. The club's .163 ISO -- isolated power measures the ability to hit for extra bases by stripping singles from slugging percentage -- is tops in the AL, trailing only the
Colorado Rockies
in the majors.
Chris Davis
is having a disappointing season after his breakout 2013 campaign, but he hit another home run -- this one a grand slam -- on Friday that gives him seven in August and 24 on the season. While that is a far cry from last year's pace, Davis appears to be getting a bit more into the swing of things even if his average sits below .200.
In Davis' void,
Nelson Cruz
and
Steve Pearce
have picked up the offensive slack. Cruz signed a one-year deal with Baltimore after a difficult time finding work on the open market. His 34 home runs lead the majors. Pearce was once a top prospect in the Pirates' system, but has spent most of his career shuttling between the majors and minors. This season, he has broken out in a big way with an OPS approaching .900 and 16 homers in limited action. He left Friday's game with an abdominal strain. Considering
Manny Machado
's injury, the team can ill afford to lose Pearce, as crazy as that may sound.
4. Verlander better versus White Sox
The
Detroit Tigers
have one of the game's top pitchers (
Max Scherzer
) and traded for another one (
David Price
) on July 31. Meanwhile, the team's former top hurler was on the mound Friday night, looking to close the gap in the highly contested AL Central race.
Justin Verlander
has been off his game for most of this season. His ERA is approaching 5.00 and he has allowed more hits than innings pitched for the first time since 2006. Friday's effort was not vintage Verlander; however, it was still encouraging since he is no longer considered the team's top gun.
Facing the
Chicago White Sox
at U.S. Cellular Field, Verlander worked seven innings, allowing one run on nine hits and two walks. He struck out seven batters, throwing 77 strikes in 116 pitches. It was the first time since April 17 that he allowed one run or none in a start.
Despite a recent run of inconsistency, the Tigers are within arm's reach of the division lead. With
Anibal Sanchez
's future in doubt, Verlander once again becomes a key figure in Detroit's rotation. If he can be just part of what he once was, it may go a long way in the club's quest for a fourth straight division title.
5. Young Cubs on the prowl
The
Houston Astros
have been painted by some as the poster boys of "process." Meanwhile, the
Chicago Cubs
have also been in rebuild mode and, unlike Houston, which may have some sour grapes among its bunch, their organizational tree is starting to bear fruit at the highest level.
Javier Baez
was first to capture the nation's attention this summer with his risk-versus-reward approach at the plate. His big swings have left nearly an equal amount of oohs and ughs depending on whether he made contact or not. This week, the club promoted Cuban outfielder
Jorge Soler
to the big leagues. That decision is already paying dividends.
Though he is just three games into his major league career, the 22-year-old Soler has seven hits in his first 12 plate appearances. On Friday, he recorded his first multi-home run game, belting a pair of homers against the St. Louis Cardinals. Soler's first homer was a solo shot in the seventh inning that tied the game at 2-2. Baez put the Cubs ahead 4-2 with an RBI double the next inning, but the big blast came once again from Soler, who smacked a two-run homer to left field. Two innings, two at-bats and two home runs that covered 858 feet. Not bad for the third night on the job.
As exciting as the win was for the Cubs, it was equally devastating for a Cardinals team that is clinging to an NL wild-card spot by the slimmest of margins.
Tommy Rancel blogs about the Tampa Bay Rays at the SweetSpot network affiliate The Process Report. You can follow him on Twitter at @TRancel.