March, 14, 2014
Mar 14
6:39
AM CT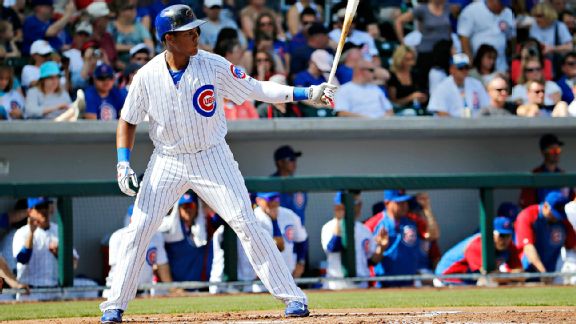 AP Photo/Matt YorkStarlin Castro is a piece of the future the Cubs have already invested in -- with mixed results.
Earlier this week, we looked for some
holes in the Top 300 fantasy rankings
for Messrs. Berry, Karabell et al. In the name of fairness, it's worth expressing some regret over the placement of a particular team in our
Future Power Rankings
, which came out Thursday.
Namely: I'm really, really surprised we have the Cubs as high as No. 7.
That's over the Tigers, who have made the playoffs every year lately. Over the Braves, who just locked up one of the youngest cores of stars in the big leagues --
Freddie Freeman
,
Andrelton Simmons
,
Craig Kimbrel
,
Jason Heyward
,
Julio Teheran
-- and had the second-most wins among NL teams last season. We had the Cubs over the
Tampa Bay Rays
, who have won as many postseason games in the past six seasons (12) as the Cubs have won in the past 78 years. We have the Cubs over the Yankees, who may not have run the most efficient franchise or farm system in the past decade but who have a habit of qualifying for games in October.
If you reverse-engineer the polling results, you can figure out how it happened
To continue reading this article you must be an Insider
March, 13, 2014
Mar 13
8:38
PM CT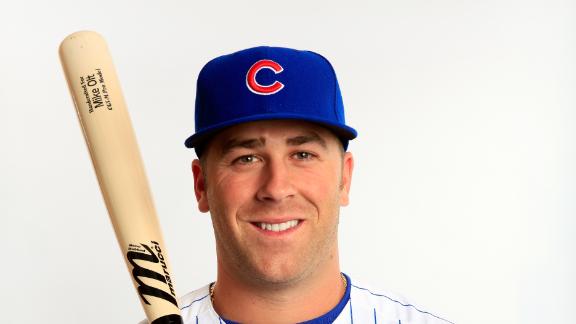 MESA, Ariz. – The
Chicago Cubs
never wavered during the winter whenever a reporter or fan asked what it would take for their top prospects to make the club out of spring training. The answer was always the same: "They can't."
[+] Enlarge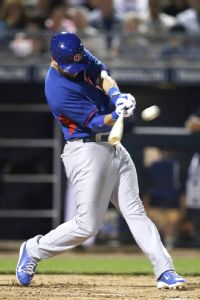 AP Photo/Darron CummingsMike Olt has a chance to open the season as the Cubs' starting third baseman.
But those talking points never applied to 25-year-old
Mike Olt
. It's not as if Cubs officials were handing him the third-base job -- far from it -- but it was understood by what they didn't say about him that Olt had a chance. He was the one exception to the "dominate every level of the minor leagues before being called up" narrative the Cubs had laid out for their other prospects. Olt is older and was on the verge of making the big leagues before being sidelined by vision problems.
Olt did dominate all the way up to Triple-A, where he struggled last season due to those eye issues. He still hit 14 home runs, which he attributed to "luck." Now he's seeing the ball again -- and hitting it well again. Two long home runs Wednesday night against the
Seattle Mariners
have vaulted him squarely into the conversation for the third-base job come Opening Day. He's hitting .333 this spring.
Undoubtedly, the Cubs wanted to see this Olt someday when they acquired him for
Matt Garza
last July. It was just a year earlier he was considered untouchable by the
Texas Rangers
, but his health issues made him expendable. He hit just .168 at Triple-A Iowa after the trade last season. There was no telling what would happen this spring.
But Olt insisted his vision problems were behind him after doctors figured out how to treat him with the correct eye drops. He didn't exactly stand out early in spring, and when games started, he struck out a few more times than he would have liked. But things started to click for him after some recent batting-practice sessions.
"Made some serious strides," he said Wednesday night.
They've paid off, which means the trade of Garza to the Rangers could yield even more than anyone thought. The key member of the deal was C.J. Edwards, who went on to win minor league pitcher of the year in all of baseball despite the midseason change of address. Now Olt is starting to show why Texas once thought so highly of him.
If he makes the team out of spring training, Cubs officials will be pleasantly surprised. They were set to start the season with
Luis Valbuena
and
Donnie Murphy
sharing time at third base until Olt or Kris Bryant was ready. Now there's a chance Olt can seize the job, and if things go really well for him, it could move Bryant to the outfield eventually. But that's a long way off. Right now, he has to keep doing what he's doing, because the question has shifted from if his eye problems are over to just how good can he be?
March, 13, 2014
Mar 13
12:00
PM CT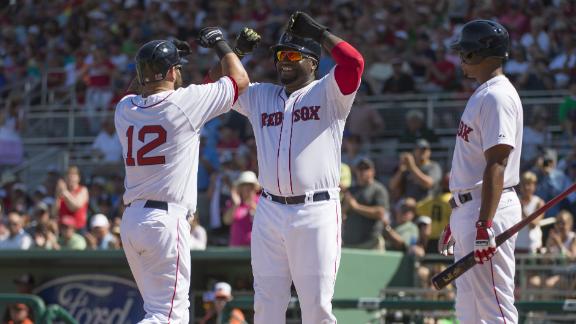 Which franchise will be the one to beat in five years? We published our
Future Power Rankings
today, and while Eric Karabell weren't on the committee for those rankings, we do have something to say about them, including which team should be No. 1, wondering if the Cubs should have been ranked higher than the Red Sox and whether our beloved Phillies and Mariners are properly ranked.
March, 13, 2014
Mar 13
11:16
AM CT
PEORIA, AZ -- I arrived in Arizona on Wednesday night just in time to catch a few innings of the Cubs-Mariners night game in Peoria. The Mariners ran out what could very well be their Opening Day lineup, minus Felix Hernandez and Corey Hart:
Abraham Almonte, CF
Kyle Seager, 3B
Robinson Cano, 2B
Justin Smoak, 1B
Logan Morrison, DH
Dustin Ackley, LF
Michael Saunders, RF
Mike Zunino, C
Brad Miller, SS
Cubs starter James McDonald, trying to find some semblance of the pitcher he was in the first half of 2012 with the Pirates when he went 9-3 with a 2.37 ERA, struggled to throw strikes with just 26 strikes in 64 pitches, walking five batters in 2.2 innings. Cano went 2-for-2 and turned a sweet double play. Miller homered off Cubs lefty James Russell, his third of the spring. Jesus Montero came in the game and made two errors at first base.
The Cubs sent a lineup of reserves and minor leaguers and they provided the most interesting results of the night, however. Mike Olt, the former Rangers prospect acquired in the Matt Garza trade last summer, homered twice, including a deep blast to center off Mariners starter Randy Wolf. Olt battled vision problems last year and struggled in the minors but says
those issues have been cleared up
.
But the most impressive blast came from Javier Baez,
who did this
against Wolf in the fourth inning for his third spring home run, drawing gasps of admiration in the press box and from the fans as well his Cubs teammates in the dugout.
It was a terrific at-bat, as Baez fell behind on two slow curveballs that were called strikes. The biggest knock against Baez so far in the minors has been an approach that is overly aggressive at times, but he laid off two inside cutters and then crushed the 2-2 slider. Baez's bat speed has been compared to Gary Sheffield's and he used that to hit 37 home runs in the minors. It came at the expense of 147 strikeouts against just 40 walks, but if he puts at-bats together like the one against Wolf, you're going to see the spread in the ratio decrease and Baez become even more dangerous.
The Sheffield comparison isn't exactly perfect -- Sheffield had great hand-eye coordination and strike-zone judgment to go along with that bat speed (his career high in strikeouts in the majors was 83 and that was late in his career and he walked more than he struck out. Like Baez, Sheffield was a minor league shortstop, although he moved to third base and then the outfield. Baez has a better chance of sticking at shortstop and he's expected to start there in Triple-A, although some scouts believe he'll eventually end up at third base. The Cubs have said he'll get some time at second base in the Cactus League as well to improve his versatility.
Anyway, a good start to a week in Arizona. Should be fun.
March, 13, 2014
Mar 13
11:03
AM CT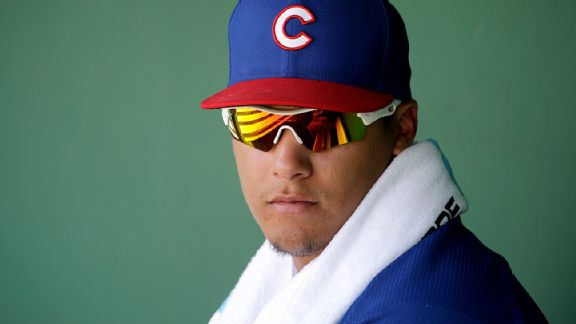 AP Photo/Chris CarlsonCubs fans could see top prospect Javier Baez in the majors as early as June.
PHOENIX -- Just 90 miles of Interstate 94 separates the North Side of Chicago and Milwaukee. Fans in other parts of the country might not have noticed, but a nice little geographic rivalry has developed between the Brewers and Cubs.
However, instead of competing for the NL Central crown as they did four or five years ago, last season the two clubs jockeyed to simply stay out of the cellar. This season the clubs are going in opposite directions; the Brewers could compete for a wild-card berth, while the Cubs probably are looking at 90 or more losses.
Here's a look at both the
Chicago Cubs
and
Milwaukee Brewers
, and the buzz surrounding their spring training camps.
Chicago Cubs

• The Cubs' plan is to start top shortstop prospect Javier Baez in Triple-A. If he tears it up, they will call him up in June after he no longer is eligible
for Super Two status
.
To continue reading this article you must be an Insider
March, 13, 2014
Mar 13
2:04
AM CT
PEORIA, Ariz. -- Veteran
Seattle Mariners
pitcher
Randy Wolf
had no idea who
Chicago Cubs
prospect Javier Baez was before he gave up a long home run to him Wednesday night in Seattle's 8-7 extra-inning victory over the Cubs.
Wolf knows him now.
Baez belted a 2-2 pitch deep into the left-field grass, just missing the scoreboard in the process. It was hit well more than 400 foot and brought teammates -- and opponents -- to their feet.
"I've never seen anything like him," Cubs first baseman
Mike Olt
said. "But I'm used to it by now. He's in my batting practice group every day."
It was Baez's third home run of the spring, tying him for the team lead with Olt, who homered twice in the game.
Baez's bat speed often is compared to former slugger
Gary Sheffield
. Wolf understands the comparison.
"The distance on the home run was comparable," he deadpanned.
Despite Baez's success this spring, he's still slated to start the year at Triple-A Iowa. The Cubs haven't wavered from that plan.
McDonald's outing:
James McDonald
was happy to just get back to competing, even though his stat line wasn't impressive on Wednesday. McDonald walked five and hit a batter in 2 2/3 innings while giving up two runs.
"It's not always going to be 1-2-3, 1-2-3," he said after his night was done. "That's what you eventually want. One thing I can control is my effort and the way I competed."
At this point McDonald is probably a long shot to make the starting rotation if
Jake Arrieta
isn't ready by Opening Day.
Russell pitches:
Lefty reliever
James Russell
made his spring debut after a bout of dead arm to open camp. He admits it could be tied to his heavy workload in the past, but he's feeling fine after throwing an inning on Wednesday. He did give up a home run to left-handed hitter
Brad Miller
.
"The arm is good," Russell said. "One mistake. Made some good pitches. Felt great."
Renteria replay challenge:
The Cubs'
Ryan Kalish
was called out on a close play at first base in the fourth inning, so Cubs manager Rick Renteria asked for a video replay, his first of the spring. The ruling was upheld. But replays showed the umpires still might have got the call wrong.
Day off:
The Cubs have their lone day off of the spring on Thursday, and Renteria is asking his team to get away from baseball for a day.
"I probably shouldn't have to say it, but some of those guys are going to want to be around it," he said. "We're pushing them a lot. They need a break."
Renteria will probably report to work himself, because pitchers
Jason Hammel
and Eric Jokisch will pitch against Cubs minor leaguers to stay on schedule.
The quote
"Something that involves animals. Try to go to the zoo. I think I'll go to the aquarium. Just walk around. I'm a big people watcher." -- Cubs pitcher
Carlos Villanueva
on what he'll do on his day off.
March, 13, 2014
Mar 13
1:47
AM CT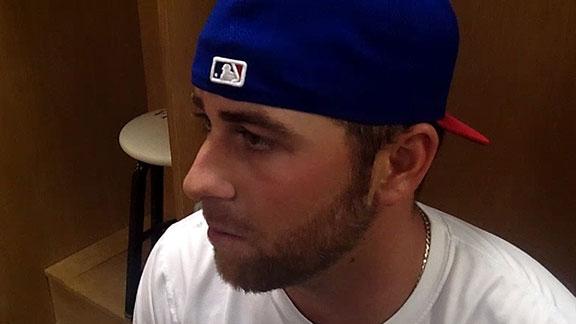 PEORIA, Ariz. -- Maybe the "big four" of prospects should be expanded to five.
Chicago Cubs
infielder
Mike Olt
had his signature game of the spring with a three-hit, two-homer, three RBI performance on Wednesday night against the
Seattle Mariners
.
"The last couple of days I've felt much better, just in batting practice, doing some extra work," Olt said afterward. "Made some serious strides."
He overshadowed a monster home run by top prospect Javier Baez off Seattle starter
Randy Wolf
. Olt hit two out of the park, including one off of Wolf, as he tries to prove he belongs with the Cubs when they break camp come April.
"Last year I had a couple nights like this, but I felt like I almost got lucky," Olt said.
That's because he wasn't seeing the ball well due to vision problems, which have since been cleared up. It had been a trying time that's seemingly behind him.
"It's easier for me to answer the questions now," he said of his eye problems.
Olt followed his two home runs with an RBI single in the seventh, raising his spring batting average to .333 with a team-leading three home runs (with Baez) and seven RBIs.
Make no mistake, however, he wasn't a favorite to win a starting job with the team out of spring training. Not after a season in which he hit just .168 in Triple-A after being acquired from the
Texas Rangers
.
But there was hope he would return to the form that earned him 28 home runs in 2012 at Double-A. He has to be giving the Cubs some pause for thought even though he hasn't played any third base so far due to a "tender shoulder." He says that should be fine as soon as next week, then he'll be at the hot corner.
"I'm not going to look into it [making the team] right now," Olt said. "I'm just going to keep focusing on getting better every day. Whatever happens I just want to be ready when I do get the opportunity to play."
That could come next month at Wrigley Field if he keeps hitting as he did on Wednesday.
March, 13, 2014
Mar 13
1:15
AM CT
Associated Press
PEORIA, Ariz. -- Top prospect Javier Baez homered and roster hopeful Mike Olt homered twice and drove in three runs, but the Chicago Cubs fell to the Seattle Mariners 8-7 in 10 innings Wednesday night.
Olt, a 2010 first-round draft pick, took Mariners starter Randy Wolf deep in the second inning for his first home run of the night.
Baez gave the Cubs a 2-1 lead with a homer off Wolf in the top of the fourth.
Olt started a four-run sixth inning with his second home run. Catcher John Baker finished 2 for 3 with a three-run double in the sixth.
Baker cleared the bases after three Mariners' errors in the inning.
Seattle shortstop Brad Miller helped his cause as he battles another young player, Nick Franklin, for the starting job. Miller homered, singled and drove in two.
Mariners catcher John Buck drove in the tying runs with a two-out single in the bottom of the ninth.
Abraham Almonte scored the winning run on a Ty Kelly single in the 10th.
March, 12, 2014
Mar 12
10:39
PM CT
PEORIA, Ariz. --
Chicago Cubs
manager Rick Renteria lost his first replay challenge of the spring.
Umpires upheld their on-field ruling that Cubs batter
Ryan Kalish
was out at first base on a grounder in the fourth inning against the
Seattle Mariners
on Wednesday night.
Kalish hit a ball to shortstop
Brad Miller
and was ruled out by first-base umpire Dan Bellino. Renteria had a short conversation with him, then asked for a replay that was initiated by Bellino and second-base umpire Hal Gibson.
After a short delay to watch the replay the ruling on the field was upheld.
March, 12, 2014
Mar 12
7:19
PM CT
MESA, Ariz. --
Chicago Cubs
pitching coach Chris Bosio has missed the past several days of spring training due to leg problems stemming from a break last season.
"He's been dealing with his foot," Cubs manager Rick Renteria said Wednesday. "Some follow-up appointments. He should be back around here soon."
Bullpen coach Lester Strode will accompany the team to Las Vegas, where the Cubs will play exhibition games against the
New York Mets
this weekend.
The hope is Bosio will be back for the split-squad games in Arizona taking place at the same time.
Top starters
Jeff Samardzija
and
Travis Wood
are scheduled to pitch in those games.
"[Bosio has] been in communication with Lester, so they've been coordinating and able to keep things on track."
March, 12, 2014
Mar 12
7:05
PM CT
MESA, Ariz. --
Chicago Cubs
pitcher
Edwin Jackson
shook off "fastball-gate" on Wednesday, saying he was just trying to work on that particular pitch in his last spring start against the
Cleveland Indians
.
Jackson, who threw 74 pitches over five innings against Cubs' minor leaguers on Wednesday morning, was miffed that such a big deal was made about him throwing only fastballs that day.
"I got tired being asked about it," Jackson said Wednesday afternoon. "[Eric] Gagne would go through a whole spring training throwing changeups. He would throw like two fastballs."
Jackson insists he conveyed his plan to pitching coach Chris Bosio.
"I told him before the game," Jackson explained. "I don't know if they thought I was for real."
The situation was exasperated by Cubs manager Rick Renteria's insistence that he would talk to Jackson about the strategy, acknowledging he didn't know that was his plan. Renteria backed off any concerns over the matter on Wednesday.
"He threw three [different] pitches today," Renteria said. "He was doing what he wanted to do: work on his fastball command. He had a purpose and reason for doing what he was doing."
Maybe the focus on such a small item in spring gets magnified for a pitcher who went 8-18 last season and is the only major free-agent acquisition in Theo Epstein's reign as team president. Jackson has three years left on a four-year, $52 million deal he signed two winters ago.
Either way, Jackson says it was a non-issue.
"It was just a fastball day," he said. "Get back to trusting the fastball. I still threw four-seamers, two-seamers, cutters, so it wasn't all just one pitch."
Jackson confirmed he threw off-speed pitches in his start against Cubs minor leaguers on Wednesday. With an off day on Thursday, the Cubs wanted Jackson to stay on schedule.
"It was just for one game," Jackson said of his fastball-filled outing.
March, 12, 2014
Mar 12
6:53
PM CT
MESA, Ariz. --
Chicago Cubs
prospects Albert Almora, Kris Bryant and
Jorge Soler
were among nine players sent to minor league camp on Wednesday, while top prospect Javier Baez survived the first round of cuts.
"They've shown their ability to be professionals here in terms of how they carried themselves and how they worked," Cubs manager Rick Renteria said Wednesday afternoon. "Now it's time for them to get down there and get some more at-bats and get ready for the regular season."
Almora was 5-for-9 in spring games, Bryant hit two long home runs and Soler helped win a game with a ninth-inning triple last week.
"Like all players, they were a little disappointed. But they know there is a purpose and a reason for everything that we do," Renteria said.
The Cubs indicated all winter that none of their top picks over the past few years were going to break camp with the team, no matter how well they played this spring. Each player will have to "dominate" at his level in the minors before moving up, according to team president Theo Epstein.
Baez will be sent to minor league camp soon, as well, but not before the Cubs see him play second and third base after being at shortstop all spring. That's where he'll likely play when he makes it to the majors, as
Starlin Castro
is the incumbent at shortstop. Baez should start to move around the infield next week.
Joining Almora, Bryant and Soler in going to minor league camp will be
Arismendy Alcantara
,
Logan Watkins
,
Matt Szczur
, Eric Jokisch, Jeudy Valdez and Carlos Pimentel. Outfielder
Aaron Cunningham
was granted his release from the club.
Almora is likely to start the season at Class A Daytona, Bryant and Soler at Double-A Tennessee, and Baez and Alcantara at Triple-A Iowa.
Even though the players were sent out, they can still play in major league spring games. Bryant and Baez are scheduled to travel to Las Vegas this weekend for exhibitions against the
New York Mets
.
March, 12, 2014
Mar 12
5:53
PM CT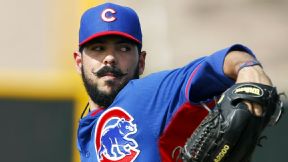 AP Photo/Rick Scuteri

ESPNChicago's Jesse Rogers talks Wednesday with Chicago Cubs pitcher Carlos Villanueva about what he'll do on the Cubs only day off this spring coming up on Thursday and how the young players act behind closed doors.


Click here for more audio from ESPN Chicago
.
March, 12, 2014
Mar 12
1:06
PM CT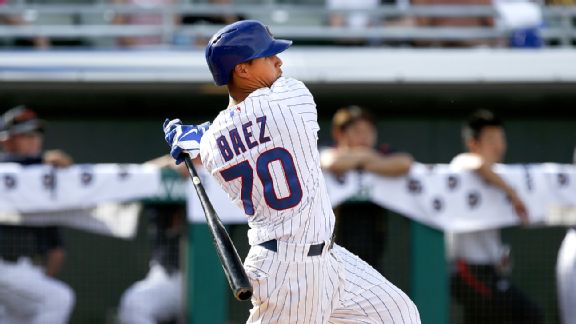 AP Photo/Chris CarlsonAfter a solid spring, Javier Baez will start the season at Triple-A Iowa
MESA, Ariz. -- Their playing time has been sparse and their days in big league camp might be dwindling, but that doesn't mean the "Big 4" haven't had their moments. In fact, first-round picks Javier Baez, Albert Almora and Kris Bryant, along with Cuban signee
Jorge Soler
, have all stood out at one time or another. Before they leave us for their minor league destinations, let's examine how the future of the Cubs has looked so far.
Javier Baez: .333 (6 for 18), 2 doubles, 2 HRs, 2 RBIs, 0 BBs, 3 Ks
Expected to start at Triple-A Iowa
He's handled everything well enough so far that the Cubs feel comfortable moving him around the diamond as they said they would during the winter. Early in camp Baez set a goal for himself to hit the ball to the right side when needed and he's done that. He took an outside fastball over the fence in right field for one of his two home runs and he's continued to show better plate discipline despite not earning a walk. He's helped turn three double plays while making a team-leading 18 assists at shortstop with no errors. All he has to do to make it to the big leagues is keep up this kind of progress, but everyone knows the Cubs won't want to start his "clock" too soon. If he's up before late June or early July it's because he forced his way to Wrigley Field with his play. Plus, watching him swing a bat -- it's vicious -- is entertainment in itself.