July, 27, 2014
Jul 27
7:11
PM CT

By Doug Padilla
ESPNChicago.com
Archive
COOPERSTOWN, N.Y. -- Just like he carved up opponents from 60 feet, 6 inches away, Greg Maddux moved through his Hall of Fame speech Sunday with deft precision.
There was family to thank, teammates and coaches he appreciated and a few people who were key to his development at a young age. He showed love and respect to his wife Kathy for holding down the fort at home. He explained why his Hall of Fame plaque won't have a logo on the cap since he was unable to choose between the
Chicago Cubs
and
Atlanta Braves
.
[+] Enlarge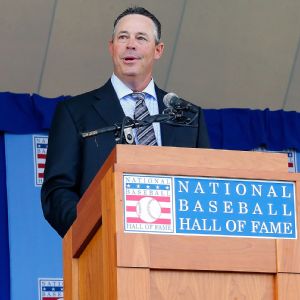 Jim McIsaac/Getty ImagesGreg Maddux's Hall of Fame speech was short and sweet, done with precision, which was similiar to his approach to pitching during his career.
He even sprinkled his own deadpan humor into the proceedings, talking about flatulence, how he was mistaken for the batboy before his first major league game, and how he spent much of his time with the Braves watching John Smoltz's hairline recede.
Appropriately at the head of the rotation among Hall of Fame inductees, it took less than five minutes for Maddux to mix in a little potty humor during what he called the first speech of his life.
"My brother, Mike, led by example," he said about his sibling who is also the pitching coach of the
Texas Rangers
. "Everything I was about to do on and off the field, he had already done. I was very fortunate to have a brother that I could learn from. He even taught me a little bit about science. It has to do with a little methane and a lighter, and I still get a huge kick out of it today. That's funny, huh? OK."
In his more serious moments, Maddux expressed appreciation to the four franchises for which he pitched, focusing most on the Cubs and Braves, obviously. He ended his career with the
San Diego Padres
and
Los Angeles Dodgers
.
"With the Cubs, I had the opportunity to play with Andre Dawson, Rick Sutcliffe, Ryne Sandberg and two fine catchers, Damon Berryhill and Joe Girardi," he said. "The city of Chicago and the Cub fans were awesome, maybe the best in baseball."
The comment managed to bring out some groans from a large contingent of Atlanta fans in the crowd estimated to be 48,000 strong. He made up for it seconds later when talking about his free-agent move from Chicago to Atlanta.
"I picked Atlanta because I finally wanted to get a World Series ring and start a family," he said. "All right, sorry, Chicago, but yeah."
Maddux eventually did get that ring in 1995, with his career bringing him back to Chicago in 2004.
"I love Chicago so much," Maddux said. "The first time I played there, that I was very grateful that Gary Hughes and Jim Hendry brought me back over to Chicago. That would give me a second chance to win there, and maybe retire where it all started, but I wouldn't be a Cub if I couldn't handle a little heartache and we missed the postseason by one game my first year back.
"I was thankful I got a chance to play for Dusty Baker and work with Larry Rothschild. I enjoyed throwing most of my games to Henry Blanco and Michael Barrett, and again, it was even funnier when they would get hit in the face [with foul tips]."
For a first speech, Maddux handled the moment with aplomb. He didn't have to explain why he will go in to the Hall of Fame without picking the Braves over the Cubs or the Cubs over the Braves. He did anyway.
"People ask me why I have no Hall of Fame plaque, no logo, or why my Hall of Fame plaque has no logo," he said. "I spent 12 years in Chicago, 11 in Atlanta and both places are very special to me. Without experiences in both cities, I would not be standing here today."
July, 27, 2014
Jul 27
5:37
PM CT
Associated Press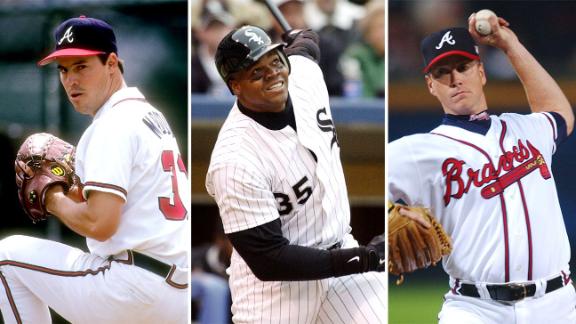 COOPERSTOWN, N.Y. -- Frank Thomas choked back tears, Joe Torre apologized for leaving people out of his speech and Tony La Russa said he felt uneasy.
Being enshrined in the Hall of Fame can have those effects, even on the greats.
Thomas, pitchers Tom Glavine and Greg Maddux, and managers Bobby Cox, Torre and La Russa were inducted into the baseball shrine Sunday, and all paid special tribute to their families before an adoring crowd of nearly 50,000.
"I'm speechless. Thanks for having me in your club," Thomas said, getting emotional as he remembered his late father. "Frank Sr., I know you're watching. Without you, I know 100 percent I wouldn't be here in Cooperstown today. You always preached to me, 'You can be someone special if you really work at it.' I took that to heart, Pop."
"Mom, I thank you for all the motherly love and support. I know it wasn't easy."
The 46-year old Thomas, the first player elected to the Hall who spent more than half of his time as a designated hitter, batted .301 with 521 home runs and 1,704 RBIs in a 19-year career mostly with the Chicago White Sox. He's the only player in major league history to log seven straight seasons with a .300 average, 20 homers, 100 RBIs and 100 walks.
Ever the diplomat as a manager, Torre somehow managed to assuage the most demanding of owners in George Steinbrenner, maintaining his coolness amid all the Bronx craziness while keeping all those egos in check after taking over in 1996. The result: 10 division titles, six AL pennants and four World Series triumphs in 12 years as he helped restore the luster to baseball's most successful franchise and resurrected his own career after three firings.
Torre, the only man to amass more than 2,000 hits (2,342) and win more than 2,000 games as a manager, was last to speak, and in closing delivered a familiar message.
"Baseball is a game of life. It's not perfect, but it feels like it is," said the 74-year-old Torre, who apologized afterward for forgetting to include the Steinbrenner family in his speech. "That's the magic of it. We are responsible for giving it the respect it deserves. Our sport is part of the American soul, and it's ours to borrow -- just for a while."
"If all of us who love baseball and are doing our jobs, then those who get the game from us will be as proud to be a part of it as we were. And we are. This game is a gift, and I am humbled, very humbled, to accept its greatest honor."
The day was a reunion of sorts for the city of Atlanta. Glavine, Maddux and Cox were part of a remarkable run of success by the Braves. They won an unprecedented 14 straight division titles and made 15 playoff appearances, winning the city's lone major professional sports title.
"I'm truly humbled to stand here before you," Cox said. "To Tom Glavine and Greg Maddux, and I have to mention the third member of the big three -- John Smoltz
July, 27, 2014
Jul 27
4:11
PM CT
Associated Press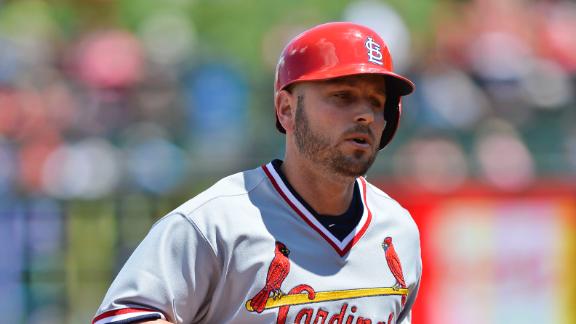 CHICAGO -- Adam Wainwright pitched seven scoreless innings and Matt Holliday hit a solo homer to lead the St. Louis Cardinals to a 1-0 victory and a series win over the Chicago Cubs on Sunday.
The Cardinals won two of the three games at Wrigley Field in the weekend set. The Cubs have not won a home series since taking two of three from the Miami Marlins June 6-8.
Wainwright allowed five hits and walked three during his seven innings. It was a far cry from his previous outing when he allowed six runs (four earned) in 4 2/3 innings against the Tampa Bay Rays last Tuesday.
Kevin Siegrist worked the eighth and Trevor Rosenthal pitched the ninth for his 32nd save in 36 chances.
Cubs rookie Kyle Hendricks (1-1) allowed just one run on seven hits in 6 1/3 innings.
July, 27, 2014
Jul 27
12:41
PM CT

By Jesse Rogers
ESPNChicago.com
Archive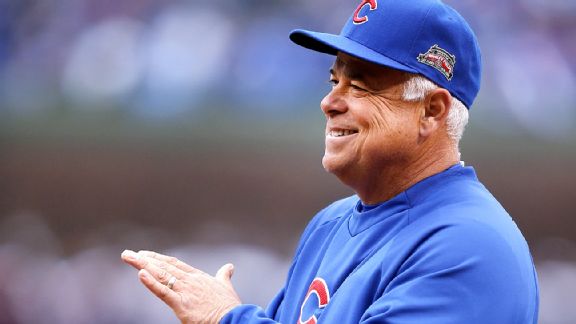 AP Photo/Andrew A. NellesRick Renteria is following the Cubs' long-term plan for improvement.
CHICAGO -- By now you should know
Chicago Cubs
manager Rick Renteria well enough to know that he's not going to fall into any big-picture trap when answering questions about his team. His focus remains on the process. The results -- good or bad -- come from that process and that's how he'll look at the rest of the season, just as he has up until this point.
"The biggest thing we have to understand is the season is not going to stop simply where you're at in terms of the standings," Renteria said before Sunday's series finale against the
St. Louis Cardinals
. "You have to still play the game."
That's a statement many a manager has made over the years, especially ones who have worn a Cubs uniform. There has to be meaning to a long season even if the team is out of the pennant race -- as the Cubs are again with a 42-60 record heading into Sunday's game. But Renteria isn't about to embrace the easy motivation of being a spoiler.
"The aspects of being a spoiler or things of that nature, those are results," he said. "What you're trying to do is just play good baseball. If you happen to become a spoiler in the process so be it."
July, 26, 2014
Jul 26
8:01
PM CT
CHICAGO -- In nearly every outing this season,
Chicago Cubs
starting pitcher
Jake Arrieta
shows a little bit more maturity, as he continues to grow into one of the better pitchers in the game.
Arrieta struggled early in Saturday's 6-3 loss to the
St. Louis Cardinals
, as he allowed the first two batters he faced to reach base and then gave up a one-out, two-run double to the scorching-hot
Matt Adams
. Despite the rough start, Arrieta was able to bounce back and deliver six strong innings, in which he struck out six and walked only one while giving up only the two runs and five hits.
[+] Enlarge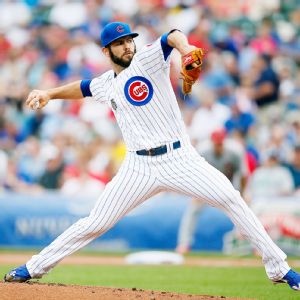 AP Photo/Andrew A. NellesJake Arrieta settled down after a rough start Saturday, but the Cubs let things slip away against the Cardinals.
His manager, Rick Renteria, was thrilled Arrieta was able to battle through and help save an overworked bullpen. Although Renteria couldn't pinpoint what was wrong early, he was pleased with the end result.
"I would just simply say, they don't always feel good at every outing," Renteria said. "Today was maybe not one of those where he felt his best. But he settled down [and] worked with what he had today, which is what a pitcher's supposed to do."
Arrieta has focused more on his mechanics this season and said he has been more aware of his body and thus able to adjust more quickly when things go askew. Early on, Arrieta said he was getting on top of his pitches too early, which led to them being too far down in the zone, particularly his slider.
"I came out kind of flat in the first," Arrieta said. "[I] really struggled with command of just about everything today. Didn't really have a pitch I could go to, necessarily, in some spots to induce contact or kind of make things a little less difficult on myself. [My] pitch count got up [and] it was just pretty much a battle, start to finish."
It was Adams who did damage early, but Arrieta was able to retire him the next two times he came to the plate. Reliever
James Russell
wasn't as lucky, as Adams drove a two-run triple into the right-center field gap to extend the Cardinals' lead to 5-2 in the seventh.
Arrieta pointed out that Adams, who has a .320/.335/.523 line on the season, has been a tough out for every pitcher this year.
"He's hitting just about any pitch in multiple parts of the strike zone. That creates a tough out for anybody," Arrieta said. "He's able to handle breaking balls down and in, he's able to handle the ball away with velocity, and he's able to get on top of the ball if you try and elevate on him. He's seeing it well, and he's doing some good things for that line up."
Despite the early blip on Saturday, for a rotation that recently dealt away two of its better performers, Arrieta continues to show he might be the anchor for which the organization has been searching. He has a 2.18 ERA with a 27.4 percent strikeout rate and 7.2 percent walk rate in 91 innings. Those are the type of numbers that make the Cubs believe Arrieta is their No. 1 not just for the rest of this season, but also the foreseeable future.
"That performance was probably indicative of how much he's grown," Renteria said. "What if that was a couple years ago, when maybe he was struggling a little bit and wasn't able to grind through and pitch through six innings with not his best command of stuff? Today he did. I thought he worked really well."
July, 26, 2014
Jul 26
7:02
PM CT
Associated Press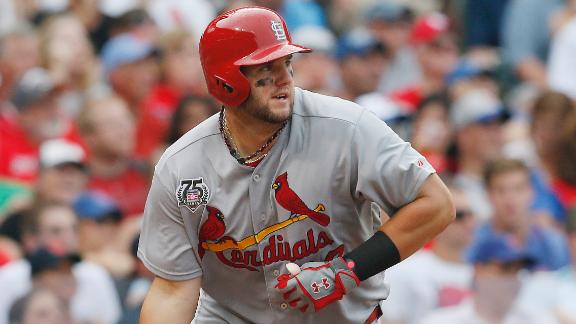 CHICAGO -- Matt Adams drove in four runs, A.J. Pierzynski had three hits in his St. Louis debut and the Cardinals beat the Chicago Cubs 6-3 on Saturday to stop a four-game skid.
Shelby Miller returned to the Cardinals' rotation and pitched effectively into the sixth inning. Adams hit a two-run double in the first and a two-run triple in a four-run seventh that was capped by Pierzynski's RBI single.
Randy Choate (2-2) got the last out of the sixth in relief of Miller. Trevor Rosenthal worked around two hits in a scoreless ninth, earning his 31st save in 35 tries.

July, 26, 2014
Jul 26
6:35
PM CT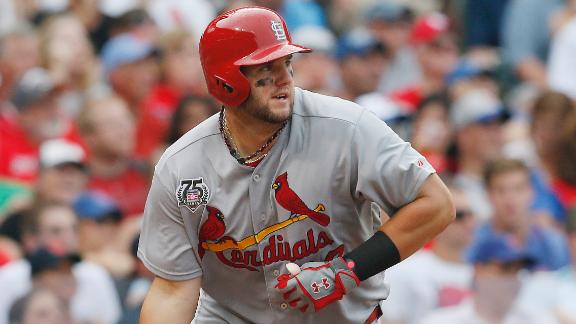 CHICAGO — The
St. Louis Cardinals
rallied Saturday against the
Chicago Cubs
' bullpen to score a 6-3 victory at Wrigley Field. A quick look:


How it happened:
For the fourth game in a row, the Cubs found themselves trailing before their first at-bats. The Cardinals jumped out to a 2-0 lead in the first on
Matt Adams
' two-run double with one out. Starter
Jake Arrieta
calmed down quickly, tossing six solid innings, striking out six and walking one while allowing just the two runs. After the Cubs cut the lead in half when
Emilio Bonifacio
scored on an
Anthony Rizzo
groundout in the fourth,
Nate Schierholtz
, pinch hitting for Arrieta, tied the game at 2 with a solo home run in the bottom of the sixth. The Cardinals took back the lead with four runs in the seventh, highlighted by a two-run triple by Adams, against the Cubs' weary bullpen.
What it means:
With the Cubs bullpen being taxed over the previous few days, Arrieta's ability to bounce back from a rough first inning and go six strong was much needed. It wasn't, however, enough to cover up the fact that nearly every arm in the pen has been used more than manager Rick Renteria would like over the past week -- and the Cardinals certainly capitalized. The recently called-up
Blake Parker
certainly appeared fresh, tossing two perfect innings and striking out four of the six batters he faced. Look for more movement of bullpen arms between Triple-A Iowa and Wrigley in the coming weeks.
Outside the box:
A.J. Pierzynski
made his Cardinals debut Saturday and received a mixed welcome -- cheers from the large Cardinals contingent at Wrigley slightly outdone by the boos from the Cubs faithful. The former White Sox catcher had the last laugh, collecting three singles and an RBI in his four at-bats.
Up next:
The Cubs wrap up their three-game set with the Cardinals as rookie
Kyle Hendricks
gets his first taste of the division rivalry, facing St. Louis ace
Adam Wainwright
in the 1:20 p.m. CT start.
July, 26, 2014
Jul 26
5:12
PM CT
By Sahadev Sharma
ESPNChicago.com
Archive
CHICAGO -- In what appears to be a rather odd move on the face of things, the
Chicago Cubs
optioned arguably their best reliever,
Neil Ramirez
, to Iowa and called up
Blake Parker
.
Manager Rick Renteria said Ramirez was perfectly healthy and was just one of many in a recently overtaxed bullpen that needs some forced time off.
"We're just going to give him a blow, that's all this is," Renteria said. "We've been using everybody extensively. We've had conversations within the organization since the beginning of spring training about a lot of our arms. We use them a lot, and we want to have the opportunity and ability to give them a break during the course of the season."
Renteria suggested it wouldn't only be Ramirez who would be sent down to Iowa for a breather over the season's final two months.
"We're [heading] into the month of August right now, and it's a time when we've really ridden these guys quite a bit, and it's just the appropriate time for us to do this right now," Renteria said. "I'm sure it won't be the last person we do. We have quite a few arms that we've been riding quite a bit. This is a very short breath, hopefully, for him. We're gonna take a step back, regroup, and then he'll be back."
Unless someone goes on the disabled list, Ramirez has to be down for at least 10 days before he can rejoin the major league roster. Renteria said the expectation was that Ramirez would be back with the big league club after the minimum required stay at Triple-A.
Ramirez has 72 hours to report to Iowa, and he wasn't expected to head there right away. Renteria said Ramirez would take a few days off, throw on the side a little, and even when he is used at Iowa, it will be limited.
July, 26, 2014
Jul 26
4:58
PM CT

By Doug Padilla
ESPNChicago.com
Archive
COOPERSTOWN, N.Y. -- Greg Maddux didn't use a blazing fastball to have one of the best pitching careers in major league history, yet he was intimidating nonetheless.
He crafted 355 victories over a storied 23-year career that at its peak earned him four consecutive Cy Young Awards from 1992-95.
[+] Enlarge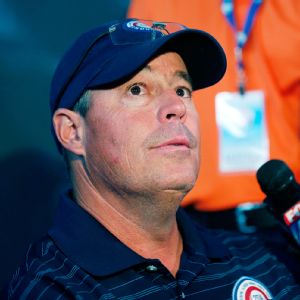 AP Photo/Mike GrollGreg Maddux used precision to the highest level during his 23-year career, and his Hall of Fame speech figures to follow a similar blueprint.
Maddux was a study in consistency, and he was never above the subtle tricks of the trade, when he needed that little extra something to get to where he needed to go.
If quick-pitching a batter who didn't quite have his feet set could get Maddux back in the count, or get the out he needed, he wouldn't shy away from such a tactic.
"You're always looking for any edge you can get," Maddux said Saturday. "You're always trying to find out what's the easiest pitch to throw in any situation."
His savvy approach will lead to his Hall of Fame induction Sunday, and in typical Maddux fashion, the low-key pitcher will keep it short and sweet. He has 10 minutes to give his speech, but Maddux estimates he will only need seven.
Why take a long time to finish off what can be done so much sooner? Like his pinpoint precision from the mound, the speech figures to be precise and won't deal with too much fluff.
His gift of precision, though, wasn't just something he inherited.
"It's something you're always working on," he said of his ability to throw a ball wherever he wanted, whenever he wanted. "It wasn't like, 'Oh yeah, I can do it.' You're always constantly working on it and trying to improve.
"I think if you look at your delivery from the time you entered the game to the time you left the game, it's obviously a lot better when you left. It's a continuous thing where all you're really trying to do is get better."
Despite his accomplishments in the game, baseball still gives him a thrill. He had a memorable encounter as recently as Friday night.
"I got a chance to talk to Tom Seaver and that was pretty cool," Maddux said. "He played for the Reds and he was a good pitcher and somebody I tried to watch when he pitched. I wish maybe the games back then were more than just Saturdays."
He no longer has any more Saturdays on the field, but he continues to have the love from the two cities where he spent the bulk of his career. Maddux spent his first seven seasons with the
Chicago Cubs
and the next 11 with the
Atlanta Braves
, before returning to Chicago for 2½ more years.
"I appreciate both cities," he said. "I had two careers, one in Chicago and one in Atlanta when it boils down to it. I love both places."
Everywhere else and everybody else he loves will be mentioned Sunday in the most precise of speeches.
"I never wrote a speech before. I've never given a speech before so to sit here and have your first speech be at this event, I'll wish I went to class those days when you had to get up and give a speech," Maddux said. "I'll say what I want to say and hopefully the people I mention in the speech understand that I wouldn't be here today if it wasn't for them. I took a piece from everybody. Everybody in that speech I took a piece from."
July, 26, 2014
Jul 26
4:16
PM CT
CHICAGO -- A.J. Pierzynski spent eight seasons with the
Chicago White Sox
. He won a World Series in his first year with the team and made an All-Star appearance. Pierzynski, who is joining his sixth team after signing with the
St. Louis Cardinals
on Friday night, said the team he identifies with most in his career are those White Sox.
"We won a World Series, so it's hard to top that," Pierzynski said before the Cardinals played the
Chicago Cubs
on Saturday. "All the time I spent here, the people here and the fans always in Chicago have been great. Obviously the White Sox is kinda where it's at."
Pierzynski was in Cooperstown with his family to watch his former teammate Frank Thomas' be inducted into the Hall of Fame when he got the call from his agent that the deal with the Cardinals was done.
"He had a big party on Thursday night and it was kind of a surpise, he didn't know who was showing up," Pierzynski said of Thomas. "He was excited to see myself, [Aaron] Rowand, Jermaine Dye and some other guys who were there. He was really happy and excited, it was fun to see Frank like that. Usually when you see Frank, he's a little tense and uptight sometimes, so it was fun to see him happy. I mean, he's gotta be happy, he's going into the Hall of Fame."
In his time with the White Sox, Pierzynski had numerous instances where he drew the ire of Cubs fans when the intra-city rivals would face off. Having been a part of many rivalries, Pierzynski wasn't sure where Cubs-Cardinals would rank, but he did find some humor in the fact that his debut with St. Louis would come at Wrigley Field.
"If it can top the Cubs-White Sox when I was here, then it'd be pretty good," Pierzynski said of the rivalry. "It's gonna be pretty tough to top those first few years when I was here. You hear about it, obviously in the Midwest, it's a pretty big deal. But I've been a part of Yankees-Red Sox, Giants-Dodgers, White Sox-Cubs, it's pretty tough. I'm looking forward to it and hopefully Wrigley is loud and I'm sure I'll get a nice ovation today from the crowd."
Pierzynski's new manager, Mike Matheny, pointed out that it may not be all boos when Pierzynski, who started and batted sixth Saturday, steps to the plate.
"I think he anticipates that it's going to be pretty loud," Matheny said. "Actually, [Friday] there was a good portion of red in the stands. It'll be interesting to see how the fans react in a positive way from the red and from the blue. I know he's had a couple run-ins here, so one way or another, there's going to be some noise."
July, 26, 2014
Jul 26
1:13
PM CT
Associated Press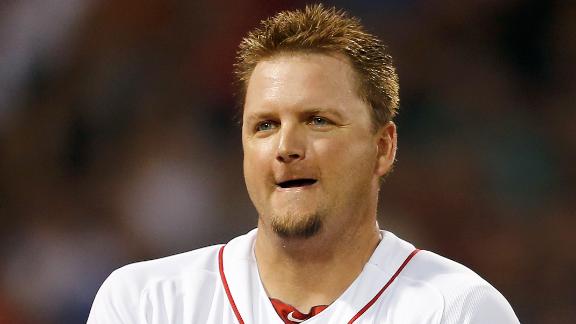 CHICAGO -- For A.J. Pierzynski, the opportunity for a fresh start with a perennial contender was too good to pass up.
Pierzynski on Saturday signed with the St. Louis Cardinals, choosing them from among several suitors, 10 days after being released by the Boston Red Sox.
The veteran catcher didn't divulge what other teams showed interest in him, but said playing for a contender was a priority.
"You want to try and find a team that can win. You don't want to go to the team that's in last place and just kind of play out the string," said Pierzynski, who was in the starting lineup and batting sixth for the Cardinals' afternoon matchup against the Chicago Cubs.
Pierzynski, 37, now with his sixth team in 17 seasons, spoke with St. Louis manager Mike Matheny on Friday before signing and expressed his desire to continue playing and willingness to accept whatever role was best for the team.
"I just wanted to make sure he was a good fit," Matheny said. "Explain to him the lay of the land here, kind of what our expectations are. Also, get kind of a feel of where he is. There are certain guys kind of on that bubble (questioning) 'do I still want to keep doing this?' "
The Cardinals have been looking for a steady presence behind the plate since All-Star Yadier Molina went down with a torn ligament in his right thumb on July 9. Molina underwent surgery on July 11 and is expected to miss 8-to-12 weeks.
"Bringing in another talented player to help us kind of try and put things together and figure out how to take our club to another level," Matheny said. "We still believe we have to get to another level."
Pierzynski brushed aside questions about the his reputation as a negative influence in the clubhouse, and Matheny said he told his team to get rid of any preconceived notions.
"People that played with me and know me, know what I'm about and that's all that really matters," Pierzynski said.
The left-handed hitting Pierzynski played 72 games this year with the Red Sox, hitting .254 with four home runs. He is a career .282 hitter.
"I didn't want to end with the bad taste I had in my mouth in Boston," Pierzynski said. "I didn't want to end like that. I didn't want to end the season. I didn't want to end anything like that."
Pierzynski joined the Cardinals direct from Coopertown, New York, and the Baseball Hall of Fame, where he and his family were guests of 2014 inductee and Pierzynski's former White Sox teammate Frank Thomas.
Catcher George Kottaras
July, 26, 2014
Jul 26
9:00
AM CT

By Jesse Rogers
ESPNChicago.com
Archive
CHICAGO – One by one, they're going to make their way to Wrigley Field. The
Chicago Cubs
' farm system -- the best in in baseball, according to ESPN.com -- is producing major leaguers and will be for the foreseeable future.
Arismendy Alcantara
,
Kyle Hendricks
and
Dallas Beeler
are a few of the names who have made their debuts this season. The pressure that comes with it can be overwhelming. That's where teammates like
Anthony Rizzo
and
Starlin Castro
come in. Both made the All-Star team this year and feel they can make the Cubs newcomers comfortable. Their message?
Be yourself.
"It's not easy," Rizzo said before the Cubs defeated the
St. Louis Cardinals
on Friday. "You play in a minor league stadium, then with one with a third deck. You can't prepare for that. You get used to it."
The sooner you get used to it, the sooner you can produce is how the thinking goes. That's why the Cubs' message is to change nothing. Adjust when adjustment is called for, but don't change who you are as a player.
"We have a lot of conversations about the game at this level," Castro said of Alcantara, who made the second error of his major league career Friday. "When he learns a little more he'll be a better player."
Castro said his new, sometime-double-play partner is a "good listener" and takes things to heart. Alcantara knows he would be foolish not to listen to those who've had success before him.
"They tell me to play hard," the 22-year-old said. "I want to learn how to play here."
Rizzo was asked how a player can get away from being himself. Where can it go wrong?
"Looking at too much video or over-analyzing things," he responded. "Things like that. Worrying about the big-name pitcher who's throwing like
[Adam] Wainwright
on Sunday. He's not just another right-hander, but you have to treat it like that as much as you can."
Cubs manager Rick Renteria's specialty is developing and dealing with young players. He's going to have a slew of them in the coming months and years. His best advice mimics that of Rizzo and Castro.
"Don't try to do too much," Renteria said. "The game is still the same. Those are the biggest things I can share with them. They're pretty sharp young men. Sometimes I don't have to say a word. They just go out there and make adjustments."
It wasn't long ago that Rizzo and Castro were the ones trying to settle in at the major league level. Now they are the teachers. A little bit by default, but also because they're having good seasons. You can't lead from the bench or if you're hitting .220.
"Come in here and play hard," Castro advised. "You have great talent. Just play."
"That's my role on this team," Rizzo added. "That's my job. It's something I embrace.
Both will be doing a lot of nurturing in the coming years.
July, 25, 2014
Jul 25
7:06
PM CT
Associated Press
CHICAGO -- Luis Valbuena hit a decisive two-run homer in the seventh inning Friday, and the Chicago Cubs overcame a three-run deficit to hand the St. Louis Cardinals the fourth straight loss, 7-6.
The teams combined for five home runs and 23 hits with a persistent wind at their backs.
The Cardinals tied the score 5-5 on solo homers by Matt Carpenter and Matt Holliday in the fifth inning. Pinch-hitter Oscar Taveras singled to break the tie in the sixth, but the lead was short-lived.
Kevin Siegrist (1-2) hit Anthony Rizzo with a full-count pitch to lead off the seventh. One batter later, Valbuena sent hit a first-pitch homer into the bleachers in center field.
Justin Grimm (3-2) pitched a scoreless inning for the win. Hector Rondon retired the side in the ninth for his 12th save in 15 chances.