March, 6, 2015
Mar 6
5:48
PM CT
MESA, Ariz. -- The
Chicago Cubs
picked up where they left off last preseason by setting another attendance record (15,331) in their 5-2 loss to the
Cincinnati Reds
on Friday, dropping their Cactus League record to 0-2-1.
The Good:
Jon Lester
was in midseason form as he worked quickly throwing two scoreless innings in his Cubs debut. He was ahead of every hitter until he allowed a broken-bat single with one out in the second inning. After going 1-0 on the next batter, Kristopher Negron, Lester induced a 6-4-3 double play and his day was done. He struck out three.
Spring invitee Jonathan Herrera came off the bench to deliver a couple of hits, including an RBI bunt single after outfielder
Matt Szczur
tripled in the fifth inning.
The Bad:
Javier Baez
had a chance to show off his new approach with a man on third and less than two outs in the first inning, but after getting up 2-0 on pitcher
Tony Cingrani
, he took three big swings and misses while stranding the runner. The final pitch was in his eyes, reminiscent of some problems he had last season with pitches above the strike zone.
The Cubs made several outs on the basepaths while trailing late in the game. Herrera tried to take second on a base hit but got thrown out to end the inning. Later, Billy McKinney got picked off first.
What it means:
Lester was every bit the ace in his first performance in a Cubs uniform. He pounded the strike zone, and the Reds didn't come close to any hard contact. And he didn't even love the placement of his pitches, saying he thought he left the ball up too much. One common theme among great pitchers is their ability to have seemingly effortless innings throughout their performance. Lester is one of those pitchers and showed a glimpse of it Friday.
Manager Joe Maddon has stressed that he wants his baserunners to be aggressive, so there will be some days where they run themselves out of rallies. Will it be offset by the pressure they put on the defense leading to extra runs along the way? There's a fine line between aggressive and overly risky. The Cubs will need to find it, although Maddon will undoubtedly let them learn where it is in the spring.
Notes:
Junior Lake
left the game after getting hit in the head as he was sliding into second base after a wild pitch. The Cubs say he'll be alright with just a bruise. … Lefty reliever
Phil Coke
had only a routine MRI to pass on Friday afternoon before he could officially join the Cubs.
Quotable:
"It really speaks to the tenacity of the hitter. He is that. He wears that on his mug. He's tenacious." -- Maddon, on Kyle Schwarber after his grand slam Thursday.
What's next:
Jason Hammel
takes the mound Saturday against the
Colorado Rockies
. He'll be followed by lefty
Felix Doubront
.
March, 6, 2015
Mar 6
5:25
PM CT
Associated Press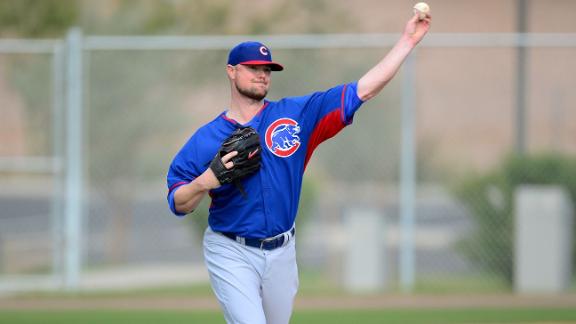 MESA, Ariz. -- Jon Lester pitched two scoreless innings Friday in his spring debut with the Chicago Cubs, who lost 5-2 to the Cincinnati Reds.
Lester got Billy Hamilton to fly out to right leading off the game, and then struck out Brandon Phillips, Todd Frazier and Jay Bruce -- all swinging. The left-hander broke Chris Dominguez's bat on a one-out single in the second, and Kristopher Negron followed with a double-play grounder.
"It was all right," Lester said. "Tempo was good, I felt good about that. Just ball was up a little bit for me. I threw a couple good cutters, but like I said, first one, got some jitters, amped up and all that stuff, so ball's going to be up a little bit. But got some stuff done in the bullpen as far as fixing that. Like I said, now it's time to build off that."
Lester was one of the top free agents in the offseason, and opted for a $155 million, six-year contract with Chicago. He went 16-11 with a career-low 2.46 ERA in 32 starts with Boston and Oakland last season.
The Cubs finished with a losing record in each of the last five years, but they begin this season with high expectations following an active winter -- highlighted by the big deal with Lester.
"If you're not expecting yourself to win, then why are you playing the game?" Lester said. "I don't show up to lose. That's definitely not something I enjoy."
March, 6, 2015
Mar 6
5:14
PM CT
MESA, Ariz. -- In front of the largest spring training crowd ever, new Chicago Cubs pitcher Jon Lester threw as advertised on Friday, facing the minimum in his two-inning debut in a Cubs uniform.
Lester got ahead of all but one Cincinnati Reds batter while striking out three in front of 15,331. He gave up one hit, a broken-bat single to Chris Dominguez in the second inning, which was quickly erased by a double-play ball. Lester threw so efficiently he wrapped up his day with a few more tosses in the bullpen.
"Usually the first one you're getting taken out (due to a pitch count) but today I was able to fill the strike zone up," Lester said. "The first one is always tough. Now you just build and look forward to the next one."
It didn't look tough as Lester threw 24 pitches, including 20 strikes. Between the first and second innings he struck out three consecutive batters: Brandon Phillips, Todd Frazier and Jay Bruce.
"I was just happy I was able to pitch up in the zone," Lester said. "I got away with that a little bit."
It didn't hurt that Lester had a familiar face behind the plate in the form of catcher David Ross. Ross signed a two-year deal with the Cubs after catching 29 of Lester's starts over the past two seasons, including the 2013 playoffs.
March, 6, 2015
Mar 6
1:32
PM CT

ESPN Chicago's Jesse Rogers talks with Cubs 2014 top pick Kyle Schwarber about his grand slam in his first spring at-bat Thursday. It was his 22nd birthday as well.


Click here for more audio from ESPN Chicago
.
March, 6, 2015
Mar 6
12:50
PM CT
MESA, Ariz. -- The chatter about
Oakland Athletics
reliever Pat Venditte was still going one day after he threw both left-handed and right-handed in the same inning against the
Chicago Cubs
in a spring game Thursday.
Venditte pitched the third inning throwing lefty to switch-hitter
Dexter Fowler
and first baseman
Anthony Rizzo
before putting his glove on the other hand and throwing righty to right-handed hitter
Starlin Castro
. But the Cubs took exception to how it all went down, starting with Fowler's at-bat to start the inning in which Venditte warmed up throwing righty -- then switched to lefty as Fowler stepped in.
"I was swinging (during warm-ups before the inning) left-handed because he was throwing right-handed," Fowler said after the game. "Then he gets up there and switches, so I asked the umpire. My whole thing was I should be able to take some practice swings instead of just walking up there and having to hit."
The pitcher is required to declare what arm he is going to throw with before the batter steps into the box. Venditte waited until warm-ups were over, making Fowler believe he was pitching right-handed.
"The only thing I probably did wrong was not force more time for him (Fowler) to get warmed up as a right-handed hitter," manager Joe Maddon said Friday morning.
After retiring both Fowler and Rizzo, Venditte then switched hands to pitch to Castro. But before getting back on the mound, he quickly threw to his second baseman with his right hand using the moment as a quick warm-up. That didn't sit well with Cubs either.
"This guy is not permitted to warm up throwing to infielders with his other hand as the next hitter comes up," Maddon implored. "Those are the things that need to be tightened up."
Even after the complaints, the Cubs could appreciate the uniqueness of an ambidextrous pitcher throwing in the big leagues.
"I can't brush my teeth with my left hand, so to be able to throw a fastball 85 miles per hour, it's like 'wow,'" Maddon said.
March, 6, 2015
Mar 6
12:14
PM CT
MESA, Ariz. -- A strikeout and a flyout never meant so much. But with
Chicago Cubs
infielders
Javier Baez
and
Mike Olt
, the baby steps they take now could benefit them later.
Both players began their spring overhauls with promising at-bats in Day 1 of Cactus League play Thursday. Olt homered off of Barry Zito his first time at the plate -- producing the only two runs of the day for the Cubs in a 2-2 tie -- then struck out two innings later.
"That's one of the best at-bats I've had in a while," Olt said Friday morning.
If you can believe it, he wasn't talking about his two-run shot. The strikeout came after a long at-bat in which he fouled off several 3-2 pitches before succumbing to a nasty changeup.
"I was happy with the way I battled," Olt said.
Olt rarely battled a year ago, losing his part-time starting job and eventually being sent to the minors. He finished the season with a .160 big league batting average and 100 strikeouts. Something had to change.
"I feel like it's night and day," Olt stated. "I know last year I said my swing was there, but secretly in my head I knew I was swinging at pitches I wasn't supposed to. I just feel like I'm tracking the ball better this year.
"The swing I had last year I was trying to hit a ball 500 feet. I don't need to hit it 500 feet. I need to hit it 330-340. Understanding that was a big mental step for me."
And part of that is simply shortening up -- especially with two strikes. Olt wasn't happy with himself fouling off a couple of hittable fastballs before missing on the changeup Thursday, so he's still learning how to take advantage when a hitter's pitch is coming. But if things work out he won't only have to rely on sitting on fastballs. The changeup he struck out on? It's also the pitch he hit out in the second inning. And it's the pitch, according to ESPN Stats and Information, he ranked 325th in baseball out of 334 players with a .103 average last year.
"I was really pleased," manager Joe Maddon said. "If you keep working up good at-bats, good things will occur."
Baez keeping it short and sweet
Speaking of shortening up, Baez has vowed to do just that with two strikes, and already it's paying off. He flew out twice Thursday, but his second at-bat could be a game-changer if he keeps it up. After taking two mighty swings at the plate and missing, Baez shortened up and hit the next pitch to right field for a flyout. No big deal right? It would have been if there was a runner on third and less than two outs. That kind of situational hitting eluded Baez last season when he struck out 225 times combined between Triple-A and the majors.
"That's what we're working on for now," Baez said. "Trying to make my swing shorter for now. I might take one hack or might take two, then I go back to the short swing. We'll be working on that the whole spring training."
Hitting coach John Mallee is espousing a simple philosophy: strike one and/or two is for the hitter, but after that it's for the team.
"That's the idea, to get more contact," Baez said. "They told me I looked better."
Two hitters, both remaking themselves after dreadful years at the plate. Their jobs might depend on it.
March, 6, 2015
Mar 6
10:53
AM CT
Associated Press
CHICAGO -- The funeral home that handled services for Chicago Cubs great Ernie Banks has jumped into the legal battle over the estate of the Hall of Famer with a claim for more than $35,000 it says it has not been paid.
The claim by Donnellan Family Funeral Services was filed Wednesday. It comes amid a legal challenge by Banks' widow, Elizabeth Banks, of a will Banks signed in October -- without her knowledge, she contends -- that leaves all his assets to longtime caregiver Regina Rice and nothing to her or Banks' children.
Last month, after Rice's attorney said a preliminary estimate showed Banks had assets worth just $16,000, a probate judge gave Rice 30 days to provide a full accounting of the estate.
That legal battle involves even the remains of the beloved "Mr. Cub," with Elizabeth Banks filing a petition to prevent Rice from having Banks' remains cremated. The challenge delayed Banks' burial at a cemetery not far from Wrigley Field until a week after his funeral.
In its claim, Donnellan asks to be paid $3,995 for legal fees it incurred "due to dispute over disposition of remains of deceased."
Banks once famously said that he wanted to have his ashes scattered at the iconic ballpark where he spent his entire 19-year career. While Rice has not directly commented on the dispute over his remains, she has said Banks "made me promise to adhere to his wishes, and I am determined to do just that."
The court file includes a bill dated Feb. 6 -- the day Banks was buried -- that the funeral home sent to Elizabeth Banks. Among other expenses, the funeral home said the casket cost nearly $11,000, flowers cost $6,755, car services amounted to more than $3,000 and there were some $2,700 in staff fees.
March, 6, 2015
Mar 6
10:10
AM CT
MESA, Ariz. -- This is not how
Chicago Cubs
pitcher Corey Black wants to make a name for himself. Until now, he's mostly been known for being the player the Cubs received from the
New York Yankees
after finally trading outfielder Alfonso Soriano in 2013.
But then came the Cubs Cactus League opener Thursday when Black nailed
San Francisco Giants
popular outfielder
Hunter Pence
with a fastball in the Giants' eventual 8-6 win. Pence broke his arm, shelving him for 6-8 weeks.
"It's an unfortunate accident," Black said Friday morning. "It's a bad way to start. Today is a new day. You just have to forget about it."
Black was 6-7 with a 3.47 ERA for Double-A Tennessee in 2014, starting 25 games. He'll begin this season at Triple-A Iowa, but first he has to get past hurting one of the heroes of the Giants' championship team from last season. Social media wasn't all kind to him Thursday night after he sent an apologetic tweet to Pence.
"There were a lot of negative things, but a lot of Giants fans were kind of shocked I apologized like that," Black said. "There's always two or three people that are going to have their negative comments."
Pence and Black share the same agent, so Black hopes to reach out to Pence through them for a one-on-one conversation at some point. For now, Black knows that injuries are part of the game and isn't happy with his control in his debut performance. He walked two batters before hitting Pence.
"When you hurt someone, it's completely different," he said. "I'll try to change people's minds with what I do on the mound."
Cubs manager Joe Maddon told Black not to worry about the incident.
"I said, 'Don't you dare worry about any of that,'" Maddon said. "That's part of the game. It's awful when it happens. He wasn't trying to do that. That's just part of the game of baseball. I know he feels badly about it.
"I know if it was me, I would not need an apology. I signed up to play baseball."
Black expressed his regret via Twitter on Thursday night, and Pence accepted Black's condolences Friday morning, tweeting:
@CblackCHC It happens my friend. Thanks for the concern, it's a part of the game we love. No slowing down!

— Hunter Pence (@hunterpence) March 6, 2015
March, 6, 2015
Mar 6
9:19
AM CT
March, 5, 2015
Mar 5
5:34
PM CT
MESA, Ariz. -- The
Chicago Cubs
tied and lost their duo of Cactus League games Thursday as they were defeated by the
San Francisco Giants
8-6 in Scottsdale while battling the
Oakland Athletics
to a 2-2 final after nine innings in Mesa.
Here's a look at some highlights:
The Good:
Kyle Schwarber hit a grand slam in his first big league spring at-bat in the second inning off of Giants starter
Ryan Vogelsong
. The blast was preceded by a single by
Jorge Soler
and a walk to Kris Bryant, setting the stage for the Cubs' 2014 first-round pick. Billy McKinney, acquired with Addison Russell in the deal for
Jeff Samardzija
last year, also went deep.
In Mesa,
Mike Olt
provided the offense for the Cubs, clubbing a two-run home run in the second inning before striking out his next time at the plate.
Both
Jacob Turner
and
Travis Wood
threw two scoreless innings each. Wood went six up and six down against the A's, and Turner allowed three baserunners on two walks and a hit against the Giants.
The Bad:
It's not exactly bad, but the combination of the Cubs' top four hitters --
Dexter Fowler
,
Anthony Rizzo
,
Starlin Castro
and
Miguel Montero
-- went 1-for-8 against the A's. Pitcher Hunter Cervanka gave up four earned runs in one-third of an inning against the Giants, who tallied five runs in the eighth inning to win the game.
The Weird:
A's pitcher Pat Venditte had Fowler confused for a moment. Venditte is an ambidextrous hurler who warmed up mostly from the right side to begin the third inning, so the switch-hitting Fowler took his warm-up swings lefty.
"I was swinging left-handed because he was throwing right-handed," Fowler explained. "Then he gets up there and switches, so I asked the umpire. My whole thing was I should be able to take some practice swings instead of just walking up there and having to hit."
According to Fowler, the pitcher has to declare which side he'll throw from for the at-bat before the hitter gets in the batter's box -- but that's too late for him.
"I wish he would have done it earlier," Fowler said. "That's what should happen."
Fowler took notice that after throwing lefty to him and then Rizzo, Venditte threw a couple of times to his second baseman as a right-hander because righty Starlin Castro was entering the batter's box. In other words, Venditte got in a couple of warm-up throws before facing Castro. Fowler didn't think that was fair.
"It was kind of weird," he said.
Notes:
There are people within the Cubs organization as high on Schwarber as they are on minor league player of the year Kris Bryant. That's how good he might be. And he's on the same path as Bryant -- neither has stopped hitting since being drafted.
Cubs pitchers who matter looked decent, especially Wood. He worked fast and didn't just put the ball on a tee as he did most of last season. It's a start.
Though Olt struck out in his second at-bat after homering, he didn't go down easily. He worked the count full before fouling off several pitches and then missing on a good offspeed pitch.
March, 5, 2015
Mar 5
5:34
PM CT
Associated Press
SCOTTSDALE, Ariz. -- Ryan Vogelsong gave up a grand slam to Kyle Schwarber, the Cubs first pick of last June's draft, but the San Francisco Giants rallied to beat a Chicago split-squad 8-6 on Thursday.
Giants' outfielder Hunter Pence left the game after getting hit by a pitch in the sixth inning.
Jeremy Affeldt allowed a run in one inning as the Giants won their first in three exhibition games between the teams.
Jacob Turner threw two scoreless innings in his spring debut with the Cubs. He gave up a hit, walked two and struck out a batter.
Schwarber, taken fourth overall, connected in his first at-bat against a major league pitcher. He was hitting behind Kris Bryant, drafted in the first round in 2013.
Vogelsong pitched two innings. He threw a perfect first, but gave up hits to Jorge Soler and Wellington Castro and walked Byrant ahead of Schwarber, who drilled a 1-2 delivery over the right field fence.
March, 5, 2015
Mar 5
5:06
PM CT
Associated Press
MESA, Ariz. -- Manager Joe Maddon made his spring debut with the Chicago Cubs on Thursday, a 2-2 tie against Barry Zito and the Oakland Athletics.
Travis Wood pitched two perfect innings for a split-squad of Cubs, and Mike Olt hit a two-run homer in the second inning.
Maddon opted out of his contract with Tampa Bay over the winter and then agreed to take over the Cubs, who begin the year with big expectations after an active offseason.
Zito pitched two innings in his first spring game for the A's after taking last year off. The left-hander allowed two hits, struck out two and walked none.
Zito retired his first five batters, including strikeouts of Starlin Castro and Miguel Montero. But he hit Chris Coghlan in the second and then yielded the long drive to left by Olt.