December, 13, 2013
Dec 13
10:06
AM CT
Pitcher Daniel Hudson, who won 16 games with the Arizona Diamondbacks in 2011 before undergoing two reconstructive surgeries on his right elbow, has reached agreement on a minor-league deal to return to the D-backs, a baseball source told ESPN.com. Terms of the contract weren't immediately available.
Hudson, 26, is 28-17 with a 3.68 ERA in parts of four seasons with the Chicago White Sox and the Diamondbacks. Arizona acquired Hudson and pitcher David Holmberg from Chicago in a trade for veteran starter Edwin Jackson in July 2010.
Hudson underwent his first Tommy John surgery in July 2012. He then re-tore a ligament in his elbow during a minor league rehab start last summer, necessitating a second elbow reconstruction in June. He became a free agent when the Diamondbacks declined to tender him a 2014 contract earlier this month.
Hudson's agent, Andrew Lowenthal, confirmed that Hudson has agreed with Arizona but declined to comment on the terms of the contract.
"Daniel was blown away by the level of interest in him after he became a free agent,'' Hudson's agent, Andrew Lowenthal, said in a text message. "But in the end, he felt that staying with the Diamondbacks medical and training staff gave him the best opportunity to get back on a big-league mound sooner rather than later. When he makes it back from this ordeal, he wants to be in a D-backs uniform, and the D-backs have made it clear that's what they want as well.''
December, 12, 2013
Dec 12
5:40
PM CT
LAKE BUENA VISTA, Fla. -- It might not be the big trade fans were hoping for at the winter meetings but the acquisition of right-handed outfielder
Justin Ruggiano
from the
Miami Marlins
, for lefty
Brian Bogusevic
, finally provides an even distribution from both sides of the plate in the outfield heading into 2014. Last season the Cubs were too left-handed and the mix never really felt right.
"It's a better fit for our roster," general manager Jed Hoyer said Thursday morning after the Rule 5 draft. "He can platoon with one of several guys that we have."
Junior Lake
,
Ryan Sweeney
and
Nate Schierholtz
are holdovers from last season and are the presumptive starters going into the next one. The former hits from the right side, while the latter two are lefties. The immediate question after the acquisition of Ruggiano was how it affects Lake.
"Junior Lake is going to get a ton of playing time," Hoyer said. "A player like that needs to be out there getting at-bats and developing."
December, 12, 2013
Dec 12
5:27
PM CT
LAKE BUENA VISTA, Fla. -- Normally in this space, you'd be reading the annual, ever-popular Winter Meetings Winners and Losers recap you look forward to all offseason.
Sorry. Not this year.
Can't do it. Only because so much happened the week before the winter meetings, it wouldn't be fair to grade just the goings-on of the past four days.
"Last week was so nuts," said one National League executive, "we couldn't possibly top it."
So this is the annual winners and losers recap. Although this year, we're also including the deals and signings that led up to the winter meetings. So everyone got that? Cool. Now heeeeeere we go:
WINNERS
Feldman
• Fourth starters -- It has been a terrific winter to be Scott Feldman (three years, $30 million from the Astros, even though he has never had an ERA less than 3.86 in his career). ... Or Jason Vargas (four years, $32 million from the Royals, even though he has run off four straight seasons with an ERA-Plus of less than 100). ... Or Scott Kazmir (two years, $22 million from the A's, even though he hasn't pitched enough innings to qualify for the ERA title since 2007). With all the new national-TV money flowing into the sport, much of it has ended up in the pockets of pitchers whose names don't figure to be appearing on any Cy Young ballots near you. Not that there's anything wrong with that.
December, 12, 2013
Dec 12
4:09
PM CT

One of the quieter teams at the Winter Meetings was the
Atlanta Braves
, who did not make a single trade or free agent signing during the past four days. However, there's still plenty of time left this offseason for a significant move to be made.
To continue reading this article you must be an Insider
December, 12, 2013
Dec 12
9:05
AM CT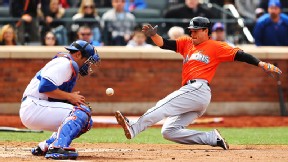 Al Bello/Getty ImagesOutfielder Justin Ruggiano hit a career-high 18 home runs with 50 RBIs last season for Miami.
LAKE BUENA VISTA, Fla. -- The Cubs and Marlins swapped outfielders on Thursday with Brian Bogusevic going to Miami and Justin Ruggiano heading to Chicago.
Ruggiano, 31, hit a career-high 18 home runs with 50 RBIs last season with the Marlins. A right-handed hitter, Ruggiano can play all three outfield positions.
Bogusevic, a left-handed hitter who will be 30 in February, signed a minor league contract with the Cubs before the 2013 season. He played in 47 games with the Cubs last season, batting .273 with six home runs and 16 RBIs.
The Cubs lost Triple-A Iowa pitcher Marcos Mateo to the Arizona Diamondbacks in the major league portion of the Rule 5 draft on Thursday. The right-handed Mateo, 29, pitched for the Cubs in 2010 and 2011 before being sidelined with an elbow injury.
Mateo is throwing well in the Dominican Republic this winter but wasn't on the Cubs' 40-man roster. He can be returned to the team if he doesn't make the Diamondbacks' 25-man roster this spring.
December, 11, 2013
Dec 11
7:49
PM CT
LAKE BUENA VISTA, Fla. -- Baseball agent Scott Boras hasn't changed his stance since the general managers meetings last month. He still wants the
Chicago Cubs
to act like a big-market team and spend some money -- presumably on his clients -- though he does understand their game plan.
"It appears as though we're looking at the all-day sucker, so maybe next year," Boras said Wednesday at the winter meetings.
[+] Enlarge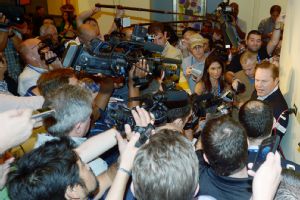 AP Photo/Phelan M. EbenhackScott Boras reiterated his opinion at the winter meetings that the Cubs should act like a big-market team and not shy away from spending money.
He quickly explained himself.
"It (a lollipop) takes a long time to dissolve," Boras said. "The idea is it's going to take some time for them to reach the resolve to say they are going to compete on all fronts."
In other words, the Cubs' rebuilding process is moving very slowly and isn't at the point of spending what it would take to bring Boras' free-agent client
Shin-Soo Choo
to Chicago, for example.
"It's not the first time an agent has used the media to try and compel a team into spending huge amounts of money without knowledge of that club's financial situation," Cubs president Theo Epstein responded. "We're not going to get into a war of words with Scott other than to say the folks who work at the Cubs probably have a better understanding of the situation than he does."
For the record, Epstein and Boras have a very good relationship. Top prospects Kris Bryant and Albert Almora are both Boras clients and Epstein has every intention of signing others -- just not right now.
"It has nothing to do with the baseball people or how the organization is run, it's just that you have a major market team that has dramatically more revenue than most clubs who take this type of approach," Boras stated.
December, 11, 2013
Dec 11
7:20
PM CT
Associated Press
[+] Enlarge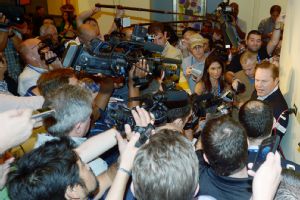 AP Photo/Phelan M. EbenhackDuring a question-and-answer session that lasted about an hour, Scott Boras touched on many of baseball's issues.
LAKE BUENA VISTA, Fla. -- Scott Boras had a message for Jay Z.
Robinson Cano, a prized Boras client, switched agents this year to the hip-hop mogul and CAA Sports. The All-Star second baseman left the New York Yankees and agreed last week to a contract with Seattle said to be worth $240 million over 10 years.
"It's very different to be the creator of the umbrella versus those who stand under it," Boras said Wednesday at the winter meetings.
Boras maintained the talent of the player led to the agreement, not the player's representation.
"When you're bringing the prettiest girl to the prom, you don't really pay attention to who he's dancing with, unless it's a very unusual step," he said.
During a question-and-answer session that lasted about an hour, Boras touched on many of baseball's topical issues:
• On Oakland's general manager finding a way for the low-budget team to compete: "Remember that Billy Beane is the master of goulash. You never know what's in it. You just know it's good at the end of the year. ... The way Billy works is that he adds different things to his goulash every year."
December, 11, 2013
Dec 11
7:19
PM CT
December, 11, 2013
Dec 11
6:01
PM CT
Lake Buena Vista, Fla. -- As the winter meetings wind down, the
Chicago Cubs
are still hopeful to make some impactful moves for 2014 but might have to wait until later in the winter.
"We have offers out for a starting pitcher in free agency, we have offers out for a relief pitcher, we have a trade offer out for a position player," team President Theo Epstein said Wednesday afternoon. "We're doing a lot. We're not just hanging out at the 'ole Dolphin (hotel). Teams that have less currency often times execute things later in the winter.
"We'll probably be active later than earlier."
It's believed that the trade offer involves an outfielder.
The Cubs have inquired about many available second tier players both in free agency and through the trade market. They've also fielded a lot of calls.
December, 11, 2013
Dec 11
5:17
PM CT
LAKE BUENA VISTA, Fla. -- The Chicago Cubs front office met with the agent of Jeff Samardzija on Wednesday and while there was no resolution to his long-term situation, team president Theo Epstein said Samardzija isn't going anywhere right now.
"There is no trade imminent," Epstein said. "We'll see what happens. We hope he's here for a long time."
Samardijza has been linked to several teams throughout the offseason as the Cubs haven't been able to strike a long-term deal for the arbitration-eligible pitcher. He's attractive because he made only $2.6 million last season and is still under team control for two more seasons before he becomes a free agent.
"We met," Epstein said. "It went well. It was a great meeting. Every time we meet with (agent) Mark (Rodgers) I feel great about the relationship and the relationship with Jeff, too."
Rodgers said in a text message the meeting was "very amicable."
Sources close to the situation indicate Samardzija is looking for a deal that would pay him "as if he's a free agent now," in order to endure the long rebuilding process the team is undertaking. The Cubs have been unwilling to accommodate anything close to that request, which would likely cost between $12-17 million per year.
"We continue to try and move the ball forward as much as we can on one, two or three possible outcomes," Epstein said.
Sources also indicated the Cubs haven't liked the return they would be getting in a trade of Samardzija right now and would revisit the market sometime before the 2014 trade deadline on July 31.
Out of respect to Samardzija, Epstein said he's done commenting on it, at least for the time being.
"We'll put it to bed, publicly," Epstein stated. "Jeff is our Opening Day starter unless something changes."
December, 10, 2013
Dec 10
9:44
PM CT
LAKE BUENA VISTA, Fla. -- On a day where there was a major three-team trade in baseball -- one involving the
Chicago White Sox
-- the
Chicago Cubs
were mostly quiet as they mull over their possibilities.
"I know we'll be productive [in meetings], but I'm not sure if it will lead to a move or not," general manager Jed Hoyer said Tuesday.
The Cubs met with agents and opposing teams, but unless
Jeff Samardzija
is given a contract extension or
Shin-Soo Choo
signs to play the outfield, the White Sox will have stolen all the headlines. It's not how Hoyer wants to operate.
"When you aren't a significant part of the deal flow and you're not making super impactful moves that impact next year, I think it is frustrating because you want to be part of that," he said. "I think there is a day in the near future where we'll be here and be really active in making those moves."
That day just isn't here yet. With another upcoming season of acquiring and developing talent, the Cubs are less apt to make a bold move like the Sox did in trading for center fielder
Adam Eaton
of the
Arizona Diamondbacks
.
Incidentally, the Cubs could have used Eaton as well as pitcher
Tyler Skaggs
, who went to the
Los Angeles Angels
in the deal.
Ironically, the three-team trade also figures to have an effect on the Cubs. It's widely known the Cubs have been talking to the Diamondbacks on a myriad fronts, including about Samardzija. Now that Skaggs is off the board and the Angles have acquired pitcher
Hector Santiago
from the White Sox, the landscape for a trade for Samardzija has changed.
The Cubs did have an update on one of their own free agents, pitcher
Scott Baker
.
"We met with his agent," Hoyer said. "It's still a possibility."
December, 10, 2013
Dec 10
4:09
PM CT
LAKE BUENA VISTA, Fla. -- There's one word that keeps popping up whenever new
Chicago Cubs
manager Rick Renteria speaks publicly as he did on Day 2 of the winter meetings.
Message.
Renteria was hired in part for his ability to communicate, and the Cubs are committed to getting their message across at the big-league level as well as they believe they did in the minors over the last couple years. Renteria's ability to speak Spanish and English will only help deliver it.
"The reality is, beyond speaking a different language, the message has to be clean and concise, clear," Renteria said Tuesday at the winter meetings. "I can speak both languages but if I don't articulate an idea or concept the right way it doesn't matter how many languages I speak."
December, 10, 2013
Dec 10
11:29
AM CT
ESPN.com news services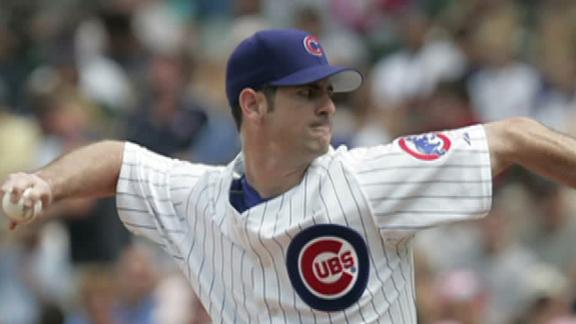 Mark Prior has decided to call it a career, the oft-injured pitcher told reporters at the winter meetings Tuesday in Lake Buena Vista, Fla.
The 33-year-old right-hander went on the disabled list in April with a shoulder injury while attempting a comeback with the Cincinnati Reds' Triple-A affiliate in Louisville. He was released in June.
Prior told multiple media outlets Tuesday that he's interested in a front-office job.
Prior, who grew up near San Diego and lives there now, identified the Padres as a possible destination, according to U-T San Diego.
"I've had some ongoing conversations with Josh [Byrnes, the Padres' general manager], A.J. [Hinch, assistant GM] and Josh Stein (director of baseball operations) over the past couple months," Prior told the newspaper. "Hopefully, next week we can get something finalized. But they've already been gracious to me as far as giving me the opportunity to learn."
Prior told U-T San Diego that the parties have been discussing a "catch-all, do-everything" role in which he'd be introduced to many aspects of the organization.
He also said he is comfortable with his decision to move on.
"I have no regrets. I did everything I could. I left it on the field, gave everything I could to it and came up short. Now I'm on to my second career," he told the newspaper.
Prior, who was taken with the second overall pick in the 2001 draft by the Chicago Cubs, finishes his career with a 42-29 record, a 3.51 ERA and 757 strikeouts in the majors. He finished third in NL Cy Young Award voting in 2003 after going 18-6 with a 2.43 ERA and 245 strikeouts with the Cubs.
December, 10, 2013
Dec 10
10:32
AM CT
LAKE BUENA VISTA, Fla. -- The lobby at the Swan & Dolphin hotel was full of energy -- and rumors -- on Monday night as the winter meetings got underway. It's the only time all year that executives, scouts and media members will mingle with tape recorders off and ties loosened.
[+] Enlarge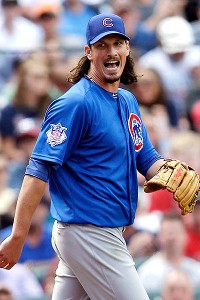 AP Photo/John BazemoreThe list of interested teams in Jeff Samardzija appears to be growing.
Not surprisingly, one topic of conversation was
Chicago Cubs
pitcher
Jeff Samardzija
. The list of contending teams not interested in him is growing smaller. Toronto, Atlanta, the
New York Yankees
, Washington, Arizona and Pittsburgh have all been linked to Samardzija at one time. And there are probably more teams lining up knowing they have two years of control over Samardzija before he becomes a free agent. These teams are in win-now mode.
Two National League observers said Monday that they believe the Braves could emerge as the favorite, either during this offseason or closer to the July trade deadline. The Braves potentially match up well as a trade partner because their top prospects come from their pitching ranks, although some of that pitching is very young and not major league ready. Additionally, the Braves already have a young staff which used
Julio Teheran
and
Alex Wood
in the rotation in 2013. A veteran like Samardzija would help. It remains to be seen if the Braves' package is enough for a Cubs front office more interested in quality than quantity to pull the trigger on a deal.
The Samardzija story could take a new turn as his agent, Mark Rodgers, arrives in Orlando on Tuesday for a 36-hour stay. There's no "summit" meeting scheduled between the Cubs and Rodgers, although the sides will undoubtedly talk. Trading Samardzija is still much more likely than extending his stay in Chicago via a new contract. It's still a matter of when and to whom, not if.
While the Cubs try to figure out what to do with Samardzija, they're also waiting to see if Japanese pitcher Masahiro Tanaka will be made available this offseason. General manager Jed Hoyer was asked Monday if the Cubs could only spend on one of the two players.
"They're not attached," Hoyer said. "It's not an either/or type thing. ... What people are speculating about isn't based on any kind of facts. There are very few people who know exactly what we have the resources to do. We'll keep that internal."
Meetings changing:
Hoyer lamented the fact that the winter meetings have become less and less about face-to-face meetings between teams. With communication just a touch away on a smartphone, teams don't need the long sitdowns as in previous years or decades. The week before the meetings easily saw more flurry of activity than there likely will be this week.
"When it comes to deal-making and contact, both at the GM meetings and winter meetings, they lack a little bit of what they did in the past because we're on the phone and text," Hoyer said. "You know so much more on the Internet and Twitter. We comment all the time. It used to be you'd sort of have team road trips (in the hotel) to other teams. You have three to four people go to another team and talk a half an hour and 45 minutes."
Big year for Barney:
Cubs second baseman
Darwin Barney
is coming off a season in which he hit .208. There are several infield prospects who could push him in 2014, making it a big year for the veteran.
"It's a big year for him no matter what," Hoyer said. "It doesn't have to do with competition among young players. I think he simply wants to bounce back and get back to where he was."
Barney hit .276 in 2011 and .254 in 2012 while playing Gold Glove-caliber defense. Hoyer says the Cubs' plan is for him is to be the starter, but his numbers need to improve.
"With him, mechanically and approach-wise, he got caught in between some things last year," Hoyer said. "He brings aspects [defense] to our club that are pretty much impossible to find."