September, 18, 2014
Sep 18
7:50
PM CT
CHICAGO -- The
Chicago Cubs
have reached a player-development agreement with South Bend, Indiana, to move their Class-A affiliate there starting next season after spending the past two years in Kane County, Illinois.
"We hate making decisions that are going to end up disappointing people, but we have to make them in the best interests of our prospects," Cubs president Theo Epstein said Thursday. "South Bend's renovations offer a facility that we feel will make a profound difference for our prospects."
Epstein had high praise for Kane County, but called moving to South Bend a "unique opportunity." Recently, Kane County announced intended improvements to its facility in hopes of keeping the Cubs. It wasn't enough.
"One area where we don't mess around is in player development," Epstein said. "Our success will be impacted in large part to how well we develop our young players."
The Cubs had already announced that they would be moving two other minor league affiliates, with their High-A Florida team switching from Daytona to Myrtle Beach earlier this week. Their short-season A team could move from Boise, Idaho, as well. Epstein understands the disappointment that comes with leaving local fan bases.
"I don't think in this industry you can avoid looking like bad guys," he said. "You just have to roll with it and make sure you are making decisions for the right reasons."
The upgrades in the facilities were the driving forces in each of these moves. The Cubs feel their player development is an obvious key to a rebuilding team. They took advantage of an opportunity in Indiana.
"We are excited to partner with South Bend and look forward to a productive relationship with the team, as well as the entire South Bend community," Cubs senior vice president of scouting and player development Jason McLeod said in a statement earlier in the day. "Making the decision to switch minor-league affiliates is never an easy one, but we are confident that this agreement will further strengthen our farm system."
A news conference to unveil a new name, logo and uniform will be held next Thursday in South Bend. The team was previously affiliated with the
Arizona Diamondbacks
and was known as the Silver Hawks. The Cubs' agreement runs through the 2018 season.
September, 18, 2014
Sep 18
6:26
PM CT
CHICAGO – Holding no grudges for being demoted -- and then traded -- former
Chicago Cubs
second baseman
Darwin Barney
returned to Wrigley Field for the first time with the first-place
Los Angeles Dodgers
, happy for the chance at postseason baseball.
"If I was in their position, I might have done the same thing with me too," Barney said before Thursday night's game. "It was weird at first. It's just a different atmosphere. We expect to win, and if we don't, we don't cry about it, we get up the next day and try to win that day. It's kind of a fun experience."
Barney fell out of favor with Cubs fans as his batting average continued to dip after hitting a high of .276 in 2011. He hit .208 last season and .230 this year before being traded in July. He went from last place -- and the only organization he's ever known -- to first place in a matter of days.
"The biggest difference is at this time of year a lot of guys are counting down the days," Barney said of his former team. "It's strange not to be counting down the days. I didn't even know the season was over in 10 days. There's still baseball ahead.
"It's a little like a divorce. I've only known one thing. The unknown can be a little scary, but that's baseball. That's life. It's going to happen to everybody, and it's going to happen again."
Barney knew the deal. The Cubs were rebuilding and weren't exactly spending money on the big league club. As the team tanked, so did his offensive game. With top-end talent coming up behind him, Barney didn't survive his own struggles and the Cubs couldn't afford to keep a gold glove, no-hit player.
"The year after I was drafted I was sitting in the car with (former Cub)
Steve Clevenger
, sitting there saying 'we have an opportunity to win a championship in Chicago someday.' That was my goal, and what I wanted for a long time."
Like all former Cubs, he thought the chance to break the longest championship drought in sports was a special opportunity. It didn't happen in Chicago, but he's hoping it does in Los Angeles. He's appeared in 15 games and hit his first home run with his new team on Wednesday. The Dodgers are stacked with talent and on the verge of returning to the playoffs.
"This team is a really good team," he said. "I couldn't believe how good we were when I got here.
(Clayton) Kershaw
is the best pitcher I've ever seen."
At the end of the day, Barney is actually grateful the Cubs moved him when they did. They gave him a chance to play this season longer than any of his former teammates will.
"I have no hard feelings," Barney stated. "They made it early enough that I could go to a contender.
September, 18, 2014
Sep 18
3:47
PM CT
CHICAGO -- The
Chicago Cubs
take on the
Los Angeles Dodgers
in a four-game series starting Thursday night.
•
Thursday:
Tsuyoshi Wada
(4-3, 3.34) vs.
Zack Greinke
(15-8, 2.64), 7:05 p.m. CT
•
Friday:
Edwin Jackson
(6-14, 6.09) vs.
Clayton Kershaw
(19-3, 1.70), 1:20 p.m. CT
•
Saturday:
Felix Doubront
(4-5, 5.00) vs.
Roberto Hernandez
(8-11, 4.06), 12:05 p.m. CT
•
Sunday:
Jacob Turner
(5-10, 6.20) vs.
Dan Haren
(13-11, 4.14), 1:20 p.m. CT
The storylines:
The Dodgers can move very close to clinching a playoff spot this weekend especially with their top two pitchers going Thursday and Friday as the Cubs won't have any of their main guys pitch in the series. Friday's game looks as lopsided as they come with Kershaw going for win No. 20 against Jackson, who has the highest ERA among regular starters in the league. Kershaw has the lowest. The series features two Cuban stars,
Yasiel Puig
and
Jorge Soler
, playing on the same field for the first time. Manager Rick Renteria is sticking to a plan to play it cautious with
Anthony Rizzo
, who won't start Thursday's game, putting him in line to face the lefty Kershaw on Friday.
Who's Hot/Who's Not:
Soler is 3-for-8 this week after missing the weekend series against the
Pittsburgh Pirates
. He had a home run and walked three times against the Reds in the Cubs sweep.
Javier Baez
was 1-for-12 against the Reds as his batting average dropped to .171. He has the most strikeouts (77) of any player in their first 50 career games. And he's only played in 42.
September, 18, 2014
Sep 18
1:51
PM CT
Associated Press
[+] Enlarge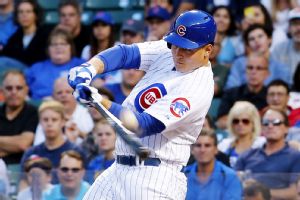 AP Photo/Stacy ThackerAnthony Rizzo is the youngest person to win the Branch Rickey award.
DENVER -- Chicago Cubs All-Star first baseman Anthony Rizzo is the winner of the 2014 Branch Rickey award in recognition of his community work with pediatric cancer patients.
At 25, he's the youngest person to receive the award -- 4½ months younger than last year's winner, Los Angeles Dodgers lefty Clayton Kershaw.
Created by the Rotary Club of Denver in 1991, the Branch Rickey Award honors individuals in baseball who contribute to their communities and are strong role models for young people.
Each year, major league teams nominate a player, coach or executive, either active or retired, for the award. The award is named in honor of the late baseball executive known for creating the framework for the modern minor league farm system and for breaking baseball's color barrier by signing Jackie Robinson, the first black player in the major leagues. He also hired the first Latino player, Roberto Clemente.
"It's awesome. It really is," Rizzo said. "What he did, obviously with Jackie Robinson, it's pretty special to win the award. To be recognized for something like that, it's special for me and my family."
September, 18, 2014
Sep 18
12:23
PM CT

By Jon Greenberg
ESPNChicago.com
Archive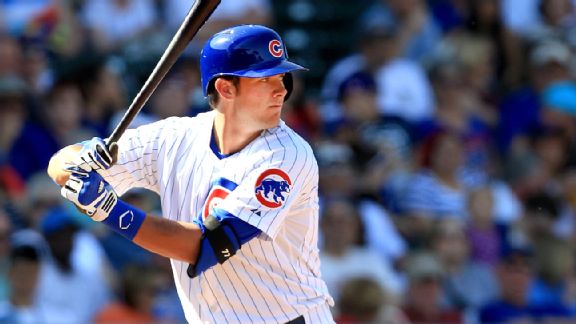 Gregg Forwerck/Getty ImagesKris Bryant added Cubs Minor League Player of the Year to his rapidly growing list of accolades.
CHICAGO -- The newest Baseball America was piled up on the
Chicago Cubs
' clubhouse table Wednesday afternoon. The face on the front is a familiar one, Kris Bryant, the publication's biggest crush and its obvious Minor League Player of the Year.
Bryant's name has probably been uttered by reporters as much as any actual Cub this season as he put together a season for the ages in Double-A and Triple-A. For an organization laser-focused on the future, Bryant's promise is as important as the videoboard going up in left field.
On Wednesday, Bryant finally showed up in the flesh at Wrigley Field, months after
Javier Baez
electrified a wan fanbase with big swings and big misses, weeks after
Jorge Soler
one-upped Baez with a power-packed, all-around game.
Alas, Bryant wasn't in uniform. Well, he was, but it was the uniform of a minor leaguer on the rise: jagged hair, ballplayer jeans, a young face. Typically, a teammate said, he dresses in head-to-toe Adidas gear because he's got a sponsorship deal.
As reporters talked to Cubs Minor League Pitcher of the Year Jen-Ho Tseng, Bryant walked down to the field with an entourage that included the Cubs' Big Three -- Theo Epstein, Jed Hoyer and Jason McLeod -- his girlfriend and his father.
"

I've talked more about him than myself since I've been up here. But I get it. That guy's a superstar, or he's going to be.

"

-- Cubs' Logan Watkins on Kris Bryant
Bryant was at Wrigley to accept the organization's minor league hitter of the year award, another signpost honor that means absolutely nothing the day Bryant comes to the Cubs for real.
The 22-year-old Bryant hit .325/.438/.661 with 43 homers in 138 games between Tennessee and Iowa. It's an awe-inspiring season for anyone, but in the grand scheme of things, it just supported what the Cubs already knew: He's a monster.
Bryant said he hasn't paid attention to his numbers since high school, calling batting average "the devil."
Bryant won just about every award there is to win in the past two years: The Dick Howser, the Golden Spikes, Baseball America Minor League Player of the Year, USA Today Minor League Player of the Year. If the Cubs keep him stashed in Des Moines, he could probably take the 2016 Iowa Caucus.
But all of those honors are ephemeral. They make parents weepy, and agents and farm directors rich, but Bryant's goal isn't to win minor acclaim and earn fawning Twitter followers.
"With the awards, I kind of just throw them in my room," Bryant said. "They're not something I can hold onto. They're just a piece of hardware."
Bryant's season ended in Triple-A, the product of baseball's convoluted rules that limit a player's earning potential. He should've been up here getting his feet wet in the majors with Baez and Soler. But, the baseball reporters say, he might have to start next season in the minors so he's up fewer than the 172 days that would make it a full season of experience.
The Cubs will say he needs to work on playing outfield or polishing his play at third. It's a process, as they say.
Given the Cubs' constant bragging about how how much money they're going to have in the coming years, it's eye-rolling to think about this team worrying about player control (i.e. money) in a time when Tom Ricketts will have his Scrooge McDuck vault of money, but that's how baseball works. A year trumps a month. It makes sense.
Bryant said it was "bittersweet" to come to Wrigley as a fan, though he allowed the novelty was kind of cool. I asked him if he was "envious" of his teammates.
"I don't think that's the right word," Bryant said. "I'm definitely happy for 'em, but at the same time, you want to be in their shoes someday, and I sure hope that day comes soon. But we're all in this together. We all want to win a World Series."
Ah, the World Series talk. If I were Epstein, I'd ban those two words until the Cubs win the National League Championship Series. The pressure can be too much. In 2008, Cubs players talked openly about playing in the Series, how good it would feel to win in Chicago, and the pressure crushed them in the divisional round.
But hey, you've got to have goals, right?
The dour mood around Wrigley has definitely shifted (except for the part-time employees getting hours cut with no explanation) after two-plus years of thumb-twiddling as fans and Cubs players waited for the prospects to develop. There's a dissonance to the plan, one that the beloved baseball executives understand. They know the on-field product is overpriced and at times embarrassing, and they know their plan is going to pay dividends as soon as next year when, as one executive put it, the Cubs probably won't be contenders, but they'll be fun to watch.
Of course, that organizational attitude bothers some players. Why wouldn't it? There were Cubs scratching their heads at Kyle Schwarber's visit to Wrigley overshadowing Jake Arrieta's one-hit shutout on the front page of a local paper.
Bryant said he gets occasional texts from his buddy Logan Watkins about the preponderance of questions he gets in Chicago about Bryant.
"I've talked more about him than myself since I've been up here," Watkins said. "But I get it. That guy's a superstar, or he's going to be."
Watkins said it's not just media. His friends and family ask what it's like to play with him.
"Even in Iowa, it was, 'What's it like playing with Javy and Kris Bryant?' 'It's great, I mean, but we still play the game, too,'" he said with a chuckle.
This happened in 2012 when Anthony Rizzo was tearing up Triple-A. When Rizzo arrived, Reed Johnson joked he was going to stand by him all game so everyone knows he's "still in the league."
"If you ever want to get on TV, just stand by Kris Bryant," Watkins said.
While the players will try to bust up Bryant in the clubhouse, they wanted him up here yesterday. That's why Rizzo has been so outspoken about pushing prospects. Of course, that's why Rizzo has bosses who know baseball, too.
The actual Cubs, especially the ones with futures here, are more sick of hearing about tomorrow than the season-ticket holders and beat writers.
"I get why everyone's so excited, we're just as excited to play with him up here," Watkins said.
Bryant is polished off the field, as well; a baseball junkie with a focused, involved dad, Mike, an ex-minor leaguer himself, who talks about "micromanaging" Bryant's at-bats to find out precisely how he's being pitched.
If you're worried about a hyped prospect failing, don't. This guy's different. Cubs execs say he's the most polished prospect they've ever seen. Watkins said Bryant is unflappable.
"He's such a good kid, he just wears it when we give him [stuff] all the time," he said. "He smiles and laughs it off."
It'll be interesting to see the reaction if and when the Cubs start Bryant in the minors after spring training. He's obviously ready, and Chicago is ready for him.
Wait 'til next May?
September, 18, 2014
Sep 18
9:51
AM CT

By Mark Saxon
ESPNChicago.com
Archive
CHICAGO -- Getting blown out in two straight games in Colorado and slipping two games in the standings heightened the
Los Angeles Dodgers
' sense of urgency in Chicago, where the
Cubs
are feeling pretty good about their chances of playing spoiler.
The Dodgers tried to survive a three-game series in Colorado using their Nos. 3-5 starters and it didn't go well. The Dodgers bullpen had to pitch more than 17 of the 27 innings the teams played and they left town clinging to a two-game lead over the second-place
San Francisco Giants
. So, now, the Dodgers hope for a little stability from the two pitchers who are under increasing pressure to get the team to the playoffs:
Zack Greinke
and
Clayton Kershaw
, who will pitch the first two games of the series.
Greinke goes tonight at 5:05 p.m. PT, opposed by left-hander
Tsuyoshi Wada
, who has been struggling lately, including a loss to the Dodgers on Aug. 2.
The Cubs, meanwhile, are coming off a three-game sweep of the
Cincinnati Reds
and feeling pretty good about themselves now that youngsters
Jorge Soler
and
Javier Baez
are up and contributing. Baez, 21, is batting just .171, but he has shown good pop (nine home runs) and is an impressive shortstop. Soler, the latest Cuban émigré to play a starting role in the majors, is batting .358 with five home runs in only 15 games.
Kershaw's start, of course, will be heavily scrutinized Friday afternoon as he tries to become the majors' first 20-game winner and to sew up the National League MVP award. He'll be opposed by
Edwin Jackson
, making his first start since Aug. 20 after straining a lat muscle.
After that, the Dodgers will have to hold their breath as
Roberto Hernandez
, who has struggled mightily in his last three starts, goes Saturday against lefty
Felix Doubront
and
Dan Haren
, who struggled at Coors Field will be opposed by
Jacob Turner
. The Dodgers are considering a "bullpen game" Sunday so that Haren, who has performed better than any Dodgers starter not named Kershaw or Greinke, can face the Giants in the opener of a potential winner-take-all three-game series Monday.
The Dodgers should get more information on two players critical to their October hopes.
Hanley Ramirez
was out of the lineup two straight days in Colorado because of a sore throwing elbow and Ryu will begin his throwing program after getting an MRI on his inflamed left shoulder.
September, 17, 2014
Sep 17
11:31
PM CT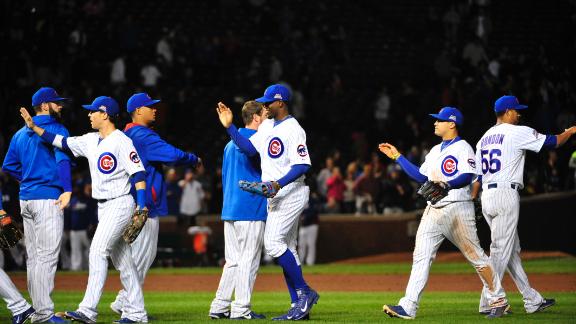 CHICAGO -- Two of the most humble of
Chicago Cubs
prospects took center stage on Wednesday at Wrigley Field.
First, slugger
Kris Bryant
was honored as the team's minor league player of the year. Then, last year's minor league pitcher of the year,
Kyle Hendricks
, took the mound and threw yet another gem in beating the
Cincinnati Reds
3-1.
"He's pitched extremely well and put himself in a good place in the organization," Cubs manager Rick Renteria said afterward. "He goes out and prepares and is very professional."
It's the same thought that comes to mind with Bryant. The two of them simply get the job done with little fanfare. It wasn't lost on Hendricks how far he has come since being honored at Wrigley last September just as Bryant and Class A pitcher Jen-Ho Tseng were before the win on Wednesday. It crossed his mind during pregame presentations for the two prospects.
[+] Enlarge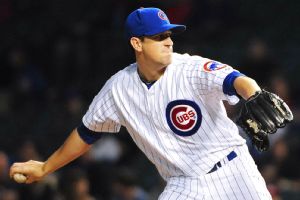 AP Photo/David BanksJust a year ago, Kyle Hendricks earned the Cubs' Minor League Pitcher of the Year honors. Now he's 7-2 in his rookie campaign. "It's been a good ride," he said Wednesday.
"I thought, this exact time last year I was here just watching," Hendricks said. "It's crazy how fast it happens. They tell us that when we're in the minor leagues: 'Just keep working because when you make it, you'll look back and say it went fast.' It definitely has. It's been a good ride."
It has been just as good ride for those that have had the pleasure to watch Hendricks work. He got into some trouble throughout his seven innings on Wednesday, but the most important pitches were his best ones, as usual.
After a mishandled ball by
Javier Baez
allowed runners at second and third in a 2-1 game in the sixth inning, he got
Donald Lutz
to foul out to
Welington Castillo
, who made a nice play on the ball near the stands.
Chris Coghlan
helped him out of a jam the next inning with a leaping catch against the wall in left to end the inning.
A case can be made Hendricks will receive better defense throughout his career because his pace on the mound is ideal. The game moves.
"It's fun to play behind," Coghlan said. "He's got a quick tempo. You always enjoy that as a fielder."
It hasn't just been Hendricks who has been impressive on the mound. Yes, the Cubs swept an anemic Reds team, but giving up just one run in 27 innings is impressive at any level against any competition. Cubs' pitching has held up despite massive turnover for two years.
"That's just depth," Renteria said. "When you have depth it creates an environment where you're competing to pitching yourself in a better position. The depth allows you to create competition. We're seeing parts of it."
Travis Wood
,
Jake Arrieta
and Hendricks shut down the Reds this week and should be three key starters going into 2015.
Wood needs to find his game for more than one start, but at least he has shown the ability having been an all-star before. In the span of just a couple of months, the Cubs' starting staff has a greater positive vibe than anyone could have imagined after the trades of
Jeff Samardzija
and
Jason Hammel
.
It's still a work in progress, but thanks to performances like the ones we keep seeing out of Hendricks, the cupboard might not be all that bare. His ERA is a dandy 2.28.
"He has a good mix of secondary pitches," Renteria said. "Every time he goes out there, do I feel a sense of comfort and expect he's going to have a nice outing? Yeah, I do. I think everybody does."
September, 17, 2014
Sep 17
9:56
PM CT
Associated Press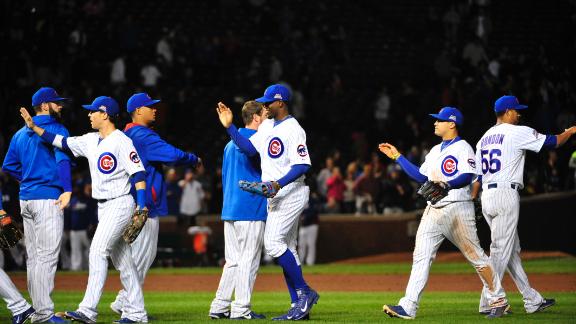 CHICAGO -- Kyle Hendricks kept up his impressive rookie season, pitching seven strong innings as the Chicago Cubs beat the Cincinnati Reds 3-1 Wednesday night for a sweep.
Chris Valaika, Ryan Kalish and Luis Valbuena each had a run-scoring hit as the Cubs won their third straight. They improved to 38-36 at Wrigley Field despite being 16 games under .500 overall.
The Reds have dropped four in a row overall. They scored just one run in the three-game series against the Cubs, and were held to one hit in a shutout loss Tuesday night.
Hendricks (7-2) allowed one run and seven hits. He walked none, struck out four and left with a 2.28 ERA.
Hector Rondon pitched the ninth for his 25th save in 29 chances.
Daniel Corcino (0-1) lost in his second big league start.

September, 17, 2014
Sep 17
9:52
PM CT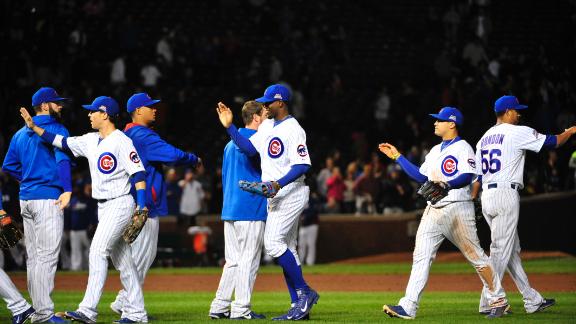 CHICAGO -- The
Chicago Cubs
beat the
Cincinnati Reds
3-1 on Wednesday night to finish the series sweep. Here's a quick look at the game.
How it happened:
Kyle Hendricks
gave up a run in the first inning but shut down the Reds the rest of his outing. The Cubs tallied twice in the second to take the lead for good. A
Chris Valaika
single scored
Jorge Soler
to tie the game 1-1, then
Ryan Kalish
hit a ground-rule double to plate
Luis Valbuena
with the eventual winning run. Valbuena drove in an insurance run in the eighth, as Soler walked in front of him to keep the lineup moving. Soler and
Anthony Rizzo
both walked twice in the game. Hendricks went seven innings, giving up seven hits while working out of a several jams.
Chris Coghlan
saved two runs in the seventh with a leaping catch at the wall off the bat of Kristopher Negron.
Hector Rondon
earned his 25th save.
What it means:
The Reds scored one run in the entire series -- it came on a ground out in the first inning on Wednesday -- as the trio of
Travis Wood
,
Jake Arrieta
and Hendricks shut down Cincinnati. The Reds don't exactly have a dynamic offense, but this was as good as the Cubs' starting staff has pitched in a single series all year. Hendricks lowered his ERA to 2.28. If not for a late start to his major league career this season, he might be a candidate for rookie of the year. He continues to make the right pitch at the right time more often than not. Double plays and good defense behind him are his trademark, as well. Maybe his quick pace has something to do with the latter.
Alcantara day-to-day:
Before the game, Cubs manager Rick Renteria said outfielder
Arismendy Alcantara
was doing better after injuring his right hand while tracking down a fly ball on Monday night. Alcantara ran into the wall in center field and was seen with a wrap on his wrist on Tuesday, though he wasn't wearing one on Wednesday. He's hopeful to play this weekend.
Olt to see time at 3B:
Renteria indicated infielder
Mike Olt
would get some playing time at third base soon.
"We'll see what our schedule is, but I think you'll see him at third before the season is out," Renteria said.
What's next:
The Cubs open a four-game series at home with the West-leading
Los Angeles Dodgers
on Thursday at 7:05 p.m. CT, as
Tsuyoshi Wada
(4-3, 3.34) takes on
Zack Greinke
(15-8, 2.64).
September, 17, 2014
Sep 17
8:05
PM CT

Kris Bryant, the Chicago Cubs' newly anointed Minor League Player of the Year, fields questions from reporters at Wrigley Field.


CHICAGO -- Wearing a sport coat instead of a
Chicago Cubs
uniform, top prospect
Kris Bryant
arrived at Wrigley Field on Wednesday afternoon to face a horde of reporters wondering the same thing:
When will his major league debut occur?
"I guess it's bittersweet," Bryant said of being in town but not playing. "It's always been my dream to play in the big leagues. I sure hope that day comes some time. Right now I'm just enjoying my time with my teammates. Today is one of the few times I can be a fan in this game. I'm going to enjoy it."
[+] Enlarge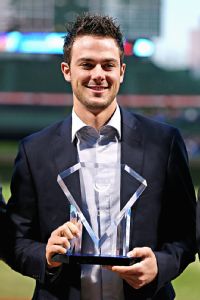 Jonathan Daniel/Getty ImagesKris Bryant is envious of former teammates Javier Baez and Jorge Soler. "It gives me that extra drive to go into the offseason and work really hard so I can join them next year," Bryant said Wednesday at Wrigley Field.
Bryant also is enjoying all the awards and accolades he keeps getting. The Cubs brought him to town to honor him as their Minor League Player of the Year after he hit .325 with 43 home runs and 110 RBIs split between Double-A and Triple-A. He got on-base a nifty 44 percent of the time. Media outlets including ESPN.com and Baseball America also dubbed him player of the year, this after he won best collegian in 2013 to go along with Arizona Fall League MVP. The hits keep coming for the 22-year-old slugger.
"With the awards I kind of just throw them in my room," Bryant said nonchalantly. "They're not something I can hold onto. They're just a piece of hardware."
Inevitably, the question of where he'll start next season came up. From a pure baseball perspective, it remains an absurd thought that others who are less accomplished and/or less mature are in the majors ahead of Bryant. Cubs brass admit he's as advanced a prospect as any they've seen and that he already can make his own adjustments probably better than a hitting coach can show him.
"Numbers across the board start to give you some validation on how consistent [prospects] are," Cubs manager Rick Renteria said. "But you always have to wait for them to get to the big leagues and see what they end up panning out to be.
"If they are used as indicators to show us if they have a chance at success, then he's showing us some pretty good indications that he might have a chance at success at the big league level."
As has been well documented, even if he's ready next spring the business side of baseball might keep Bryant in the minors just a little bit longer. He can live with that. In fact, he doesn't want to think about it.
"I definitely ignore it," Bryant said. "I hate distractions. That's one of the biggest distractions in this game.
"I've always said it's my job to make it hard on them. I think I've done that this year. It's all I'm going to do for the rest of my career."
It's that singular focus that makes Bryant special.
He's aware of the attention he's getting from fans and media, and he's cognizant of the clamoring from people that want to see him playing at Wrigley Field sooner than later.
It doesn't matter. His attention is on playing baseball. That's it.
"I'd be lying if I said I haven't felt that," he said. "It's all part of the game. Cubs fans are the best fans in baseball."
So what's next for Bryant?
After a trip to Disney World, he'll start the move toward working on his game for next season. The Cubs have told him he's their third baseman, but he'll get a taste of the outfield in spring training, as well. Like 2014 first-round pick Kyle Schwarber's commitment to playing catcher, Bryant wants to stick at third. He's made that abundantly clear to all that will listen.
"Third base is an extremely hard position," Bryant said. "I know I can always get better over there."
Then he'll go to work in the cage. His dad, Mike, is a former pro player who has nurtured Kris every step of the way. His final offseason before turning him over to the Cubs will be a big one.
"We're going to micromanage his at-bats (in the minors)," the elder Bryant said. "We're going to figure out what the pitchers are doing to get him out. We'll formulate his approach based on that.
"They want to get ahead and expand. We're going to attack that."
The Bryants always are looking ahead. It's why they aren't showing any outward disappointment over Kris not getting called up this year. That doesn't mean Kris is not watching his former teammates
Javier Baez
and
Jorge Soler
and hoping to join them.
"I'm happy for them, but I want to be in their shoes some day and I hope that day comes soon," Kris Bryant said. "But we're all in this together. It's been fun watching them.
"It gives me that extra drive to go into the offseason and work really hard so I can join them next year."
There's little doubt Bryant will join whoever is playing at Wrigley Field sometime in 2015, even if it's not on opening day.
In baseball, there are few things that are inevitable; the game will humble the best of players and take fans and their favorite teams on some twists and turns in a season.
But if there is one sure thing about the Cubs' rebuilding phase, it's that Bryant will see Wrigley Field in a uniform next time he's here during the season. He and his family must know that, as well. When it comes down to just a matter of time, how frustrating can it really be?
Even seeing Baez struggle early this season after he was sent down in the spring doesn't faze Bryant.
"No matter what level I'm, at I'm always going to play as hard as I can so that's never going to be a problem for me," Bryant said. "I could see how that could be upsetting given that [Baez] had a really good spring. He turned it around, and he was up here eventually. That's really what matters."
Bryant's time is coming. And he knows it.
September, 17, 2014
Sep 17
9:00
AM CT
CHICAGO -- The
Chicago Cubs
are all-in for 2014 first-round pick Kyle Schwarber continuing his career behind the plate. At the very least, they're going to give it their best shot.
"Ultimately, for us, that's where the greatest impact lies," Cubs president of baseball operations Theo Epstein said Tuesday. "When you can put that left-handed bat behind the plate, that's something we have to try."
[+] Enlarge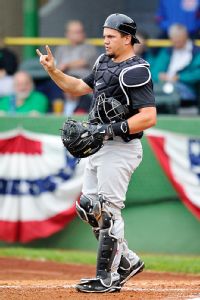 AP Images/Four Seam Images/Dennis HubbardKyle Schwarber wants to prove that he can be a major-league catcher.
Schwarber was the No. 4 overall pick this past June, and he quickly acclimated to the professional ranks, as he produced a composite .344 batting average to go with 18 home runs and 53 RBIs at three different levels of the minor leagues. Even so, the Cubs were unsure if they would leave the former Indiana Hoosier at one of the tougher positions to master. His bat is nearly major-league-ready, so it might take some time for his defense to catch up.
The easier route would be to have him play left field. He played both catcher and outfield this summer, but he wants to continue his career behind the plate.
"It's my job to prove that I can," Schwarber said. "I have a passion for catching. I feel like if I can do that, I can help out in a lot of different situations. I'll do whatever they want me to do."
Schwarber and his family were guests on the field during batting practice before the Cubs played the
Cincinnati Reds
on Tuesday, and the stocky lefty took some swings with his future teammates.
"It was fun," he said afterward. "Happy to be out there [and] getting to know the guys."
The luxury of a dangerous, left-hitting catcher would be a huge asset for the Cubs. It would leave the outfield open for others while putting a big bat behind the plate. Not many teams have that, so the benefit of trying outweighs the downside of any delay to the start of Schwarber's major-league career. Epstein said Schwarber proved it was worth a shot with his improvement behind the plate throughout the summer.
"He probably had more catching instruction as a pro than he had in a long time," Epstein said. "This will be a catching crash course for him in [instructional league]. [We] think he'll respond to it well."
Instead of going to the more competitive Arizona Fall League, Schwarber will report to the instructional league for hands-on training. It'll be a controlled environment in which he'll learn the craft of catching, from calling a game to blocking balls in the dirt.
There were signs of progress throughout the summer.
"Once you show that, then it's in there," Epstein said. "It didn't necessarily come out all the time, but once you show that physical ability, it means if you work hard and get the right coaching and improve, it's in there. And it can come out."
Said Schwarber: "I feel like I made tremendous strides between college and this offseason."
Two things Epstein has been certain of since the December is Schwarber's bat and makeup. In some ways, he has been more sure of Schwarber in the clubhouse than on the field.
"Players are drawn to him," Epstein said. "He has leadership qualities and a big personality. And a special bat. He sees the ball incredibly well."
Like any top pick in his situation, Schwarber is just taking it in. He took pictures on the field with his parents and roped line drives in batting practice. He'll give catching a real shot this fall, and then next year -- most likely at Double-A -- see where things fall.
"I know they have the best interests for me and everyone else," Schwarber said. "That's what I truly believe. Whenever they tell me to come on up, I'll be more than ready. They knew what the talent was, but they believed in me as a person."
September, 16, 2014
Sep 16
11:22
PM CT
CHICAGO -- With self-confidence you don't see often in the frustrating game of baseball,
Chicago Cubs
pitcher
Jake Arrieta
has risen to the top of the team's pitching staff. Any lingering doubts about his abilities -- if there were any -- were vanquished in a masterful one-hit, one-walk, 7-0 shutout of the
Cincinnati Reds
on Tuesday night.
"It's nice to finally shake the catcher's hand at the end of the game," Arrieta said of going the distance for the first time in his career. "I was able to come out and pound everything down in the strike zone. When I missed, I missed out of the strike zone and not over the heart of the plate."
Except once.
Arrieta's lone blemish was a ball he left up in the zone to
Brandon Phillips
in the top of the eighth inning. Phillips hit it to the wall in left center, but not before a streaking
Matt Szczur
attempted a diving catch with just five outs to go for Arrieta's first no-hitter.
"It was close," Szczur said. "I was about four inches off. It was close. I would have run through the wall if I had to. It's a shame I couldn't come up with it."
[+] Enlarge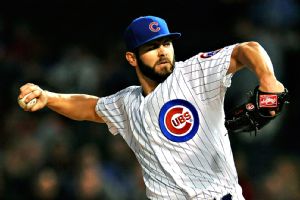 AP Photo/Paul BeatyJake Arrieta has retired the first nine batters he's faced in five different games this season -- more than any other pitcher in baseball.
We've seen this act before with Arrieta, as he's now taken a no-hitter into the eighth inning twice this season. He also has flirted with perfection into the middle innings several times. According to ESPN Stats and Information, he's retired the first nine batters to start a game five different times this year. That's the most in baseball.
"Today was as good as he's been all season," Cubs manager Rick Renteria said. "His pitch count was very well in check. His stuff was pretty electric."
Arrieta only needed 109 pitches to get through nine innings. He flew through some of the middle frames using his devastating array of pitches. Simply put, when he's been on this year, he's been unhittable.
And now he's the unquestioned ace of the staff. There's no denying that.
"It's not going to frighten me if that's what you're wondering," Arrieta said of that notion.
Arrieta trusts his stuff like he never has before. Several times in the bullpen before a game, including on Tuesday night, he hasn't felt he's had much to work with. But each time he gives pitching coach Chris Bosio a knowing nod, as if to say, "I got this." Then he takes the mound and proves it.
"He's turned a big corner," Renteria said. "His maturity has definitely improved. He has a trust in his stuff."
And the Cubs should trust he can carry over what he's learned this season. Arrieta has emerged as a leader in the clubhouse as much as he's emerged on the mound. He didn't flinch when asked how close the Cubs are to winning.
"We're right there," he said. "It's obvious for the guys in the clubhouse."
Arrieta acknowledges adjustments have to be made, as he knows "the transition to the major leagues from Triple-A is the biggest in sports." While his teammates continue to absorb and learn, Arrieta is already there. His ERA sits at 2.65, with one or two starts remaining.
Maybe he'll get that no-hitter.
"It was a little easier having those experiences earlier in the season," he said. "I kind of tried to just put it in the back of my mind."