February, 26, 2015
Feb 26
4:10
PM CT
MESA, Ariz. -- New
Chicago Cubs
manager Joe Maddon doesn't watch film of his team's spring practices at night nor is he pouring over video of bullpen sessions. Instead, he unwinds by watching reruns of one of his favorite television shows, "The Office."
"I watch two episodes every night," Maddon said on Thursday. "I've been here, what, 10 days? I've probably watched at least 20 episodes of The Office."
Maddon says he prefers watching "a comedy to go to sleep" but prefers episodes of "The Office" prior to star Steve Carrell leaving.
"I'm at the point now where Pam and Jim just got married and they had the baby," Maddon said. "They've been switched over to Sabre. All that stuff is so good. It's outstanding. I'd rather go to sleep at night watching something funny than something serious."
Maddon even pronounced Sabre (sah-bray) correctly. He's also a fan of the show "Curb Your Enthusiasm," starring Larry David.
The whole conversation started when Maddon couldn't remember his team's upcoming scrimmage schedule.
"I feel like Michael Scott," he joked.
February, 26, 2015
Feb 26
9:00
AM CT
MESA, Ariz. -- New
Chicago Cubs
outfielder
Dexter Fowler
took some time to answer your Twitter questions in this player mailbag. Follow Jesse Rogers (@ESPNChiCubs) to join in on the next one.
@espnchicubs #AskDexter How happy are you to get away from that funky outfield hill in Houston?

— Aaron Jansen (@a_jansen1) February 23, 2015
Fowler:
I didn't have to go up there too many times. I went up there twice against
Josh Hamilton
. I caught it. No injuries. One time I fell on my knee and the other time just ran it down.
@ESPNChiCubs @DexterFowler #AskDexter what is your goal regarding stolen bases this year?

— Tim landers (@LcdoTim) February 23, 2015
DF:
I don't have a goal. Run when I get a green light and steal a lot of them. Have to stay healthy.
@ESPNChiCubs @DexterFowler when you were growing up, who was your favorite player?? #AskDexter

— John Pikes (@JohnPikes) February 23, 2015
DF:
Ken Griffey Jr. That's why I wear 24. Griffey is my guy.
@ESPNChiCubs what does he think of Cub fans #AskDexter

— Bears Cubs Bulls (@BFvsCOD1908) February 24, 2015
DF:
They're unbelievable. They're very loyal. And there are a lot of them. I remember playing for Colorado, it was like an away game for us when we played the Cubs at home.
@ESPNChiCubs what do you think you bring to the Chicago cubs? #AskDexter

— Mark (@MHucks13) February 24, 2015
DF:
Just a leadoff guy that can get on-base and hit for some power. Maybe I can run down some balls but they say my defense is awful. Sabermetrics. My UZR has me awful. I was like, 'Really?'
@ESPNChiCubs #AskDexter Long time Cub fan, are you prepared for the grind of being a Cub on a team w/high expectations? How will u handle it

— Jim Workman (@JimWork13) February 24, 2015
DF:
We had some expectations in Colorado but we didn't live up to them. We had one of the better lineups in baseball, but we just didn't live up to it. I think I can handle it here.
#askdexter what do you attribute to your poor defensive season last year and is CF your position of choice?

— chad (@chitownnit) February 24, 2015
DF:
Come watch the game and you tell me how bad I am. Or if I'm bad. I'll discuss it if I'm bad.
February, 25, 2015
Feb 25
5:05
PM CT
MESA, Ariz. -- Word of injuries to
Chicago Bulls
and Blackhawks stars
Derrick Rose
and
Patrick Kane
made its way to the
Chicago Cubs
locker room on Wednesday morning, and it became a stark reminder that everything in sports is fleeting: A player's career, even a team's hopes.
"I'm going to be tip-toeing today," first baseman
Anthony Rizzo
half-joked. "That's unfortunate. Especially with those seasons coming down to the stretch."
Rizzo was asked about being mindful of the risks while playing full out. As you could imagine, there is only one way to play in his mind.
"You can't play scared, and if you think about getting hurt, you're going to get hurt," he said. "You just go out and play fearless and relentless."
It's an answer echoed throughout the locker room, but Rizzo is into seizing the moment, not worrying about things out of his control.
"Injuries will happen, no matter what sport you're in" Rizzo said. "I play the (same) game whether I'm on a little league field with 20 people or millions of people watching."
Day 1 practice:
Workouts on Wednesday consisted of live batting practice where Cubs pitchers threw to hitters. Traditionally, pitchers are a little ahead of batters as they've been in camp for a week already. Wednesday was no different, though there were a couple of big hits, including
Dexter Fowler
taking
Edwin Jackson
out to right field.
The infield:
Manager Joe Maddon reiterated that his infielders -- save
Starlin Castro
and Anthony Rizzo -- will move around the diamond. That includes newcomer
Tommy La Stella
, who took grounders at third base on Wednesday. He's never played third as a professional, only during "one summer" in his past, according to manager Joe Maddon.
"He's all in for getting it done," Maddon said.
Mike Olt
was paired with La Stella at third while
Arismendy Alcantara
and
Javier Baez
worked out at second base. Both those players -- especially Alcantara -- will see time at third base as well.
It's all another indication the Cubs are preparing for a flexible roster and probably life without top prospect Kris Bryant to start the season. He'll likely be at Triple-A Iowa.
February, 25, 2015
Feb 25
4:28
PM CT
MESA, Ariz. -- With Jimi Hendrix blaring in the background as the
Chicago Cubs
went through their warm-up drills, the Joe Maddon era began in earnest with the team's first full-squad workout on Wednesday.
"I wanted to have the stretch louder," Maddon said after the day was over. "Get the blood going. And it seems to have helped."
Maddon kept up a "personal" tradition of talking to his team on Day 1 on the field and not in the locker room. The players had already sat through speeches from owner Tom Ricketts and President Theo Epstein, but Maddon brought them outside with one overriding message from their new skipper.
"I want them to be themselves," Maddon said. "I don't want them to feel inhibited when they play. Don't worry about making mistakes."
Pitcher
Jason Hammel
heard the speech for the first time in six years, as he played for Maddon in Tampa Bay from 2006 to 2008. He says it hasn't changed.
"You can make a mistake and go in there and have him pat you on the back," Hammel said. "He loves aggressiveness. He promotes being yourself.
"You really do feel with Joe that the 'open door policy' is real. He levels with the players."
It's one reason the Cubs front office believes Maddon works well with young players: He allows them to make mistakes. Sure, he'd like to cut down on the mental ones, but he expects there will be physical miscues -- even more so when guys move around the diamond as much as Maddon likes them to. And he knows it takes time to bring out the best in a player. Failing is part of the process.
"You may have seen the body for a couple years, but the brain hasn't arrived yet," Maddon explained. "When a guy totally feels liberated in a baseball sense, then you find out what a guy can do."
Maddon often says he's a product of the '60s and '70s, so this free spirit thing is right up his alley. Maybe you would be surprised that winning didn't come up in the opening meeting early Wednesday, not by Maddon nor by ownership -- though afterwards Ricketts finally sounded sane when predicting good things for his team in Year 6 of his stewardship.
"We all believe this year's team has what it takes to win the division and go to the playoffs," he said. "Now it's just about getting on the field and getting it started."
February, 25, 2015
Feb 25
3:09
PM CT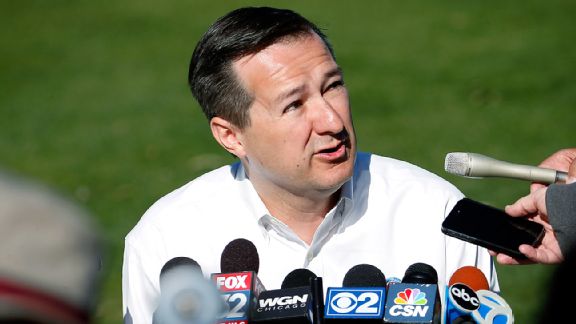 AP Photo/Matt YorkAfter meeting with Cubs players Wednesday, owner Tom Ricketts spoke with the media.
MESA, Ariz. --
Chicago Cubs
owner Tom Ricketts gave his state-of-the-team address to reporters on Wednesday after speaking to his players as the Cubs opened camp for full-squad workouts.
There were no verbal shots taken at Wrigleyville rooftop owners -- which he's done in the past -- and nothing new to report on Sammy Sosa's exile from the organization. Here are some highlights from his media session:
On Joe Maddon tampering charge:
"From everything I know we did nothing wrong," Ricketts said.
Analysis: Ricketts is just the latest team official to deny tampering in the hiring of Maddon. The league has stated the case will be over before the regular season begins. It's hard to read in which direction they're leaning as it's been almost four months since Maddon made the move from Tampa Bay to Chicago. It makes you wonder if there's something to the charges or if the league is just checking and re-checking its information before exonerating the Cubs.
February, 25, 2015
Feb 25
1:47
PM CT
By ESPNChicago.com
ESPNChicago.com


New
Chicago Cubs
hitting consultant Manny Ramirez talks with reporters about his new job with the Cubs.


Click here for more audio from ESPN Chicago
.
February, 25, 2015
Feb 25
11:02
AM CT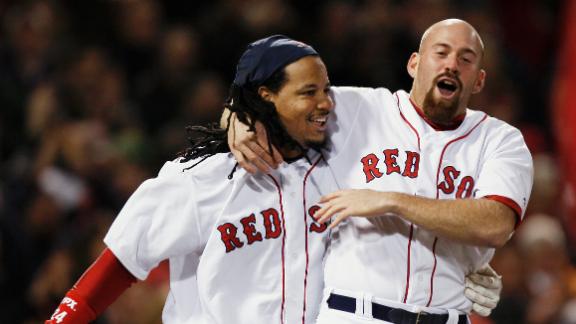 MESA, Ariz. -- Only Manny Ramirez could draw a crowd as big as any current Chicago Cubs player, but he isn't interested in much of the spotlight anymore. He's finally ready to quit the dream of playing in the majors again and simply wants to help where he can.
"You cannot play for the rest of your life," Ramirez said on his first day of his new job as Cubs hitting consultant. "I just want to be in the game and help people and see people grow."
Surrounded by a couple of dozen reporters in the Cubs spring facility on Wednesday morning, Ramirez said he is committed to showing the team's much-heralded young players the right way to go about their business. It's not something he's always done himself, but when Cubs president Theo Epstein called him last year to help out in the minors, he took to his new role.
"When I came here with all the minor league players, I had a meeting and I went in and shared all the things that I went through so they don't go through that," Ramirez said. "Some people grow faster than others, but the good thing is you learn from mistakes and you're moving on. And you can tell the young players, 'Don't do this, don't do that. This has consequences.' That's what I did."
Epstein and Cubs ownership would not have signed off on bringing Ramirez back in a bigger role this year without positive reviews of his job as player/coach at Triple-A Iowa last season. They're satisfied Ramirez will be a good influence.
"He did a good job with us in Iowa," said Kris Bryant, who is widely regarded as baseball's top prospect. "Good to see his face again. He definitely knows what he's talking about."
February, 24, 2015
Feb 24
2:55
PM CT
MESA, Ariz. -- With former PED user
Manny Ramirez
being hired Tuesday as a hitting consultant for the
Chicago Cubs
, the conversation at spring training turned to their own controversial former star, Sammy Sosa.
Sosa hasn't been welcomed back to the team since leaving in 2004, despite being the franchise's all-time home run leader.
"That one's being handled in other circles, but assuming things get worked out, certainly be open to having him around in some capacity and working with our young guys," president Theo Epstein said. "I don't know him personally but I'm sure he has some things to offer. I'm not involved in that one."
Sosa has 545 career home runs, including three seasons of hitting 60 or more for the Cubs, but PED rumors and a bad ending to his Cubs career have dogged him since he left his final game with the team before it was over. Epstein was asked if Sosa needs to apologize -- in the same vein that Ramirez addressed his issues before the Cubs brought him onboard last season.
"In Manny's case, the real changes he made in his life, his outlook, his habits, his behavior, taking more responsibility for things that he had done had made us interested in the first place," Epstein explained. "But for those changes, we probably wouldn't have had interest in him in this organization."
But Epstein emphasized he doesn't know Sosa and not everyone has to apologize to be welcomed back.
February, 24, 2015
Feb 24
1:48
PM CT
Associated Press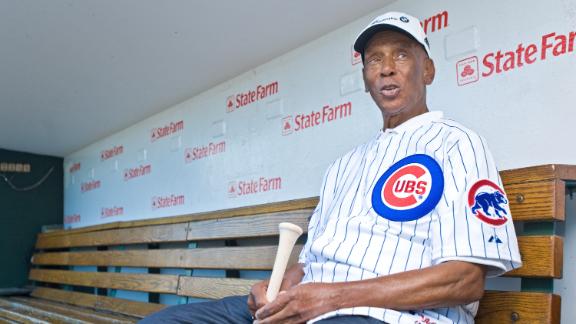 CHICAGO -- A probate judge requested details about Ernie Banks' assets after an attorney for his former caregiver said the Chicago Cubs legend and Hall of Famer had just $16,000 in assets when he died last month.
Judge James G. Riley on Tuesday gave caretaker Regina Rice 30 days to provide that information.
The hearing was part of a dispute over a will Banks signed in October that gives all of his assets to Rice. Banks' family has said Rice coerced the ailing Banks into signing the will.
Banks' attorneys didn't accuse Rice of wrongdoing but say they believe Banks' estate was worth far more than the preliminary estimate by Rice's attorney and want more information.
The ballplayer's estranged wife, Elizabeth Banks, filed a petition last month to prevent Rice from cremating Banks' remains.
February, 24, 2015
Feb 24
1:02
PM CT
MESA, Ariz. --
Chicago Cubs
shortstop
Starlin Castro
has never played on a winning team since breaking into the major leagues in 2010. Five consecutive fifth-place finishes have tried his patience and perhaps hampered his focus at times. Mental lapses at the plate and in the field have dogged him, though he became an All-Star for the third time last season after rebounding from a poor 2013 campaign.
Now those dark days for the team might be over as the Cubs are primed for an upturn in the standings.
"That's the thing that makes you focus more," Castro said Tuesday, the day before position players are due to report in Cubs camp. "Because you have a guy behind you or in front of you that really wants to win. You have to show those guys you want to win too."
For a player who already has 846 career hits, including 207 at age 21 in 2011, Castro has taken his fair share of criticism for those aforementioned mental lapses. He's had his share of detractors -- for a while people were convinced the Cubs would trade him this past offseason -- but he's grateful for those that have stuck with him.
"I say thank you," Castro stated. "Some problems there, and they're still with me."
Castro may have had a better 2014 season than even the numbers indicate. He missed most of spring training with a hamstring strain, but it only took about a week into the season for him to find his timing. And he batted cleanup most of the year -- an unfamiliar spot -- as the Cubs had little danger in their lineup, save for first baseman
Anthony Rizzo
. Castro excelled, tying a career high with 14 home runs while hitting .292 and driving in 65 runs before an ankle injury sidelined him for the last month of the season.
"If I don't get hurt in September, I hit .300," declared Castro, who also dealt with the death of a cousin and several friends in an August car accident, causing him to miss his first games of the season.
Castro isn't revealing all his goals for this season, although he would like to steal 20 or more bases and obviously stay healthy. But more than anything, he's excited about the possibilities for the team under new manager Joe Maddon.
"It's going to be a good experience for us to play for a manager that knows how to win games," Castro said.
Castro has always had a happy-go-lucky vibe to him, but he's facing a tough decision regarding moving his family out of the Dominican Republic. Two offseason incidents involving gunfire there have him contemplating a move to Arizona or Florida.
"I love being there," Castro said of his home in the Dominican Republic. "It's not easy (to leave), but if it's better for me, I do it … I don't buy yet. We'll see. Maybe Orlando."
With the additions of
Jon Lester
and two veteran catchers, plus the emergence of Rizzo in the locker room, Castro doesn't believe he has to be a leader in the truest sense. He says he is more than willing to help "the young players," and the Latin American ones naturally gravitate toward him.
And he won't need to bat cleanup this year with the Cubs' offense on the rise. He just wants to be in the same place in the order -- wherever it may be.
"Whatever they put me, I try to do my job," he said. "The only thing I like is if you put me 6 or 7, leave me there. I like one spot."
It's a microcosm of the stability he's been seeking since he broke into the league as a 20 year-old. Castro needs it in the batting order, while the Cubs need stability out of him at the plate and in the field. Maybe being a good team will be the difference-maker.
"I think this year is my first time (to be on a winner)," Castro predicted. "The goal in my mind I can't tell. It's a really good goal. Just be here and help my team."
February, 24, 2015
Feb 24
10:38
AM CT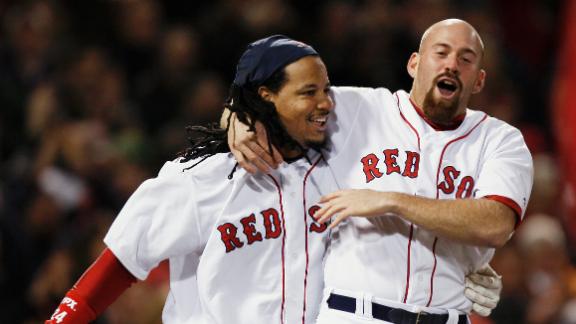 MESA, Ariz. -- The Chicago Cubs hired former Boston Red Sox sluggers Manny Ramirez and Kevin Youkilis to consultant roles, the team announced Tuesday.
Ramirez, 42, will continue to work with the club's major and minor league hitters on the fundamental and mental aspects of hitting, according to a team release.
Last season, Ramirez joined Triple-A Iowa as a player/coach and received positive reviews in his role. He played 19 seasons in the majors, batting .312 with a .411 on-base percentage and a .585 slugging percentage, but was suspended for performance-enhancing drug use in 2009.
"Manny got rave reviews from everyone he worked with," Cubs president of baseball operations Theo Epstein said Tuesday. "... He did a great job of fitting in, sharing his wisdom and experience and being a good influence.
"He was very open and honest with guys on what not to do from his past and lessons that he learned along the way."
Epstein said that Ramirez would be in uniform with the Cubs at Wrigley Field for about one homestand every month.
"He is really smart," new Cubs manager Joe Maddon said. "We had great conversations about hitting. I thought we developed a good relationship. He knows how to get a point across. It's another resource to draw upon. He's a lot of fun to be around."
Ramirez played for Maddon with the Tampa Bay Rays in 2011 until he was suspended in early April.
Youkilis, 35, will serve as the Cubs' scouting and player development consultant. He retired in 2013 after an 11-year major league career.
February, 23, 2015
Feb 23
10:06
PM CT
PHOENIX -- Former
Boston Red Sox
manager and current
Cleveland Indians
skipper Terry Francona never doubted his former bosses would turn the
Chicago Cubs
around.
"They're too smart and work too hard not to figure it out," Francona said Monday at a gathering of Cactus League front-office personnel and managers in Arizona. "And you're starting to see that's exactly what they've done."
Francona beat out current Cubs manager Joe Maddon for the job in Boston following the 2003 season and went on to win two World Series titles under Theo Epstein and Jed Hoyer. He watched from afar as Epstein and Hoyer rebuilt the Cubs, all while finishing well below .500 in their first three years in Chicago. Expectations are much higher in 2015.
"It takes a lot of strength and resolve to take your lumps," Francona said. "It's not easy. I talked to Theo. It was hard, but you see where they are now. And I bet he's excited because I know how he feels about young players. He loves that. When you go into the free-agent market, it's a gamble, it's a risk. Young players haven't hit their peak yet. Then again when you're doing it [free agency] with a guy like
Jon Lester
, someone he knows intimately, somebody pretty good to bet on."
[+] Enlarge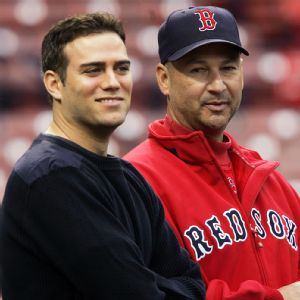 AP Photo/Elise AmendolaKnowing Theo Epstein well from their time in Boston, Terry Francona, right, said he didn't doubt Epstein's rebuilding job in Chicago.
Francona saved his highest praise for Lester, calling the 31-year-old lefty a bulldog who will never want to come out of games.
"It's scary, I think, for teams to give away that kind of money," Francona said of Lester's $155 million contract. "But if there's someone you're going to give it to, he's phenomenal in just about every aspect of everything he does. I think he's probably embracing [the pressure], or he wouldn't have gone there."
Francona joked about a Cubs/Indians World Series. Considering the history of both franchises, he knows it could be a long shot, but both teams have high hopes for this season.
"They're doing good things and it shouldn't be a surprise that they are," Francona said of the Cubs.
Los Angeles Angels manager Mike Scioscia:
Maddon's good friend and former boss talked about Maddon's ability to connect with people.
"He's a Renaissance man," Scioscia said. "Wherever he is he finds a way to connect with people. He's passionate about a number of things and one of them is baseball. He'll be in the middle of everything.
"Joe will bond with the city of Chicago. But he has to bond with the players. They come from all walks of life. I don't think he's going to have any problem."
Milwaukee Brewers general manager Doug Melvin:
Melvin delivered a reminder of how hard it is to play good baseball for six months, recalling that his team went 9-21 down the stretch after leading the National League Central for much of last season.
"Fine line between winning 81 and 90 wins," Melvin said. "The Cubs did a nice job of adding. It's a great division. It's even better now."
Yoan Moncada:
Many general managers said they were interested in the Cuban teenager who reportedly came to terms Monday with the Red Sox.
"We scouted him heavily," Cubs GM Jed Hoyer said. "The Red Sox got a heck of a talent. He's been on the radar for a long time."
But with spending restrictions for international amateurs keeping the Cubs at bay until early July, they were unable to compete in the bidding for Moncada, which reached $31.5 million, reportedly.
"We had restrictions for 2015. ... But you never know when these guys are going to be unblocked and become available," Hoyer said. "We scouted him as if he would be available to us."
Cubs meet with Bryant:
Cubs brass met with top prospect Kris Bryant, as they do with every player at the beginning of spring training. The offseason didn't change their view of him.
"You could list off all his attributes," Hoyer said. "Incredibly mature for a 23-year-old. Self-confident but also very self-aware. Works with a purpose. He just loves baseball. He comes across different than most 23-year-olds."
Hoyer avoided any service-time questions regarding Bryant, only indicating that he needs to be a complete player before making his major league debut -- and that defense at third base is where Bryant needs to improve.