September, 20, 2014
Sep 20
5:05
PM CT

By Jesse Rogers
ESPNChicago.com
Archive
CHICAGO –
Chicago Cubs
outfielder
Chris Coghlan
has been around too long and struggled too much since winning Rookie of the Year in 2009 to assume anything is guaranteed for him next season. But after a signature day for the left fielder in a come-from-behind 8-7 win over the
Los Angeles Dodgers
on Saturday, the Cubs would be foolish not to bring him back.
"It's definitely one of those days where everything goes right," Coghlan said after hitting two home runs and getting on base five times. "If you play long enough you have some days where the wind is blowing out and you get some balls in the air."
[+] Enlarge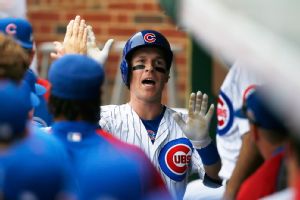 AP Photo/Andrew A. NellesChris Coghlan reached base five times Saturday and hit the go-ahead home run.
He's selling himself short. It was a great performance. Coghlan hit a solo home run out to left in the first inning, added a single and double in his next two appearances and then walked in his fourth time at the plate. With the Cubs trailing 7-6 in the eighth, Coghlan topped off his day with a two-run shot to right off reliever
Brian Wilson
.
"When we made the move and he came (to the Cubs) he wasn't inserted immediately into the lineup," manager Rick Renteria said. "He just kept chipping away and putting himself in a good place."
Coghlan wasn't even on the 25-man roster when the season began. He signed a minor league deal and then worked his way to the majors as other outfielders such as
Junior Lake
and
Ryan Kalish
struggled while Justin Ruggiano and Ryan Sweeney dealt with injuries. The door opened for Coghlan.
"When they do open the door you have to kick it down," Coghlan said.
He's made the most of his opportunity, raising his batting average to .283 after Saturday's 4-for-4 afternoon. He's one home run shy of a career high and he's played solid defense lately. But more than anything, he's getting on base. With on-base percentages dropping fast in baseball – the average is .314 this year – Coghlan is up to .349. That's huge for a Cubs team that has been missing that ingredient.
"In general that's a good on-base percentage, (even) in a high-end year (in that category)," Renteria said. "He's done a great job at the top of the lineup, a great job."
Coghlan's OBP is a little lower leading off, but overall he's looked better there than his assumed competition for the top spot going into next season.
Arismendy Alcantara
hasn't proven to be a classic leadoff hitter, as he's shown more power -- he also homered on Saturday -- than the ability to get on. It means the job could be Coghlan's to lose going into next season.
"I have zero say," Coghlan stated. "I have no idea what they are going to do. Anything can change good or bad in a blink of an eye. Really I'm a testament to that."
Coghlan went from getting on-base 39 percent of the time when he won Rookie of the Year to just 21 percent in 2012. He showed a few signs of life for the Marlins last year before the Cubs picked him up. He's beginning to flourish again.
"I just feel blessed for the opportunity," he said. "They don't come around."
The Cubs own his rights for several years and Coghlan can go to arbitration for the first time after this season. With the Cubs' prospects still figuring things out, the 29-year old is a perfect fit for the moment. He's earned the chance going into 2015. His huge day on Saturday may have sealed that fate.
"I do know it was one of the better days I've had in the big leagues," Coghlan said.