October, 30, 2014
Oct 30
4:30
PM CT
Associated Press
[+] Enlarge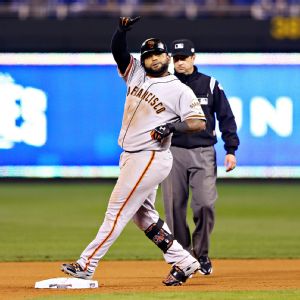 Elsa/Getty ImagesPablo Sandoval was among the 121 players who became free agents on Thursday.
NEW YORK -- Baseball's business season began Thursday when 121 players become free agents, a group that includes Pablo Sandoval, Michael Morse, Jake Peavy, Sergio Romo and Ryan Vogelsong of the World Series champion San Francisco Giants.
James Shields, Nori Aoki and Jason Frasor of the AL champion Kansas City Royals also were among the players who became free.
Approximately 28 more players can become eligible, depending on contract options.
October, 30, 2014
Oct 30
3:52
PM CT
CHICAGO -- The
Chicago Cubs
declined a 2015 team option on right-handed relief pitcher
Kyuji Fujikawa
, the organization announced Thursday, making him a free agent.
Fujikawa spent two seasons in a Cubs uniform but underwent Tommy John surgery after just 12 appearances in 2013. He returned late in 2014, pitching in 15 games and compiling a 4.85 ERA.
Overall, Fujikawa appeared in 27 contests as a Cub, producing a 1-1 record with two saves and a composite 5.04 ERA. The Cubs' 40-man roster is down to 35.
October, 30, 2014
Oct 30
1:05
PM CT
CHICAGO --
Chicago Cubs
pitcher
Carlos Villanueva
was one of 121 players that became eligible for free agency Thursday as the Major League Baseball offseason officially began. Villanueva is the lone Cubs free agent and isn't expected back after a two-year stint as a long man/starter.
Beginning Monday at 11 p.m. CST, Villanueva, and every other free agent, can negotiate and sign a contract with any team in the league.
The Cubs have stated that they are searching for starting pitching as well as a veteran outfielder this winter. They'd like to add some leadership in the locker room, preferably someone with playoff experience. Catching is also a possible need position, although the Cubs have said all the right things about
Welington Castillo
despite some inconsistency in his game.
Technically, the Cubs have only a handful of players under contract for 2015, but everyone else besides Villanueva either is under team control, eligible for arbitration or has a team option for next season. For example, lefty pitcher
Tsuyoshi Wada
has a $5 million option that the Cubs need to pick-up or decline in the coming days.
The Cubs may pursue several starting pitchers this offseason, but they aren't necessarily committed to signing a top-of-the-rotation hurler this winter.
Jon Lester
is a possibility, but a stronger and deeper free agent class next offseason -- when the Cubs are closer to becoming a real contender -- is more likely to fill their needs on the mound. In the outfield, righty veteran Johnny Gomes could be a possibility, as could a player like Mike Morse of the
San Francisco Giants
. The Cubs will look for someone who can split time with lefty
Chris Coghlan
in left field. A surprise move could come in center field if the Cubs feel they need a more natural fit there than youngster
Arismendy Alcantara
.
Think second-tier in the outfield and first- and second-tier on the mound as the Cubs begin looking for players. It remains to be seen if they would open their checkbook for the prize free agent behind the plate,
Russell Martin
of the
Pittsburgh Pirates
. The Pirates have until Monday night to sign Martin before he becomes available to the other 29 teams.
First things first. The Cubs need to settle their managerial situation, as that could impact their budget for 2015. Paying two managers might reduce the money allotted for free agents.
October, 29, 2014
Oct 29
5:59
PM CT
CHICAGO -- In advance of free agency beginning next week the
Chicago Cubs
cleared room off their 40-man roster by outrighting three players to Triple-A Iowa, including former 2007 first round pick
Josh Vitters
.
Vitters, outfielder
Ryan Kalish
and infielder
Chris Valaika
all cleared waivers, allowing the Cubs to send them to the minors.
Additionally, pitcher James McDonald elected free agency after spending the year on the disabled list.
The Cubs' 40-man roster stands at 37.
October, 29, 2014
Oct 29
4:47
PM CT
ESPN.com news services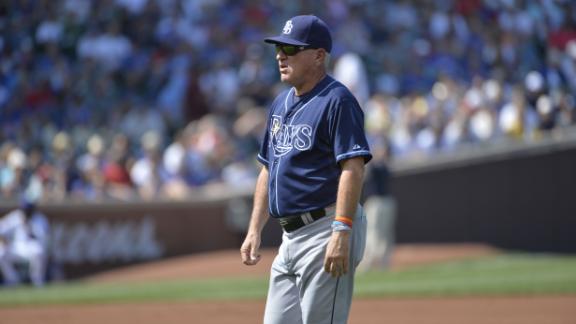 The Chicago Cubs are on the verge of hiring Joe Maddon as manager, as first reported by CBSSports.com.
Two sources familiar with the situation confirmed the agreement to ESPN's Jim Bowden. However, three team sources told ESPN's Buster Olney a deal is not yet in place, though they say one is expected.
Major League Baseball is sensitive to teams making major announcements during the World Series.
The deal will be finalized and announced after the World Series, likely over the weekend, sources told ESPN.com.
CBSSports.com initially reported the two sides had reached an agreement, but then reported Maddon was on the verge of a deal.
The Tampa Bay Rays announced last Friday that Maddon had exercised an opt-out in his contract, which was due to expire after next season.
Maddon managed the Rays for nine seasons, compiling a 754-705 record. He led Tampa Bay to the playoffs four times, won two AL East titles and made one World Series appearance.
The Cubs have not made the playoffs since 2008 and have finished last or next-to-last in the NL Central in each of the past five seasons.
The Associated Press contributed to this report.
October, 29, 2014
Oct 29
2:30
PM CT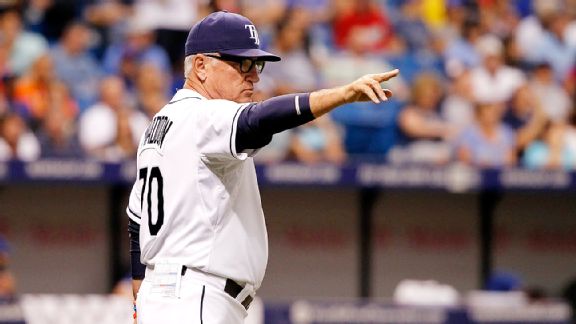 Kim Klement/USA TODAY SportsJoe Maddon may not have much say in who his coaches are -- at least early on -- if he joins the Cubs.
CHICAGO -- As the World Series comes to an end, so too should the Joe Maddon saga. One way or another, the
Chicago Cubs
will either pull the trigger on a deal or pass on the former
Tampa Bay Rays
manager by the end of the week, according to industry sources. They owe at least that much to current manager Rick Renteria.
As we await word from Wrigley Field, it's worth examining what a Maddon coaching staff might look like. Remember, it's not just the manager the Cubs said was coming back for 2015, they also invited almost everyone else back and already hired two new coaches in hitting coach John Mallee and first base coach Doug Dascenzo.
Most skippers are allowed to choose their assistants, but the Cubs aren't likely to fire their group to accommodate Maddon, according to an industry source. He'll have to manage with most, if not all, of the coaches already in place, at least for one year.
Let's start with pitching.
The Cubs kept pitching coach Chris Bosio, catching coach Mike Borzello and bullpen coach Lester Strode after dismissing Dale Sveum a year ago, so there is no reason to believe they would allow Maddon to move them out unless he insists his people from Tampa Bay would be better suited for the situation. That's not likely to happen and would probably be a deal breaker the Cubs would win out on. Theo Epstein has stated in no uncertain terms he loves the "pitching infrastructure" that's already in place.
And it's hard to imagine the newcomers would get canned before ever putting on a Cubs uniform, so Dascenzo and Mallee probably aren't going anywhere either. Eric Hinske was moved to assistant hitting coach and its doubtful Maddon would make a stand there. That leaves a couple of options for him to bring in his own people. Bench coach is usually the place where the manager gets his guy, so Brandon Hyde's job could be in jeopardy. He worked for the Cubs in a non-uniformed role before taking over on the bench last season, so he could always be kicked back upstairs in some capacity. Another option for a Maddon guy could be as third-base coach. Gary Jones came over with Renteria from San Diego, so he could potentially be moved out along with the current manager. Those two spots are the most likely options for Maddon, at least for 2015.
Would former Cub Dave Martinez be Maddon's choice for bench coach if he isn't hired by the Rays as their next manager? It makes all the sense in the world, considering both his ties to Maddon and the city. And both have the same Chicago based agent in Alan Nero. There's always a chance Maddon simply accepts the entire coaching staff as is, given the unique timing of his potential hire. Plus, the Rays have stated they want to keep as much of their staff in place after they hire a new manager as well. But that new skipper might want his own bench coach, making Martinez expendable.
No one is talking publicly about any of this yet, but behind the scenes these are some of the discussions that must be taking place if a deal with Maddon is to be done. Then the dominoes will fall.
Stay tuned.
October, 28, 2014
Oct 28
12:45
PM CT
Free agency is right around the corner, and we at ESPN Insider decided we'd steal a page from gyms and weight-loss programs everywhere by producing a "before" and "after" snapshot of each franchise. The "before" shot represents what the team looks like heading into what's sure to be a busy offseason for many teams. We'll check in with the "after" shot next spring when the dealin' is done.
As in past renditions of the MLB Future Power Rankings, we've asked three of our top baseball analysts -- Jim Bowden, Keith Law and Buster Olney -- to rank all 30 teams across five different categories (see table) in an attempt to measure how well each team is set up for sustained success over the next five years. Some things have changed drastically since we last did these rankings back in March -- we're looking at you, Texas Rangers -- while many other things have remained the same (the top three teams remain the top three teams, just in a different order). To show you what's changed, we compare the updated rankings to the March version for each team.
The better your rank in a given category, the more points you get, and the average point scores from the three voters are available in the bar graphs accompanying each team's section, rounded to the nearest integer. We weighted the categories and then gave each team a score on a scale of 1 to 100, with the score representing a team's percentage of total possible points. (For a detailed breakdown of the methodology used for the Future Power Rankings, click here.)
With each team's ranking, you'll also get a take from Buster, Jim and Keith. Buster will give an overview of the franchise's future, Jim will explain the biggest dilemma currently facing the team, and Keith highlights a prospect facing a make-or-break season.
So who's No. 1? Which team did our team of experts think is best equipped for success over the next half-decade? And where does your favorite team rank? It's time to find out.
1

The bar graphs reflect the average points given by the voters for each category.
The overview
As Andrew Friedman takes over the organization, he is flush with the dollars and prospects to fill any roster holes. -- Buster Olney
The dilemma
Whether to re-sign Hanley Ramirez is not the Dodgers' biggest dilemma; it's how to clear up their crowded outfield situation. Their preference would be to keep Matt Kemp, Joc Pederson and Yasiel Puig as their starting outfield and try to trade the hefty contracts of Andre Ethier and Carl Crawford (while realizing they'll have to eat some of Ethier's and Crawford's contracts). -- Jim Bowden
New guys
Pitcher Grant Holmes was a top-10 talent in this year's draft but slid out of the top 20, perhaps because of concerns over his height. But he's a polished and physically mature 6-foot right-hander who fills up the strike zone and sits in the low 90s. -- Keith Law
October, 27, 2014
Oct 27
8:13
PM CT
Associated Press
[+] Enlarge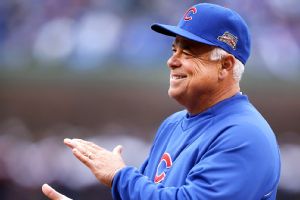 AP Photo/Andrew A. NellesIn a statement released Monday, Cubs skipper Rick Renteria said his offseason focus will continue to be "bringing a championship to Chicago."
CHICAGO -- Cubs manager Rick Renteria says he's focusing on his job and not the possibility that he might be replaced by former Tampa Bay skipper Joe Maddon.
Renteria acknowledges in a statement released through his agent on Monday that he's aware of speculation about his job. He says he will "continue to focus my offseason preparation on achieving the goal we established from the start: bringing a championship to Chicago."
Renteria led the Cubs to a 73-89 record in his first season, but the vibe around the team is changing.
Highly touted prospects such as Jorge Soler and Javier Baez arrived in the majors. Starlin Castro and Anthony Rizzo had bounce-back seasons, and the long-awaited renovation to Wrigley Field just got underway.
The Cubs believe they are ready to turn the corner after five straight losing seasons. And when Maddon opted out of his contract with the Rays last week, there was much speculation that he might wind up in Chicago. Maddon has a history of developing young players and led the Rays to the playoffs four times in nine seasons, with a trip to the World Series in 2008.
October, 27, 2014
Oct 27
2:51
PM CT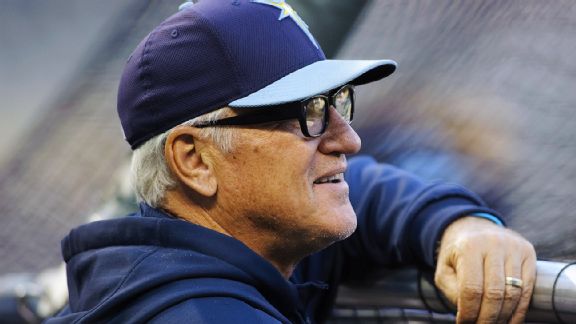 Hannah Foslien/Getty ImagesJoe Maddon is an intriguing option for the rebuilding Cubs.
CHICAGO -- If in fact the
Chicago Cubs
are looking into hiring former
Tampa Bay Rays
manager Joe Maddon for the job that current skipper Rick Renteria occupies they're heading into some unchartered baseball territory, at least according to one longtime executive who wanted to remain anonymous due to the sensitive nature of the situation.
"There is no script for this," the executive said over the weekend. "All you can do is the best you can to treat (Renteria) with as much respect as you can. But there is no perfect way to do this."
No, Monday's off-day in the World Series isn't allowing for a press conference announcing Maddon as the Cubs new skipper.
However, at the very least, sources inside Maddon's camp, including his Chicago-based agent Alan Nero, believe his fate for next year could be decided by the end of this week. That corresponds with the end of the baseball season as the World Series will be over by Wednesday at the latest. Maddon has already stolen enough headlines, the Cubs or another team aren't about to make an announcement before play on the field is over.
The unique saga began late last week when Maddon opted out of his contract with the Rays, declaring himself a free agent. The only problem for the popular manager: only one team in the league, the Minnesota Twins, has a managerial opening. It means any team that already has a manager and wants to replace him with Maddon will need to tread lightly. It's simply not the ideal time to be making a change; that usually comes right after the season.
October, 24, 2014
Oct 24
4:37
PM CT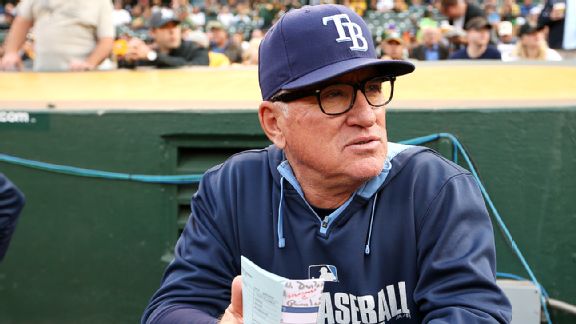 Brad Mangin/MLB Photos/Getty ImagesJoe Maddon's sudden availability could put some clubs -- including the Cubs -- in an awkward position.
CHICAGO -- The rampant speculation has started regarding former
Tampa Bay Rays
manager Joe Maddon. Will the
Chicago Cubs
– one year removed from firing their last manager – sign Maddon while dumping current skipper Rick Renteria?
The timing of Maddon's Friday resignation has put teams in an awkward position. Only the
Minnesota Twins
currently have an opening, so a courtship of Maddon would have to take place behind the scenes. The Cubs, in particular, know the awkwardness of changing managers under contract, as the end of Dale Sveum's tenure in 2013 didn't go smoothly. At the time, team president Theo Epstein – speaking honestly – left the door open for Sveum's dismissal well before the season had ended, leaving people to wonder what would happen. Sveum was fired the day after the season ended.

The Cubs have some cover to hide under as they don't have to speak publicly on the matter until the general managers meetings in early November. Between now and then, they'll need to decide if they want to hire one of the best managers in the game. Some teams have already stated on the record they aren't switching managers, but as of Friday afternoon, the Cubs weren't one of them. Of course, Maddon has to be interested in the job, but assuming he is, how can the Cubs pass up the chance?
"He has a mind for the National League game," former Cub and current Ray David Dejesus said Friday. "And he puts players in positions to succeed. He's as good as they come."
That's the sentiment around the league regarding Maddon, and although the Cubs signed Renteria to a three-year deal with two options, it simply doesn't matter. It's a unique situation to have to fire a manager you've already stated is coming back, but it fits the unique timing of Maddon's resignation and availability.
Reports back in 2003 had Maddon finishing behind Terry Francona for the
Boston Red Sox
job when Epstein ran that team. And that came before Maddon had ever managed a game in the big leagues. Since then, he's developed a reputation as one of the best in baseball at combining the necessary people/leadership skills and an understanding and use of new-age statistics.
While Renteria didn't do anything wrong in his first year to warrant being removed, he also didn't show that special quality that sometimes becomes apparent with a first-time manager. With some, you just know you're seeing the beginning of someone special. Renteria could easily get there, but whatever that special quality is, Maddon already has it.
"He's going to be missed around here," Dejesus said. "But he'll know what to do over there (National League) if he ends up there. He would be good wherever he goes."
And that's why you can't simply expect the Cubs to make an announcement. Like the Cubs, other teams that are interested – besides potentially the Twins – will work quietly as well. No one wants to disrespect their current manager, considering he still might be their guy since only one team can sign Maddon. Plus, taking headlines away from the World Series is usually frowned upon. But many observers understand the Cubs are going to have a run in them soon enough. Unless a World Series-ready team jumps in and grabs him, Maddon to the Cubs makes all the sense in the world.
In making every tough decision, from releasing a popular player to firing a coach, the Cubs have always fallen back on the notion that it makes them better. They've publicly aspired to being the best organization in baseball. After getting past the minor awkwardness of moving on from Renteria, how can they not hire Maddon to be their manager?
October, 24, 2014
Oct 24
1:00
PM CT

By Jim Bowden
ESPN Insider
Archive
With the news now official that Joe Maddon has
opted out of his contract
in Tampa Bay, there will be speculation that he could soon follow Andrew Friedman to Los Angeles. But there's another team to watch here.
To continue reading this article you must be an Insider
October, 24, 2014
Oct 24
10:30
AM CT

By Jim Bowden
ESPN Insider
Archive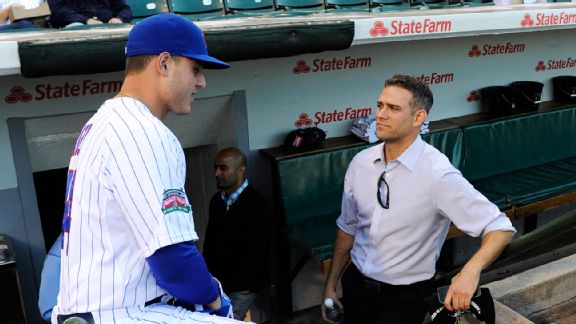 David Banks/Getty ImagesThings are looking up for Theo Epstein and the Cubs, whp boast MLB's top farm system.
While the 2014 World Series featuring the
San Francisco Giants
and
Kansas City Royals
is off to an auspicious start and looking like it's going to become a classic, the other 28 teams are busy preparing for the offseason by laying the groundwork for future trades, free-agent signings and, in some cases, stadium renovations.
Here is a quick look at buzz from around the league not involving the two World Series clubs:
• The
Milwaukee Brewers
have made it known that improving first base is an offseason priority. While their No. 1 target appears to be impending free agent
Adam LaRoche
of the
Washington Nationals
, they're also looking at all options who could be available, including
Adam Lind
of the
Toronto Blue Jays
,
Ike Davis
of the
Pittsburgh Pirates
,
Chris Davis
of the
Baltimore Orioles
and even Royals designated hitter
Billy Butler
, who proved in August he can be at least an average defender at first base. If the Nationals move
Ryan Zimmerman
to first base as expected and let LaRoche go, the Brewers could be the front-runners for his services.
• The
Chicago Cubs
are thrilled with the rapid development of two of their top picks in this year's draft, as Kyle Schwarber (first round) and Mark Zagunis (third round) were putting on a show offensively at the Instructional League.
To continue reading this article you must be an Insider
October, 22, 2014
Oct 22
5:49
AM CT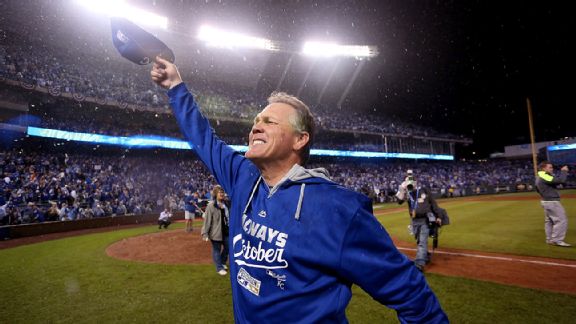 ED ZURGA/GETTY IMAGESThe 2014 Royals respect manager Ned Yost as much as the 1985 Royals respected Dick Howser.
I was lookin up when it was a cool night in October

Darryl Motley caught

a lazy fly off Andy Van Slyke's bat

Kansas City delirious as champs

we poured champagne on sweat-soaked heads

it burned our eyes

we didn't care

we screamed we sang we laughed

drunk with victory

--"A Career," from On Days Like This, poems by Dan Quisenberry
KANSAS CITY, Mo. -- Long time, 29 years. The airport, a hub for TWA, is still there, but TWA isn't. The Huffington Post, which wasn't around in 1985, just declared Kansas City "the coolest city in America," which might have seemed laughable back then. The ballpark is the same but different -- the beautiful grass hill in center field fell to the scourge of revenue-producing seats.
The home clubhouse has been rearranged, with the pitchers now on the side of the room closest to the field. Dan Quisenberry, the Royals' submarining closer, has passed away, a victim of brain cancer at age 45 in 1998. So has the skipper, Dick Howser, who died of the same thing less than two years after he won the World Series. Ewing Kauffman, the owner who brought the Royals to Kansas City, is also gone.