July, 11, 2014
Jul 11
8:08
PM CT
CHICAGO -- Finally home after a road trip that would shake even the most confident player to his core, the
Chicago Cubs
insist they still have plenty of fight left inside them.
Five days into an 11-day journey that ended Thursday, the Cubs saw pitchers
Jeff Samardzija
and
Jason Hammel
get traded to the
Oakland Athletics
. A day after that a six-game losing streak started.
[+] Enlarge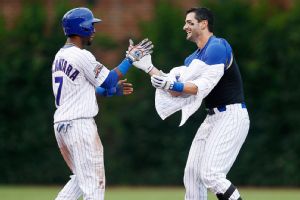 AP Photo/Andrew A. NellesJustin Ruggiano, right, says he likes the inclusion of Arismendy Alcantara, left, in the Cubs' lineup. "He's got a little spark to him," Ruggiano said.
Now the Cubs say they are ready to scratch and claw, but in comparing their roster to teams around the league, any fight they face in the foreseeable future looks to be fairly lopsided. The past two days, though, they have looked willing to stand up to conflict, both literally and figuratively.
On Friday, the Cubs went toe-to-toe with the
Atlanta Braves
, getting past the disappointment of a
Hector Rondon
blown save to win it 5-4 in walk-off fashion on
Justin Ruggiano
's RBI single in the bottom of the ninth inning.
"[The spirit] is still there," Ruggiano said. "We were probably a little down losing those two guys, they were big guys in the clubhouse. But we've got a pretty tight group of men in here and we all pull for each other. We'll be all right."
Fight, and youthful exuberance, will get you only so far, though. New staff ace
Jake Arrieta
was his typical stingy self on Friday, giving fresh-faced
Arismendy Alcantara
the chance to deliver when it mattered. Alcantara not only singled with two outs in the bottom of the ninth, his steal of second base helped set up Ruggiano's game winner.
"When you have a young person come in fresh to the big leagues there is a lot of energy and excitement," manager Rick Renteria said. "There is a willingness to want to go out and show you what they have. This young man actually just has the energy and desire to get out there. He is very composed. He has a lot of composure to him for being out there for the first time."
The problem is that he doesn't have numbers on his side, specifically roster numbers. The Cubs can actually get away with only three starters until July 22 and with four starters until July 24. That means somebody will have to go when the rotation is returned to full strength, and Alcantara might be on borrowed time.
"I think that any player when they impact your team and show you what they have, I think the easiest thing to do is for people to start to speculate if he will stick around," Renteria said. "We'll have to make that decision as an organization when we come to it. It would be premature and irresponsible for me to say something like that, but he does impact the way you view him for sure."
On Thursday, Alcantara had three hits in a game that ultimately became known for Anthony Rizzo's beef with
Aroldis Chapman
. After Chapman sent two fastballs to the backstop while facing
Nate Schierholtz
, Rizzo was among Cubs players who expressed displeasure with the pitches.
When Chapman dismissed the Cubs' gripes with a wave of his glove, Rizzo kept the conversation going before the next half inning started by shouting in Chapman's direction while walking toward the Reds' dugout.
Benches cleared, with no punches thrown, but the biggest happening of all might have been Rizzo's move into a leadership role. The backup All-Star first baseman might have set a tone moving forward in the wake of Samardzija and Hammel taking a combined 2.91 ERA with them to Oakland, while not leaving a whole lot of experience behind.
"Yeah, there is always spirit, win or lose," Rizzo insisted. "It's a great group of guys and you just want to keep coming together and keep getting better."
Since winning will be tough, getting better will be the key. It's uncertain how far a rotation of Arrieta,
Edwin Jackson
,
Travis Wood
and whoever else (likely
Tsuyoshi Wada
and
Kyle Hendricks
) will take the Cubs.
But for now it's about not letting things get too out of hand, while also learning as much as possible in the process. The Cubs know that a whole lot of talented young players are coming soon, so for now it's about bridging the gap until they are ready to arrive.
"The future's bright; that's very apparent," Arrieta said. "There are guys like Alcantara, and we know we've got some guys in the pipeline who can definitely help us in the near future. I look forward to seeing those guys, [Javier] Baez and [Kris] Bryant, a couple of others.
"It's going to be a fun, fun period of time here over the next six to eight months, toward the end of season and beginning of next season -- just seeing those guys blossom and continue to grow and get some experience up here. That'll be very valuable for them leading into the coming season."
For now, it's Alcantara's time to blossom, however long his stay lasts.
"We saw him play in spring, I saw him play in my rehab and he's got all kinds of tools," Ruggiano said. "Youth eventually can sometimes be a factor, but from what I see, he's got enough tools I think where he could stay afloat and probably be a very good player for many years. Who knows what will happen? But I like him around. I like him in the lineup. He's got a little spark to him."
July, 11, 2014
Jul 11
6:45
PM CT
Associated Press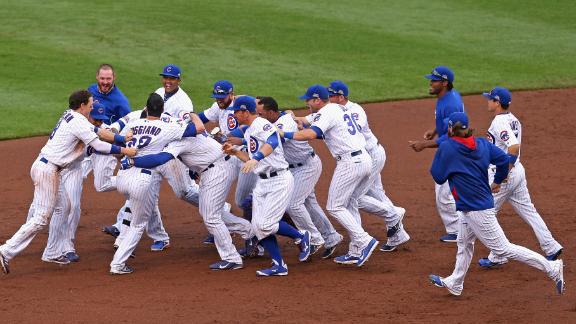 July, 11, 2014
Jul 11
6:17
PM CT
CHICAGO – One day after the Chicago Cubs received approval for their revised plans to renovate Wrigley Field, chairman Tom Ricketts described an upbeat feeling at the corner of Clark and Addison streets.

"Obviously, it's very important for us to get those approvals to move forward," Ricketts said Friday before the Cubs took on the Atlanta Braves. "We're excited to begin the renovation process as opposed to the political process."

On Sheffield and Waveland – addresses to the rooftop owners – there probably wasn't much celebrating. The revised renovation plan includes five more outfield signs to be erected along with the two that were approved last year, that figure to block sightlines from across the street.

With the threat of eventual legal action still hanging in the air, Ricketts was asked if the team has reached out to the rooftop owners, who charge people to watch games and then return 17 percent of revenues back to the Cubs.

"Obviously the hearing was just yesterday," Ricketts said. "We'll reach out and talk to everybody. We're confident there will be a solution that works."

If there is any animosity from the Cubs side toward the rooftop owners, Ricketts wasn't about to reveal it one day after scoring a major political victory.

"Obviously it's been a long process," he said. "We're just glad that it's behind us. I'm not worried about anything that happened in the past. We're just going to go forward. As I've said, we're just looking forward to moving forward."

There remains no scheduled groundbreaking date on the project that could run over the $375 million mark, with an additional $200 million in related construction costs.

The Commission on Chicago Landmarks unanimously approved the revised plans. Mayor Rahm Emanuel is expected to work with the Cubs and the rooftop owners to avoid litigation. The 20-year contract that allows the rooftop owners to charge people to watch Cubs games still has another 10 years on it.

"I was confident that everyone has an incentive to work together to save Wrigley Field," Ricketts said. "Obviously we've always had a very long-term perspective, so a lot of short-term setbacks or friction in the process, we just kept in perspective and tried to take the high road and keep moving forward. I think we're in a good spot now. We're looking forward to getting things rolling."

The project is expected to take four years once it is started, with some reports that the historic bleachers might be knocked down and replaced by a newer version with modern amenities. Rickets would not confirm that a razing of the bleachers was on the agenda.
"I don't really know how the construction process works well enough to go into that," Ricketts said. "… It's a four year project. I'm not sure about all the final sequencing of everything, and not sure exactly how you start in October and finish in April."

While the renovation plan isn't on-field related, the on-again-off-again nature of the subject managed to creep into the clubhouse.

"I think just in general, just to have the approval to move forward is a big thing for the Cubs, for us," manager Rick Renteria said. "I know it's been in the making for a long time. I'm just here for the first year, so I know it's kind of been worked through.

"If that's one less thing for us to think about, it's good for all of us. We keep moving forward and put the ballpark in a better position, and hopefully we can take advantage of it."


July, 11, 2014
Jul 11
6:15
PM CT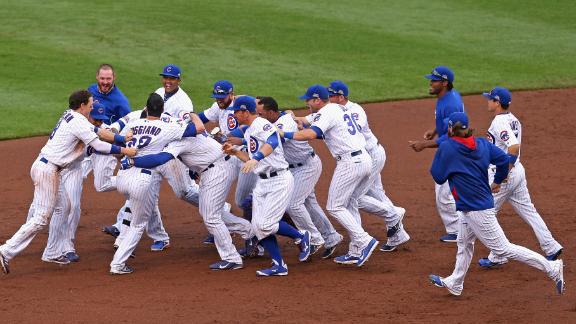 CHICAGO -- The
Chicago Cubs
started their final series before the all-star break Friday with a 5-4 victory over the
Atlanta Braves
.


How it happened:
Justin Ruggiano
's single in the bottom of the ninth inning scored
Arismendy Alcantara
to give the Cubs the walk-of victory.
Chris Coghlan
's single in the sixth inning had tied it and
Luis Valbuena
's walk with the bases loaded put the Cubs ahead, but the Braves' Christian Betancourt tied it on an RBI single with two outs in the ninth inning. Starter
Jake Arrieta
was solid yet again, giving up three runs on four hits over 7 2/3 innings. Arrietta even drove home the first Cubs run of the game on a suicide squeeze in the third inning.
Hector Rondon
stranded a runner at third base in the ninth inning for his
What it means:
The Cubs look to be moving past the shock of the
Jeff Samardzija
/
Jason Hammel
trade to the
Oakland Athletics
with a second consecutive victory after the six consecutive defeats that followed the deal. They definitely looked happy to be home after playing 11 games in 11 days on the just-concluded three-city road trip.
Outside the box:
It was just the third time this season in 13 starts that Arrieta gave up at least three runs in a start. His season ERA remained a tidy 1.95, though. In fact, Arrieta has the second lowest ERA since May 3, which is when he made his season debut after starting the season on the disabled list. Only the Dodgers'
Clayton Kershaw
(1.81) has a lower ERA over that time, while the Mariners'
Felix Hernandez
is at 1.99.
Off beat:
Junior Lake
showed off his bat-breaking prowess again in the sixth inning. The Cubs had just loaded the bases with nobody out as Lake came to the plate with his team trailing by a run. After he struck out on a pitch well outside of the strike zone, Lake raised his right knee and cracked his bat in half just above the handle. He has pulled off the stunt multiple times this season, the most recent before Friday coming when the Cubs were in Boston on the just-concluded road trip.
Up next:
The Cubs will send right-hander
Edwin Jackson
(5-9, 5.05 ERA) to the mound Saturday in the middle game of the three-game series. The Braves will counter with left-hander
Mike Minor
(2-5, 4.54) in the 3:05 p.m. start from Wrigley Field.
July, 11, 2014
Jul 11
3:55
PM CT
CHICAGO – The
Chicago Cubs
made a pair of roster moves Friday, reinstating
Darwin Barney
from the paternity list and calling up left-hander
Zac Rosscup
from Triple-A Iowa.
To make room for both players, right-handed pitchers
Kyle Hendricks
and
Blake Parker
were optioned back to Iowa.
Barney was not in the lineup Friday as
Arismendy Alcantara
started at second base. The 28-year-old Barney is batting .224 with a .261 on-base percentage in 70 games this season.
Rosscup is beginning his fourth stint with the Cubs this season. He has made a total of four appearances for the Cubs this year and has not been scored upon in four innings. He is 2-0 at Iowa with a 2.61 ERA in 20 appearances.
Hendricks got word of his demotion one day after making his major league debut at Cincinnati. He gave up four runs in six innings of the Cubs' eventual 6-4 victory in 12 innings.
Parker, who had a 9.53 ERA in five appearances with the Cubs, has 18 saves and has a 1.44 ERA at Iowa this year, earning Pacific Coast League All-Star honors.
July, 11, 2014
Jul 11
3:23
PM CT
CHICAGO -- That on-field dust-up the
Chicago Cubs
had with the
Cincinnati Reds
on Thursday was all part of
Anthony Rizzo
's master plan to get to the All-Star Game.
"You know, I knew there was 30 minutes left in the Final Vote, and I didn't hit a home run that day so I had to do something," Rizzo joked Friday.
[+] Enlarge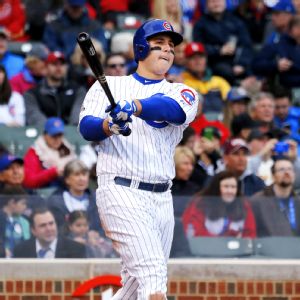 AP Photo/Charles Rex ArbogastAnthony Rizzo says he's looking forward to being a part of the final All-Star Game for Derek Jeter, a childhood hero.
Rizzo did end up winning the Final Vote and securing a spot on the National League All-Star team so it was easy to look back and laugh. But in the heat of the moment Rizzo didn't like it that Reds reliever
Aroldis Chapman
threw two fastballs to the backstop when
Nate Schierholtz
was at the plate.
He seemed to be angered even further when Chapman was dismissive of the Cubs' protests and stepped toward the Reds dugout before the next half inning started, a gesture that caused the benches to empty.
A day later, Rizzo had no regrets, saying it was something he had to do.
"It was just an incident where you stick up for your teammates and that's all it is," Rizzo said. "I respect the Reds, I respect Chapman, I respect their players, but you just have to stick up for your teammates."
The entire incident might just be one more sign that Rizzo is becoming the complete player as he evolves into a leader.
"I think yesterday, quite frankly, I thought Anthony standing up in that moment yesterday during the ballgame showed that he's got a little bit of heart in what it takes to be a leader, and I think everybody gravitated to it," manager Rick Renteria said.
While Rizzo might work hard in the batting cage and on his defense, he isn't trying to force the issue when it comes to leadership, so that wasn't his intention when it came to the mostly verbal sparring with the Reds.
But the leadership skills of both Rizzo and
Starlin Castro
have been emerging all season, with both being rewarded with an All-Star spot.
"I don't think we'll ever look back; that's not the type of players we are," Rizzo said. "I don't know, we just want to get better and keep our heads down and when we are good just go with it and don't think about, 'Remember when we weren't good.' We just want to get the pieces and keep getting better."
He is obviously respected by his teammates. The cheer that broke out in the Cubs clubhouse Thursday when Renteria told the team Rizzo was an All-Star was as genuine as it was spontaneous. But it didn't just end with the cheer.
"I walked in after the game, a nice big win and (director of media relations) Peter Chase looked like his dog just died, so from that look I accepted that I didn't win the Final Vote," Rizzo said. "But we were happy with the win and Rick called a team meeting and he told me. It was unbelievable. All the guys rallied around me, poured some stuff on me and it was great."
While sitting in the same clubhouse with all his NL teammates will be nice, he will have his eye on one particular player from the opposing side.
"I'm looking forward to
Derek Jeter
, seeing him,' Rizzo said. "He's a childhood hero, basically. I can always say I was a part of his final All-Star Game. He's just the true definition of a professional. Everything he has done in his career, on the field and off the field as well, everything he has done and to be part of his last All-Star Game will be surreal. I will just soak it all in, be very wide-eyed and enjoy it all."
July, 10, 2014
Jul 10
5:40
PM CT
CHICAGO -- In a passionate objection to the Chicago Cubs' restructured plan to adjust their landmark protection of Wrigley Field, alderman Tom Tunney accurately described the situation in his opening remarks.
"To quote the baseball great Yogi Berra, 'It's deja vu all over again,'" Tunney said in an 18-minute speech.
He's not wrong.
One year after the Commission on Chicago Landmarks approved a massive renovation of the stadium, the Cubs were back in city hall to get approval for a revised plan that would include more outfield signage in the wake of a long-standing dispute with owners of rooftop clubs.
After some alterations and back-and-forth discussions, the commission again unanimously approved the Cubs' most recent changes to their plans to renovate the 100-year-old park, most notably allowing them to add five more outfield signs in addition to the two already approved by the mayoral-appointed landmarks watchdogs last year.
The renovation of Wrigley Field is slated to cost more than $375 million, with an additional $200 million in other construction projects.
"We're on the precipice of beginning a historic restoration and expansion of Wrigley Field," Cubs president of business operations Crane Kenney said.
While Kenney said the team will begin the renovation process "immediately" after approval of the plan, those extra signs aren't guaranteed to be up at all.
The Cubs have promised Mayor Rahm Emanuel they will continue to negotiate with the rooftop owners to avoid litigation. The rooftop owners' group recently committed to dropping legal threats regarding the remaining 10 years on a 20-year contract if the Cubs go back to the two previously approved signs: a left-field video board and a right-field script sign.
July, 10, 2014
Jul 10
4:56
PM CT

By Jesse Rogers
ESPNChicago.com
Archive
Behind the strength of the #VoteRizzo campaign on Twitter,
Chicago Cubs
first baseman
Anthony Rizzo
is an All-Star for the first time.
I just want to thank you all for your support. Thank you to the @Cubs and all of my fans out there for voting for me. I'm so humbled #ASG

— Anthony Rizzo (@ARizzo44) July 10, 2014
An online campaign #VoteRizzo took off as Rizzo garnered 8.8 million votes to beat
Justin Morneau
of Colorado and
Justin Upton
of Atlanta while
Anthony Rendon
of Washington and
Casey McGehee
of Miami. He joins
Starlin Castro
as Cubs representatives. Former Cub
Jeff Samardzija
also made the team but won't play due to his trade to the
Oakland Athletics
.
Like Castro, it's been a year of redemption for Rizzo. After batting just .233 with 23 home runs last season, he's hitting .277 with 20 homers already this season. The 20 home runs lead all NL first baseman while he's second in the league with an .899 OPS (on-base + slugging).
It's a credit to Rizzo's year that he made it -- and Cubs fans who have suffered through three losing seasons under the direction of Theo Epstein and Jed Hoyer. And the notion of both he and Castro making the All-Star team one year after coming under heavy criticism must be pleasing to the Cubs organization.
July, 10, 2014
Jul 10
4:38
PM CT

By Jesse Rogers
ESPNChicago.com
Archive
Now that three Triple-A Iowa pitchers have made their major league debuts, the
Chicago Cubs
have some decisions to make after the All-Star break.
[+] Enlarge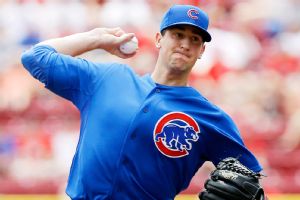 AP Photo/Al BehrmanKyle Hendricks settled down after a shaky first inning in his major league debut on Thursday.
The early results from
Dallas Beeler
,
Tsuyoshi Wada
and
Kyle Hendricks
are meaningless. Judging a starting pitcher on his debut, or even the first few starts, would be silly. Nerves and unfamiliarity with the opposition can derail a rookie more than anything else. It didn't help that it looked like Hendricks was squeezed by the home plate umpire in his debut inning on Thursday against the
Cincinnati Reds
as he gave up three runs in the first before settling down to retire 16 of his next 19 batters for a no-decision.
Beeler threw six innings, giving up one unearned run in his first start last month but wasn't as sharp in Wednesday's appearance against the Reds as he walked four without a strikeout in five innings, while giving up four runs. Wada may have been the sharpest of the group in his debut on Tuesday when he gave up five hits in five innings but no earned runs.
Then there's
Dan Straily
, acquired from the Oakland A's for Samardzija and Hammel last week. He has started one game for Triple-A Iowa, going five innings and giving up four runs but none were earned. However, he wasn't able to pitch around an error that opened the floodgates in a four-run second inning for the Omaha Storm Chasers.
"Now that I'm here it's up to me to prove that I'm ready," Straily said after his start. "I'm back to square one. It's about performance."
Performance will probably dictate who gets a majority of the starts in the second half. Cubs president Theo Epstein already indicated Straily would be part of the mix as he has the most experience, even starting a playoff game last fall for the Athletics. Straily said he was sent down this season because he lost command of his fastball but he believes it's coming back.
Straily, 25, was 1-2 with a 4.93 ERA this season after going 10-8 with a 3.96 ERA last season. Even he indicated a break from the AL West could do him well. The Cubs have had luck bringing pitchers over from the American League and Straily's numbers could improve with weaker opposition.
That leaves three pitchers for one spot if Straily gets a regular turn in the rotation. All three will get more chances at the major league level and if one excels -- or another clearly isn't -- then the Cubs might just hand the job to that person. Hendricks, in particular, is going to need a few times through the league before any kind of assessment is made on him. His game isn't based on his stuff so much as knowing how to pitch. He'll need to learn opponents and make adjustments before we can know if he's a regular for the rotation for next season.
Beeler did well keeping the ball down in his debut but less so in his second start while the 33-year-old Wada might just be a depth guy as his age and situation don't necessarily dictate a regular starter moving forward. Still, whoever is pitching well coming out of the All-Star break will end up getting the majority of starts in the final couple of months.
Let the competition begin.
Iowa observations
One of the highly touted pitching prospects in Triple-A Iowa's bullpen is
Arodys Vizcaino
. The flamethrower says he's not trying to hit 100 mph on the radar gun as much, just get hitters out. He struggled on Monday against the Storm Chasers, giving up three hits and three runs in less than two innings of work. That's eight runs given up in five innings since moving to Triple-A.
With Cubs' bullpen roles solidly defined right now, don't look for Vizcaino to get a call-up until things go well in Iowa. At the very least he should be at Wrigley Field by September as rosters will expand.
Outfielder Matt Szczur continues to flash his glove but his bat probably won't move him into a prime starting role at the major league level. He's batting just .245 with a .308 on-base percentage. But if he can improve at the plate his glove could come in handy as he continues to make the easy and difficult plays for Iowa in the outfield.
July, 10, 2014
Jul 10
4:33
PM CT
Associated Press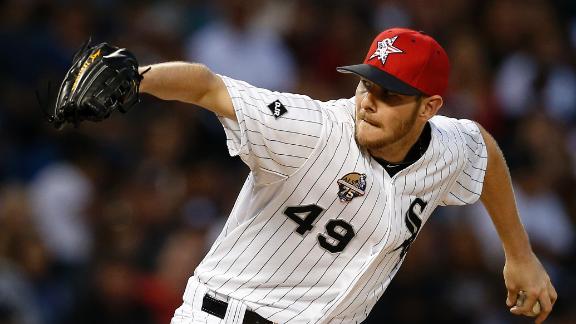 NEW YORK -- Chicago White Sox pitcher Chris Sale and Cubs first baseman Anthony Rizzo were voted by fans onto the rosters for Tuesday's All-Star Game, and Los Angeles Angels shortstop Erick Aybar will replace Kansas City outfielder Alex Gordon.
Rizzo received 8.8 million votes among the 52.5 million ballots and Sale 6.7 million, Major League Baseball said Thursday. Voting was conducted on MLB.com, team websites and Twitter.
Rizzo joined Cubs shortstop Starlin Castro on the NL roster.
"It's good for the kids in the minor leagues to see kids in the big leagues make it," Rizzo said. "The more All-Stars you can have in your organization, the better."
MLB did not release voting totals for players other than the winners. The others on the AL ballot were all pitchers: Houston's Dallas Keuchel, Cleveland's Corey Kluber, the Angels' Garrett Richards and Detroit's Rick Porcello.
July, 10, 2014
Jul 10
3:58
PM CT
Associated Press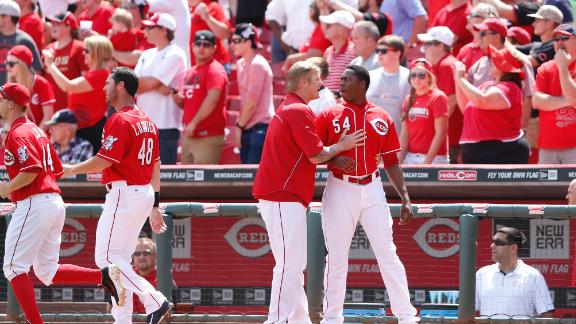 CINCINNATI -- Luis Valbuena hit a tiebreaking, two-run in the 12th inning and the Chicago Cubs avoided a rare five-game sweep in Cincinnati with a 6-4 win Thursday.
Highly regarded prospect Arismendy Alcantara singled with one out and went to second on Starlin Castro's two-out infield single. Valbuena, 0-for-4 with three strikeouts, sent a ball to deep right field off J.J. Hoover (1-6) that Skip Schumaker couldn't catch up with and was thrown out at the plate trying to stretch it into an inside-the-park home run. The out call stood after a umpire crew chief request for a replay review to make sure the new rule regarding home plate collisions wasn't violated.
Blake Parker (1-0) pitched the last two and the Cubs snapped their losing streak at a season-high six games.