September, 19, 2014
Sep 19
6:41
PM CT
CHICAGO -- When
Chicago Cubs
starting catcher
Welington Castillo
injured his rib in the first inning of Friday's 14-5 loss to the
Los Angeles Dodgers
, it opened the door for rookie
Rafael Lopez
to take over.
The only problem? All world lefty
Clayton Kershaw
was on the mound.
"We actually faced him in a rehab start at the beginning of the year in Double-A," Lopez said after the game. "It was really cool."
It was even cooler when Lopez earned his first major league RBI, first hit and first walk all against the likely Cy Young winner in the National League. Lopez, a 16th-round draft pick in 2011, had a memorable day.
"I was definitely surprised to get back in there so quickly," Lopez said of Castillo's quick exit. "Even though we came out on the wrong end of the stick, it was a good experience; something I'll remember the rest of my life."
He says he'll give the ball he hit to center for a first-inning sacrifice fly to his mother, and he'll frame his third-inning single off Kershaw and give it to his father. But not before teammate
John Baker
tried to fool him by pretending to throw the ball into the stands after it came back to the dugout.
"He told me he pulled the switcheroo," Lopez said. "I should have expected that."
Baker threw a different ball to the fans, saving Lopez's first hit for the rookie.
Single-A on the move
Lopez's former team, the short season Boise Hawks, will move to Eugene, Oregon as the Cubs complete their Class-A affiliate restructuring. The Cubs signed a deal with the Eugene Emeralds that runs through the 2016 season.
The Cubs already announced single-A teams formerly in Daytona Beach, Florida, and Kane County, Illinois, have moved to Myrtle Beach, South Carolina, and South Bend, Indiana, respectively. The prevailing reasons are an upgrade in facilities and in Daytona's case, better weather.
The Cubs' short season Class-A team plays from mid-June until the end of August.
September, 19, 2014
Sep 19
6:08
PM CT
CHICAGO --
Chicago Cubs
pitcher
Edwin Jackson
still believes in himself, but he might be the lone person in town with those feelings. It wouldn't be a shock, by any means, if Jackson pitched his last game in a Cubs uniform Friday in their 14-5 loss to the
Los Angeles Dodgers
-- though right now he's scheduled for one more start this season.
The lasting memory for him could be not getting out of the first inning as he gave up five runs on four hits and a walk. One hit left the park, a three-run home run by
Matt Kemp
.
"It's been a pretty sloppy year, to say the least," Jackson said after seeing his ERA balloon to 6.38.
Jackson hadn't pitched in a month because of a minor injury, and with the hype surrounding mound opponent
Clayton Kershaw
going for win No.20, it was the righty's chance to prove he still has something left in the tank. Instead, Kershaw led 6-0 before he even took the mound.
"It wasn't necessarily the outing we were looking for from Edwin today," manager Rick Renteria said. "We have to sit down and talk about and then see where we're at. It would be difficult for me to say how we would be heading into the winter."
Can it be anywhere besides moving on from Jackson at this point? It's probably best for him and the team – though it will cost the Cubs up to $22 million, no matter how they get rid of him. That's what he's owed over the next two years.
"I can definitely take the good with the bad," Jackson said. "I can accept and man up to what I've done. I'm not trying to run or hide from anything I've done on the field."
It's not like Jackson wants to go play golf for the next few years. He wants a shot at turning things around. And maybe he deserves one, just not with the Cubs. It's becoming painfully obvious a change of scenery is the least Cubs brass can do for him -- and the fans. Back-to-back years of a near plus-5.00 ERA -- and in this case a plus-6.00 ERA -- usually gets you moved out of town, no matter what a contract says.
"It's super easy to get negative in the game of baseball," Jackson said. "You have to stay believing in yourself."
In a way, Jackson has made this an easy decision for the Cubs. This isn't about fan negativity or finding a sabermetric peripheral for him, as some were doing after last season. This is about moving on from a bad situation. It may be no one's fault but baseball fate, but trying to salvage something here would be a waste of time and energy. Things are too far gone for Jackson, especially in a situation where the Cubs are trying to develop a winning culture. Luckily, he's been a good citizen through his trials and tribulations.
"It may seem far-fetched and some people may not think so, but I still think my best years are to come," Jackson said. "I really don't care what anyone else thinks, it's a matter of going out and proving it. I still believe I will do that."
It just can't be with the Cubs. But you knew that by now.
September, 19, 2014
Sep 19
6:25
PM CT
By ESPN Stats & Information
ESPNChicago.com
Archive
Jonathan Daniel/Getty ImagesKershaw's day ended early, but he still picked up his 20th win
Clayton Kershaw
earned his second career 20-win season in a 14-5
Los Angeles Dodgers
win on against the
Chicago Cubs
on Friday, becoming the first MLB pitcher with 20 wins this season. Kershaw threw five innings, allowing three earned runs (all in the first inning) and striking out nine batters. It was his shortest start since June 8, when he threw five innings in a rain-shortened win over the
Colorado Rockies
. Here's what you need to know about Kershaw's dominant season and some exclusive clubs he's joined with this win.
Kershaw wins 20 again
Clayton Kershaw's second career 20-win season makes him the fourth Dodgers pitcher with multiple 20-win seasons since the franchise moved to Los Angeles in 1958. Sandy Koufax leads all L.A. Dodger pitchers with three 20-win seasons while Claude Osteen and Don Drysdale each have two.
Kershaw gets to 20 quickly
Kershaw got his 20th win in his 26th start of the season, becoming just the sixth pitcher in the expansion era to accomplish that feat according to Elias. Four of the previous five pitchers to do so won the Cy Young Award that season, with Juan Marichal as the lone exception in 1968.
Kershaw limits scoring
Friday marked the 25th time in his 26 starts this year that Kershaw allowed three runs or fewer. Kershaw currently is on pace to finish the season with the highest percentage of starts where he allows three runs or fewer in the last 100 years according to the Elias Sports Bureau. Entering this season, Dwight Gooden's 94.3 percent of starts in 1985 was the highest percentage, but Kershaw currently sits at 96.1 percent.
Kershaw has big strikeout numbers
Kershaw struck out at least nine batters in a game for the 15th time this season, snapping a tie with
David Price
for the MLB lead. Kershaw's 15 games of at least nine strikeouts is the most in a season by a Dodgers pitcher since Koufax had 21 in 1966.
September, 19, 2014
Sep 19
5:04
PM CT
Associated Press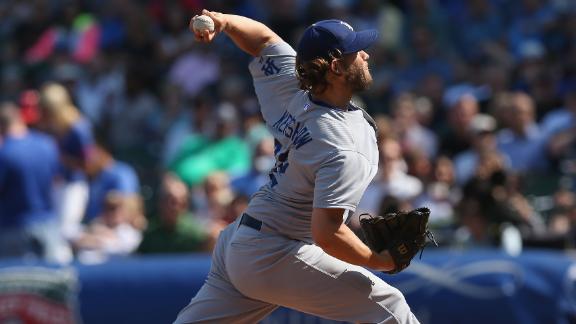 CHICAGO -- Clayton Kershaw became the majors' first 20-game winner and A.J. Ellis hit a pair of two-run homers, leading the Los Angeles Dodgers to a 14-5 victory over the Chicago Cubs on Friday.
Kershaw (20-3) pitched five shaky innings in his shortest start in 3 1/2 months, but the NL West-leading Dodgers roughed up Edwin Jackson on their way to a 13-hit attack that included four homers. Matt Kemp hit a three-run shot in Los Angeles' six-run first, and Yasiel Puig added another three-run homer in the sixth.
The Dodgers improved baseball's best road record to 48-31 and will clinch a postseason berth if Milwaukee loses in Pittsburgh on Friday night. They began the day with a 2 1/2-game lead over San Francisco in the division.
Jackson (6-15) recorded just two outs in his first appearance since he was placed on the disabled list last month with a right lat strain. He was charged with four hits and five runs in his fourth consecutive loss.
Los Angeles batted around during its biggest first inning of the season. Kemp's drive to left was his sixth homer this month and No. 22 on the year. Juan Uribe then chased Jackson with an RBI single before Ellis went deep for his second homer of the season.

September, 19, 2014
Sep 19
4:54
PM CT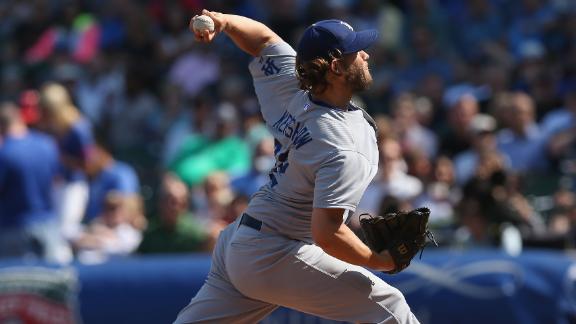 CHICAGO -- The
Chicago Cubs
lost to the
Los Angeles Dodgers
14-5 on Friday afternoon. Here's a quick look at the game.


How it happened:
Edwin Jackson
didn't get out of the first inning, giving up five runs on four hits and a walk.
Matt Kemp
hit a three-run home run and later A.J. Ellis hit a two-run shot off reliever
Eric Jokisch
. It was 6-0 before
Clayton Kershaw
took the mound and he gave up three first-inning runs when
Anthony Rizzo
doubled home one,
Jorge Soler
tripled him home and then
Rafael Lopez
hit a sacrifice fly. Ellis homered again off Jokisch in the third and then the Dodgers put up another six runs in the sixth, all off
Dan Straily
.
Yasiel Puig
homered while
Hanley Ramirez
and
Carl Crawford
had RBIs.
What it means:
The final nail might have just gone in the coffin of Jackson's career as a Cub. If the team is actually trying to win starting next year they can't possibly give him a chance to start again, not after seeing his ERA balloon to 6.38, by far the worst in the league among regular starters. He's been throwing batting practice to the opposition for most of two seasons. It's as simple as that. Kershaw won his 20th game though the Cubs made him work for it as he threw 106 pitches in just five innings. If not for Jackson's early meltdown they had a chance to beat the favorite for both the Cy Young and MVP awards this season. The Cubs' young hitters squared up enough balls to do some damage.
Lopez in relief:
Lopez took over for
Welington Castillo
, who left the game with a rib injury. The rookie catcher earned his first hit, walk and RBI, all off Kershaw.
What's next:
Game 3 of the series takes place at noon CT Saturday when
Felix Doubront
(4-5, 5.00) takes on
Roberto Hernandez
(8-11, 4.06)
September, 19, 2014
Sep 19
3:23
PM CT
CHICAGO -- Cubs catcher Welington Castillo was pulled from Friday's game against the Los Angeles Dodgers due to a left rib contusion.
Castillo was struck by a foul ball in the first inning on Friday. A trainer and manager Rick Renteria went to check on him, but Castillo managed to finish the top of the first.
"He's being evaluated," Renteria said after the Cubs' 14-5 loss. "They took him to the hospital to get an X-ray or MRI to clear out anything. We'll know more tomorrow (Saturday)."
Rafael Lopez hit for Castillo in the bottom half, and then stayed in the game to catch.
Castillo is hitting .238 with 11 home runs and 42 RBIs this season.
September, 19, 2014
Sep 19
12:34
PM CT
CHICAGO --
Chicago Cubs
infielder
Javier Baez
will play second base on Friday against the
Los Angeles Dodgers
for the first time since shortstop
Starlin Castro
left the lineup with an ankle injury earlier this month.
Baez had mostly been playing second since being called up to the majors in early August but moved back to his natural position once Castro went down.
Baez
"We looked at it as it being an easy transition for him," manager Rick Renteria said before the game.
The Cubs decided they wanted to see Baez at shortstop instead of getting him more reps at the less familiar second base although second looks to be his position moving forward.
Or is it?
The Cubs might not know yet where all the pieces fall into place so keeping their options open could be their best bet. If any of those options include moving Castro off shortstop, or moving him off the team altogether, the Cubs aren't saying.
"Before we break we want to get (Baez) a couple of games out there (second)," Renteria said.
Baez has flip-flopped between second and short several times since making his debut. Castro also missed games being on the bereavement list last month.
The bottom line is the long-term positions for the prospects who make it to the majors are still up in the air. And that's not even including
Kris Bryant
, who either has third base waiting for him or will move to the outfield. The Cubs are keeping their options open by moving guys around even though it inherently delays their development at one position.
Here's the rest of the Cubs lineup as they take on
Clayton Kershaw
, who is seeking his 20th win of the season, and the Dodgers on Friday:
1.
Arismendy Alcantara
CF
2. Baez 2B
3.
Anthony Rizzo
1B
4.
Jorge Soler
RF
5.
Welington Castillo
C
6.
Mike Olt
3B
7.
Chris Valaika
SS
8.
Junior Lake
LF
9. Edwin Jackon P
September, 19, 2014
Sep 19
8:00
AM CT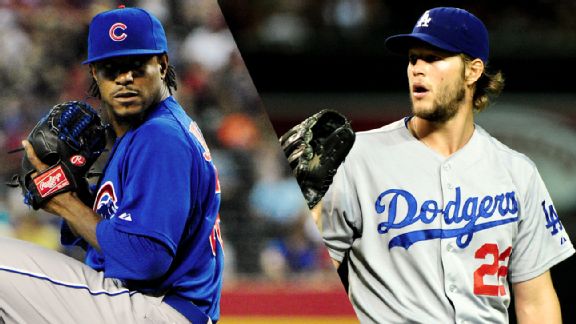 USA TODAY SportsFresh off the DL, Edwin Jackson takes his 6.09 ERA against Clayton Kershaw and his 1.70 mark.
CHICAGO -- It's a matchup the Las Vegas oddsmakers probably haven't seen a lot of action on. According to ESPN Stats & Information, for just the second time since earned runs became an official statistic in 1913, a starter with a sub-2.00 ERA will face one with an ERA of 6.00 or higher with a minimum of 20 starts.
In this case, it's
Edwin Jackson
(6.09) of the
Chicago Cubs
set to face
Clayton Kershaw
(1.70) of the
Los Angeles Dodgers
at 1:20 CT Friday afternoon at Wrigley Field. Another layer to the mismatch is the fact that Kershaw is vying for win No. 20 on the season.
"I think Edwin is looking forward to coming back and pitching tomorrow," Cubs manager Rick Renteria said Thursday afternoon. "It just happens to be against Kershaw."
Talk about bad luck. Jackson (6-14) has had a miserable season, and went on the disabled list with a latissimus strain almost a month to the day before Friday's start. Now the 31-year-old faces the best in the business as he tries to salvage something before winter settles over the 14-32 mark Jackson has posted in his two seasons in Chicago.
"Clearly it hasn't been the best couple of years with the organization so far, but like I say, I feel like I still have a lot of upside," Jackson said. "I have a long career ahead of me."
But will it be with the Cubs? With Chicago still owing the right-hander $22 million for two more years, Cubs president Theo Epstein intimated last offseason that signing Jackson when the team did could have been a mistake. What must he be thinking now? The Cubs will undoubtedly have to eat a lot of that salary if he's not on the team.
However, Jackson can't worry about any of that just yet.
"Any time you come back from an injury, it's always exciting coming back, regardless of how you were pitching that year," he said. "I do want to finish up strong. One or two starts. Whatever it may be."
In the other dugout is a man having a year for the ages. At 19-3, Kershaw has given up just 125 hits in 185⅓ innings pitched. His WHIP is 0.83. Jackson's is double that. And his ERA ranks last by a wide margin among regular starters. Kershaw's is first.
"They have a lot of young guys that can hit," the Dodgers left-hander said of the Cubs, "so no game is easy."
A pitcher doesn't have the success he's had without taking every opponent seriously. That brings us back to that one previous ERA mismatch. It was the Florida Marlins versus the
New York Mets
in 1996. Kevin Brown, with a 1.88 ERA, took on Paul Wilson and his 6.19 ERA at Shea Stadium.
The Mets won 6-1.
There is hope for the home team Friday.
"I just want to go out and pitch well no matter who I'm facing," Jackson said. "We could use the win."
September, 19, 2014
Sep 19
1:25
AM CT
By Tommy Rancel
ESPNChicago.com
Archive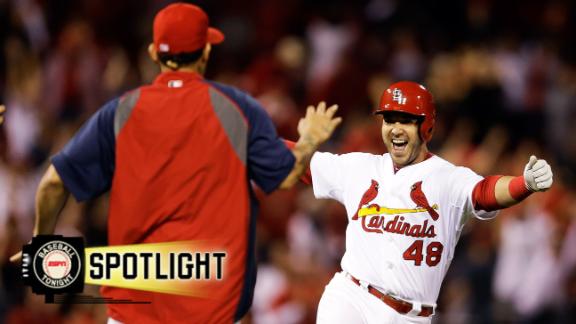 Check out the latest standings, playoff odds and upcoming schedules at the world-famous
Hunt for October
page.
1. The Brewers can't catch a break.
What started out as a solid pitching duel between current
St. Louis Cardinals
right-hander,
Shelby Miller
, and former Cardinal,
Kyle Lohse
, turned into a deflating loss for the
Milwaukee Brewers
in part to a wild eighth inning. The loss, in conjunction with St. Louis' victory, pushed Milwaukee six games behind in the NL Central, and with the Pirates' win (more on that in a bit), the Brewers dropped to 3 1/2 games out of a wild-card spot.
Miller entered the game having given up only three earned runs over his last 27 innings, spanning four starts. The 23-year-old had the hot hand early against the Brewers recording four outs within the first eight pitches he threw. Meanwhile, the young fireballer found himself trailing the veteran Lohse after a pair of errors (one of his own) put the Cardinals in a 2-0 hole.
Lohse carried that shutout into the eighth inning before being lifted for reliever Jonathon Broxton with one on and one out. Broxton promptly induced what looked to be an inning-ending double play. First baseman
Mark Reynolds
fielded the ground ball quickly, but he appeared to lose track of the outs in the inning. Instead of firing to second to start the twin killing, he nonchalantly strolled to first base for what he may have thought was the final out. In actuality, it was the second out of the inning and
Kolten Wong
advanced into scoring position. Broxton walked
Matt Carpenter
before surrendering an RBI-single to
Jon Jay
. It looked as if Broxton would escape without further damage when
Matt Holliday
was called out at first following a head-first slide, but the play was reversed after a lengthy replay. In a bit of controversy, Carpenter, who crossed home plate during the play, was ordered back to third. What happened next was finally the fault of Broxton. The burly right-hander walked the equally burly
Matt Adams
, bringing the tying run across the plate.
The Brewers had a chance to jump ahead in the top of the 11th, but Cards' reliever
Carlos Martinez
struck out
Carlos Gomez
with the bases loaded to end threat. After trading zeroes, the Cardinals finally completed the comeback when
Tony Cruz
singled home Adams for the walk-off win in the bottom of the 13th inning.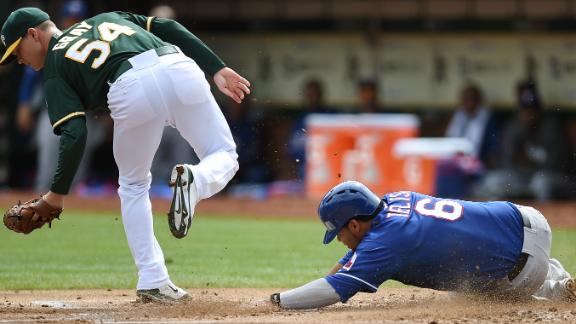 2. The A's situation keeps getting worse.
Even with their recent free fall, the
Oakland Athletics
still hold the envious position of "controlling their own destiny." As a current holder of a wild-card spot, they simply need to win as many games as the team(s) chasing them. A three-game series at home against the
Texas Rangers
-- the worst team in the league -- seemed like just the thing Oakland needed to right the ship. Nope.
The Rangers, led by an interim manager, came to town with a record of 57-92. Naturally, Texas won the first two games of the series. After opening the set with a 6-3 victory, Texas pulled of a wild rally Wednesday. Down 1-0 in the ninth inning, the Rangers scored six in the top half of the inning to clinch the series.
Oakland sent All-Star
Sonny Gray
to the hill in the finale looking to avoid the sweep. But before the A's took their turn at bat, the Rangers put together five singles against Gray -- including four straight with two outs -- taking advantage of a passed ball en route to a four-run first inning. The A's briefly cut the lead in half before watching Texas run away with the 7-2 win to complete the sweep.
The loss dropped Oakland from their perch atop the wild-card race and into the second slot, a half-game behind the idle
Kansas City Royals
. With 10 games to go, the A's hold a one-game lead over the
Seattle Mariners
for the final spot after Seattle's victory over the Angels.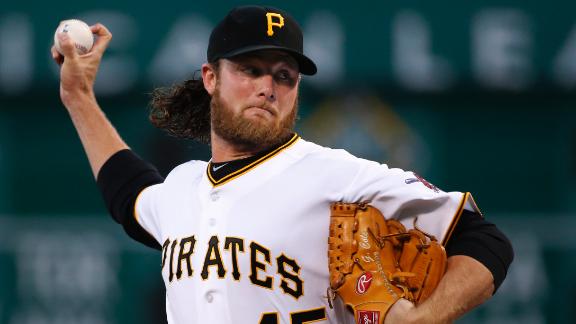 3. Pirates provide something unusual in win.
The
Pittsburgh Pirates
opened play Thursday trailing the division leading St. Louis Cardinals by 2 1/2 games. They held the same lead over another division rival, the Milwaukee Brewers, in the race for a National League wild card. The Bucs sent
Gerrit Cole
to the mound against the
Boston Red Sox
hoping to advance -- or at least maintain -- their position in the standings.
Cole delivered his third straight win. The former first-round pick tossed seven strong innings, striking out seven and walking none. He is in firm control right now with 21 strikeouts and only one walk over his last three outings (19 innings).
The young right-hander received help from outfielder
Starling Marte
, who belted his 13th home run of the season and has been one of the league's best hitters in the second half. In fact, he is the only player with an OPS greater than 1.000 in the second half (minimum 150 plate appearances).
Closer
Mark Melancon
, facing his former team, made things interesting after a hit batter and a single set up first and third with no outs in a 3-2 game. What happened next is a "can't predict baseball" moment. With pinch-runner,
Jemile Weeks
, 90 feet from tying the game,
Will Middlebrooks
grounded a ball down the third-base line. The ball hit Weeks in fair territory -- resulting in an automatic out. Melancon struck out the next batter before inducing another ground ball out to seal the deal.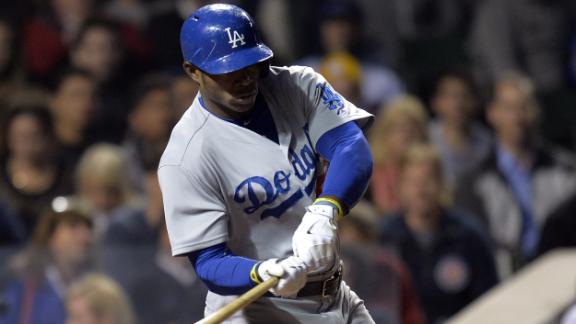 4. The Dodgers' offense showed some life.
The
Los Angeles Dodgers
are clinging to a slim lead in the NL West. With the status of Hyun-Jin Ryu uncertain, and his fill-in (
Carlos Frias
) getting wacked, the Dodgers need strong a performance from the rest of their rotation. Zach Greinke did not have one of those against the
Chicago Cubs
, but his teammates let him off the hook. Greinke's evening got off to a rough start. Chicago started the game with a single, error, walk, single, and another single resulting in two runs before registering their first out. There would be a three-inning reprieve before the Cubs tacked on two more in the fifth on the strength of four consecutive base hits.
Luckily for Greinke and the Dodgers' faithful, the offense would soon wake up. Using five hits -- including two doubles -- and benefiting from an error, Los Angeles pushed five runs across the plate in the top of the seventh inning to take a 6-4 lead. A quartet of relievers worked the final four innings to cap off the 8-4 win that gives the Dodgers a 2 1/2 lead over the
San Francisco Giants
.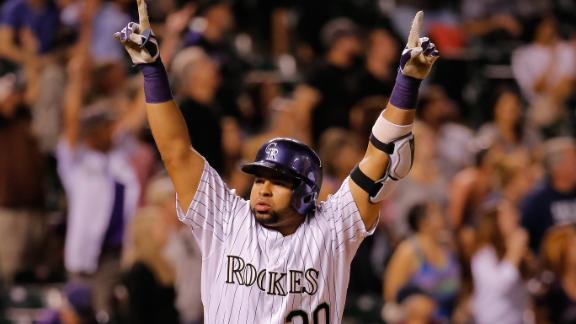 5. The D-Backs are playing their way down toward the top pick.
Addison Reed
is doing his best to improve the
Arizona Diamondbacks
' draft standing. The erstwhile closer gave up two runs to the San Francisco Giants in the top of the ninth Wednesday before serving up a two-run, two-out, walk-off home run to
Wilin Rosario
of the
Colorado Rockies
in the ninth inning Thursday night. The pair of losses dropped the Diamondbacks into a tie with the Rockies for the worst record in the NL, and they're now just a game behind the Rangers for the top spot in next year's draft.
Tommy Rancel blogs about the Tampa Bay Rays at the SweetSpot network affiliate The Process Report. You can follow him on Twitter at @TRancel.
September, 18, 2014
Sep 18
11:19
PM CT
Associated Press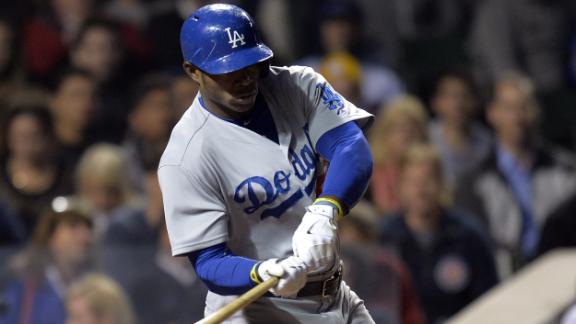 CHICAGO -- Dee Gordon and pinch-hitter Andre Ethier hit RBI doubles in Los Angeles' five-run seventh inning, and the Dodgers rallied to beat the Chicago Cubs 8-4 on Thursday night and extend their lead in the NL West.
The Dodgers trailed 4-1 heading into the seventh but six of their eight hitters reached base against reliever Neil Ramirez with five hits and an error.
Cubs rookie second baseman Logan Watkins couldn't handle Juan Uribe's hard-hit grounder with one out. That allowed the first run of the rally to score on a fielder's choice. Los Angeles scored all the runs in the inning against Ramirez (2-3), but only one was earned.
The Dodgers moved 2 1-2 games ahead of idle San Francisco in the NL West race.
Los Angeles overcame a shaky start by Zack Greinke, who allowed four runs in five innings.

September, 18, 2014
Sep 18
9:18
PM CT

By Mark Saxon
ESPNChicago.com
Archive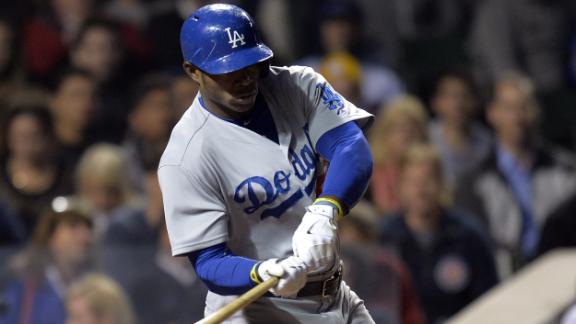 CHICAGO -- The
Los Angeles Dodgers
went into Thursday's game against the
Chicago Cubs
with a .018 winning percentage when trailing after six innings.
Make that .036.
They rallied from a three-run deficit in the seventh inning to beat the Cubs 8-4 Thursday night and accelerate their pursuit of the NL West title.
The win padded the Dodgers' division lead to 2 1/2 games over the idle
San Francisco Giants
and reduced their magic number to eight. And since the
Milwaukee Brewers
lost on Thursday, the Dodgers could clinch at least a wild-card berth as early as Friday.
How it happened:
For the third game in a row, the Dodgers got into trouble right away -- not the easiest formula for success.
Zack Greinke
gave up a hit to leadoff man
Chris Coghlan
and the first four Cubs reached base, leading to two first-inning runs. The difference between Thursday and the previous two games was that Greinke was able to keep a lid on things for the most part and the Dodgers eventually rallied. The hinge play in the seventh was
Juan Uribe
's sharply hit grounder to second baseman
Logan Watkins
that looked like a surefire inning-ending double play. Instead, Watkins overran it for an error,
Andre Ethier
sliced an RBI double and the Dodgers went on to add four unearned runs. They'll take whatever they can get at this time of year.
Hits:
The Dodgers are getting good energy at the top of the lineup.
Yasiel Puig
is beginning to hit rockets again and
Dee Gordon
is finding ways to hit his way on base. Gordon bunted for a hit in the fourth and nailed an RBI double during the seventh-inning rally. Puig also drove in a run in the seventh and singled to left. Gordon is batting .363 during his 11-game hitting streak, and Puig is hitting .379 on this road trip.
Misses:
The Dodgers got Greinke off the hook with their error-aided seventh-inning rally, but it was far from their No. 2 starter's most artful performance. Pitching efficiency in general has been an issue for Greinke lately, and he has struggled to pitch deep into games. Cubs rookie
Jorge Soler
singled to left field on Greinke's 100th pitch in the fifth inning, and Greinke didn't come back out for the sixth. He allowed four runs on nine hits. Just once in Greinke's last four starts has he pitched as deep as the seventh inning.
Stat of the game:
Thursday was the eighth anniversary of the back-to-back-to-back-to-back home run game against the
San Diego Padres
. Jeff Kent, J.D. Drew,
Russell Martin
and Marlon Anderson homered consecutively to send the game into extra innings, and Nomar Garciaparra, now a Dodgers broadcaster, homered in the 11th to win it.
Up next:
Clayton Kershaw
(19-3) tries to become the majors' first 20-game winner. The Dodgers will face
Edwin Jackson
(6-14, 6.09 ERA) Friday in a game that begins at 11:10 a.m. PT.

September, 18, 2014
Sep 18
11:08
PM CT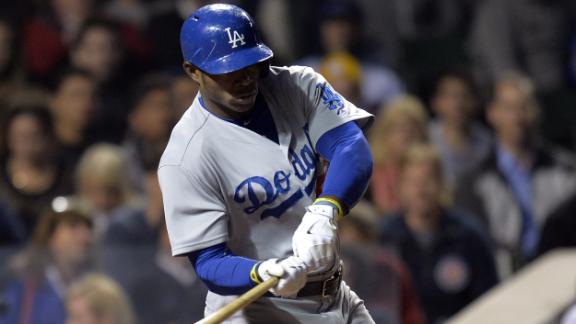 CHICAGO -- The
Chicago Cubs
lost to the
Los Angeles Dodgers
8-4 on Thursday night. Here's a quick look at the game.


How it happened:
The Cubs got on the board in the first inning as the first four batters reached against
Zack Greinke
.
Luis Valbuena
and
Jorge Soler
had run-scoring singles, but with the Dodgers starter on the ropes
Ryan Kalish
inexplicably tried a sacrifice bunt -- and failed -- as Greinke got the next two batters and limited the damage. A groundout by
A.J. Ellis
cut Chicago's lead to 2-1 in the fifth, but the Cubs scored twice more in the bottom of the inning when Soler brought another run home with a hit and
Mike Olt
followed two batters later with a bases-loaded sacrifice fly. The Dodgers went to work on reliever
Neil Ramirez
in the seventh after
Logan Watkins
booted a potential inning-ending double-play ball at second base. Three run-scoring plays came after the error as Los Angeles rode a five-run inning to a 6-4 lead.
Brian Schlitter
walked in a run in the eighth as the Cubs melted down in the late innings. A
Matt Kemp
sacrifice fly in the ninth completed the scoring for the Dodgers. The game lasted nearly four hours.
What it means:
The game might not mean much in the standings -- at least for the Cubs -- but players such as Watkins are fighting for jobs next season. The 25-year-old was shaky all night and committed his fifth and sixth errors in only the 12th game he has played in the field this year. The Cubs want versatility out of their role players, and if any backup's glove is suspect he won't be long for the roster in 2015. Olt didn't look good at first base, either.
Soler continues to keep any slumps to a minimum as he has heated up again since returning from paternity leave. He was 2-for-4 with two more RBIs. In fact, the top five hitters in the Cubs' lineup all had two hits, but Chicago managed to score in only two innings.
Renovations:
Before the game, Cubs president Theo Epstein said clubhouse renovations at Wrigley Field will be ready for Opening Day 2016.
What's next:
Game 2 of the series is set for 1:20 Friday afternoon, matching
Edwin Jackson
(6-14, 6.09 ERA) against
Clayton Kershaw
(19-3, 1.70).