July, 14, 2014
Jul 14
10:02
AM CT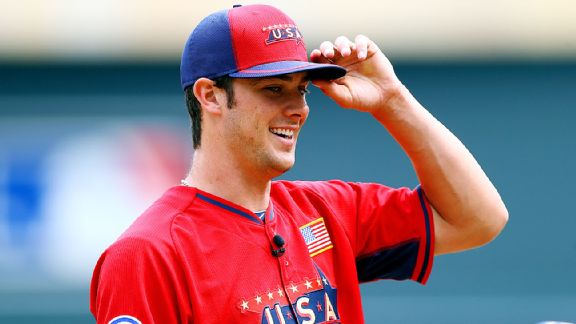 Elsa/Getty ImagesCubs top prospect Kris Bryant has 31 home runs between Double-A and Triple-A this season.
CHICAGO -- As the first half of the
Chicago Cubs
' season comes to an end, it might go down as the most positive of the three under president of baseball operations Theo Epstein. And that's with a 40-54 record. The positives extend from the majors down to Triple-A. Here are five of them -- ranked in order -- with five negatives coming on Tuesday:
1. Kris Bryant
A minor leaguer is at the top of the list because Bryant hasn't slowed down since he was drafted No. 2 overall last season. And he's vaulted to the top of the Cubs' prospect standings with 31 home runs and 81 RBIs at the break. He has 107 combined strikeouts in Double-A and Triple-A, but that's meaningless as he's hit a combined .346.
"You have to give something to get something," Bryant said recently of striking out.
The Cubs will take those totals -- or anything close to it -- once he gets to the majors. As sure things go, and there are few if any in baseball, he comes the closest. And his pattern has been the same since college: a small period of struggles followed by adjustments followed by a streak that hasn't stopped. Bryant may not make it to Wrigley Field this year, but he'll be there soon enough.
With right-handed power a premium in baseball these days, Bryant stands as a potential franchise-changing player.
[+] Enlarge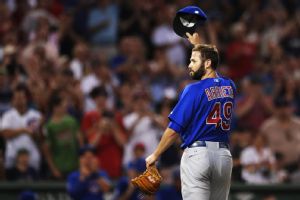 AP Photo/Charles KrupaJake Arrieta has raised his level and come close to a no-hitter and perfect game already this season.
While many believed Arrieta had the stuff of an ace or at least a No. 2 pitcher, there seemed to be a need for some gradual advancement. He missed all of spring training because of a sore shoulder that set him back further and then came out of the gate in May looking just OK. He took off after a few starts and hasn't looked back, flirting with no-hitters and perfect games. His stuff has been insanely good and hard to hit. He would be third in the majors in ERA (1.95) if he qualified, behind
Clayton Kershaw
and
Adam Wainwright
. That's some pretty good company. He'll still need to perform throughout the second half to stamp himself as an elite hurler, but right now Arrieta is proving his head has caught up to his arm.
3. The Bullpen
Yes, this ranks higher than
Starlin Castro
or
Anthony Rizzo
because, if we take a step back, that duo's resurgence isn't all that surprising. One was a two-time All-Star before this season and the other had only to raise his batting average from last year to advance his game. But the bullpen has been a sore spot since the day Epstein & Co. arrived on the scene. Their mistakes with
Carlos Marmol
and
Jose Veras
will be long forgotten if the young arms they employ now take the proper steps. No one, and I mean no one, could have predicted
Neil Ramirez
as a lockdown setup man (1.08 ERA, 3 saves) and
Hector Rondon
accumulating 11 saves in the first half. And remember, one was acquired in the Rule 5 draft (Rondon) and the other (Ramirez) was a player to be named later in the
Matt Garza
deal. There are no guarantees with the bullpen from one year to the next, but these arms have a chance of sticking around for a while and growing together.
4. Starlin Castro/Anthony Rizzo
There were many doubters of both players, but Rizzo's and Castro's All-Star selections tell the story of their first half. They both deserve it, especially in putting up numbers with very little help around them in the lineup. It's not about protection, it's about pitching stress. Opponents felt very little of it until Rizzo and Castro came up in the lineup, and then they could "relax" again for another inning or two. When they get more dangerous hitters around them -- think
Arismendy Alcantara
and Kris Bryant -- their numbers might go up even more. Rizzo and Castro were roundly criticized and had major issues at the plate last season and both responded with first halves that have them at Tuesday's game in Minnesota instead of vacationing.
5. Arismendy Alcantara
[+] Enlarge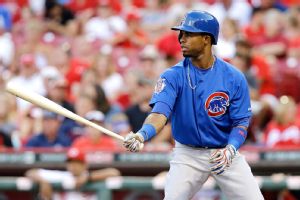 AP Photo/Al BehrmanArismendy Alcantara is off to an impressive start with the Cubs.
Five games hardly makes a career -- think back to
Junior Lake
last season -- but there is definitely something about Alcantara that should excite the most pessimistic Cubs fan. Unlike Lake, Alcantara has been moving up in the prospect rankings for several years. There are many in the game who have scouted him and more than liked what they've seen. His switch-hitting ability, his defensive prowess in the infield and outfield, his surprising power for his size and his speed put him in a great position to succeed. That's not to mention his baseball instincts, which those who played with him at Triple-A Iowa rave about. More than anything, he represents the future of the Cubs. Not some ambiguous idea of rebuilding but an actual product of the farm system who's shown a lot of talent. He was an extra-base machine in Iowa this year and already has five extra-base hits in five games in the majors. Now he needs to make a major league career out of it and the Cubs might have found their leadoff man of the future.
Honorable mention: Wrigley Renovations
Before Sunday's first-half finale, Rizzo discussed with reporters the need for an improved clubhouse, as all the new amenities, he claims, will help the players prepare for games. Rizzo should finally get his wish as renovations have been approved by the city and construction is getting ready to begin. The Cubs may have some tough days ahead with rooftop owners, but at least the hurdles of starting have been overcome and Rizzo should get his new clubhouse in due time.
July, 13, 2014
Jul 13
11:22
PM CT
Chicago Cubs
' prospects made noise all over the country on Sunday as Triple-A Iowa shortstop Javier Baez led the way with a two-run home run in the Futures Game in Minnesota where the major league All-Star Game will be played on Tuesday.
Baez went deep in the sixth inning, but
Texas Rangers
Double-A prospect Joey Gallo won MVP honors with his home run to help the U.S team to a 3-2 win over the World squad. Gallo is tied for the minor-league lead in home runs (31) with Cubs prospect Kris Bryant. Bryant went 0-for-3 in the Futures Game with two strikeouts.
Baez and Bryant are off until their Iowa Cubs season resumes after the Triple-A All-Star game on Wednesday. Bryant already played in the Double-A All-Star game last month. Baez didn't make the team after a slow start to his season. He has picked up the pace in recent weeks finishing the first half on a 10-game hitting streak, though he has exactly 10 hits in those 10 games. Baez is batting .240 with 14 home runs and 47 RBIs for the season.
Soler breaks out
Double-A outfielder Jorge Soler is finally healthy and on a rampage since returning to Tennessee's lineup following a long rehab for hamstring issues. He was 3-for-5 with two home runs Sunday, and in seven games since returning he's 12-for-23 (.521) with five home runs. If Soler can stay healthy, he'll probably finish the year in Double-A with a chance to make it to Triple-A at the start of next season. Health is his main concern right now.
Kane County
Single-A Kane County continued a monstrous season by sweeping a doubleheader over Beloit on Sunday and improving to 62-31. This year's first-round pick, Kyle Schwarber, was 3-for-6 on the day raising his batting average to .380. Highly regarded starter Jen-Ho Tseng threw a complete game (seven innings) to improve to 4-0 while lowering his ERA to 2.74. He struck seven without giving up a walk.
Alcantara homers
And just to put the icing on the cake, newly recalled Cubs infielder/outfielder
Arismendy Alcantara
hit his first major league home run in the Cubs' 10-7 loss to the
Atlanta Braves
at Wrigley Field. Alcantara has five extra-base hits in five games for the Cubs since being promoted from Triple-A on Wednesday. Alcantara will stay with the Cubs through the week missing the Triple-A All-Star game.
July, 13, 2014
Jul 13
7:16
PM CT
Associated Press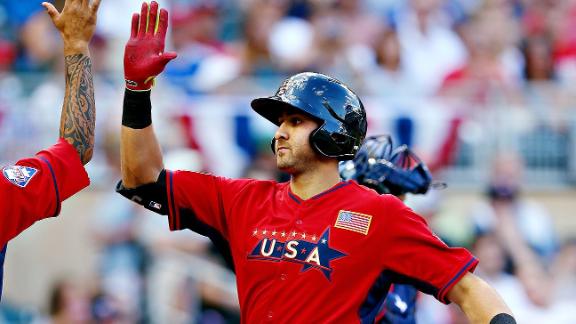 MINNEAPOLIS -- Joey Gallo let loose his powerful left-handed swing on a too-good-to-pass-up pitch over the plate, producing a soaring two-run homer to give his team the lead for good.
The real damage was done during batting practice, though, before the All-Star Futures Game. One of Gallo's head-turning drives in warm-ups whacked the top of the windshield of a promotional pickup truck parked on the concourse beyond right field.
The glass shattered.
Soon, if Gallo continues his trajectory toward the Texas Rangers, the 20-year-old third baseman will be able to make his mark on the majors.
Gallo was picked as the MVP of the annual showcase for baseball's best minor leaguers, for his long ball in the sixth inning that sent the U.S. team to a 3-2 victory over the World squad Sunday afternoon.
"This one's definitely the most memorable," said Gallo, the assumed successor for four-time All-Star Adrian Beltre with the Rangers.
Gallo, currently with Double-A Frisco, has 31 homers and 73 RBIs in 85 games this season. This one-out drive on a 2-0 pitch from Houston Astros right-hander Michael Feliz was estimated at 419 feet.
"Good pitch for him. This guy has really good power," Feliz said.
That was evident before the game. Gallo, who grew up in Las Vegas, had his parents here to watch. His mother sent him a picture of her posing next to the damaged vehicle. He got an even better message after hitting the real home run, from offseason workout partner Troy Tulowitzki, the captain of the National League team for Monday night's Home Run Derby.
"He was telling me I should hit for him," Gallo said. "I was like, 'Aw, I wish I could, man. That'd be a lot of fun.' Obviously I can't do that."
Someday.
Gallo followed a two-run homer in the top of the sixth by Javier Baez against Washington Nationals

July, 13, 2014
Jul 13
4:57
PM CT
CHICAGO -- The Cubs lost 10-7 to the
Atlanta Braves
on Sunday in the first-half finale. Here's a quick look at the game.
How it happened:
Like
Edwin Jackson
on Saturday,
Travis Wood
didn't fool the Braves much as they scored seven times in the first three innings.
Gerald Laird
's two-run double in the second got the Braves rolling but
Chris Johnson
's third home run in two days, a three-run shot in the third, put the game away.
Arismendy Alcantara
hit his first career home run in the sixth but the Braves put up three more in the seventh with a bases-loaded, three-run double by
Tommy La Stella
.
Chris Coghlan
countered with a two-run home run in the seventh and then a bases loaded walk to
Ryan Sweeney
and a two-run double by
John Baker
in the eighth brought the Cubs within three, but that's as close as they would come. Wood lasted six innings, giving up seven runs on seven hits and three walks.

What it means:
Alcantara had two more extra base-hits to give him five in five games. He took an 0-2 pitch out to right and the Cubs had done little off Braves starter
Julio Teheran
to that point. His power is astonishing given his size as Alcantara has earned every right to remain in the major leagues after the All-Star break. This could be the beginning of a special career for the Cubs.
Coghlan has also earned more playing time as he finished the first half as hot as anyone in the league. The former Rookie of the Year has raised his batting average from .204 on June 30 to .277 at the All-Star break. Without other outfield prospects pushing him, Coghlan should get a lot of playing time in the second half.
Wood, who in 2013 was an All-Star, finished this year's first half with an ERA a tick under 5.00 (4.96). He's simply leaving too many balls over the plate and getting hammered for it. Wood and Jackson need turnaround second halves as the Cubs' starting staff has been thinned by the trade of
Jeff Samardzija
and
Jason Hammel
.
First half over:
The Cubs hit the All-Star break with a 40-54 record after going 42-51 last year in the first half.
Anthony Rizzo
leads them in home runs with 20 while
Starlin Castro
has 52 RBIs while batting mostly cleanup.
What's next:
Castro and Rizzo leave for Tuesday's All-Star Game while the rest of the team is off until Friday when they begin the second half in Arizona. Before Sunday's game manager Rick Renteria set his rotation for that series against the Diamondbacks with Jackson, Wood and
Jake Arrieta
starting over the weekend.
July, 13, 2014
Jul 13
4:48
PM CT
Associated Press
CHICAGO -- Chris Johnson had three hits, including his third homer in two days, and the Atlanta Braves beat the Chicago Cubs 10-7 on Sunday.
Johnson hit a long drive to straightaway center field for a three-run shot in Atlanta's four-run third inning against Travis Wood (7-8). Johnson also went deep twice in the Braves' 11-6 victory at Wrigley Field on Saturday.
Atlanta played without struggling second baseman Dan Uggla, who was suspended by the team for the final game before the All-Star break. The Braves announced the punishment on their Twitter feed, with no further explanation.
"I'm not going to say anything other than that it's an internal matter," manager Fredi Gonzalez said before the game.
Arismendy Alcantara and Chris Coghlan each hit a two-run homer for the last-place Cubs, who have lost eight of 10.
July, 13, 2014
Jul 13
1:12
PM CT
CHICAGO -- At least one thing is known about the
Chicago Cubs
for the start of the second half of the season next Friday in Arizona.
Edwin Jackson
,
Travis Wood
and
Jake Arrieta
will start the three games against the Diamondbacks before the Cubs come home for the start of a 10-game home stand. Manager Rick Renteria announced as much on Sunday.
After that, it's anyone's guess who pitches and who's in the field.
"Those are still pending," Renteria said before Sunday's game against the
Atlanta Braves
. "We still have to have conversations."
Those conversations will undoubtedly take place during the All-Star break, but it's not believed the Cubs will settle on one pitcher right away to take over in the rotation for the departed
Jeff Samardzija
and
Jason Hammel
-- other than possibly
Dan Straily
. Straily, who was acquired from Oakland in the deal, has been a major leaguer in the past but has struggled at times this season. In two starts at Triple-A Iowa since the trade he's 0-1 with a 4.00 ERA. He's given up 11 hits and five walks in nine innings pitched. He's had issues with his fastball command -- which is one way to keep yourself in the minors -- but it's believed Straily will get his chances with the Cubs in the second half.
"There are more opportunities before us," Renteria said.
Those other opportunities will come in the form of
Kyle Hendricks
,
Dallas Beeler
and
Tsuyoshi Wada
. The three pitchers all made their major league debuts over the past few weeks and, depending on how the Cubs want to try them out the rest of the season, they all should see the mound again for the major league team. Beeler and Hendricks are the younger prospects while Wada, 33, is the older veteran getting his first chance since coming over from Japan several years ago and undergoing Tommy John surgery.
It would probably benefit Hendricks, in particular, to make his way through the league for a couple of months and learn some lineups. His style is to pitch -- not just throw -- and to navigate lineups with his softer pitching means learning those lineups. If he learns hitters now, he won't have to as much next season, if indeed he'll be in the rotation.
In the field, only
Arismendy Alcantara
is expected to get a real look in the second half, at least until September. The Cubs haven't announced that he'll be back with them after the All-Star break, but even if he heads back to Triple-A he'll be recalled sooner rather than later. It would be a surprise if the Cubs stood pat with the trade deadline approaching. They've done their blockbuster deal, but just one minor trade would probably open up a roster spot or two for Alcantara. As is, he might stay anyway. The Cubs have some options to alter their roster, there's no reason they shouldn't take advantage of that.
As Renteria said, the second half is all about opportunities. Who will seize them?
July, 12, 2014
Jul 12
7:58
PM CT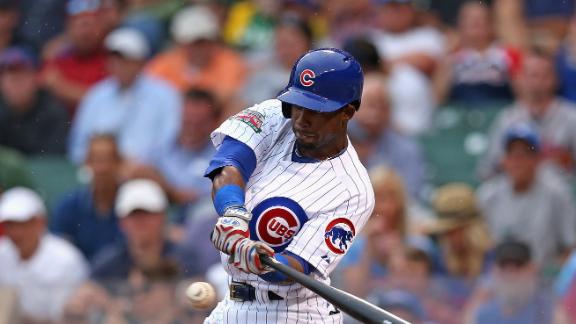 CHICAGO -- The best new storyline to a dismal
Chicago Cubs
season showed no signs of slowing down on Saturday in the team's 11-6 loss to the
Atlanta Braves
.
Arismendy Alcantara
played a flawless center field -- just his 12th time playing there this season and first in the big leagues -- while collecting two more hits and scoring two runs.
"He looked very smooth," manager Rick Renteria said after the game about Alcantara's defense. "He looked exactly the way he did [shagging fly balls] in batting practice the other day. He's obviously an athlete, has a feel, looks like his reaction and routes were good. And he has a good arm."
[+] Enlarge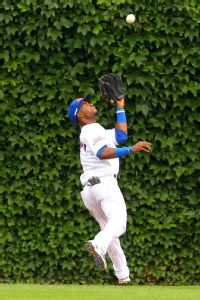 Dennis Wierzbicki/USA TODAY SportsAlcantara's satisfactory play in center field is part of what must give the Cubs pause about shuttling him back to the minors.
Alcantara went to his left and his right with ease while a gusting wind out to center kept things interesting. He made four putouts on the afternoon, begging the question which position he would like to play.
"It doesn't matter," Alcantara said. "I just want to be in the lineup that day. I just want to play the game."
Undoubtedly, he would be more comfortable in the infield, where he's played shortstop and second base in the minors. Renteria wouldn't publicly commit to Alcantara starting on Sunday, but it would be a shock if the player with seven hits in his first 18 at-bats (.389) isn't in the lineup the day before the All-Star break begins. He's scored five runs in his first four games, setting the table at the top of the lineup, as he did with a leadoff double on Saturday. That was long before the game got out of hand.
"It's something special for me," Alcantara said of being in the big leagues. "I can't explain it to you."
So, will he stay with the Cubs after the break? That's all anyone wants to know.
"We'll have conversations," Renteria said before the game. "I can't tell you when, but I'm sure we'll have conversations."
The Cubs have several options. The simplest one might be to send a pitcher down to the minors, as they've carried 13 for much of the season. With the All-Star break, their relief corps will be well rested, and the need to baby arms after the four-day break might not be as necessary right away. By the time it does, the trade deadline will be upon us and the Cubs will undoubtedly make a move or two with a position player. That would open the spot for Alcantara to stay.
If the Cubs need to play
Emilio Bonifacio
to show teams he's healthy when he returns, or even
Darwin Barney
to show them he's still viable, then so be it. Nothing is written that Alcantara has to start every day -- as much as anyone watching the Cubs wants it.
"When we get together as an organization and discuss those things, we have to take in a lot of factors," Renteria said. "We'll come to a good conclusion, sound decision. That's best for us as a club and best for the organization."
Or the Cubs could send
Junior Lake
or
Mike Olt
down to the minors in light of their struggles. Or maybe the Cubs will make a deal during the break. The front office has stated on many occasions that once the Cubs promote, they don't want to go backward. After changing their minds about Alcantara going back to the minors when Barney came off paternity leave, the writing should be on the wall. Keep him.
"Whatever they want me to," Alcantara said. "I don't expect that [staying]. I just try to play good baseball."
July, 12, 2014
Jul 12
7:36
PM CT
CHICAGO -- Not even the excitement of newcomer
Arismendy Alcantara
could distract
Chicago Cubs
fans from pitcher
Edwin Jackson
's performance on Saturday. The $52 million hurler summed it up better than anyone in the Cubs' 11-6 loss to the
Atlanta Braves
.
"It was an embarrassing, horrendous game," Jackson said. "Flat out. No other way to put it."
Jackson couldn't get out of the fourth inning as he gave up nine runs, including three home runs on seven hits and four walks. In the fateful six-run inning, it looked like he was pitching batting practice. One left the park via pitcher
Mike Minor
, his second career long ball.
"The team does a great job of battling back and you continuously go out and give up the lead," Jackson stated. "It's pretty much unacceptable.
"At the end of the day, you have two options: You can accept it and fold or you can take it as a slap in the face and turn it around and do something about it."
Jackson has been singing this tune for the better part of a year and a half with the Cubs, and any time he comes close to showing promise on the mound he takes two steps back. His 5.64 ERA ranks 92nd out of 93 qualified starters, and he's 13-28 as a Cub, 5-10 this season.
"There's a lot of baseball left," Jackson said. "I definitely think I can turn things around and have a better second half and have the whole first half forgotten about."
Manager Rick Renteria stated the obvious: "Today was just not his day."
Renteria admitted it was a "good question" when asked if the Cubs were thinking of a different role for Jackson -- as in the bullpen -- but then he quickly dismissed it.
"I would say the answer is no right now," Renteria said.
And now probably isn't the time to talk about moving a healthy, veteran starter out of the rotation, no matter how bad he is. The Cubs already have two openings after the trade of
Jeff Samardzija
and
Jason Hammel
, and they're going to be careful with their young arms. The short of it: They can march Jackson out there and let him wear it, ERA and record be damned.
"When it's your day to pitch, it doesn't matter if we have three veterans or a lineup full of young guys. We have to go out and get the job done," he said. "As professionals, there are no excuses; you either get the job done or you don't."
"We can talk all day about what you can do and what you have to do. At the end of the day, you have to go out between the lines and do it."
Cubs fans are waiting for that to happen.
July, 12, 2014
Jul 12
6:34
PM CT
Associated Press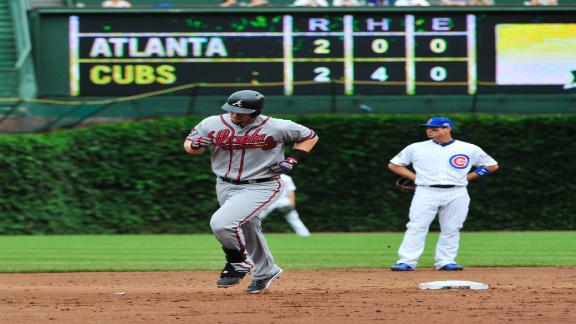 CHICAGO -- Chris Johnson homered twice and pitcher Mike Minor hit his second career home run, leading the Atlanta Braves over the Chicago Cubs 11-6 on Saturday.
Johnson and Justin Upton each drove in four runs for the Braves. Johnson and Minor homered and Upton hit a three-run double as Atlanta scored six times in the fourth inning for a 9-3 lead.
Minor (3-5) allowed six runs and 11 hits in six innings. He improved to 6-0 in his career against the Cubs.
The Braves won for the second time in seven games.
Chris Coghlan hit two doubles and drove in three runs for the Cubs, who have lost seven of nine.
Edwin Jackson (5-10) lasted just 3 2/3 innings after giving nine runs, seven hits and three home runs.

July, 12, 2014
Jul 12
6:20
PM CT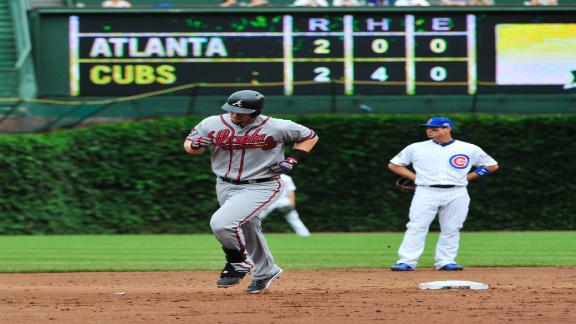 CHICAGO -- The
Chicago Cubs
lost to the
Atlanta Braves
on Saturday, 11-6. Here's a quick look at the game:
How it happened:
Edwin Jackson
didn't get out of the fourth inning as he gave up nine runs, seven hits and four walks. Three hits left the park, including two by
Chris Johnson
and one by the pitcher
Mike Minor
. The Cubs actually took a 2-0 first inning lead as Arsimendy Alcantara scored on a
Justin Ruggiano
single after doubling to leadoff for the Cubs.
Chris Coghlan
also had an RBI in the inning. Down 9-3 in the fifth, the Cubs cut the deficit in half as Coghlan doubled home two more but that's as close as they came. The Braves added two more in the ninth on RBI singles by
Justin Upton
and
Jason Heyward
.
What it means:
Jackson's ERA rose to 5.64, and juxtaposed against gutty performances by rookies this past week, his start looks even worse. Yes the wind was blowing out but once again Jackson got outpitched by his competition. It has been an ongoing story since signing with the team before last season. Coghlan continued a recent hot streak with two more hits. He's batting .428 in July with a .500 on-base percentage.
Alcantara OF debut:
After playing only 11 games in center field this season at Triple-A Iowa, Alcantara had no issues out there on one of the most windy days of the year. He tracked down all catchable balls and played the ones that got behind him correctly. He showed promise with a smooth debut in the outfield at Wrigley. And he was as good as ever at the plate adding another two hits to his first week total. He has scored five times in his first four games.
What's next:
The rubber game of the series -- and the finale before the All-Star break -- comes Sunday afternoon when
Travis Wood
(7-7, 4.64 ERA) faces
Julio Teheran
(8-6, 2.57).
July, 11, 2014
Jul 11
8:08
PM CT

By Doug Padilla
ESPNChicago.com
Archive
CHICAGO -- Finally home after a road trip that would shake even the most confident player to his core, the
Chicago Cubs
insist they still have plenty of fight left inside them.
Five days into an 11-day journey that ended Thursday, the Cubs saw pitchers
Jeff Samardzija
and
Jason Hammel
get traded to the
Oakland Athletics
. A day after that a six-game losing streak started.
[+] Enlarge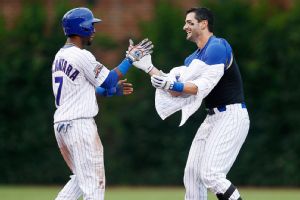 AP Photo/Andrew A. NellesJustin Ruggiano, right, says he likes the inclusion of Arismendy Alcantara, left, in the Cubs' lineup. "He's got a little spark to him," Ruggiano said.
Now the Cubs say they are ready to scratch and claw, but in comparing their roster to teams around the league, any fight they face in the foreseeable future looks to be fairly lopsided. The past two days, though, they have looked willing to stand up to conflict, both literally and figuratively.
On Friday, the Cubs went toe-to-toe with the
Atlanta Braves
, getting past the disappointment of a
Hector Rondon
blown save to win it 5-4 in walk-off fashion on
Justin Ruggiano
's RBI single in the bottom of the ninth inning.
"[The spirit] is still there," Ruggiano said. "We were probably a little down losing those two guys, they were big guys in the clubhouse. But we've got a pretty tight group of men in here and we all pull for each other. We'll be all right."
Fight, and youthful exuberance, will get you only so far, though. New staff ace
Jake Arrieta
was his typical stingy self on Friday, giving fresh-faced
Arismendy Alcantara
the chance to deliver when it mattered. Alcantara not only singled with two outs in the bottom of the ninth, his steal of second base helped set up Ruggiano's game winner.
"When you have a young person come in fresh to the big leagues there is a lot of energy and excitement," manager Rick Renteria said. "There is a willingness to want to go out and show you what they have. This young man actually just has the energy and desire to get out there. He is very composed. He has a lot of composure to him for being out there for the first time."
The problem is that he doesn't have numbers on his side, specifically roster numbers. The Cubs can actually get away with only three starters until July 22 and with four starters until July 24. That means somebody will have to go when the rotation is returned to full strength, and Alcantara might be on borrowed time.
"I think that any player when they impact your team and show you what they have, I think the easiest thing to do is for people to start to speculate if he will stick around," Renteria said. "We'll have to make that decision as an organization when we come to it. It would be premature and irresponsible for me to say something like that, but he does impact the way you view him for sure."
On Thursday, Alcantara had three hits in a game that ultimately became known for Anthony Rizzo's beef with
Aroldis Chapman
. After Chapman sent two fastballs to the backstop while facing
Nate Schierholtz
, Rizzo was among Cubs players who expressed displeasure with the pitches.
When Chapman dismissed the Cubs' gripes with a wave of his glove, Rizzo kept the conversation going before the next half inning started by shouting in Chapman's direction while walking toward the Reds' dugout.
Benches cleared, with no punches thrown, but the biggest happening of all might have been Rizzo's move into a leadership role. The backup All-Star first baseman might have set a tone moving forward in the wake of Samardzija and Hammel taking a combined 2.91 ERA with them to Oakland, while not leaving a whole lot of experience behind.
"Yeah, there is always spirit, win or lose," Rizzo insisted. "It's a great group of guys and you just want to keep coming together and keep getting better."
Since winning will be tough, getting better will be the key. It's uncertain how far a rotation of Arrieta,
Edwin Jackson
,
Travis Wood
and whoever else (likely
Tsuyoshi Wada
and
Kyle Hendricks
) will take the Cubs.
But for now it's about not letting things get too out of hand, while also learning as much as possible in the process. The Cubs know that a whole lot of talented young players are coming soon, so for now it's about bridging the gap until they are ready to arrive.
"The future's bright; that's very apparent," Arrieta said. "There are guys like Alcantara, and we know we've got some guys in the pipeline who can definitely help us in the near future. I look forward to seeing those guys, [Javier] Baez and [Kris] Bryant, a couple of others.
"It's going to be a fun, fun period of time here over the next six to eight months, toward the end of season and beginning of next season -- just seeing those guys blossom and continue to grow and get some experience up here. That'll be very valuable for them leading into the coming season."
For now, it's Alcantara's time to blossom, however long his stay lasts.
"We saw him play in spring, I saw him play in my rehab and he's got all kinds of tools," Ruggiano said. "Youth eventually can sometimes be a factor, but from what I see, he's got enough tools I think where he could stay afloat and probably be a very good player for many years. Who knows what will happen? But I like him around. I like him in the lineup. He's got a little spark to him."