April, 22, 2014
Apr 22
11:30
PM CT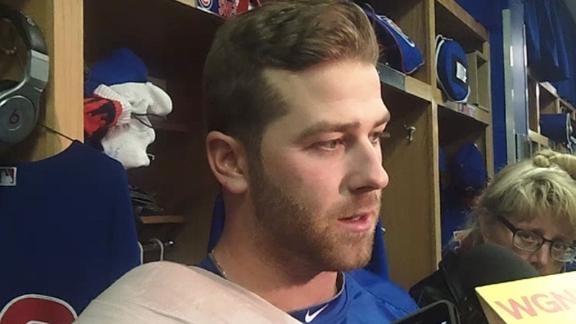 CHICAGO -- After taking over the team lead in home runs (four) and tying for RBIs (nine),
Chicago Cubs
third baseman
Mike Olt
might finally be given the chance to play more -- or at least he will Wednesday after helping the Cubs to a 9-2 victory over the
Arizona Diamondbacks
on Tuesday night.
"We talked about him gradually getting into that role," manager Rick Renteria said after the game. "Will I play him again tomorrow? Yes."
That's good news for fans of Olt who have seen him go to the bench too often this month even after hitting home runs. Not this time as he helped put the game out of reach with a three-run, opposite-field shot in a four-run fifth inning.
"Hitting is tough, especially if you do get sporadic at-bats," Olt said. "It is tough, but I definitely think it's made me a stronger hitter. I'm going to carry that into playing multiple games."
No one will know if the Cubs' strategy of platooning Olt to start the season was the right idea. The facts are he's hitting only .195, but his four home runs in 43 plate appearances are pretty impressive. It means he has hit a home run in 9.8 percent of his at-bats.
Albert Pujols
, who leads the majors in home runs, has hit them in 9.5 percent this season.
"Everything is very calculated," Renteria said. "I'm going to throw him out there and let him run with it a little bit. We're still measuring everything, we're trying to be guarded. He'll be in there tomorrow."
April, 22, 2014
Apr 22
11:00
PM CT
[+] Enlarge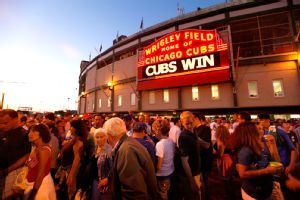 Scott Olson/Getty ImagesThe marquee is iconic. It just doesn't get to post this message often enough.
Happy 100th birthday, Wrigley Field. You don't look a day over . . . well, let's say 87.
Wrigley Field opened as Weeghman Park for the Chicago Federals of the Federal League 100 years ago today; and it not only remains one of the most beloved stadiums in all sports, it is as much a national architectural treasure as the Golden Gate Bridge, the Empire State Building or the Washington Monument.
Alas, those latter three structures have been home to just as many World Series champions during their lifetimes as Wrigley.
Although beloved, the Friendly Confines are like any aging celebrity: in desperate need of a face-lift. Fenway Park faced the same challenges a little over a decade ago (the old Red Sox owners threatened to tear it down), but the current ownership in Boston dramatically updated the ballpark while maintaining its history, look and charm. The Cubs are looking to do the same for Wrigley with a $500 million remodel, though the neighboring rooftop tenants are not making that process smooth.
How does Wrigley, in its current state, rate as a major league stadium at age 100? Let's take a look at the 10 most important aspects of a big league ballpark:

April, 22, 2014
Apr 22
10:30
PM CT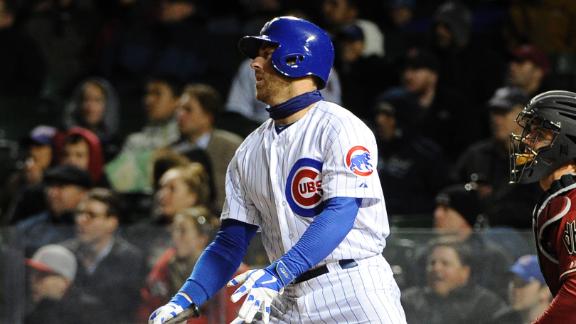 CHICAGO -– The
Chicago Cubs
beat the
Arizona Diamondbacks
9-2 on Tuesday night to take the first two games of the series. Here's a quick look:


How it happened:
Mike Olt
broke open a close contest with a three-run home run in the fifth inning while
Jason Hammel
threw seven solid innings as the Cubs handed the Diamondbacks their 18th loss of the month.
Nate Schierholtz
drove in the first two runs of the game with an RBI single in the third inning and a sacrifice fly in the fourth before Olt hit his fourth home run of the year. Hammel stymied the Diamondbacks just as
Travis Wood
did the night before. His lone mistake came with the Cubs up 5-0 as
Tuffy Gosewisch
went deep in the sixth. The Cubs added four more in the eighth on a Luis Valbunea bases-loaded walk, followed by a
Justin Ruggiano
base hit. Hammel won his third game; the Cubs have won seven all month.
What it means:
Hammel is starting to rack up the solid starts, which is going to make him attractive to other teams. It's doubtful the Cubs would extend a long-term contract for the 31-year-old, but he should bring back a nice haul of prospects if he keeps pitching as he is. Meanwhile, Olt took over the team lead in home runs and is tied with
Starlin Castro
for most RBI (nine). All this in limited starts this year. His power is real as he went out to right field on a tough hitting night with the wind blowing in and temperatures near freezing.
Castro's night:
He was 2-for-4 at the plate and made several nice plays in the field, including back-to-back in the top of the eighth inning. First he made the right decision on a backhand play and threw out speedy
Chris Owings
, then went diving up the middle to get Gosewisch. Castro has had a great first month of the season after coming back from a hamstring injury suffered during spring training.
What's next:
The Cubs will celebrate the 100th anniversary of the first-ever game at Wrigley Field on Wednesday afternoon. Former Cubs players and baseball dignitaries will be on hand, including commissioner Bud Selig.
Jeff Samardzija
(0-2, 1.29 ERA) faces
Wade Miley
(2-2, 4.35 ERA) as the Cubs look for their first series win of the year.
April, 22, 2014
Apr 22
10:29
PM CT
Associated Press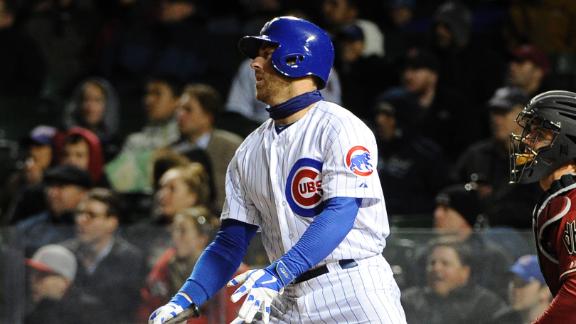 CHICAGO -- Jason Hammel pitched seven strong innings, Mike Olt hit a three-run homer and Nate Schierholtz drove in a pair of early runs to lead the Chicago Cubs to a 9-2 victory over the Arizona Diamondbacks on Tuesday night.
Hammel (3-1) allowed just one run and four hits in seven innings to lower his ERA to 2.60.
Olt still is batting below .200 for the season (.195), but has four homers and nine runs batted in.
The Cubs, who've won three of four, have won back-to-back games for the first time this season. They last won consecutive games on Sept. 9 and 10 of last season against the Cincinnati Reds. Their last consecutive home wins came on Sept. 4 and 6 against Miami and Milwaukee.
Brandon McCarthy (0-4) managed to lower his ERA from 7.11 to 6.23. He allowed five runs -- one earned -- and seven hits in five innings.
April, 22, 2014
Apr 22
7:40
PM CT
CHICAGO -- Maligned
Chicago Cubs
pitcher
Jose Veras
isn't going to give in to failure as he continues to try and find his stuff. He lost it somewhere between signing a one-year, $5.65 million deal and losing his closer's role earlier this month. But he's not giving up.
"If something goes wrong in your life for a month you think it's going to be bad for 12 months?" he asked rhetorically on Tuesday afternoon. Of his struggles, he said "it's not going to be there for six months. It's going to be there for a little bit. And warriors don't give up on it. That's what I am. I'm a warrior. One day it's going to turn around and that's it. It's gone."
[+] Enlarge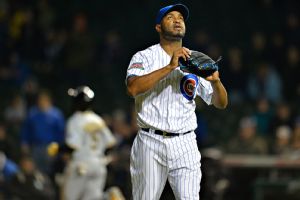 Brian D. Kersey/Getty ImagesJose Veras may have lost his closer's job with the Cubs, but he knows things will turn around for him.
That's the hope at least. So far "it" hasn't been there for Veras. He struggled in the spring, blew two saves in the regular season and then even gave up two home runs this past Sunday in his new role as a middle reliever.
"I'm sure we haven't seen the best of him," manager Rick Renteria said. "He'd be the first to tell you that."
Renteria is backing up his player as much as he can, but the struggles continue. At least Veras started to find the strike zone Sunday as his previously wild curveball produced two outs, including a strikeout. But he still gave up two long balls on sinker/fastballs.
"My curve and my changeup are better," Veras said.
You have to start somewhere as Veras will need some work to lower his 15.43 ERA. Renteria vowed to find it for him.
"It could be at any moment," Renteria said. "We could be up by 10 or down. He needs to pitch."
It just won't be in pressure situations unless the Cubs get desperate. Veras doesn't care. He just wants a chance to prove he can do it.
"What doesn't kill you will make you stronger," Veras said. "It will turn. You think it's going to be bad all day? And then two weeks later you don't even remember what happened."
April, 22, 2014
Apr 22
6:50
PM CT
CHICAGO – A day after throwing 94 pitches in a rehab stint at Class A Daytona,
Chicago Cubs
starter
Jake Arrieta
declared himself ready for major league action though he'll have one more outing in the minors before being activated.
"I think he has a short stint," manager Rick Renteria said. "Kind of like what we did at the end of spring training."
[+] Enlarge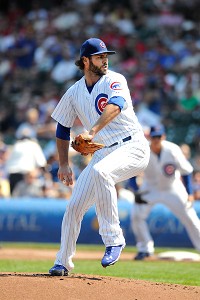 Reid Compton/USA TODAY SportsJake Arrieta is progressing in his rehab stars and is expected to have at least one more outing in the minors before being activated.
Most starting pitchers end the spring with about a three inning outing and no more than 50-60 pitches. Arrieta is itching to get back after being slowed by a stiff shoulder this past offseason. He's been on the disabled list since the start of the season.
"I got to throw everything," he said of his Monday outing. "Got built up."
Arrieta gave up three home runs in 5.2 innings against Clearwater but says the wind was blowing out and isn't too concerned with the results, though he would like to be even sharper.
"Still need to be more efficient with my changeup," Arrieta said.
Arrieta was acquired last season from Baltimore for pitcher
Scott Feldman
and immediately impressed with his devastating off-speed pitches, especially his curveball. The knock has been his control, as he's averaged four walks per nine innings in his career. When healthy, he'll be given a chance to pitch his way into the core group the Cubs hope to win with in the near future.
"Just try and bring what I bring to the table and help the guys around me out and hopefully string some wins together and get this thing going in a more positive direction," Arrieta said.
Arrieta gave up five runs on Monday but produced a 0.73 ERA in three rehab starts with Double-A Tennessee. He owns a 5.23 career ERA in the majors but threw well after the trade to the Cubs. He was 4-2 with a 3.66 ERA in nine starts. His return will mean a move to the bullpen for
Carlos Villanueva
, who's struggled in his last two starts. Villanueva will get one or two more depending on when the Cubs activate Arrieta.
April, 22, 2014
Apr 22
4:44
PM CT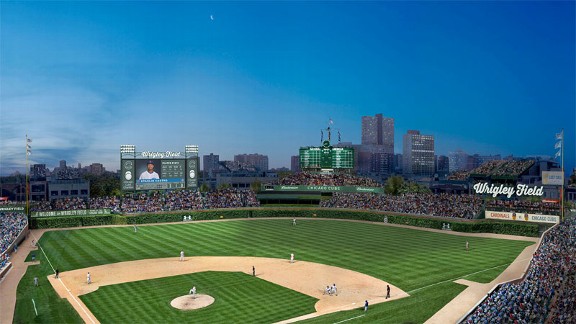 Courtesy of the Chicago CubsA lack of distractions, like a giant videoboard that is coming soon, is not always better for the fans at Wrigley Field.
Moe: Oh, everybody is going to family restaurants these days. Seems nobody wants to hang out in a dank pit no more.
Carl: You ain't thinking of getting rid of the dank, are you, Moe?
Moe: Ehh, maybe I am.
Carl: Oh, but Moe: the dank. The dank!
-- The Simpsons, "Bart Sells His Soul."
CHICAGO -- The marquee, the scoreboard and "the generally uninterrupted sweep and contour of the grandstand and bleachers" aren't going anywhere. They're protected.
The ivy will always grow back, a rite of summer in Chicago like street sweeping tickets, and the beer and hot dogs will always be delivered to your seats by union men.
The grass will be green and plentiful, except after concerts, and the Cubs will always, well, sometimes win.
Wrigley Field, the little ballpark at Clark and Addison, 100 years old and still gorgeous, is here to stay.
But you should swing by and see the old gal for her birthday, because changes are coming.
The dank corridors, the lousy concession stands, the netting holding back concrete, the unused space and the remnants of obvious maintenance to a century-old ballpark, those can go.
The view and the ambience, those will stay.
For better or worse -- mostly better we hope -- the ageless charm of Wrigley Field, which celebrates its 100th "birthday" Wednesday, will give way to progress in the coming seasons, as the organization prepares for a four- to five-year renovation of the Friendly Confines. It should start this offseason.
April, 22, 2014
Apr 22
11:23
AM CT
The
Chicago Cubs
might wait until later in the summer to bring up any of their top hitting prospects from the minors, but that doesn't mean a pitcher or two couldn't make an appearance at Wrigley Field sooner than that.
[+] Enlarge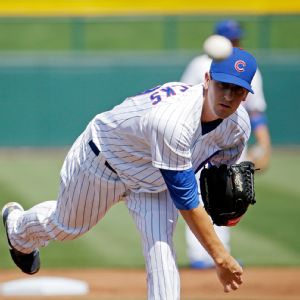 AP Photo/Morry GashKyle Hendricks has recovered from a shaky first start with three straight victories at Triple-A Iowa.
It's common to see a hurler come up for a start because of an injury or heavy workload on the major league staff and then sometimes head right back to the minors. Best case is he sticks around for a little while. When
Jake Arrieta
completes his rehab assignment,
Carlos Villanueva
will return to the bullpen. It also means the Cubs could dip down into the minors if they need a spot start instead of trying to stretch Villanueva out again in the future.
In the first month of the season, it's the Cubs' pitching prospects who have impressed. Here's a look at what's happening down on the farm:
Triple-A Iowa starter
Kyle Hendricks
arguably threw his best game of April on Monday night when he beat Round Rock (Texas) and former Cub
Scott Baker
. Hendricks improved to 3-1, giving up just two hits and two walks in six innings, striking out six. His ERA is 3.65 after winning his third straight start following a shaky opening day. That coincides with Hendricks' spring training where he struggled early but finished strong. And it's consistent with his scouting reports, as well: He's a quick learner.
The most impressive starter at Iowa so far is
Tsuyoshi Wada
. He leads the Pacific Coast League with a 0.84 ERA and a 0.56 WHIP, having giving up just 12 hits/walks in 21 innings on the mound. Unlike Hendricks, Wada did not look good in the spring, but as a lefty, he could be used in a very specific situation if the Cubs need him. It's early, but Wada is off to a nice start after a rough time in Arizona in March.
Lefty
Eric Jokisch
throws Tuesday afternoon. In two of three starts this season, he's given up zero earned runs, but he got hit hard in the other one, as has
Chris Rusin
so far this month. His ERA is 6.32 after giving up four runs in six innings over the weekend. Rusin did have one decent relief appearance for the Cubs in St. Louis recently.

At Double-A Tennessee, top pitching prospect
C.J. Edwards
is coming along nicely. He earned his first win Sunday, and opposing hitters have a .187 batting average against him in four starts. He's walked eight and struck out 20 in 20 innings.
Ivan Pineyro
, acquired for
Scott Hairston
last season, has a 1.15 ERA after three starts and has looked as good as he did after the trade to the Cubs last year.
At Class A Daytona, flamethrower
Arodys Vizcaino
earned his first save Monday night. He's given up one run in six innings. The Cubs want him in warm weather to start the season, and he could make a jump to the big leagues later, as well. Even at Class A Kane County, there is a wave of pitchers off to good starts.
Jen-Ho Tseng
and
Duane Underwood
have been impressive in the early going.
As for the hitting prospects, some of the headlines haven't been as big as they were in the spring.
Javier Baez
(.152, two homers, three RBIs) is just back from an injury and had a slow first couple of weeks of the season.
Jorge Soler
remains sidelined with a hamstring problem.
Kris Bryant
(.284, 4, 10) is doing well at Double-A and might be one of the first to get a promotion to Triple-A if he keeps it up.
Albert Almora
(.286, 1, 7) is progressing nicely at Class A, as well.
But it's the pitchers who have stood out, and because of the nature of the game, they might be the first ones to make big league appearances. Rusin is a good example. He threw five innings in relief and then was sent right back down. Expect a cup of coffee for some of the above names as the season progresses. After all, the Cubs need all the arms they can find.
April, 22, 2014
Apr 22
10:40
AM CT

By David Schoenfield
ESPNChicago.com
Archive
Is that such an outlandish headline? I'm not sure it is. Wood did it all in Monday's 5-1 win over the hapless Diamondbacks, pitching seven innings with nine strikeouts and no walks and going 2-for-3 with a double and three-run homer. Here's a fun tweet:
Only 4 pitchers in history have homered in each of their 1st five MLB seasons: Claude Hendrix Pat Malone Dontrelle Willis TRAVIS WOOD #Reds

— High Heat Stats (@HighHeatStats) April 22, 2014
Wood hit .222 with three home runs last year, and while we won't quite declare him the new Mike Hampton yet, there are similarities in that both are/were smallish lefties who could hit (Hampton hit seven home runs for the Rockies in 2001 and hit .344 the next season with three home runs).
More importantly, Wood is off to a great start on the mound (2.52 ERA), so far proving his 2013 breakout wasn't a fluke. In 25 innings, he has 28 K's and four walks and two home runs allowed. That's a big boost in his strikeout rate from 2013 -- 17.5 percent to 25.7 percent -- and if this is a real improvement then it's time to start thinking of him as an elite starter.
Unfortunately for the Cubs, while Wood and Jeff Samardzija have allowed just 14 runs in their eight starts, those two are a combined 1-4 as the Cubs are next-to-last in the NL in runs.
Other quick thoughts from Monday's action:
New Pirates first baseman Ike Davis hit a grand slam and then the Pirates scored runs in the eighth and ninth to beat the Reds 6-5. The Reds have an MLB-worst 5.77 bullpen ERA with an atrocious 1.72 WHIP. J.J. Hoover and Manny Parra have really struggled, so even Aroldis Chapman's return isn't an automatic fix. As for Davis, he's been plagued by inconsistency in his career, but we're not that far removed from the second half of 2012 when he hit .255/.346/.542 with 20 home runs. Who knows if it will work out, but it was a good risk by the Pirates to get him. Sure, you worry about all the strikeouts and low average you're going to get from Davis and Pedro Alvarez but they may also combine for 65 home runs.
Some sweet fielding plays on Monday. Loved this double play by Ruben Tejeda and Daniel Murphy for the Mets and this slick bare-handed play by Albert Pujols. Tejeda made another diving stop and out as the Mets blanked the Cardinals 2-0 behind Jenrry Mejia's 6.2 scoreless innings and Kyle Farnsworth's first save.
Nice 4-3 win for the Rangers over the A's on a night Yu Darvish didn't have a dominant outing, with eight hits and four walks in six innings. Fun fact: Prince Fielder has already been intentionally walked nine times, the most ever for an AL player in April. He's hitting just .205 but opposing managers still want to get a righty-righty matchup when possible.
Fielder's old teammate in Detroit, some guy named Miguel Cabrera, continues to struggle with a .206/.275/.333 line and one home run. It's gone relatively unnoticed because he's Miguel Cabrera and we expect him to heat up soon enough -- and the Tigers are still 9-7 after losing to John Danks on Monday -- but this is a guy who never has a bad month (last September, when he was injured, being the exception). He only has one opposite-field hit all season. Last year, 55 of his 193 hits went to right.
Keep an eye on Corey Dickerson, who gets a chance to play for the Rockies with Michael Cuddyer on the DL. He can hit and went 3-for-4 with one of the five home runs the Rockies hit against the Giants.
Things are turning ugly in Seattle. The Mariners returned home to face the Astros with Felix Hernandez pitching and put up a stinkbomb of a game for their seventh straight loss. An error by Kyle Seager in the sixth inning led to four unearned runs as Hernandez gave up three run-scoring hits with two outs. Dustin Ackley was moved up to the No. 2 spot in the lineup and promptly went 0-for-4 with three strikeouts. Justin Smoak is hitting .170 after his big opening series against the Angels. Seager and Brad Miller are hitting under .200. Leadoff hitter Abraham Almonte has 28 strikeouts in 19 games. Looks like the same old Mariners.
April, 22, 2014
Apr 22
9:23
AM CT
By Staff
ESPNChicago.com

ESPNChicago.com's Jesse Rogers took your Cubs questions during a live chat on Tuesday, discussing Javier Baez's slow start at Triple-A Iowa, Rick Renteria's inconsistent lineups, the prospects of a Travis Wood extension and more. Click
here
to read the chat wrap.
April, 22, 2014
Apr 22
12:00
AM CT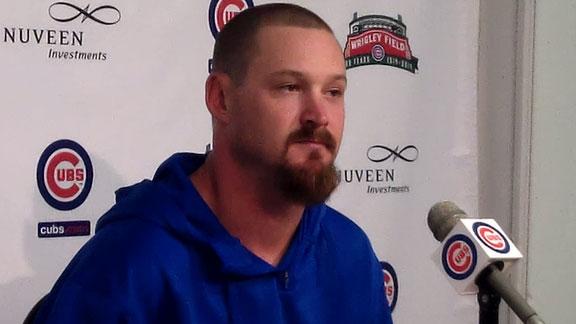 CHICAGO -- Forget about
Jeff Samardzija
for a moment. If the
Chicago Cubs
don't lock up starter
Travis Wood
to a long-term deal sometime soon, their rebuilding plans will really take a hit.
At 27, Wood is younger by two years and certainly won't be looking for the same kind of a mega-deal Samardzija wants. Plus, he's proving to be every bit the pitcher that his teammate is -- and right now he might be one of the Cubs' better hitters. Wood homered and doubled, driving in four runs in Chicago's 5-1 victory over the
Arizona Diamondbacks
on Monday night.
Oh, and he threw seven innings of one-run ball while striking out a career-high nine. His ERA is 2.52 in the opening month.
"He's another guy that's Steady Eddy," manager Rick Renteria said afterward. "He goes out there and does his thing. He gets better every year."
That he does. Wood was an All-Star last season, and he's picking up right where he left off. Monday he did it with his fastball, striking out seven of his nine victims with that pitch.
"You don't have to get funny," Renteria said. "It was well located."
But just as a season ago, Wood impressed as much with his bat and athleticism as with his arm. Since last May, he has a solo home run, a two-run shot, a three-run homer and a grand slam, according to ESPN Stats & Information. After Monday's first two hits, he came up with the bases loaded in the sixth inning, prompting Diamondbacks manager Kirk Gibson to make a pitching change. How often does that happen with the opposing hurler at the plate?
"I guess it feels good that they kind of respect you up there and you're doing your job," Wood said. "I'm just not in the 9-hole to fill a spot. You have to try and be as best you can at it."
He grounded into a double play after admittedly swinging for the fences. Wood is more than adequate at the plate, as his seven career home runs attest. Add it all up and he's become a keeper in the Cubs' rotation. They need as much pitching as they can get, especially if Samardzija is on the move. Renteria was asked if he would like to be able to pencil Wood into the rotation for the next five years.
"I think everyone would," he responded.
Wood is one year behind Samardzija in terms of arbitration -- he has two more years after this one before he becomes a free agent --- so there's no real hurry, but the Cubs have shown a propensity to lock players up, as long as the players give a hometown discount to the team.
Unlike Samardzija, Wood might be willing to do that, considering he hasn't made nearly as much in his career to date.
After winning his first game of the season almost single-handedly, it might be a good idea to start discussing options with the left-hander. And maybe think of batting him higher in the lineup until reinforcements come.
"He's really coming into his own," Renteria said.
Wood has become a keeper. That much we know.
April, 21, 2014
Apr 21
11:06
PM CT
Associated Press
CHICAGO -- Travis Wood hit a three-run homer and drove in four runs to back his nine-strikeout performance on the mound, leading the Chicago Cubs to a 5-1 victory over the Arizona Diamondbacks on Monday night.
Wood (1-2) gave up a run and six hits over seven innings. His four RBIs and nine strikeouts matched career highs.
Bronson Arroyo (1-2) allowed five runs and eight hits in 5 1/3 innings for Arizona. The Diamondbacks have lost nine of 10 games and have the worst record in the majors (5-17).
Welington Castillo hit a two-out bloop single to right field to score Starlin Castro from second for a 1-0 lead in the second inning.
Ryan Kalish followed Castillo's RBI single with a single of his own to extend the inning. Bronson Arroyo fell behind in the count 1-0 before Wood hit a hanging slider for a three-run shot into the left field bleachers. It was Wood's seventh career home run.