October, 10, 2014
Oct 10
10:17
PM CT

By Jon Greenberg
ESPNChicago.com
Archive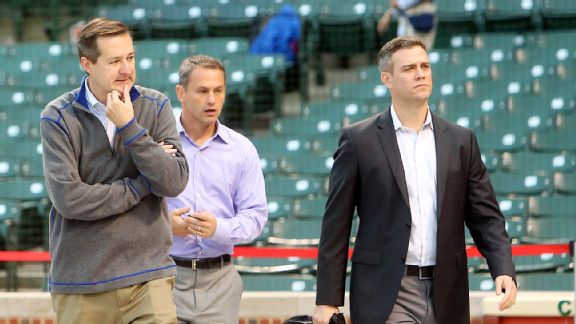 Jerry Lai/USA TODAY SportsBig TV money on the horizon "puts you in an aggressive posture," Theo Epstein, right, said.
CHICAGO — On Friday afternoon at the Ford Oriental Theatre, the curtain lifted on a timeless play, "The Baseball Man."
Chicago Cubs
president of baseball operations/savior Theo Epstein took the stage to speak to Cubs season-ticket holders about the bright future that awaited the team. Yup, right here in (Chicago) River City.
But it wasn't exactly a ringing rendition of "Seventy-Six Trombones." More like "One or Two Really Good Pitchers."
Epstein doesn't have much Harold Hill in him, and he's adamant about being adamant about not selling Cubs fans a bill of goods.
He stressed patience -- for which he profusely thanked fans -- even as he projected hope and change in his jeans and sport coat in the Loop theater, one of two shows Friday and two Saturday for season-ticket holders, many of whom had already paid their expensive deposits. And some of whom saw ticket prices go up after a last-place finish that was far better than the two years that preceded it.
"Thanks for the warm welcome," Epstein said as the applause wound down. "I can't imagine the welcome when we actually don't finish in last place."
Epstein, an honest, funny guy who occasionally protests too much, insisted that he "detests" salesmen in a room full of people who want desperately to be sold on a Cubs team that for the past three years could brag only about minor league system rankings. (Plenty of that at this affair. You'd think Baseball America was a "legacy partner.")
Like it or not, Epstein is a salesman. In fact, the fate of the franchise basically rests on his shoulders. It's his vision fans are buying into, his decision-making they trust.
In "The Music Man," Hill said he'd make the kids of River City, Iowa, into a marching band. In "The Baseball Man," Epstein said he'd make the Cubs into a World Series winner.
Same difference, right?
Skeptical or not, it's tough to listen to Epstein and not feel convinced the tide is turning after three mostly dreary seasons of rebuilding an organization via "full-on talent acquisition mode." His intelligence gets oversold a bit, but he is very convincing, because you can tell he believes in his vision for the Cubs. Epstein and his staff had a plan (some of which was altered) and they've had to talk about the plan ad nauseam. It's resulted in some impressive drafts and downright fleecing trades.
"I'm really excited I don't have to talk about that plan anymore," Epstein said.
But he's not shy about saying that the Cubs are ready to compete. As in 2015. Kind of.
The Cubs were certainly better after the metaphorical smoke cleared from the July 4 trade of
Jeff Samardzija
and
Jason Hammel
.
Jorge Soler
showed why he could be the best Cubs prospect of them all.
Javier Baez
showed flashes of 40-home run power,
Jake Arrieta
and
Kyle Hendricks
looked like rotation mainstays (or better, in Arrieta's case).
Anthony Rizzo
and
Starlin Castro
had All-Star bounce-back seasons.
Kris Bryant
will be up soon, and the Cubs have money to spend on free agents this winter. Epstein described this year's top draft pick, Kyle Schwarber, as a "classic 3-hole hitter."
[+] Enlarge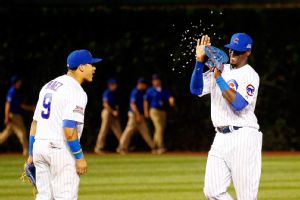 AP Photo/Charles Rex ArbogastFun times look to be ahead for Javier Baez and Jorge Soler, but is an NL Central crown in the cards in 2015?
Just as he said after the season ended, Epstein reiterated that the team's goal was to win the National League Central in 2015 after another last-place finish. He added an important caveat: The Cubs won't win it by trading prospects and spending big bucks.
So is it Harold Hill-ing fans on the playoffs when internal projections are more like .500?
"This is the first time we've had enough talent to compete," he said. "I believe when you are competing, you have to set your sights high. There's no point coming out saying, well, maybe, we could try to finish .500. What good does that do?"
Basically, the Cubs are moving, statuswise, from small-market team to talented midmarket team. It's a step-by-step process.
"I don't like to tell fans how to feel," Epstein said. "We're just being honest about the fact that I think if you watched the team play, and you follow the organization, I think it's clear we have enough talent to compete. Do we have enough talent to win? That's the beauty of baseball: You don't know, you don't find out, until you try."
I'm guessing "This Year We Try" won't be the team's motto.
While the official groundbreaking of the long-awaited $375 million Wrigley Field renovations is Saturday morning, the money from a "new" Wrigley won't be flowing into the baseball-operations coffers just yet. There will be more in the pot once the new outfield signs and video board go up, but not enough to affect the 2015 budget.
"We haven't reached that next level yet where the payroll is going to significantly increase," Epstein said. "The TV deal is really the magic bullet there, the paradigm-shifter that's going to put us in a whole new level."
Yes, the money from a new TV deal. You've heard this before.
The WGN portion of the Cubs deal is up, but six months before the next season begins, the Cubs don't have a partner for those 70-or-so games. Someone will air those games next season, but the real money, those billion-dollar deals you hear about in other cities, likely won't start until the 2020 season, after the Comcast SportsNet Chicago deal expires.
Now, excessive money isn't the key to winning a World Series. Not anymore, as national-TV money, not to mention digital- and local-media rights, have made the small-market teams capable of keeping their free agents and adding veterans. But money does allow the Epsteins of the world to take chances and add talent without giving up prospects, who balance the books with cheaper contracts. While the Cubs love talking about their young players, you don't win in the playoffs without some veterans. And free-agent veterans cost money, often more than they're worth.
So is Epstein, who hates being a salesman, wrong for continually mentioning the TV money, when it could be five years away? I had to ask him. The answer's pretty long, so maybe you should sit down or charge your phone.
"Yeah, I only talk about it when asked -- first of all, I try to talk more about players and things like that," he said. "You know, first of all, there's always a chance it comes earlier. You can strike a deal tomorrow if things align that way, and you can get a signing deal up front and that can change the game for us.
"Even if you don't, even if we wait until the end, we can plan for it. You can sign longer-term deals knowing where that money is going to come from. I'm not necessarily saying that we necessarily should backload contracts, because that's not obviously the best policy, but it's just knowing the money is going to be there. It changes the lens through which you view every transaction. So if you know there's a significant, elite payroll coming, even if it's not here today, that just puts you in an aggressive posture. You can start taking on high-salary players and trades from other organizations that maybe can't afford them. Every free agent is all of a sudden on the board. You can look at multiples in a given offseason. You can look at your young players and realize you can sign them all."
He added that it's "reasonable" to "expect a really nice windfall" from that final TV deal.
Now, that's a great answer that provides a little clarity to the situation. I guess Epstein's not shorting the so-called cable TV bubble. Given the intransigence of the Cubs' business side in most matters of money, I'm betting on a Dodgers-type situation, in which the Cubs get their network and get their money but half the city can't get the games until a deal is struck. But I'm a cynic.
When it comes to televised games next season, I asked, will the Cubs consider putting in a picture-in-picture feature for phenom Bryant, who is almost guaranteed to be in Triple-A for a few weeks due to the wonky business of baseball rules? That will be the main "Cubby" storyline from Cubs Convention through the beginning of the season, particularly if the Cubs struggle out of the gate.
"I'm not as concerned about the start date as I am about the impact that he can make," Epstein said. "He's in the position, and I told him this, where he can impact our 2015 season. Whether it happens from Opening Day or not, that remains to be seen. There are a lot of factors involved, from team-building to roster flexibility and things of that nature. I think he's in position to impact our season next year, in the big picture."
The big picture is coming into focus. Soon, Epstein won't be the biggest star in the organization. He'll never fade into the background, but I'm guessing he'll gladly cede the spotlight to players such as Rizzo, Bryant, Arrieta and Soler.
Until that happens, he's still the Baseball Man, selling hope to a big small town.