December, 27, 2014
Dec 27
1:48
PM CT
ESPN.com news services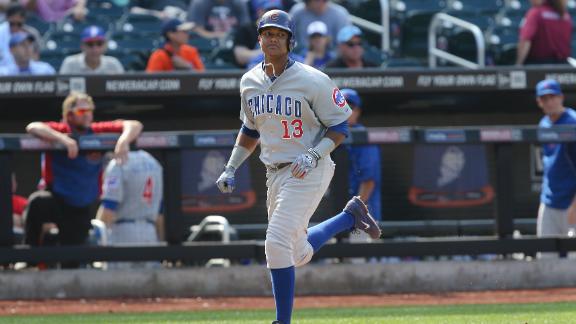 Chicago Cubs shortstop Starlin Castro was questioned by police in the Dominican Republic in connection with a shooting at a nightclub early Saturday morning that left six people injured, including one in serious condition.
Jacobo Mateo Moquete, spokesman for the Dominican National Police, said that Castro was questioned at the prosecutor's office in Monte Cristi. Moquete said that police believe people close to Castro participated in the shooting. He said police searched Castro's house and that the investigation is ongoing.
Castro's agent, Paul Kinzer, told ESPN.com that Castro talked to police voluntarily and that authorities have video showing Castro was not involved, though he "may" have known some of the people involved.
Police are investigating allegations that the shooting occurred after an argument between Castro's brother and the assistant of a government official.
Earlier this month, Kinzer told CBSChicago.com that Castro had been cleared by officials for any involvement at a shooting at a nightclub in Santo Domingo, after police reportedly sought to question him about that incident.
"It's just they keep dragging his name into this and he had nothing to do with either incident," Kinzer said.
Kinzer said Castro had spoken with the Cubs and "they aren't happy his name is involved" again. The 24-year-old Castro hit .292 with 14 homers and 65 RBIs in 134 games last season.
ESPNdeportes.com's Enrique Rojas, ESPNChicago.com's Jesse Rogers and The Associated Press contributed to this report.
December, 23, 2014
Dec 23
3:19
PM CT
By ESPNChicago.com
ESPNChicago.com

The
Chicago Cubs
claimed left-handed pitcher
Mike Kickham
off waivers from the
San Francisco Giants
on Tuesday.
The Cubs waived two players they had recently acquired and they were claimed by other teams -- catcher
Ryan Lavarnway
by Baltimore and first baseman
Shane Peterson
by Milwaukee. The Cubs recently had claimed both players on Dec. 19.
Kickham, 26, made his major league debut with the Giants in 2013, and has pitched in 14 games (three starts) in parts of the last two seasons for San Francisco, going 0-3 with a 10.98 ERA.
He spent the majority of 2014 with Triple-A Fresno, going 8-8 with a 4.43 ERA in 27 starts, including a 12-start stretch starting in late May in which he went 6-0 with a 2.74 ERA. His 131 strikeouts ranked fourth in the Pacific Coast League. He is 31-35 with a 3.97 ERA in 99 career minor league games, all but four as a starter, since he was selected by the Giants in the sixth round of the 2010 Draft.
December, 19, 2014
Dec 19
8:38
PM CT
Associated Press
MINNEAPOLIS -- The Minnesota Twins have hired former Chicago Cubs manager Mike Quade to run their top farm team.
The Twins announced their 2015 minor league staff assignments Friday, with Quade joining the organization for the first time. He'll be the manager at Triple-A Rochester. Quade took charge of the Cubs late in the 2010 season and managed them again in 2011.
Doug Mientkiewicz, who was a candidate for the major league manager job that went to Paul Molitor, was moved up a level to manage Double-A Chattanooga. Jeff Smith took Mientkiewicz's manager post with Class A Fort Myers, and Jake Mauer was slated to manage Class A Cedar Rapids for the third straight season.
Ray Smith and Ramon Borrego will manage the rookie level teams in Tennessee and Florida, respectively.
December, 19, 2014
Dec 19
4:44
PM CT
ESPN.com news services
[+] Enlarge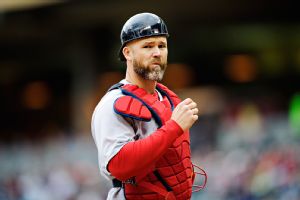 Hannah Foslien/Getty ImagesDavid Ross helped the Red Sox win a World Series title in 2013.
Free-agent catcher David Ross has agreed to a deal with the Chicago Cubs, he told ESPN Boston's Gordon Edes via text message.
The deal is for two years and $5 million, a source told ESPN Chicago's Jesse Rogers.
Fox Sports earlier reported the deal.
Ross, 37, will join recently signed left-hander Jon Lester in Chicago. He was Lester's catcher for 18 games last season with the Boston Red Sox and 29 games over the past two years.
Lester had a 2.02 ERA with Ross catching in 2014 and a 2.77 ERA overall in those 29 games.
Lester has had some of his best success recently with Ross behind the plate, and the two would bring championship experience, as they helped the Red Sox to a title in 2013.
Ross made $3.1 million last season, so he is an affordable option while the Cubs groom 2014 first-round pick Kyle Schwarber.
Ross hit .184 with seven home runs and 15 RBIs in 50 games last season for Boston.
December, 19, 2014
Dec 19
2:33
PM CT
CHICAGO -- The
Chicago Cubs
claimed two players off waivers Friday, including former Red Sox catcher
Ryan Lavarnway
and
Oakland Athletics
first baseman/outfielder
Shane Peterson
.
Lavarnway, 27, was drafted in the sixth round in 2008 by the Red Sox while Cubs president Theo Epstein was the general manager in Boston. The right-hander appeared in 9 games for them last season before being designated for assignment in late November and picked up by the
Los Angeles Dodgers
. Lavarnway has appeared in 97 career games compiling a .201 batting average with five home runs.
Lavarnway's addition may bolster speculation that Cubs catcher
Welington Castillo
could be on the move before next season begins. The team recently traded for lefty
Miguel Montero
of the
Arizona Diamondbacks
, pushing Castillo into a back-up role. Epstein indicated at the winter meetings that teams were calling to inquire about Castillo almost immediately after the Montero trade. Industry sources believe Castillo is worth more to the team on the open market than as the Cubs back-up.
Peterson, 26, hit .308 in Triple-A for Oakland last season after originally being drafted in the second round in 2008 by the
St. Louis Cardinals
. Peterson has appeared in two career games in the majors.
To make room for both players on the Cubs 40-man roster, the team designated infielder
Logan Watkins
and pitcher
Donn Roach
for assignment. Both players may have become expendable when the Cubs picked up infielder
Tommy La Stella
from the
Atlanta Braves
earlier this offseason and then signed reliever
Jason Motte
on Friday.
It's unclear what the move for Lavarnway means in terms of the Cubs pursuit for more catching. He could be insurance in case the Cubs move Castillo and are unable to sign a more seasoned veteran like
David Ross
. Sources indicate the Cubs have inquired about the former Red Sox catcher.
December, 19, 2014
Dec 19
11:26
AM CT
CHICAGO -- The
Chicago Cubs
announced the signing of right handed reliever
Jason Motte
to a one-year deal Friday. Motte, 32, has 54 saves in six major league seasons, all with the
St. Louis Cardinals
.
The signing had been rumored for several days as Motte will provide some back end help to the Cubs bullpen. The deal is for $4.5 million with incentives related to closing games, according to a source familiar with the situation.
Hector Rondon
is currently the Cubs' closer. He saved 29 games last season, his first in that role.
Motte had 42 saves in 2012 but missed the 2013 season after undergoing Tommy John surgery. He appeared in 29 games last season, going 1-0 with a 4.68 ERA.
December, 19, 2014
Dec 19
9:00
AM CT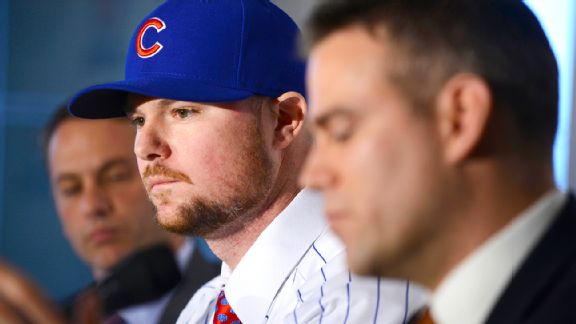 AP Photo/Paul BeatyJon Lester is the ace the Cubs needed, but playoff talk might still be premature.
CHICAGO – Before a break for the holidays, I feel the need to rain on everyone's parade. Specifically, the parade
Chicago Cubs
fans are planning down Michigan Avenue next October.
That might be overstating the case, but the fact remains: People are expecting way too much of the Cubs in 2015. So think of this as a public service, because lowering your expectations might make for a happier New Year and a little more understanding when things go down the way they do next summer at Wrigley Field.
Yes, the additions the Cubs have made so far -- highlighted by pitcher
Jon Lester
-- are impressive and were much needed. They obviously have improved the team, but it hardly puts the Cubs over the top. Chicago's World Series odds went from 50-1 before Lester signed to 12-1 after, according to Bovada.com.
Really?
The Cubs have the same odds to win the World Series as the veteran-laden
Detroit Tigers
, and actually have better odds than the
St. Louis Cardinals
. That's right. Las Vegas thinks the team that won a World Series in 2011, lost one in 2013 and has been to the playoffs the past four years has less of a chance than the team that last won it all in 1908.
That's beyond absurd.
Now, odds are a reflection of the betting public, which only drives my point home even more: Cubs fans aren't always realistic. I think I'm putting that mildly. When I receive tweets (
@ESPNChiCubs
) that say "the Cubs will win 85-90 games, easily," I can only cringe. It's the "easily" part that gets me. Nothing will be easy for the Cubs if they can get to that win plateau. It will be a near-miracle.

I've said from the beginning of the offseason that the Cubs could only top out around .500 next season. It doesn't matter that they added Joe Maddon, Lester or
Jason Hammel
. It doesn't matter that
Javier Baez
,
Arismendy Alcantara
and
Jorge Soler
already have had their first tastes of the big leagues. This team simply isn't ready. And that's all right. Next season will be a great stepping-stone year for Maddon to learn his team and for the front office to figure out which of its young players is for real. Take a step back with me -- and if you're one of those fans who wants to throw his or her computer or tablet or phone right about now, try to look at it from a different angle.
Unless things change between now and April, the Cubs will be starting four rookies. I don't care if some don't qualify for the Rookie of the Year award because of their at-bats last season -- if you haven't played a full season in the big leagues you're still a rookie in my book. So that's four rookies -- Alcantara, Baez, Soler and
Kris Bryant
-- out of eight everyday players. And Bryant won't even start the season in the major leagues. According to ESPN Stats & Information, the last time a team made the playoffs playing four rookies was the 2005
Atlanta Braves
. So it's been a decade, but even that comes with a caveat: Not one of those rookies --
Wilson Betemit
, Jeff Francoeur,
Kelly Johnson
or Ryan Langerhans -- had more than 373 plate appearances. So it's not as if the Braves were counting on them to start every game, as the Cubs will more than likely do with their rookies. And they should: Let's see what they're made of, but let's not assume they are going to take this offense to new heights. Not in one season.
[+] Enlarge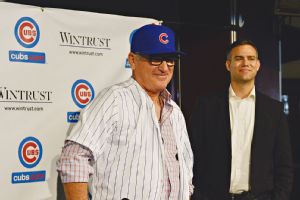 Matt Marton/USA TODAY SportsJoe Maddon's 2014 Rays team looked better on paper than do his 2015 Cubs, yet managed just 77 wins in a down AL East.
And those playing alongside those four rookies aren't exactly all seasoned veterans. Yes, the addition of Lester helps in terms of contending-type experience, but the Cubs were the youngest team in the majors on the day the 2014 season ended. According to the Elias Sports Bureau, their average age was 27 years, 50 days. The last team to make the postseason about that young was the 1970
Cincinnati Reds
. Yes, the beginnings of the Big Red Machine was the last time a team as young as these Cubs played October baseball. Maybe you think the Cubs are that kind of team as well. Or maybe the point will be moot if or when the Cubs sign or trade for another veteran or two this offseason. Still, that won't change the overall average age of the team that much, and won't affect the age of the core group anyway.
The odds are simply against the Cubs turning this all the way around in 2015. As I've stated in this blog, and on the radio several times, the irony is that the offense is a bigger question mark than pitching, though until a week or so ago the Cubs barely had a major league starting staff. They do now. There's plenty of good pitching to be had -- the Cubs picked up a No. 1 starter and a No. 3 this offseason already. They'll pick up more next winter. That's not going to be the issue.
The simple question for this team is when will its on-base percentage increase from the bottom of the league? That's everything you need to know right there. It was lousy again in 2014, ranking 28th out of 30 teams at .300. Add in that they led the league in strikeouts, and the Cubs are making it way too easy on opposing pitchers. Make no mistake, they need to reverse those rankings before we can call the Cubs contenders for anything. OK, maybe they can live with the strikeouts, as that's become the norm in baseball, but the importance of getting on base hasn't changed. And the Cubs are nowhere near good enough in that department. Not yet.
Before you can get the sentence "Bryant and Soler will be here for a full year so that will improve their OBP" out of your mouth, so will Baez and Alcantara, and using rookies to prove your point usually isn't a good idea. Actually, the addition of
Miguel Montero
behind the plate might help more than anyone. He got on base nearly 33 percent of the time in 2014, and that was considered an off-year.
And while you can hope the Cubs' young bullpen is as good as it was last season, hoping and expecting are two different things.
Hector Rondon
was incredible at finishing games, but let's be honest, if he couldn't handle it a second time around, you wouldn't be shocked. Bullpens are volatile by nature anyway. Maybe that's why veteran
Jason Motte
was brought in, for some insurance. Even he isn't a sure thing. Of course, no one is. And I don't want that to be the lasting point of this blog. I can make a "glass-is-half-empty" argument all day long because that's the nature of baseball, but I only want to deal in what is realistic.
I say all this as someone who absolutely believes Bryant is a can't-miss player and thinks starter
Kyle Hendricks
is for real. Not everyone does. But being "can't-miss" or "for real" doesn't mean it's all going to come in Year 1 (though I'm guessing I'll predict Bryant to win Rookie of the Year come April).
Baseball is a funny game. Weird things do happen. This is a sport that can see the
Boston Red Sox
go from worst to first back to worst again as they did from 2012-2014. But it can also be fairly predictable. Everyone knew the Cardinals and the Tigers, for example, had good teams, and they subsequently proved that through 162 games last season. Then again, no one knew for sure -- though they had talent -- that either the
Kansas City Royals
or
Los Angeles Angels
would be in the postseason, and they both made it. Sometimes it goes as planned, and sometimes it doesn't.
But there's no better example of the unpredictability of it all than last season's
Tampa Bay Rays
, with the Cubs' now very own Maddon at the helm. With a great starting staff and an experienced team, the Rays got off to a horrid start in a down division. They made a late run but never really challenged, finishing 77-85. Was that Rays team -- on paper -- worse than the Cubs are heading into 2015? Not likely. Tampa's rotation last spring included
David Price
,
Alex Cobb
,
Matt Moore
and
Chris Archer
. And it failed. Miserably. Don't just assume Maddon translates to 10 more wins right away in Chicago.
So as with anything, I could be totally wrong about the Cubs, but this is about expectations -- not who is right and who is wrong. Manage your expectations. Hope for .500, and if the Cubs shoot past it, be pleasantly surprised. No one should be shocked if they don't make the playoffs and no one should think the plan is a disaster if they win only 74 games next year. I've heard the argument that the Cubs won 73 last year with a subpar manager and without the additions they've made recently, and without Bryant, so next year they should be 10-to-12 games better. It's not always linear like that -- not with a young team. I could make the argument that in signing Lester and Hammel they've simply replaced
Jeff Samardzija
and Hammel himself from last season. No one pitched better than Samardzija in the first half last year, and the Cubs had nothing to show for it.
The bottom line is the Cubs are a little better than they were to start last season. They have a decent starting staff with an unknown offense. Yes, the names are different and certainly more talented on paper, but much of it is still unknown. And no matter what, you can't argue with their ages. That's a fact. Maybe it gets them to .500, or maybe they take off in the second half and hit 85 wins or more.
Just don't count on it.
December, 18, 2014
Dec 18
12:46
PM CT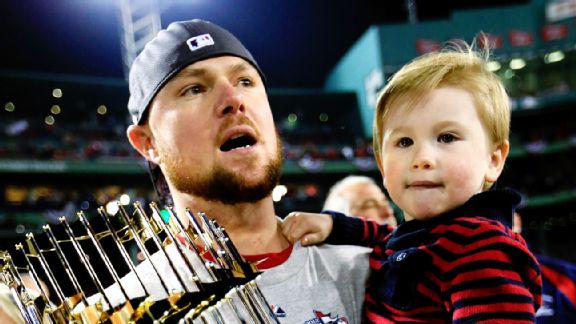 Jamie Squire/Getty ImagesJon Lester knows all about curses -- and breaking them -- from his time in Boston.
CHICAGO -- One thing about coming from the
Boston Red Sox
to work for the
Chicago Cubs
is already being aware of "curses" and long championship droughts. And also being well aware of what winning -- after such a long time of losing -- can mean to an organization and city.
"I don't think you could ever prepare yourself for that one, for the curse being broken," new Cubs pitcher
Jon Lester
told the Carmen and Jurko show on ESPN 1000 on Thursday. "Just because it's such unbelievable magnitude. I don't think people really understand how it affects everybody. If you're a Cubs fan, a Cubs player, whether you're a starting pitcher in Game 7 or you're the (Class) A ball pitcher that didn't have a really good year, it affects every person in a different way. I don't think you can be prepared entirely for that."
Before 2004 the Red Sox hadn't won the World Series in 86 years and the "curse of the Bambino" was as part of the organization's fabric as much as Fenway Park. The Cubs have a longer drought -- 106 years -- and the "curse of the Billy Goat" as part of their history, so Lester feels like he already understands some things, though he wasn't on the 2004 Red Sox team having just been drafted in 2002. But he felt the weight of the 86 years like any other player in the organization.
"As far as the curse and all that, just kind of being part of one that was broken, some of the things I heard from guys that played on that team, you basically make your own curse," Lester explained. "You get to that point where you're waiting for that bad thing to happen, and if you don't allow it to happen and continue to push forward and continue to grind ... then you don't allow those little things to affect you as far as a curse."
Waiting for that bad thing to happen. Truer words could not have been spoken about the Cubs. See Bartman/Gonzalez, circa 2003, for recent evidence. Lester isn't the only former employee of the Red Sox to express an understanding of what it means to finally win a championship after so long. Theo Epstein and Jed Hoyer both have expressed the same understanding of that emotional tie the Cubs have with its generations of fans. The Red Sox had it as well.
So it sounds like Lester knows what he's getting into. At least he thinks he does.
"I've said it before, my expectations for myself are definitely higher than what anyone else can put on me," he said. "I have to go out there and do my job the best I can, and if we're meant to win we're meant to win."
December, 17, 2014
Dec 17
12:27
PM CT
CHICAGO -- The
Chicago Cubs
traded outfielder
Justin Ruggiano
to the
Seattle Mariners
for minor league pitcher Matt Brazis, the team announced Wednesday.
Brazis, 25, is 8-6 with a 2.89 ERA in 100 minor league relief appearances since being drafted in the 28th round by Seattle in 2012. He finished last season at Double-A and struck out 84 while walking only 18 in 72 innings pitched last year.
In the short term the move opens a 40-man roster spot for pitcher
Jason Motte
, who agreed to terms with the Cubs this week, though they haven't made the signing official yet. In the longer term the Cubs now have a need for a right-handed hitter who could share time in left field with
Chris Coghlan
.
A trade for an impact player like
Justin Upton
of the
Atlanta Braves
is unlikely, which leaves the Cubs filling the need with a role player.
Jonny Gomes
has drawn interest and the Ruggiano move could pave the way for his signing. The Cubs want leadership in the clubhouse and Gomes has a history with new manager Joe Maddon, having played for him after Maddon took over the
Tampa Bay Rays
in 2006. Gomes won a World Series ring with the
Boston Red Sox
in 2013.
The Cubs still have righties
Junior Lake
and
Matt Szczur
on their 40-man roster, but the front office has expressed a need for veteran leadership which would come from outside the organization at this point.
December, 17, 2014
Dec 17
11:58
AM CT
Associated Press
[+] Enlarge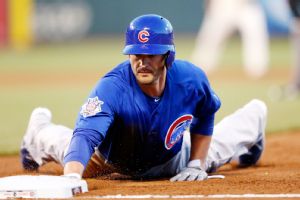 Bob Stanton/USA TODAY SportsJustin Ruggiano hit .281 with six homers and 28 RBIs in 81 games last season for the Cubs.
SEATTLE -- The priority for general manager Jack Zduriencik and manager Lloyd McClendon was to add a pair of right-handed hitters and a starting pitcher for the Seattle Mariners this offseason.
Seattle gained the second right-handed bat it sought on Wednesday, acquiring Justin Ruggiano from the Chicago Cubs for minor league pitcher Matt Brazis.
While the acquisition of Ruggiano is not close to the same scale of the signing of slugger Nelson Cruz this month, it fulfills Seattle's need to find a right fielder that has strong career numbers against left-handed pitching.
"This is an addition we had talked about for a while," Zduriencik said.
Ruggiano appeared in 81 games last season for the Cubs, hitting .281 with six home runs and 28 RBIs but was slowed by two stints on the disabled list, including season-ending ankle surgery to remove bone spurs. Ruggiano said he finished his rehabilitation on his ankle about three weeks ago.
He's shown glimpses of power and hitting for average during two seasons in Miami. In 2012, Ruggiano batted .313 with 13 homers, a year after hitting a career-best 18 home runs in 128 games.
December, 16, 2014
Dec 16
3:07
PM CT
CHICAGO -- Alright, now that the
Chicago Cubs
have their ace in
Jon Lester
, let's take a look at three other pending issues, as it's been a busy couple weeks:
Cubs sign reliever Jason Motte
It's not a surprise the Cubs signed a veteran reliever. They've forecasted the move throughout the offseason. It's definitely interesting that the righty Motte signs with incentives to close games. But that makes sense too. It would be silly to think a very young bullpen would return and all would succeed again.
Hector Rondon
was about as likely to close games going into 2014 as anyone on the team. The Cubs should move forward like that's still the case, though he earned 29 saves in 34 chances. Motte saved 42 for the
St. Louis Cardinals
in 2012 and was a big part of their championship team in 2011. Usually 42 saves gets a player about $10 million these days. However, Motte missed 2013 with an elbow injury. But the Cubs saw enough in 29 games in 2014 to offer him a $4.5 million deal. If he closes a lot of games, it's a steal. If Rondon maintains the job then Motte is still a good, veteran presence in the bullpen. The Cubs may have finished off the details to that signing after Jon Lester's press conference Monday since Lester and Motte employ the same agents.
What to do with Welington Castillo?
Speaking of agents, Castillo also employs ACES along with Motte and Lester. Maybe they talked trades Monday, because moving the former starter is the best course for the Cubs considering they acquired a $40 million catcher in left-handed hitting
Miguel Montero
recently. If the Cubs were on the verge of a World Series-type season, then having two starting-type catchers -- one righty and one lefty -- makes a lot of sense. But Castillo is more valuable as a trade commodity right now then as a backup. He won't play that much anyway as the Central division has only one lefty starter in
Francisco Liriano
of the
Pittsburgh Pirates
. You would imagine Montero gets almost all the starts against righties. More than anything, a trade opens the door for a potential
David Ross
signing. The Cubs like his leadership -- don't overlook this aspect -- and for a young team he makes a ton of sense. Plus, he can play about once a week as Lester's personal catcher, as he did in Boston. But again, he's a glue guy that Joe Maddon and the Cubs front office would like.
Travis Wood/Lefty bullpen
Is Wood the Cubs' fourth or even fifth starter right now? The Cubs have a bunch of lefties who have experience starting games, including
Tsuyoshi Wada
and
Felix Doubront
. Wood has more on his resume than those guys -- which means he could fetch more in a trade as well. This one could go either way. If they open a rotation spot, it gives Doubront,
Jacob Turner
,
Eric Jokisch
and a few others a chance to compete. Otherwise the rotation is set with Lester,
Jake Arrieta
,
Jason Hammel
,
Kyle Hendricks
and Wood. The Cubs have repeated the notion that you can never have enough starters, so maybe that's the way they go. Theo Epstein said on Monday that the lefty or two that loses the competition for a starting spot could go to the bullpen since the Cubs don't have a legit veteran there. They picked up Joseph Ortiz from Texas this offseason, and youngster
Zac Rosscup
is the closest they have to a lefty specialist -- he struck out 13 of 30 lefties last season. He might get the job.
December, 16, 2014
Dec 16
2:38
PM CT
The Texas Rangers announced the signing of right-handed reliever Kyuji Fujikawa on Tuesday to a one-year deal with a club option for 2016.
Fujikawa will receive a base salary of $1.1 million with the opportunity to earn incentives. The deal will become official once the Rangers clear a spot on their 40-man roster.
Fujikawa, 34, spent two seasons with the Chicago Cubs, compiling a 5.04 ERA in 27 appearances. He underwent Tommy John surgery in the summer of 2013 and missed 14 months. He returned toward the end of the 2014 season and pitched in 15 games.
He was signed by the Cubs as a hard-throwing reliever out of Japan. He spent 12 seasons with the Hanshin Tigers of the Nippon Professional Baseball Central League, where he saved 220 games.
Fujikawa was expected to become the Cubs' closer, but that didn't happen mainly due to his injury. The Cubs had a team option for the 2015 season but declined to pick it up.
With the Rangers, Fujikawa is expected to become a one-inning setup man for closer Neftali Feliz.
The Rangers also signed infielder Tommy Field to a minor league contract with an invitation to spring training with the big club.
December, 15, 2014
Dec 15
7:58
PM CT

By Jon Greenberg
ESPNChicago.com
Archive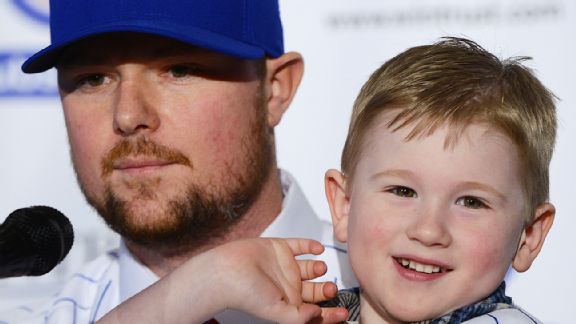 AP Photo/Paul Beaty"That's the biggest thing for us" with Jon Lester, Theo Epstein said -- "the comfort level."
CHICAGO -- For the rest of his career,
Jon Lester
's name will be synonymous with his contract.
As in, "Jon Lester, who signed a $155 million deal in 2014 ... "
When you're Lester, who agreed last week to a six-year, $155 million contract with the
Chicago Cubs
, that's what happens.
Poor guy, right? If we all had those kinds of problems on our shoulders. I'd take that kind of stress for several fewer zeroes.
But being the $155 million ace for the Cubs is real pressure, and there are outsize expectations that come with such a grandiose amount of money -- and those aren't imaginary. Being the face of the much-touted rebuilding process only adds more layers.
For all the talk about the "new" Cubs, the organization has made this season -- and the ensuing ones -- an all-or-nothing chase for a World Series, or, as Cubs president Theo Epstein put it Monday, "the single greatest pursuit left in sports." When you dump three seasons to build up from the studs, there is an expected payoff.
So Lester has to be a $155 million pitcher, a $20 million-plus-per-year pitcher. Some guys can't handle that. Some think they can, but they can't.
Lester, a serious man with a serious mien, doesn't seem to be worried.
"I played in Boston for eight years," he said at his introductory news conference at the Spiaggia restaurant on North Michigan Avenue on Monday afternoon. "I think I'm pretty prepared for a lot of things. You just have to accept it. I can't change it now. It's obviously next to my name, it'll always be next to my name, whether it's a good start or bad start. It's how I go about my work. I just have to believe I'm going to be prepared for every start, and that's all I can control."
Lester has won two World Series rings, but that's in the past. He's in Chicago now, where people expect the worst and always, always follow the money. But Epstein and general manager Jed Hoyer go way back with Lester from their Boston days.
[+] Enlarge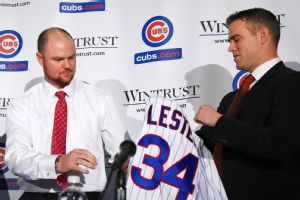 David Banks/Getty Images"I like to win," new Cubs ace Jon Lester said. "People who know me know I'm not very happy when we lose or I lose."
"There won't be any surprises," Epstein said. "That's the biggest thing for us, with the comfort level. Sooner or later, someone was going to have to put their trust in us, we were going to have to put our trust in someone. To do it with someone you know well, there won't be any surprises off the field, there won't be any surprises in the clubhouse, there won't be surprises on the field. He is who he says he is."
That's a sentence that stuck with me.
He is who he says he is.
"I like to win," Lester said. "People who know me know I'm not very happy when we lose or I lose."
Lester said Epstein and Hoyer convinced him the Cubs were ready to win in 2015, which has been the new organizational mantra since the end of the 2014 season. I agree, if winning means 82 games. But I like the attitude, and if you want someone to project you're for real, Lester is the guy.
Lester said he enjoys talking to teammates about former teams. He talked to
Jeff Samardzija
in Oakland about the Cubs' ascent, and said Ryan Dempster, a former Boston teammate now working as special advisor to Epstein, gave it to him straight.
What did he ask Samardzija?
"If everything I was hearing was true, as far as about winning," he said. "Are these guys close? That was my question to Jeff. Are they close? Are they there?"
Obviously, Lester said, the answer was a good one.
When you ask Epstein about the lefty, he ticks off words like "serious" and "driven" to illustrate his character.
"He's at his best in the most important moments, I think because he's so driven and focused and not swayed by outside variables like pressure or tension, things of that nature," Epstein said.
But it's not just about character. No one signs a pitcher and calls him a flake or a doofus. It's about talent. Can Lester, who had a fantastic contract year for Boston and Oakland last season, maintain his level of performance through his 30s?
"He's really, really good," Epstein said. "Let's start with that as a baseline."
But he also will be 31 when he throws his first pitch as a Cub. The Cubs are in fantastic financial shape, with a slew of young, cost-controlled hitters with the team or in the minor leagues. Still, $155 million is $155 million.
Did I mention his deal is $155 million?
Throughout the past couple months, Epstein has described free-agency chases of this magnitude as a high-stakes game of poker, not for "the faint of heart." But as would any professional gambler, the Cubs crunched the numbers. They know the percentages and think they will work out in their favor.
Lester did his research, and so did the Cubs.
"Historically, nine-figure deals for starting pitchers in their 30s haven't worked out," Epstein said. "So you're looking for ways to make the best bet in an inherently risky endeavor. There are a lot of mitigating factors in there, but I'm not going to say it's without risk, because it's not without risk. Contracts like this always carry risk. Jon, we've been around him since he's 18. So I know exactly what shoulder program he's been on since he was 18. I know how well he's executed that shoulder program, how diligent he was. I know what his MRIs look like.
"He's left-handed, and left-handed pitchers tend to perform better throughout their contracts than right-handed pitchers," Epstein continued. "He's got the right kind of pitch mix that will allow him to age gracefully. He doesn't get hitters out just one way, especially now that his curveball is back in the mix, where he's working both sides of the plate. The cutter is a weapon that ages very well. If you look at Andy Pettitte, he aged extremely well through his 30s. He's a reasonable [comparison]. The second half of Jon Lester's career you want to look like Andy Pettitte."
When people talk about the next stage of using advanced analytics to predict performance, it's all about forecasting health, specifically pitching health.
"There's a lot of time and money spent to figure out a way to keep a pitcher 5 percent healthier," Epstein said. "That could mean tens of millions of dollars."
The Cubs made their bet on Lester staying healthy, and he made his bet on them being able to win. Is he the right man for the job? At $155 million, he better be.