August, 22, 2014
Aug 22
6:22
PM CT
CHICAGO – At this rate,
Chicago Cubs
infielder
Javier Baez
may never hit a home run in Wrigley Field. As for landing a few outside the Friendly Confines, well, he's got that part down.
"You want to see every one of that kid's at-bats," starter
Jake Arrieta
said after Baez hit a ball onto the street beyond the left field bleachers on Friday. "I don't know if many of his home runs will touch seats here, honestly."
[+] Enlarge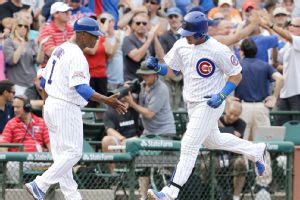 AP Photo/Nam Y. HuhJavier Baez hit a tape-measure home run onto Waveland Ave. against the Orioles.
It was Baez's second career home run at home and second to leave the park entirely. This one came on a 3-2 pitch in the fifth inning of a 4-1 win over the first-place
Baltimore Orioles
. The ball hugged the left-field foul line before leaving the stadium.
"I hit it pretty good," Baez said afterward. "I didn't know if it was going to be fair or foul."
He hit it so far that ESPN Stats and Information still doesn't have a distance on it. His first one went 432 feet. There will be many more tape-measure home runs before Baez's career is over.
"It's starting to get to the point, even though it's early in his career, that nothing really surprises me with what he does at the plate," Arrieta said. "Everyone knows if he connects with that swing he's going to hit it a long way."
Baez continues to strike out at a high rate – he whiffed four times Thursday but just once Friday – but he's just fine with it. You have to take the good with the bad.
"I'm not afraid to strike out," Baez said. "I'm going to keep swinging the bat."
But that doesn't mean he's not going to work at it. After a rough game the day before, Baez went to the coaches to work on some things.
"The guy (on Thursday) threw me all fastballs … up in the zone," Baez explained. "I asked them to get the machine and hit fastballs early today (Friday). I get mad at myself because I'm swinging at bad pitches."
The extra work paid off in the form of his sixth home run of the season and second to leave the stadium. It won't be the last.
August, 22, 2014
Aug 22
5:57
PM CT
CHICAGO – It's the trade that might go down as one of the best in
Chicago Cubs
history if
Jake Arrieta
and
Pedro Strop
keep pitching like they did Friday in helping their current team beat their former one, 4-1.
"At the beginning it was a little weird," Strop said of his eighth-inning appearance against the
Baltimore Orioles
.
[+] Enlarge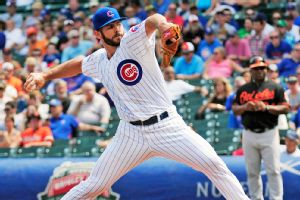 David Banks/Getty ImagesJake Arrieta turned in another solid effort against his former team to improve to 7-4 with a 2.53 ERA this season.
Strop got in and then out of trouble to help preserve the victory for the other former Oriole, Arrieta. As he has so many times this season, Arrieta was dominant, lasting seven innings while giving up just one run, a solo blast by the league leader,
Nelson Cruz
.
"Phenomenal seven innings of work," manager Rick Renteria said.
Arrieta came to Chicago with Strop last July for pitcher
Scott Feldman
, who has since moved on to Houston. An inconsistent pitcher with a great arm who had struggled in the spotlight, Arrieta has blossomed into an ace. He took down a dangerous Orioles lineup -- many of them his friends.
"You think about it all the time," Arrieta said of his time in Baltimore. "It's part of my development. Those years are very important to me for a lot of reasons."
That development has led him to this point: a 2.53 ERA in 20 starts this season after Friday's effort. He's 11-6 as a Cub after going 20-25 as an Oriole.
"Making adjustments on the fly, that might be the biggest (difference)," Arrieta said. "That's something that I wasn't able to do frequently enough in Baltimore. I'm getting to the point where it's becoming second nature for me, so it feels good."
It's also becoming second nature for Arrieta to mow down opposing teams early in games. Once again he flew through the first few innings without giving up a baserunner. This time he retired the first 13 batters he faced.
"(He's) just being more consistent," Strop said of his teammate both in Baltimore and Chicago. "He's been focused on whatever he needs to do."
The first-place Orioles are doing just fine without Arrieta and Strop, but where would the Cubs be without them right now? If the Feldman trade hadn't worked out there would be a big hole in the pitching staff. But the Cubs did their homework and now have a budding No. 1 pitcher who should be entering his prime, as well as a live arm in the bullpen. Arrieta's spring training was delayed because of shoulder stiffness, but that's long forgotten.
"I don't know if durability has ever been an issue for me," Arrieta said. "I guess I'm starting to show why it's not. It's nice to pitch into games consistently."
And now Arrieta is even starting to learn how to win without his devastating stuff. That would never have happened before. Walks would have ruled the day. He walked one Friday.
"Didn't really have particularly crisp breaking stuff early in the game," Arrieta said. "I recognized that and was able to miss around the zone and not in the zone, which was good."
Arrieta missed down most of the time and wasn't even upset at the one pitch that left the yard, calling it a "pretty good one" to Cruz. His ex-team managed little else.
"There was a little more to it being a former team, but after the first inning it was business as usual," Arrieta said. "It was nice to see those guys."
The feeling may not have been as mutual.
August, 22, 2014
Aug 22
5:49
PM CT
By Richard Bergstrom
ESPNChicago.com
Archive
With a little more than a month left in the season and many division races still not settled, it's not too early to talk about what might have been, what might still could be, and what kinda is what we thought it kinda is ... or was ... or whatever. Just within the last week, we've had two new division leaders and a slew of injuries to reshuffle expectations. Did I mention that the waiver wire deadline hasn't passed yet? Yup, it's a changing landscape, and whoever's doing the painting is keeping the 2014 baseball season a little squiggly.
Feel free to chime in on what you think might happen in the comments section below.
And without further ado -- because if we wait too long, these thoughts might go out of date faster than the Tulowitzki-to-Yankees rumors – on to the best of the SweetSpot Network contributing sites from the past week.
Arizona Diamondbacks: Inside the 'Zona
Roundup: Jackson Trade, Lessons from Saber Seminar:
Ryan P. Morrison examines the D-backs' trade for
Brett Jackson
and discusses a dozen or so nuggets of cutting-edge sabermetrics wisdom from last weekend's Saber Seminar in Boston. Follow on Twitter:
@InsidetheZona
Baltimore Orioles: Camden Depot
Jon Shepherd takes the Ice Bucket Challenge:
Jon Shepherd, whose family has been impacted by ALS, has his take, but highlights the need to secure more long-term funding beyond episodic viral campaigns. Follow on Twitter:
@CamdenDepot
Chicago Cubs: View From The Bleachers
Should the Cubs Pass on Signing an Ace this Offseason?:
As we get closer and closer to the offseason, Joe Aiello wonders whether the Cubs should be looking at a nontraditional route when it comes to building their rotation for next season. Follow on Twitter:
@vftb
Cleveland Indians: It's Pronounced Lajaway
The Evolution (or Devolution) of the Indians Pitching Staff:
Stephanie Liscio takes a humorous month-by-month look at the fans' confidence level in the Tribe's starters. Follow on Twitter:
@StephanieLiscio
Don't Give Up on Tomlin:
Ryan McCrystal analyzes how
Josh Tomlin
has been a victim of bad defense and bad luck in recent weeks. Follow on Twitter:
@TribeFanMcC
Colorado Rockies: Rockies Zingers
Honoring
Todd Helton
: The Colorado Rockies retired Todd Helton's jersey number, the first Rockies player afforded such an honor. Richard Bergstrom reminisces on his career.
Rockies Bloggers Panel Recording 8/16/14:
It was one of the most anticipated panels of the year, filled with bloggers flying into town to commemorate Todd Helton's retirement and a special guest. Members of Rockies Zingers, Purple Row, Rockies Review and Mile High Sports discuss the Rockies injuries and trainers/coaches along with the potential offseason moves. Follow on Twitter:
@RockiesZingers
New York Yankees: It's About The Money
Brian McCann
's
Crazy Reverse Platoon Split:
Brad Vietrogoski attempts to explain the flip-flop of Brian McCann's production against right- and left-handed pitching this season. Follow on Twitter:
@IIATMS
What If: The 1994 World Series:
Domenic Lanza looked at how the '94 Fall Classic could have played out if the Yanks and Expos had stayed on track as the best teams in baseball that year. Follow on Twitter:
@DomenicLanza
St. Louis Cardinals: Fungoes
Cardinals walk off via hit-by-pitch for second time this season:
Jon Jay
helped the Cardinals win their second straight game in their final at-bat Tuesday night when he drew a bases-loaded plunking from Reds reliever
J.J. Hoover
. The Cardinals hadn't had a walk-off hit-by-pitch in more than 25 years, but now -- including
Greg Garcia
back on May 13 -- they've had two in 2014. Pip lists all of the walk-off HBPs over the last 25 years. Follow on Twitter:
@fungoes
San Francisco Giants, West Coast Bias
Giants pursuing Rusney Castillo:
Tim Kennedy delves into the Giants' dealings with Cuban player Rusney Castillo. With the possibility of being a contributor to a major league team in 2014, he could certainly help out a Giants ball club fighting for its life. Follow on Twitter:
@giantsbaseball
Texas Rangers: One Strike Away
The Replacements:
Brandon Land takes a look at the current roster for the Rangers, and why it's unreasonable to have high expectations in a season so rife with injury. Follow on Twitter:
@one_strike_away
August, 22, 2014
Aug 22
4:29
PM CT
Associated Press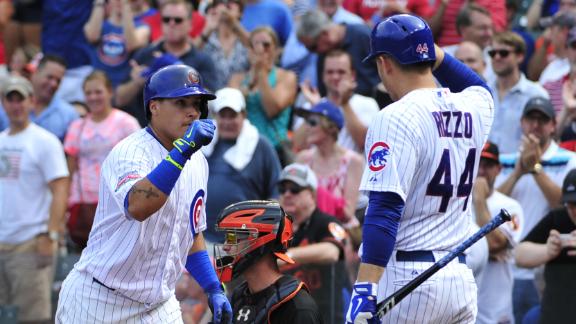 CHICAGO -- Jake Arrieta shut down his former team, holding Baltimore to four hits in seven innings and Javier Baez homered again as the Chicago Cubs beat the Orioles 4-1 on Friday.
Baez hit his sixth homer in his 18th game since getting called up from Triple-A, Luis Valbuena also homered, and Logan Watkins and Arismendy Alcantara each drove in runs with singles as the Cubs snapped AL East leading Baltimore's four-game winning streak.
The Orioles traded Arrieta to Chicago in a multi-player deal during last season.
Baltimore's Nelson Cruz hit his major league-leading 34th homer, a solo shot off Arrieta (7-4) in the seventh.
Baltimore's Kevin Gausman (7-5) allowed three runs on six hits through five innings, He struck out seven.
Hector Rondon pitched a perfect ninth for his 20th save.

August, 22, 2014
Aug 22
4:11
PM CT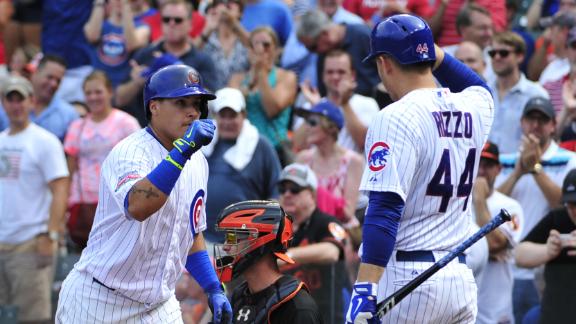 CHICAGO -- Here's a quick look at the
Chicago Cubs
' 4-1 victory over the
Baltimore Orioles
on Friday afternoon:


How it happened:
The Cubs got to Orioles starter
Kevin Gausman
for two runs in the third inning as
Luis Valbuena
tied a career high with his 12th home run of the season and
Logan Watkins
drove in another run with a base hit.
Javier Baez
crushed a ball onto Waveland in the fifth inning for his sixth of the season to extend the lead to 3-0.
Nelson Cruz
hit his 34th home run of the season to break up the shutout in the seventh as
Jake Arrieta
dominated his former team, sending the first 13 batters of the game back to the dugout without reaching. He lasted seven innings giving up just four hits, one walk and the Cruz home run. The Cubs got that run back in the bottom of the inning when
Arismendy Alcantara
drove home
Chris Valaika
with an infield hit after Valaika doubled to lead off the inning.
Hector Rondon
earned his 20th save of the season.
Key play:
With the Cubs leading 2-0 in the fifth inning, right fielder
Ryan Sweeney
threw out
Chris Davis
at home after a
Caleb Joseph
single. The play was reviewed to make sure catcher
John Baker
wasn't blocking the plate in violation of the new rules this season and the call was upheld.
What it means:
Arrieta said he had nothing to prove to his old team but he did anyway. Cruising through the first three innings is becoming the norm. It's taking him very little stress to get through opposing lineups that first time around. His issues actually stem from being in the dugout too long while the Cubs are scoring runs. It happened again in the fifth inning but this time he got out of a jam with some help from Sweeney. His ERA is now 2.53. Baez is doing what Baez does. The strikeouts might pile up one day but then he'll crush a ball the next. The at-bats are still decent when he doesn't swing way outside the zone. Alcantara is actually struggling more right now but that's expected as well. He struck out with a man on third and less than two outs in the third inning but got a run home in the seventh.
Pitching rotation:
Rick Renteria hasn't declared who will take
Edwin Jackson
's spot in the rotation after the right-hander went on the disabled list on Thursday. With an off-day on Monday the Cubs can stay on schedule with
Travis Wood
pitching Tuesday in Cincinnati.
What's next:
Game 2 of the series is at 1:20 p.m. CT Saturday when
Kyle Hendricks
(5-1, 1.48) takes on
Bud Norris
(11-7, 3.69).
August, 22, 2014
Aug 22
2:08
PM CT
ESPNChicago.com
[+] Enlarge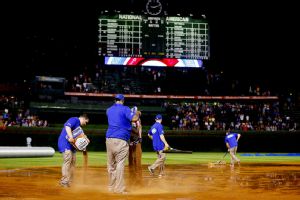 AP Photo/Jeff HaynesThe grounds crew works on the rain-soaked infield at Wrigley Field on Tuesday night.
CHICAGO -- The Chicago Cubs classify their struggles with the infield tarp that resulted in Tuesday's game against the San Francisco Giants being suspended as a "freak thing" rather than a result of the organization cutting costs.
"The budget for grounds crew and maintenance has not been slashed," Cubs spokesman Julian Green told ESPNChicago.com on Friday. "It is true there have been organizational changes to ensure the business operation is running efficiently. That's something every organization does whether you are in sports or corporate America.
"We are not going to make any personnel decisions at the expense of making sure that field is ready for play because that impacts the game itself and it impacts the fan experience."
A sudden downpour of rain hit Wrigley Field with the Cubs leading 2-0 going into the bottom of the fifth inning on Tuesday night. The grounds crew struggled to get the tarp over the infield in time, and despite just 15 minutes of heavy rain, the game was delayed four and a half hours. The game was called and the Cubs awarded the victory only to have the Giants -- just 3½ games behind the Los Angeles Dodgers in the NL West -- protest the decision.
August, 22, 2014
Aug 22
9:58
AM CT
CHICAGO --
Chicago Cubs
starter
Jake Arrieta
didn't necessarily circle his calendar when the schedule came out, but it's safe to say he's pretty excited to face his former team, the
Baltimore Orioles
, on Friday for the first time since being traded to Chicago last season.
"I've thought about it quite a bit," Arrieta said earlier this week. "I'm approaching it the same way as other games."
[+] Enlarge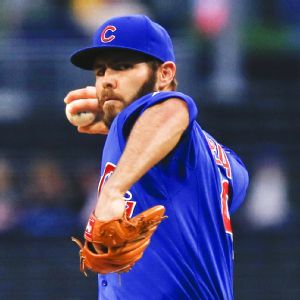 AP Photo/Lenny IgnelziJake Arrieta has allowed three earned runs or fewer in 13 of his past 14 starts.
There's a quiet confidence to Arrieta these days that wasn't around when he was traded to the Cubs in July 2013 along with pitcher
Pedro Strop
for starter
Scott Feldman
and catcher
Steve Clevenger
. Feldman was 5-6 with a 4.27 ERA in 15 starts for the Orioles, who missed the playoffs, but he departed via free agency. The Cubs were left with a blossoming 28-year-old pitcher whose head has seemingly caught up to his arm.
"It's no surprise," Orioles manager Buck Showalter said of Arrieta this week. "Wish him well. I like Jake. It was a good move for both of us."
That's underselling how Arrieta has developed since struggling after being the Orioles' Opening Day starter in 2012. His ERA that season was 6.20 in 24 games, including 18 starts. At the time of his trade to the Cubs, Arrieta sported a 7.23 ERA and a 1.77 WHIP in five starts.
Heading into Friday's start, Arrieta ranks seventh in the National League among regular starters with a 2.61 ERA in 19 starts and has taken over as the Cubs' ace since they traded
Jeff Samardzija
to the
Oakland Athletics
in July.
"I don't think it surprises anybody that Jake and Petey [Strop] have done well, but timing's everything," Showalter said. "I think it was a good move for their career, both of them, and I'm excited that it's worked out for them. I hope it doesn't work out Friday."
More times than not, it has worked out for Arrieta, who has flirted with no-hitters and perfect games this season by using devastating off-speed pitches.
But that wasn't always the case. He couldn't command his stuff in Baltimore, leading to a career-high five walks per nine innings pitched last season. The further he gets from the trade the less Arrieta likes to talk about his struggles in Baltimore where he and former pitching coach Rick Adair didn't see eye-to-eye. It wasn't a hostile relationship, but it didn't bring out the best in Arrieta on the mound.
"There were some things there that inhibited my ability to take that next step," Arrieta said last year. "There were things going on there that kind of restricted me a little bit."
Which means the change of scenery may have been the best thing for him.
"I think it was a factor that helped," Arrieta said. "It was kind of that time."
After struggling in five starts with the Orioles before the trade last season, Arrieta paid immediate dividends for the Cubs, posting a 3.66 ERA and 1.12 WHIP in nine starts. He showed enough to convince the Cubs that he belonged in the 2014 rotation.
After overcoming shoulder stiffness that limited him in spring training and kept him out of the rotation until early May, Arrieta has taken off, becoming one of the most dependable starters in the National League. The difference, according to his catcher, is confidence.
"It's a big difference from last year to this year,"
Welington Castillo
said. "The more important thing he has this year is his confidence. He throws any pitch in any count no matter who's the hitter.
"If he knows there's one pitch is not where he wants it, right away he knows what he's doing bad. He knows what to do mechanically and physically to put the pitch where it needs to be."
Arrieta, who has allowed three earned runs or fewer in 13 of his past 14 starts, says he gets most "amped" about two hours before a start. By the time he takes the mound Friday against some good friends, he thinks he'll have calmed down enough to pitch like he's capable.
"They have a great team," he said. "A really good team. If I execute, I'll be OK. If I don't, I'll get into trouble."
Is there anything to prove to the team that sent him packing?
"I don't look at it that way," Arrieta said. "I like how far I've come. It's happened to a lot of players. They hit the ground running and they take off. I was a candidate for it."
ESPNChicago.com's Doug Padilla and Sahadev Sharma contributed to this report.
August, 22, 2014
Aug 22
12:49
AM CT
CHICAGO --
Travis Wood
isn't following up his breakout 2013 season the way he planned. The
Chicago Cubs
left-hander tossed 200 innings and delivered a solid 3.11 ERA last year, but through 26 starts in 2014, he has seen his ERA climb to 4.91 and his walk rate jump to a career-high 9.7 percent.
[+] Enlarge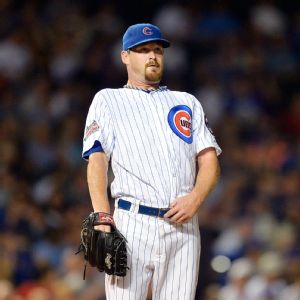 Brian Kersey/Getty Images"It seemed like everything they made contact with found a soft spot," Travis Wood said after his loss Thursday to the Giants, which dropped him to 7-11.
Though the walks were down in the second game of Thursday's doubleheader with the
San Francisco Giants
, Wood still didn't get the results he and the Cubs were hoping for, giving up four runs on eight hits in six innings in a 5-3 loss that left them with a split.
"On the plus side, one walk," Wood said after entering the night having given up at least three free passes in 10 of his previous 14 starts. "On the not, every ball they hit seemed to go right down the line. Lot of doubles, and doubles score runs, especially when you get multiple in an inning."
The Giants managed four doubles and a home run off Wood on the evening, with two of their stars doing most of the damage.
Buster Posey
and
Pablo Sandoval
combined to go 5-for-5 off Wood, with three doubles, a home run and a walk, with three runs driven in.
"Sandoval hit one at his eyes down the line, good piece of hitting there," Wood said. "And he hit a curveball that was going to bounce down the other line. It seemed like everything they made contact with found a soft spot."
Though it wasn't an issue Thursday, Wood's increase in free passes this season, combined with teams hitting him more regularly (he allowed a .643 OPS against last season, compared to .770 this year), have brought poor results. Obviously the walks need to come down, but to really find the success he had last season, Wood is going to have to start inducing weaker contact, since he'll never be a power pitcher who racks up the strikeouts -- although his K rate has jumped to a career-high 18.6 percent this season.
Regardless, along with
Edwin Jackson
, Wood's rough season has him on the fringe of what is likely to become a crowded battle for the back end of the Cubs' rotation. His final few starts this season could help determine just how solid his footing is heading into 2015.

August, 21, 2014
Aug 21
11:21
PM CT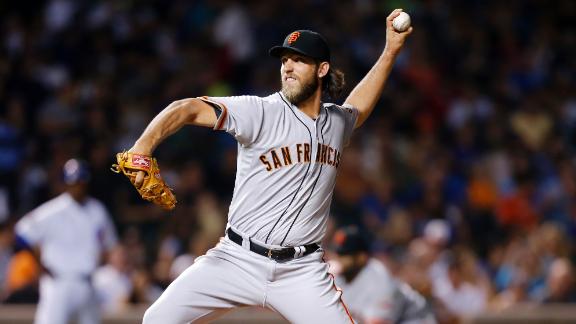 CHICAGO -- The
Chicago Cubs
dropped the nightcap of a doubleheader Thursday, missing out on a sweep in a 5-3 defeat by the
San Francisco Giants
. A quick look:


How it happened:
The Giants got on the board early, striking quickly off Cubs starter
Travis Wood
. Wood allowed a leadoff single to
Angel Pagan
, then a one-out walk to
Buster Posey
, before giving up an RBI single to
Pablo Sandoval
. Wood hit the next batter to load the bases with just one out before retiring the next two batters without allowing any further damage. The Cubs responded quickly in the bottom half of the inning with a two-run home run from
Justin Ruggiano
followed by
Welington Castillo
's solo shot onto Waveland Avenue. The Giants took the lead back with single runs in the third, fourth and fifth innings, the last of which came on a Posey home run. Giants starter
Madison Bumgarner
bounced back from a rough opening inning to toss seven strong, striking out 12 Cubs.
What it means:
Wood continues his rough season after a breakout 2013, but Thursday's struggles were primarily caused by two players: Posey and Sandoval. The two went 5-for-5 with three doubles, a home run, a walk and three RBIs against Wood. The Cubs would certainly like Wood to rediscover his previous form, but with so many options for the rotation and more likely to be added in the offseason, Wood's future role with the team could become a legitimate question.
Outside the box:
Matt Szczur
picked up his first major league hit with a single to left in the seventh inning. ...
Blake Parker
was called up as the Cubs' 26th man for the doubleheader's second game, marking his sixth stint with the Cubs this season. ...
Javier Baez
struck out four times in one game for the third time in his short MLB career, placing him in a tie for second for most four-plus strikeout games in the National League this year.
Up next:
The Cubs open a series with the
Baltimore Orioles
on Friday afternoon as
Jake Arrieta
(6-4, 2.61 ERA) takes on his former team and youngster
Kevin Gausman
(7-4, 3.70).
August, 21, 2014
Aug 21
8:47
PM CT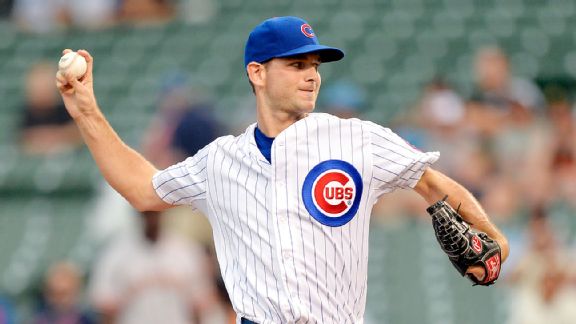 Brian Kersey/Getty ImagesJacob Turner worked two innings Thursday, giving up a run and three hits.
CHICAGO -- The
Chicago Cubs
have numerous arms they'd like to give starts to over the final six weeks of the season.
Jacob Turner
, at one time a top
Detroit Tigers
prospect, is one of them.
Turner took over for starter
Tsuyoshi Wada
in the top of the sixth when Tuesday's suspended game resumed Thursday evening. The right-hander tossed two innings of one-run ball against the
San Francisco Giants
, giving up three hits with no walks or strikeouts.
Turner ran into some trouble in his first inning of work, giving up a two-out double to
Adam Duvall
followed by an RBI single to
Joe Panik
before getting
Brandon Crawford
to fly out to end the inning. Turner looked headed for more problems in the seventh, when he gave up a lead-off, line-drive single to
Travis Ishikawa
. However, he retired
Angel Pagan
on a fielder's choice groundout and induced a double-play grounder by
Hunter Pence
.
Cubs manager Rick Renteria said keeping the ball down and getting ground-ball outs -- of which Turner recorded five -- is a key for Turner's future success.
"I watched some of his film, he's got some tilting, sinking action, arm-side," Renteria said of Turner. "His ball's got some life to it, he hit 92 [mph], maybe 93 today. Keeping the ball down is obviously important, and like all pitchers, commanding the zone. I think he made some pitches when he needed to and fortunately for us, gave us two innings of good work."
Renteria added that he had Turner -- who threw 34 pitches Thursday -- toss in the bullpen after his outing to get him some extra work, as the Cubs hope they can build him up and have him start a few games in the final month of the season.
It might seem odd the Marlins gave up on Turner at such a young age, but as surprise playoff contenders with a roster crunch, they had to make a decision on the erratic 23-year-old. With no options left to send Turner to the minors, Miami decided to trade Turner to the Cubs for some low-level prospects. The Cubs got another underperforming arm from whom they hope they can extract some value.
Turner entered Thursday with a career-high 51.6 percent ground-ball rate (which would put him in the top 20 in all of baseball if he had enough innings to be eligible) and walking only 6.4 percent (the league average is 7.7 percent) of the batters he has faced, both very solid peripherals. Unless something changes, it doesn't appear he'll ever be a big strikeout threat (his career strikeout rate is 15.1 percent, well below the league average of 20.3), but the ground balls are something he and pitching coach Chris Bosio can work with down the line.
Turner might never live up to the lofty expectations that came with being drafted ninth overall in 2009 and becoming a consensus top-25 prospect, but that doesn't eliminate him from being a quality arm in the future. The Cubs hope they can magnify Turner's strengths and turn him into another effective, young piece of the puzzle.
August, 21, 2014
Aug 21
8:11
PM CT
Associated Press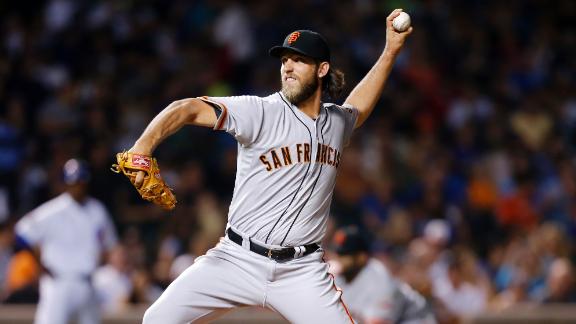 CHICAGO -- After two days, the first upheld protest in nearly 30 years and another rain storm, the Chicago Cubs finally completed a 2-1 victory over the San Francisco Giants in a suspended game on Thursday night.
Anthony Rizzo's two-run homer Tuesday held up as the team's played the final 4 1/2 innings of a game the Cubs thought they had won 2-0 before Major League Baseball ruled was suspended.
A short rainstorm caused a delay of more than 4 1/2 hours after the grounds crew couldn't put the tarp down quickly. The umpires said the field was unplayable and called it at 1:16 a.m. But the Giants protested, and MLB ruled that the tarp had not been properly put away after its previous use, the first upheld protest since 1986. The game was suspended.
Thursday's start was delayed 1 hour, 57 minutes by another downpour before Chicago could bat in the bottom of the fifth.
Joe Panik had an RBI single in the sixth to pull the Giants to 2-1.
August, 21, 2014
Aug 21
8:01
PM CT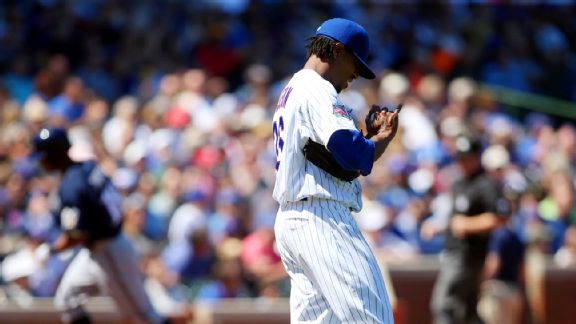 Jerry Lai/USA TODAY Sports"As a professional, you go out there and you don't live by any excuses," Edwin Jackson said.
CHICAGO -- In a move that came as a bit of a surprise, the
Chicago Cubs
placed pitcher
Edwin Jackson
on the 15-day disabled list Thursday with a right-lat strain. With Jackson's struggles well-documented and the Cubs searching for innings for numerous pitchers, the DL stint, while certainly unfortunate, does give the Cubs a chance to look at some of their younger arms.
Jacob Turner
is already part of the bullpen and took over for
Tsuyoshi Wada
when Tuesday's game resumed in the bottom of the fifth inning Thursday.
Felix Doubront
, scheduled for a rehab start with Double-A Tennessee on Sunday, is slated to start one end of the doubleheader against the Cardinals on Aug. 30.
Dan Straily
, acquired in the
Jeff Samardzija
trade in July and who has already made a spot start with the Cubs, has looked good in recent starts at Iowa and might deserve a chance come September.
Clearly, the Cubs have numerous intriguing arms who could help the team in the future. First, however, they need to find spots for them to fill. As of now, it's clear that
Jake Arrieta
(2.61 ERA in 117⅓ innings) will be in the rotation.
Kyle Hendricks
(1.48 ERA in seven big league starts) appears to have a spot next season as well. Wada has been very strong in his outings, but picking up the left-hander's 2015 option, depending on the price and the team's need, is a decision that will likely be made in the offseason. And while
Travis Wood
has struggled, it's very possible he'll return and be given an opportunity to bounce back to his form of 2013, when he tossed 200 innings and delivered a 3.11 ERA.
With Jackson putting up two of the worst seasons of his career since joining the Cubs, he has been the logical choice to be moved out of the rotation. That is not, however, an easy decision. Put aside the fact that Jackson has another two years and $22 million left on his deal after this season. Jackson, 30, is also one of the hardest-working and most respected players in the clubhouse. While some might feel that isn't a valid reason to keep an underperforming player in his current role, it does make it easier for a manager to justify giving the player every opportunity to work through his issues.
Jackson said he'd been feeling the effects his injury for a few starts now but tried to battle through it and perform to the best of his capabilities.
"I've never been one to make any excuses," the right-hander said. "I've never said anything to anyone about anything. You go out and you have a job to do. Once you choose to take the field, you choose to handle anything that comes with it. That's pretty much the approach I've taken.
[+] Enlarge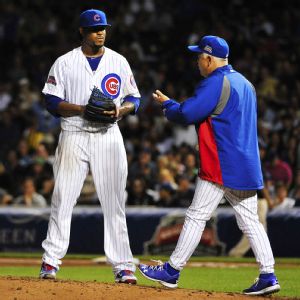 David Banks/Getty Images"I still think I have a lot of upside and I still have a lot to bring to the table," 30-year-old Edwin Jackson said. "I just haven't proved it."
"I haven't been out there pitching like I know I could, and I haven't really made any complaints about anything going on with my body, because as a professional, you go out there and you don't live by any excuses. But you battle, you battle, you battle, and it comes to the point where you have to suck up pride and do what's best for yourself and the team."
In his time with the Cubs, Jackson has made 57 starts, tossed 314⅓ innings and posted a rough 5.47 ERA. However, Jackson has never lashed out at the media or a fan base that's often very critical of him -- and, to be fair, criticism comes with poor performances, which Jackson seems to understand.
"I don't think I've proven to the fans or the organization of Chicago what I can do, what I'm capable of doing," Jackson said. "Maybe a glimpse here and there, but I still think I have a lot of upside and I still have a lot to bring to the table. I just haven't proved it. At the end of the day, you have to go out and do it on the field."
According to Brooks Baseball, Jackson's fastball velocity peaked in July, with an average of 94.69 mph, and dipped to a career low for a month at 93.35 mph in August. At times, Jackson appeared to have his best "stuff," but getting to it wasn't always the easiest.
"I feel like it's been a battle within myself, I have to really dig down and reach down to get the velocity," Jackson said. "Earlier, it was just coming nice and easy -- I didn't have to do anything to try to get velocity, it was pretty much there. When you're dealing with [an injury], it causes you to make changes in mechanics, different arm slots, and as a pitcher that's something you don't want to do."
Jackson pointed out that making mechanical tweaks to try to compensate for an injury can lead to an even worse injury -- and he didn't want to a minor injury turning into a season-ender or, worse, surgery that could take him out for 2015.
And though his velocity was down, Jackson said he hasn't lost faith in his ability.
"I haven't lost any confidence, when I take the field, I feel like I'm the best pitcher on the field," Jackson said. "It just hasn't shown. I feel like I have a lot to prove to the organization and I have a lot to prove to the fans of Chicago and I feel like I still owe them a lot. I'm being paid a lucrative contract, I still owe a lot on the field and to the team."
Jackson's future with the team and his ability to live up to the lofty expectations that come with that large contract are a little foggy at the moment. The team could give him another shot at rediscovering the formula that made him an innings-eating, midrotation starter -- and he certainly can't currently be described as an "innings-eater," as he hasn't tossed seven or more in a start since May 17.
The Cubs could move him to the bullpen to see if he would be more effective in shorter bursts, though he has shown a tendency to struggle early in games. However, that might not be relevant to relieving, as a pitcher is prone to try to establish different pitches and has a different game plan when starting than when relieving.
It's also possible that Jackson could be with another team next season, whether he's traded or just released. But with his current contract, either of those options would be a little tricky.
Jackson has proved to have an even-keeled personality, not prone swings of emotion in good times or bad.
Unfortunately, while with the Cubs, the bad moments are the ones that have seemed to dominate. The Cubs have a lot of decisions to make this offseason -- and over the next 18 months. What happens with Jackson might be one of the more important ones.

August, 21, 2014
Aug 21
7:22
PM CT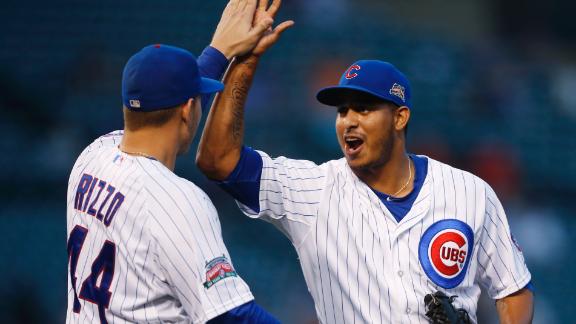 CHICAGO -- The
Chicago Cubs
finished off the
San Francisco Giants
on Thursday evening, scoring a 2-1 victory in a game that began and then was suspended Tuesday night because of weather. Here's a quick look:


How it happened:
After
Anthony Rizzo
hit a two-run home run and
Tsuyoshi Wada
threw five scoreless innings Tuesday, the game resumed in the bottom of the fifth Thursday.
Yusmeiro Petit
came out strong for the Giants, retiring all six batters he faced, the first five via strikeout.
Jacob Turner
didn't fare as well for the Cubs, getting two quick outs, then giving up a double to
Adam Duvall
, who came around to score on
Joe Panik
's single, cutting the Chicago lead to 2-1. The Cubs didn't manage to get a hit after the third inning and had only one baserunner (a
Javier Baez
walk) after the game resumed Thursday evening. Regardless, the Cubs managed to hold on for the victory, as
Pedro Strop
worked a perfect eighth and
Hector Rondon
closed it out in the ninth for his 19th save of the season.
What it means:
Turner, a potential piece of the Cubs' future rotation, tossed two innings, giving up one run on three hits. The 23-year-old right-hander didn't strike anyone out, but on the plus side, he didn't walk anyone and four of his six outs were via grounders, which is what the Cubs and pitching coach Chris Bosio like to see.
Outside the box:
After less than 15 minutes of rain led to a disastrous four-plus hours of delay Tuesday, the resumption of the game was once again delayed Thursday by rain. The total rain-delay time ended up being 6 hours, 31 minutes.
U
p next:
The Cubs wrap up the three-game set with the Giants later Thursday night, with
Travis Wood
taking the mound for the Cubs against
Madison Bumgarner
.