September, 22, 2014
Sep 22
7:40
PM CT
CHICAGO – After a week that saw top draft picks Kyle Schwarber and
Kris Bryant
make appearances at Wrigley Field, it was only natural that another top
Chicago Cubs
prospect,
Addison Russell
, found his way to Chicago as well.
Russell, 20, watched batting practice Monday before the Cubs took on the
St. Louis Cardinals
as he prepares to participate in the Arizona Fall League beginning next month.
"I've been honored enough to play with some of the guys coming up," Russell said. "Kris Bryant,
Jorge Soler
,
Daniel Vogelbach
. A few arms as well. It's just awesome. The talent that we have here is unreal."
Russell was taken 11th overall in the 2012 draft by the
Oakland Athletics
and made his way to the Cubs as the key piece in the trade that sent
Jeff Samardzija
and
Jason Hammel
to the A's. While an injured hamstring limited him to just 68 games this season between Class A and Double-A in the Oakland and Chicago systems, he came on strong after the trade for Double-A Tennessee. Russell hit .294 with 12 home runs and 36 RBIs while playing, by all accounts, very good defense at shortstop.
That leads to the same question that faced
Javier Baez
this season: With three-time All-Star
Starlin Castro
manning short for the Cubs, where does Russell fit in?
"Wherever they need me," he said. "I'm a person that, if you put me in a new environment, I'm going to try and learn about it. They haven't said anything about me moving, but if that's the case, so be it. I'll take on that role and put something on my résumé."
Russell still has time to figure it out. If things go well in the Fall League, the presumption is he would start the 2015 season at Triple-A Iowa. If the past is any indication, Russell will play shortstop until it's necessary to move him elsewhere. And remember, there's a good chance one of the Cubs' middle infielders could be part of a bigger deal to acquire pitching. We just don't know when.
As for which position Russell could play besides shortstop, he's open to anything.
"I would have to put in the hard work and the hours, but I definitely think it could be done," he said.
It was actually the Cubs' own 2012 first-round pick,
Albert Almora
, who texted Russell news of the July 4 trade. Once Russell calmed down from the shock of being traded for the first time, he said understood where he was going.
"It was just awesome because I could be part of something special," Russell said.
September, 21, 2014
Sep 21
6:29
PM CT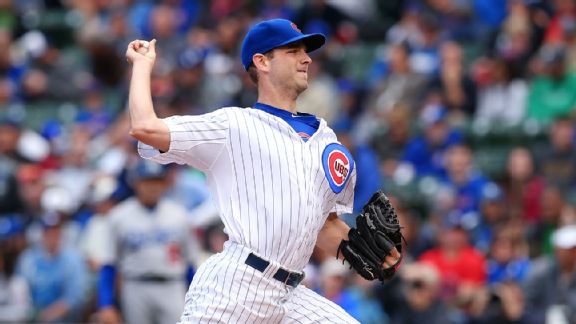 Jonathan Daniel/Getty ImagesJacob Turner lasted just five innings against the Dodgers offense.
CHICAGO -- Over one long weekend series, the
Chicago Cubs
caught an in-your-face glimpse of who they aspire to be one day one day in the future.
The playoff-contending
Los Angeles Dodgers
slugged their way to a series victory, even when their top pitchers were far from at their best, and Sunday's 8-5 defeat came when their opponent used only relief pitchers for nine innings.
From the fifth inning Thursday until the completion of Sunday's game, the Dodgers scored an impressive 36 runs, showing that offense can carry a club even when the pitching staff isn't first-rate.
Nobody is going to average nine runs a game for an entire season, but for a team that is expected to have
Anthony Rizzo
,
Javier Baez
,
Jorge Soler
and
Starlin Castro
in key roles next season, the Cubs have the potential to light up a scoreboard over brief four-game stretches like the Dodgers just did.
"We have a lot of good hitters in here, a lot of young guys, and with the time and the experience I think we're going to be really good," said
Welington Castillo
, who hit an eighth-inning home run, two days after leaving a game with a rib injury.
September, 21, 2014
Sep 21
5:44
PM CT
Associated Press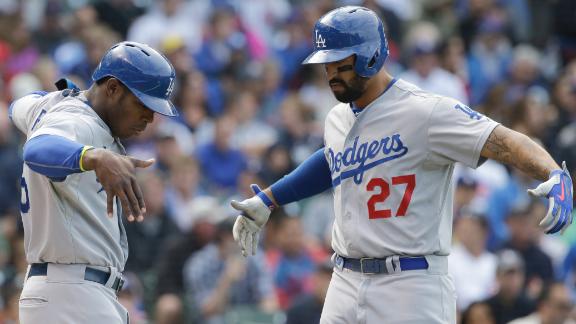 CHICAGO -- Matt Kemp homered and had four RBIs, Yasiel Puig scored a career-high four times and the NL West-leading Los Angeles Dodgers used six pitchers to beat the Chicago Cubs 8-5 on Sunday.
Kemp had four hits for the Dodgers, who clinched a playoff berth on Friday and entered with a 3 1-2 game lead over the Giants in the NL West. Los Angeles pushed starter Dan Haren back a day so he could face San Francisco on Monday.
The Dodgers instead used the bullpen. Jamey Wright made his first start since Sept. 1, 2013, with the Rays, allowing a run and three hits in two innings.
Chris Perez (1-3) struck out two in 1 1/3 innings for his first victory since Aug. 14, 2013. And Kenley Jansen earned his 43rd save in 48 chances.

September, 21, 2014
Sep 21
5:08
PM CT
CHICAGO -- The
Chicago Cubs
fell 8-5 to the
Los Angeles Dodgers
on Sunday to conclude the second-to-last home series of the season.


How it happened:
A day after collecting two home runs among his four hits, the Cubs'
Chris Coghlan
went 2-for-5 with a double and three strikeouts. Cubs starter
Jacob Turner
gave up five runs on eight hits over five innings. The Dodgers beat the Cubs with their bullpen as reliever-turned-starter
Jamey Wright
gave up one run over two innings, while five other relievers backed him up. The Dodgers'
Yasiel Puig
scored a career high four runs, while
Matt Kemp
had four hits, including his 23rd home run, and four RBIs.
What it means:
Even a productive offense is nothing without a strong pitching staff. Case point: the Cubs scored 22 runs in the four-game series (an average of 5.5 runs a game), yet still lost three out of four, and needed an impressive comeback to win the one game. It happened because the Cubs pitching staff has given up 37 runs over the last 32 innings, after giving up just one run over the first 31 innings of the homestand (three games against the Reds and the first four innings against the Dodgers).

Outside the box:
The Cubs and Dodgers combined for 16 first-inning runs in the series, with the Dodgers collecting 10 of them. The Cubs scored two runs in the opening inning Thursday, three Friday and one Saturday. The Dodgers scored six in the first inning Friday, two Saturday and two Sunday.
Off beat:
In turning a nice heads-up play on defense in the third inning, the young Cubs also got a prime example of what happens when you don't hustle on offense. With the Dodgers'
Hanley Ramirez
on first base,
Carl Crawford
hit a routine fly ball to Coghlan in left field. Coghlan caught the ball, got it into shortstop
Javier Baez
, who relayed the ball to first baseman
Anthony Rizzo
, all while Ramirez nonchalantly made his way back to first base. Ramirez was originally called safe, but a replay review overruled the call, turning it into a 7-6-3 double play.
Up next:
The Cubs will send left-hander
Travis Wood
(8-12, 4.86 ERA) to the mound Monday against St. Louis in the opener of the final three-game home series of the season. The Cardinals will counter with right-hander
Adam Wainwright
(19-9, 2.45) in the 7:05 p.m. CST start from Wrigley Field.
September, 21, 2014
Sep 21
3:16
PM CT
CHICAGO -- A day after his monster Saturday afternoon that included a pair of home runs, all
Chris Coghlan
was thinking about is how to repeat the formula.
The former rookie of the year, who has been reborn with the
Chicago Cubs
this season, knows what it's like to see a run of success evaporate quickly so he won't relax after a little thing like a four-hit day.
[+] Enlarge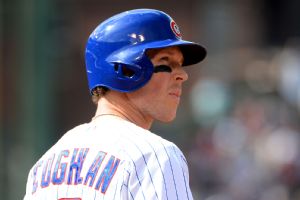 AP Photo/David DurochikChris Coghlan says he's just grateful for the chance to try and resurrect his once-promising career with the Cubs.
He was on top of the world in 2009 with the Florida Marlins, batting .321 over 128 games to finish not only as the National League's top rookie, but also received a handful of MVP votes as well. Three years later his struggles had him back at Triple-A for most of the season.
Set free by the Marlins last year when he was non-tendered, it has been a redemption year for Coghlan, and his 4-for-4 day with a go-ahead home run in the eighth inning Saturday was just a small example. He entered Sunday's game batting .283 with a .349 on-base percentage and has proved himself to be a valuable piece moving forward.
"I would just say that it is a blessing because they don't come around [often]," he said about his season. "We have 10 games, nine games left, however many it is, and I really just want to finish the year. But when you do think about it, I'm just grateful that I have been able to stay healthy and that I had an opportunity.
"I tell people they don't come around, they don't hand them out for free and you don't get them as a gift, you have to earn them. I am grateful for the Cubs giving me the opportunity and I'm just trying to run with it and finish the year strong."
The curious thing about Coghlan is that he has seen enough in the game and certainly has been through plenty to be, at the very least, a cautionary tale, for young players about what can go wrong. After all, he experienced one of the most exasperating injuries in 2010 when he hurt his knee throwing a shaving-cream pie into the face of a teammate celebrating a victory.
September, 21, 2014
Sep 21
1:28
PM CT
CHICAGO -- While team speed at the top of the order seems to be an obvious target for the
Chicago Cubs
this winter, manager Rick Renteria would be satisfied with improved base running.
In that sense, Renteria would be less dependent on personnel added by the front office and more reliant on what he and the rest of the coaching staff can impart on new and returning players during spring training.
"I think one of the things that we're talking about right now is how we would like to go into spring training next year and try to get some skill work that will help us develop a better sense of how we need to advance on the bases," said Renteria, who admitted that the subject came up with his staff Sunday morning.
"But it's not just us. You see it a lot in baseball. There are a lot of different things that go on on the bases that you kind of scratch your head about and we're hoping that just as part of the process we continue to develop our skills on the bases beyond the speed."
September, 20, 2014
Sep 20
5:05
PM CT
CHICAGO –
Chicago Cubs
outfielder
Chris Coghlan
has been around too long and struggled too much since winning Rookie of the Year in 2009 to assume anything is guaranteed for him next season. But after a signature day for the left fielder in a come-from-behind 8-7 win over the
Los Angeles Dodgers
on Saturday, the Cubs would be foolish not to bring him back.
"It's definitely one of those days where everything goes right," Coghlan said after hitting two home runs and getting on base five times. "If you play long enough you have some days where the wind is blowing out and you get some balls in the air."
[+] Enlarge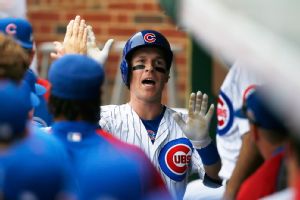 AP Photo/Andrew A. NellesChris Coghlan reached base five times Saturday and hit the go-ahead home run.
He's selling himself short. It was a great performance. Coghlan hit a solo home run out to left in the first inning, added a single and double in his next two appearances and then walked in his fourth time at the plate. With the Cubs trailing 7-6 in the eighth, Coghlan topped off his day with a two-run shot to right off reliever
Brian Wilson
.
"When we made the move and he came (to the Cubs) he wasn't inserted immediately into the lineup," manager Rick Renteria said. "He just kept chipping away and putting himself in a good place."
Coghlan wasn't even on the 25-man roster when the season began. He signed a minor league deal and then worked his way to the majors as other outfielders such as
Junior Lake
and
Ryan Kalish
struggled while Justin Ruggiano and Ryan Sweeney dealt with injuries. The door opened for Coghlan.
"When they do open the door you have to kick it down," Coghlan said.
He's made the most of his opportunity, raising his batting average to .283 after Saturday's 4-for-4 afternoon. He's one home run shy of a career high and he's played solid defense lately. But more than anything, he's getting on base. With on-base percentages dropping fast in baseball – the average is .314 this year – Coghlan is up to .349. That's huge for a Cubs team that has been missing that ingredient.
"In general that's a good on-base percentage, (even) in a high-end year (in that category)," Renteria said. "He's done a great job at the top of the lineup, a great job."
Coghlan's OBP is a little lower leading off, but overall he's looked better there than his assumed competition for the top spot going into next season.
Arismendy Alcantara
hasn't proven to be a classic leadoff hitter, as he's shown more power -- he also homered on Saturday -- than the ability to get on. It means the job could be Coghlan's to lose going into next season.
"I have zero say," Coghlan stated. "I have no idea what they are going to do. Anything can change good or bad in a blink of an eye. Really I'm a testament to that."
Coghlan went from getting on-base 39 percent of the time when he won Rookie of the Year to just 21 percent in 2012. He showed a few signs of life for the Marlins last year before the Cubs picked him up. He's beginning to flourish again.
"I just feel blessed for the opportunity," he said. "They don't come around."
The Cubs own his rights for several years and Coghlan can go to arbitration for the first time after this season. With the Cubs' prospects still figuring things out, the 29-year old is a perfect fit for the moment. He's earned the chance going into 2015. His huge day on Saturday may have sealed that fate.
"I do know it was one of the better days I've had in the big leagues," Coghlan said.
September, 20, 2014
Sep 20
4:10
PM CT
Associated Press
CHICAGO -- Chris Coghlan hit two homers, including the go-ahead two-run drive off Brian Wilson in the eighth inning, and the Chicago Cubs rallied to beat the Los Angeles Dodgers 8-7 on Saturday.
The Dodgers were looking to build on a 3 1/2-game lead over San Francisco in the NL West after clinching a playoff spot for the fifth time in nine years on Friday.
Instead Los Angeles blew a five-run lead and wasted a pair of homers and five RBIs by Adrian Gonzalez.
The Dodgers were up 7-2 in the seventh, but the bullpen couldn't hold the lead.
J.P. Howell gave up an RBI single to Anthony Rizzo and a three-run homer to Arismendy Alcantara, making it a one-run game.
Wilson (2-4) came on in the eighth and things just got worse from there.

September, 20, 2014
Sep 20
3:55
PM CT
CHICAGO – The
Chicago Cubs
beat the
Los Angeles Dodgers
8-7 on Saturday afternoon. Here's a quick look at the game.


How it happened:
Chris Coghlan
hit his second home run of the game in the eighth inning to give the Cubs their first lead of the day. The Cubs left fielder went 4-for-4 with a walk and three RBIs.
Arismendy Alcantara
hit a three-run home run in the seventh inning to draw the Cubs within one after Dodgers first baseman
Adrian Gonzalez
hit two home runs to pace the visitors to an early 6-1 lead. Gonzalez homered in the first and third innings off Cubs starter
Felix Doubront
, who lasted only 2 1/3 innings. Coghlan homered to lead off the bottom of the first, then singled, doubled and walked in his next three plate appearances before he homered again. The Cubs tallied once in the fourth, when
Logan Watkins
brought home
Luis Valbuena
, but a diving catch by
Yasiel Puig
in the fifth on a
Jorge Soler
drive halted a potential Cubs rally. A sacrifice fly in the seventh brought home the Dodgers' final run, and
Anthony Rizzo
singled home Coghlan in the bottom of the inning before Alcantara went deep.
What it means:
It's a signature game for Coghlan, whose eight home runs are one shy of his career high. The former 2009 rookie of the year isn't slowing down at the end of the season and was a triple short of the cycle while getting on base in all five plate appearances. He has also played a solid left field all week. There's no reason to believe Coghlan won't be back next year in some capacity -- most likely as the opening day left fielder -- as the Cubs are still looking for guys who can get on base. Coghlan did just that and more on Saturday.
What's next:
Game 4 of the series takes place Sunday with
Jacob Turner
(5-10, 6.20 ERA) on the mound for the Cubs. Reliever Jamey Wright (5-4) will start for the Dodgers, who plan to use a by-committee approach to Sunday's game.
September, 20, 2014
Sep 20
9:00
AM CT
CHICAGO -- Throughout his short career,
Chicago Cubs
outfielder
Jorge Soler
has been reaching different milestones with his offensive production. For example, he's the first player since 1942 to record an RBI or extra-base hit in his first eight career games, and he's the second Cub to produce 11 or more RBIs over that same time frame.
There have been other accomplishments over Soler's first 17 games -- through Friday's 14-5 loss to the
Los Angeles Dodgers
-- but none might be more impressive, or more important, than this one: He's just the third Cubs rookie -- and first since 1943 -- to reach base in 16 of his first 17 games, according to the Elias Sports Bureau.
[+] Enlarge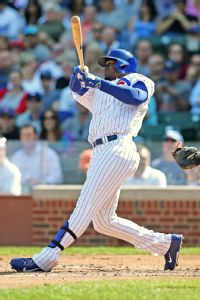 Jonathan Daniel/Getty ImagesJorge Soler's ability to get on base has buoyed the Cubs' overall standing in that department since his arrival.
A first-inning, run-scoring triple Friday off
Clayton Kershaw
gave Soler that distinction, and it matters more than the other ones because these Cubs still have huge trouble getting on base. It's been the missing ingredient in Chicago's offense.
"What he does bring is a very mature, professional approach at the plate," manager Rick Renteria said after Friday's game. "Very disciplined approach. In some instances it's how he's been developed, in other instances he has a gift."
The Cubs need more players with that gift, as they rank 28th in baseball in on-base percentage this season. That has to change if the Cubs are going to compete in the standings anytime soon -- and indeed, with Soler leading the charge, Chicago is 16th in September OBP. That's a start.
"He's performing actually to the numbers he's brought with him from the minor leagues, which is not typical," Renteria said.
There isn't much that is typical about Soler's game. Like fellow Cuban standout
Yasiel Puig
, Soler is a potential five-tool player. The Cubs right fielder was asked who's a better player.
"He is," Soler smiled, then said through an interpreter of the Dodgers outfielder, "he's been in the big leagues longer."
That might be the only reason Puig is better right now, because Soler is bigger and stronger. That will pay off.
"I think Soler's pop is pretty different than a lot of guys," former teammate
Darwin Barney
said. "The way he backspins the ball."
Combine that "pop" with his ability to get on base and the Cubs might have a star in the making. As impressive as the big hits have been, his .397 on-base percentage is even better. And considering the home run potential the Cubs have, that on-base potential might be even more important than any other aspect to Soler's game.
"It's working very favorably right now," Renteria said simply, "and we hope it continues."
September, 19, 2014
Sep 19
6:41
PM CT
CHICAGO -- When
Chicago Cubs
starting catcher
Welington Castillo
injured his rib in the first inning of Friday's 14-5 loss to the
Los Angeles Dodgers
, it opened the door for rookie
Rafael Lopez
to take over.
The only problem? All world lefty
Clayton Kershaw
was on the mound.
"We actually faced him in a rehab start at the beginning of the year in Double-A," Lopez said after the game. "It was really cool."
It was even cooler when Lopez earned his first major league RBI, first hit and first walk all against the likely Cy Young winner in the National League. Lopez, a 16th-round draft pick in 2011, had a memorable day.
"I was definitely surprised to get back in there so quickly," Lopez said of Castillo's quick exit. "Even though we came out on the wrong end of the stick, it was a good experience; something I'll remember the rest of my life."
He says he'll give the ball he hit to center for a first-inning sacrifice fly to his mother, and he'll frame his third-inning single off Kershaw and give it to his father. But not before teammate
John Baker
tried to fool him by pretending to throw the ball into the stands after it came back to the dugout.
"He told me he pulled the switcheroo," Lopez said. "I should have expected that."
Baker threw a different ball to the fans, saving Lopez's first hit for the rookie.
Single-A on the move
Lopez's former team, the short season Boise Hawks, will move to Eugene, Oregon as the Cubs complete their Class-A affiliate restructuring. The Cubs signed a deal with the Eugene Emeralds that runs through the 2016 season.
The Cubs already announced single-A teams formerly in Daytona Beach, Florida, and Kane County, Illinois, have moved to Myrtle Beach, South Carolina, and South Bend, Indiana, respectively. The prevailing reasons are an upgrade in facilities and in Daytona's case, better weather.
The Cubs' short season Class-A team plays from mid-June until the end of August.
September, 19, 2014
Sep 19
6:08
PM CT
CHICAGO --
Chicago Cubs
pitcher
Edwin Jackson
still believes in himself, but he might be the lone person in town with those feelings. It wouldn't be a shock, by any means, if Jackson pitched his last game in a Cubs uniform Friday in their 14-5 loss to the
Los Angeles Dodgers
-- though right now he's scheduled for one more start this season.
The lasting memory for him could be not getting out of the first inning as he gave up five runs on four hits and a walk. One hit left the park, a three-run home run by
Matt Kemp
.
"It's been a pretty sloppy year, to say the least," Jackson said after seeing his ERA balloon to 6.38.
Jackson hadn't pitched in a month because of a minor injury, and with the hype surrounding mound opponent
Clayton Kershaw
going for win No.20, it was the righty's chance to prove he still has something left in the tank. Instead, Kershaw led 6-0 before he even took the mound.
"It wasn't necessarily the outing we were looking for from Edwin today," manager Rick Renteria said. "We have to sit down and talk about and then see where we're at. It would be difficult for me to say how we would be heading into the winter."
Can it be anywhere besides moving on from Jackson at this point? It's probably best for him and the team – though it will cost the Cubs up to $22 million, no matter how they get rid of him. That's what he's owed over the next two years.
"I can definitely take the good with the bad," Jackson said. "I can accept and man up to what I've done. I'm not trying to run or hide from anything I've done on the field."
It's not like Jackson wants to go play golf for the next few years. He wants a shot at turning things around. And maybe he deserves one, just not with the Cubs. It's becoming painfully obvious a change of scenery is the least Cubs brass can do for him -- and the fans. Back-to-back years of a near plus-5.00 ERA -- and in this case a plus-6.00 ERA -- usually gets you moved out of town, no matter what a contract says.
"It's super easy to get negative in the game of baseball," Jackson said. "You have to stay believing in yourself."
In a way, Jackson has made this an easy decision for the Cubs. This isn't about fan negativity or finding a sabermetric peripheral for him, as some were doing after last season. This is about moving on from a bad situation. It may be no one's fault but baseball fate, but trying to salvage something here would be a waste of time and energy. Things are too far gone for Jackson, especially in a situation where the Cubs are trying to develop a winning culture. Luckily, he's been a good citizen through his trials and tribulations.
"It may seem far-fetched and some people may not think so, but I still think my best years are to come," Jackson said. "I really don't care what anyone else thinks, it's a matter of going out and proving it. I still believe I will do that."
It just can't be with the Cubs. But you knew that by now.